Bali is an incredible destination that really is as amazing as it looks in the glossy brochures. I went there for my honeymoon and it totally lived up to the hype I'd created in my head. A good friend is currently exploring this Indonesian island and it's bringing back SO many happy memories.
If you haven't been (and tbh, even if you have!), here are eight reasons why I know you'll love Bali too…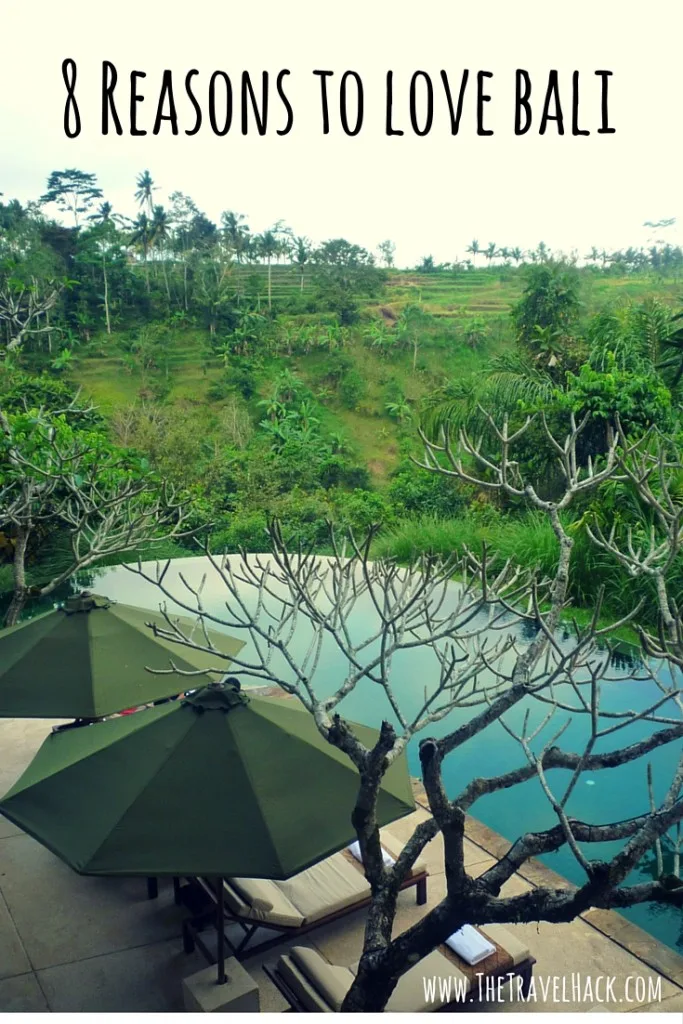 #1 The People
If, like me you travel a lot, you'll already know that most explorers are friendly, chatty people and that locals are usually more than happy to show you their home. However, it's the next level in Bali! The Balinese are the most smiley people I've ever come across.
They are warm, genuine and often tell you how humbled they are that you've chosen to visit their home. From staff at five-star properties to hard-working farmers in the rice paddies, you'll always have a friend in Bali.
#2 The Rice Paddies
I couldn't mention them and not give them their own shout out. They're an iconic part of Bali. I'm sure you've seen them in the Eat, Pray, Love film or perhaps on other blog posts. Let me just say that they really are the most vivid shade of green – it's not Photshop magic!
Travel Hack Tip: Book a half-day cycling tour so that you can immerse yourself in all their beauty.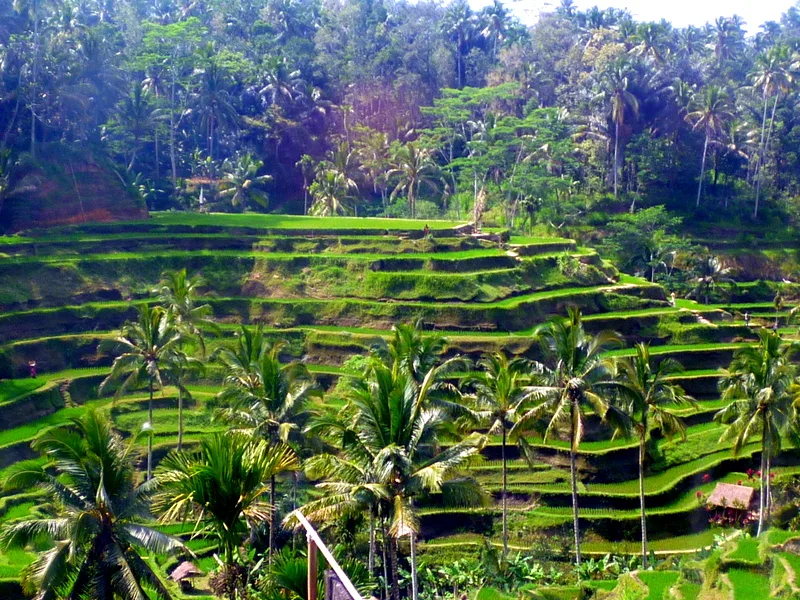 #3 Infinity Pools
With such natural, beautiful scenery it's probably not surprising to hear that most of the stylish hotels in Bali have an infinity pool (or two). Most of them have been positioned perfectly so you feel as though you're swimming in the jungle or rice paddies. Sheer bliss! You can find some of the coolest accommodation in Bali over on the Global Grasshopper blog!
Travel Hack Tip: I stayed at Komaneka at Tanggayuda and would definitely recommend their infinity pool (and the rest of the property!). Check Booking.com as I saved a tonne of money booking that way.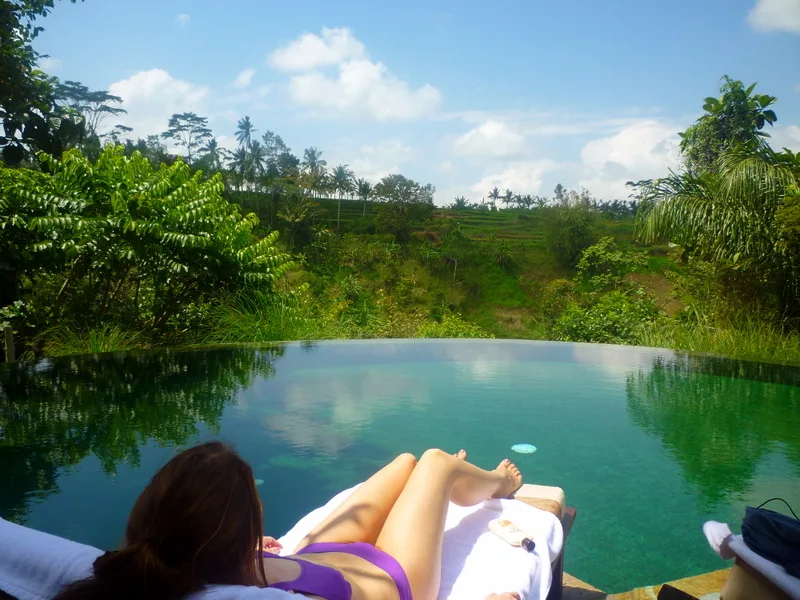 #4 Balinese Food
OMG the food. Not only is Balinese food delicious, but it's also a work of art. A plate of rice is transformed in Bali. It's often served in a banana leaf cone or presented like a volcano. They also like to go heavy with the courses, so pace yourself and prepare for a feast because you won't want to miss out on any. Trust me.
Travel Hack Tip: Try Nasi goreng (a fried rice dish).
#5 The Romance
Bali really does deliver in terms of romance and why wouldn't it? It has sunshine, beautiful nature and wildlife, and some of the most incredible hotels. You'll find that you can book couples spa treatments at most hotels, involving things like petal baths and couple massages. Most hotels and restaurants also offer 'romance dinners', where they go all out, setting up a private dining area complete with flowers and candles and your own private chef/waiter.
Travel Hack Tip: Check with your accommodation and book ahead if you have your heart set on this. I recommend the Red Light Dinner at Komaneka at Tanggayuda. Most hotels are also happy to accommodate you even if you're not staying overnight, so that can be an affordable way to glam up an otherwise budget trip.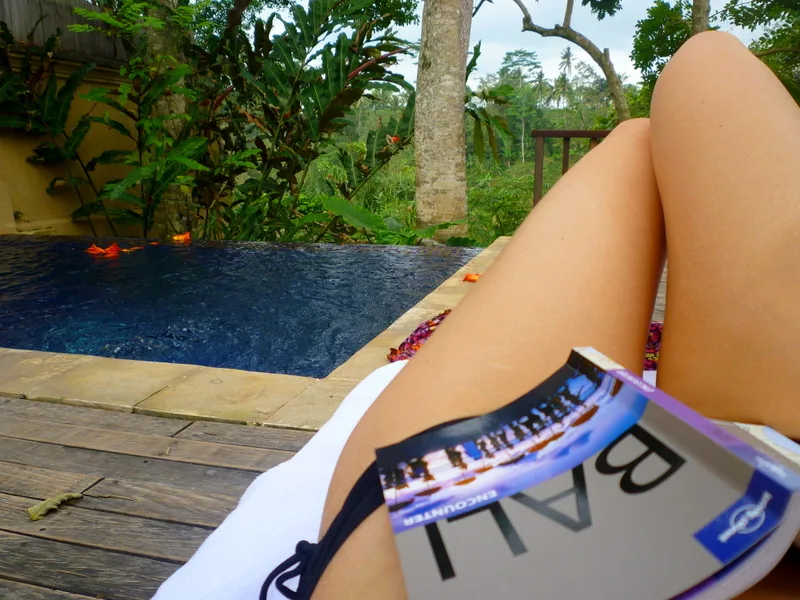 #6 The Adventures
There are loads of cool adventures to be had in Bali, including volcano trekking at sunrise. Yes, it's an early start but wow, is it worth it. You don't have to be mega, mega fit (though that helps), but you do need a guide and a torch.
Travel Hack Tip: Book ahead to avoid disappointment and also compare prices of private tours and group ones. You'll often be surprised at the marginal difference.
#7 The Contrasts
Bali is made up of different areas, all of which has its own distinct character. Kuta is popular with younger party-goers, Ubud with those looking for a spiritual place to unwind, Semyinak for the more upmarket and glossy spots . Obviously, like anywhere there are cross-overs, but if you have your heart set on a particular Balinese experience head to the area that most suits you. If you're looking for a bit of everything then hop about, spending one or two-nights in different places.
#8 The Cuteness
Whether you're a dog-lover or a monkey-lover, you'll find so many cuties on this island. I saw loads of cute puppies – even one on the volcano trek! And if you love monkeys, well then you definitely need to visit Monkey Forest. Everywhere you look you'll spy one and trust me when I say that they're not shy. Be prepared for them to come right up to you, especially if you have food in your hands, your bag…well anywhere. They'll find it!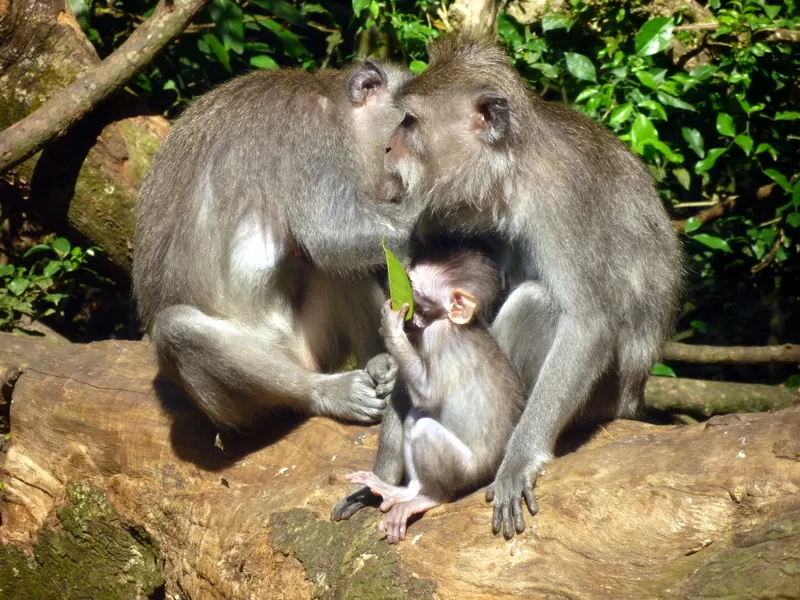 Have you been to Bali or is it on your wish list? Do you have any more reasons to love Bali?
Read More about Bali…
Diving: USAT Liberty Shipwreck, Tulamben, Bali
Photo Journey: Diving the USAT Liberty Shipwreck in Bali
Nusa Lembongan: Paradise in Bali