Here's my travel blog from my 3-day trip to Marrakech and all of my favourite things to do in Marrakech.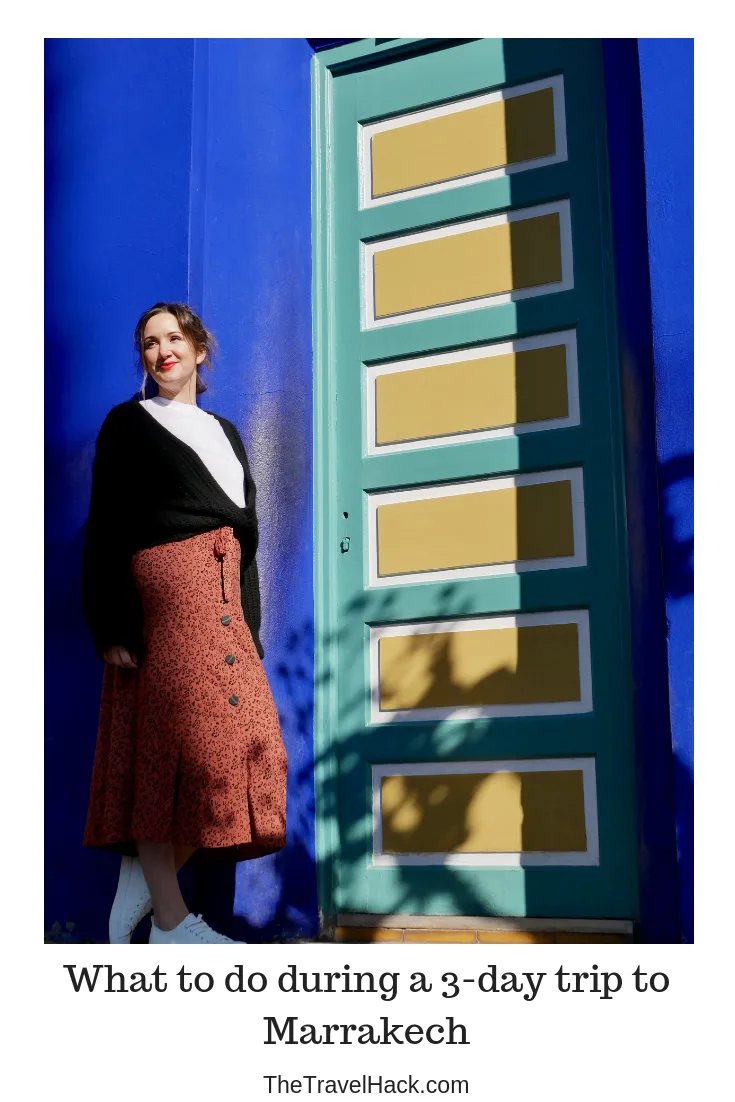 The secret to perfect trip to Marrakech is all about the accommodation you choose. You want to find a beautiful riad within the medina which will become your mini oasis with the chaos within the city. It really is magical moment as you step out of the noise and crowds of the street and through the heavy, wooden doors into the riad. Suddenly, there's silence.
Inside the riad it's cool and calm, a peaceful escape where the only interruption is the occasional chirp of a little bird fluttering through the courtyard or the soft footsteps of the friendly staff as they top up your glass with fresh mint tea.
A riad is a traditional home in Morocco with the rooms built around a central courtyard. These interior gardens are invitingly cool in the hot summer months and are often filled with swimming pools, leafy plants and magical lighting. Of all the things to do in Marrakech, I highly recommend staying in a riad!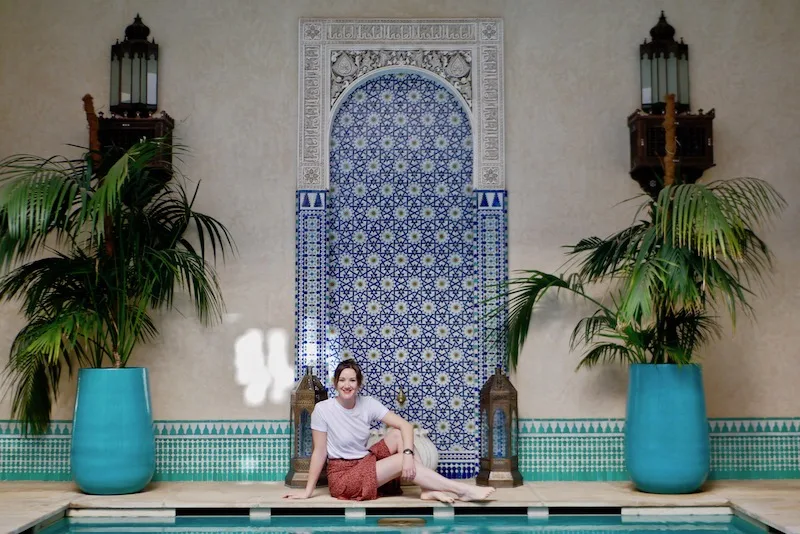 As you soak up the sun on the rooftop terrace or swim slow laps in the pool you'd never guess there was a bustling world just meters from where you're relaxing. Not only that, but that world is unlikely anything you've ever experienced before.
It's a cliche to say Marrakech is an assault to the senses and I apologise for using such an unoriginal phrase, but that's exactly what it is! From the moment you step out of the airport (which is slick and modern so don't let it fool you into thinking the whole city is the same!) you'll be plummeted into a world of heat and sunshine, crowds and chaos, colours and spices and shouting and whispers. Narrow streets lead to even narrower alleys which lead to places you're not sure you should be. Marrakech is a city where the shadows are dark but the sunshine is bright and you have to trust your instincts at every twisting turn.
You'll get lost, that's for sure. But another definite is you'll get found and you'll find an exciting, colourful and surprisingly loveable city along the way.
I spent a weekend in Marrakech in mid-January to celebrate Sam's birthday. It was my second visit to the city and Sam's third, but we hadn't been together and neither of us had been for years so we revisited some of our favourite spots and discovered a few new ones too.
Here is our 3 day Marrakech itinerary and our favourite things to do in Marrakech.
Read more: What to wear in Marrakech
Day 1 in Marrakech
We arrived early on the Friday morning after booking that 6am Ryanair flight that always seems like a good idea at the time (but you're really questioning that decision when you're setting an alarm for 3am!) But we arrived by 11am and were at our riad by midday so maybe it was a good idea after all.
Travel Hack Tip: You can get your cash when you arrive at Marrakech Airport and there are plenty of cash machines. There were huge queues for the cash machines right outside the arrivals doors but there are loads more outside of this main area with no queue.
Travel Hack Tip 2: Take a pen! You need to fill out landing cards when you arrive but there weren't any pens so it was a bit of a chaotic scramble to find someone who could lend you a pen.
---
Our Riad
We were staying at Riad Kniza, a luxurious riad in the medina. I don't normally book such fancy accommodation but it was Sam's birthday and I'd got such a great deal on the flights I decided to splash out.
We booked the Royal Suite which is the grandest suite in the riad and it was incredible and absolutely enormous. It was almost as big as our house!
Disclaimer: I booked this while I was working on a campaign to promote Expedia's Black Friday Deal (seriously, promoting holiday sales isn't a good idea because I just end up booking them all!) During the sale there was 30% off the riad so I got 4-nights in the Royal Suite with incredible breakfasts included for £903.88.
Of course, there are so many riads to choose from and even the budget ones are beautiful.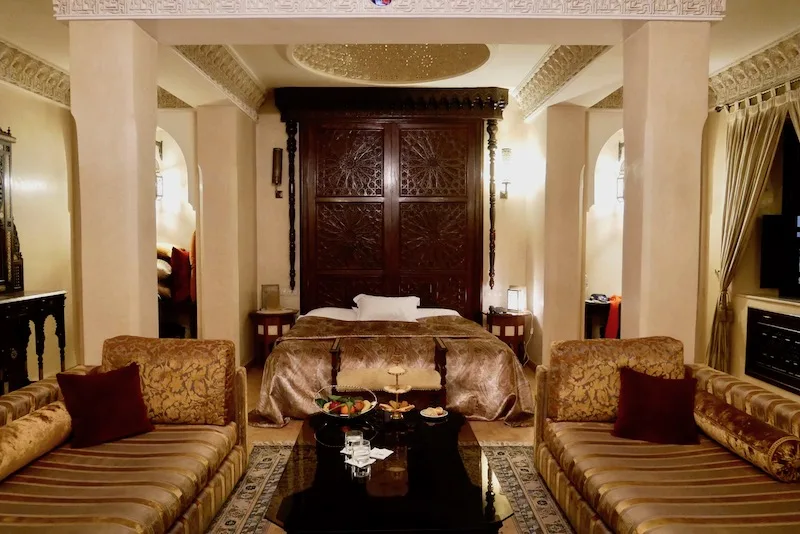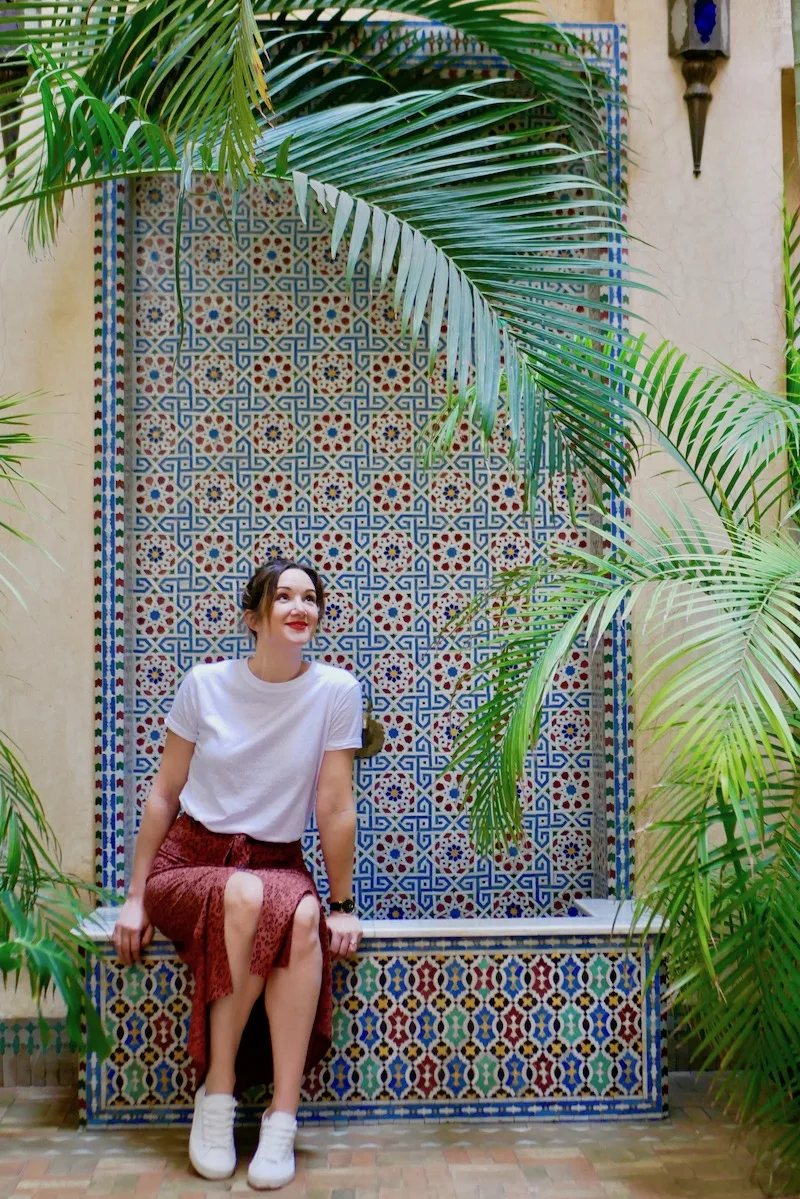 ---
Lunch at Cafe Arabe
We ventured out into the city and snaked through the streets to Cafe Arabe for lunch. Eating on the relaxed, rooftop terrace with traditional dishes and cold beers.
We later realised this was an expensive option and very touristy, but it was delicious and the atmosphere was gorgeous so I still recommend it.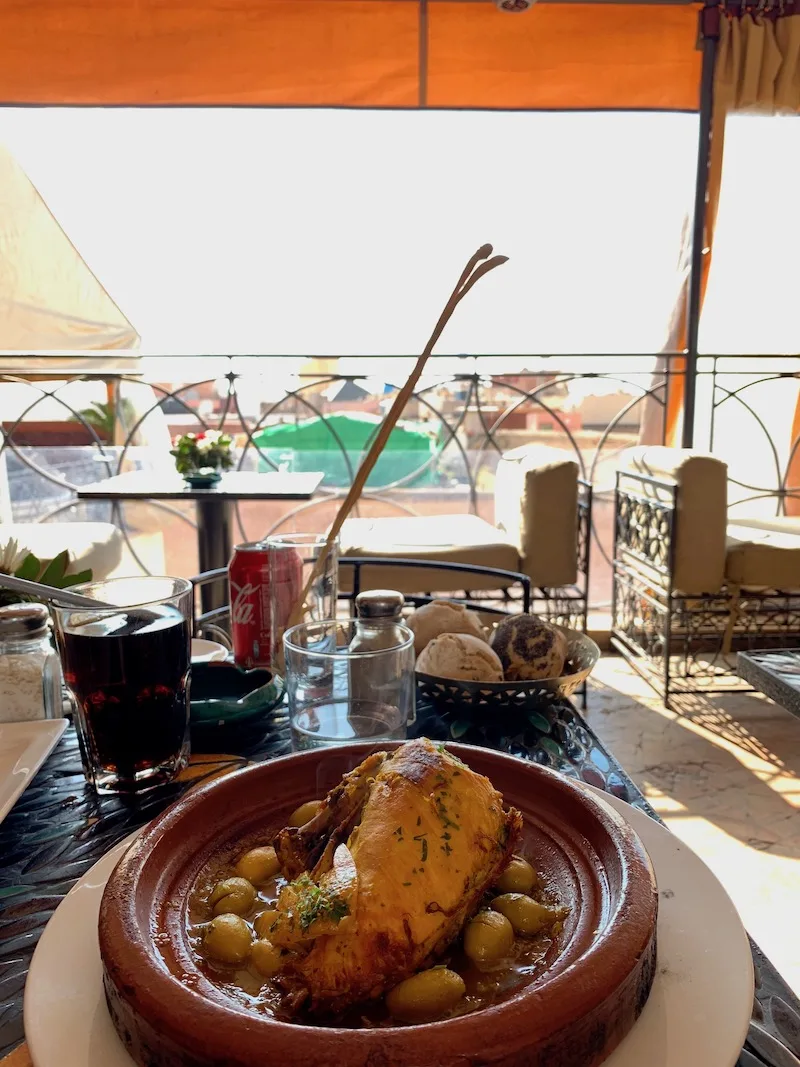 ---
Le Jardin Secret
Opposite Cafe Arabe you'll find Le Jardin Secret, a stunning garden complex and one of the most beautiful green spaces in the city. I love the city but one of my favourite things to do in Marrakech is to escape to somewhere tranquil and this is the perfect place to do that.
"The garden is … a metaphor of heaven; it is a sacred place, laid out according to rigid geometrical rules, in which the Muslim order asserts itself over the wild disorder of nature."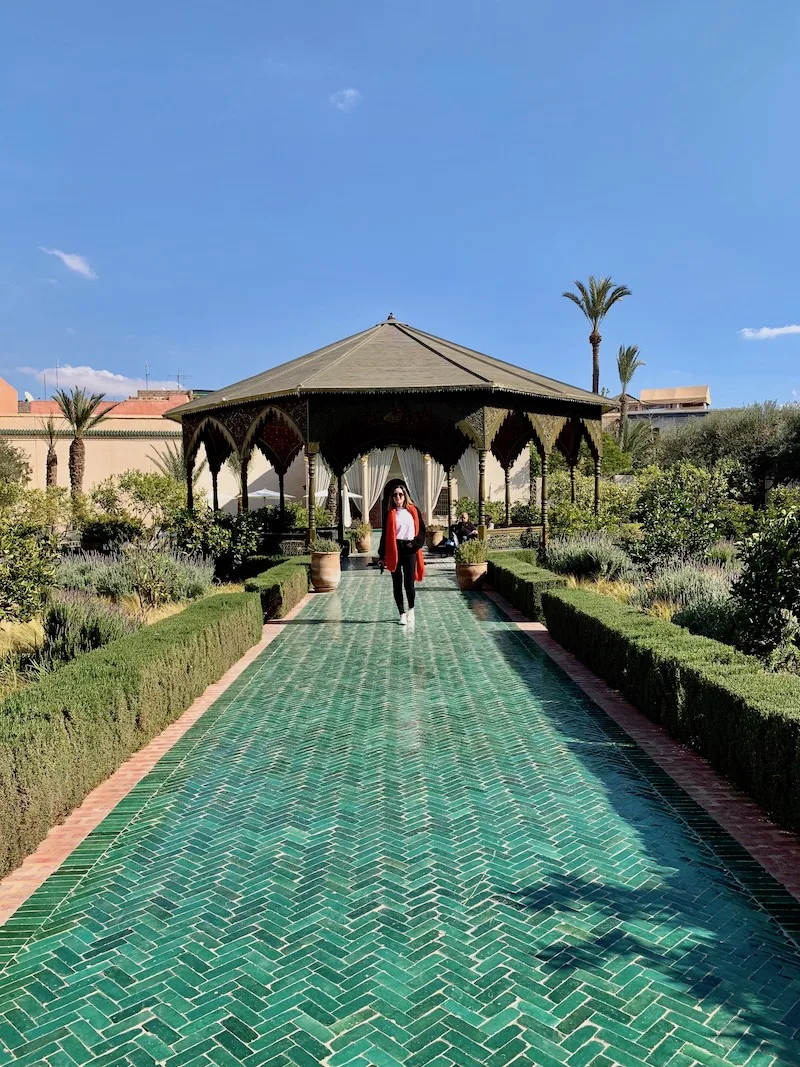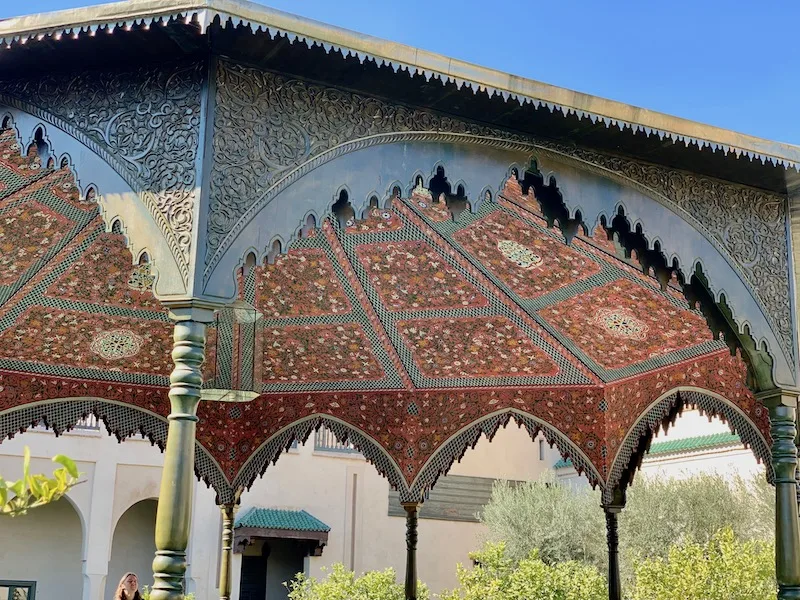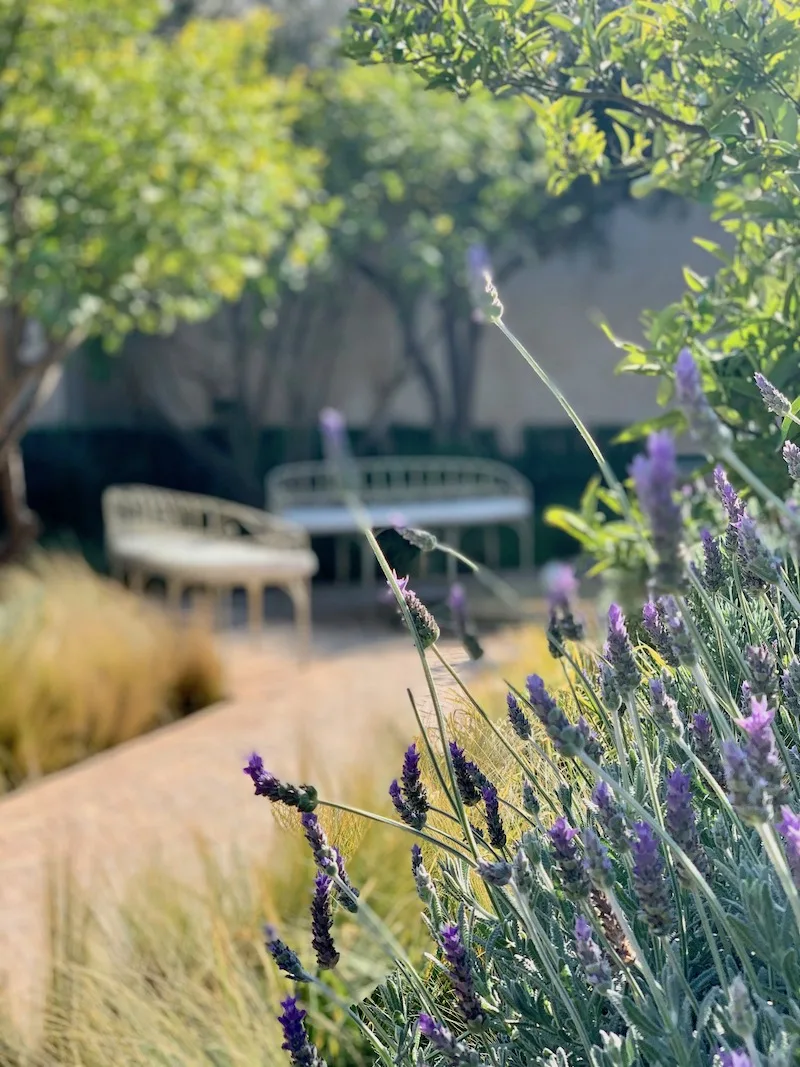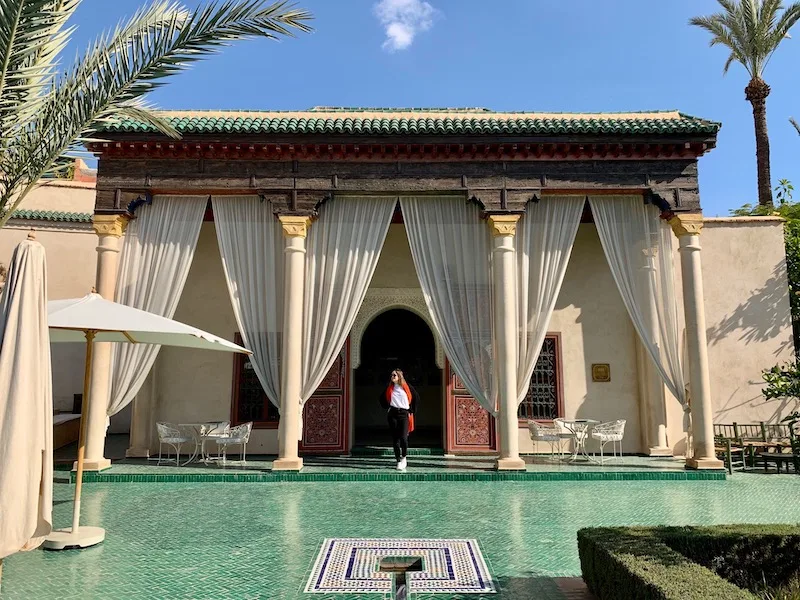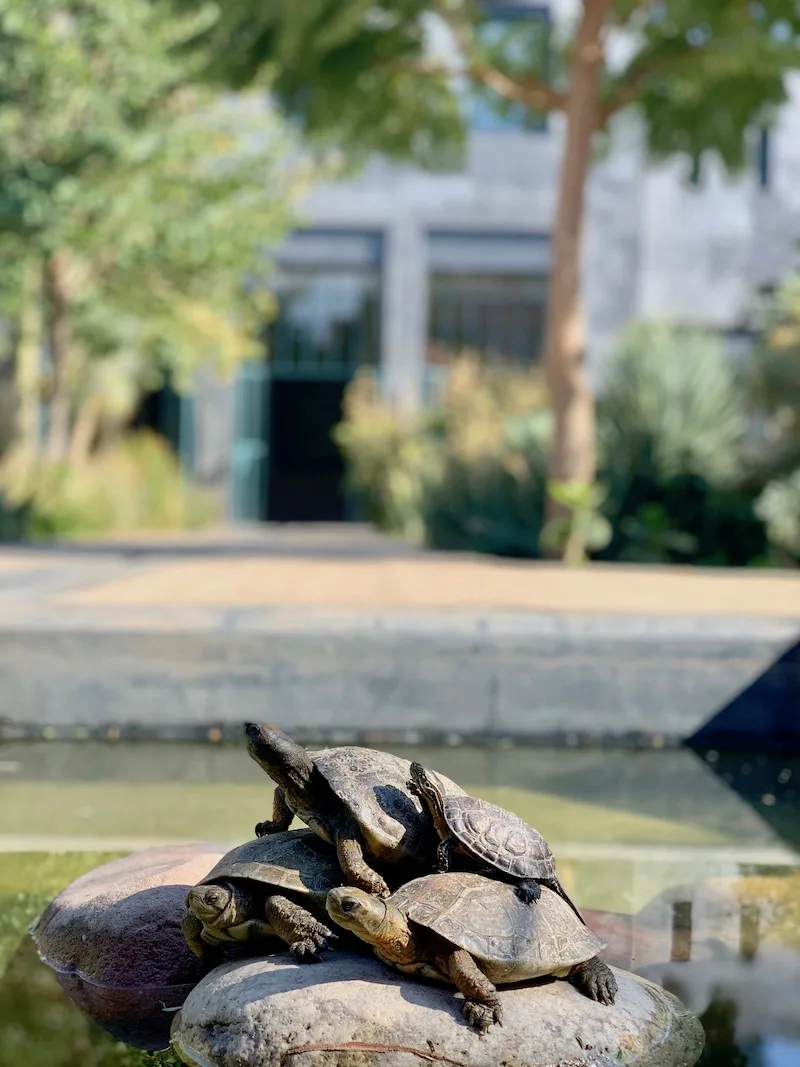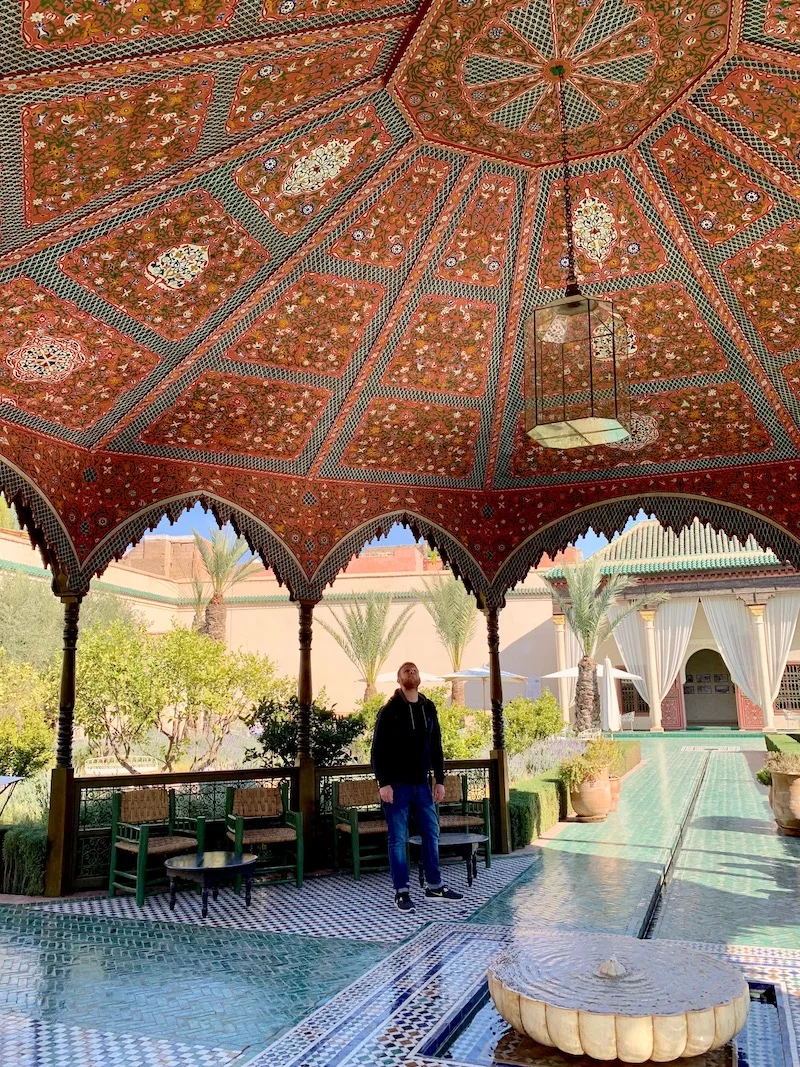 ---
Visit the souks
You can't visit Marrakech without spending some time at the incredible souks and this is exactly how we spent our first afternoon. The souks are open-air markets where you'll find virtually anything and everything you can imagine from live chickens to leather handbags, shoes to spices and clothes to cutlery and a billion other things in between that you hadn't realised you wanted until now!
These markets can be crazy and chaotic so I highly recommend just relaxing and going with the flow. Don't have anything worth stealing (maybe just a little bit of cash and your mobile phone tucked into a small bag or inside pocket) so you'll feel a bit more relaxed and won't worry about everyone trying to pick-pocket you! Talk to the locals, embrace their banter, let them show you their products but be firm about saying no. The salesmen are known for being extremely pushy but we found that if you're polite but firm they don't pester you. We met a couple who complained about getting pestered and we couldn't understand why they were being pestered and we weren't. Then we saw them in the souk and they were chatting with everyone and not making eye contact when they quietly tried to scurry away. Don't be rude but you can't be a softy!
If it's your first time in a country like Marrakech then I highly recommend taking an organised tour to ease you into it and show you the highlights. You'll also find you'll get hassled less when you have a guide with you.
You could take a full day tour around Marrakech for around £35 including lunch or a half day tour which is slightly less. There's also a private, 4-hour tour for just £16.55.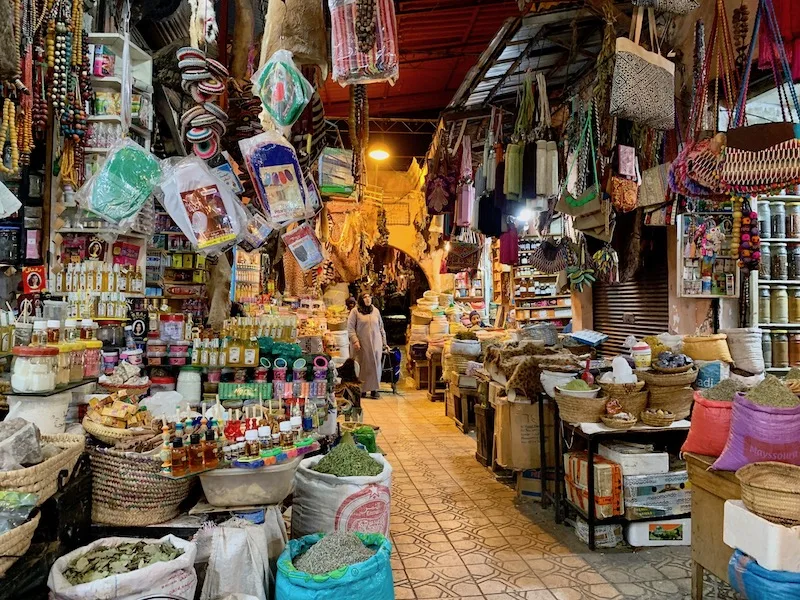 ---
Dinner at Maison Arabe
If you're going to splash out on any of the things to do in Marrakech, make it dinner at Maison Arabe. They seem to eat late in Morocco so when we arrived at 7pm we were the only guests there. We sat outside in the candle-lit gardens and watched the tiny birds skim across the pool. The food was incredible but the magical atmosphere really made it special. I wrapped myself in a blanket while drinking wine under the stars and I knew it was the kind of meal we'd remember forever.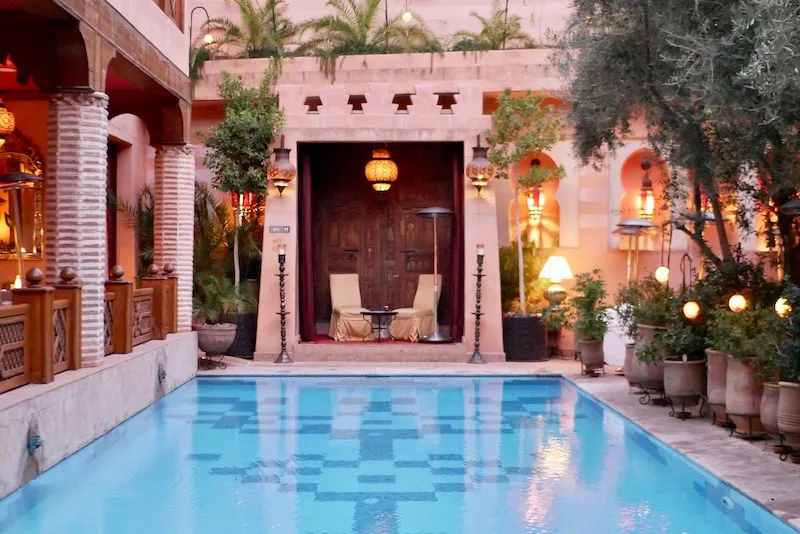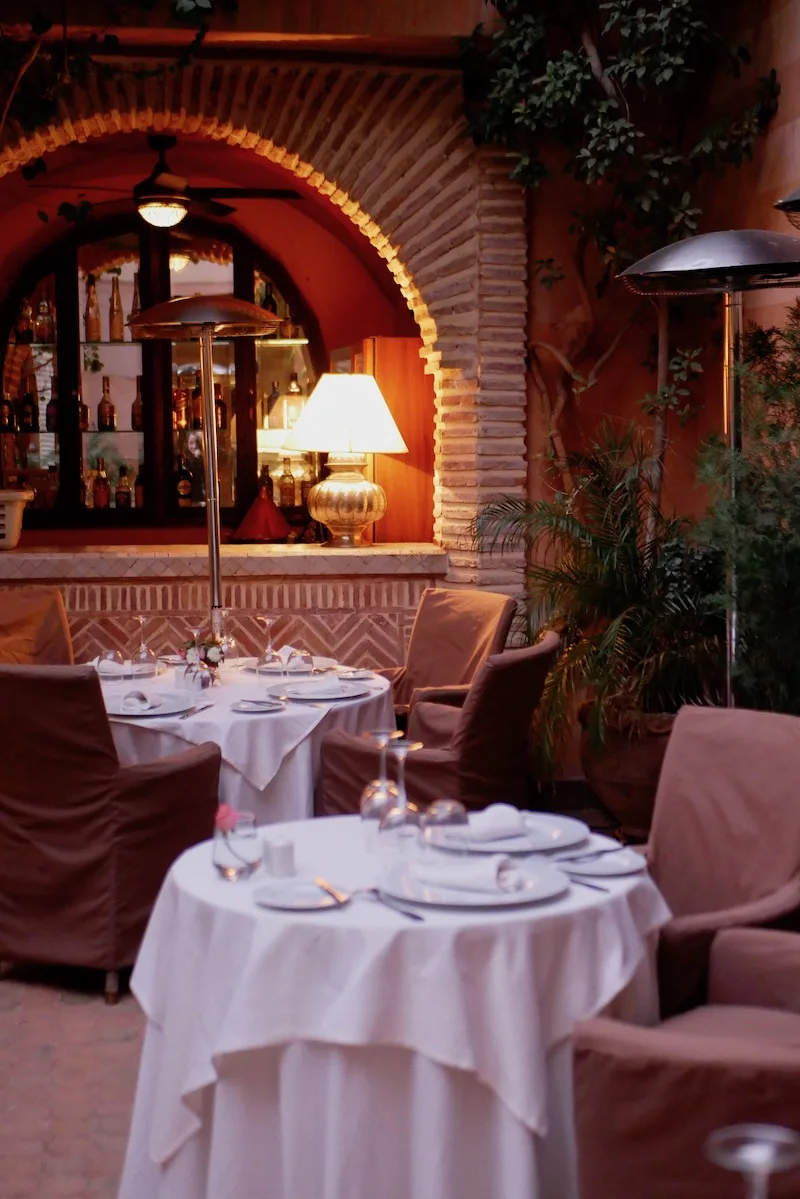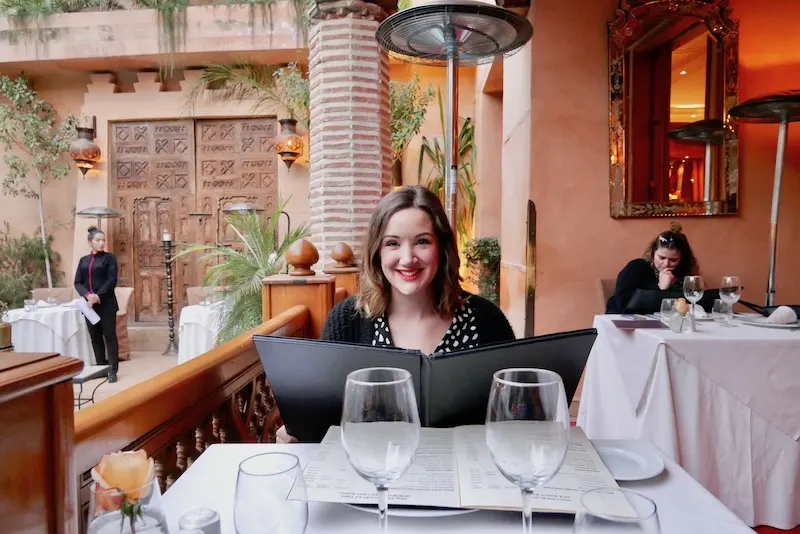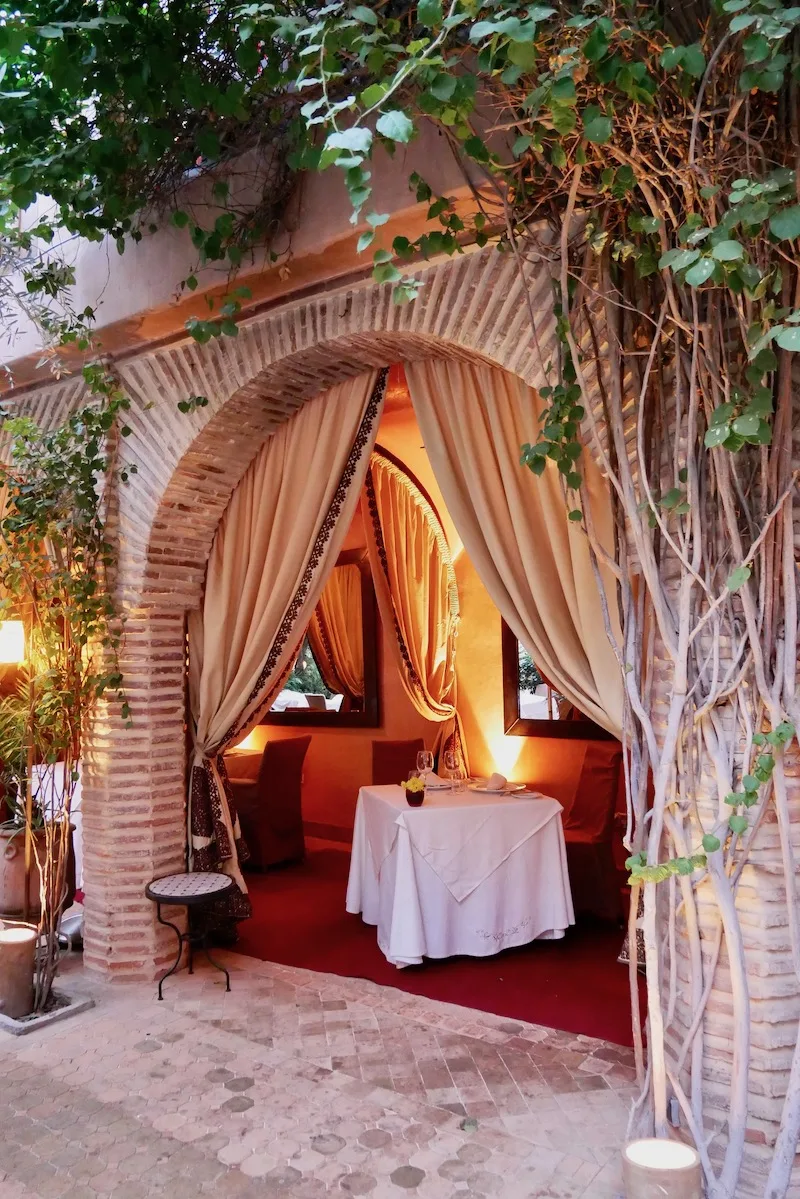 ---
Day 2 in Marrakech
Jardins Majorelle
We started the day with a delicious buffet breakfast brought to our room and then headed out quickly to Jardins Majorelle. This is one of the most popular attractions in Morocco and I knew it would be busy so we arrived at 9am and even then it was super busy.
Jardins Majorelle is a gorgeous garden created by Jacques Majorelle and I adored wandering through the leafy paths.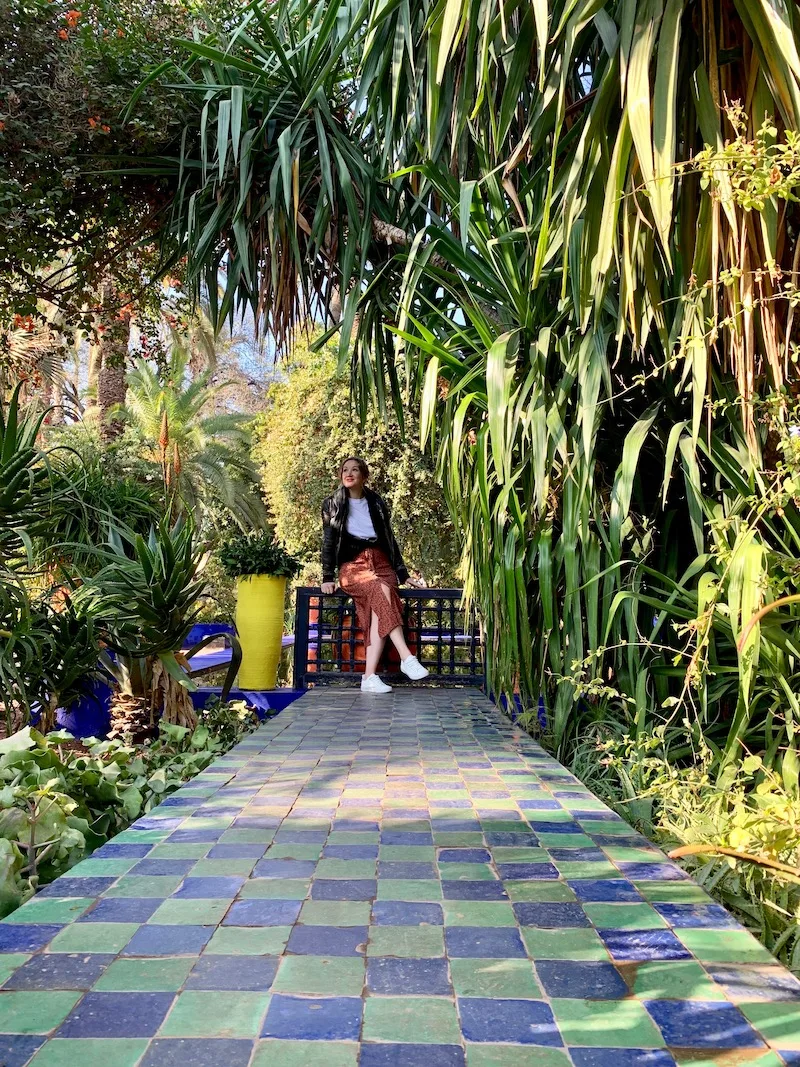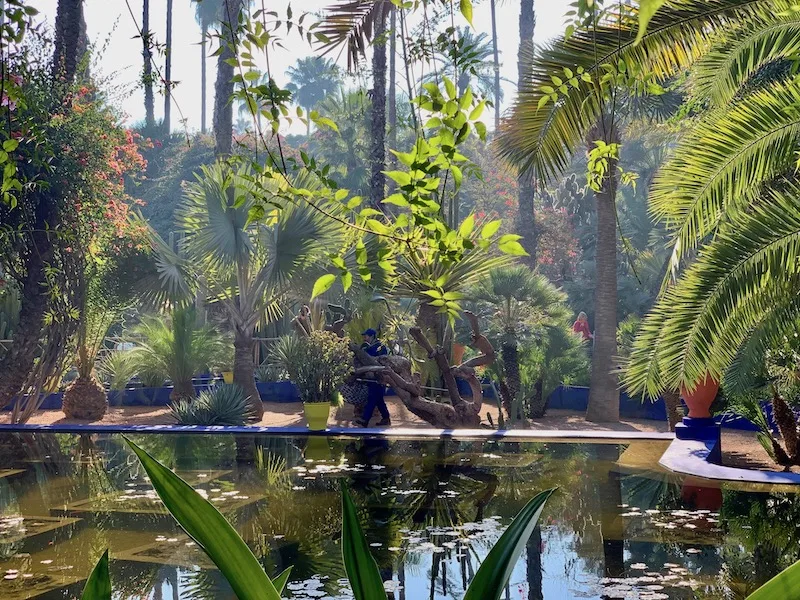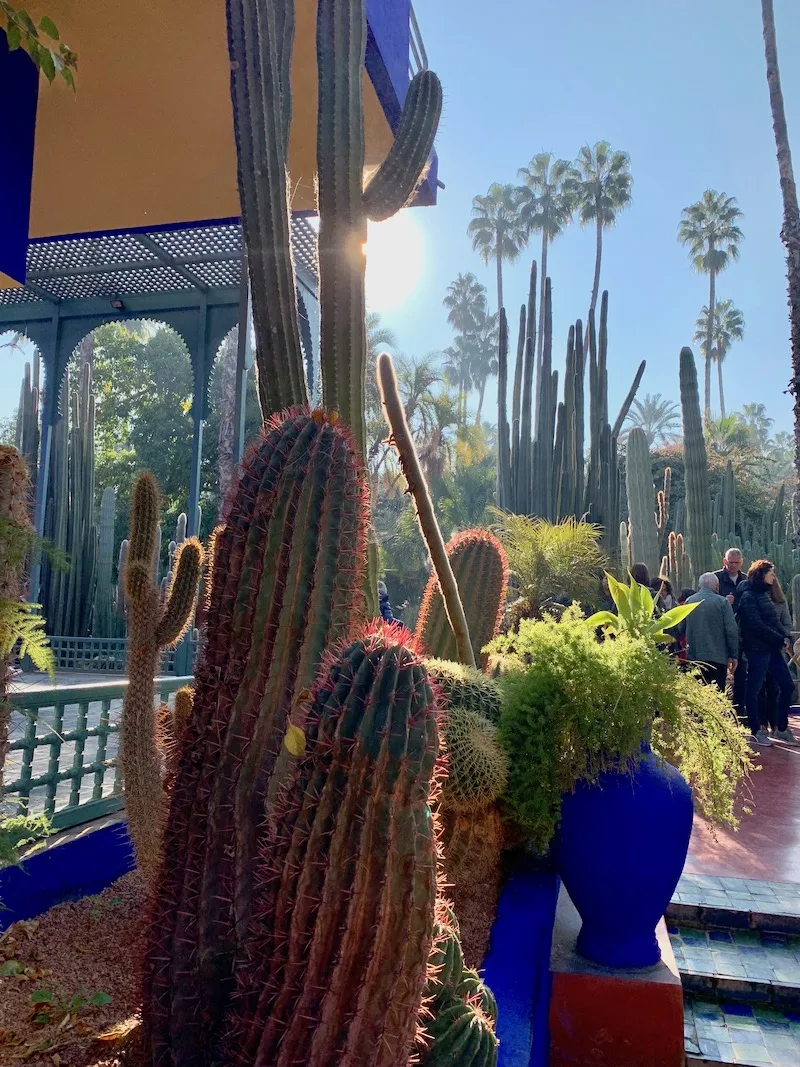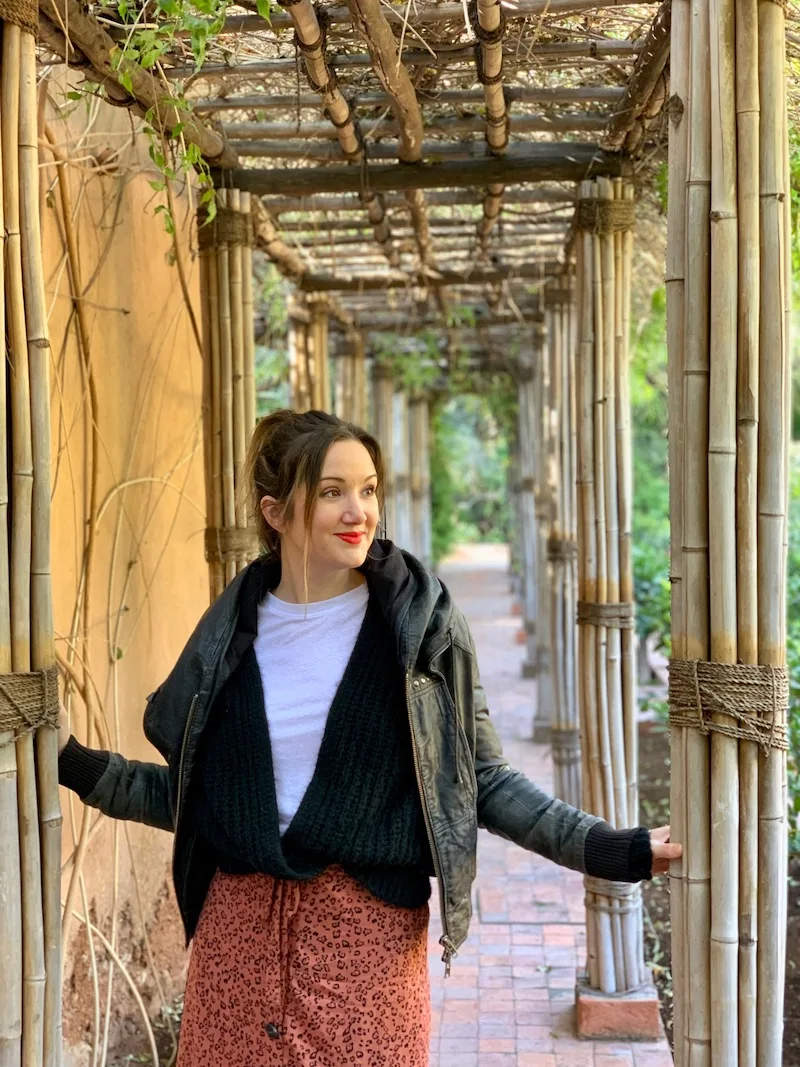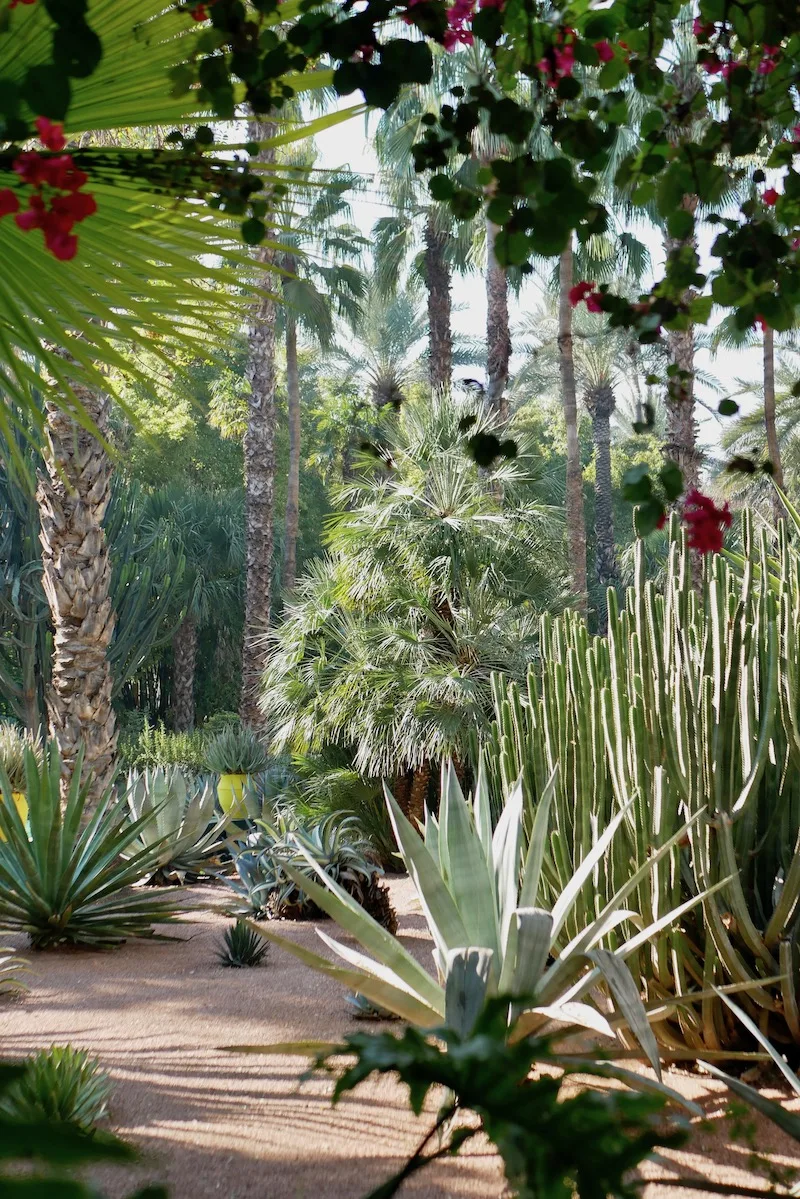 ---
Moroccan Hammam
After our morning exploring the gardens we headed back to the hotel for some traditional pastries and mint tea by the pool before heading to the spa. One of my favourite things to do in Marrakech and something you can't leave without trying is a traditional Moroccan Hammam. You'll find them all over the city as locals visit them once a week for a good steam and a scrub. They were an important part of life as many people didn't have bathrooms but they're mostly a luxury now.
A Moroccan hammam is like a large steam room but slightly bigger and not quite as steamy. It's warm and delicious and a lady will apply a cleanser, leave you to relax and then scrub you with an exfoliating mitt. It can be quite rough so brace yourself! If you're anything like me, you'll be kind of disgusted by all the dead skin she scrubs off. You rinse off and she'll then smother you in a clay body mask and you're left to relax in the steamy room. After rinsing off the clay mask you'll feel so soft and smooth!
Most tourists will visit a luxury hammam and many hotels and riads have their own. If your riad doesn't have one, ask at reception to see if they can recommend one nearby and book you in.
In the luxury touristy hammams you'll often find they'll allow couples to go in together but if not it's strictly men in one and women in another. There are also times when women go in with children so you might want to avoid this if you're looking for a relaxing experience (I know bath time with my kids is anything but relaxing!)
Men can wear trunks or swimming shorts inside the hammam (try and opt for short shorts if you have them) and women wear just bikini bottoms. I'm sure you could ask to keep a bikini top on if you felt more comfortable but it would get dirty and get in the way. Just like any spa treatment, the ladies are so used to see naked people that they don't bat an eyelid anyway! I'd taken a full swimsuit with me so had to roll it down and it was a bit bulky and got in the way so I'd definitely recommend taking a bikini.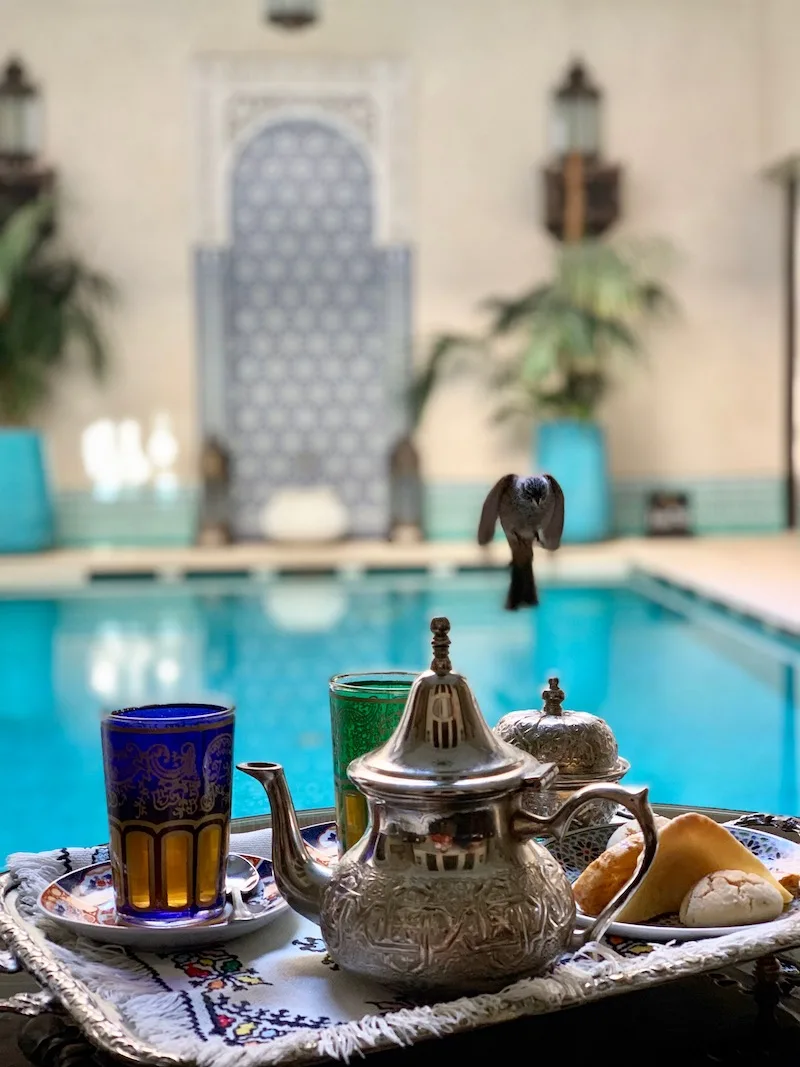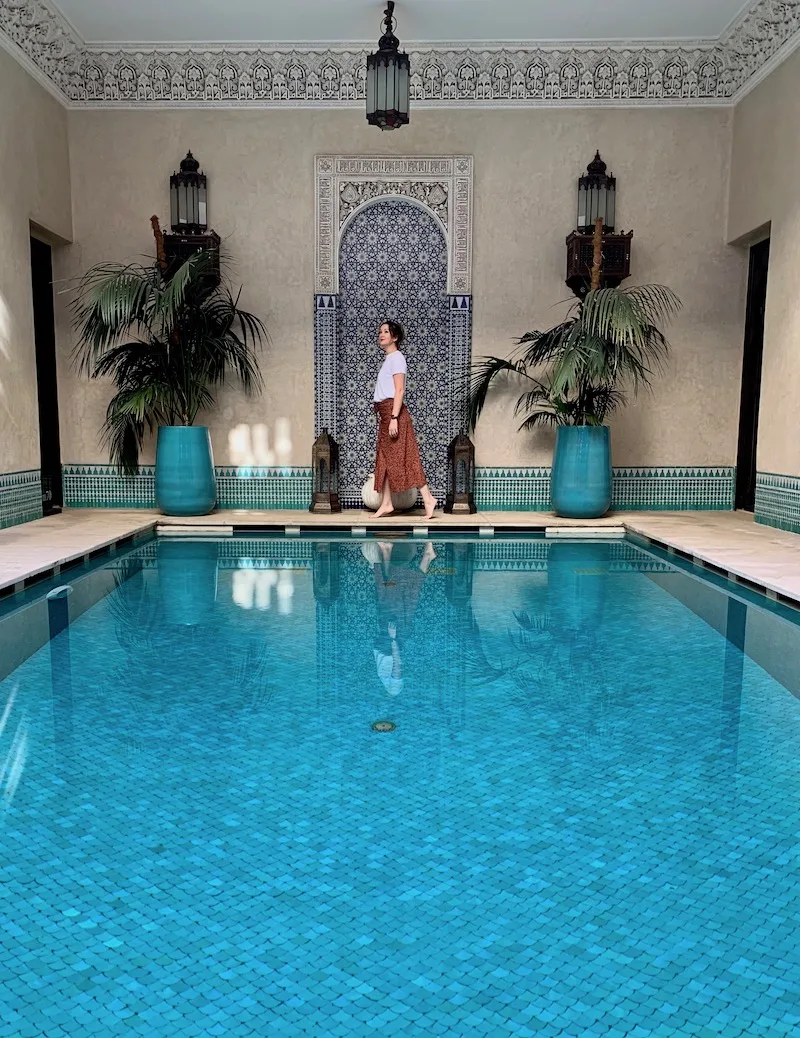 ---
Afternoon to explore
We grabbed a snack from a street food stall and headed out for a bit more wandering, exploring, strolling, shopping, haggling and getting hopelessly lost. We wandered around Jemaa el-Fnaa, the main square and an area that's bustling at night time, and made our way to a smaller square nearby for drinks and more snacks on a rooftop terrace.
Loads of people recommended Cafe Nomad for lunch and we popped in but there were no tables. The menu looked great and the atmosphere was really cool but it was very touristy and the staff were really rude so I'm not sure I'd recommend it.
---
Street food tour
In the early evening we joined a street food tour with Marrakech Food Tours. When Sam was researching our trip, this was the one and only thing he desperately wanted to do so I was really pleased we managed to get a spot on the tour on his birthday evening!
There were 8 people on our tour and a local guide and we were taken to around 8 different food stalls to try a little sample of deliciousness at each one. Well, I say 'a little sample', some of them were as big as a normal meal so I'm very pleased I arrived hungry!
A food tour is my favourite kind of tour as you learn so much about the people, the history and the culture through the food and a knowledgeable guide who tells you little stories about each establishment you visit and all about their life in the city. It's so much more interesting than a regular historical tour but you still end up learning a lot about the history…it's just delivered between mouthfuls of delicious food!
A highly recommend a street food tour in a city like Marrakech because it can be a little overwhelming knowing what to eat and where. You don't know what to order and everything is so unfamiliar. A tour like this will introduce you to lots of different foods and you can come back to your favourite places later on (if you ever manage to find them again!)
Our first stop of the tour was my favourite as it was so unexpected and was something i wouldn't have tried alone. We visited a little stall where they served delicious slow, cooked lamb cooked in a fire pit. This stall actually served lamb to restaurants across the city and young boys would come and grab them and rush them back to the restaurant! We ate on a rooftop terrace above the kitchen and after the lamb we were served sheep's head too. It was all served with freshly baked bread and was the most incredible, melt in your mouth meat you can imagine. The sheep's head was actually quite tasty too but I wasn't brave enough to eat the tongue or eyeball like some of the braver members of the tour!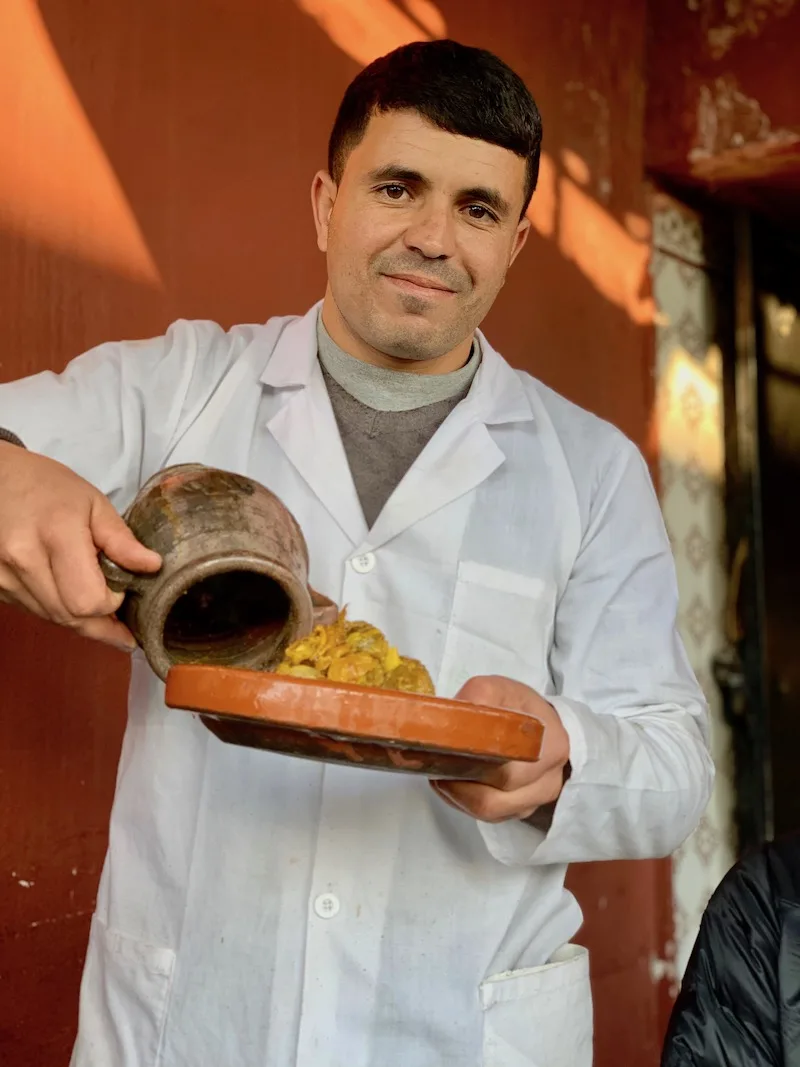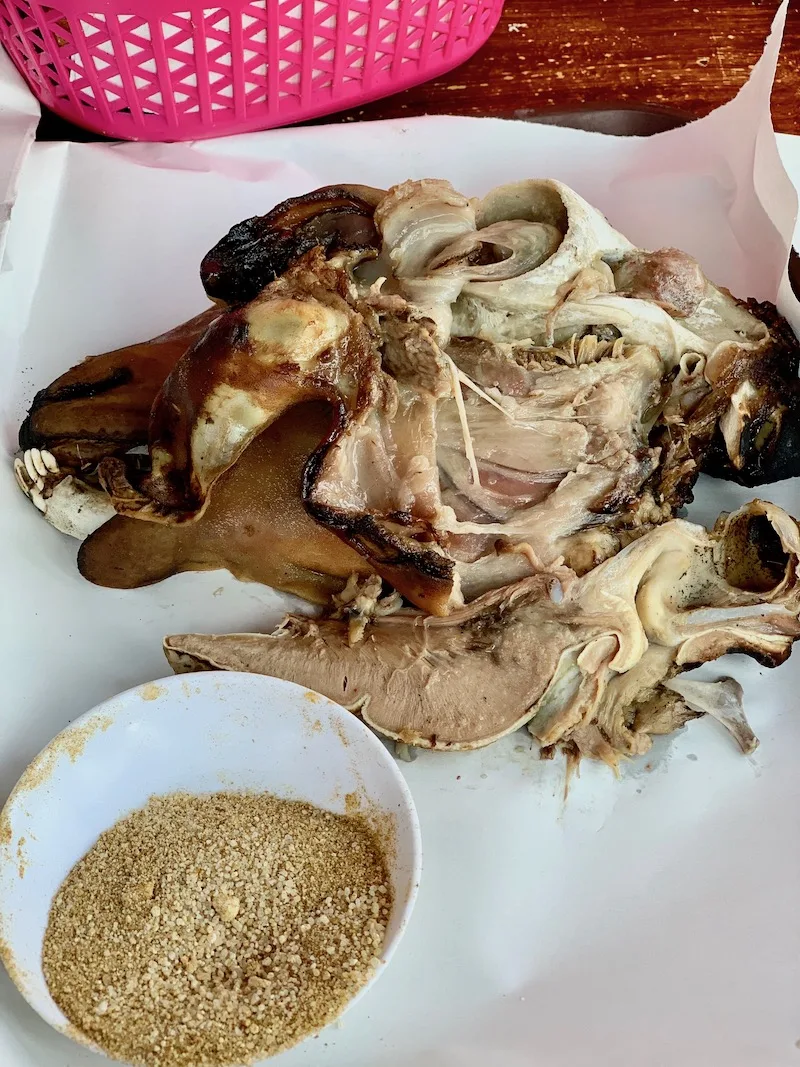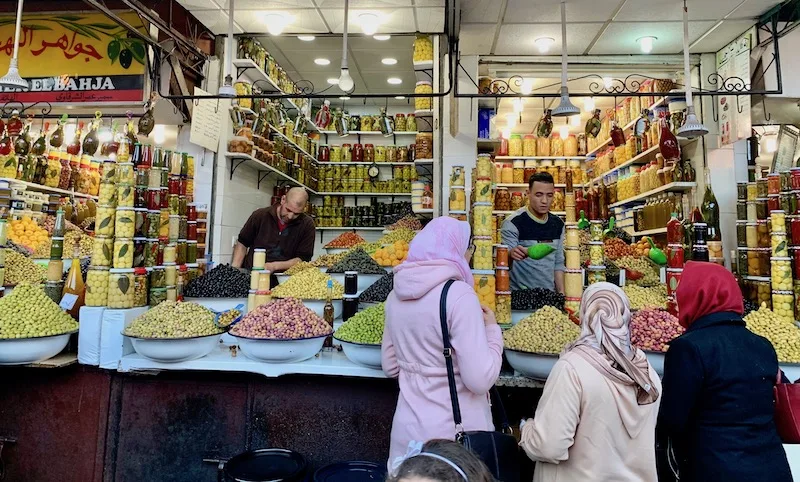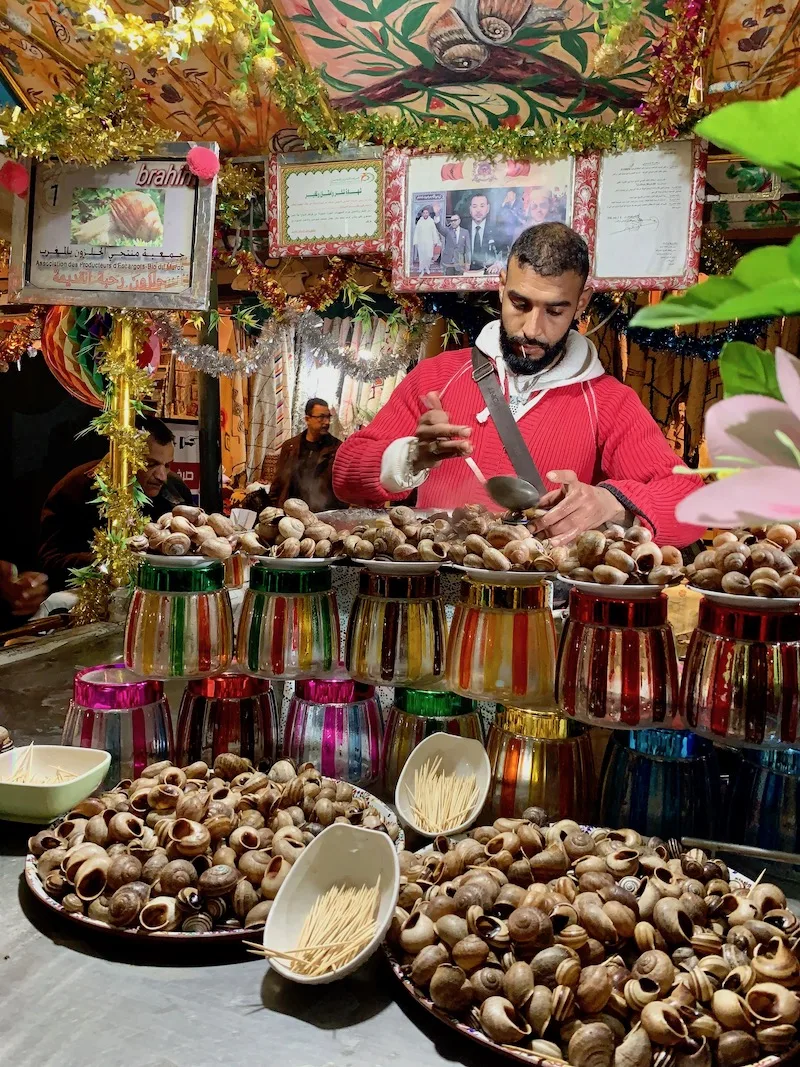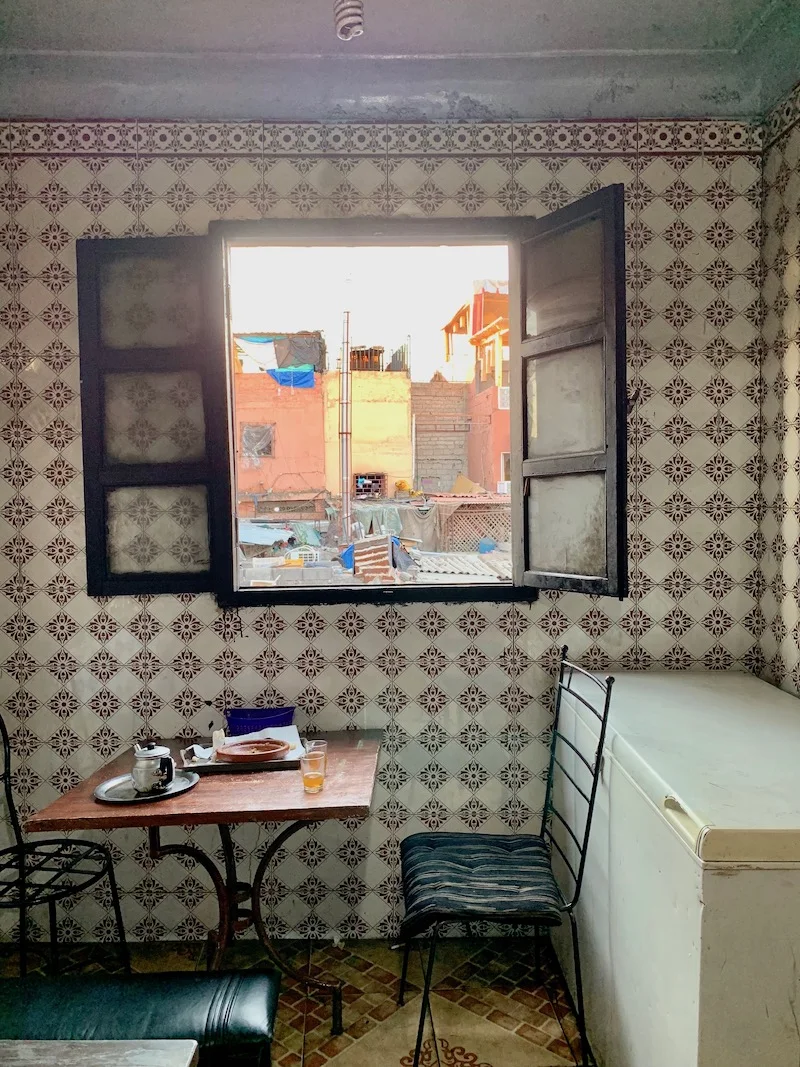 ---
Day 3 – Hiking in the High Atlas Mountains
During our final full day in Morocco we headed out of the city to go hiking through the High Atlas Mountains. Sam took a little bit of convincing that this was a good idea. 'With so many things to do in Marrakech, why would we leave the city?' he kept saying!
But this turned out to be his favourite thing and we're both so glad we did it.
We took a tour with Desert Trips Morocco and we were picked up from our riad at 9am. We drove for about an hour and a half, stopping at pretty locations long to way where we could enjoy the views and stretch our legs. Arriving in a little village called Imlil, which is at the foot of Mount Toubkal, the highest peak in North Africa felt like we'd been magically transported a million miles from Marrakech. This was like a different world and I couldn't believe we were so close to the busy city. We were taken to a house where we met our guide and our hike began.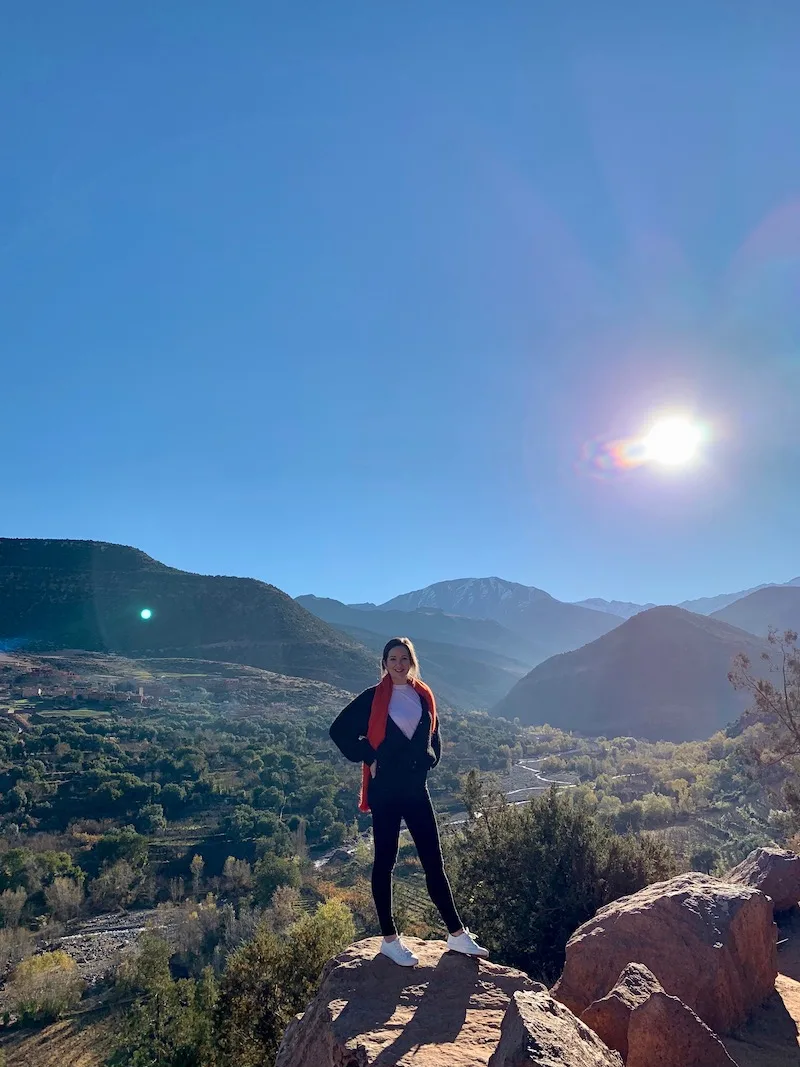 Now I've got to admit I was a little unprepared for the hike. We'd arranged it at the last minute and I thought we were going for more of a walk than a hike and I showed up wearing cheap Primark pumps, jeans and a leather jacket! I definitely wasn't dressed appropriately!
During a 4 hour hike we made our way up craggy mountain paths, past berber villages, past flocks of sheep with watchful shepherds ushering them on. The views were incredible but just being outside with the hot sun and the freshest of fresh air was the best. We were surrounded by snowy mountain peaks and epic backdrops at every turn.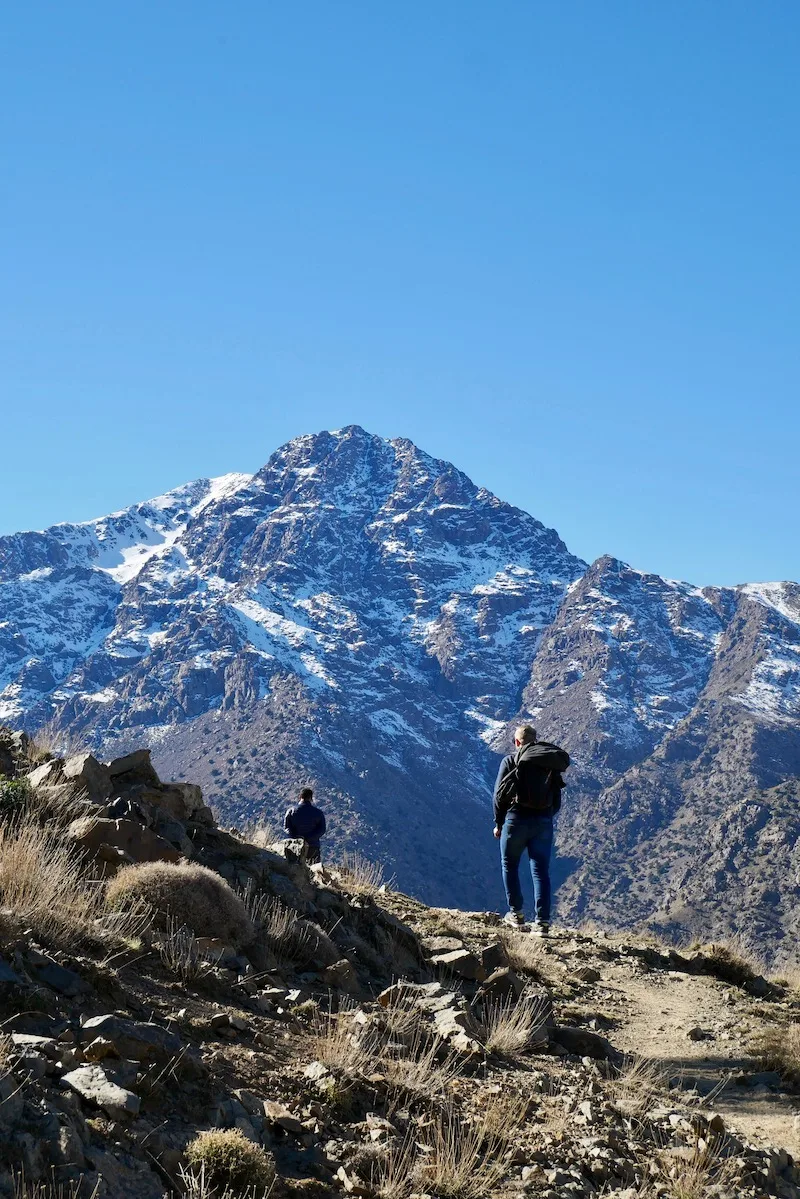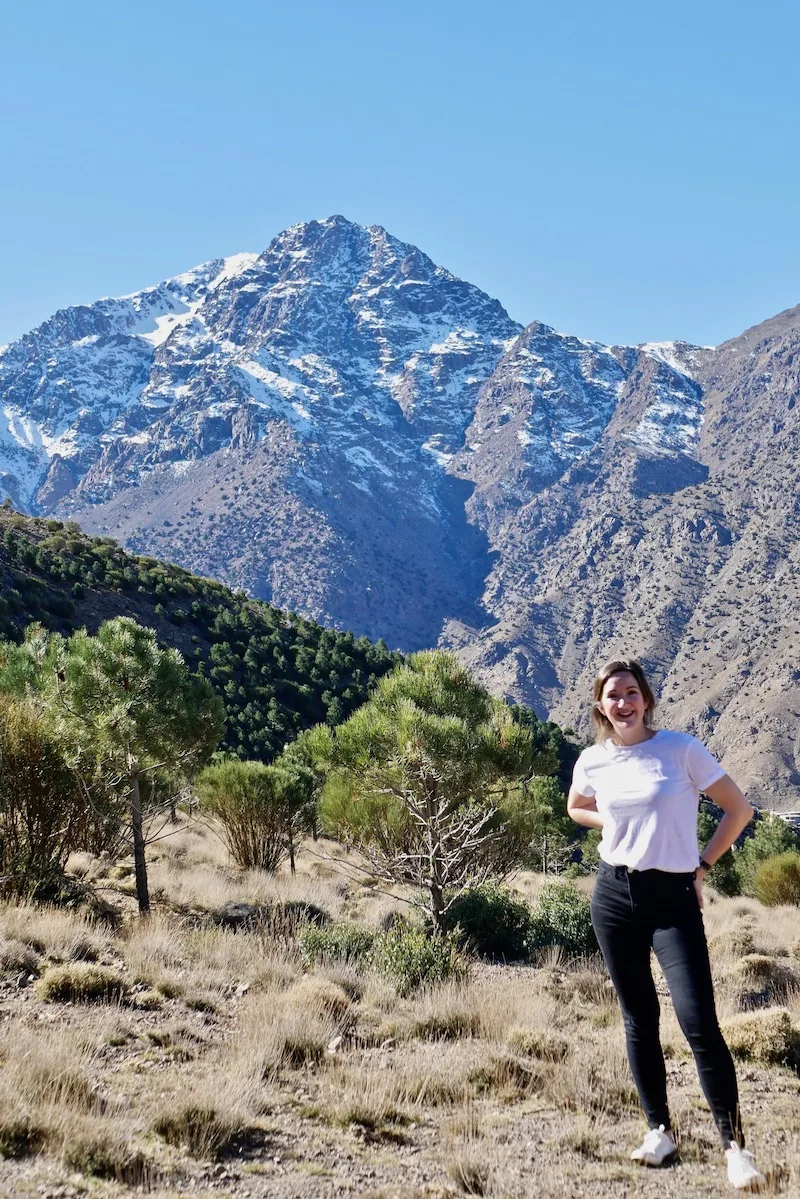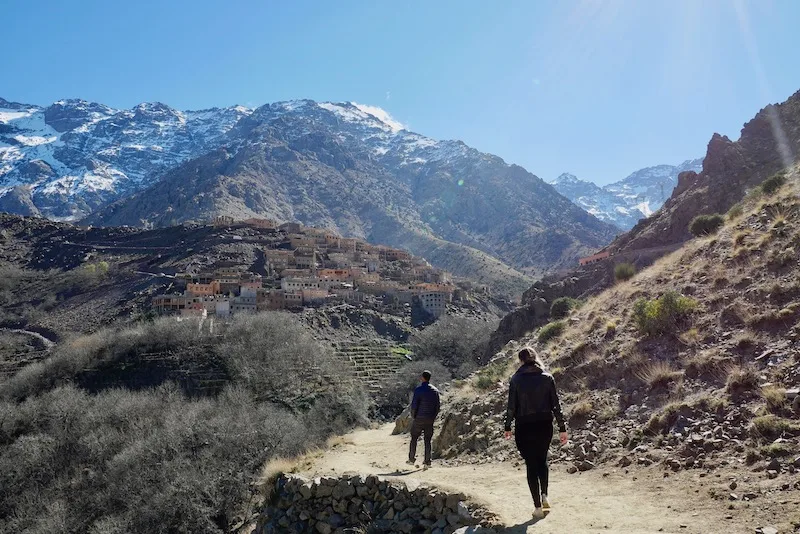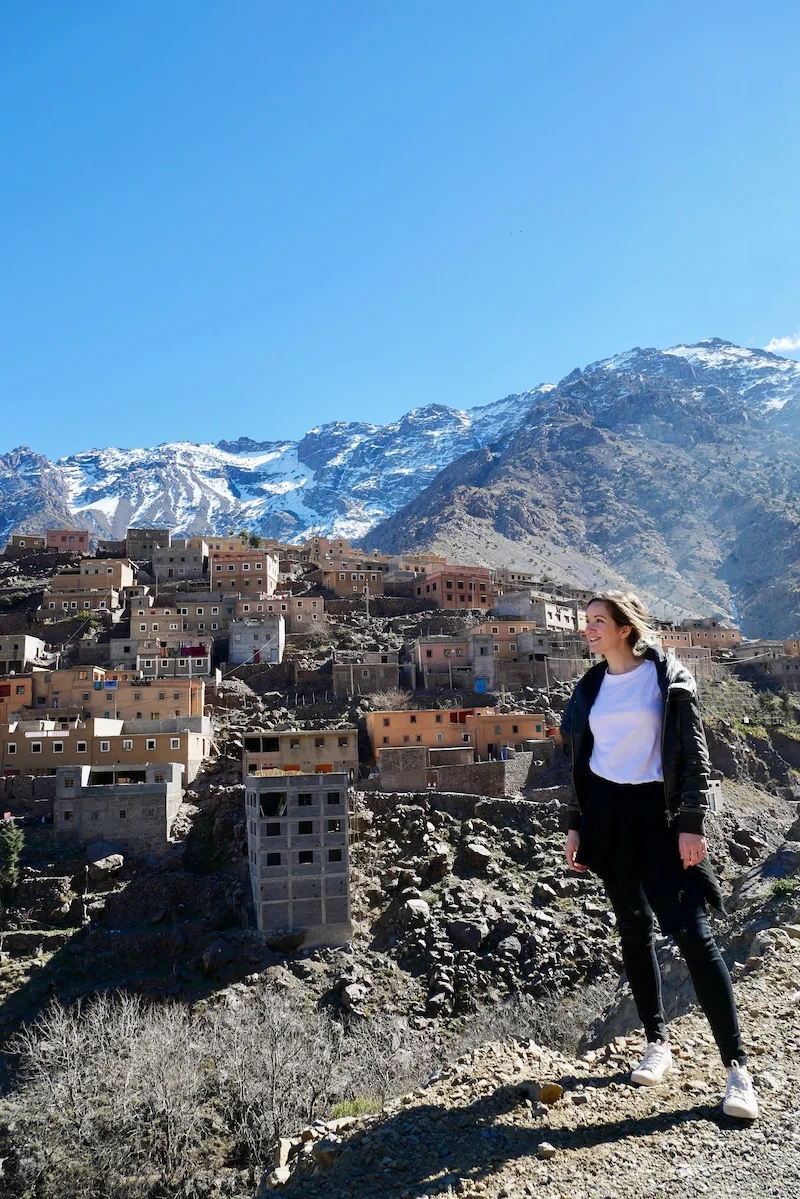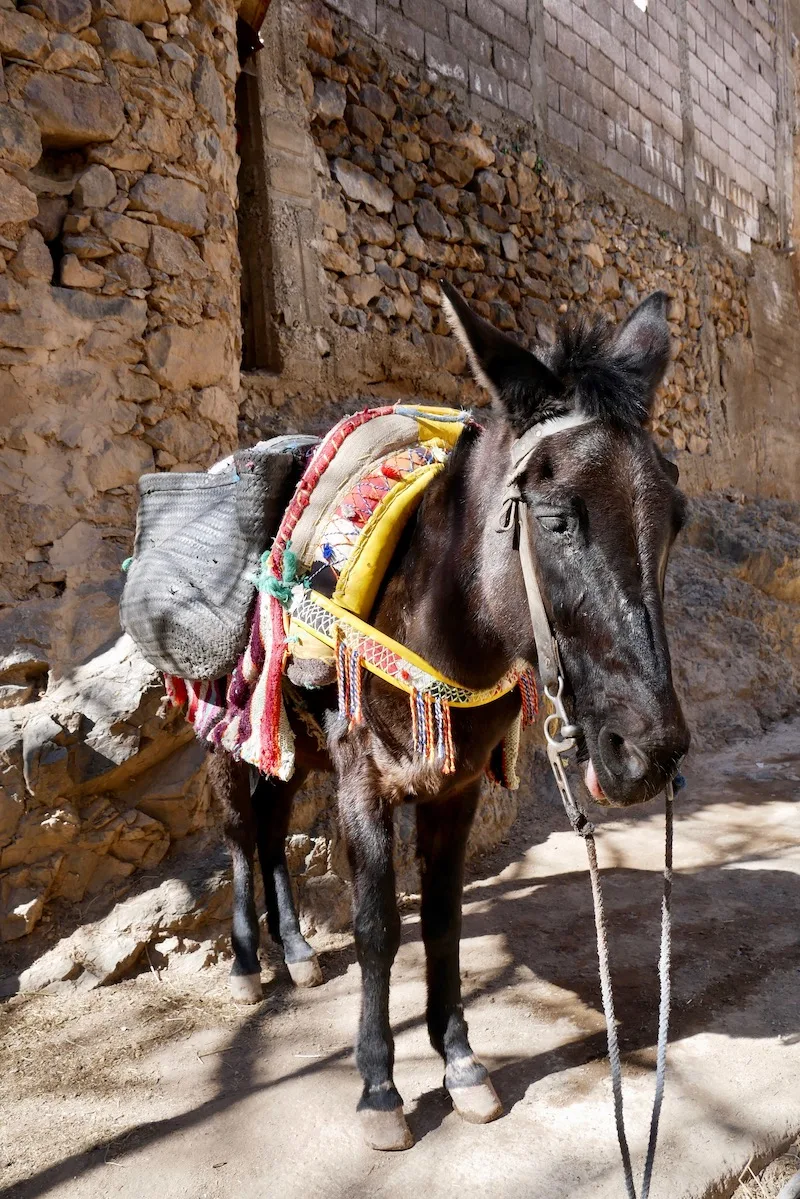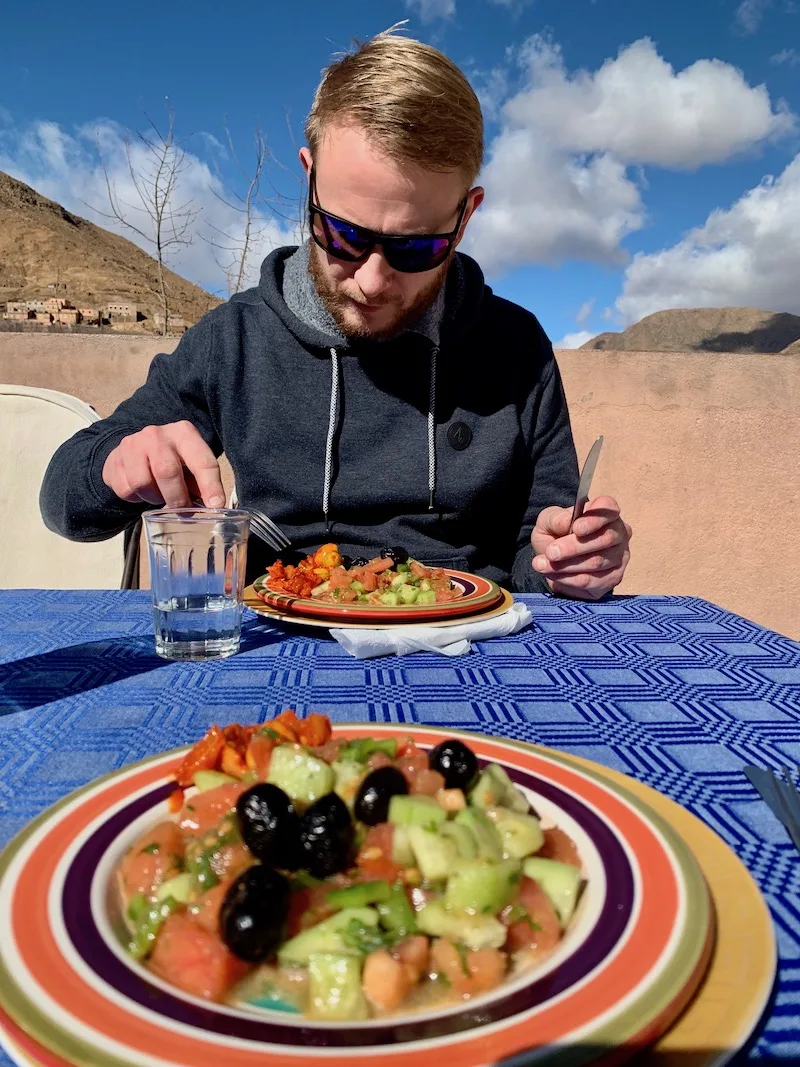 The hike was tough and there was more than one occasion where I stopped to 'take photos' but actually I was just gasping for breath and needed a breather! But it was worth every step and arriving back at our original location to a steaming tagine and sweet cups of mint tea was the best!
---
That was our luxurious 3 day trip to Morocco and all of our favourite things to do in Marrakech. I think we could have squeezed in more activities but I loved the leisurely pace of our trip and enjoyed the balance of organised tours and time to wander.
Disclaimer: Our places on both tours were complimentary in return for an honest mention. Everything else was paid for myself.
Read more blog posts about Morocco
Your Morocco Packing List + What to wear in Marrakech
A photo journey through the High Atlas Mountains
[one_half padding="5px 5px 5px 5px"]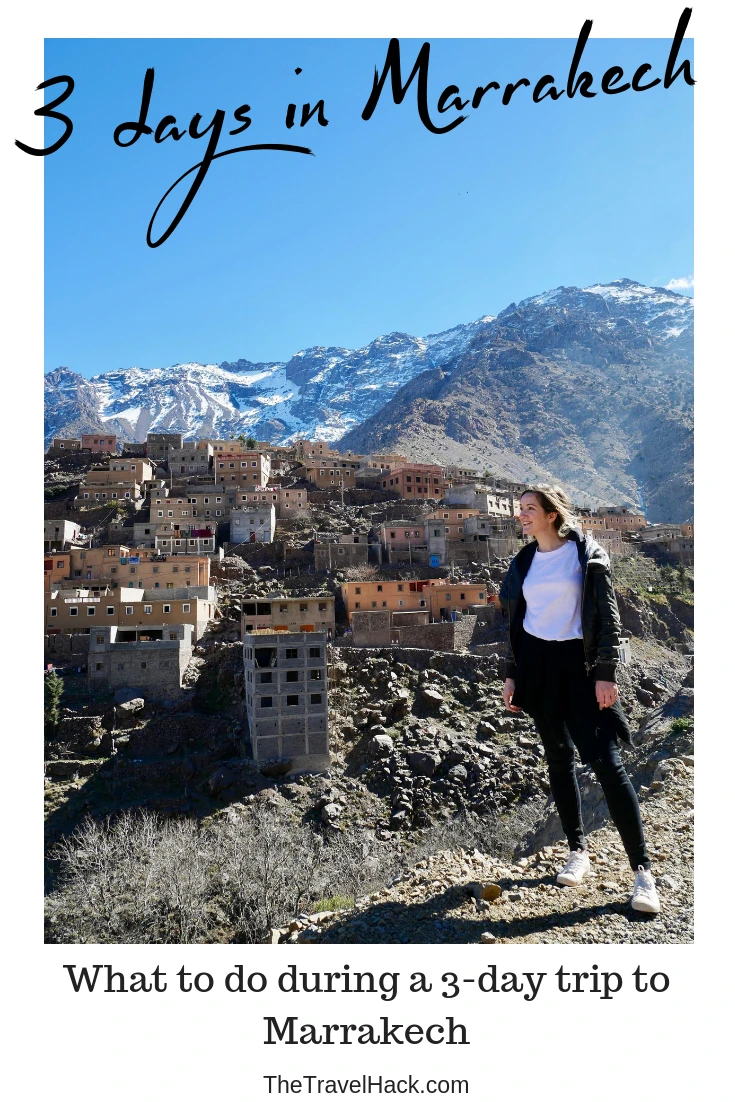 [/one_half][one_half_last padding="5px 5px 5px 5px"]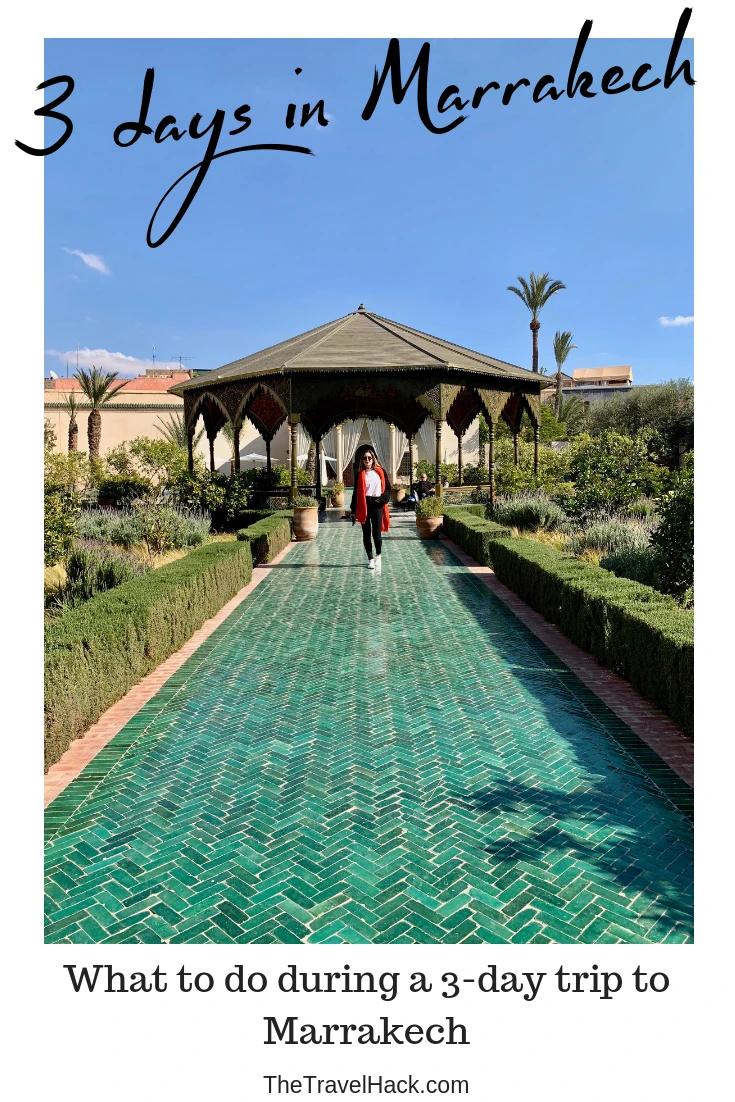 [/one_half_last]