Of all my travel experiences, camping in the Sahara Desert was one of the best things I've ever done. It was unique, memorable, exciting and adventurous but it was also affordable and actually quite an easy tour from Marrakech.
There are lots of tours you can choose from and most of them will pick you up from your hotel and take care of everything for you. You could opt for a budget one (which is what mine was!) or go for a more luxurious glamping experience! Whatever you do, it'll definitely be a once-in-a-lifetime trip and I can't recommend camping in the Sahara Desert enough.
Here's a budget-friendly 3-day, 2-night desert safari for less than £100. It includes one night in a bedouin camp in a private tent and one night in a hotel with loads of activities too.
Anyway, let me tell you about my Sahara Desert camping experience!
---
"I can't believe we're lost in the Sahara Desert."
We all collapsed into a fit of hysterical/nervous giggles as we laughed at how ridiculous that sounded. Then the laughing stopped as suddenly as it started when we realised it just might be true.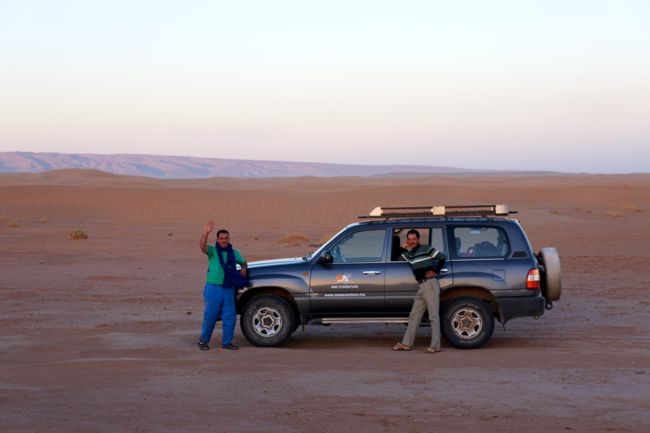 I'm still not sure if our drivers were teasing us or we were genuinely lost but I'm sure we passed the same sand dune on more than one occasion! I have no idea how you differentiate one sand dune from another but the surrounding sand dunes were beginning to look worryingly familiar.
There were two 4x4s driving to our camping spot which was about an hour into the desert. After an hour of all the ups and downs and swerving around huge dunes we'd lost the vehicle in front and were in a frantic hurry to find our little camp site before sunset. We'd been promised that sunset in the Sahara Desert is one of the most spectacular sights on earth so we had high expectations and didn't want to miss it.
I was on a weeklong tour around Morocco with Intrepid Travel and I already knew that camping in the Sahara would be the highlight of the trip. I grew up in Wales and I'm a country girl at heart so I love being in the great outdoors. My usual camping trips involve mountains and lakes, an inevitable burst of rain and eating burnt sausages from an instant BBQ, so I wasn't sure how this would compare. But let me tell you, camping in Africa is something else.
Camel rides
The day started on a high with a camel ride across the Moroccan sand dunes to take us part of the journey to our camp. The camels heaved us over giant dunes as we perched nervously on their humps.

The trick to riding a camel is to go with the movement of their jerky steps. You'll find yourself lurching forwards and backwards as you hold on for dear life while clenching your thighs to their sides. It may not be the most comfortable journey but it's definitely an interesting workout.
Camels are slow, gentle animals and you can't help but fall in love with their relaxed attitude and those massive eyelashes.
After an hour of riding we swapped our camels for 4x4s and sped over the dunes to our campsite. It felt like a miracle when we finally saw our traditional tents waiting for us in the distance.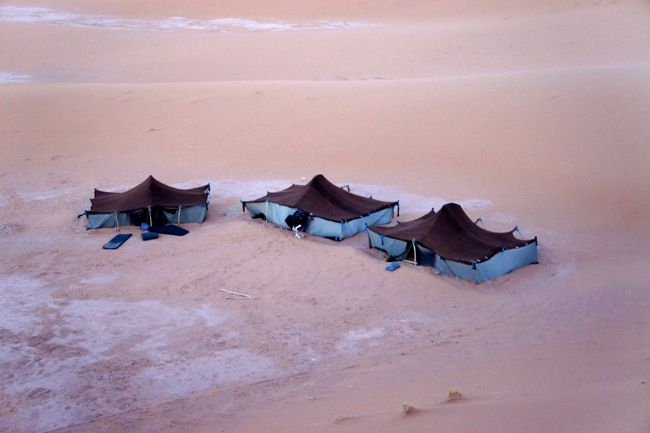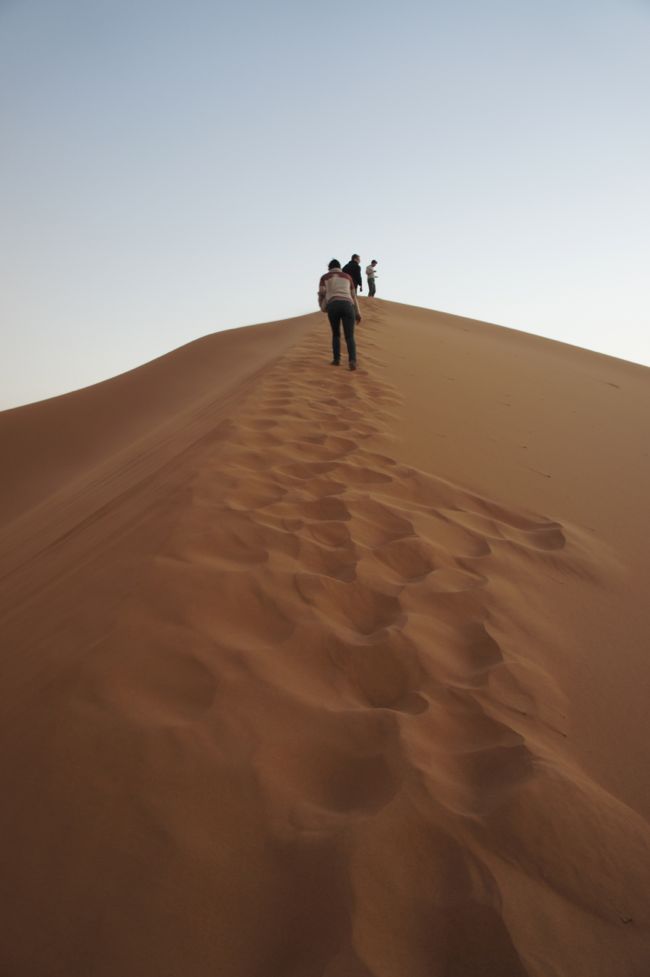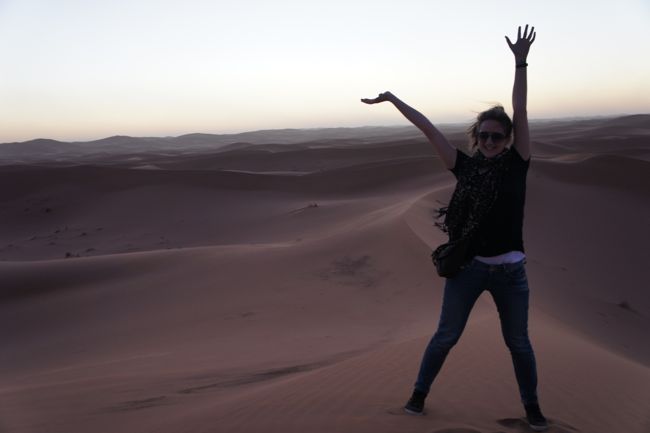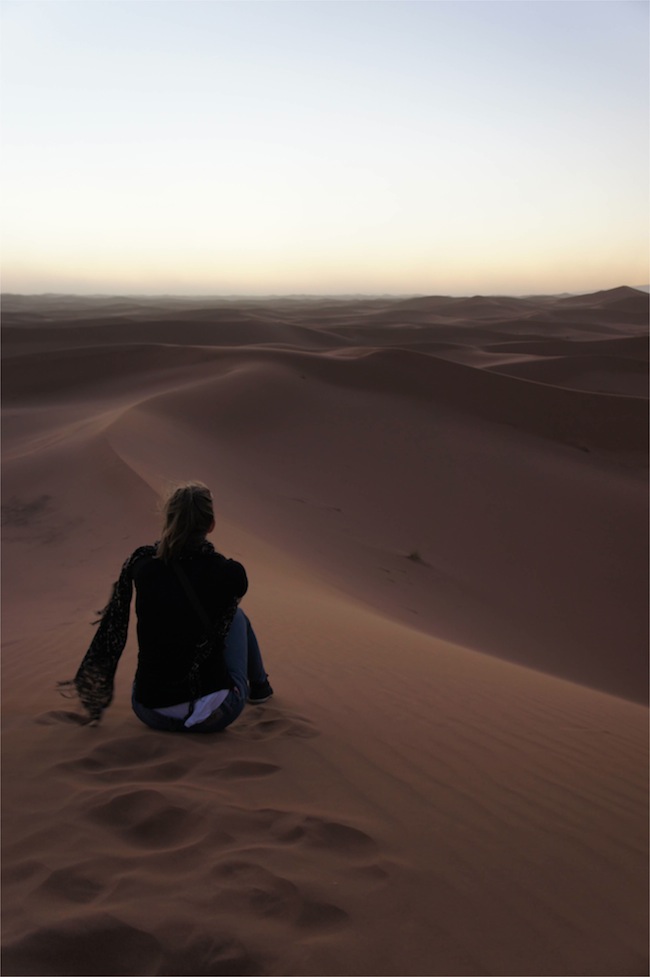 Sunset in the Sahara
We reached our camping spot just in time to watch the sun set into the desert and we raced up the nearest sand dune to watch Mother Nature's show.
Our chatty group that had barely stopped talking since we met in Marrakech was silenced for the first time all week. And with a view like this, who could blame us.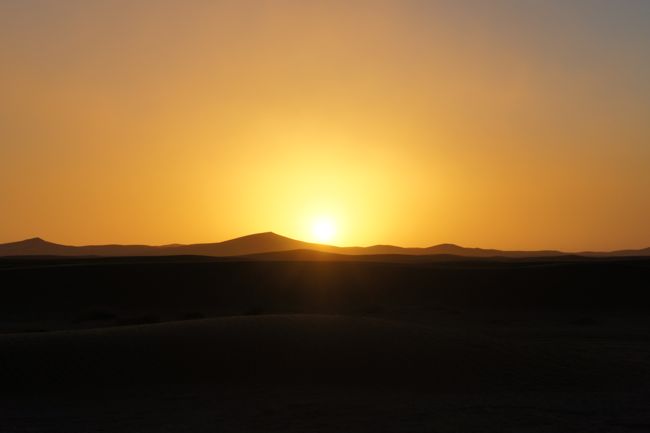 There wasn't a single sound for miles around and it felt like we could have been the only people in the world.
The warmth in the sand disappeared the moment the sun went down so we raced back down the dunes to our traditional woollen tents where we huddled together to keep warm and drink sweet mint tea.
The tents were basic and had gaping holes in the sides which we found provided perfect windows to look up at the stars. It was quite possibly the most magnificent view I've ever seen.
There were so many twinkling stars above us that the sky didn't even look dark. The Milky Way was a shimmering silver streak across the sky while shooting stars darted across it like diamonds. We dragged our sleeping bags and blankets out from our tents and lay in the soft sand to admire the view while making countless wishes on the shooting stars.
Moroccan tagines were served for dinner as we sat cross-legged in the tent around a steaming pot of delicious cous cous and vegetables. We sat there for hours; talking, laughing, telling stories and drinking sweet tea by candle light.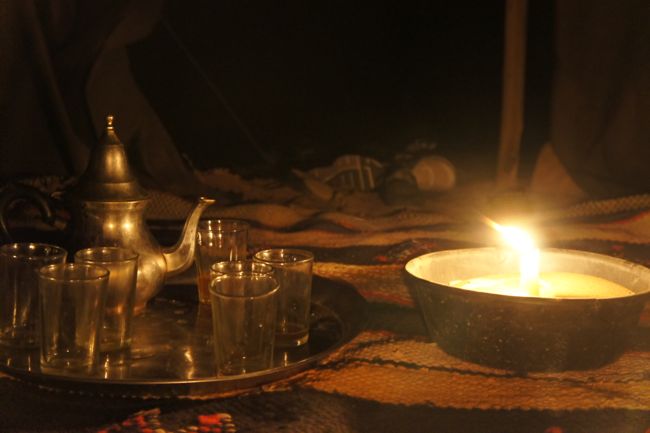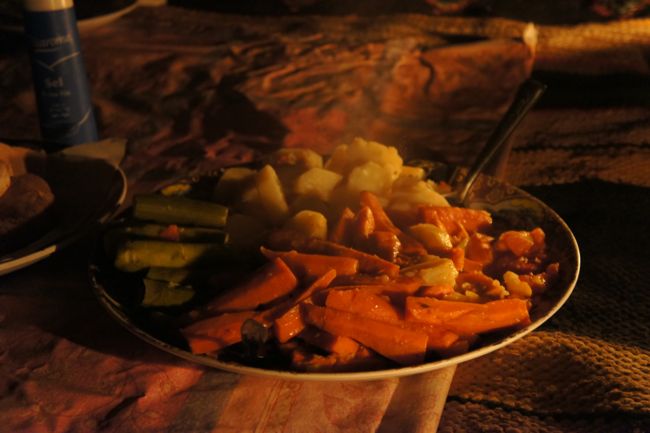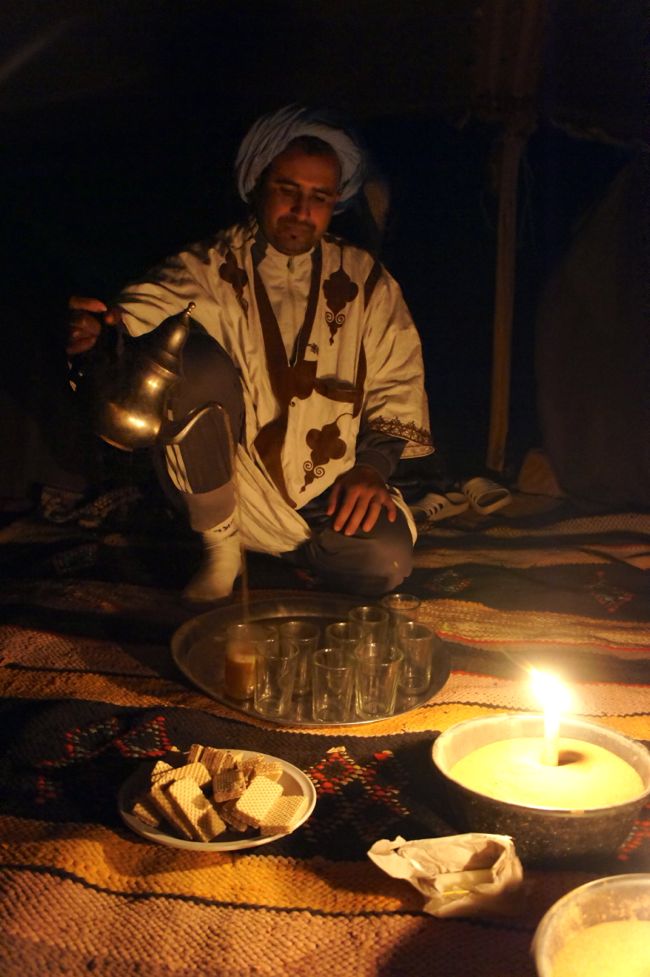 Stories by candlelight
Tahar, our guide, turned out to be a great storyteller as he recalled his childhood memories growing up with his nomadic family in the desert.
Tahar didn't leave the desert until he was 8 years old and had only ever met other nomadic families so he had no idea there was a whole world out there.
I remembered how I'd felt up on that sand dune where it seemed like the desert went on forever. It felt like there couldn't possibility be other people out there, never mind cities or lakes or seas. He touched his face and his skin to indicate that he'd thought that the whole world looked like him, spoke like him and lived like him. I couldn't image what a shock it must have been to discover how big the world really is.
He told us he was a naughty child and didn't take well to nomadic life. He was useless at looking after his father's goats and always lost them so his father sent him away to school. He'd been brought up speaking a dialect known only by nomadic families so he struggled to learn anything at first but now he speaks 8 languages! He began working in hotels and gradually moved into tourism until he became the amazing tour guide that he is today.
*****
Tahar woke us up early the next morning, promising that it would be worth it so we wriggled out of our tents. We took our blankets with us to keep warm and made our final tough journey to the top of the dune. You know it's going to be a good day when you wake up to a view like this…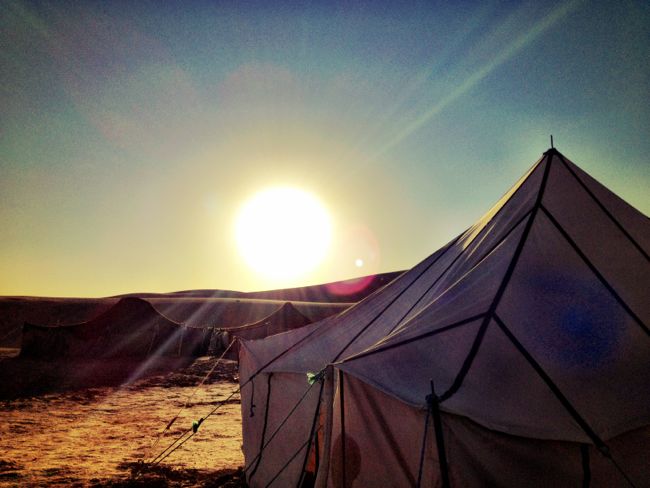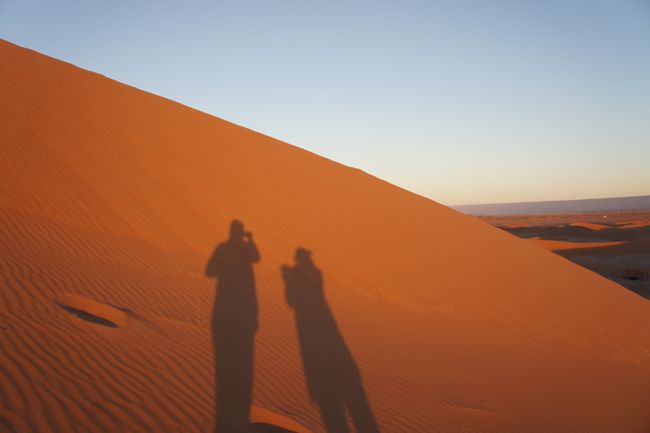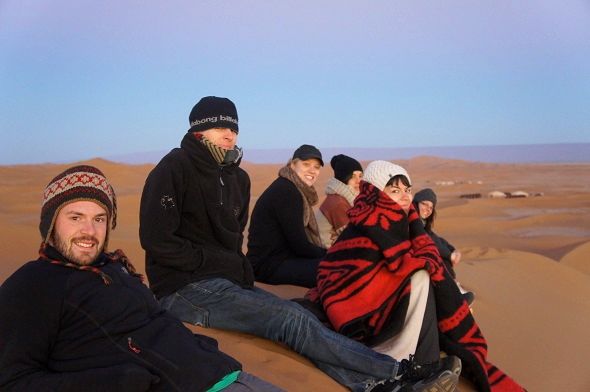 Read more about my trip to Morocco:
A photo journey through the High Atlas Mountains
An itinerary for a stylish weekend in Marrakesh
Your Morocco packing list + what to wear in Marrakech
---
This post was originally published in 2013 but has been updated.
My camping experience was included in a tour with Intrepid Travel.
I took this tour when I worked at Flight Centre and it was part of a FAM trip. This is a familiarisation trip for travel agents (I worked in social media but somehow managed to wangle my way onto the trip!) You could book individual tours if you prefer independent travel.
Here are some similar experiences…
Pin this for later ->