So you've booked a holiday to the Canary Islands! How exciting. But now you're wondering what to pack and everything you'll need while you're there?
The Canary Islands are a gorgeous place to visit at any time of the year. I visit Tenerife most winters for a sunny break from the gloomy British weather! But today, our writer Elle Croft, is sharing her Canary Islands packing tips to make sure you've got everything you'll need for your trip to the Canaries.
---
When I visited Fuerteventura and Lanzarote in the Canary Islands, I thought packing would be a breeze.
I pride myself on being an efficient packer, and have been known to travel with just a handbag for a winter weekend away. So an island holiday? No problem.
Or so I thought.
The Canary Islands were a surprise to me in many ways. I expected beaches, but I never knew there would be lava fields, cave restaurants and sand dunes that stretched as far as the eye could see.
I definitely didn't expect wind that buffeted trees and buildings for hours on end!
I found out the hard way that I'd packed all wrong. Floaty dresses meant plenty of Marilyn Monroe moments (without any of the glamour), and wearing flip flops while trying to walk across lava boulders was, to put it mildly, not ideal.
I was surprised by what an adventurous and active destination the Canary Islands can be and if you want to get involved with this then it's really important to pack right!
The Canary Islands are spectacular and well worth a visit, and packing properly will only make your holiday more memorable. Be sure to use this guide on what to pack for the Canary Islands to make sure you're totally prepared.
Pin this for later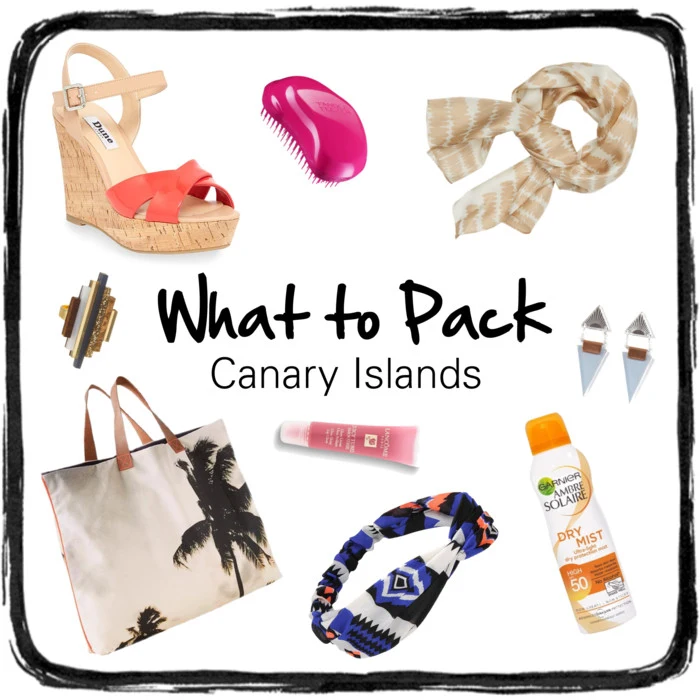 Sunscreen
As an Australian, I am pretty obsessed with sun safety. And before you even think it, yes, you still can get a tan with sun cream on (well, I can't tan ever, but reliable sources tell me it's possible).
The Canary Islands are famed for their beautiful weather and year-round sunshine. This is the reason many of us are visiting, right? But these islands can also be windy which can lull us into a false sense of security and think it's cooler than it is. Don't fall for this trick from Mother Nature, it is HOT and you do need sunscreen every single day, even when it's cloudy.
Be sun smart and pack some good-quality sun cream.
We like to start the day with a once-a-day sunscreen such as the Piz Buin 1 Day Long. Creams such as this claim to last for 8 hours but the SPF will be less effective as time goes on so it's best to reapply throughout the day.
For reapplications use an aerosol sunscreen for quick and easy applications and to make sure you don't miss a spot!
For your face, we love the Beauty Pie Featherlight SPF 50. It has a lovely, smooth and matte texture so your face won't feel greasy or shiny.
Great swimwear
Watersports on the Canary Islands are a huge thing, whether it's surfing, windsurfing, paddleboarding or simply going down the water slides at Siam Park in Tenerife! Not only that but most people's holidays will revolve around the pool and the beach so make sure you've got some great swimwear.
Don't scrimp on swimwear because you'll be spending most of your day in it.
If you're going to be doing watersports then I highly recommend looking for swimwear from sports brands like Roxy, Billabong or Quicksilver.
Headband
The wind on the Canary Islands is no joke! Some days are calm, but when the wind picks up, you're going to want to be prepared. Having a good headband in your handbag means you'll be ready when the breezes pick up, and you won't have to spend hours de-tangling your hair later.
If you plan to get involved with any watersports while you're visiting the Canary Islands then a headband will come in really handy.
Detangling brush
You'll thank me for this suggestion later.
What shoes should you take to the Canary Islands?
I recommend taking 2-3 pairs of shoes with you to the Canary Islands.
Flip flops/sandals for the beach or poolside
Comfy trainers for outdoor activities and walking
Nice shoes for the evening
Obviously you're going to need flip flops or sandals for the beach. That's a given. But you'd also be wise to throw in some trainers, for walking across uneven ground and through black volcanic sand.
There are lots of adventurous, outdoor activities to get involved with on the Canaries so you won't want to miss out by having unsuitable footwear.
And when the sun goes down and you're heading out for some drinks or a nice dinner, you'll want a fancier option than flip-flops and trainers. A cute pair of wedges is my evening shoe of choice.
If you're trying to pack light then we can highly recommend wearing the ultra comfy On Cloud trainers on the plane. These trainers are literally like walking on a cloud they're so comfy! There are a few styles and colours to choose from and they'll easily take you from the airport to a run along the beach to a hike in the mountains!
Then pop a pair of comfy, wedge sandals in your suitcase such as the Barbour Gabbie Sandal. These are so comfortable and will easily take you from the pool to the beach to the bar! They're stylish, comfortable and durable and come in black or a lovely tan colour. They also won't take up much space in your case so that's a double winner!
Scarf or light jacket
If you're visiting the Canary Islands in the summer months then it's unlikely you're going to need to pack anything warm (other then perhaps something to wear on the plane). Summer temperatures stay consistently around 30 degrees C and the evenings are very warm too.
If, like me, you feel the cold then maybe pack a scarf to take out with you in the evenings. This can also be used to cover your shoulders from the sun during the day.
When I visited Lanzarote and Fuerteventura in October, the weather was still incredible. The daytime was perfectly warm, and the evenings were balmy. Still, a scarf or a light jacket are essential for those cooler evenings, and they're easy to pack.
A foldable water bottle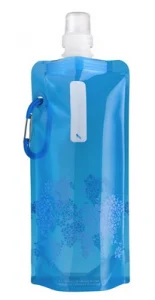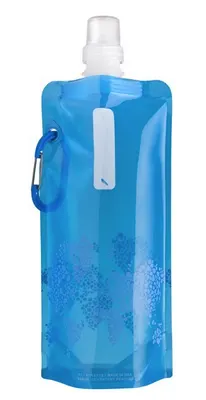 No matter what time of year you'll be visiting the Canary Islands it's going to be hot, so make sure you've got a decent water bottle with you at all times.
We like collapsible water bottles such as this one from Valourgo.
Once you've drank your water you can fold it away and pop it in your bag and it won't take up much space.
If it's really hot then we like to freeze our water bottles the night before (if you're self catering and have a freezer!) so you've got icy water all morning.
Slip dresses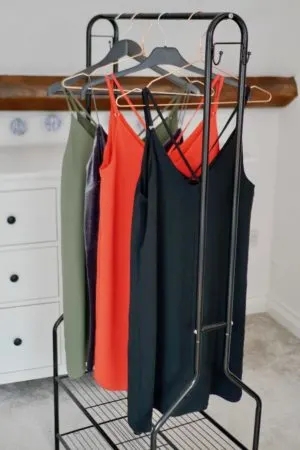 Light, silky slip dresses are the easiest thing possible to travel with. They fold up so small and, if you choose your material wisely, they won't wrinkle too much. A simple slip dress can also be worn on the beach or to a restaurant in the evening so they have multiple uses!
Never Fully Dressed usually have a gorgeous collection of fun, bright slip dresses that would be perfect for holidays! These dresses above were from TopShop but I'm always on the lookout for similar ones because they're just so handy for hot holidays.
A white shirt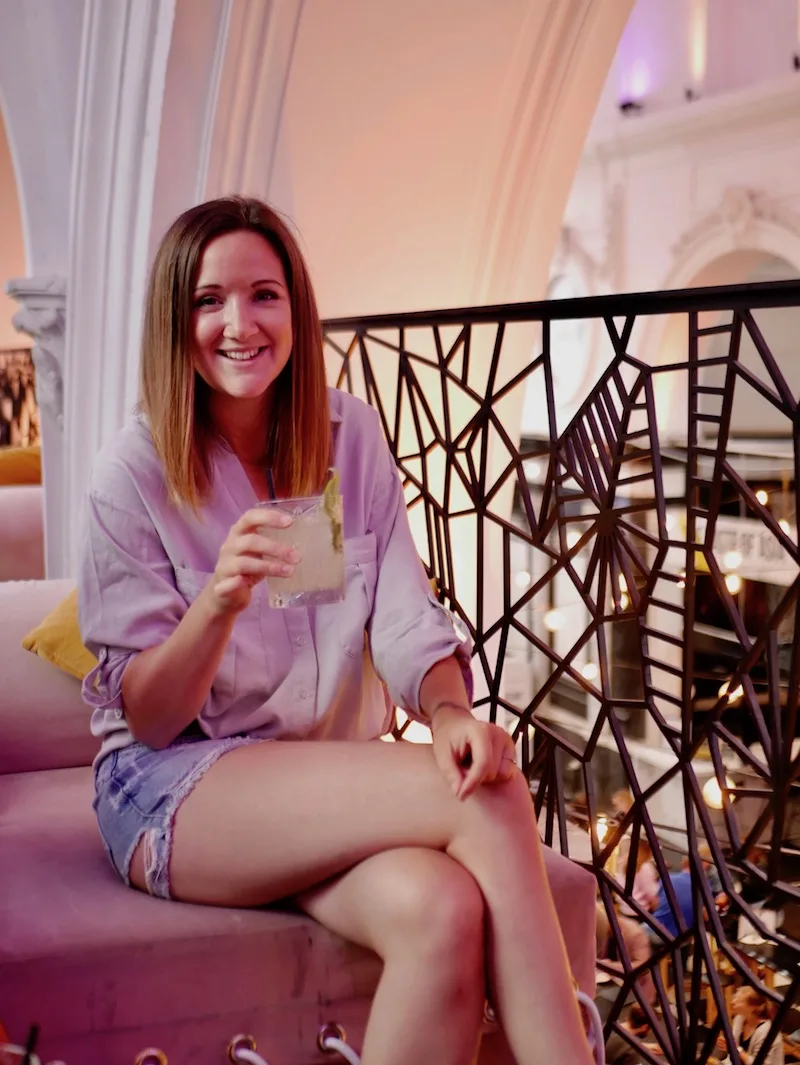 I always travel with a simple white shirt. It's so easy to throw on with a pair of shorts and instantly dress it up. I'd love to pretend I travel with a crisp, white cotton shirt but I don't because I'd never iron it while I'm away!
---
Not sure how to put together a cute and practical outfit for your holiday to the Canary Islands? Here's one that I picked out. Shorts are definitely a must to avoid those Marilyn moments!
Have I missed anything? What else should you pack for the Canary Islands?
Read more: What to pack in your carry on for a long flight
Huge thanks to the Spanish Tourist Office, Lanzarote Tourist Board and Fuerteventura Tourist Board for showing me around these two spectacular islands.