Thailand is one of my favourite counties in the world. It's a bold statement to make when there are so many incredible places but there aren't many that could beat Thailand to the top of the list.
I know it's an old cliché but Thailand really does have everything.
Bangkok is a chaotic but exciting city where modern skyscrapers sit next to traditional markets and incredible temples. The tiny islands of the south give you that 'Robinson Crusoe deserted in paradise' feel. There are party islands and chilled out islands and luxury islands and budget backpacker islands. You can learn to scuba dive or golf, book yourself into a yoga retreat, learn to rock climb or just chill out in the sun. In Northern Thailand you'll find jagged mountains and natural gems tucked away in quiet villages.
And the food, let's not forget about the food! Thai food is amazing and best enjoyed from the tiniest street markets where they will be preparing fresh noodle dishes, spicy curries, sticky rice and sweet deserts.
I could spend months in Thailand. Actually I did spend months in Thailand – I didn't want to leave! But not many people have months to spare and a lot of travellers to Thailand will be restricted to two weeks.
Don't worry, two weeks is still a fabulous amount of time in Thailand and thanks to the cheap flights and great infrastructure, you'll be able to get around the country with ease.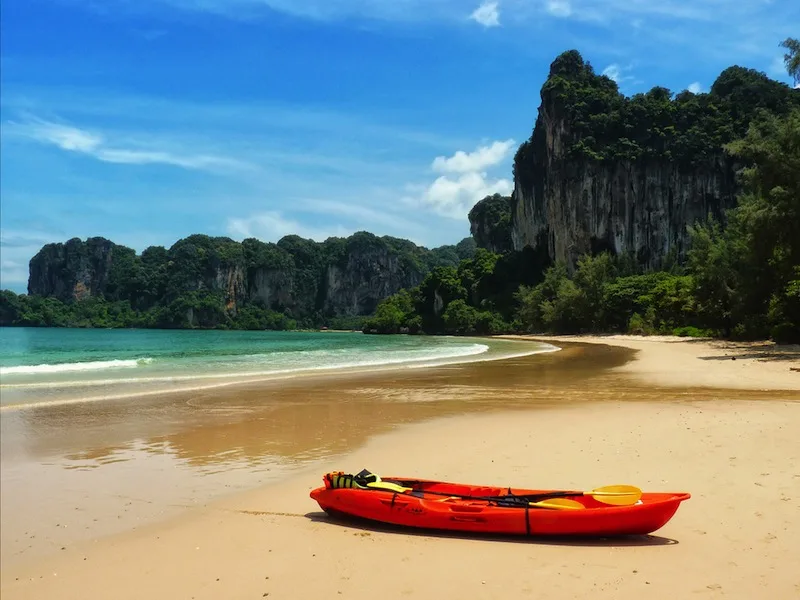 Here's how I'd plan a 2 week trip to Thailand
Days 1 & 2 – Bangkok
Fly into Bangkok to Suvarnabhumi, Thailand's largest airport so you'll usually find the best deals on international flights to here.
Spend a couple of days in the bustling capital and visit the main cultural attractions such as:
The Grand Palace
Wat Pho (Temple of the Reclining Buddha)
Wat Phra Kaew (Temple of the Emerald Buddha)
Wat Arun (Temple of Dawn)
Wat Traimit (Temple of the Golden Buddha)
That's a lot of temples but they're incredible so they're definitely worth it.
Make sure you spend some time on the infamous Khao San Road where backpackers party until dawn and you can find virtually every souvenir you can imagine. This is a great area for food, particularly the street stalls and markets.
For an unusual market experience, visit a floating market. Tours are available and usually booked through your hotel which take you to the markets and a small village. The markets take place on canals where small boats float up and down selling their wares. You need to be quick to get a bargain or the boat will be gone before you know it.
Days 3-6 – Koh Sok National Park
From Bangkok fly to Surat Thani in central Thailand and have a couple of days of adventure in Koh Sok National Park.
I did this the first time I visited Thailand and had the most incredible time. I booked everything through Limestone Lake Tours – including the transfers from the airport.
I created my own custom tour which included one night in a tree house, one night in a floating river hut and one night in a luxury villa in a remote jungle resort. We went on wildlife tours, kayaking and fishing trips. It was incredible!
Days 7-13 – Southern Islands
Spend your second week in Thailand by hopping around the beautiful southern islands. Koh Phi Phi was one of my favourites and Koh Lanta was great to purely chill out. Rough Guides have a great outline of the major islands. You reach these islands by heading to a coastal town on the mainland and then taking a long tail boat – which usually leave a few times a day. If you're staying in budget guesthouses then it's unlikely you'll need to book before you arrive – just turn up and have a wander around and then negotiate a price when you arrive. This gives you extra freedom and flexibility in your itinerary. You may choose to try somewhere new every night or you may fall in love with one island and stay there all week.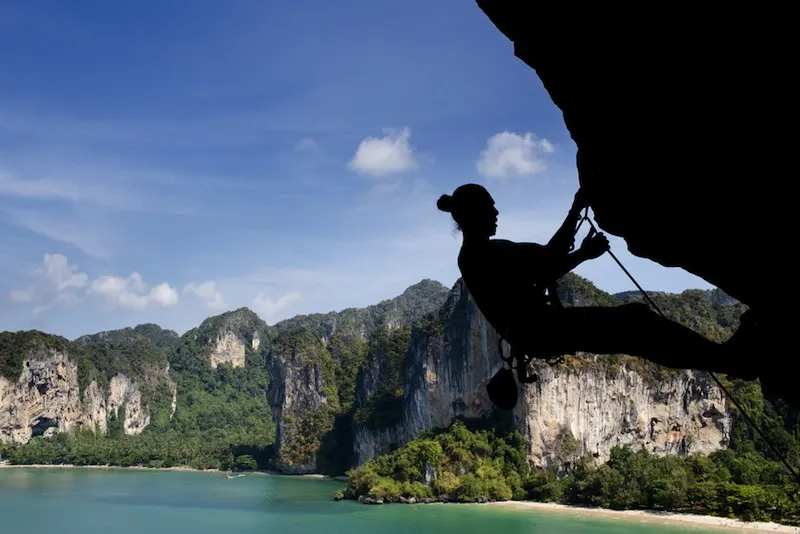 Day 14 – Head back to Bangkok
If you're flying out of Bangkok you'll need to head back up to the capital. I'd avoid overnight trains or long bus rides and fly. Flights from Trang to Bangkok will cost you next to nothing and save a lot of hassle.
Tips for travelling in Thailand
Pack light – Keep your luggage as light as possible to make it easy to negotiate small boats and walk across sandy beaches. I'd opt for a hand luggage sized backpack so you won't need to pay for your luggage on internal flights.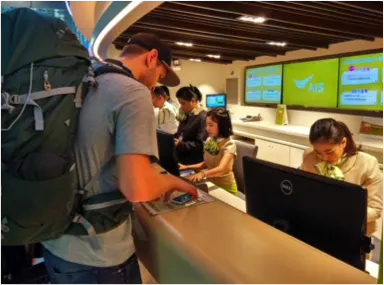 Using your mobile – Pick up a Thai sim such as an AIS Traveller Sim at Suvarnabhumi Airport, where their friendly staff can help you quickly set up your phone and SIM on-the-spot. They offer a number of options. Not only do you get cheap calls, free call credit, and non-stop data, but you'll also get discounts to attractions too. Such as 10% discounts (up to 3 a month per Sim) for Local Alike (http://www.localalike.com/), a community-based tourism marketplace offering responsible local tours designed to give back to the community while giving visitors a unique experience in Thailand.
Book your internal flights – Travellers with more than 2 weeks often take overnight trains and buses to reach new destinations. But with just 2 weeks you won't have time for that so opt for internal flights. They aren't expensive – especially if you book in advance. AirAsia will be your new best friend.
Research but don't over-plan – When you're restricted to just 2 weeks it can be tempting to over-plan but there's no need to plan everything. Do your research so you know what there is to do, but also go with the flow – the best things happen when you least expect them.
Do you have any more tips or suggestions for anyone visiting Thailand for 2 weeks?
Pin this ->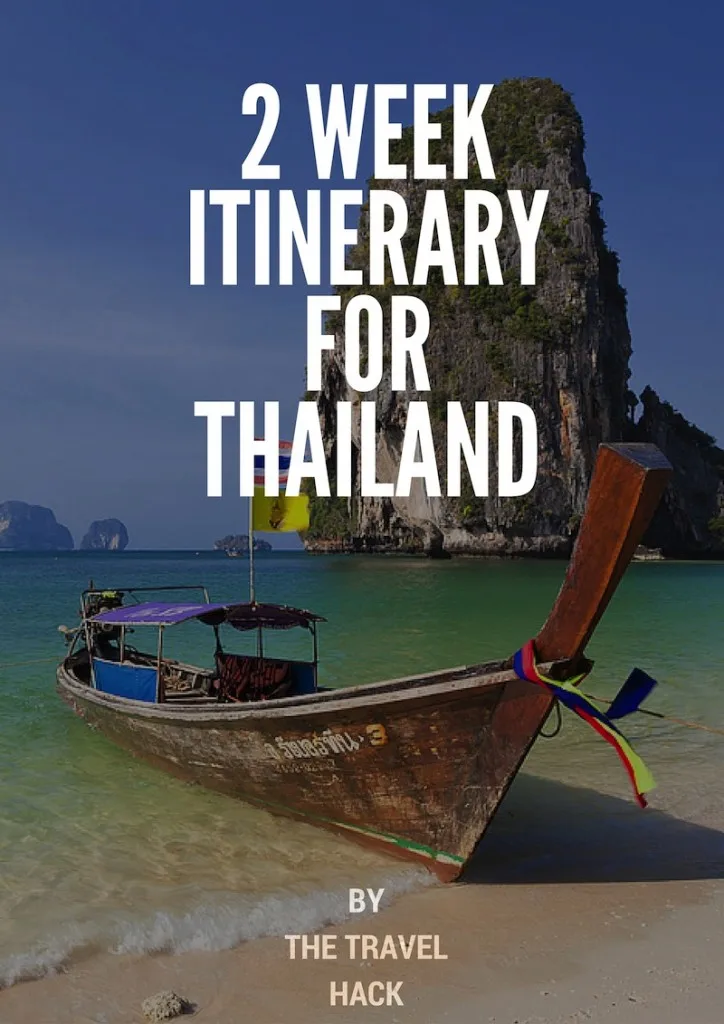 This post was written in partnership with AIS Traveller Sim.