If you're expecting your first baby and you're starting to think about the products you need to buy then I'm sure you've already realised what a minefield it is! There's so much stuff! And so many products that are almost the same but just a little bit different. Tiny babies surely don't need all this stuff!!
And to make it even more confusing, the price of this stuff varies so much. Why is one pushchair £200 and one is £2,000? How do you know what to buy!?
To make things simpler, I've listed 50 things you need to buy for a new baby and put them in order of priority. If you're completely bewildered by all the stuff then slowly work through the list.
If you're thinking '50 things!!! Wow, that's a lot of things' then don't panic! I've included pretty much everything you need, even things like nappy bags (£1 from the Pound Shop). I've separated the list into 40 items and then 10 items for feeding your baby – depending on whether you'll bottle feed or breastfeed. If you aren't sure how you'll feed your baby then don't worry because a lot of these things are the same.
You'll also notice that the top things on the list are pretty much compulsory and as you get further down the list they become things you might not want or need.
I've written about my favourite newborn baby items before but I still get lots of questions and confused parents-to-be messaging me about what to buy. So, hopefully, this numbered list will make it a little easier!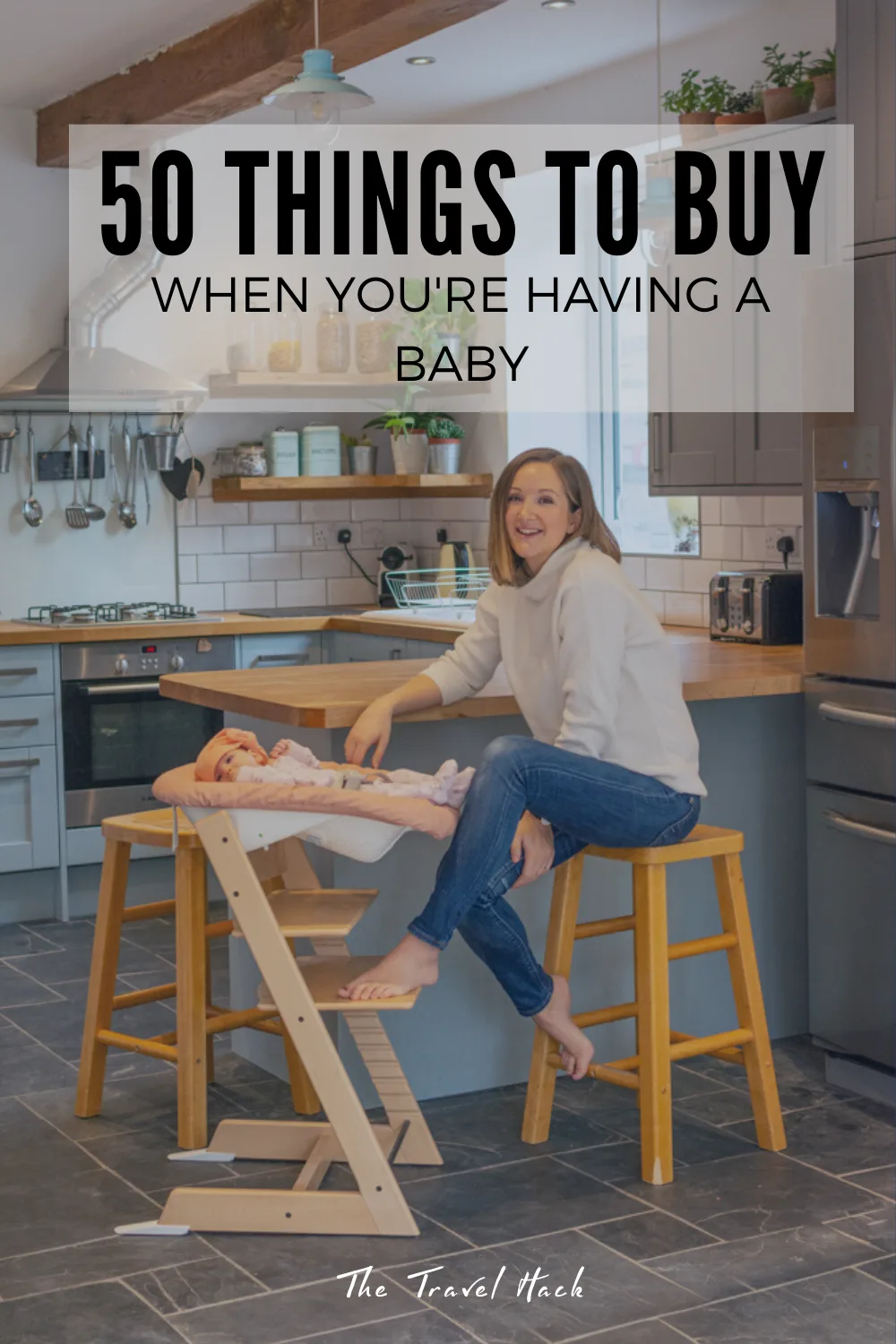 #1. Basic newborn outfit set with a hat
M&S is my favourite for baby clothes. You can get a set with a vest, sleepsuit, hat and mittens. This little set is the basic clothes you'll need for the first few weeks and for anyone buying gifts for a new baby, this is a good gift to give before the baby is born. I wouldn't buy this as a gift after the baby is born because most organised parents will already have a few sets like this.
#2. Nappies
I like Pampers the best. Supermarket nappies are fine too and, according to the girls who work at our nursery, Tesco nappies are the most popular.
#3. Wipes
Any supermarket own-brand is fine. Buy a big box as you'll get through them!
#4. A blanket
It doesn't need to be fancy. It'll get washed a lot! Just make sure it's not too big or it'll trail along the floor.
Blankets are also one of those things people give you as gifts (we have hundreds!!) so don't buy too many.
#5. Nappy bags
Get scented ones if you want to be fancy.
You may have spotted those fancy nappy bins you can buy. We had one with George but found it to be a faff and the refills were really expensive in comparison to nappy bags. With Joseph and Alba, we just used a regular bin and emptied it each evening.
#6. Nappy cream
We use Sudocreme. You might not need to use any nappy cream until you start weaning your baby at around 6 months but it's handy to have some.
#7. Car seat (with ISO fix base)
You can't leave the hospital in a car without a car seat. Maxi Cosi Pebble car seats are the most popular. I also recommend an ISO fix base that will attach into the car to make your life easier and you don't need to stress about attaching the seatbelt correctly.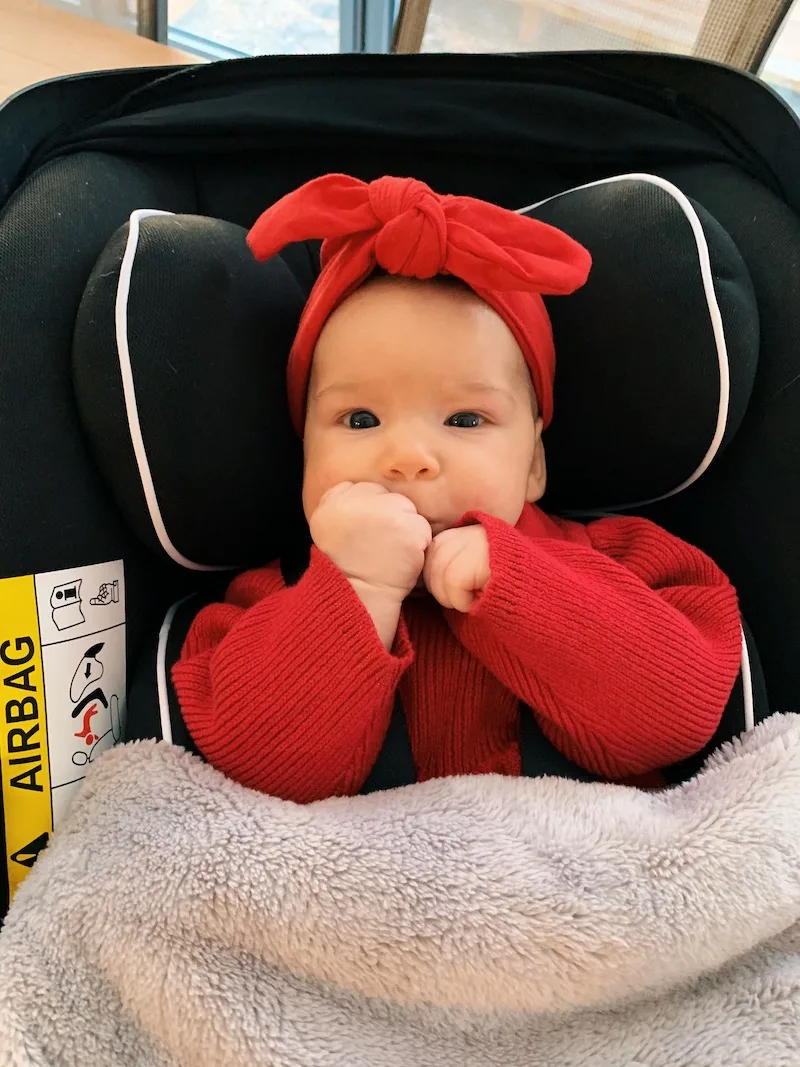 #8. Cot/crib and mattress
I have a bedside crib from Lidl and it's great. Remember that most cots don't come with a mattress.
#9. Cot sheets
I like the flannel ones for extra warmth and cosiness.
#10. Cardigan
Or some kind of little jacket you can easily pop on and off. If you're a knitter and you'd like to gift someone some hand-knitted baby clothes then cardigans are great.
If you're expecting a winter baby you might also want a snowsuit.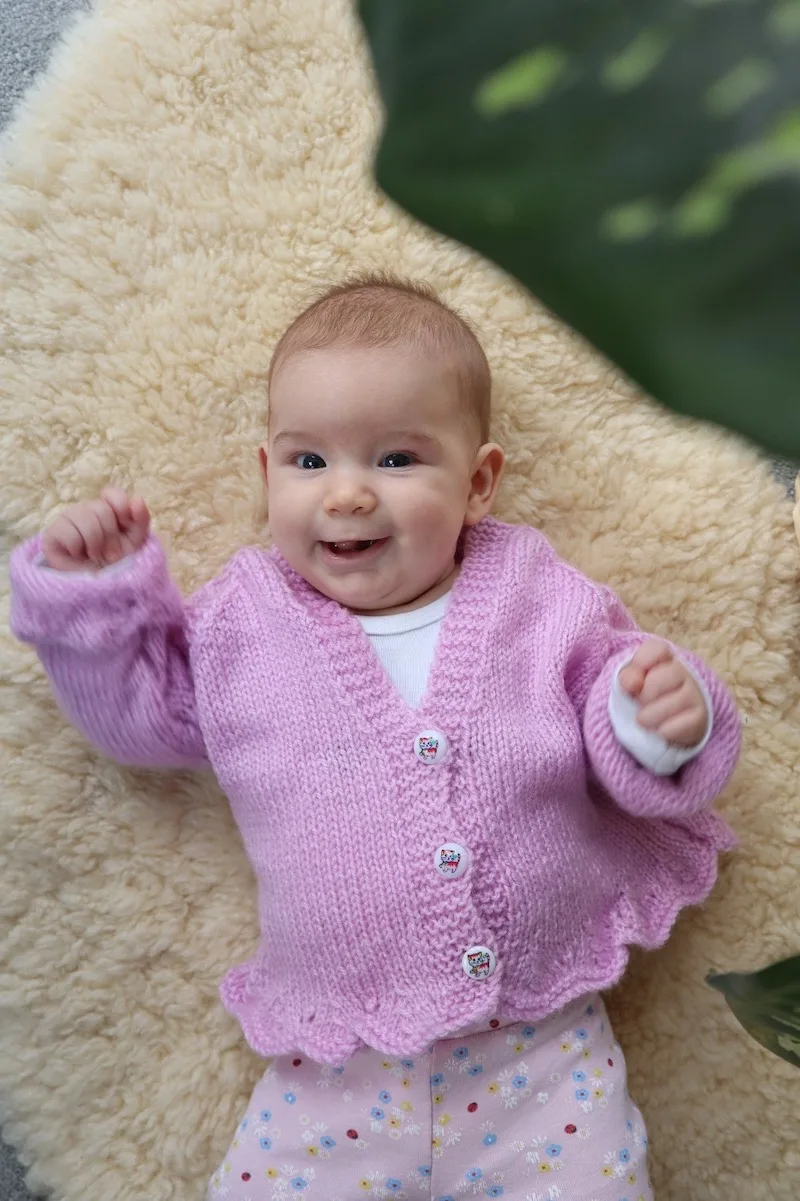 #11. Vests
I prefer short sleeves.
#12. Sleepsuits
I mostly dressed by kids in sleepsuits for the first three months. I haven't added 'adorable tiny baby outfits' to the list because you don't really need them for the first few weeks and it's likely you'll be gifted so many outfits.
#13. Travel system
If you drive then it's easiest to have a travel system that allows you to add the car seat, a lie-flat bassinet or an adjustable seat. I have the Aston Rose by Ickle Bubba travel system and really like it.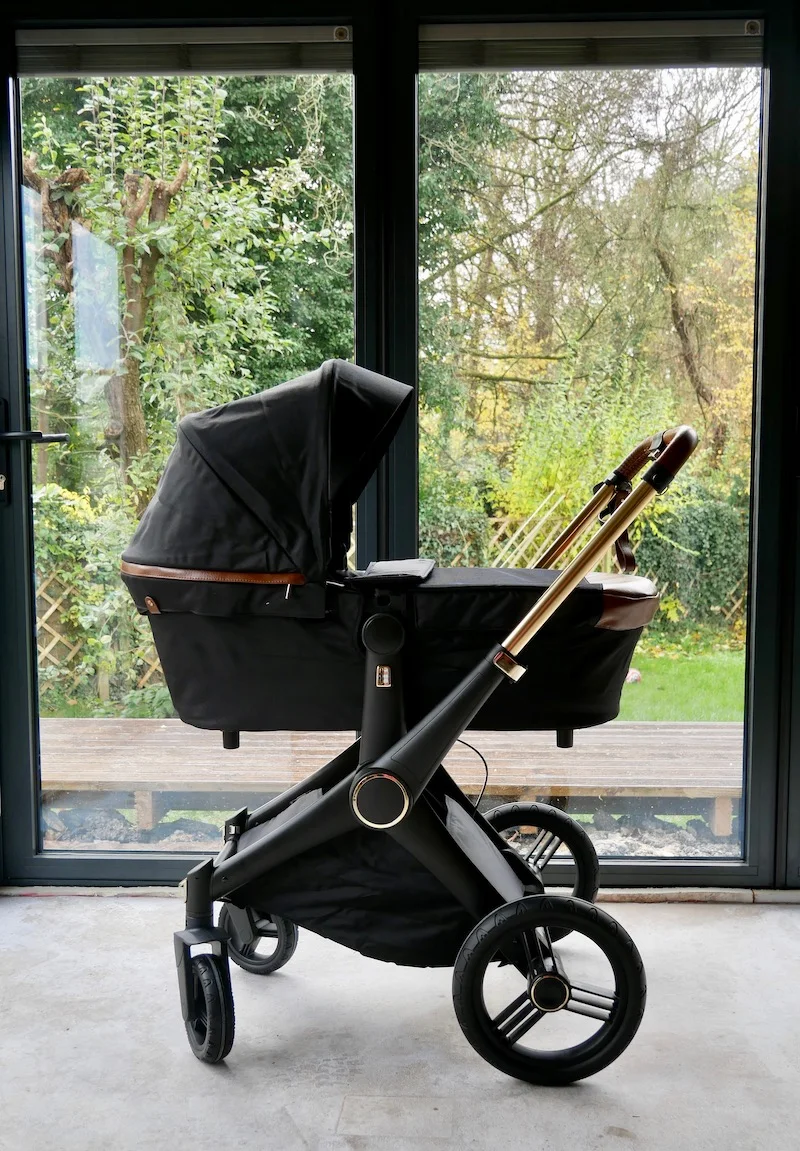 #14. Baby bath
We have the Shnuggle one and it's good. Alba is 8 months and is just getting too big for it now.
#15. Baby top to toe wash
Or basic baby shampoo.
#16. Sponge/wash cloth for baby
I like these Ramer sponges from Boots. They're soft and when your baby gets teeth they can still chew on them without biting clumps out of them.
#17. Changing table
We have the basic one from IKEA.
#18. Changing mat
You'll need something wipeable, waterproof and spongy to sit on your changing table. If you choose to not get a changing table then I'd still get a mat to protect your carpets when changing nappies.
#19. Blackout blind
Not compulsory but particularly handy if you have a summer baby. If you don't want to get proper blackout blinds fitted then try the travel ones from The Gro Company. They have suckers so you can attach to them the window and they're really effective.
#20. Changing bag
You may already have something suitable but I'd opt for something you can carry hands free so you have both hands for your baby. A backpack or satchel is ideal and The Travel Hack Backpack works perfectly! Some baby bags are really expensive and they're nothing different to a regular bag.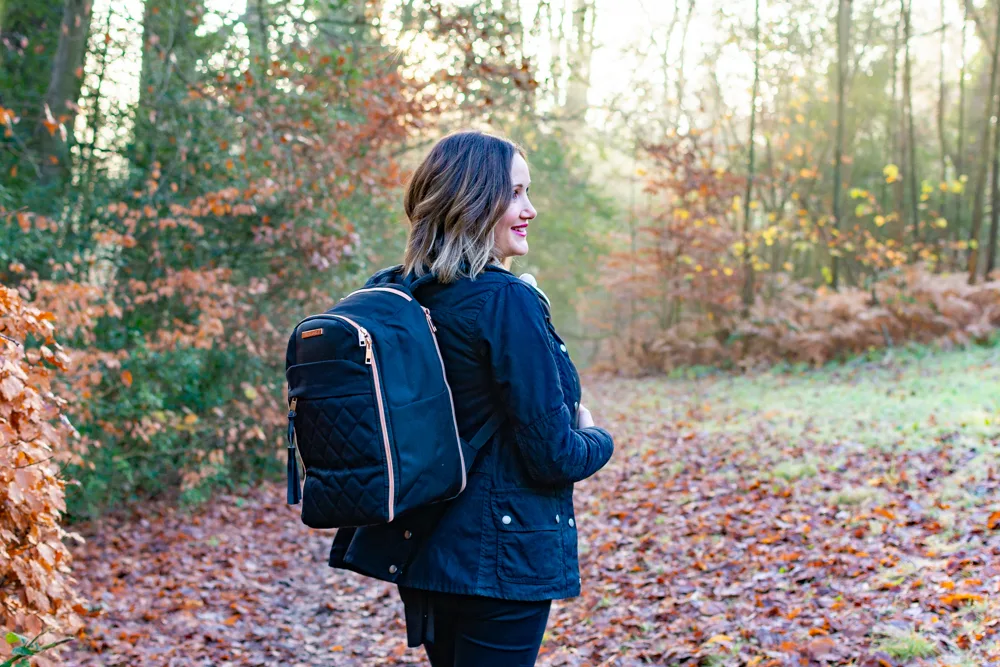 #21. Baby monitor
Depending on your house, you might not need one. I don't always think it's a good thing to hear every single noise because you jump up at every murmur and your baby catches on to this!
It's personal choice but we prefer a basic one that just does noise otherwise you spend your evening watching a video of your baby sleeping and panicking about why they haven't moved.
#22. Cot mobile
Go for the all-singing-all-dancing monstrosity that doesn't match the bedroom decor at all but will keep your baby entertained for ages! Just remember that cot mobiles don't last for long. My babies were about 3 months old before they really took any interest in one and were six months old when they became dangerous because they'd sit up and try and catch the mobile.
#23. Baby carrier
The Izmi Baby carrier is my favourite. It's soft like a wrap but has buckles like a more structured carrier.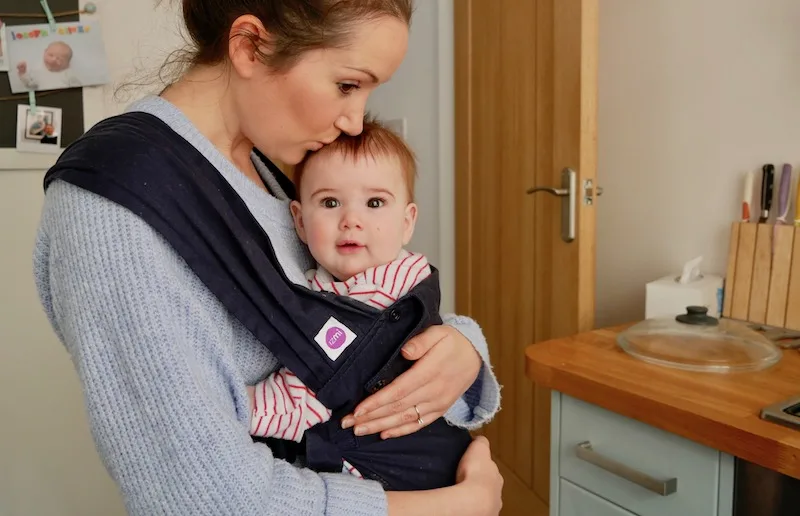 #24. Seat/swing
We got the most use out of the newborn seat on our highchair. We have the Stokke Trip Trap and it has an attachable newborn nest. We did have a swing too but Alba was actually happier sat in her highchair.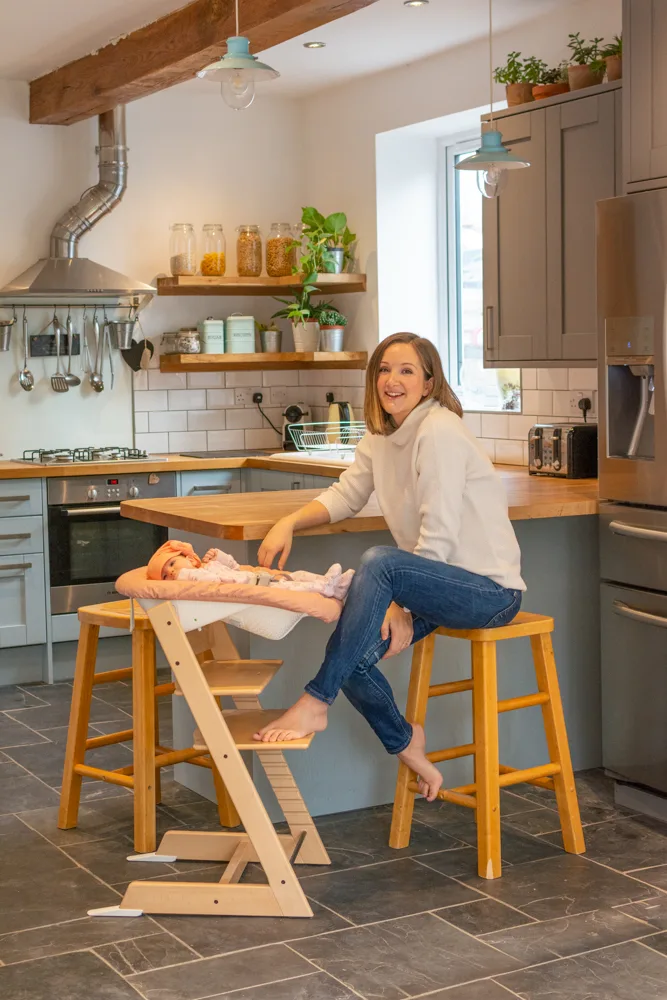 #25. Echo dot
It can be used as a baby monitor, to play white noise, to play soothing music and, when your baby gets bigger, can be used to read stories and play nursery rhymes.
#26. Night light
I have this dimmable night light one and really like it. The boys like it so much they both have one in their bedrooms now too.
#27. SnuffleBabe
All our babies were quite snuffly when they were born so this really helped. There's also a Calpol nasal spray I used that was good.
#28. Tiny baby nail scissors
Or you could just bite their tiny nails. (A bit gross but easier, more effective and less chance of cutting them). But you'll need some little scissors as they get older anyway. I've found these ones from Tommee Tippee to be the best.
#29. Thermometer
Thermometers often come in a little baby set with scissors and a comb and things. I've never used anything but the scissors (I've never actually used a thermometer but it's handy to have!)
#30. Pushchair blanket
You might want an extra blanket for the pushchair and carseat. We have a lovely one from Cheeky Chompers with a foot muff, hand muff and tabs to clip it to your pushchair so it doesn't fall off (very handy when your baby is bigger and kicks it off). You can also use it with a baby carrier (like I am below) to keep both you and baby extra snug on cold days. It clips to the baby carrier and you can use the hand muff to your hands warm.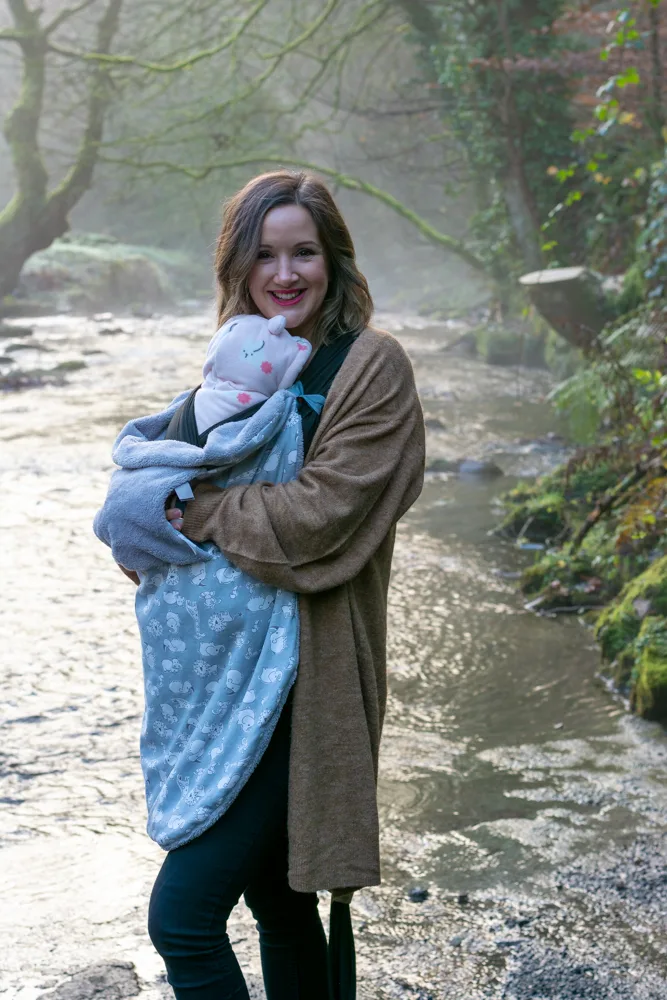 #31. Nursing pillow
A U-shaped pillow is so comfy as well as being handy for feeding and a nice place to lay your baby or help them to sit up when they get bigger.
#32. Downstairs bassinet
Another optional one but it can be really handy to have another bassinet or somewhere for your baby to sleep downstairs (if you live in a two story house). Alternatively, you could just use their pushchair if you're able to bring it into the house.
#33. Dummies
Try a few different brands and shapes. All three of my babies wouldn't take a dummy so I'm not an expert here!
#34. Jungle Gym
One with flashing lights is always a winner.
#35. Bibs
You can never have too many bibs.
#36. Hooded baby towel
George, age 5, still uses the same hooded towel he's had since he was born. Babies look cute in them and they're handy for toddlers and they trip over bigger towels.
If you're reading this looking for gift ideas – we were given a baby towel for Alba with her name embroidered in it and it's such a lovely gift!
#37. Draws for baby's clothes
A chest of draws can also double up as a changing station.
We actually have the Kallax cupboards from IKEA for all of our kids (this would be too narrow to use as a changing table). They're more like shelves with spaces for boxes and they've been brilliant. You can update the boxes as your kids get older/change the design of their room and when your kids start to choose their own clothes they can easily pull the boxes open and choose what they want. Admittedly, it doesn't keep clothes quite as tidy as a little draw but I'm all about letting kids be independent and do things for themselves and these boxes really help.
Having boxes is also simple for toy storage and even young toddlers can pick their toys up and place them in a box to tidy their room.
#38. Sleeping bag
Many people prefer their babies to sleep in a sleeping bag so they don't lose their covers in the night or pull their blanket over their head.
#39. Hot water bottle
Very handy if your baby won't settle in their cot. If it's been pre-warmed with a hot water bottle then our babies would always be more likely to settle.
This is also nice for the last few weeks of pregnancy when you're achy and tired.
I also put a hot water bottle in the pushchair on really cold days. I only do this for newborns when it can go right at the very bottom without being near them and then for toddlers who like to cuddle it.
#40. One toy
Don't buy too many toys as newborns don't play with them and you'll get loads as gifts!
10 things you'll need for breastfeeding
#1. Nursing bras
I'm a fan of Bravado ones.
#2. Tops suitable for feeding
I also like the Bravado cami tops. Usually worn with jeans and a loose top on top.
#3. Breast Pads
I have reusables ones from Bravado.
#4. Nipple cream
I'm a Medela fan.
#5. Breastpump
I highly recommend the Medela Freestyle Flex if you plan to pump. It is expensive but, honestly, it's a million times better than any other pump I've used so it's worth the extra money.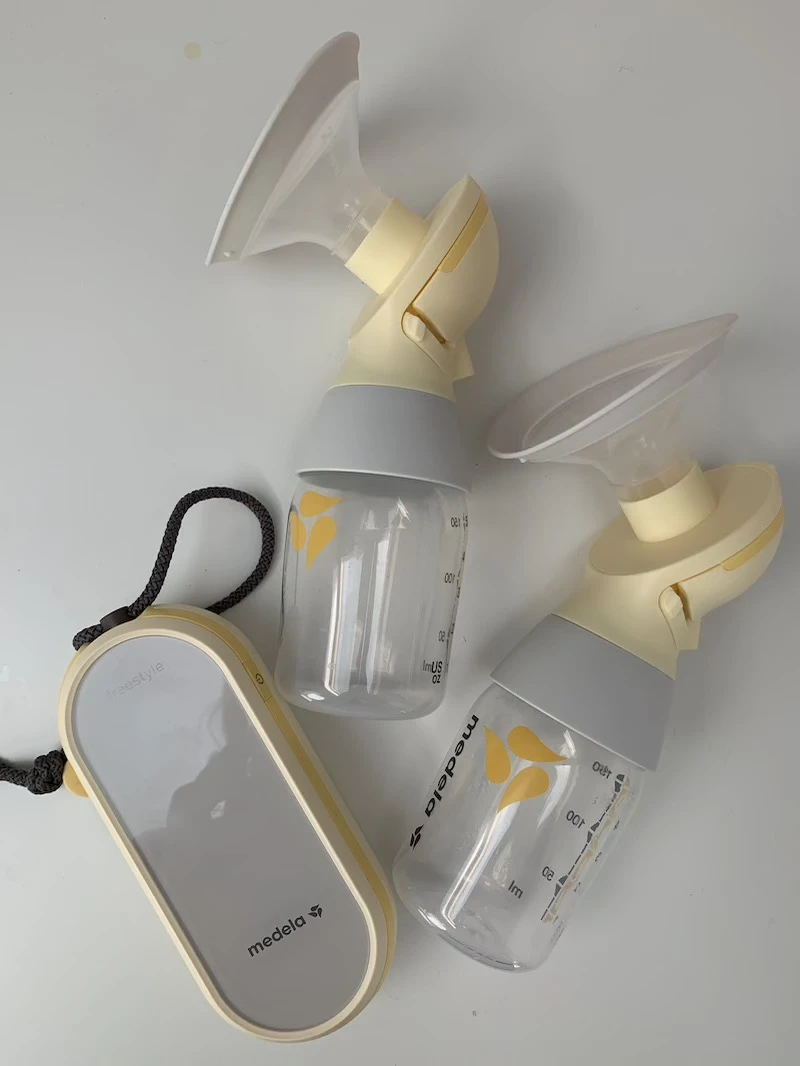 #6. Haakaa
Great for the early days when you're establishing your milk supply and often have loads of milk. The Haakaa collects the extra milk with a simple silicone cup. It attaches and works via suction so there's no charging and faffing with wires and things and you put it on one breast while feeding from the other side. I found it great in the early days but harder to use as Alba got bigger because she'd kick it off.
#7. Milk storage bags
I use Madela ones.
#8. Bottles
All three of ours have used Tommee Tippee bottles and have had no problem switching between breast and bottle.
#9. Steriliser
We have a Tommee Tippee one. I actually hate it. It's bulky and takes ages and everything is soaking wet when it's finished. I prefer the microwavable steriliser bags as they don't take up any space. These are good if you're infrequently sterilising a few things, but you're better with a full steriliser if you're bottle feeding and have a lot to sterilize each day.
#10. Bottle brushes
I actually prefer this sponge to regular bottle brushes.
10 things you'll need for bottle feeding
#1. Formula
#2. Ready made formula bottles
These are easiest to take into hospital and handy when you're out and about. They're more expensive but I would recommend them for your first few days at hospital.
#3. Perfect prep machine
Makes bottle prep much easier.
#4. Bottles
#5. Sterliser
#6. Bottle brush
#7. Insulated bottle holder
Handy for when you're going out. Some baby changing bags have an insulated pocket for bottles.
#8. Infacol
Lots of newborns get a bit windy after a bottle and Infacol is really good for preventing wind.
#9. Water flask
To take hot water to make up bottles when you're out and about.
#10. Formula pots
Little pots for pre-measured formula so you can add it to bottles when you're out.
So there are 50 things I think you need for a newborn. I hope this list helps and please do just leave a comment below if you have any questions!