I am very excited today to have some packing tips from the packing legend, Alex from Travel Fashion Girl. Alex has shared her top tips when packing for a weekend break.
If you're looking for weekend away ideas, we've got 52 amazing ideas here!
****
Packing for a fun filled weekend getaway should be quick and easy, right?
Unfortunately, it is not always that simple. If you are traveling on a budget airline, you have to deal with their strict baggage policies. Here are a few tips on how to pack for a 7kg weekend getaway.
Purchase light luggage
First off, you know those big bulky carry-ons that you have tucked away in the back of your closet? Leave them there. Though they may bring back fond memories of your past travels, it is best if they stay in the past. Your future is all about feather light luggage. If your carryon bag weighs no more than 2kg it still leaves you 5kg for your belongings.
Note from Monica: The Travel Hack suitcase will be available to purchase from mid-August (if all goes to plan!) It is a lightweight case and sized at 55x 40x 20cm so it is designed to fit all major airline hand luggage requirements! It is as big as it possibly can be without having to worry it is going to be too big.
Another note from Monica (sorry to keep butting in here!): For most UK airlines there is no weight restriction on hand luggage or it's very very unlikely they will weigh your case. The only requirement is often that you can lift your case into the overhead storage on the plane.
Read more: Small carry-on luggage and how to pack everything in your free carry-on case.

Wear a pair of jeans you can reuse
With one pair of jeans in a classic hue, you can create a variety of outfits. This means that all you have to do is pack four tops and a pair (or two) of shoes and you're all set for the weekend.
Note from Monica: The jeans I'm wearing in these photos were from Primark and cost £12. I absolutely love them and I've barely taken them off since I bought them!
Leave bulky sweaters at home
Instead of trying to pack your large, knit sweaters, layer your shirts and use thin cardigans with a light jacket or coat. In the summer you can also use a button up chambray or denim top for light coverage in addition to using it as a shirt.
Pack a jacket you can restyle
Choose a neutral jacket that you can wear over several different shirts so you don't need to pack more than one. But what about color? This is really up to you, but we suggest more neutral colors like tan, brown, black or white.
Light jacketss are great for summer while leather jackets work can work for early autumn and late spring. Don't forget a classic trench when it cools down and then a warm, neutral coat in winter.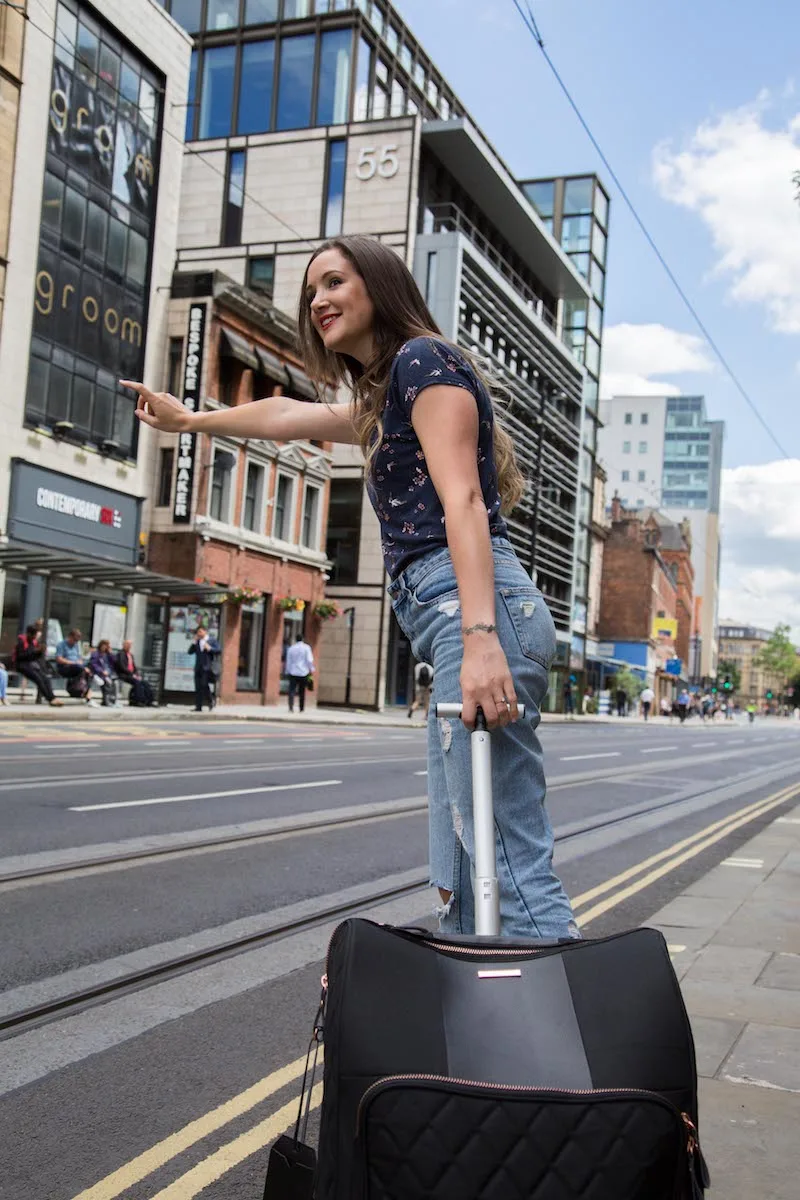 Bring a neck warmer gaiter
Instead of wearing a long scarf, opt for a warm neck gaiter instead. Save space on cold weather trips while staying warm. You can also wear this on the flight instead of packing it in your carryon.
Count on small travel containers to decrease toiletry weight
Forgot your commercial bottles of shampoo, conditioner and makeup and instead use small reusable containers. These little guys are perfect for housing small amounts of liquid and really cut down on the amount of weight put into your luggage. They're particularly useful for things like liquid foundation or concealer. You won't need a full-size bottle for a weekend trip.
Tip: find out if your accommodation provides essentials such as shampoo and conditioner so you can avoid bringing them.
Pack lightweight clothes and wear your heavier pieces
Ever wonder why you see people traveling to cooler climates from a hot climate in warmer, winter clothes? This is because they've cleverly decided to wear their heavier pieces on the plane rather than pack them in their luggage. This not only makes more room in your carry-on for other items but also helps keep your bag under the weight limit. Also, choose lightweight clothes made in travel-friendly fabrics to maximize your space with less weight.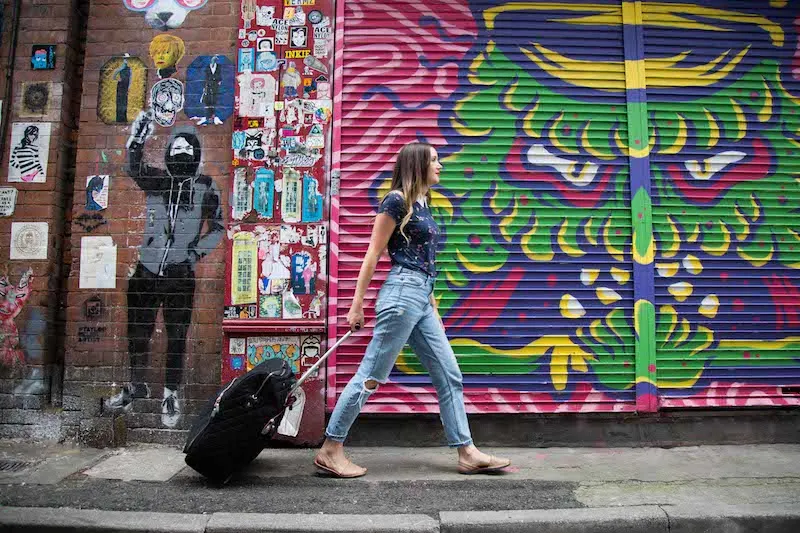 Don't be afraid to pack your nicest underwear
Lace underwear is ultra-feminine but it packs light. If you wear thongs, these help cut down on space, too. Every ounce counts when you're trying to pack with just 7kg.
Roll everything
A great way to make the most of limited space is by rolling your clothing rather than folding it. This helps you use a smaller carry-on that meets your airline's baggage policies.
Stuff items in your shoes
From underwear to socks, and toiletry items, stuff them into your shoes. You can use the same idea and pack clothing into a small packing cube to organize and compress.
Read more: Are packing cubes worth it?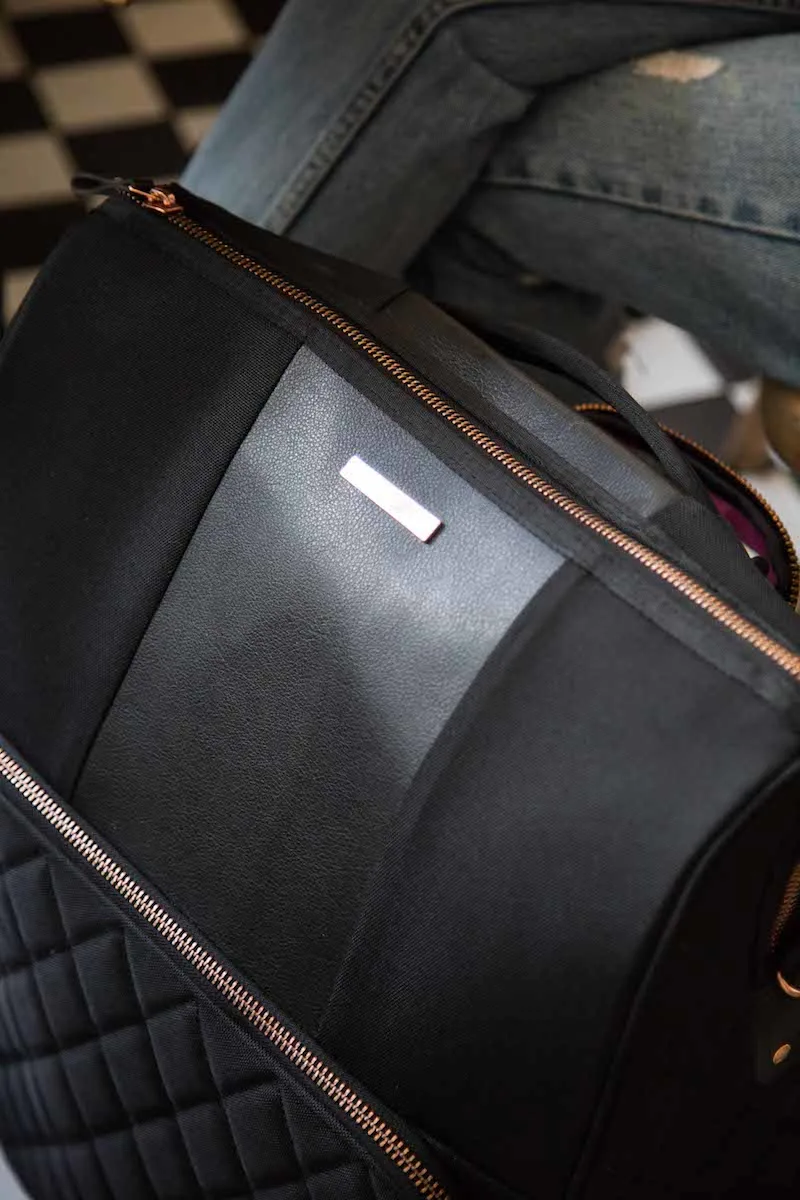 Use a luggage scale
Make room in your budget to purchase a digital luggage scale. Weigh your bag before you fly to ensure you don't get into trouble at the check in counter.
Note from Monica: Or simply use the bathroom scales!
Extra tips
Leave your hair dryer at home and use the one at the hotel. If they don't provide one, get yourself a foldable travel-size style.
Don't pack doubles of any one thing. For example, don't bring two sneakers, two flats, or two sandals. Just one will suffice if you choose a style that matches all your clothes.
Skip the travel size shampoo and conditioner, and use the one provided by your accommodation. You can also buy it at the airport to beat those weight limits.
If you can manage, leave your laptop at home and use a tablet instead. Or better, yet, take a digital detox and leave both at home. It's just a few days, enjoy them!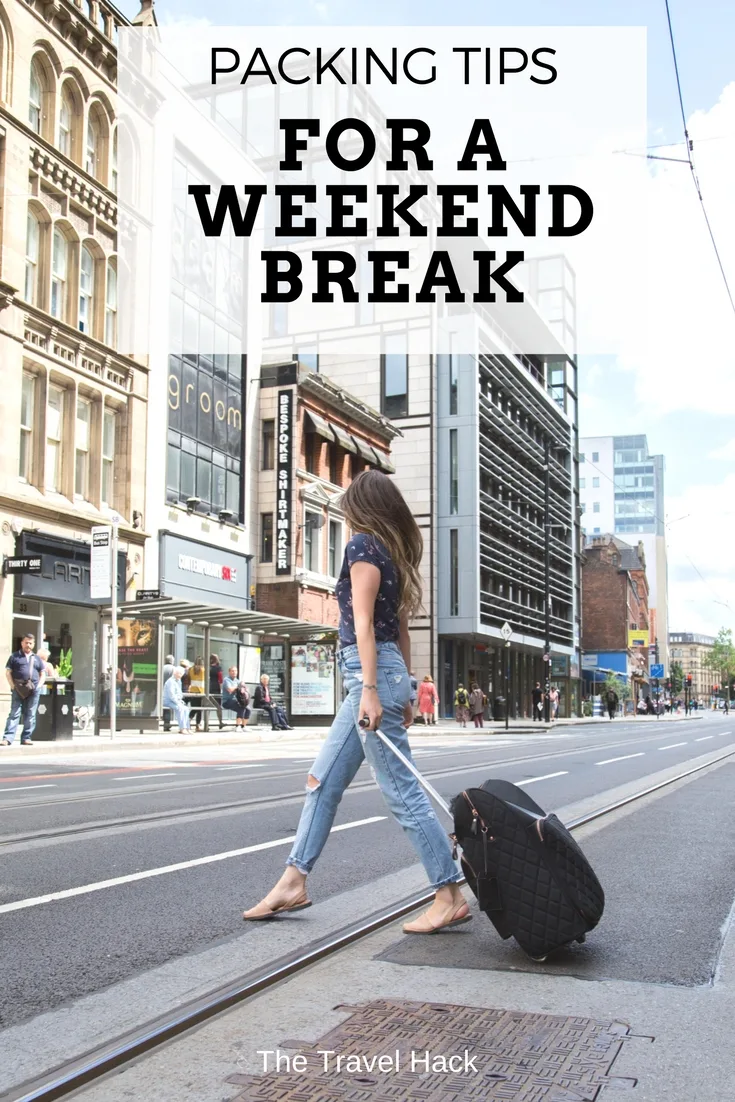 AUTHOR BIO:
Alexandra Jimenez teaches women how to pack light in a stylish, efficient way with Travel Fashion Girl's carryon packing list guides. Originally from LA, she quit her corporate job in 2008 and has since traveled and scuba dived her way around 45 countries.
Check out more of The Travel Hack's packing tips over here including our tips about what to wear in Marrakech!