Backpacking is a style of travelling where you travel on a budget, usually for a couple of months or longer, with a very loose itinerary but often without any fixed plans or schedules.
Backpacking is awesome. I'm more of a flashpacker these days but my heart still lies in this carefree travel style.
But I have a little secret I'd like to share today.
I HATE backpacks.
Hate them. Those big, heavy, cumbersome, top loading, soft backpacks where everything gets shoved into one big pocket and never comes back out again!
I've always hated them. I always will. Even when I spent two years backpacking, I hated my backpack. I don't know why I bought it or why so many backpackers think they need to travel with them!?
Each morning I packed it up to move on to my next destination I hated it. I hated everything about it and I was so jealous when I saw my fellow travellers breezing around with wheeled suitcases.
For reference, I spent two years travelling around Thailand, Cambodia, Vietnam, Loas, Indonesia, Malaysia and Australia. These are countries where most people think you're going to need a rugged, all terrain kind of backpack but I'm here today to reassure you that you don't.
In theory, backpacks are awesome. You just stuff all your stuff inside, swing it on your back and you're good to go. You have freedom and mobility and they're just so easy.
But backpacks are only that easy when you don't actually have much/anything in them.
When you're just away for a day or two then they're great and I LOVE The Travel Hack Backpack for these short trips or as a day bag.
If you're only away for a couple of days or you've 100% mastered the tricky art of packing light then backpacks are perfect.
But if, like most people, you're going to be travelling with a fair bit of stuff, backpacks are actually a bit of a nightmare.
In today's post, I'm explaining delving into the whole backpacks vs suitcase debate. I'm talking about why I don't like backpacks, I've suggested some great suitcases for backpacking and some backpacks that have some of the more functional designs of suitcases!
And there are some tips in here to help you pack light. Because, at the end of the day, the main issue for most of us is that we're trying to carry too much stuff!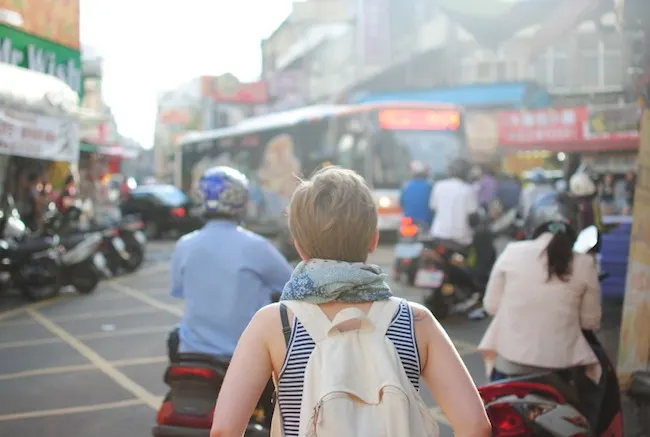 1. You have to carry them
Come on guys, it's the 21st century and wheels were invented for a very good reason. Let's use the incredible invention of the wheel and stop carrying heavy things!
2. They're awkward to carry and they hurt
I'm sure Action Man doesn't have any problem swinging his backpack onto his back but I do. I really do.
3. You barely ever need to carry your luggage
Admittedly, there are times when you need to carry your luggage but these times are few and far between. Everyone likes to think they're going on an adventure and getting off the beaten track but 9 times out of 10 you'll be able to wheel a suitcase everywhere.
4. Creased clothes
I have never mastered the art of packing a backpack and not getting totally crumpled clothes. I always roll my clothes and I often use packing cubes. Everything is fine for 2-3 days but anything longer than this and I have a chaotic pile of crumpled clothes.
5. Day packs
While I hate backpacks, I am a fan of the day pack. Basically, just a mini backpack you use for days out. If you're going trekking for a couple of days, you'd take a small day pack rather than the large backpack.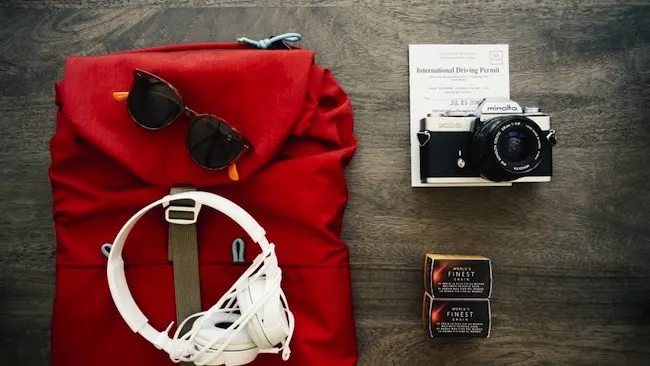 6. It's difficult to find stuff in them
If you have a traditional travel backpack with top opening then you can say goodbye to anything that slips to the bottom. You won't be seeing that for a long time.
7. They're difficult to organise
Lots of travel backpacks have one large, main compartment which makes it difficult to organise anything and your belongings get muddled and lost.
8. Things get broken
The soft fabric of a backpack won't protect your belongings against the bag being thrown around. I'm not suggesting anyone travels with a china tea set but you won't want anything breakable in there.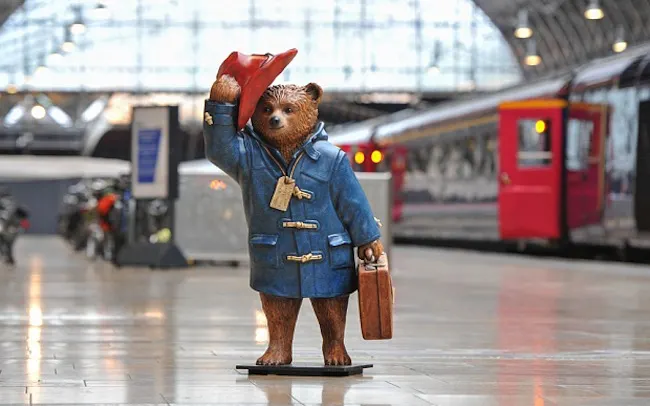 If it's good enough for Paddington…
9. Odd Sized Baggage
Backpacks usually have to go to a special 'Odd Sized Baggage' conveyor belt at the airport to avoid the straps getting caught in any machinery. This can often take longer and be located in a weird place. It's not the end of the world but it's an extra stress and hassle if you're running late.
10. They're not waterproof or easy to clean
Hard-shelled suitcases are both waterproof and easy to clean. Some people like having a dirty backpack because it makes them look like 'a real traveller'. I don't.
Can you go backpacking with a suitcase?
Yes, you can absolutely go backpacking with a suitcase!
If you're convinced that backpacks suck and you'd like to go backpacking with a suitcase, there are a few things you need to remember.
You still need to pack light
I never travel with a bag I can't lift. This is mainly because I don't want to be that girl who has to pitifully ask a man to carry my bag for me. I'm not going to get all feminist on you but, ladies, if you can't carry your own bag, it's too heavy.
The easiest ways to pack light while you're backpacking are to:
Limit your shoes (hiking trainers and sandals should be fine)
Solid toiletries are easier to pack
Choose 3-4 outfits you love (it's fine to wear the same thing almost every day, you're backpacking!)
Choose a small, lightweight suitcase for backpacking that you can easily carry up a flight of stairs
Choosing a small suitcase forces you to pack light. Don't be tempted to buy a big suitcase! You'll promise yourself you won't overfill it but you will. You know you will.
Just get a small, hand luggage sized suitcase! It should be easy to carry up a flight of stairs.
I have a list of great carry-on suitcases here.
The best wheeled backpacks to take a suitcase backpacking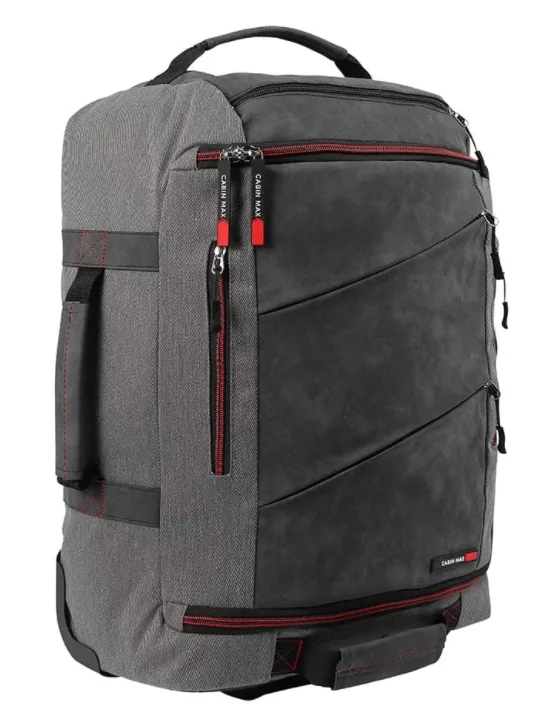 If you're still a little nervous about taking a suitcase backpacking then I highly recommend taking a bag with both wheels and backpack shoulder straps. You can then pull it 95% of the time or put it onto your back for those rare occasions when it needs to be carries.
These are usually soft bags that can be wheeled but they'll have backpacking straps too for those occasional times you really do need to carry it.
I'm a massive fan of the Cabin Max Manhattan backpack trolley. I can't recommend this bag enough if you're not quite ready to hang up your backpack but you realise backpacks suck.
It can be used as hand luggage for most airlines – saving you time and money by not having to check it in!
The backpacking shoulder straps fold away neatly so they're not in the way when you're not using them
It's comfortable to hold as both a backpack and to roll as a suitcase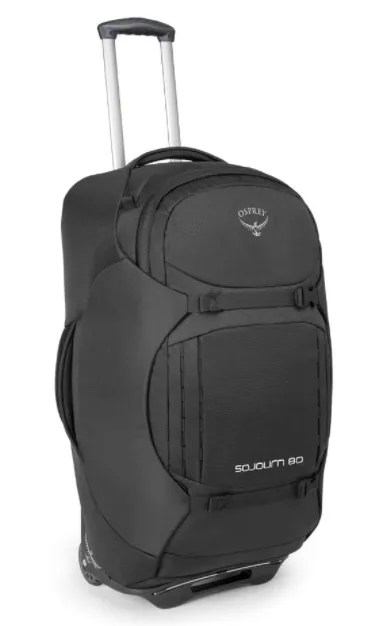 I also really like the Osprey backpacks with wheels.
Osprey bags are a little more expensive but they do last well so they're a good investment piece.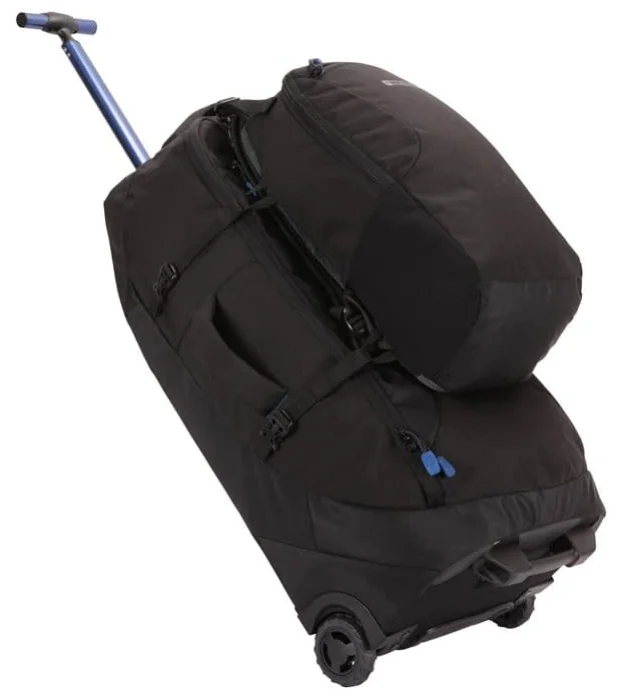 Another great option is this wheelie backpack with a detachable day bag from Mountain Warehouse.
I have something very similar (it's not made anymore) and it's so handy.
The pros and cons of wheeled backpacks
Wheeled backpacks are a great solution for travellers who prefer to wheel their luggage but worry they might need to occasionally carry it for long distances.
But wheeled backpacks aren't perfect.
You have the option to either wheel them or carry them. Great.
But they're often uncomfortable to carry and might not have the best wheels or handle.
My advice is to ask yourself which you'll be doing more often? If you're more like to wheel it then focus on buying a bag with a great handle and good, sturdy wheels.
If it's not particularly easy to carry then you don't need to worry because you won't be carrying it often.
What happens if you go hiking while backpacking?
You may be planning a 2-3 day hike while you're backpacking and thinking it won't be possible if you're backpacking with a suitcase. What will you do with your suitcase? You can't drag it up the mountain with you!
Don't worry. Whoever is organising your trip will be very used to backpackers arriving with large luggage and will have somewhere to store your suitcase for a few days while you take a smaller bag for your trip.
If you're not arranging your hike through an activity provider then accommodation providers can normally help. Hotels and guest houses will usually look after your luggage and they'll be very used to this if there is a mountain nearby!
You will need a small day bag to take with you on a hiking trip.
How about a backpack that opens like a suitcase?
The main thing I hated about my backpack was that it was a top loader, meaning I packed it from the top and anything at the bottom would get lost and was difficult to access.
If this is also a problem for you then a solution is to buy a backpack that opens up like a suitcase.
The Travel Hack Backpack is a great example of this!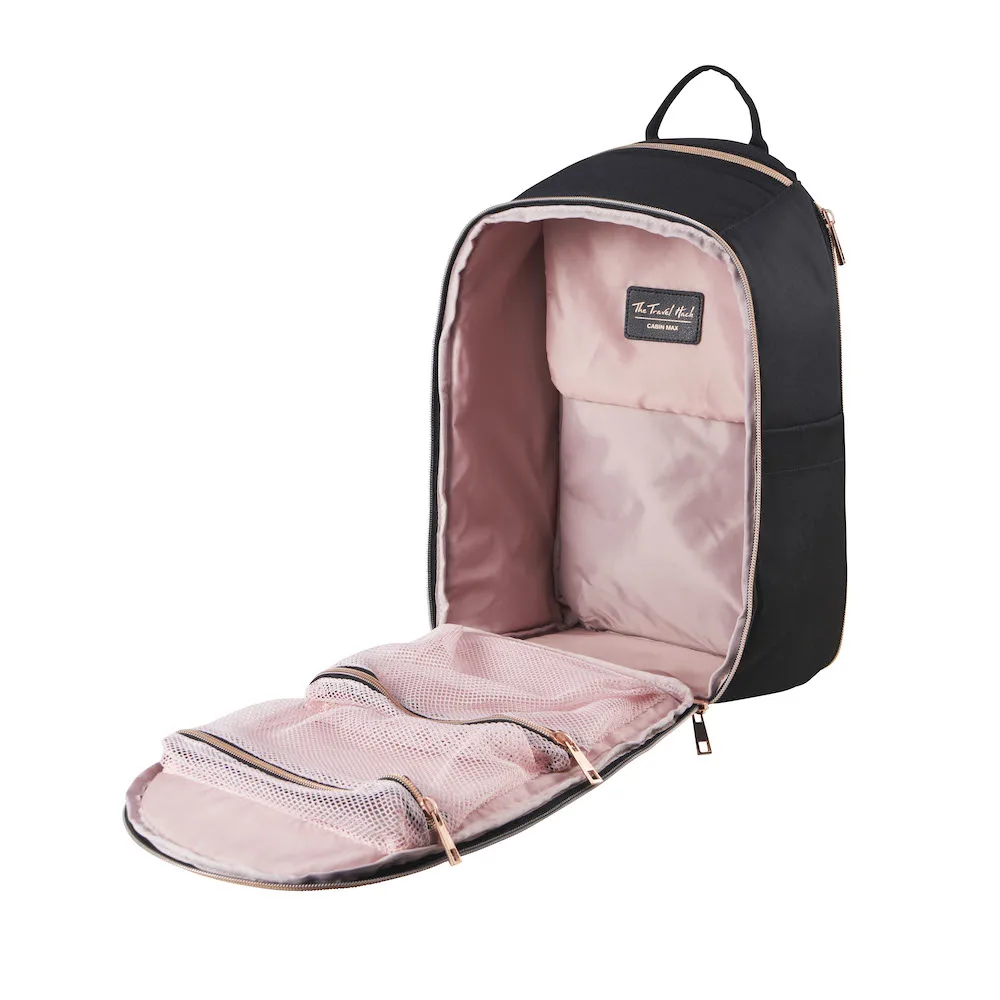 The Travel Hack Backpack is a 20 litre bag so it might be a little small for most people but this Osprey fully opening backpack is another great option and is 50 litres.
Should you use packing cubes in a backpack?
Yes, absolutely! Packing cubes are a lifesaver in backpacks to keep everything organised and neatly compressed. I love them so much I have a whole blog post answering the question, 'Are packing cubes worth it?'
What's your opinion on the backpack vs suitcase debate?