Emily has recently returned from an incredible 7-day Mediterranean cruise with Princess Cruises. Here's how she got on…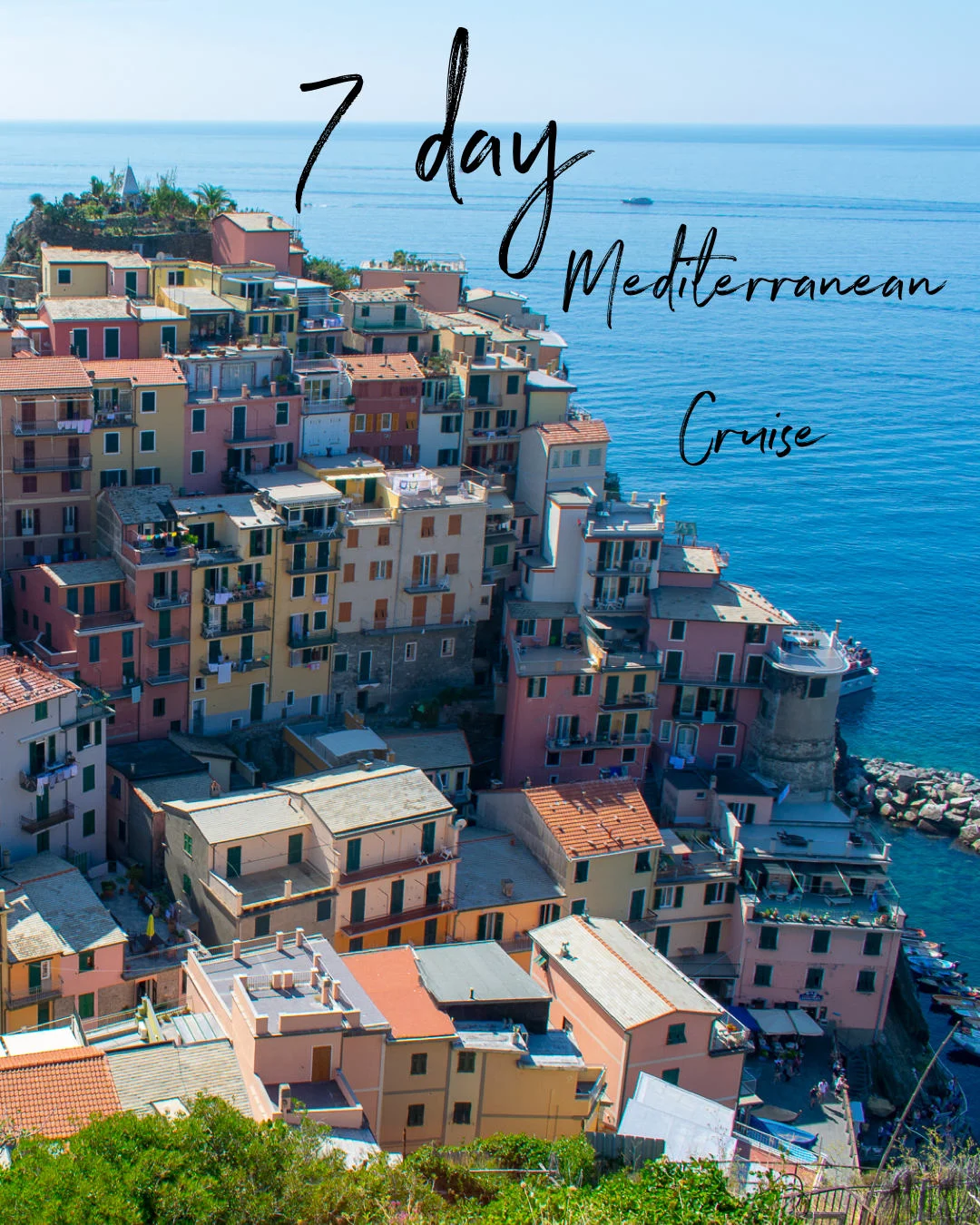 Laying back on my sun bed with a view of the ocean and a Pina Colada in hand, recovering from hiking the Rock of Gibraltar the day previously and looking forward to the next few days touring the vineyards of Provence and exploring the colourful Cinque Terre, I knew that travelling would never be the same for me again.
The mixture of luxury and relaxation combined with the adventure of waking up in a new and exciting destination each day is what makes cruising the ultimate travel experience. The preconceptions many people have that cruises are boring or just for the older generation couldn't be further from the truth with so much to see and do both on board the ship and at each port of call.
Last month I boarded the Crown Princess for a 7 day Mediterranean Cruise with Princess Cruises. Here's what I got up to…
An overview of my 7 Day Mediterranean Cruise Itinerary
Day 1 – Embark in Barcelona, Spain

Day 2 – At Sea

Day 3 – Gibraltar

Day 4 – At Sea

Day 5 – Marseille, France

Day 6 – Cinque Terre, Italy

Day 7 – Disembark in Pisa, Italy
Mediterranean cruise Day 1 – Barcelona
Day one of the trip involved an early flight from London Gatwick to Barcelona, then a transfer to the Port where I first boarded the Crown Princess along with 7 other enthusiastic content creators. I had been on cruise ships before as a child, however as I approached the ship I was still totally blown away by it's enormous size!
Boarding the ship was a lot like boarding a plane (except much quicker), with a check in desk where you present your passport and boarding pass, security and even a luggage drop where helpful staff will take your suitcase to your room for you.
Travel Hack Tip: Make sure you pack enough in your carry-on bag to be able to freshen up when you first board the ship as you're likely to arrive in your room a little while before your suitcase does. If you're heading straight back out into the city maybe pack some extra clothes and toiletries, or if you're spending time on the ship remember to pack your swimwear.
After quickly getting to see our staterooms and grabbing a bite from the buffet, we got back off the ship and headed out for an afternoon exploring Barcelona.
Starting at the Columbus Monument, we gradually made our way up La Rambla, the iconic pedestrianised boulevard full of busy market stalls, street performers and beautiful architecture, to reach the charming medieval streets of the Gothic Quarter. We ended our explorations in the Plaça Reial (Royal Square) where we saw one of famous Catalan architect Gaudi's first works in Barcelona, the Royal Square lanterns.
Our main activity of the afternoon in Barcelona was a cooking class at cookery school Foodie Experience Barcelona, run by local sisters Angeles and Carmen. We spent a fantastic couple of hours learning all about catalan cuisine while trying our hand at making spanish omelette, tomato bread, paella, catalan cream dessert (similar to crème brulée) and sangria. I think it was safe to say that we were all pro chefs by the end of the class – or maybe that was just the sangria talking!
Full to bursting point from our delicious homemade catalan dinner, we headed back to the Crown Princess for our first sail-away, which was appropriately accompanied by Ed Sheeran's Barcelona being played over the speakers on the upper decks.
Read more: A local's guide to the Gothic Quarter Barcelona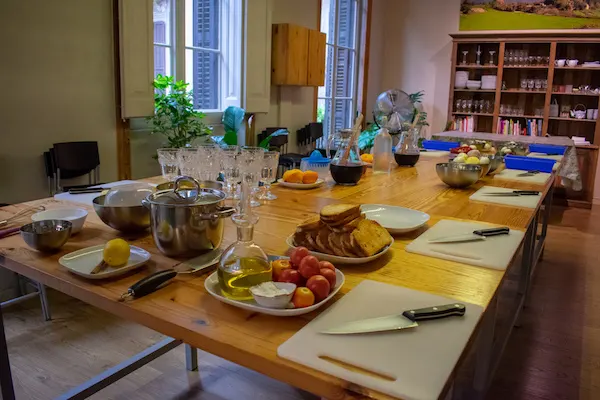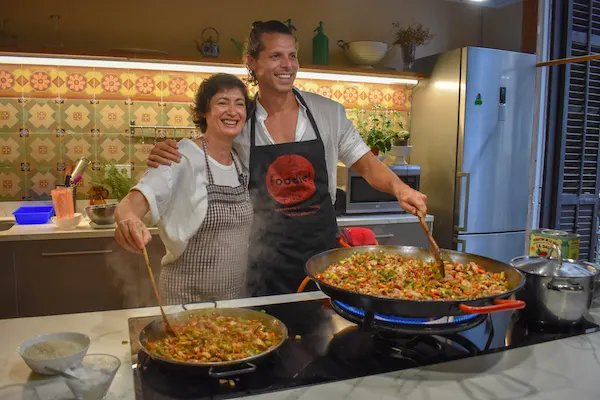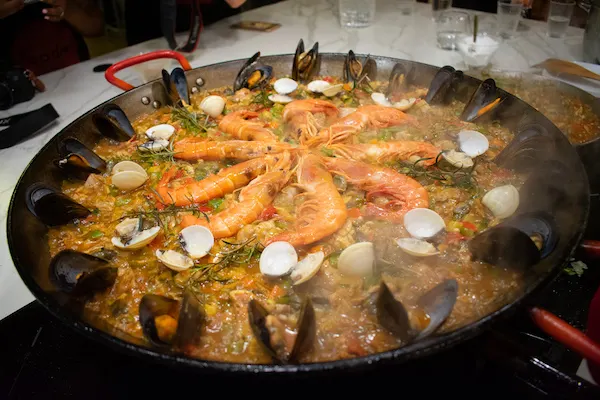 Mediterranean cruise Day 2 – At Sea
After a much needed sleep to recoup from the busy day of travelling and exploring Barcelona, we started our first day at sea with a tour of the ship, including the many public areas as well as a behind the scenes tour of the Bridge (control room) and the Galley (ship kitchen).
In the Bridge we were able to see the controls and navigation systems of the ship while meeting some of the friendly crew members. It was fascinating to see the extremely high tech systems and learn how much training and knowledge goes into being able to work in the Bridge of a ship. We also learnt that, contrary to popular belief, a cruise ship is not steered by a large steering wheel, but rather by two tiny little controls.
[one_half padding="0 5px 0 5px"]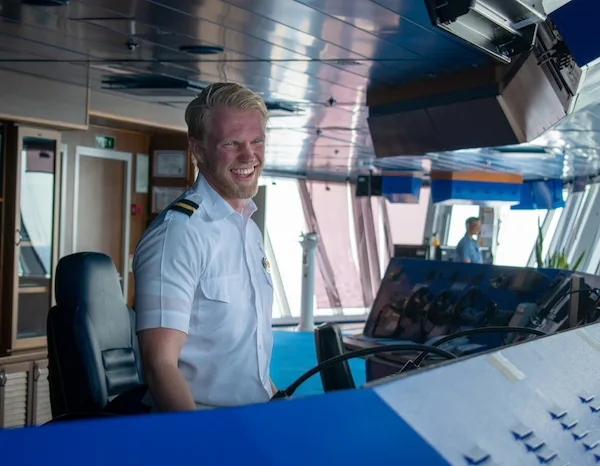 [/one_half][one_half_last padding="0 5px 0 5px"]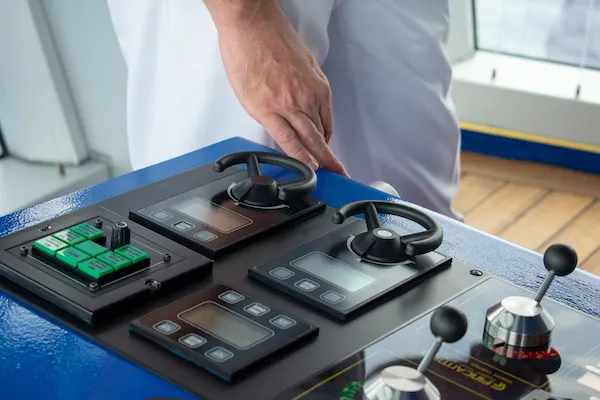 [/one_half_last]
In the Galley, we met head chef Salvatore who took us on a tour of one of the ships two large kitchens and introduced us to a few members of his impressive staff, made up of 230 chefs and cooks. I'm not sure whether I'd personally want his job but it was certainly interesting to see both the organisation and passion which goes into producing so much quality food on a daily basis.
[one_half padding="0 5px 0 5px"]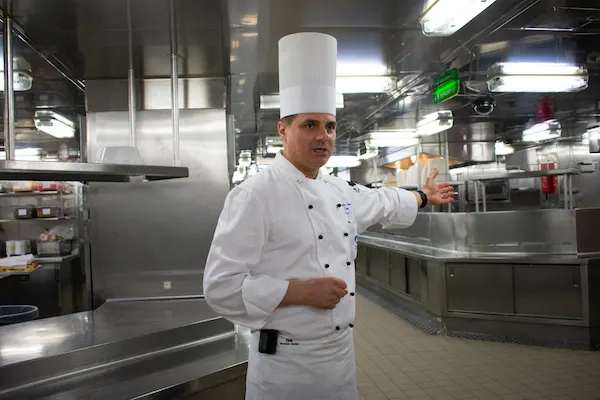 [/one_half][one_half_last padding="0 5px 0 5px"]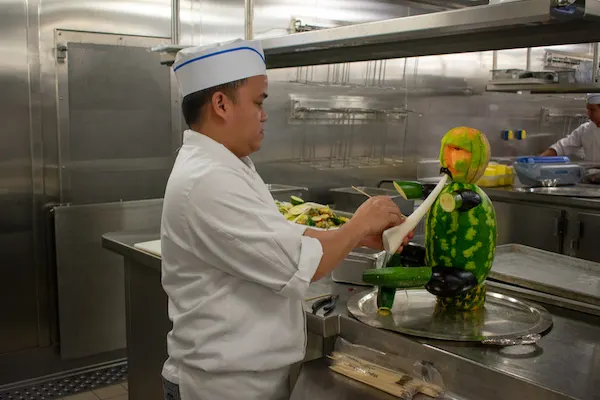 [/one_half_last]
Having walked around most of the ship (which is quite a lot of walking considering the enormous size) it was time to spend the afternoon making the most of the sunny weather relaxing by the pool, before getting ready for the first formal night of the trip.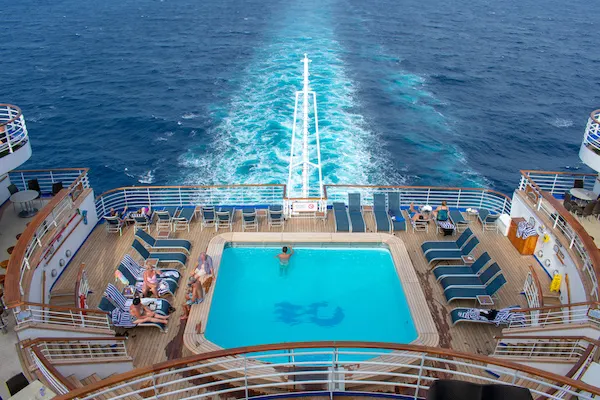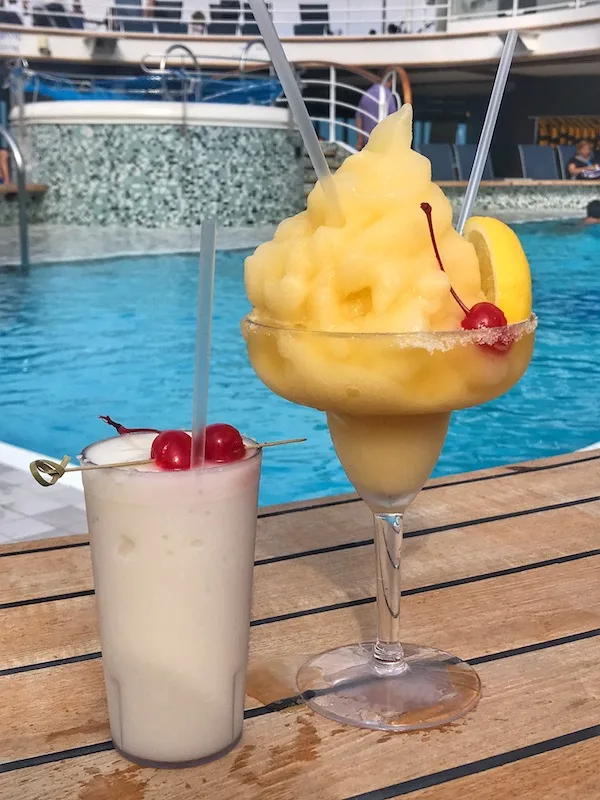 Formal evenings on a M

editerranean cruise

For me, the ship's formal evenings were one of things I was looking forward to the most on the cruise as I rarely get the opportunity to get glammed up back at home or on my usual travels. It was lovely seeing the guys in their suits and the girls in their dresses and heels, sipping champagne in the grand central atrium.

There is a tradition on all of Princess Cruises' ships that the first formal night is welcomed in with a giant Champagne Waterfall in the atrium with the ships Director, a truly impressive sight! We then continued the night with a 3 course dinner in the Da Vinci main dining room, followed by a performance of Encore in the 800 seat Princess Theatre. Encore was a sophisticated combination of pop, opera and musical theater, accompanied by an impressive onstage orchestra, which really added an extra layer of elegance to the evening.

[one_half padding="0 5px 0 5px"]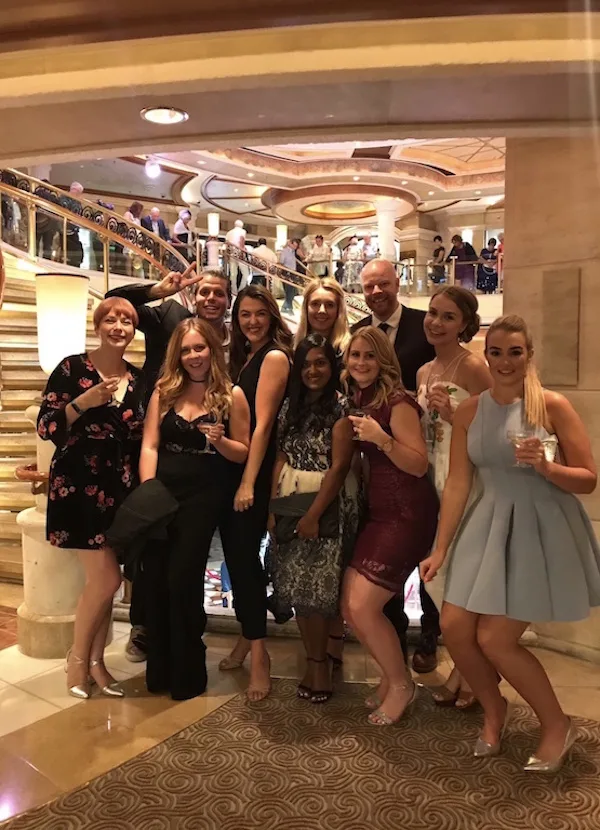 [/one_half][one_half_last padding="0 5px 0 5px"]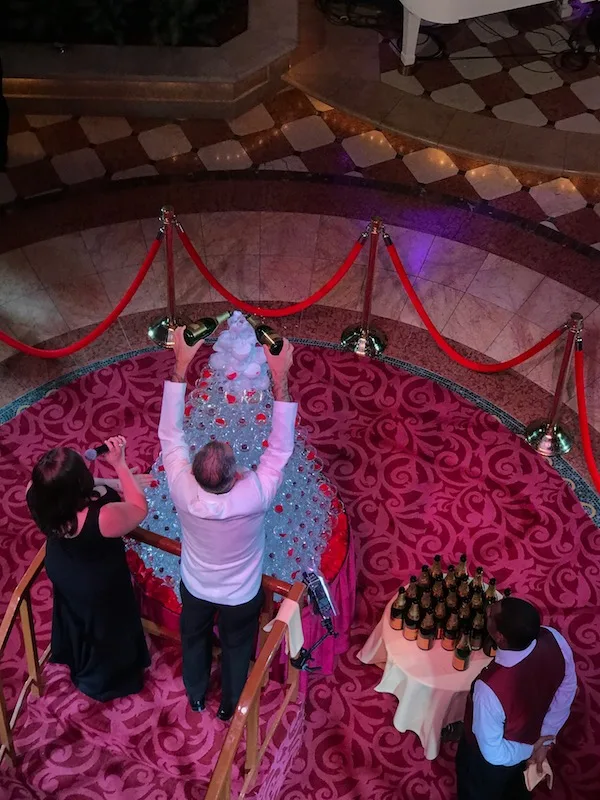 [/one_half_last]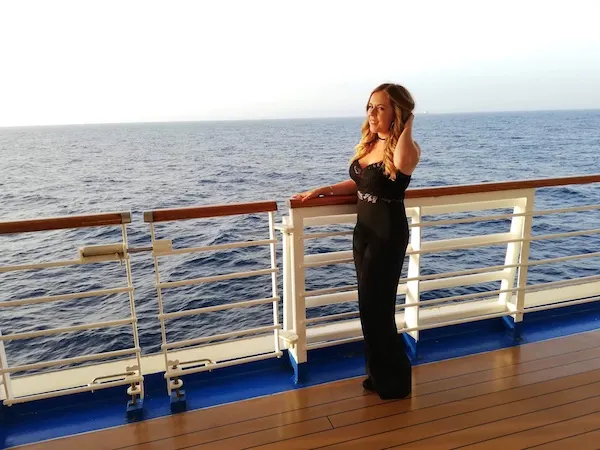 Day 3 – Gibraltar
I have to admit that our next port of call was probably the one I was looking forward to the least, having never considered visiting Gibraltar before. However, I was pleasantly surprised by this peculiar little place.
We started our day by hiking up the iconic Rock of Gibraltar via the Mediterranean Steps, from Jews' Gate at the entrance of the rock's nature reserve to O'Hara's battery at the top. The hike took just over an hour and the steps were quite steep at points, but overall it was manageable and worth the amazing views and sights along the way.
[one_half padding="0 5px 0 5px"]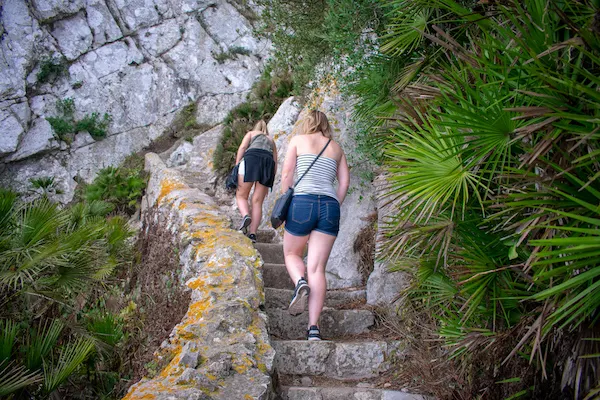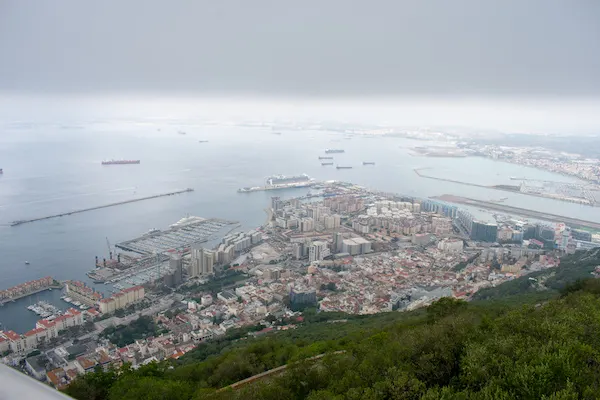 [/one_half][one_half_last padding="0 5px 0 5px"]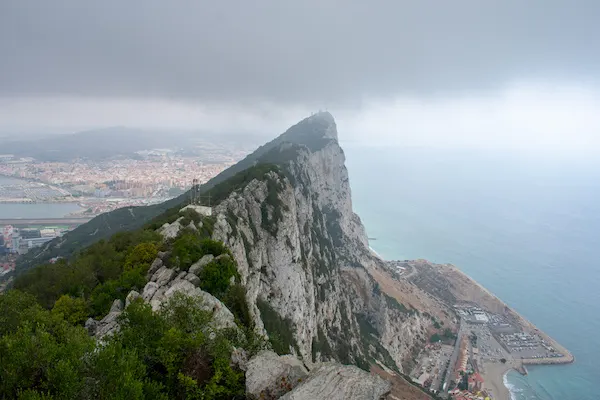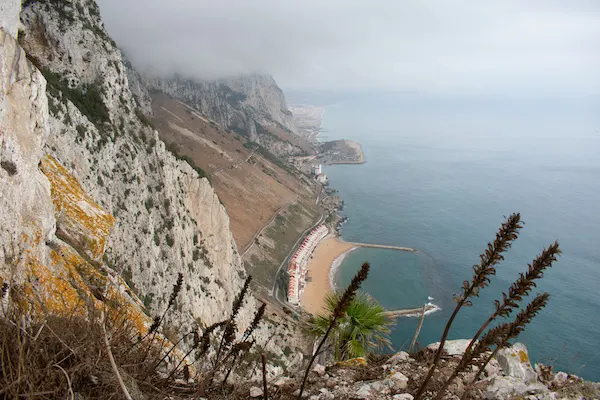 [/one_half_last]
The highlight of Gibraltar for me had to be the barbary macaques waiting for us at the top of the rock, the only wild monkey population on the European continent. These cheeky chaps have gotten themselves a bit of a reputation over the years due to their mischievous ways and over familiarity with tourists. While some of our group were a little cautious of the monkeys, I personally loved watching their bold, human-like behaviour up close, and even managed to end up with one sat on my head (with the guidance of a trained local of course).
Travel Hack Tip: The monkeys on the Rock of Gibraltar are pretty harmless as long you don't provoke or tease them. However, if you don't want them near you, simply make sure there's no food in your bag (they'll smell it and try to steal it) and that you keep your distance.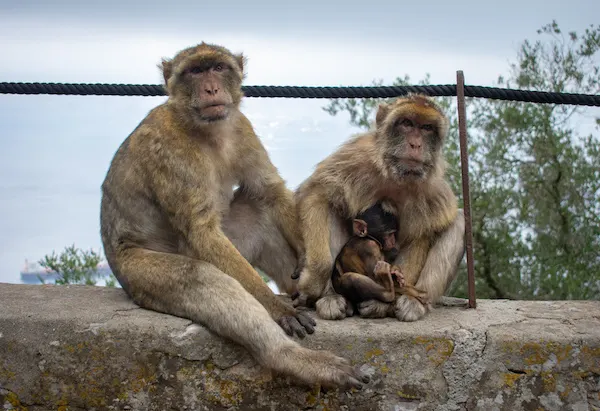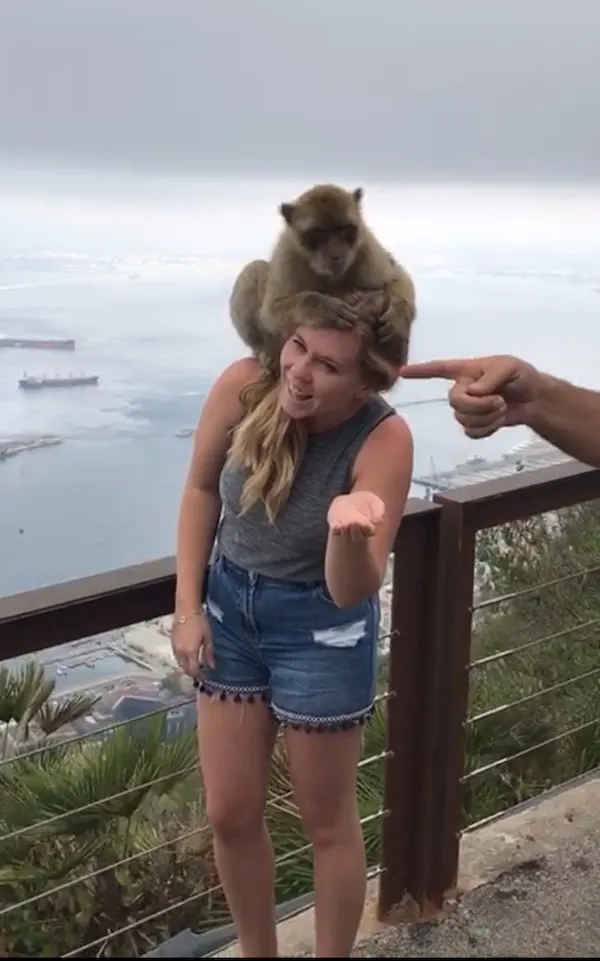 When we were done admiring the views from the top of the Rock of Gibraltar, we jumped on the cable car back down to explore the town below. Being a British Overseas Territory, the town itself was a bizarre mix of Mediterranean architecture combined with British shops such as Marks & Spencers and Peacocks, as well as traditional British pubs with names such as The Trafalgar and Picadilly Gardens.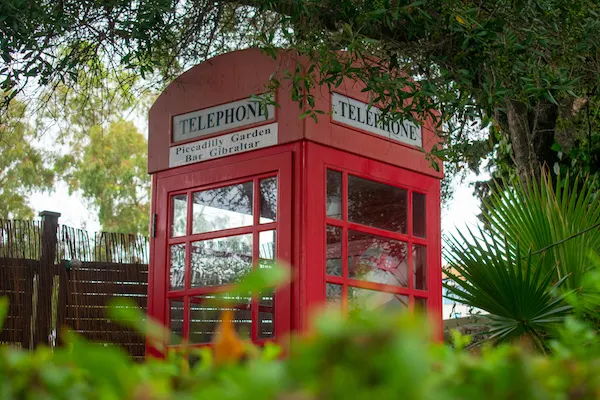 Gibraltar turned out to be a great cruise destination, with plenty of fun and interesting things to see and do in a day but being somewhere I couldn't see myself visiting for a much longer period of time. Climbing the Mediterranean steps to the top of the rock was definitely the highlight for me.
Back on the ship it was time to try out our first specialty restaurant on the Crown Princess, Sabatini's Italian. Starting with nibbles of focaccia, flatbread and olives, we moved on to a delicious 4 course Italian meal of antipasti, fresh pasta, mains including lobster, steak and veal, and finally some of the most beautifully presented desserts I've ever seen.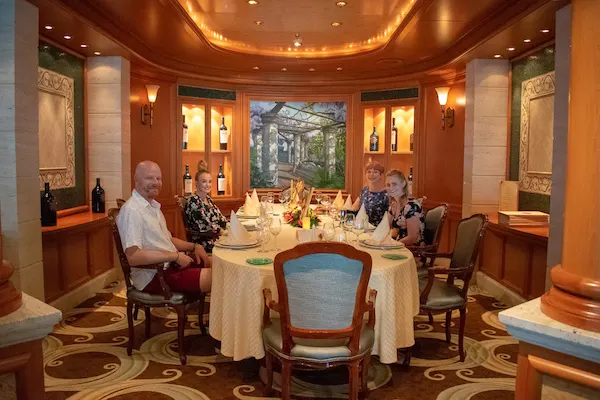 [one_half padding="0 5px 0 5px"]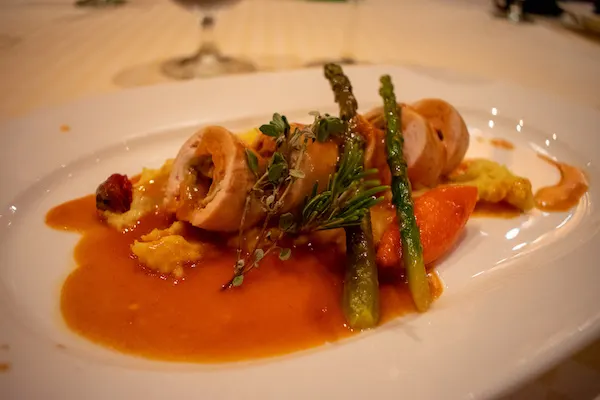 [/one_half][one_half_last padding="0 5px 0 5px"]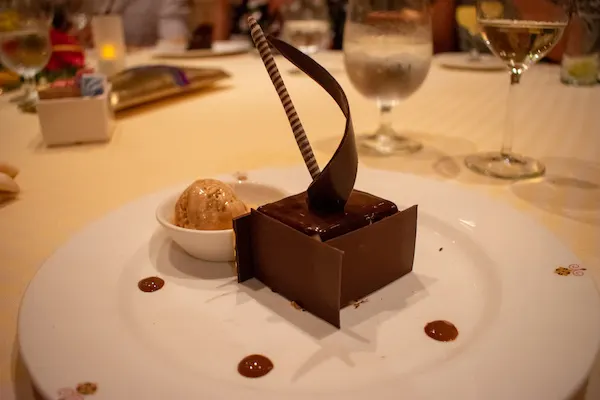 [/one_half_last]
Mediterranean Cruise Day 4 – At Sea
Next it was time for the ship to turn around and head all the way back down the Mediterranean coast to our next stop Marseille, meaning it was also time for our second and final day at sea. With everyone aching a little from hiking up the Mediterranean steps, it was perfect timing for a day of total relaxation.
Starting with the ultimate luxury of a room-service breakfast on my stateroom balcony, I then headed for a morning of pampering at the Lotus Spa, followed by an afternoon lazing around in the adults-only Sanctuary.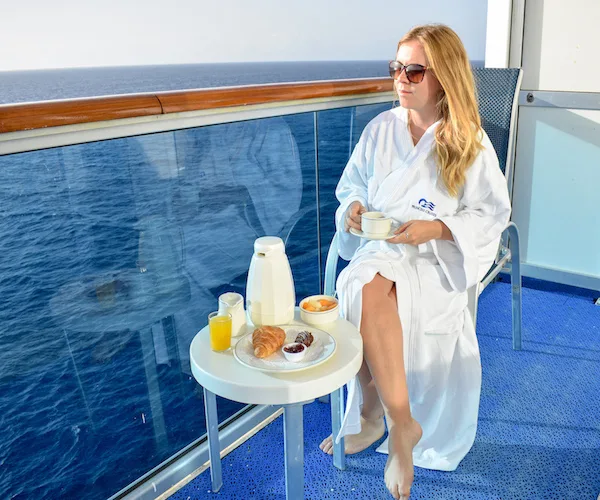 At the Lotus Spa I was treated to an exotic lime and ginger salt glow with a full-body massage. I've never had a salt scrub before but it was a wonderfully relaxing experience and my skin has never felt so soft, while the massage certainly got rid of the tension built up over years of living the busy life of a Londoner.
Travel Hack Tip: The Lotus Spa offers a whole variety of massages, facials, body wraps, manicures and pedicures. To ensure your treatment on a day and time that suits you, you can pre book before the cruise starts on your online cruise personaliser.
Once the treatments were finished I was then sent down to the thermal suite where a selection of saunas, aromatherapy steam rooms and hot beds awaited me. It's safe to say I could have happily spent most of the week here.
Later in the day I met up with the rest of the guys to enjoy an afternoon of tranquility at the private adults-only Sanctuary at the front of the ship. The Sanctuary is a quiet and peaceful area with comfy loungers looking out across the water and attentive staff serving a menu of healthy foods and smoothies. Much to our surprise we were even treated to a lovely afternoon tea of sandwiches, scones and mini cakes to enjoy while reading our books and listening to the soothing sound of the ocean… total bliss!
[one_half padding="0 5px 0 5px"]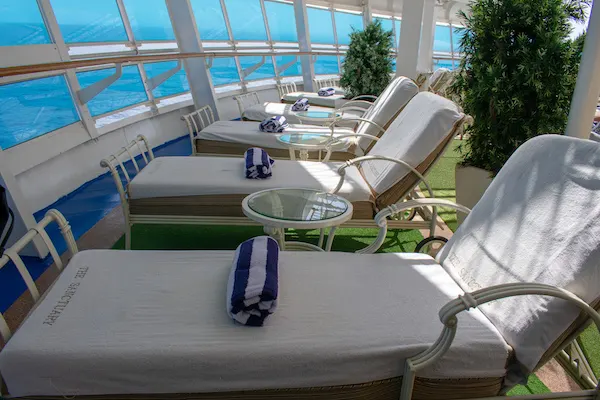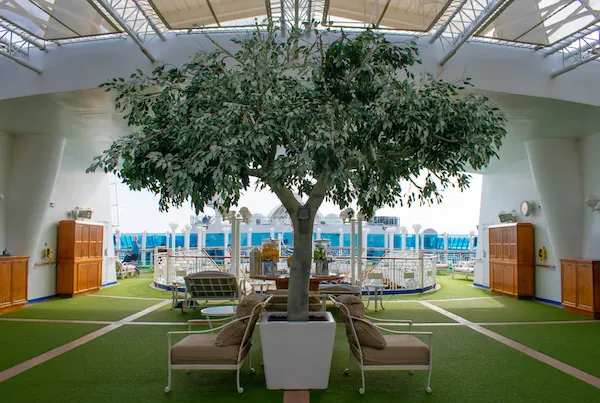 [/one_half][one_half_last padding="0 5px 0 5px"]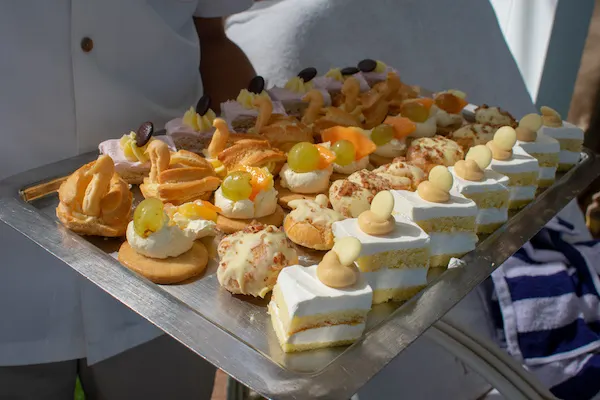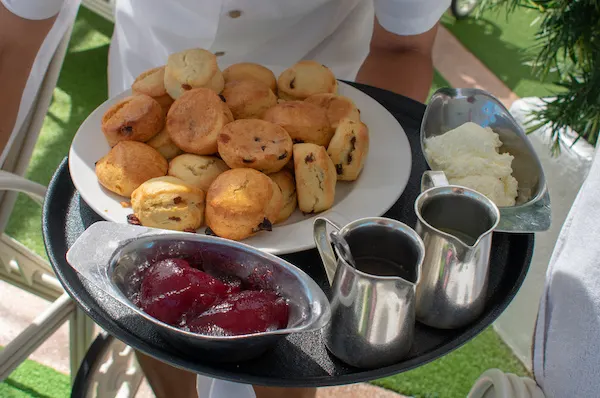 [/one_half_last]
Feeling totally relaxed and rejuvenated, it was time for another specialty 4 course dinner at the Crown Grill, Princess Cruises signature steakhouse. The Crown Grill serves a selection of premium steaks and seafood, with some delicious sides which are great for sharing amongst the table. For appetisers I went for the beef fillet tartare, followed by a goats cheese and tomato salad and the ribeye steak, while for dessert I had to try the The Crown Dependence, a sampling plate of all of the desserts including a indulgent s'mores stack and peanut butter and chocolate bar.
All in all, our dinner at the Crown Grill was not only my favourite meal of our entire 7 day Mediterranean Cruise, but undoubtedly one of the best all round meals I've eaten in my life. Any meat-lover should not miss a dinner at the Crown Grill!
[one_half padding="0 5px 0 5px"]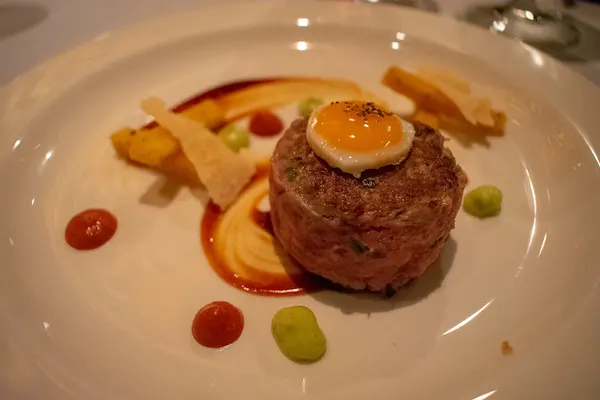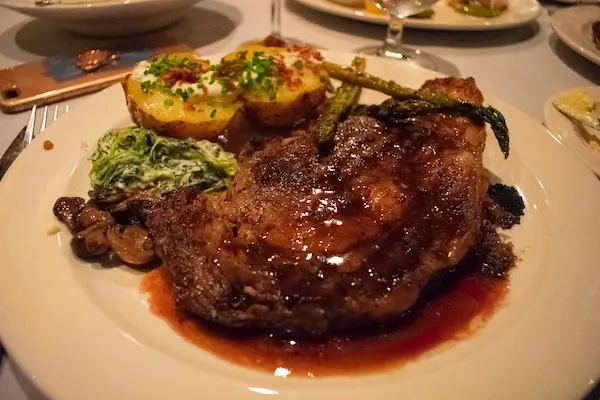 [/one_half][one_half_last padding="0 5px 0 5px"]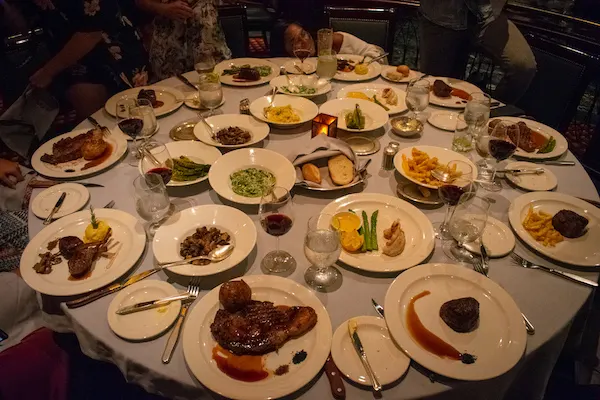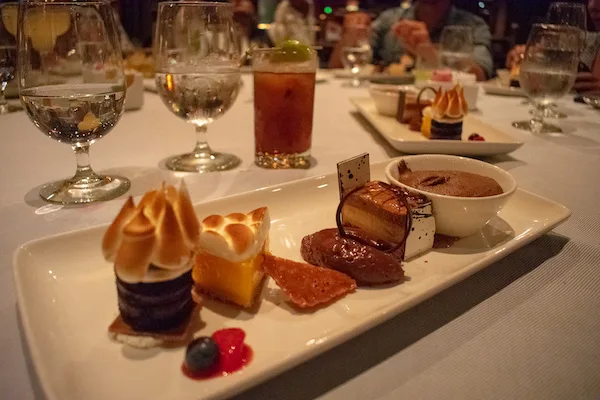 [/one_half_last]
Mediterranean Cruise Day 5 – Marseille
Our next port of call was Marseille, the main city in the South of France and entry point to the gorgeous region of Provence. From the port we jumped on a mini bus and headed inland to the Bandol wine region within Provence where we met our guide for the day, an entertaining and enthusiastic British man called Richard from Bandol Wine Tours.
Throughout the day we visited 3 different vineyards in the Bandol region; Domaine Lou Capelan, Domaine La Garenne and Domaines Bunan. We explored the vines and cellars, learnt about the winemaking process and, most importantly, got to sample a variety of different reds, whites and roses from the region. Bandol wines are some of the most internationally recognized wines in Provence, with these three wineries alone producing several award-winning bottles.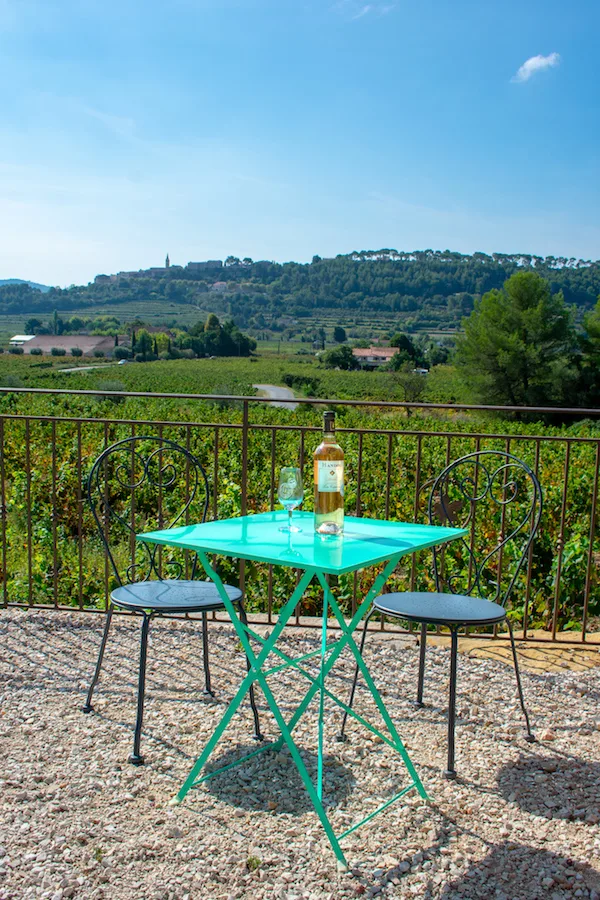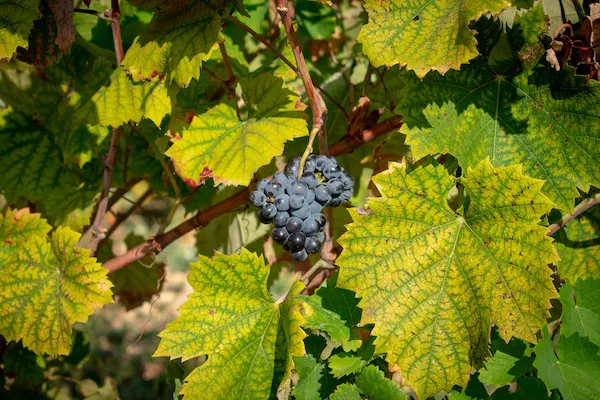 Travel Hack Tip: No matter how hot it is outside (it was almost 30°c in Provence the day of our tour), when visiting vineyards and wineries always make sure to bring a light jacket as the cellars need to be kept cool for the wine.
[one_half padding="0 5px 0 5px"]
[/one_half][one_half_last padding="0 5px 0 5px"]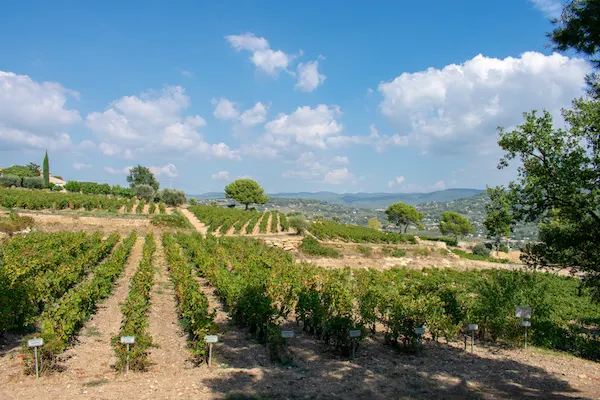 [/one_half_last]
Our other stop of the day was for lunch at Hostellerie Bérard, a hotel and restaurant in the hilltop Provincial town of La Cadière d'Azur. The Michelin starred restaurant is owned by Chef Jean-François Bérard who serves elegant and seasonal Mediterranean cuisine to guests while they enjoy the breathtaking panoramic views out across the vineyards. Undoubtedly one of the most beautiful settings I've ever had the pleasure to have eaten lunch in, and the food was pretty sensational too.
[one_half padding="0 5px 0 5px"]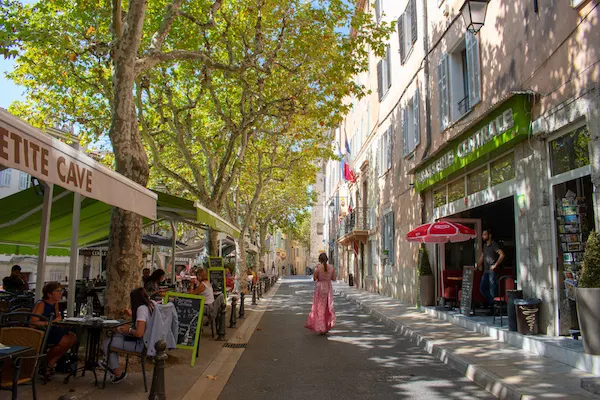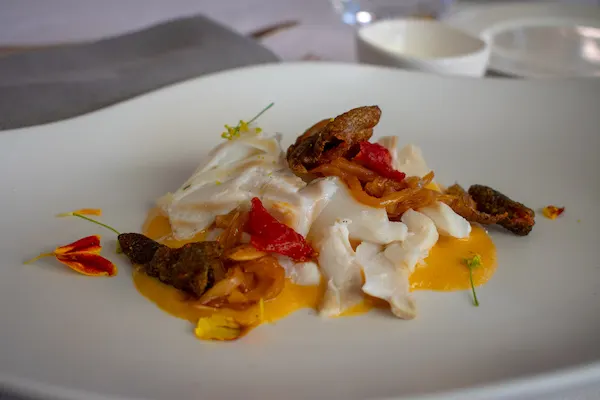 [/one_half][one_half_last padding="0 5px 0 5px"]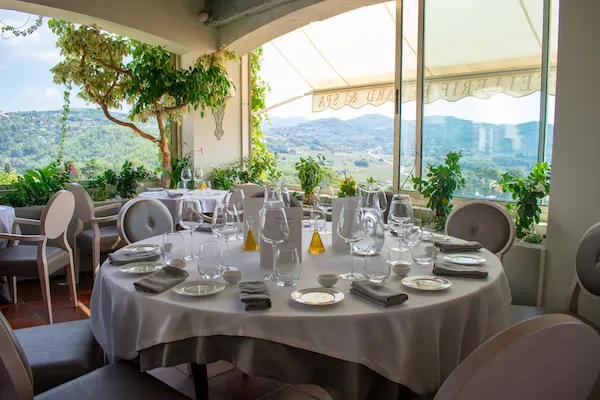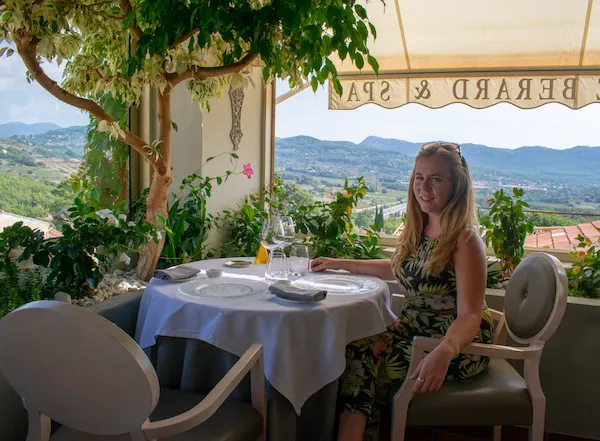 [/one_half_last]
Back on the ship it was formal night number two, which felt rather well timed after our luxurious day of sipping wine in Provence. After another great dinner in the main dining room where we continued the French theme of the day with escargot (yes, I mean snails), we hurried along to the Princess Theatre once again to catch the amazing production of Magic To Do. Magic To Do is a combination of magic and musical theatre, put together in partnership with the award-winning composer of Wicked, Godspell and Pippin – Stephen Schwartz. A really fun and entertaining show which included many familiar songs and clever, mind-boggling illusions.
Following the show we went along to experience another Princess Cruises tradition, the balloon drop. Hundreds of colourful balloons were dropped over the three story atrium while everyone danced along to a live band underneath. A very cool and unique experience which made me feel like I was in a scene from a American high school movie or a cheesy music video.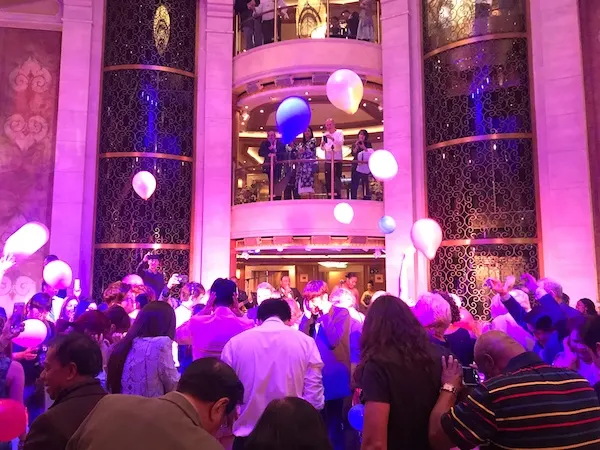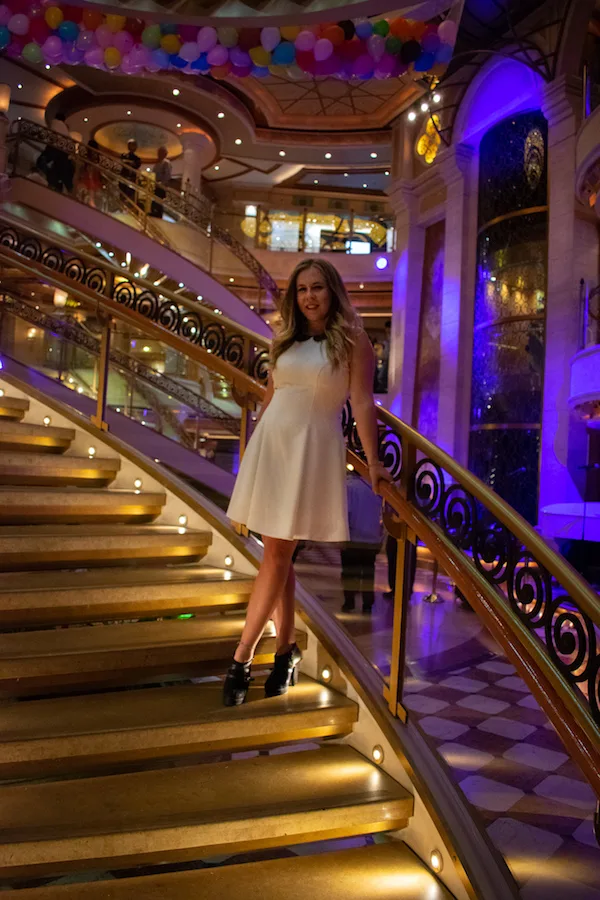 Mediterranean Cruise Day 6 – Cinque Terre
Day 6 had to be my favourite day of our 7 Day Mediterranean Cruise as we got to visit somewhere which has been high on my bucket list for a while now. Docking at Genoa on the Italian coast, we once again jumped in a minibus and headed 1hr45 down the coastline to the beautiful towns of the Cinque Terre.
Travel Hack Tip: Just because the ship docks in a certain city, it doesn't mean that's the only place you can visit. From Genoa, Princess Cruises offer excursions to the likes of the Cinque Terre and Milan.
The Cinque Terre is made up of five hillside towns on the Italian Riviera; Monterosso, Vernazza, Corniglia, Manarola and Riomaggiore. With only a day to explore, we spent the morning in Manarola followed by the afternoon in Monterosso. Both towns were just as picturesque as the photos I'd seen plastered all over Instagram, with brightly coloured houses sloping down towards the pretty fishing boat filled harbours.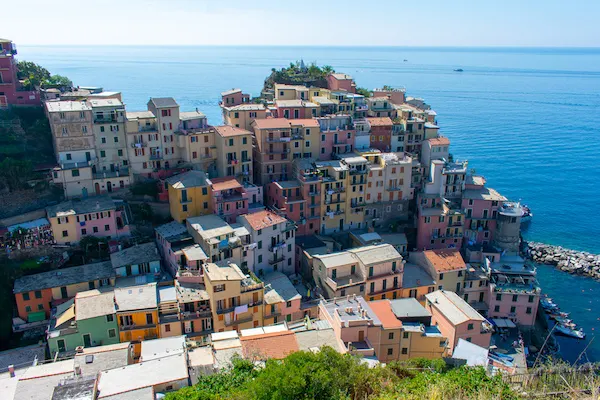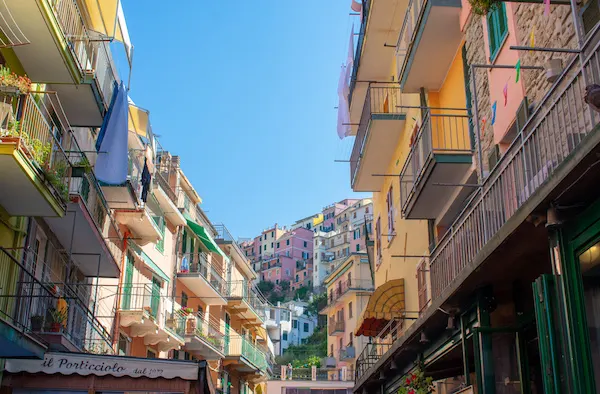 Monterosso is the biggest and oldest town of the Cinque Terre. Despite not having the same authentic small town charm as Manarola, Monterosso was a lovely place to grab lunch at one of the many traditional restaurants and try some of the regions specialty Pesto. Monterosso is also home to the area's only sandy beach, so of course it was only right to go for a quick dip in the ocean in between hunting out the best photo ops.
Travel Hack Tip: All of the towns of the Cinque Terre can get extremely busy and crowded with tourists, particularly during the summer months. Take a wander up through the small residential back streets away from the main areas and the waterfront to find the better and less obstructed views.
[one_half padding="0 5px 0 5px"]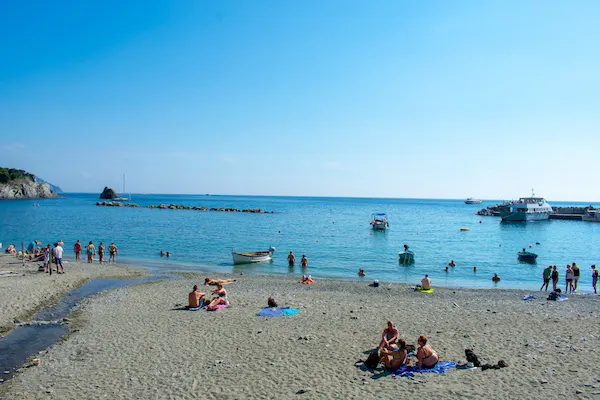 [/one_half][one_half_last padding="0 5px 0 5px"]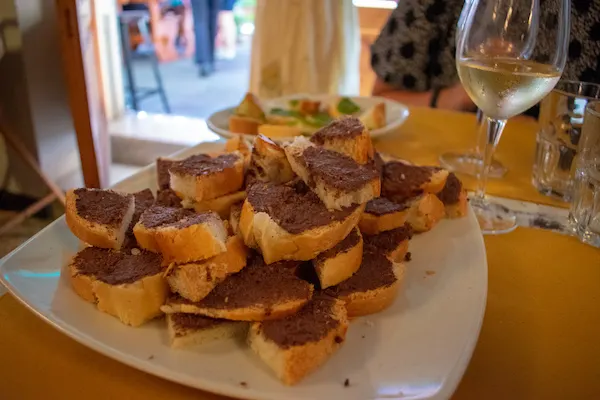 [/one_half_last]
Being the last night of our 7 day Mediterranean Cruise, once back on board we headed up to the top deck to celebrate in style at the Princess Cruises Love Boat Disco Deck Party. The party was themed around the 1980's American TV comedy set on a Princess Cruises ship and promised a "return to the golden era of disco". And it certainly didn't disappoint!
Armed with plenty of cocktails, we enjoyed a fantastic evening dancing alongside the ship's entertainers to the live band. Not ready for the party to end, we then moved up to Princess Cruises onboard nightclub Skywalkers to dance away the rest of the night with all of our new friends. An amazing way to spend our last evening on board the Crown Princess.
[one_half padding="0 5px 0 5px"]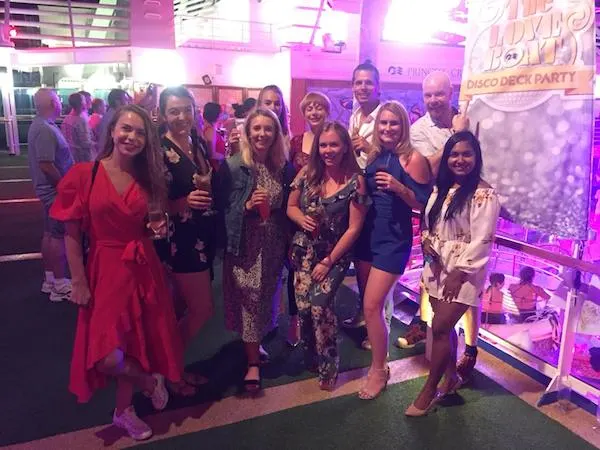 [/one_half][one_half_last padding="0 5px 0 5px"]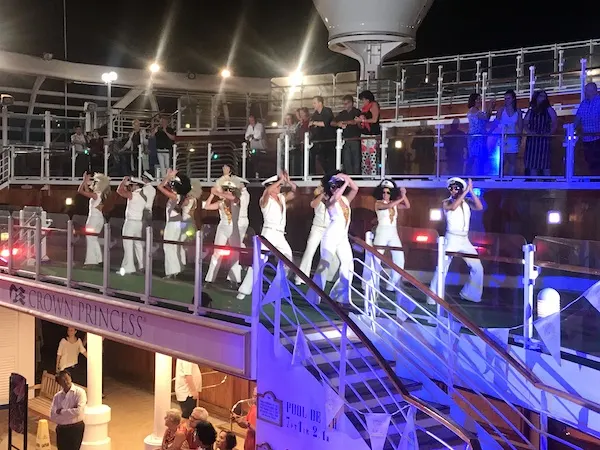 [/one_half_last]
Mediterranean Cruise Day 7 – Pisa
Having clearly been enjoying myself far too much at the Love Boat Deck Party to remember that I needed to pack, my final morning involved hurriedly throwing all of my belongings into my suitcase and grabbing a coffee and breakfast muffin from the international cafe just in time to disembark the ship. But just because it was time to leave the Crown Princess, didn't mean it was the end of our time exploring the Mediterranean.
Our final port of call of our 7 day Mediterranean cruise was Livorno, a short distance from the well known Italian city of Pisa. Being another destination I'd been eager to visit for a long time, I was excited to be spending the day exploring Pisa by a rather unusual method of transport, segway!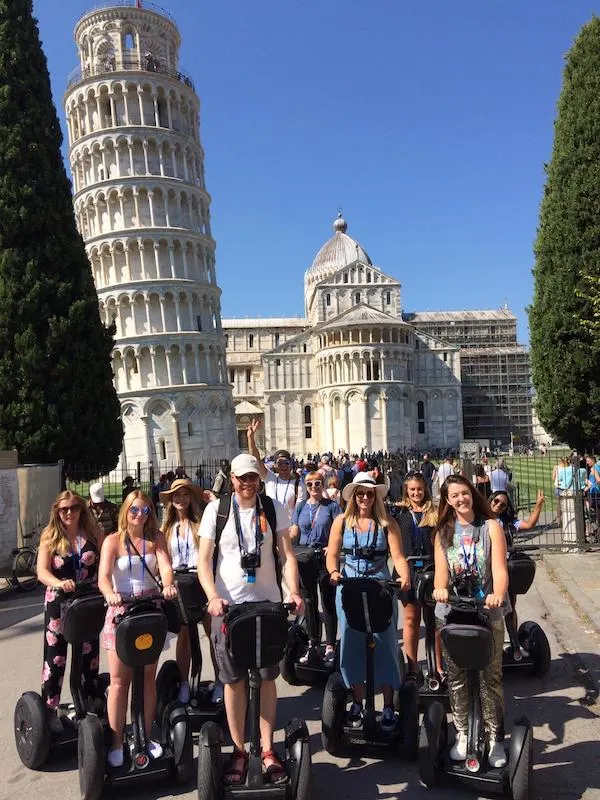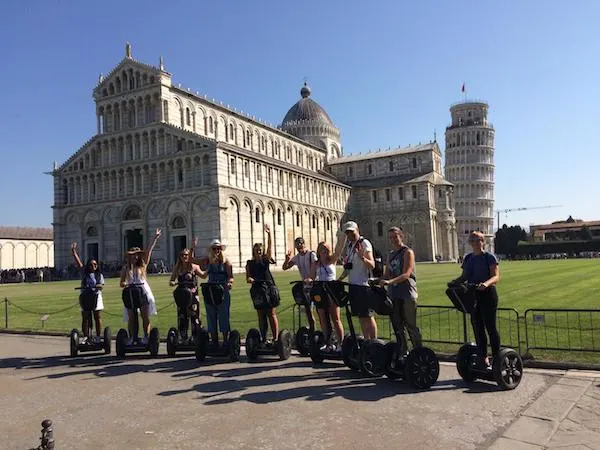 After an initial burst of overconfidence which resulted in me in a bundle on the floor and my segway trying to run away on its own, I managed to get the hang of things and off we went to explore the city. We took the compulsory Leaning Tower of Pisa photos and admired the Pisa Cathedral, wizzed around the impressive Piazza dei Cavalieri and along the riverside, and finally stopped for a well-deserved lunch of bruschetta, pizza and gelato.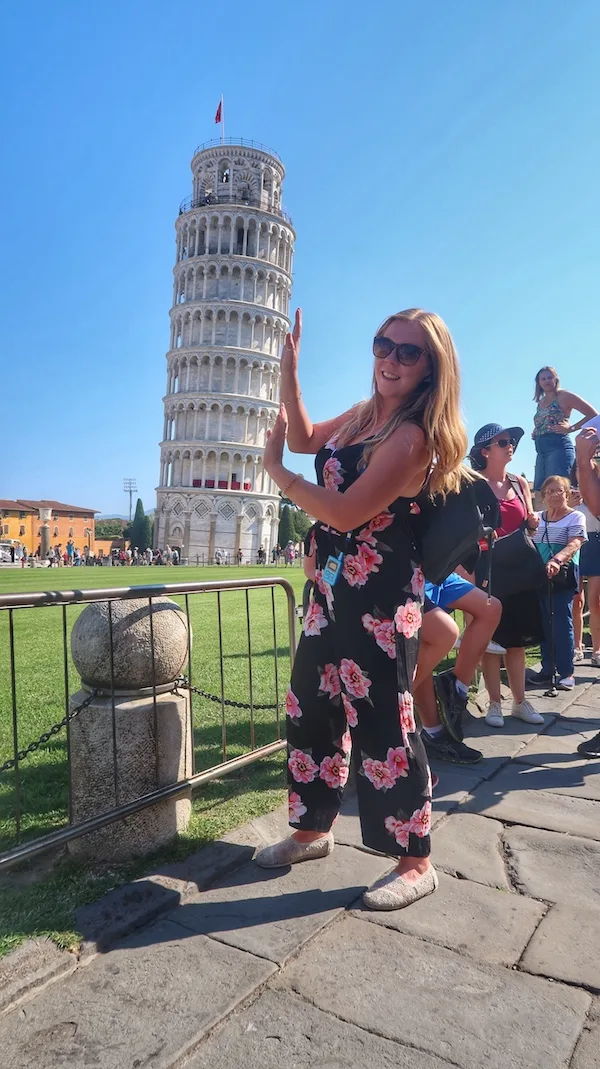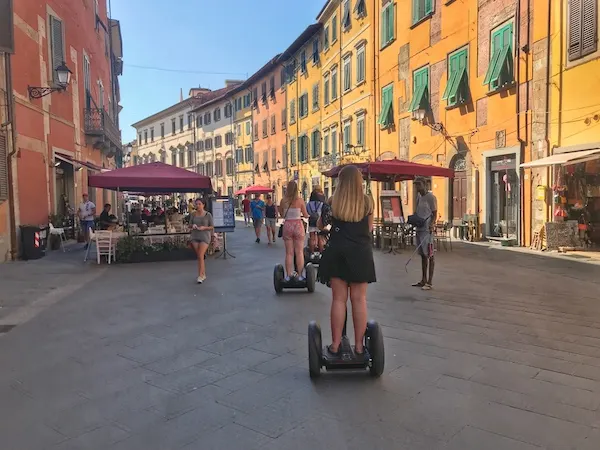 Unfortunately, the end of our day in Pisa also marked the end of our trip. So from Pisa airport we flew back to London and said our goodbyes. It's mind blowing to look back and think that all of these amazing destinations and adventures fit into the space of just 7 days, but that's the beauty of cruising. Despite being only a week, the trip definitely felt much longer and is one I won't be forgetting anytime soon.
Keep reading: