This post was created in collaboration with dealchecker
What's your top travel hack?
This is a question I'm asked all the time! With a blog name like The Travel Hack it's a pretty obvious question so today I'd like to share some of my top general travel hacks for any trip abroad.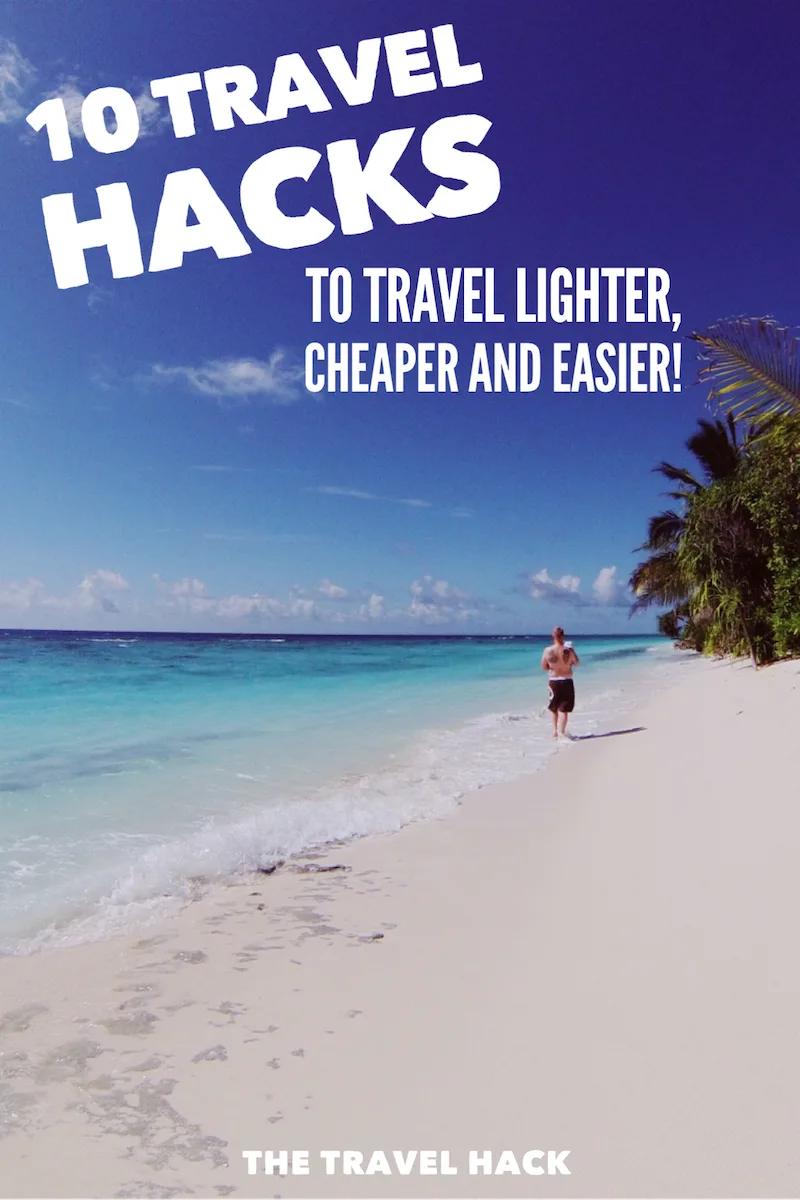 Don't dismiss package holidays
For years now people have been saying it's so much cheaper to book all elements of your holiday individually but that's not always the case! The cheapest holidays can be the packages with flights and hotels included together or even all-inclusive holidays. Sometimes all-inclusive holidays are so cheap I've booked them just for the flight, transfers and hotel and not even eaten at the hotel. I know it doesn't feel very adventurous and it sometimes seems too good to be true but there are some bargains to be had and it does make the whole booking process quick and easy.
Leave all your 'travel things' in your suitcase
You know all the things like plug adaptors and miniature toiletries and those shoes you only ever wear on holiday? Why not just leave them in your suitcase? It makes packing and unpacking quicker and easier and will ensure you never forget them.
Pack light by pre-planning your outfits and writing a list
My travel hack for packing light is to write a list of what I'll wear each day. This helps me to pack really quickly but also stops me overpacking. Most people overpack because they'll be rummaging through their wardrobe and spot something completely random but think, 'Oh that's a nice top, I'll take that too. Oh and that dress and those shoes and that skirt….'
Your heart takes over the packing process and you stuff your case with all your favourite items while completely dismissing the fact that you don't need all of these items.
Start by writing out a rough itinerary for your holiday and allocated an outfit for each day. When you realise you've only got time for one day on the beach it makes it much easier to only pack the one bikini (rather than 17 bikinis for a weekend away!)
Start your holiday in style with a pre-booked airport lounge
Even if you're flying with a budget airline you can still start your holiday in style by using an airport lounge. Many airports now have lounges you can pre-book and pay to enter. They usually cost about £25 if you book in advance and this gives you access to a lovely, relaxed lounge with food and drink included. It usually has wifi, magazines, newspapers, TVs and a well stocked bar so you might even find yourself saving money by using the lounge!
Read more: How to get the VIP airport service without flying first class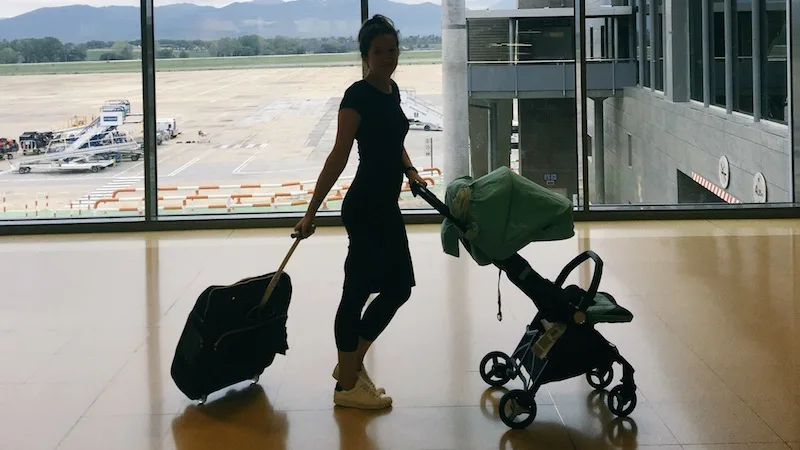 Invest in a small tablet to cut down on hand luggage
Make the flight much more enjoyable – and your hand luggage considerably lighter – with a small tablet. I have a Kindle Fire I use while I'm travelling and I load it with books, magazines, audio books, films and TV series. Just don't forget your headphones!
This means I can board the plane with little more than my passport, purse, phone and tablet so it makes getting through security much easier. This is one of those obvious travel hacks but so many people think a new tablet is super expensive. You don't need to buy a flashy iPad, a simple Kindle Fire is great for travelling.
My favourite apps include Kindle for books, Audible for audio books, Readly for magazines, Netflix for films and shows and I also have Amazon Prime Video but that's mostly for kid's shows.
I also use my tablet to store my boarding passes and details about my travel insurance and all bookings and directions.
Use Google Maps for public transport options
I find using public transport in the UK confusing so I'm completely lost when I'm trying to figure out buses, trains, trams and metro networks while I'm abroad! Thankfully, Google Maps always comes to my rescue.
Search for where you're going and ask Google Maps for directions from your current location. You'll have the option to search for routes for walking, driving or using public transport.
Travel Hack Tip: The best thing is that you can then follow your little blue dot (that's you) to check you're going in the right direction – very handy for anyone who tends to get on the right train but in the wrong direction!
Read more: How to really use Google Maps while you travel
Use Google Maps to find nearby beaches
Can you tell I use Google Maps a lot while I travel!?
Forget about searching for the top 10 beaches in the area, a great travel hack is to just use Google Maps to find your nearest beaches. You can easily see them on the map and then do a Google Image search to see if they look pretty.
By doing this you'll often find beaches that are off the tourist trail and possibly not even sign posted from the road – but I often find this is how you discover the hidden gems! Elle and I did this during our 3 day trip to Tenerife and we found some gems!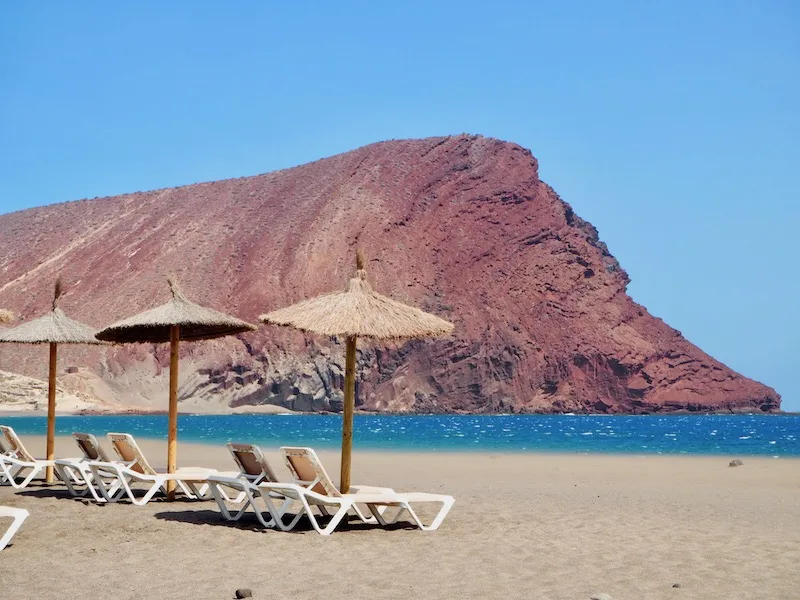 Pack a plug socket bank if you have lots of gadgets
This is an especially important travel hack if you're staying in a budget hotel because you often won't have as many plug sockets as the fancier hotels. If you're travelling with lots of gadgets then pack a plug socket power strip – or a plug socket cube which is better for travelling. The ones with USB points are even better!
The means you'll only need one plug adaptor to convert it from a UK plug to whichever country you're in and you can charge all of your devices at once.
When I'm travelling with Sam and the kids we have 2 phones, 3 tablets, 1 GoPro, 1 laptop and 3 cameras so we end up with stuff charging all over our hotel room and this keeps everything together and I can get everything on charge overnight.
Use a travel card
I never travel with large amounts of cash. I don't feel safe, I worry I'll lose it and I always end up coming home with lots of foreign currency. For a few years I just used my normal debit card while I travelled but the fees for forge in transactions and withdrawing cash were starting to mount up, so I switched to Starling Card and I love it.
Starling Card can be used like a normal debit card but I only really use it when I travel. You can preload it with as much money as you'd like – or quickly use the app to transfer £50 to the card a day – and there are no fees for using it abroad. You also get notifications on your app every time you use it telling you how much you spent in your home currency (great for people who aren't great at converting currencies in their head!) Your spending is then categorised, so after your holiday you can easily see how much you spent on eating out, how much at the supermarket, how much on transport etc. My spending can easily get out of control while I'm travelling so this card and the associated app helps to keep things in check!
Arrange an online food shop for when you arrive home
This is my top mum travel hack! I arrange an online food shop to be delivered to my house a few hours after I get home from a holiday. There's nothing worse than feeling tired after a long flight and coming home to a cold, empty house with nothing to eat!
Travel Hack Tip: I also do this when I'm taking a self-catering staycation in the UK. I'll do a food shop to arrive at my accommodation not long after we're due to arrive.
What's your top travel hack to make travelling that little bit easier?