I've been incredibly lucky this year and I've ticket a major item off my bucket list; I went on safari. But I didn't just go once, I went twice! My first was in South Africa where I spotted the Big Five within the first hour of hopping in the jeep. David Attenborough eat your heart out.
The second safari was in India when I was on the lookout for tigers but actually saw nothing but birds, deer and trees. Thankfully, riding around an India forest in a 4×4 is such a great experience that I almost didn't care.
But there's something I want to tell you about today and it's not lions and tigers, it's safari style.
What to wear on safari
I was really unsure about what to wear on safari but, believe it or not, when you go on safari you can wear whatever the hell you like. You don't need to wear those ugly travel pants with zip of legs and 10 pockets on each side. You don't need to wear khaki colours. You don't need hefty walking boots with ankle supports and you don't need a huge backpack with emergency supplies.
All you need is to be comfortable.
The thing you need to remember when you go on safari is that you cannot under any circumstances get out of the vehicle unless you're in a safe area. You're not going to be walking or climbing or running away from lions. You're going to spend the majority of the day sat on your bum while craning your neck to see a lion in the distance so you really don't need your camouflage hiking gear.
Here are my suggestions of things you definitely do need while you're on safari:
Sunglasses

Suncream

Refillable water bottle

A hat (in case you're in an open top vehicle)

A light long-sleeved top to keep the sun off you

A jumper – it can get chilly if you're in an open 4×4

Your camera with plenty of memory space and battery charge
And that's pretty much it!
After my first game drive I realized that I was fine to wear flip flops and a long, cotton dress. Shorts, t-shirt and a spare hoody are also fine. And if you're feeling particularly stylish, there's no reason why you can't dress like these lovely ladies: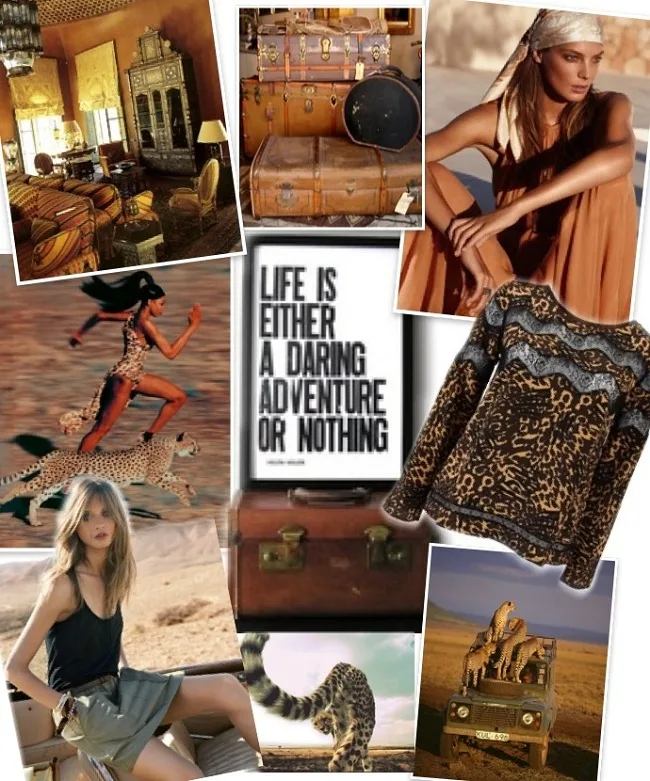 Images are sourced from Pinterest.
*UPDATE: I've been told by @LexiLovesTravel on Twitter that wearing blue and dark colours attracts Tsetse flies so neutral colours are best. I barely saw any flies during my safaris so I was safe!