This post about what to pack on a flight with young children was created in collaboration with Admiral Travel Insurance. Travel insurance is something you should never travel without and I make sure I have an annual policy that covers the whole family!
Travelling with toddlers and young children can be….let's call it challenging! Today I'm sharing my tips on what to pack on a flight with young children to get your holiday off to the best start. I find flying with toddlers to be the most difficult age. Babies are fine because they'll fall asleep eventually and give you a break. Over 3's are fine too because they have the attention span to watch a film or play a game. But toddlers…well they're a whole different ball game.
I don't want to put you off because travelling with young children is so much fun as they're amazed and intrigued by everything. You just need to get through the flight so you can enjoy your holiday!
What bag to use when flying with young children
Let's start with the basics, what suitcase or bag should you use when flying with toddlers?
My advice is to use a large backpack and also have a small bag (like a canvas tote) for a few things to go under your seat.
Forget about the Trunkis and other suitcases for toddlers. Yes, they look cute and your kids love them for about three minutes but they're a pain in the arse when your children get bored of them and refuse to pull it themselves. They're often very small too so you can't fit much inside them.
If you've got an independent toddler who likes to carry their own bag then give them a small canvas bag you can fold away once they've eaten the snacks or completed the sticker books.
If you fly with a large backpack you'll have both hands free when boarding the flight and you'll also have a spare hand if you need to wheel your own carry-on luggage.
We usually fly with the Thule Subterra 34L backpacks.
I really like these backpacks because they're big, comfortable to carry, have a large front pocket (good for the things you need quickly like nappies and wipes) and also have a removable packing cube inside so you can quickly whip out a bag of toys and pop it under the seat.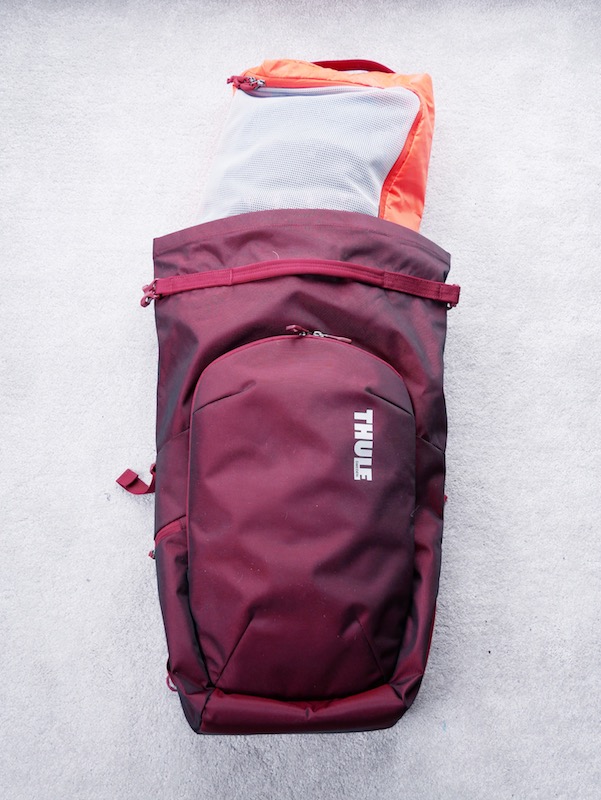 What snacks to take when flying with young children
Take ALL the snacks!
Take everything. And then take a few more.
We've avoided public meltdowns with a well timed snack many times and I'm sure we'll continue to do this for many years to come!
My main advice when packing snacks is:
Avoid anything messy like chocolate, bananas or raspberries

A lollipop for take off and landing can be handy

Have drinks on hand for take off and landing

Popcorn, crackers, cubes of cheese, chopped fruit, cucumber and carrot sticks, raisins, food pouches and sandwiches are all good. Our boys love fruit pouches but if you get the ones more like a meal then the cabin crew will warm them up for you or give you a jug of hot water to put it in.
We'll pop all of the snacks into a little cool bag to keep everything fresh and keep them neatly together.
The iPad trick
If you have an iPad or tablet for your toddler then try this little trick.
We don't allow our kids to have iPads at home (we're not anti-iPad but we found they'd fight and moan and whinge about them so much that it wasn't worth them having them!) so we've told them that iPads only work on planes. Yes, we had some initial tears but it's worked out well and they now get so excited about using their iPads on planes!
Toddlers have short attention spans so make sure you've got loads of short TV shows for them to watch. We also like the CBeebies app and any other toddler-friendly app you can find.
If you can, get them a pair of toddler headphones. Our eldest son loved his but our youngest won't wear them but they're handy if they want to play annoying games with the sounds on.
Travel Hack Tip: Make sure your tablet has a big toddler case on it. These make it easier for them to hold and protects the tablet if they drop them.
If you don't have a tablet, I really would recommend getting one for travelling. Our boys have Kindle Fires which I bought for about £35 at Christmas time. They're not as good as iPads but they do the job!
What toys to pack in a toddler's hand luggage
Before a long flight with a toddler I'll always go to the PoundShop and basically spend a tenner on 'crap'. If you've got kids you'll know what I mean. Pound stores are full of cheap and nasty toys that kids LOVE but inevitably break after about an hour. But that's OK because you just need the toy to keep them entertained for an hour.
The kinds of things I like to get are:
PlayDoh

Plasticine

Sticker books

Little toys like cars, dinosaurs and little men

Balloons

Pop-up books
Avoid things like:
Pens and pencils (I end up spending the whole flight picking them up off the floor)

Goo and slime

Things with lots of tiny pieces
Bonus tip for toys: You could also wrap new toys up in wrapping paper and present them like gifts every hour or so. We once flew on my son's birthday and did this throughout a 7 hour flight and he loved it.
Travel Hack Tip: Did you know you can shop online with PoundShop? They have a really good section for kid's toys!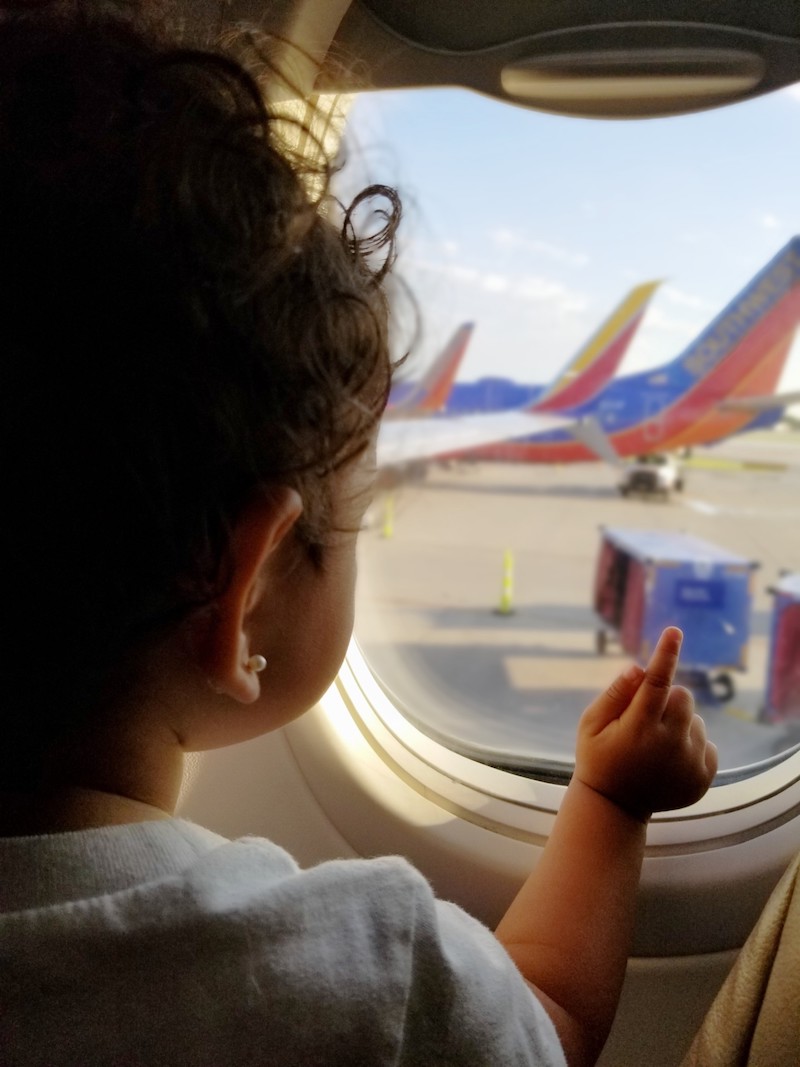 How to help them sleep
My number one tip here is to assume your toddler won't sleep during the flight. If you board the plane thinking they're going to have a nap then you'll be frustrated if they don't. But if they do nap then it's a bonus!
Take any toys or comforters they like to sleep with but don't pack anything unnecessary if they don't need them. Our boys don't have special blankets or teddies so we just ask for a blanket when we board the plane. If you're flying with a budget airline though it's often worth taking your own or take a small pillow to help them get comfy.
The main way I'll encourage them to sleep on the plane is by tiring them out before we board. I'll literally chase them around the airport for a full hour before we depart! I'll get some warm milk from Starbucks before we get on the plane and get them to drink this during takeoff and, with any luck, they'll soon fall asleep.
Comfy shoes and comfy clothes
This one is for you and might seem a bit random but it's very likely you'll spend a lot of the flight walking up and down the aisle! I think I clock up more steps during a flight than I do on the ground! It feels a bit awkward when you walk past the same people 8,000 times but I'd rather be walking up and down the aisle than sat in my seat with a frustrated, screaming toddler!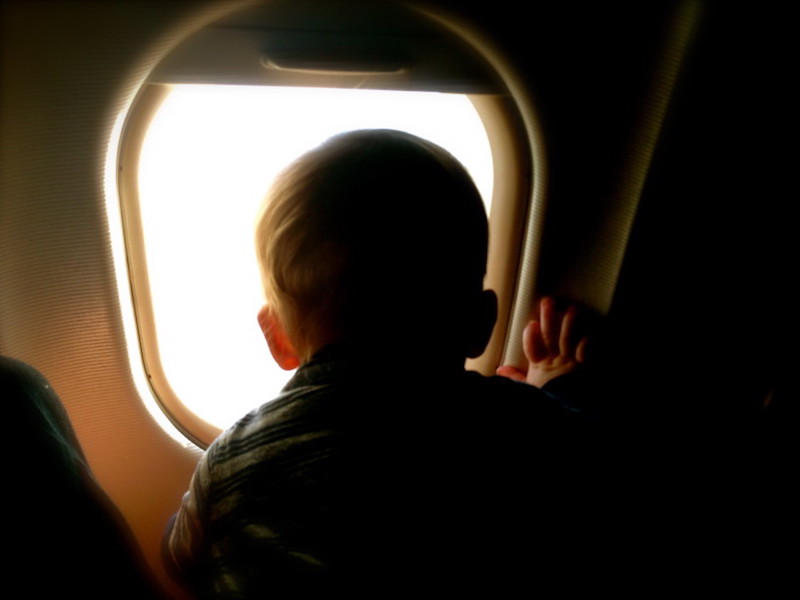 Other essentials to pack on a flight with young children
Nappies or if they're potty trained consider pull-ups to avoid any accidents
Should you take a legs up/hammock?
You may have seen things like a Legs Up which is something you can place on the floor in front of your child's seat to create a bed for them. In our experience, our kids haven't really used them and they're an extra thing to carry.
Children under two will usually sit on your lap so you won't have space for them. They sound like a really good idea but they've never worked for us.
Should you take a table tray?
You can also get activity trays which attach to your child's tray so they can play and (hopefully!) avoid dropping things. We've never used one of these but, again, it just seems like an extra thing to carry which will probably only give you three minutes of peace anyway.
Should you take a pushchair or carrier?
If your child can't walk then I'd recommend a carrier as, once again, you'll have your hands free and it makes it so much easier to get on and off the plane.
If you're travelling on your own with a bigger toddler then I'd recommend taking a pushchair on the plane – particularly if there's a chance your little one will be tired when you get off the plane and will want carrying. It makes life easier when you're trying to get off the plane and through security as you won't be trying to carry your bags AND your child. You'll need a pushchair that folds down to the size of hand luggage such as the BabyZen YOYO+ which I am a massive fan of.
If you've got two adults and your child can walk then I wouldn't bother taking a pushchair on the plane. You can either check the pushchair in as soon as you arrive at the airport or hand it over just before you board the plane. We usually take our pushchair all the way to the gate. Our kids rarely sit it in at the airport but we'll use it like a trolley for all of our bags.
Should you take a carseat onto the plane?
In our experience this hasn't worked and I've actually never seen anyone with a carseat on a plane. We were once refused our carseat and we haven't tried to take one again.
We bought one especially that was approved for planes and called the airline to check it would be OK. Then we got it all the way onto the plane only to be told we weren't allowed it. We were flying with easyJet and, if I'm honest, I think it's because the staff had never seen anyone with a carseat before and they just didn't know what to do so they say no.
There you have it, my tips for what you should pack for a flight when travelling with toddlers and young children. If you have anything else to add to the list or any questions, please do let me know in the comments below.