I live in North Wales so I know I'm going to be biased here, but I think Snowdonia is one of the most incredibly gorgeous places in the UK.
Whether you're visiting the UK on holiday or you live here and you're looking for an adventurous staycation, make sure Snowdonia is on your bucket list!
There are so many adventure activities in Snowdonia and North Wales is becoming known as the 'adventure capital of Europe'! Wales might not strike you as an obvious destination for adrenaline junkies, but this stunning area of natural beauty is a hub for extreme sports and heart-stopping thrills, with people flocking from all over the world to try its many breathtaking challenges.
Adventure activities in Snowdonia are easy to find – around every corner there's something for the thrill-seekers among us, from famous mountain climbs to record-breaking rides and underground playgrounds for grown ups.
So whatever kind of adventure it is you're looking for, you're bound to find it in this incredible region in northwest Wales.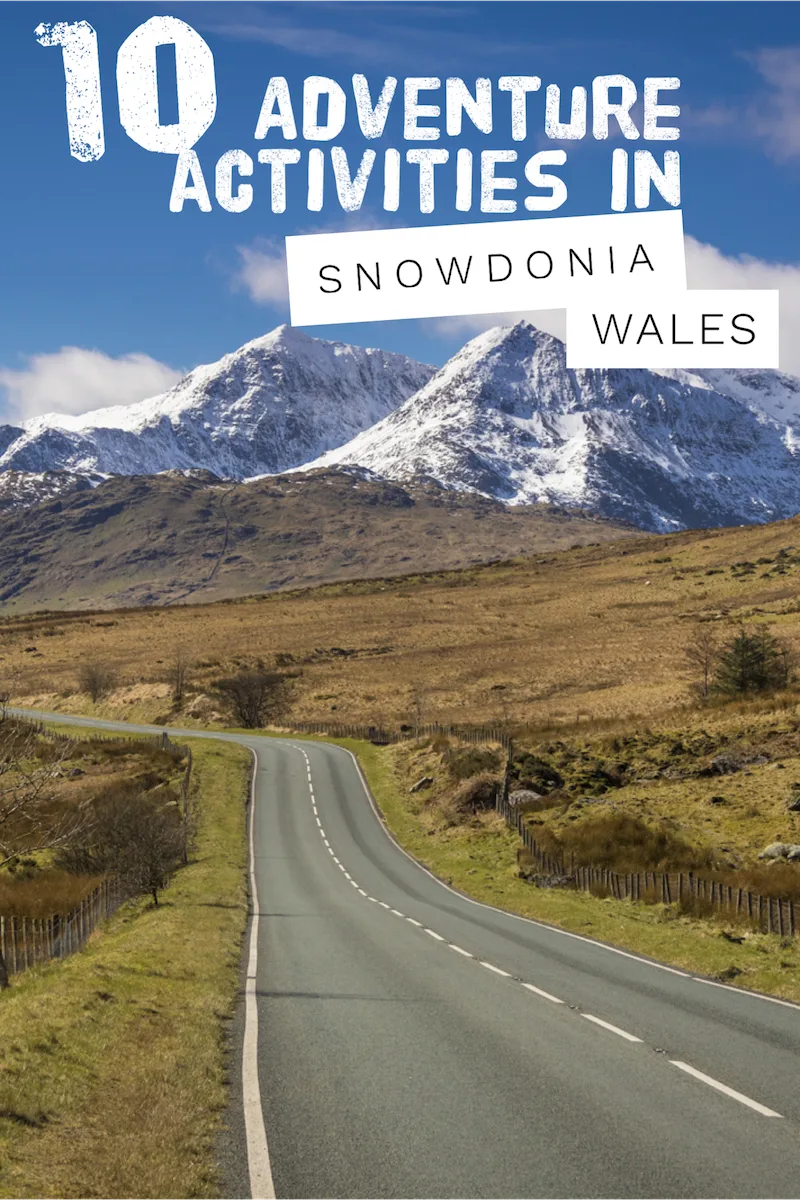 Top 10 Adventure Activities in Snowdonia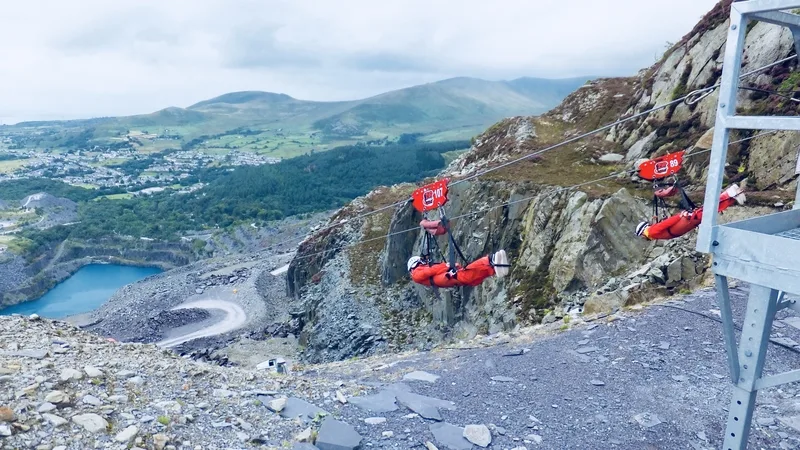 Not your average zip line, this particular stretch of wire is the longest in Europe at a mile long, and the fastest in the world, with travellers zipping through the skies at over 100 miles per hour! And the claims of grandeur don't end there: the zipline stretches above what was once the largest quarry in the world, Penrhyn Quarry so this has to be at the top of your list for adventure activities in Snowdonia!
Visitors to Zip World Velocity can build up their confidence, starting with the Little Zipper before being transported to the Big Zipper, where they're strapped into a lay-flat harness for the ride of their life!
Read more: Check out this post about my adventurous weekend in Wales when I did the Big Zipper!
Hike Mount Snowdon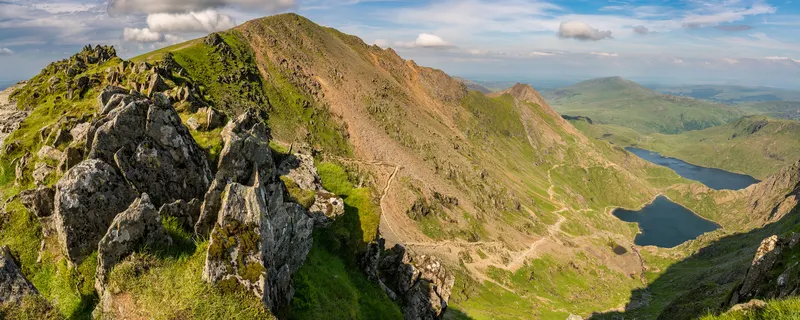 You can't visit Snowdonia without conquering Snowdon. With an elevation of over 1,000 feet, Snowdon is the highest mountain in Wales, and the highest point in the British Isles (outside of the Scottish Highlands). It's made up of volcanic rocks, and on a clear day you can see as far as Ireland, Scotland, England, and the Isle of Man from the summit.
There are loads of different routes that walkers can take to reach the top, coming from all sides of the mountain. The most challenging of these, for the extra adventurous climbers out there, is the The Watkin Path, as it starts at a lower elevation than any of the others (and is said to be much more beautiful). But whichever way you choose to go, the view from the top is worth the climb!
Check out my tips for hiking up Snowdon here.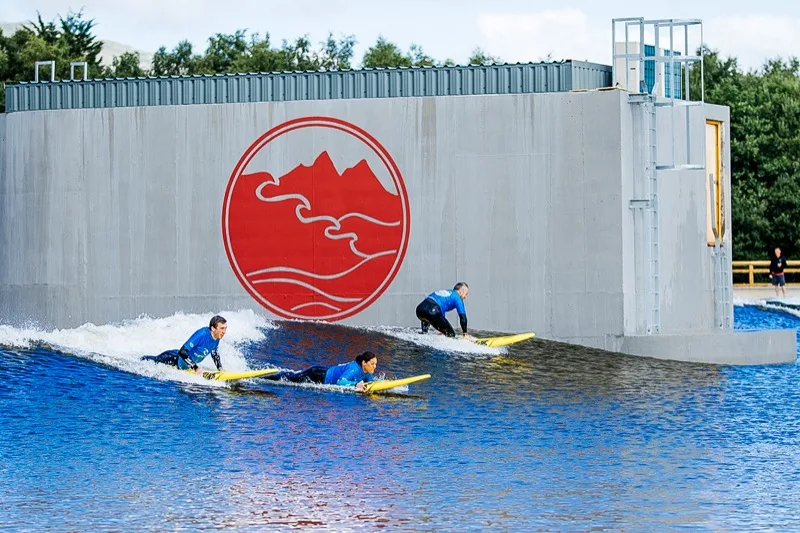 Fancy hopping on a surfboard…without an ocean in sight? In the heart of Snowdonia you'll find the world's first inland surf lagoon, a man-made surf destination where there are waves to suit every ability.
There's a beginner's bay, with gentle waves, that accommodates up to six surfers, intermediate areas, and an advanced wave that goes for 150 metres, letting you ride for up to 20 seconds per wave. It's probably the only place in the UK where you're guaranteed waves, and there's no chance of encountering a shark, which makes it all the more attractive.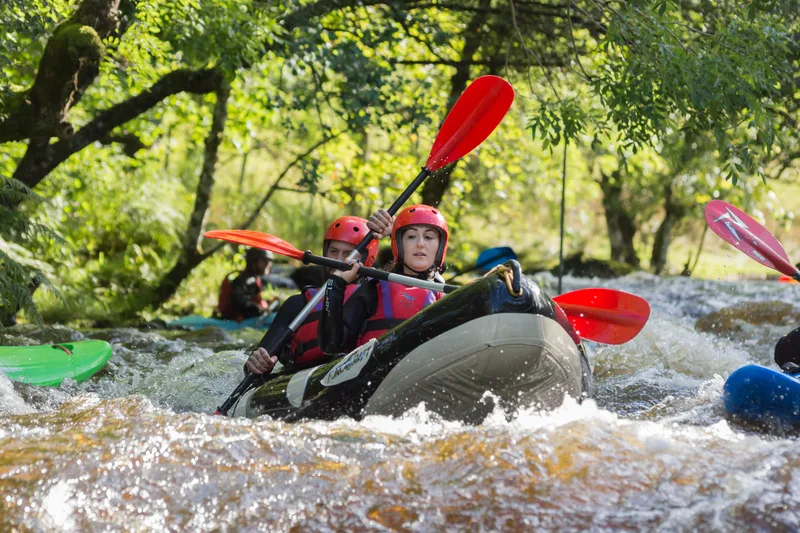 Located inside Snowdonia National Park, the National White Water Centre is one of the top spots to go white water rafting in the UK. It's a dam-fed source, which means that even in the summer, you'll find reliable rapids to ride.
Fed by the Llyn Celyn reservoir, the National White Water Centre is located on the Tryweryn river, inside Snowdonia National Park, and it offers grade four rapids for adventure-seekers, and beginner courses for first-timers.
Abseiling and Rock Climbing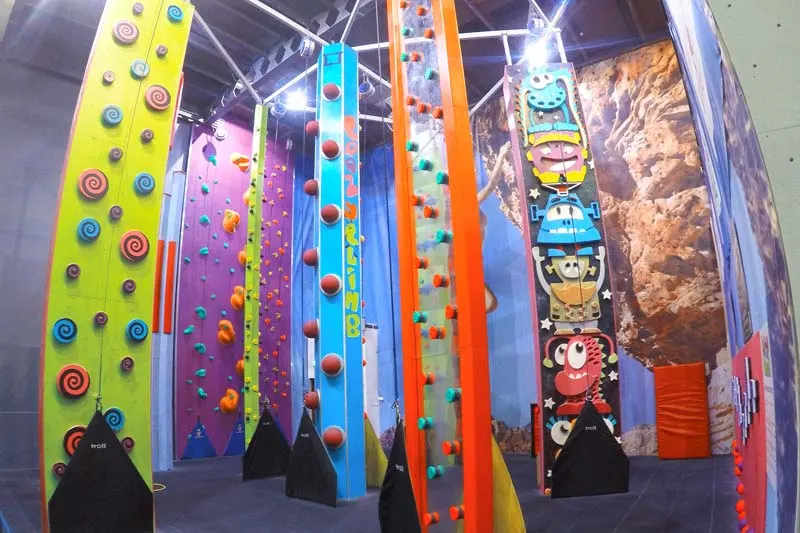 Wales might not seem like the most likely place to climb up or rappel down a sheer rock face, so it may surprise you to learn that there's plenty of abseiling and rock climbing to be done in Snowdonia.
In fact, the Snowdonia area was once a training ground for Sir Edmund Hillary and his team of Everest climbers, and many of the climbing routes are famous all around the world. There's something to suit every ability, ranging from beginner climbs to towering, sheer cliff faces, like the ones you'll find at Tremadog and Llanberis Pass.
If you'd rather the controlled environment (and year-round dry conditions) of an indoor climb, the Beacon Climbing Centre offers all kinds of climbing options, from your first climb to advanced walls for the most experienced among us.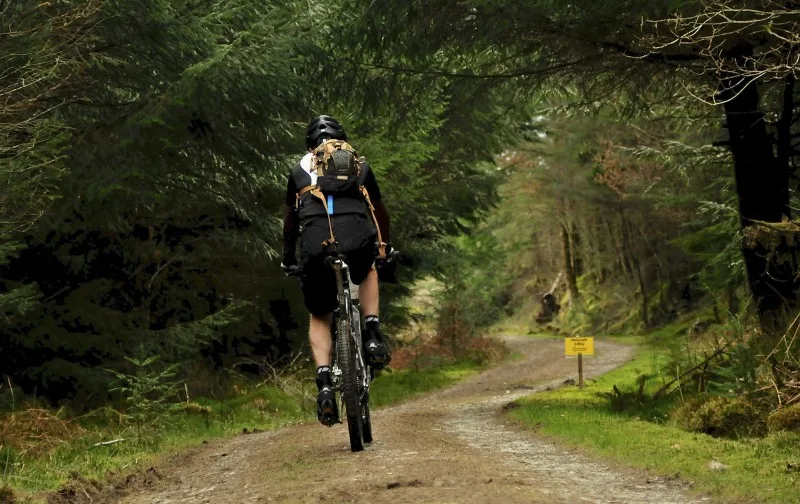 As might be expected from a destination where there are plenty of mountains to go around, there are mountain biking opportunities aplenty in Snowdonia. Coed y Brenin Forest Park, which opened in the 90s, is the UK's first (and also its biggest) dedicated mountain bike trail centre, with trails to suit all mountain biking abilities.
There are green trails for beginners and families, blue and red tracks for intermediate riders, and for the most adventurous mountain bike riders, you'll find black trails that are challenging, exciting, and guaranteed to get the adrenaline flowing.
There are other mountain biking centres in Snowdonia, as well as plenty of off-road trails to try – cyclists certainly won't get bored around here!
Read more: An introduction to bikepacking in Beddgelert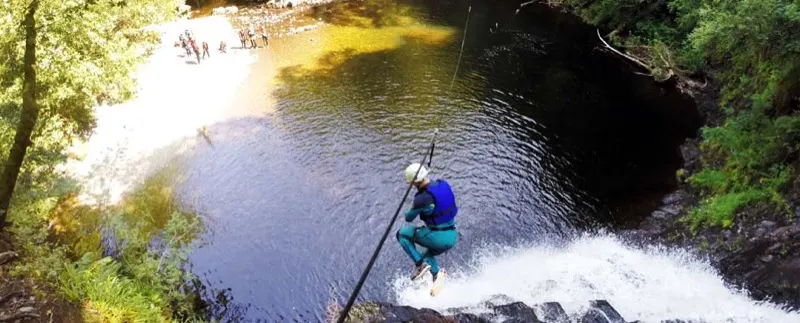 Have you tried canyoning? This adventure activity is basically jumping into fast-flowing mountain streams and letting the water carry you along the canyon. It sounds extreme, and it is, but it's perfectly safe, thanks to buoyancy vests, helmets, harnesses and, of course, an instructor.
But in Snowdonia, they take canyoning to another level, thanks to Canyon Xtreme, a three to four hour adventure that includes sliding off a 15-foot waterfall. Not for the faint of heart!
Even if you don't think of yourself as a thrill-seeker, chances are you're going to jump at the chance to visit Bounce Below. Built inside a former Victorian slate mine in Blaenau Ffestiniog, this underground playground lets you jump, slide, climb and crawl along six levels of trampolines.
The space is the size of a cathedral, and it's lit in moody purples, greens and blues, making it look even more magical. Helmets are provided, but it's up to you to bring the fun as you release your inner child and bounce away deep under the earth in Snowdonia.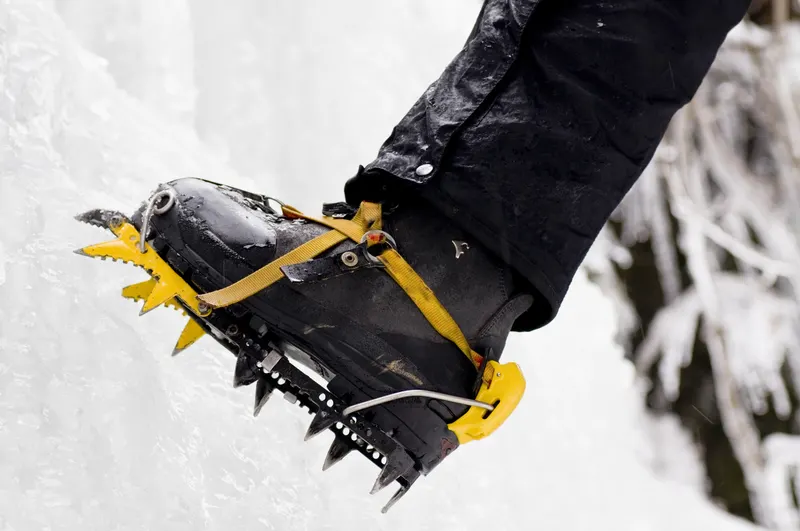 Once the summer activities have faded away to nothing more than a distant memory, it's time to get out those ice picks and try your hand at one of the best winter adventure activities in Snowdonia: ice climbing. Due to the extreme weather conditions in winter, this isn't a sport for the faint-hearted or, indeed, for the untrained.
To get yourself up to speed on how to stay safe on the mountains in winter, take a winter mountaineering course with Snowdonia Adventures, and learn how Snowdonia can become a winter playground.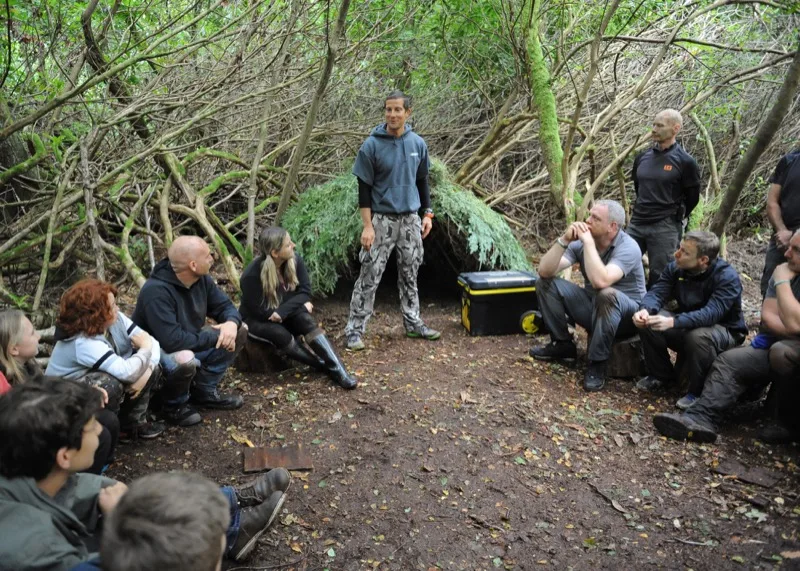 Wish you could survive in the wilderness like Bear Grylls? Well, Snowdonia provides the wilderness, and Dragon Raiders Activity Park provides the training, approved by Bear himself, to help you overcome any obstacle.
Whether a half day adventure or a two day expedition, this fun and informative course will teach you to overcome the most extreme conditions, fend for yourself, build shelter and cross rivers. Designed for families, groups or individuals, the Bear Grylls Survival Academy will make sure you leave Snowdonia prepared for anything!
Which of these adventure activities in Snowdonia would you most like to try?
Read more about my adventures in Wales here.
And a great adventure for the whole family is a walk to Aber Falls waterfall!