Today's post is all about glamping essentials and everything you should pack for a glamping trip. One of the benefits of glamping over camping is that you don't need to pack nearly as much stuff! Most glamping sites will provide you with all the basic equipment you will need so your car won't be bursting at the seams with pots and pans and bedding! So it's even better if you'll be travelling via public transport too!
But you will need to pack more than you would for a regular hotel holiday so I've listed all of my glamping essentials to ensure you have everything you need!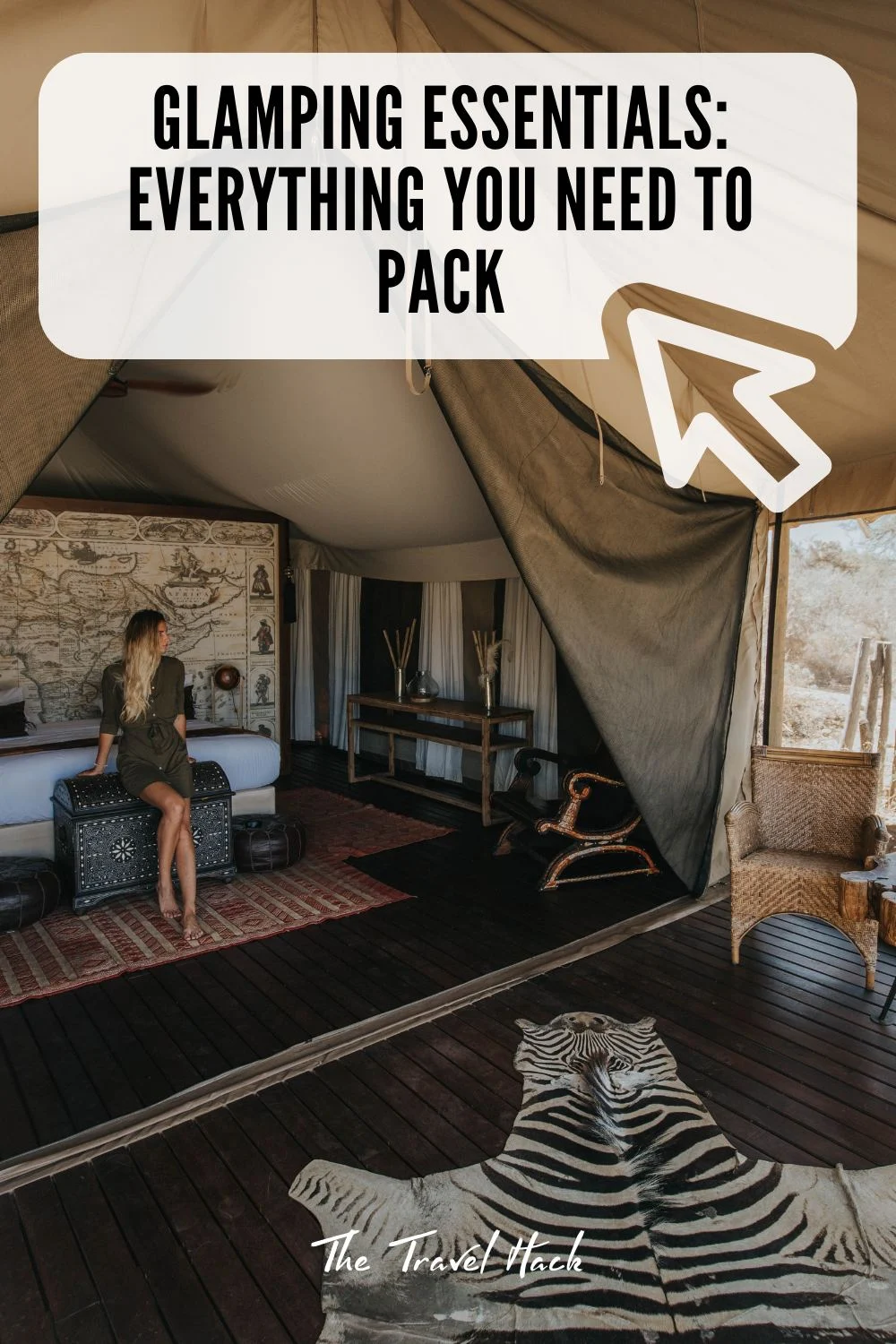 Glamping essentials tip #1 – Check what's provided
Before you start packing for your glamping trip I highly recommend asking your host if they have a list of the equipment and amenities available. They'll often have a list on their website or will have a document they can send you.
The reason for this is because the glamping essentials supplied by your host can vary MASSIVELY. Sometimes glamping is just a tiny step up from traditional camping, but sometimes glamping is more luxurious than a standard hotel!
Some will have luxury sheets, fluffy towels, slippers and robes, while others won't provide any bedding, towels or kitchen towels and dishcloths at all.
Some will have a well stocked kitchen with basic cooking ingredients and a welcome hamper waiting for you, while others won't provide any cooking equipment or might just have a pan or two and some crockery.
Some will have hot water bottles and a well stocked tray with teas and coffees, while others won't even have a kettle.
Some will give you logs and kindling to light a fire while others won't even have matches.
This difference in glamping standards can make it a little difficult to pack for a glamping trip because you could need EVERYTHING, but you could also need just your clothes, so it's best to double check what will be there beforehand.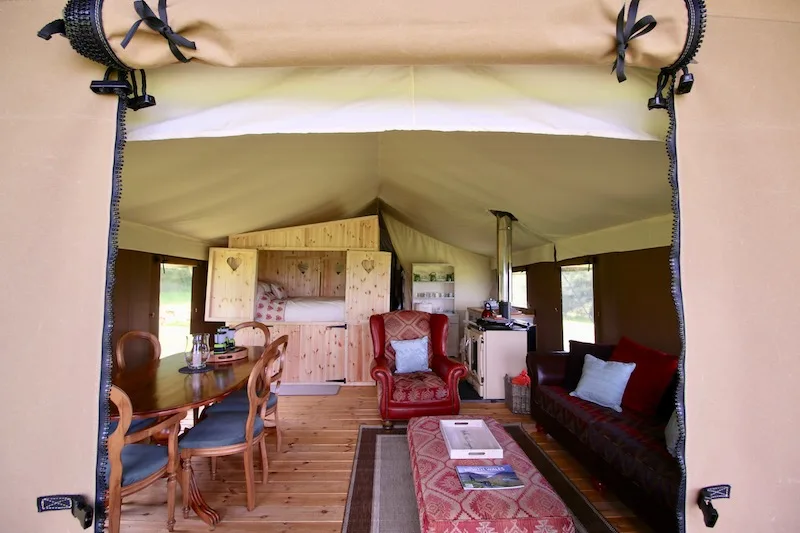 Glamping essentials tip #2 – What's the fridge situation?
You'll also want to check on the fridge and freezer situation before you arrive. You may have access to a spacious fridge freezer or you might not have a fridge at all. This could change what you bring with you in terms of food and drink.
In my experience, many glamping sites don't have individual fridges and you'll have a cool box instead. If you keep it filled with ice then it will stay cold for a couple of days.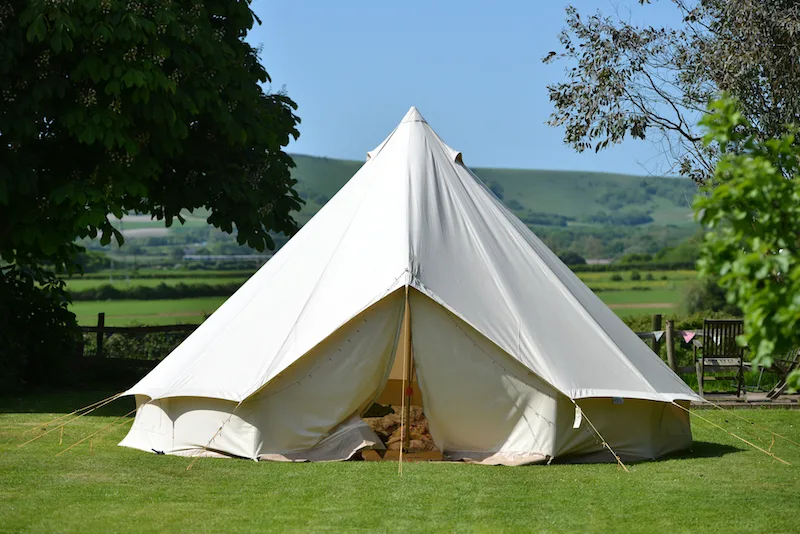 Glamping essentials tip #3 – What's the bathroom situation?
Again, bathroom situations vary massively when you're glamping. I've had everything from private roll top baths and waterfall showers to a 'nature shower' beneath a tree house which was heated by the log burner inside. Sometimes there are shared bathroom facilities like you'd get on a campsite too.
Knowing your bathroom situation might change how you pack, especially if you've got kids with you who will definitely want something warm and cosy for late night toilet trips!
Whatever the bathroom situation, I recommend packing organic shampoo for the family, especially if you'll be using an outdoor shower and your soap suds will soak into the ground. At many glamping sites it will be compulsory to use environmentally friendly products and they may provide them for you.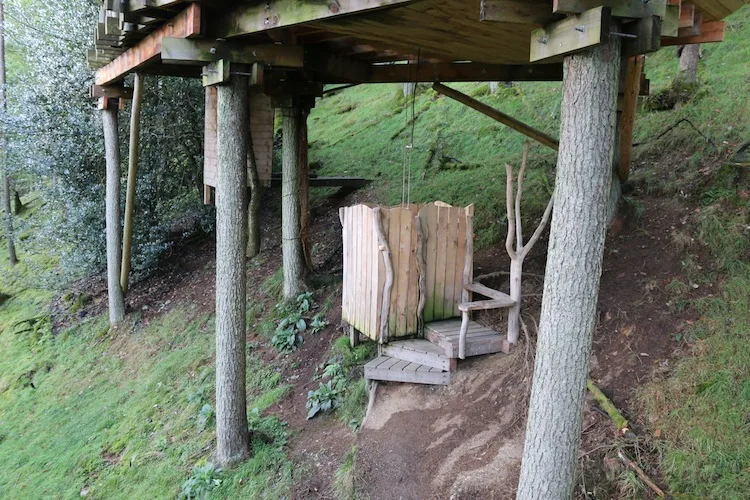 What clothes to pack for a glamping trip?
I recommend packing as though you're going camping. Even though your accommodation will be more luxurious than camping, you'll probably still spend a lot of time outdoors. Glamping communal areas and glamping activities are always centered around being outdoors and nature is a big draw for a glamping trip so you're best packing warm and practical clothing.
Don't forget:
Walking boots (I like these Danner Boots)
Shoes you can easily slip on and off for when you're in and out of your accommodation
Wellies – In case you'll be walking across wet grass in the morning to reach the toilets
A warm, waterproof coat (this Blazewear heated jacket is my fave)
A lightweight waterproof if you're glamping in warmer weather
A cosy hat for evenings
A cosy blanket to wrap around yourself when you're sat outside in the evening
Something warm to sleep in – because night times will be cold!
Flip flops – for communal showers
Slippers or warm socks – for cold evenings
Dressing gown or a similar thick, warm and cosy jumper or cardigan – It's essential to have something warm to throw on in the night. You might get cold in the night or will need it for late night/early morning bathroom trips.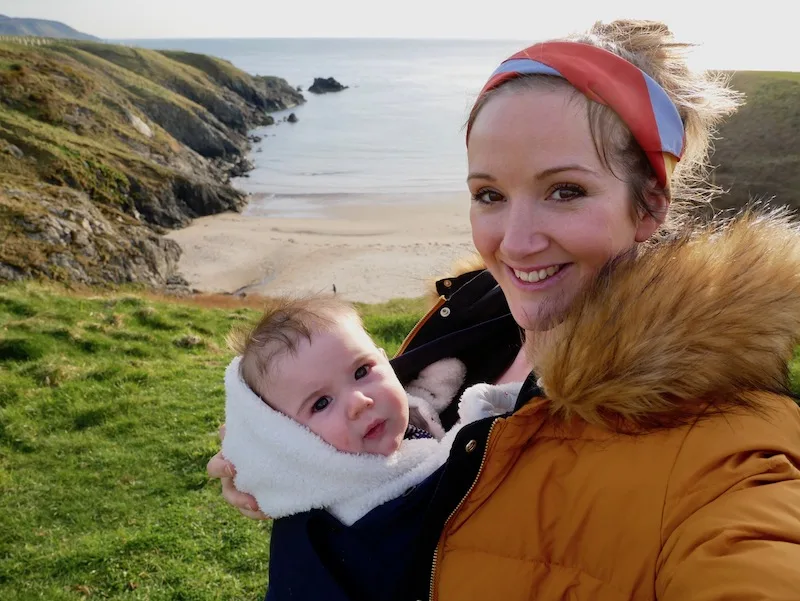 What food to pack for a glamping trip
Most glamping kitchens are fairly basic and you'll probably have a gas stove, a BBQ and a few basic cooking utensils.
Here are some of the meals my family eats while we're glamping to give you some ideas for the kind of food to pack.
Breakfast
Porridge with honey and banana
Cereal
Bacon and eggs
Sausage sandwiches
Lunch
We'll always make a small packed lunch with sandwiches, fruit, crisps and biscuits but will always try and stop at a bakery or cafe for some delicious baked goods.
Dinner
BBQ – usually served with pre packed salads
Pasta
Curry
Stir Fry
Jacket potatoes cooked in the fire
Homemade pizza (a few sites I've visited have pizza ovens so don't forget to pack some pizza dough!)
Food you can't forget for a glamping trip:
Hot chocolate and marshmallows
Biscuits, chocolates and marshmallows for smores
Kebab sticks to roast marshmallows over a fire
Red wine – In case there is nowhere to chill beer or white wine
An easy dinner for your first night – especially if you'll be arriving late or after dark. I've often made a chilli at home and then when you arrive you can reheat it and cook some rice on a hob.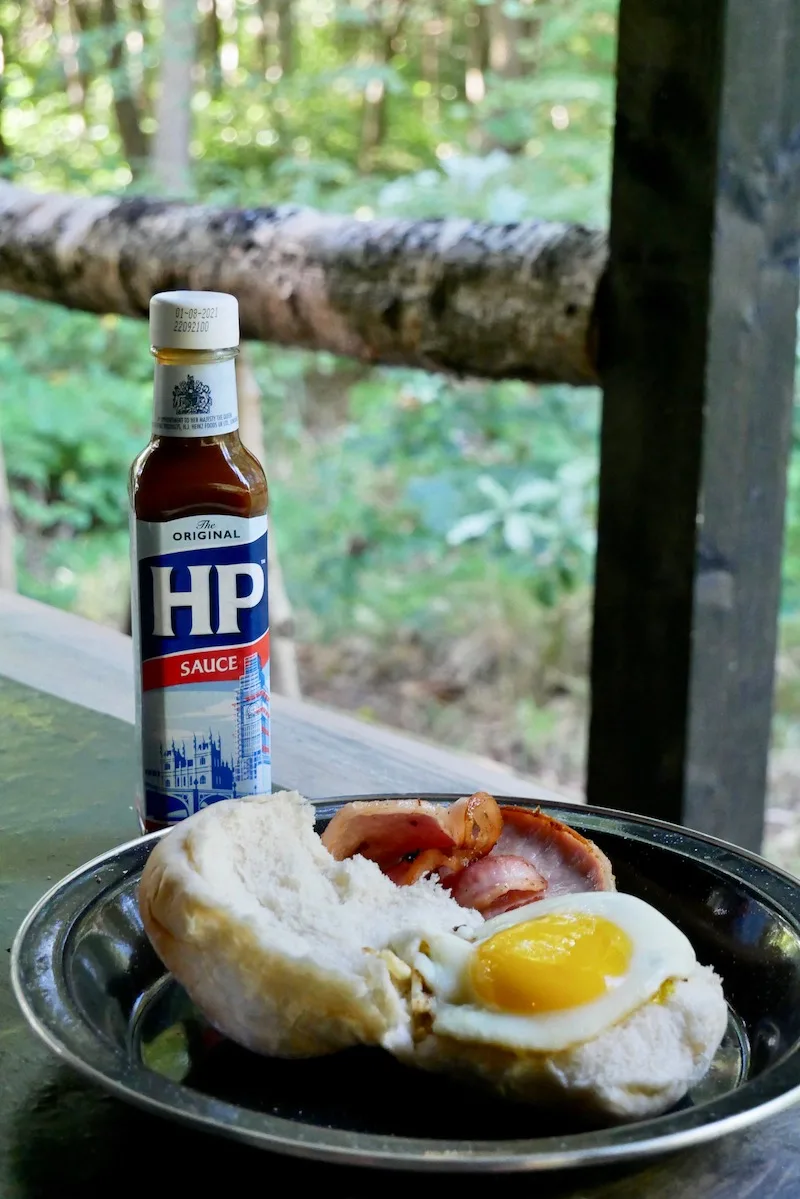 Other glamping essentials you won't want to forget
A rechargeable USB battery – Handy to charge your phone if you don't have electricity. There are often plugs in the communal areas where I'll recharge my batteries but wouldn't feel comfortable leaving my phone on charge.
Fire lighters – Logs and kindling is usually available for fires and log burners, but fire lighters aren't always available
A lighter or matches
Cash – If your glamping site has a small shop or honesty bar, it's often cash only
Rechargeable lantern – A glamping essential if you don't have electricity. We have these dimmable, rechargeable nightlights that the kids use at home so I take those with us on glamping trips. The battery lasts about 4-5 nights.
Candles – For cosy evenings, just be careful with candles around tents!
Hot water bottles – Many glamping sites do provide hot water bottles but double check because kids love a cosy hot water bottle while glamping.
Foldable seats – There isn't always a seating area near your glamping accommodation
Large water bottles – In case you don't have a tap nearby
Insulated coffee cups – a glamping essential if you're glamping during the colder months
A bottle opener – the fanciest glamping site I ever visited didn't have a bottle opener and that was a really long evening staring at a bottle of red wine when we didn't have a corkscrew!
A cool box and ice packs
A book
A pack of cards
Outdoor games for kids – a light football or rounders set
A potty if you have young children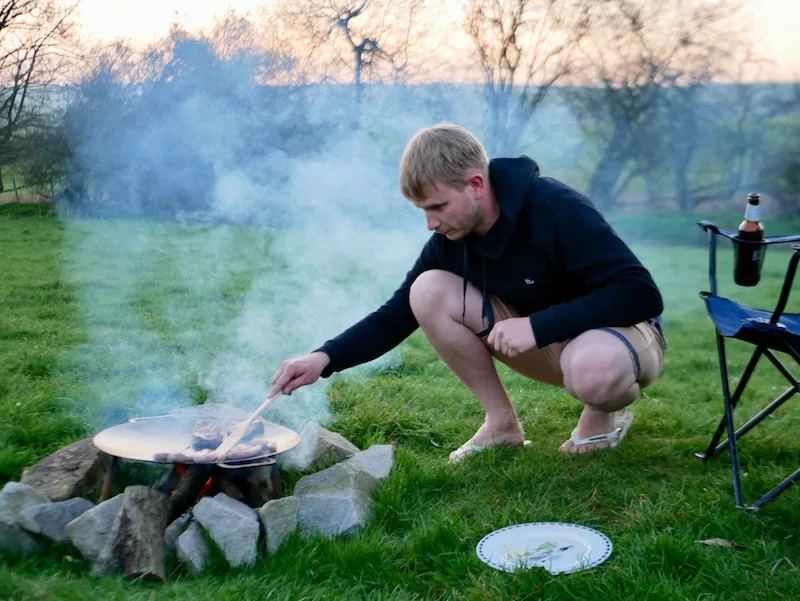 Glamping essentials for your dog
One of the best things about glamping is that dogs are often welcome. Some glamping sites are on farms so may have a no dogs policy, but many sites are dog-friendly. Here are some things to remember for your dog during a glamping trip.
A long lead – dogs often need to be kept on leads so take a long one you can peg into the ground to give them a little bit of freedom
Biodegradable poo bags
A towel
Their bed
A blanket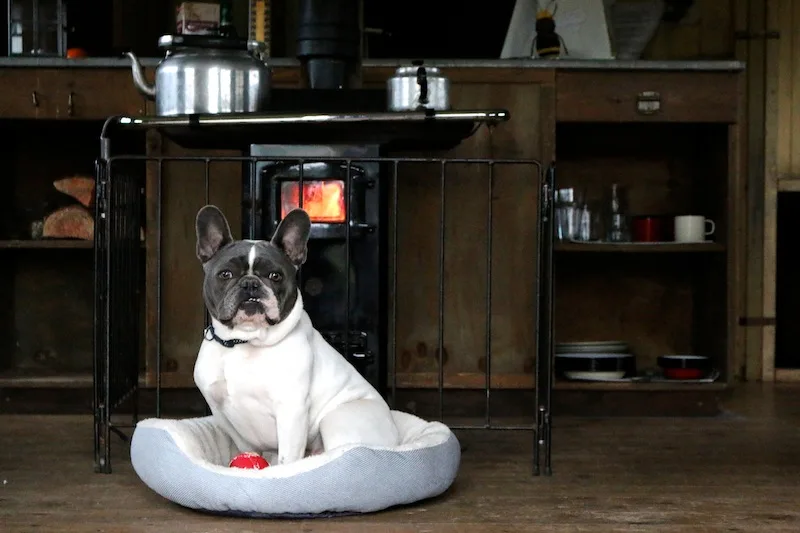 What luggage should you take glamping?
I always take a suitcase!
Glamping sites usually have wheelbarrows so you can easily wheel your luggage across a field to your accommodation, so you don't need to worry about taking a backpack. It's also unlikely you'll have a wardrobe, so a suitcase is easier to store and access your belongings.
The Travel Hack Pro Cabin Case is actually perfect because the main compartment of the suitcase fully opens like a chest! And then I use the top compartment for my toiletries.
If you'll be using communal showers or you won't have an easy to access ensuite then you'll also want to take a toiletries bag.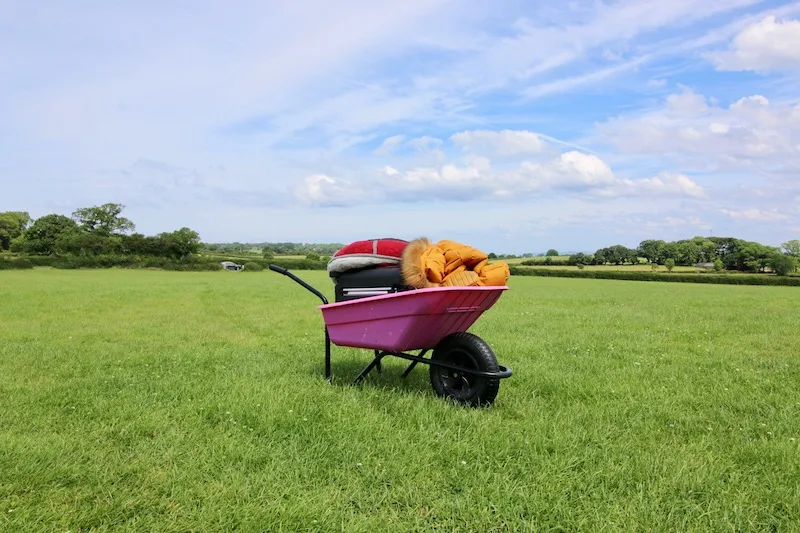 Glamping essentials tip #4 – Where is the nearest supermarket!?
My final tip for your glamping trip is to check where the nearest supermarket is! I always check to see if there is something like a Tesco Extra nearby (there nearly always is!) because I know they will stock everything I've forgotten. This stops me from packing everything AND the kitchen sink when I know I'll be able to pick up most things when we arrive.
I often think that as long as you've got all the right clothes, shoes and warm blankets, you can buy everything else once you're there!