Halloween approaches, my friends. But you don't need scary theme parks or plastic pumpkins to chill your spine – the UK is awash with grisly ghouls and spirited spectres to spook you to the blood-curdling core.
Take a look at these creepy places to spend the Halloween weekend, and be afraid – be very afraid.

The Castle Bone Chiller
The fierce medieval exterior of this 12th century Northumberland stronghold is eerie enough without the alarming additions of dungeons and a torture chamber. Add a history of bloody sieges and family executions and it's no wonder that Chillingham Castle has supernatural enthusiasts rattling its ancient doors keen to get a slice of the undead. The Castle runs ghost tours from October through to November, but they get booked up fast.
Get there: You'll find Chillingham Castle about 4 miles off the A1 between Alnwick and Berwick Upon Tweed.
Spooks on the loose: The White Pantry Ghost; the Ghost in the Chamber; voices in the chapel; the Blue Boy; Lady Mary Berkeley ghost.
Where to Stay: If you're brave enough you can stay in one of Chillingham Castle's self-catering apartments. As a wimp, I chose modern over ancient and stayed in this gorgeous apartment nearby Beadnell.
Don't miss: After visiting Chillingham Castle, head to the coast and soak up the haunting beauty of Northumberland's beaches. If you can, also visit Beamish museum in Co. Durham for its incredible Halloween spectacular. I visited Beamish last year for Halloween and have never screamed and giggled so much in my life.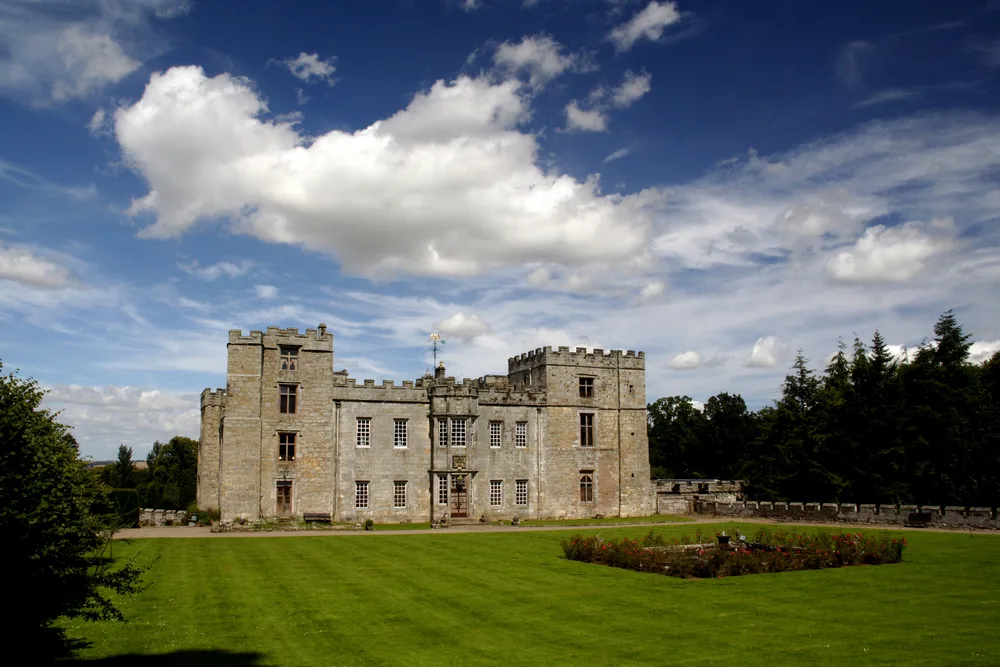 ---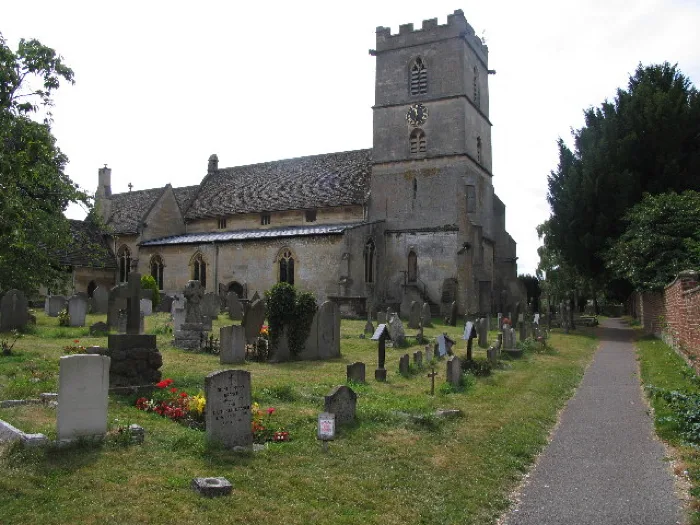 The Village of the Damned
Prestbury, Gloucestershire
If any village was going to lay claim to the most spectral residents per square foot it would be Prestbury in Gloucestershire. Reputedly home to more than two dozen spooks, Prestbury looks, to the casual observer, like any other typical Cotswold village: timber-framed cottages, thatched roofs, and honey-coloured buildings; but as night falls and the village's living residents snuggle up by their log-burners, the supernatural come out to play – including the village's most famous spook, The Black Abbot, regularly seen in the church and churchyard (and reputedly caught on camera by a local photographer).
Get there: Prestbury lies on the northern outskirts of Cheltenham, junction 11a/10 on the M5.
Spooks on the loose: The Black Abbot; the charging horseman galloping through Shaw Green Lane; the Headless Horseman rides through Mill Street; the girl at Sundial Cottage; horses hooves are often heard at The Plough Inn.
Stay: The Walnut Store B&B in Prestbury is a popular 5-star place to sleep spook-free. Rooms start at £95 per night.
Don't miss: Also visit the 14th century New Inn in Gloucester, one of the most haunted in Gloucestershire. This is where Lady Jane Grey was pronounced Queen of England in 1553, whether she was staying here at the time is unclear. Woodchester Mansion in Stonehouse is also worth a detour. This unfinished Gothic mansion is said to be home to many ghosts – one of which I've seen, but that's another story.
---
The Historic Hanging Inn
Nothing is going to guarantee your reputation as one of the UK's most terrifying places to spend the weekend than a lifetime of execution. This dark, brooding inn, near Abergavenny at the foot of the Skirrid Mountains, dates back to the Norman Conquest. It's doubled as both a courthouse and a place of execution during its long, savage history. Almost 200 convicted prisoners were hanged here and some believe Judge Jefferies started his grisly career within its walls. Many people who've stayed have felt a noose tightening around their neck; others have been so terrified they've vowed never to return.
Get there: The Skirrid Inn lies between Abergavenny and Hereford off the A465.
Spooks on the loose: Cackling laughter; menacing shadows; loud footsteps; glasses thrown; rope burns and welts appearing on customer's necks.
Stay: Make like a seasoned ghost-hunter and try one of the Inn's ghost-hunting stay and suppers for £69 pp, available through Haunted Happenings. Alternatively, if you like your spooky weekends with a bit of added comfort, take refuge at nearby Drover's Rest glamp site. You can read my review here.
Don't miss: 40 minutes from The Skirrid Mountain Inn is the famous book town of Hay on Wye. Head there and make sure you visit the Murder and Mayhem bookshop in keeping with your spooky weekend break.
---
The House of the Spirits
Having stood for over five centuries since it was built by Sir William Martyn in 1485, there's no shortage of ghostly comings and goings at Athelhampton House near Dorchester in Dorset. Perhaps the most curious of them all is the spectral ape (beloved pet of one of the daughters of the house) who died after accidentally becoming entombed in a secret passage behind the Great Chamber. Is the scratching often reported in the Great Chamber the sorry creature trying to escape? There's only one way to find out!
Get there: Athelhampton House is 5 miles east of Dorchester, off the A35.
Spooks on the loose: Copper the ghost who is fond of tapping; the Grey Lady in the Tudor Room; the dark monk; the ghostly ape; the duellists fighting in the Great Chamber.
Stay: In the grounds of Athelhampton is a newly renovated thatched self-catering cottage, River Cottage. It sleeps 6 and even has its own private golf course.
Don't miss: One of Dorset's most famous residents, Thomas Hardy, was a regularly visitor to Athelhampton; his father, a stone mansion, having worked on the house. Hardy grew up in a nearby cottage at Higher Bockhampton, which is open to visitors and worth adding it to your Halloween weekend itinerary. You can see my visit to Hardy's Cottage here.
---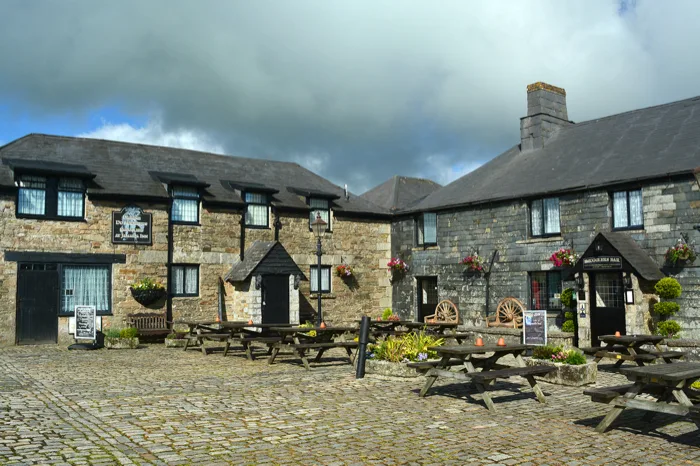 The Petrifying Pub on the Moors
For nearly 300 years, the Jamaica Inn has offered shelter to those braving the wild and treacherous Bodmin Moor. Wreckers and smugglers are all said to have sought its sanctuary, as they returned from plundering ships off the Cornish coast. Most famous of all the inn's travellers was Daphne Du Maurier. She and a friend lost their way in thick fog whilst riding out on the moor, eventually finding their way to the inn. She stayed at the inn to recover from the ordeal and was inspired to write her novel, Jamaica Inn, after hearing its ghost stories and tales of smuggling.
Get there: Jamaica Inn is high on Bodmin Moor about midway between Launceston and Bodmin by the A30.
Spooks: Sounds of carriages on the cobbles; a tall man in a hat and coat walking through walls; phantom footsteps in corridors; foreign conversations in empty rooms; the wayfarer who sits in the corner, then disappears.
Stay: Get up-close and personal with the inn's resident spirits on a ghost hunting weekend. Includes a deluxe double, with evening meals and a full breakfast, plus two night's ghost hunting and costs £380 for two, for a Friday and Saturday stay.
Don't miss: The Smuggler's Museum housed in the Jamaica Inn, with one of the finest collections of smuggling artefacts in the country. Also, if you've time, take yourself Bodmin Jail for the day. Having witnessed many deaths and suffering during its unpleasant history, this imposing fortress is rife with ghostly activity.
Where would you like to stay for a spooky weekend in the UK?