If you're looking for things to do in Manchester this weekend then I've got a great Manchester weekend itinerary that includes all of my favourite things – vintage shopping, gorgeous cafes, ancient libraries and even the adrenaline fuelled bonus of skydiving!
There are so many things to do in Manchester and it can be a little overwhelming to plan a short trip there, so follow this itinerary for some great ideas…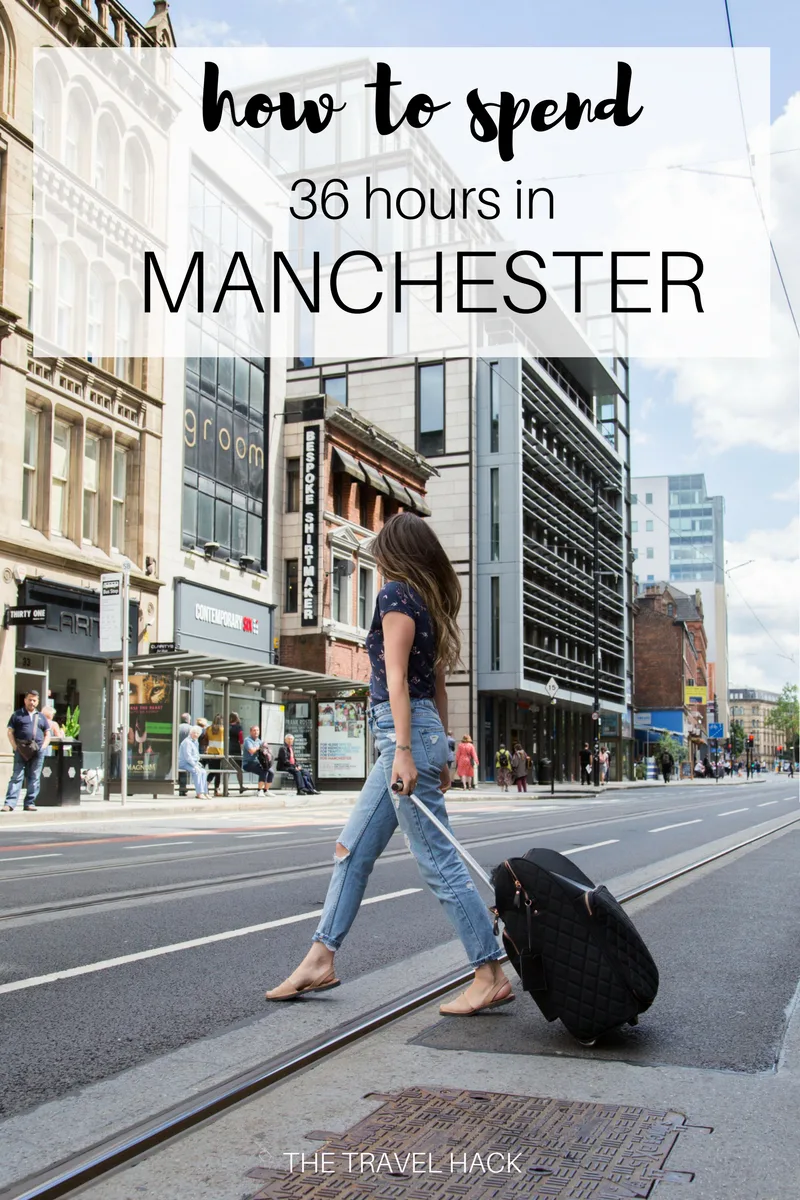 Things to do in Manchester in the Northern Quarter: Shopping, eating and people watching
You may already be aware that Manchester is famous for its rain.
Sometimes it's a gentle drizzle that turns your hair to frizz but allows you to carry on with your day as normal. Sometimes it's great big fat drops of rain that sneakily slip down your back like an icy shiver. Sometimes the rain is accompanied by sideways wind that sends umbrellas flying while their helpless owners hang on to their skirts and bags and bedraggled hair.
During my recent trip to Manchester, the city was greeted by Start-Stop-Rain.
But this Start Stop Rain is perfect if, like me, you plan to have an eating, shopping, drinking and browsing afternoon in Manchester's Northern Quarter, the cool, stylish, grungy, hipster kind of area of the city.
It would rain for 5-10 minutes and you can use this time to peruse vintage shops with racks of clothes overflowing with colourful coolness and vintage knick-knacks you hadn't realised you desperately needed.
Then the rain eases off and you can brave the outdoors for long enough to admire the impressive red bricked buildings and street art filled with hidden messages you'll never understand. As you feel the familiar pitter patter of rain you can duck inside the nearest café which is sure to have invitingly steamy windows, rustic benches, an impressive selection of teas and coffees and towering cake stands with Bake Off inspired flavour combinations. A quirky hipster will sit behind the till but really looks like he should be in the next cool band, not serving loose leaf teas and gluten free cakes.
Savour your speciality coffee with your organic, vegan cake before the rain stops and you can dodge the puddles on your way to the next independent book store (where you might spend just a little bit too long reading a magazine everyone knows you have no intention of ever buying) before leaving for the next quirky shop you stumble upon.
Most of the fun comes from stumbling upon these hidden gems yourself but here are some of my recommendations and some things to do in Manchester that you can't miss:
My favourite places in Manchester's Northern Quarter
Fig and Sparrow – Try the double chocolate brownies, they're incredible!
Oxfam Originals – Like a normal Oxfam but without any of the normal crap
Evelyn's – The most Instagrammable brunch spot in the city!
BonBon Chocolate Boutique – For a seriously sweet pick me up and possibly the best hot chocolate in Manchester.
Cow Vintage – Super cool vintage finds
Mackie Mayor – A newly refurbished food hall in a grade II listed market hall
Federal Café – Delicious, colourful and healthy lunch spot
Piccadilly Records – For music lovers
Cat Café – I didn't go in here (I'm a dog person) but you cat lovers out there will love this!
Walrus – For super cool cocktails
Foundation Coffee House – Great coffee and stylish but rustic interior
Oklahoma – Filled with quirky gifts but you'll want them all for yourself
Magma – For anyone who loves quirky books and independent magazines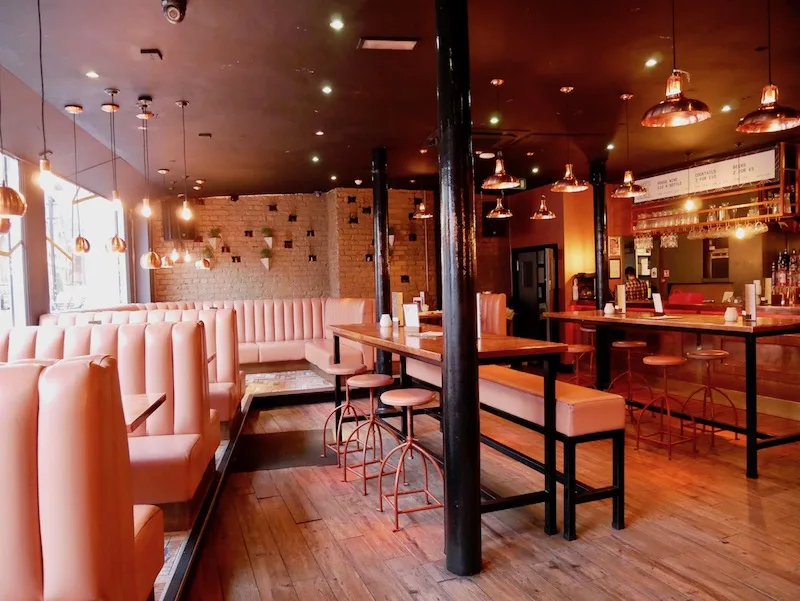 Walrus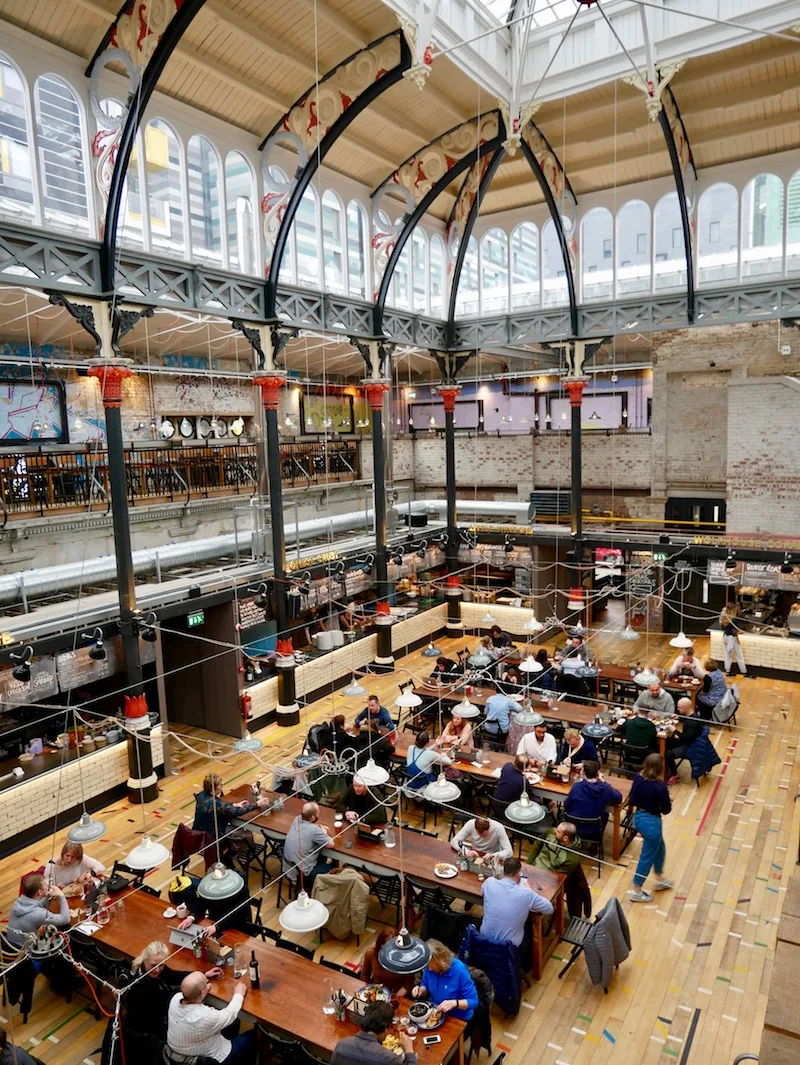 Mackie Mayor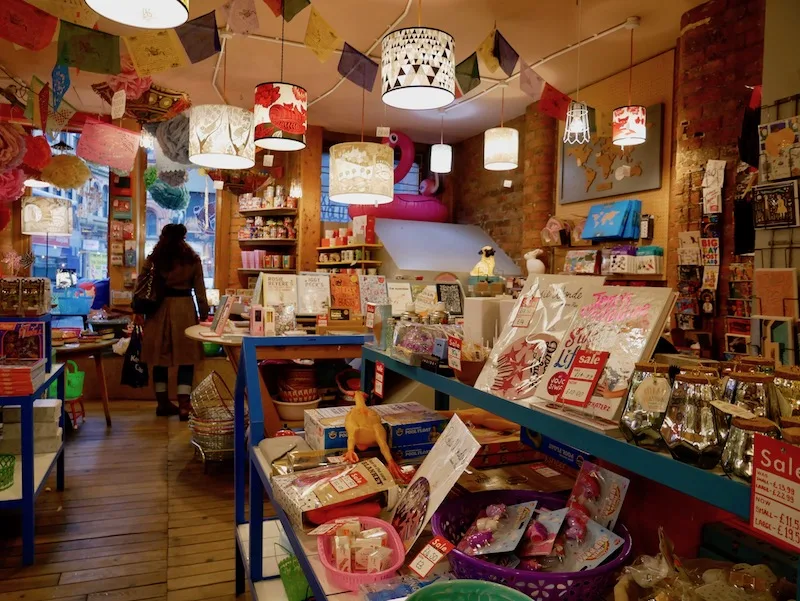 Inside Oklahoma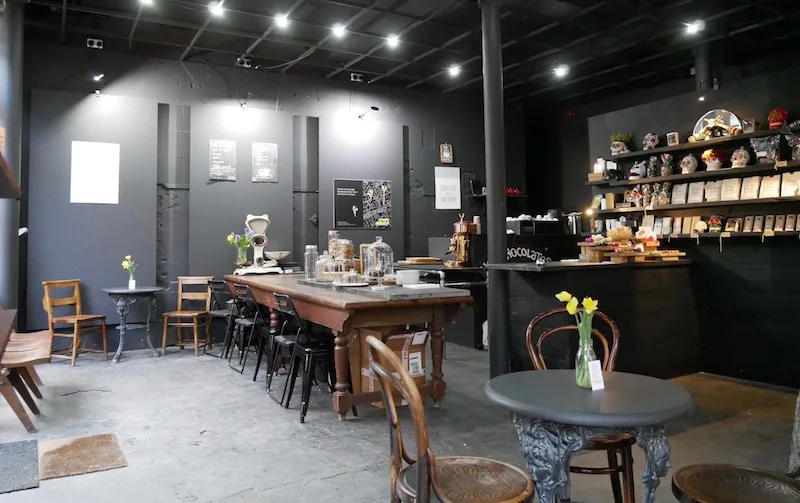 Inside Bonbon chocolate boutique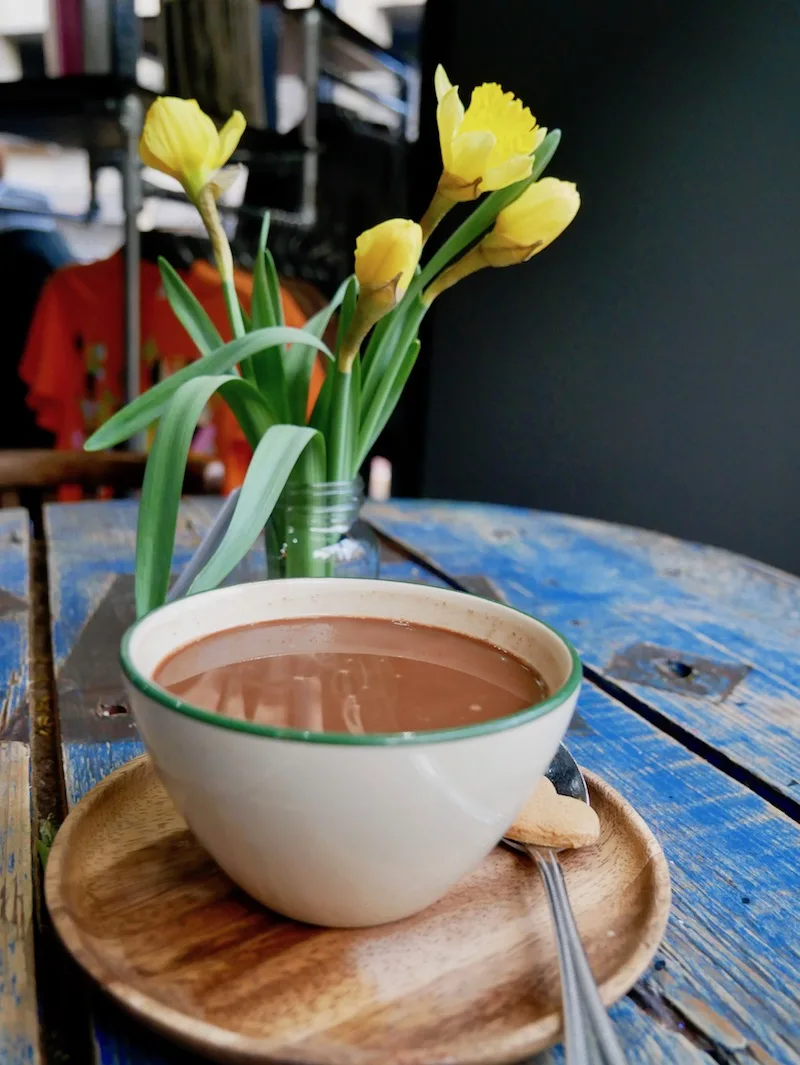 Hot chocolate at Bonbon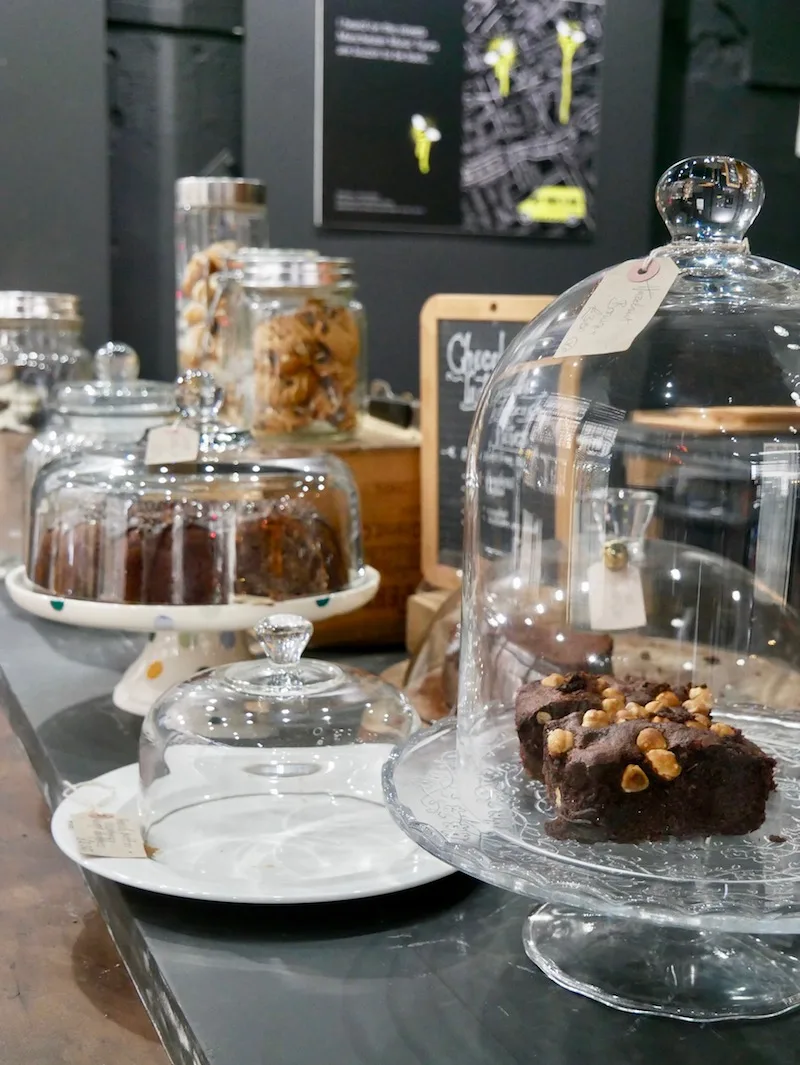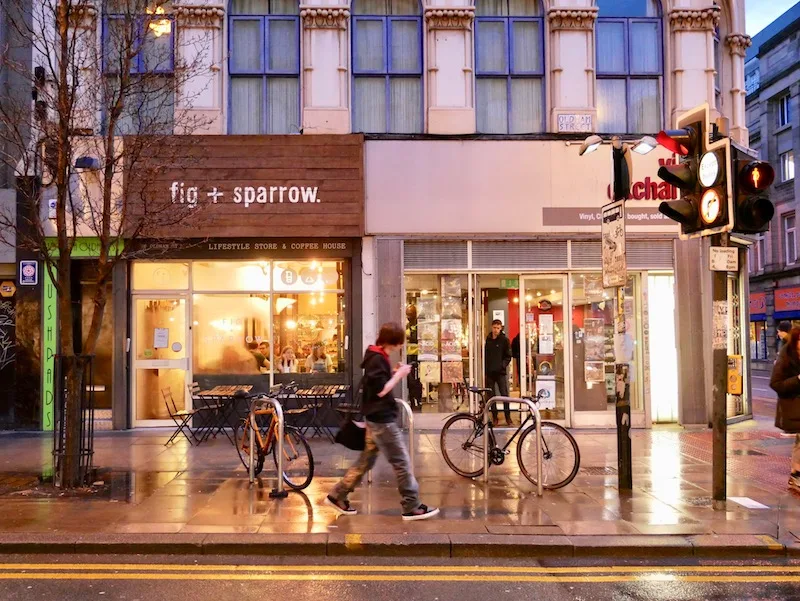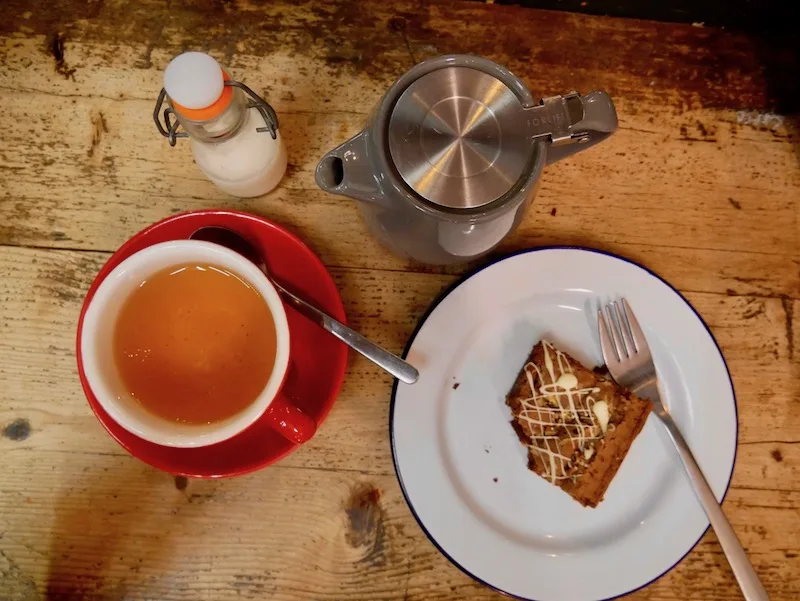 Chocolate brownie from Fig and Sparrow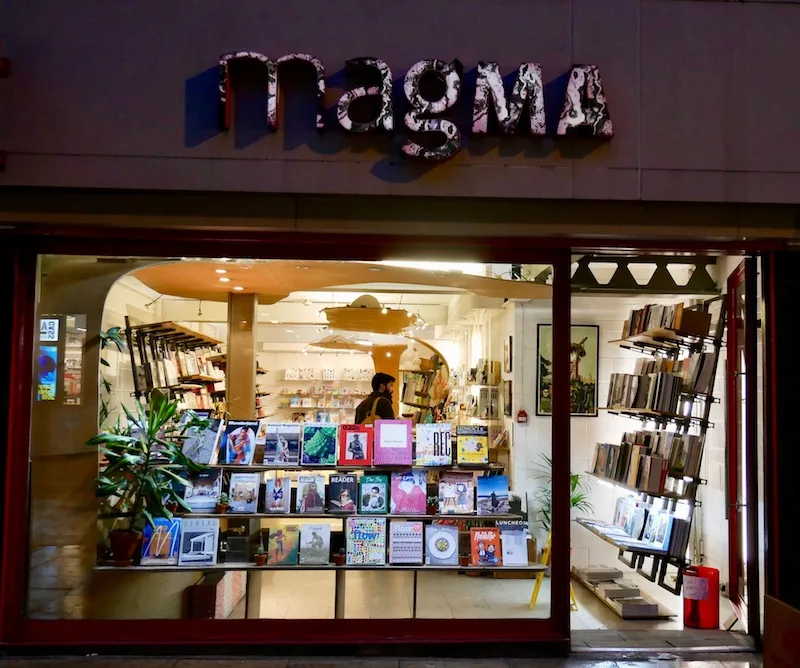 Dinner at The Refuge by Volta
Make sure you don't fill up on too many cakes and other baked goodies during your eating and shopping tour around the Northern Quarter as you've got some serious eating to do at The Refuge by Volta!
The Refuge has that rare quality of being cosy and welcoming but also grand and impressive. It's modern and sleek but also traditional and elegant. It's super cool but also really friendly so grab yourself a booth and stay for the whole evening.
The restaurant is set inside The Principle Hotel and with an atrium ceiling, huge ceramic pillars, achingly cool décor, a fabulous menu featuring small plates and sharing dishes, The Refuge is simply one of the hottest spots in Manchester.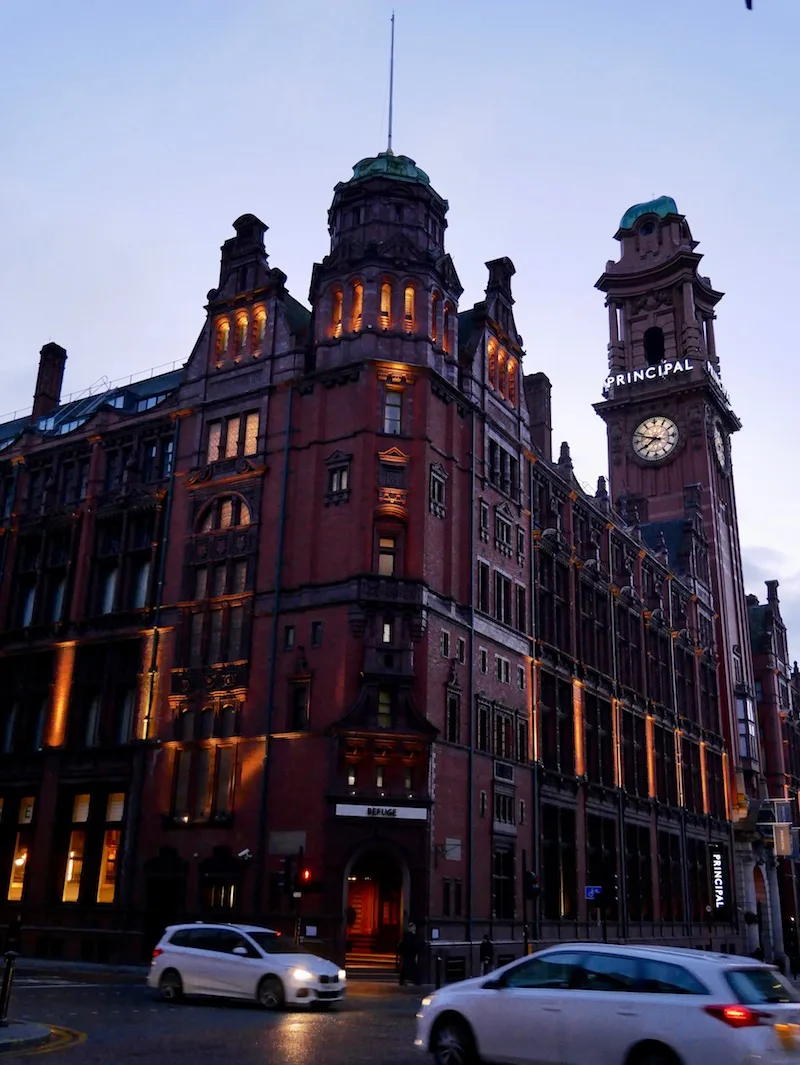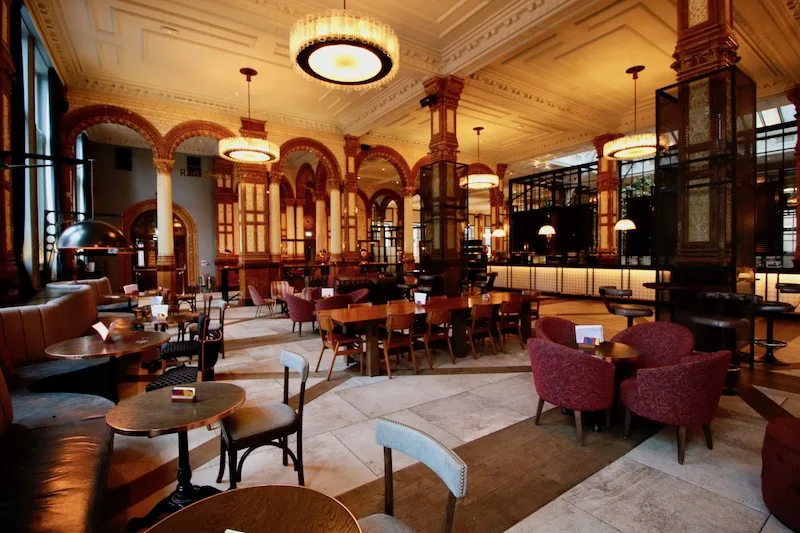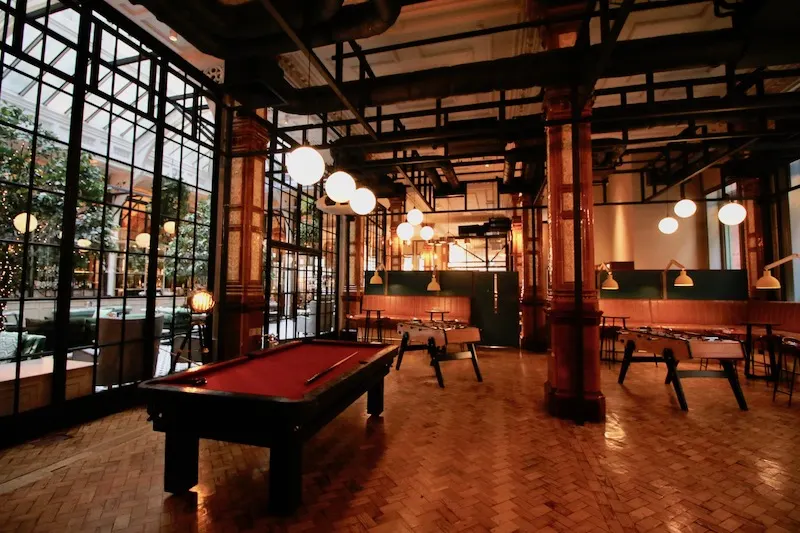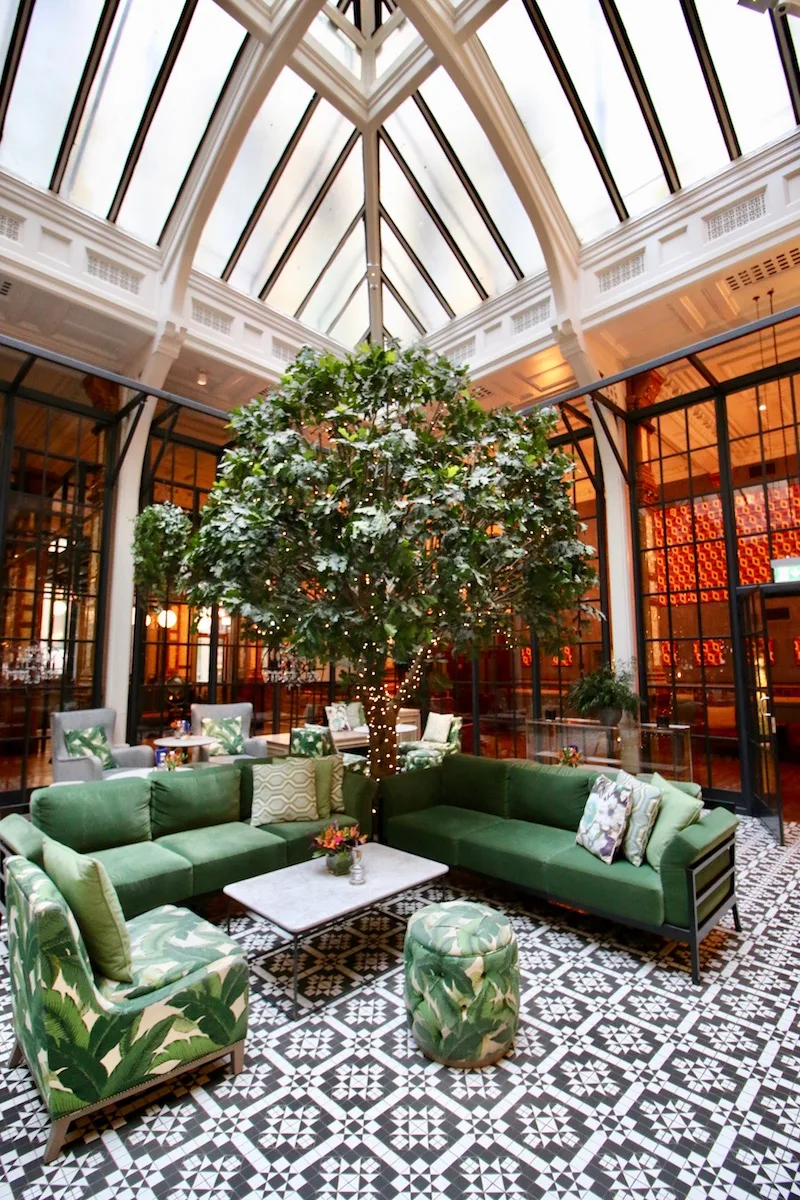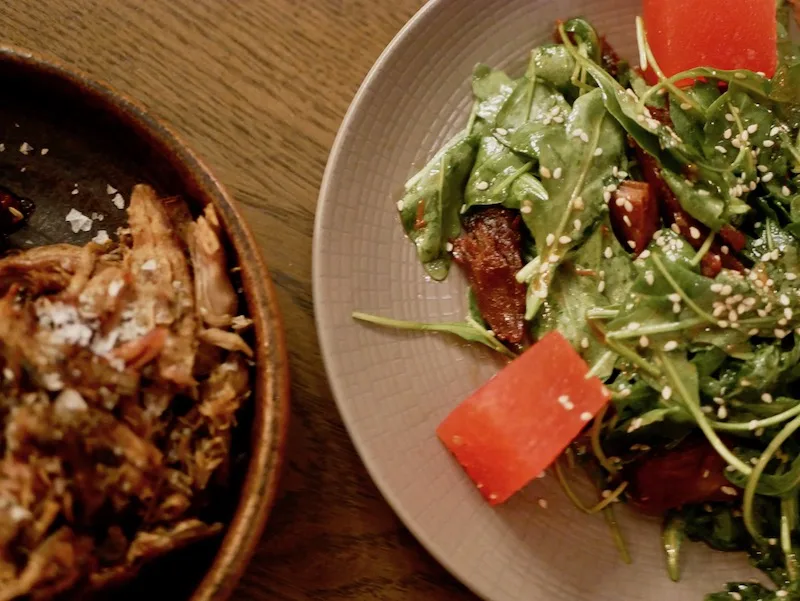 More places to eat and drink in Manchester
An Insiders Guide: The Best Places to Eat and Drink in Manchester
Where to stay in Manchester?
Staying at Hotel Gotham, Manchester
I spent the night at Hotel Gotham, a Manhattan inspired hotel with style and substance and a perfect location on King Street, just a stone's throw from Arndale Shopping Centre. It won 'The Most Stylish Hotel' award in the Hidden Style Awards and the Best Boutique Hotel in the Manchester Awards 2017.
The rooms are decadent and plush with velvets and faux fur that are cosy and luxurious. The atmosphere is fabulous and the theatrical staff really do make you feel like you've stepped back in time and across the Atlantic to an old movie set in New York.
Hotel guests are invited up to Club Brass, their VIP lounge and Prohibition-style speakeasy on the 7th floor and I highly recommend you do! Enjoy the view from the rooftop terrace and enjoy a cocktail overlooking the city.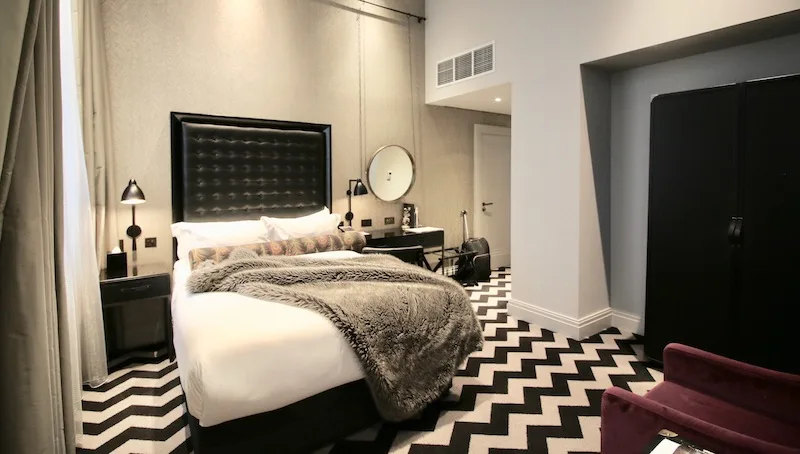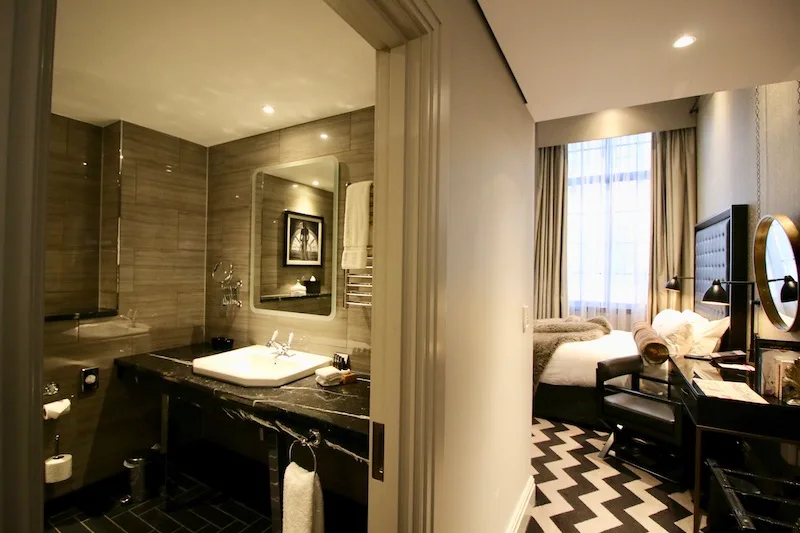 Extreme things to do in Manchester!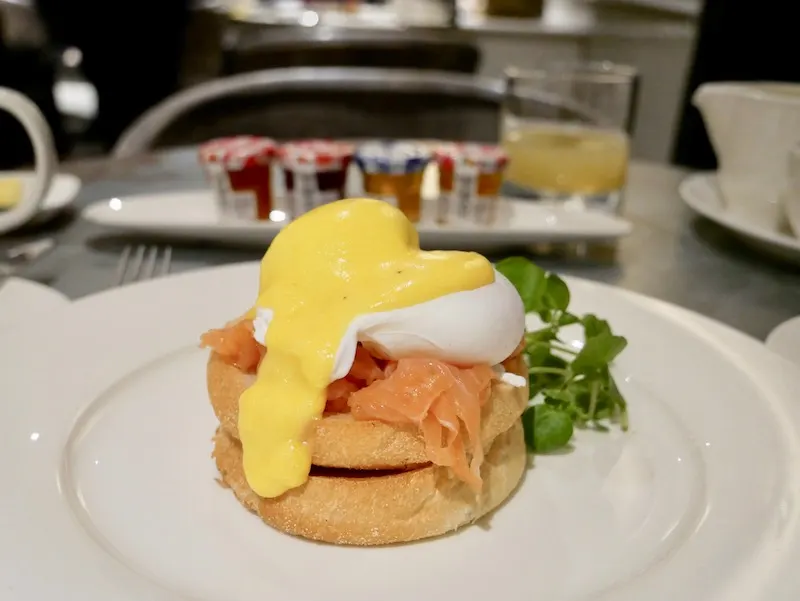 Breakfast at Hotel Gotham
I woke up nervously the following day because this was the day for my extreme sport – I was going indoor skydiving at iFly!
iFly is an indoor skydiving centre near the Trafford Centre so it's about a 15 minute drive out of the city centre. I drove there with sweaty palms, reliving an old memory from Australia when I went skydiving for real. This was genuinely the most terrifying experience of my life and my heart threatens to leap through my chest at the thought of the long plane journey into the sky. I trembled from head to toe as the plane doors opened and for the first time I understood the phrase 'shaking like a leaf'.
Of course, I loved it.
I loved everything about it from the tumble out of the plane to the stomach flipping soar through the sky to the gentle float back down to the golden sands of Rainbow Beach. It was incredible and I've never felt adrenaline like it – I'm sure it pulsed through my veins for weeks as I longed to do it again.
I reached iFly 45 minutes early (I'm weirdly punctual when it comes to things that scare me!) so I had a long and nervous wait before being called for my safety briefing.
Matt was our instructor for the day and our group of about 10 were shown a short safety video and were kitted out in a jumpsuit, helmet and goggles.
Matt made it sound easy.
Step into the tunnel, arch your body like a backwards banana (my description, not his), keep your hips down and your chin up and you'll by flying around the wind tunnel like a pro.
Yea…it wasn't that easy.
Our group nervously sat around the tunnel watching everyone take their turn while stifling giggles as people flipped and spun and flapped around in the wind.
By the time it was my turn I was laughing so hard I'd forgotten to be scared. The guy before me has flapped about like a goldfish being flushed down the toiled and he emerged from the tunnel like Harry Potter the first time he'd used Floo Powder.
I approached the door to the wind tunnel and gave Instructor Matt a look that (I hope) said, 'I'm really nervous and I'm probably going to be really shit at this so please go easy on me'.
With my arms in the air and the mantra running through my head, 'Arch like a banana, arch like a banana', I launched myself into the wind tunnel and….well the next 60 seconds is just a windy blur really.
The wind knocked the wind out of me. No, really! It rushed past me so quickly I couldn't catch any to gasp into my lungs so I snatched tiny mouthfuls that stole my saliva and made me feel like I'd just swallowed a desert. I think it dried up my entire windpipe and I spent the next 30 seconds flying around like a leaf in the wind while I devised a plan on how to actually breathe in here.
I finally got the hang of breathing in there and stopped gasping like a dog and, hey presto, everything was OK again and I could begin to think about my flailing limbs.
You can't hear a thing in the wind tunnel so Matt was making hand gestures to instruct me on what to do but, of course, I'd forgotten every single thing I'd seen in the safety video and continued to flail because I had no idea what his gestures meant. He was giving me the V's and then seemed to be playing a solo game of rock, paper scissors.
Then my minute was up and I had no idea what had just happened.
Matt guided me to the wind tunnel door and pushed me out while I stumbled back into the real world like I'd just been spat out of a plug hole.
I longed to take off my helmet and ear plugs and grab someone from my group and say, 'WTF!? What just happened in there!?'
I felt like a storm has just picked me up and tumbled me around and thrown me back out.
I sat back down on the bench and did my very best to produce as much saliva as possible during the 9 minutes I had until my next turn.
For our second turn in the wind tunnel we were given the option to have Matt hold on to us and guide us to the very top of the tunnel before dropping down again.
As I stepped up for my second turn, Matt made a hand gesture I finally understood (he pointed his finger in the air and gave a questioning expression) to ask if I wanted to fly up to the top.
I nodded my head to indicate yes but I'm sure my eyes were saying the opposite!
My second turn in the wind tunnel was like a different world. The revelation that I should keep my mouth shut worked wonders and I was free to enjoy the experience without fearing I might pass out through lack of oxygen.
I focused on my banana shape and keeping my legs straight and I think I even smiled for the camera. At one point I morphed into a banana shaped ping pong ball and bounced around the tunnel until Matt pulled me under his arm and we soared into the air. We span and plummeted, span and plummeted and it was glorious. I was flying!
And then I was swiftly spat out of the tunnel and wobbled back to my seat with legs like jelly but my chest exploding with adrenaline.
Cultural things to do in Manchester
That afternoon, after an extremely strong and much-needed cup of tea, I made my way back into Manchester for a 'cultural afternoon'.
I'd had my day of eating, drinking and shopping and had my morning of adrenaline, now it was time to do something a bit grown-up and find some cultural things to do in Manchester.
My first stop was Manchester Cathedral. I'm not religious but I do love the atmosphere in churches. Even if they aren't incredibly grand like this one, they're always so peaceful and relaxing. The tranquillity is like a blanket and I love the scent of incense and the soft tap of footsteps echoing across the tiles.
The tranquillity didn't last long as I was chased out by a priest for taking photos so I scarpered and scurried outside.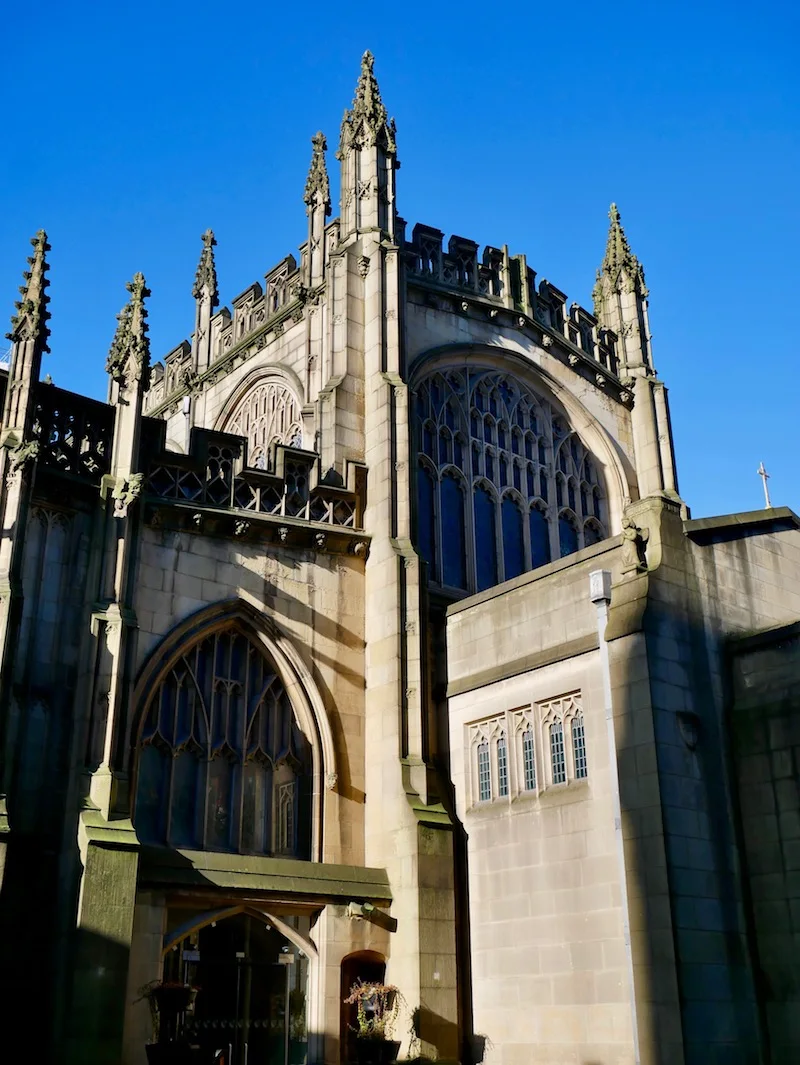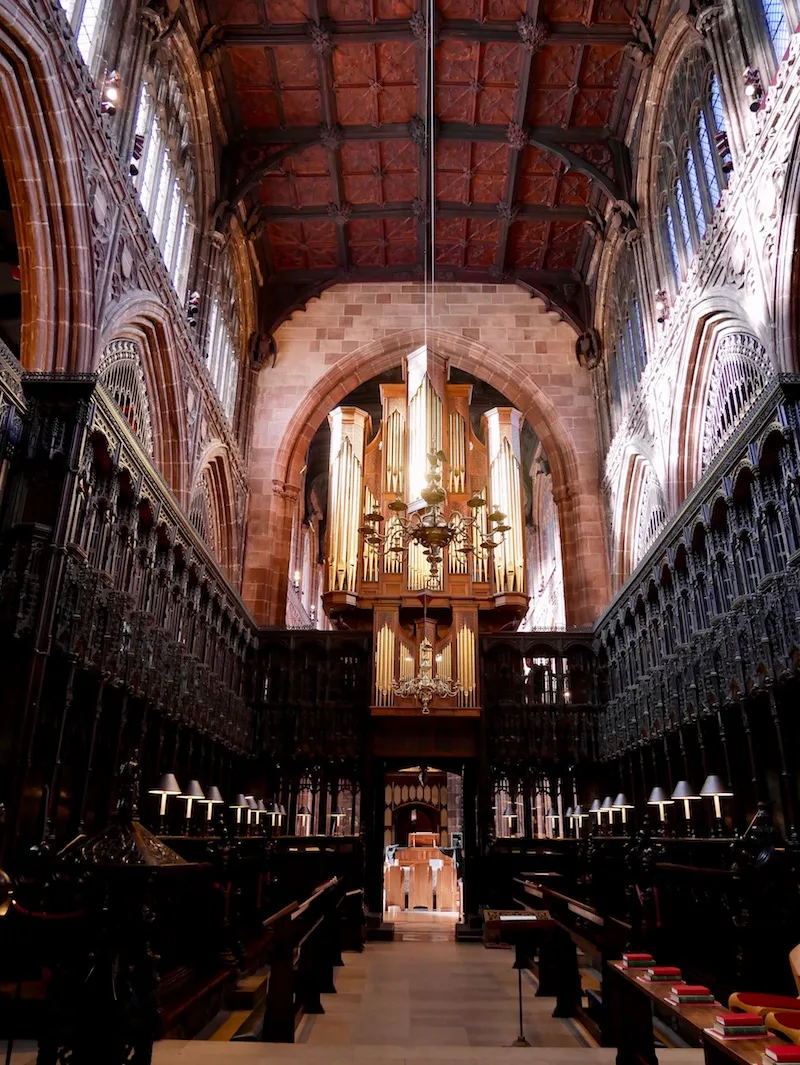 My next stop was the John Ryland's Library, part of Manchester University and home to one of the world's finest collections of rare books and manuscripts. And, let's not forget, it looks like a Harry Potter film set and you can live out your Hermione fantasy as you stroll around the neo-Gothic masterpiece of Victorian architecture. Admire the ornate corridors with enormous columns and domed ceilings, visit the original Victorian lavatories (honestly, they're worth looking at!) and take a seat in the Reading Room.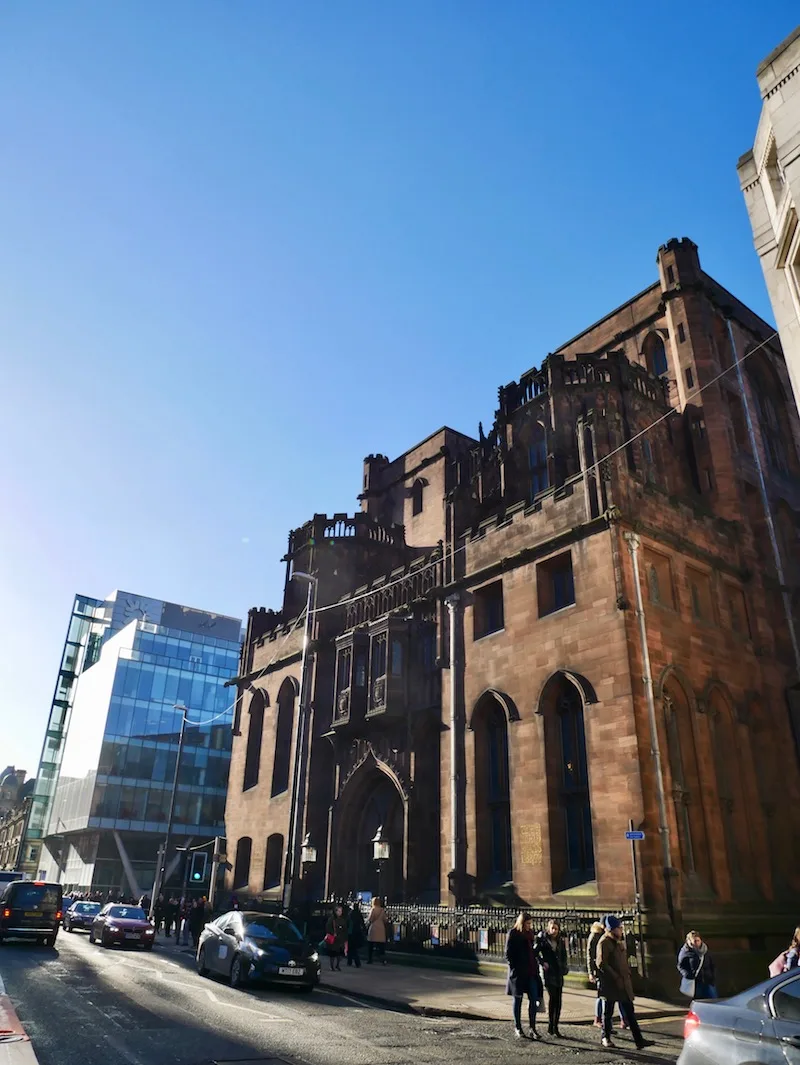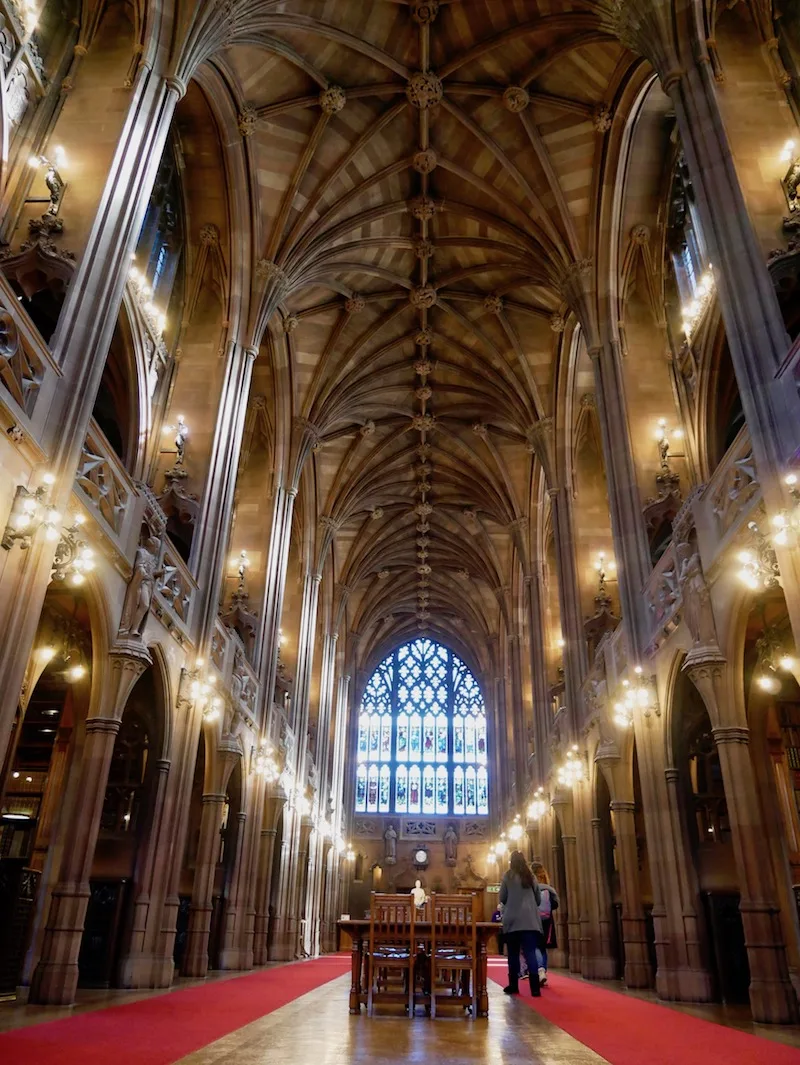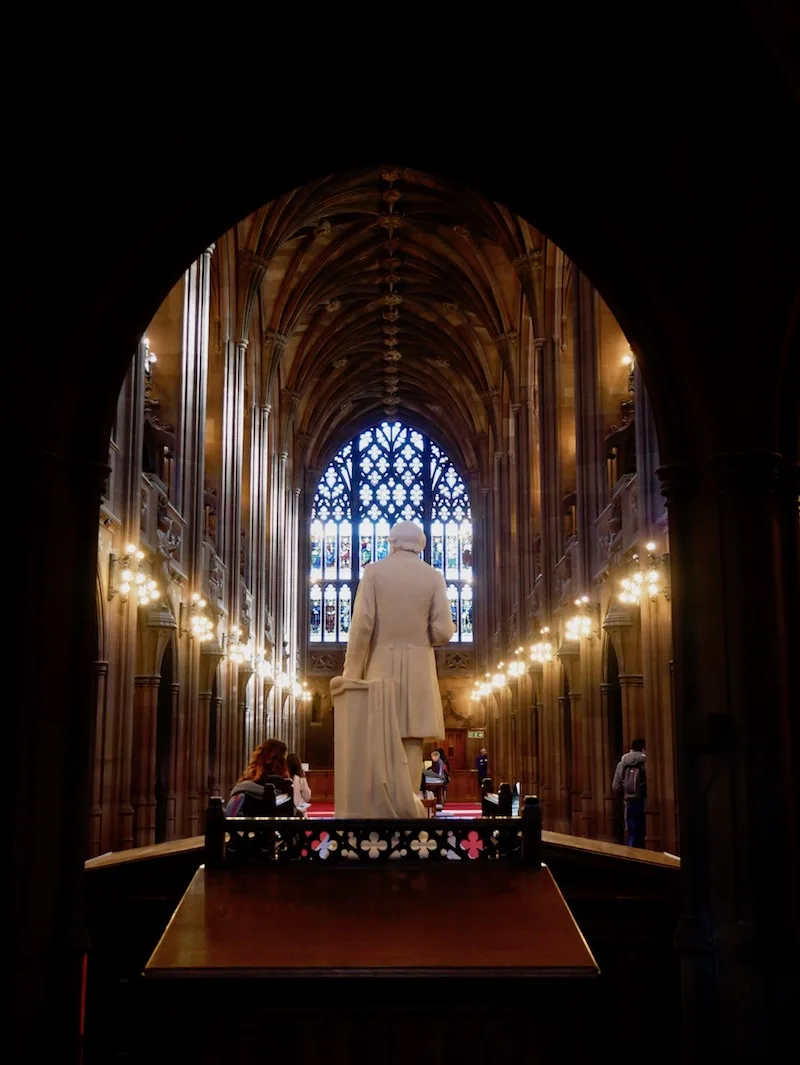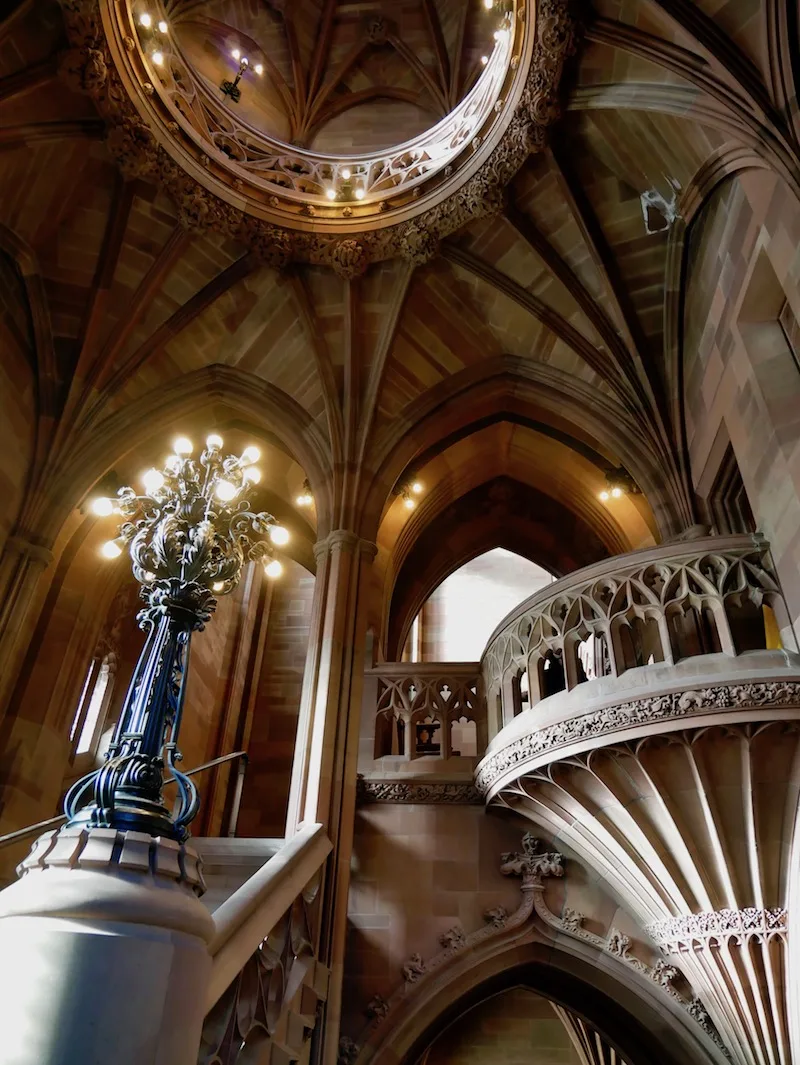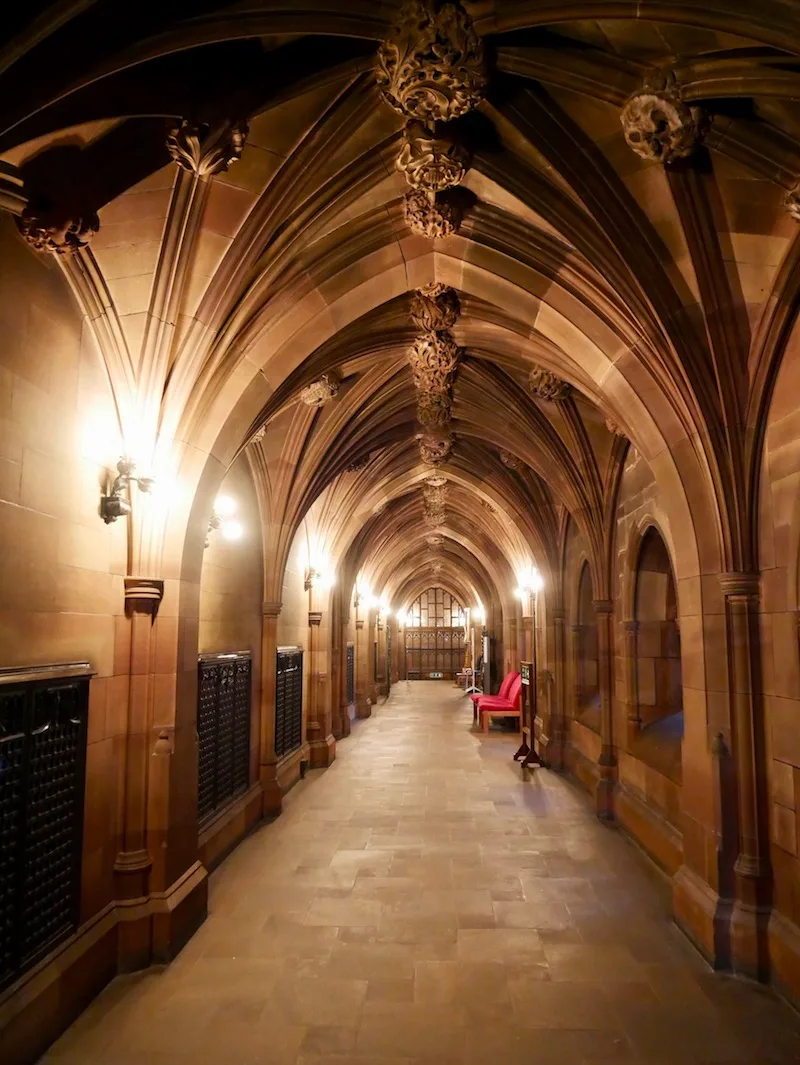 That's pretty much as cultural as I can get on a Sunday afternoon so I had a walk through the Arndale Centre and spent far too much money at Urban Outfitters before refuelling at Tinderbox Espresso Bar – a hidden coffee shop within Paperchase so it's a great pit stop for coffee and stationary lovers!
---
And that was the end of my spontaneous weekend break and some of my favourite things to do in Manchester. I had such a fabulous time and I'd like to say a massive thanks to LateRooms.com for the challenge to take a spontaneous weekend break. It made me remember that weekends can be so much fun if you have a little bit of courage to do something out of the ordinary.
Rather than spending your Friday night downing beers and scoffing a takeaway, why not take a peek online and see if you can get a bargain hotel room somewhere new and have a spontaneous weekend of your own.
Travel Hack Tip to find unusual things to do in Manchester : To quickly research this trip I mostly used Instagram. I used the hashtag #eatmcr to find some dreamy places to eat and discovered cool accounts from there. I saved the pictures I liked into a private collection so I could keep coming back to places I'd flagged. If they're geo tagged you can then find them on a map.
Read More:

Where to find the best Lebanese Restaurant in Manchester