Today I'm sharing our experience visiting Zipmas, an incredible underground grotto in a Victorian slate mine in Wales. Our family loved Zipmas as it was such a unique and exciting Christmas experience.
This Christmas I've made the decision to go easy on the Christmas presents and instead spend our Christmas money on experiences. For me, magical days out are a much better Christmas gift than a plastic toy the kids don't really want or need!
So far we've ridden on The Polar Express in Telford (which had mixed reviews from the kids) and to see the Lanterns at Chester Zoo (which was good but wasn't as good as 2019 so felt a little disappointing).
Our third Christmas experience was to Zipmas hosted at Zipworld in North Wales.
What is Zipworld?
Zipworld is an outdoor adventure activity centre across four locations in North Wales. They have different activities at each location but they're most famous for Velocity 2, the fastest zipline in the world. You can reach up to 100mph as you whizz over an old quarry! I did it a few years ago and it's amazing!
They also have other activities like roller coasters, smaller zip wires, tree top net adventures, go karts, mine tours and trampolining inside a disused mine.
Yep, Zipworld is doing really incredible things for tourism in North Wales and it really has become an adventure destination for the whole family.
Read more: An adventure at Zipworld Fforest
An adventurous weekend in Wales – including a hike up Snowdon and Velocity Zipwire
What is Zipmas?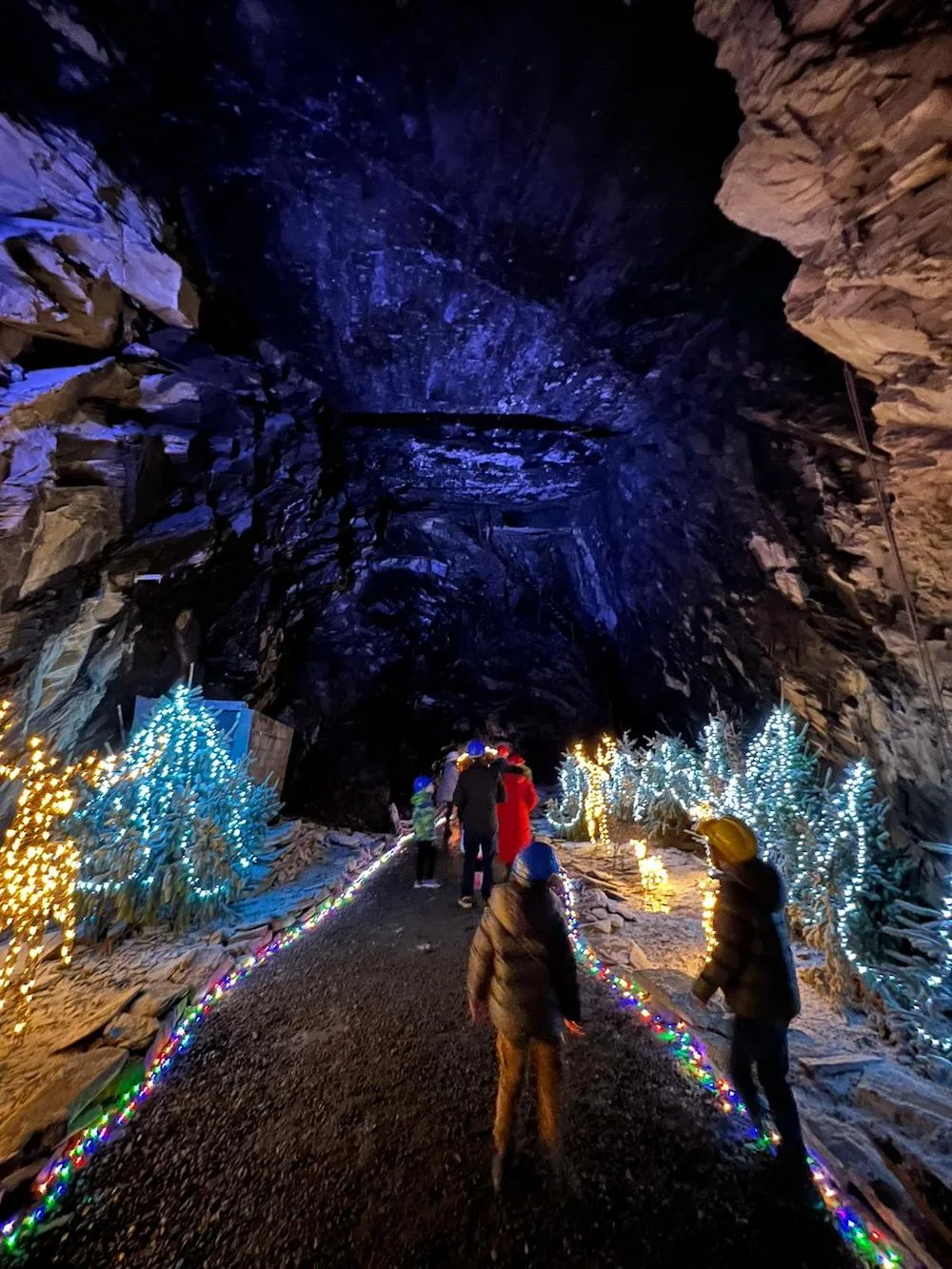 The clever people at Zipworld have converted the famous Victorian Llechwedd slate mine into a magical grotto to create Zipmas.
The mine is located 500ft underground so visitors need to ride on Europe's steepest cable railway to reach it.
For kids and adults alike, this cable car is such an exciting start to your journey and the tunnel is decorated with colourful lights to add to the magic!
While you're waiting for the cable car you're given warm mince pies and hot chocolates or mulled wine while you sit on an old train and choose your helmet for the adventure. (Who knew choosing a helmet would be so exciting!?)
When you reach the grotto you can explore the chambers that are decorated with snow and festive Christmas lights. It's dark and magical down here with tunnels
Eventually you'll reach a wooden cabin within the deepest chamber where the elves organise everyone into an orderly queue ready to see Santa!
There was a little wait to see Santa but it's worth it as he did spend a few minutes chatting to each family and asking the kids what they'd like for Christmas. Santa was brilliant and 'remembered' our dog, Louie, and promised to bring him some treats too. He was also familiar with the toys the kids were asking for and they were just blown away by meeting the real Santa (we've had a few experiences recently where he definitely wasn't the real one!) but this guy was the real deal!
As you leave Santa's grotto you're given a slate bauble to decorate in the cafe upstairs. Tables are laid out with pens and ribbons and everyone takes their bauble decorating very seriously! The cafe is also great if you're feeling peckish!
There's an extra bonus as you leave Zipmas as every child is given a toy from one of the elves. (Parents are asked to fill out a form online before arriving to ensure each toy is age appropriate).
The boys both got one of those velcro ball and catch games and Alba got a teddy dog.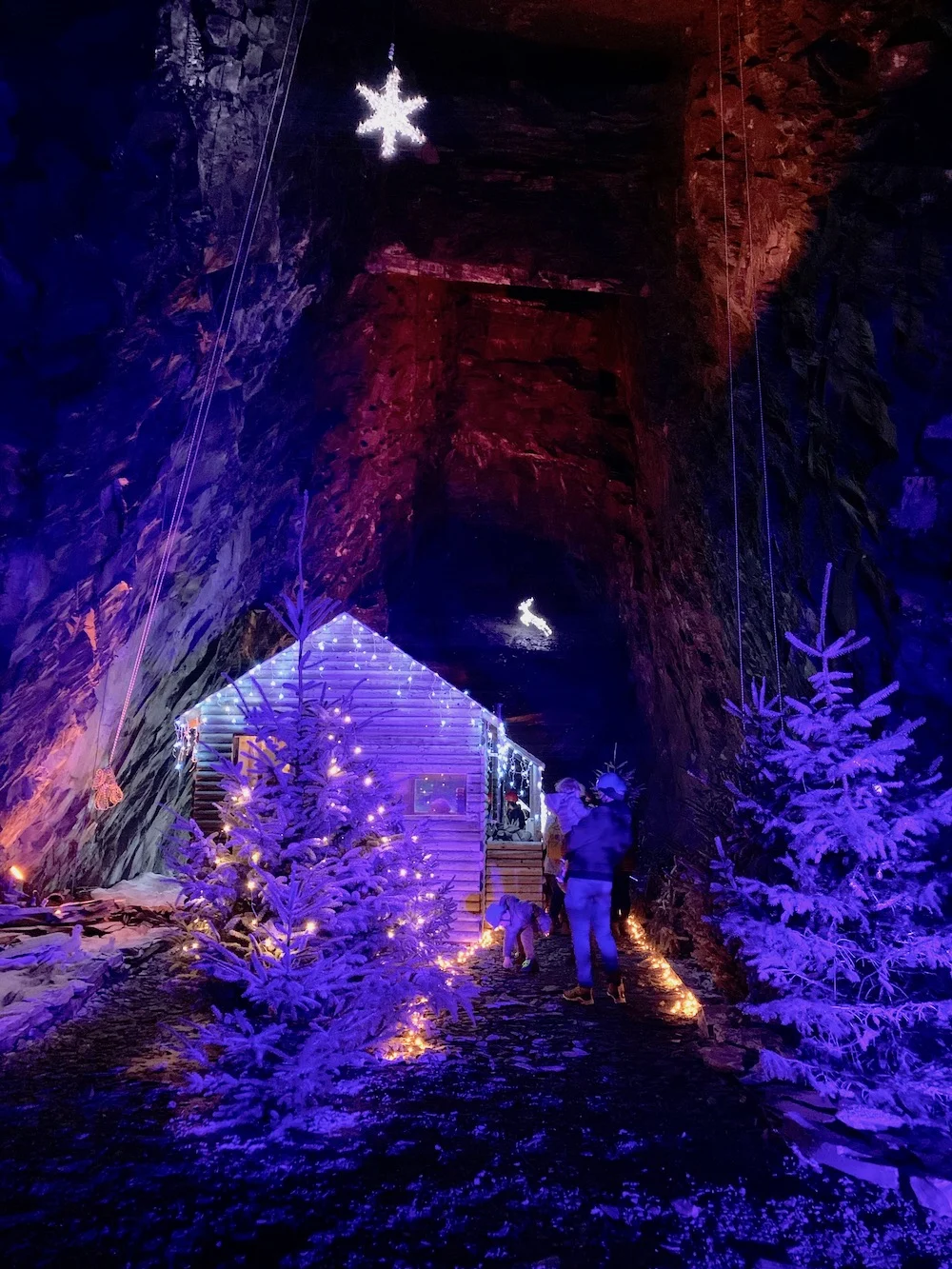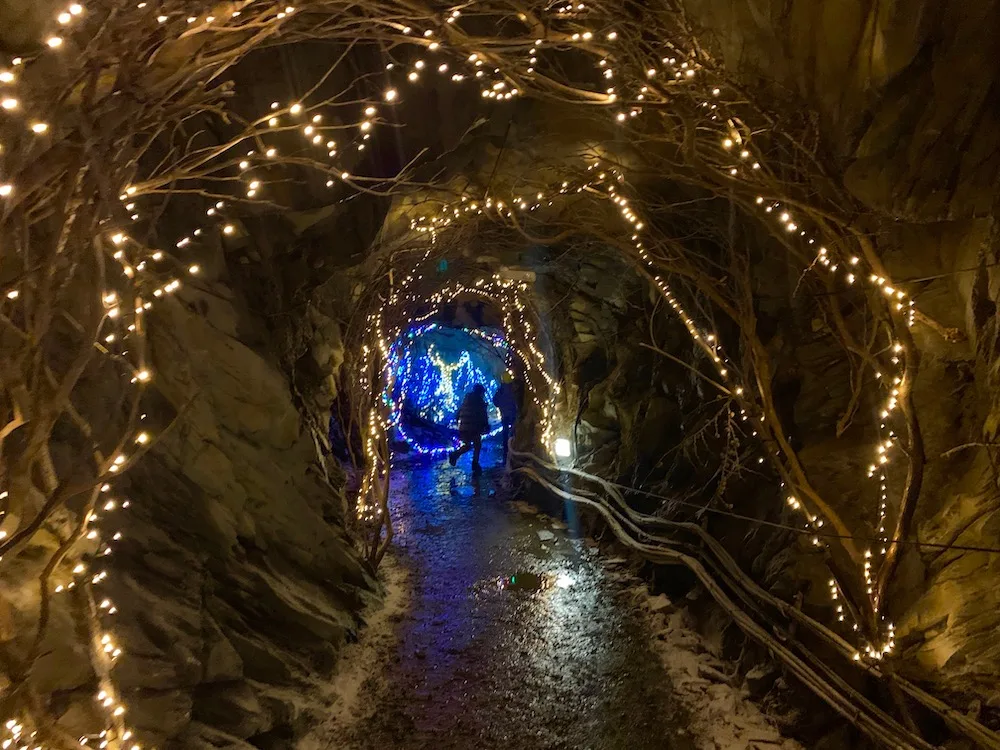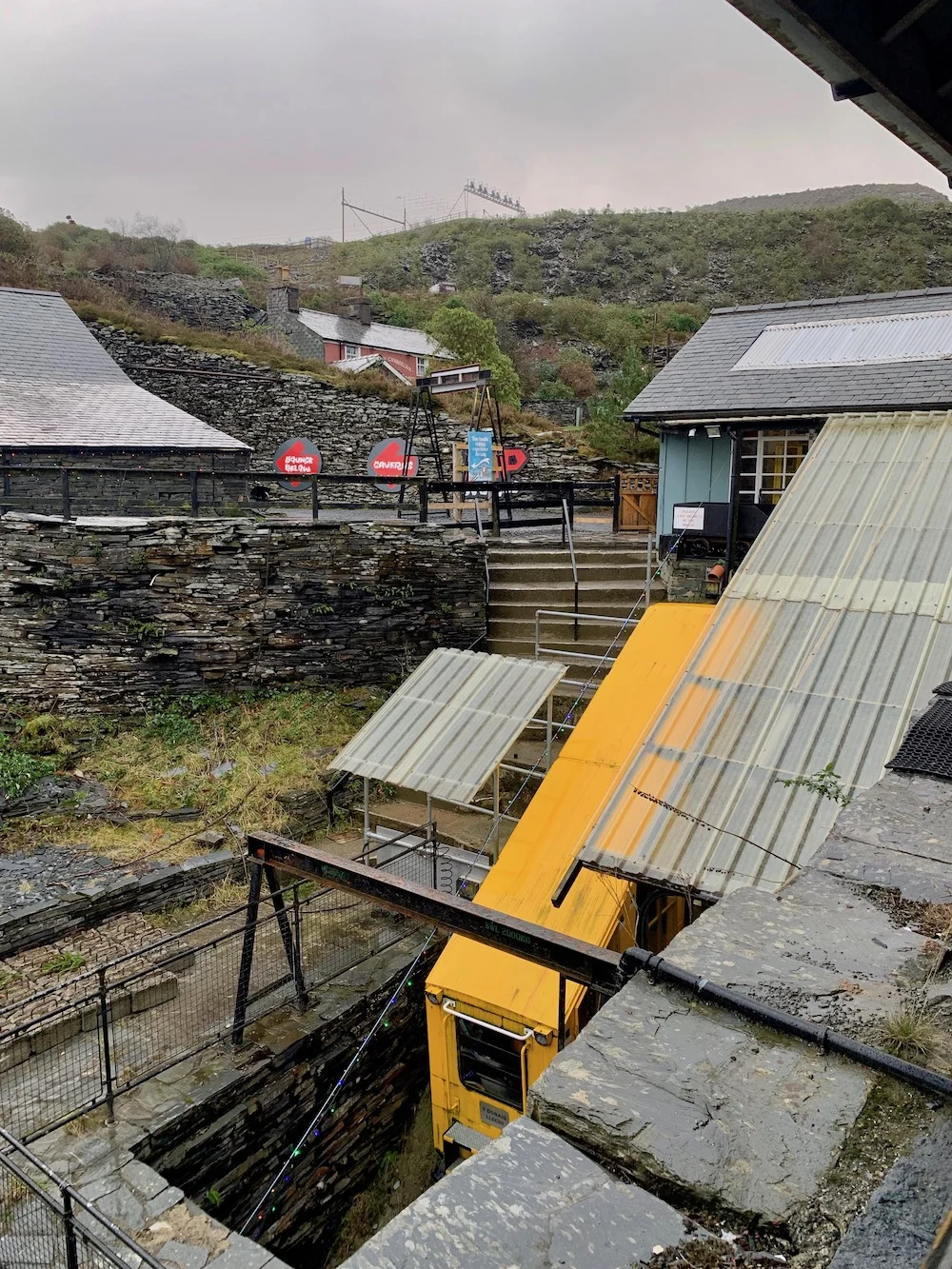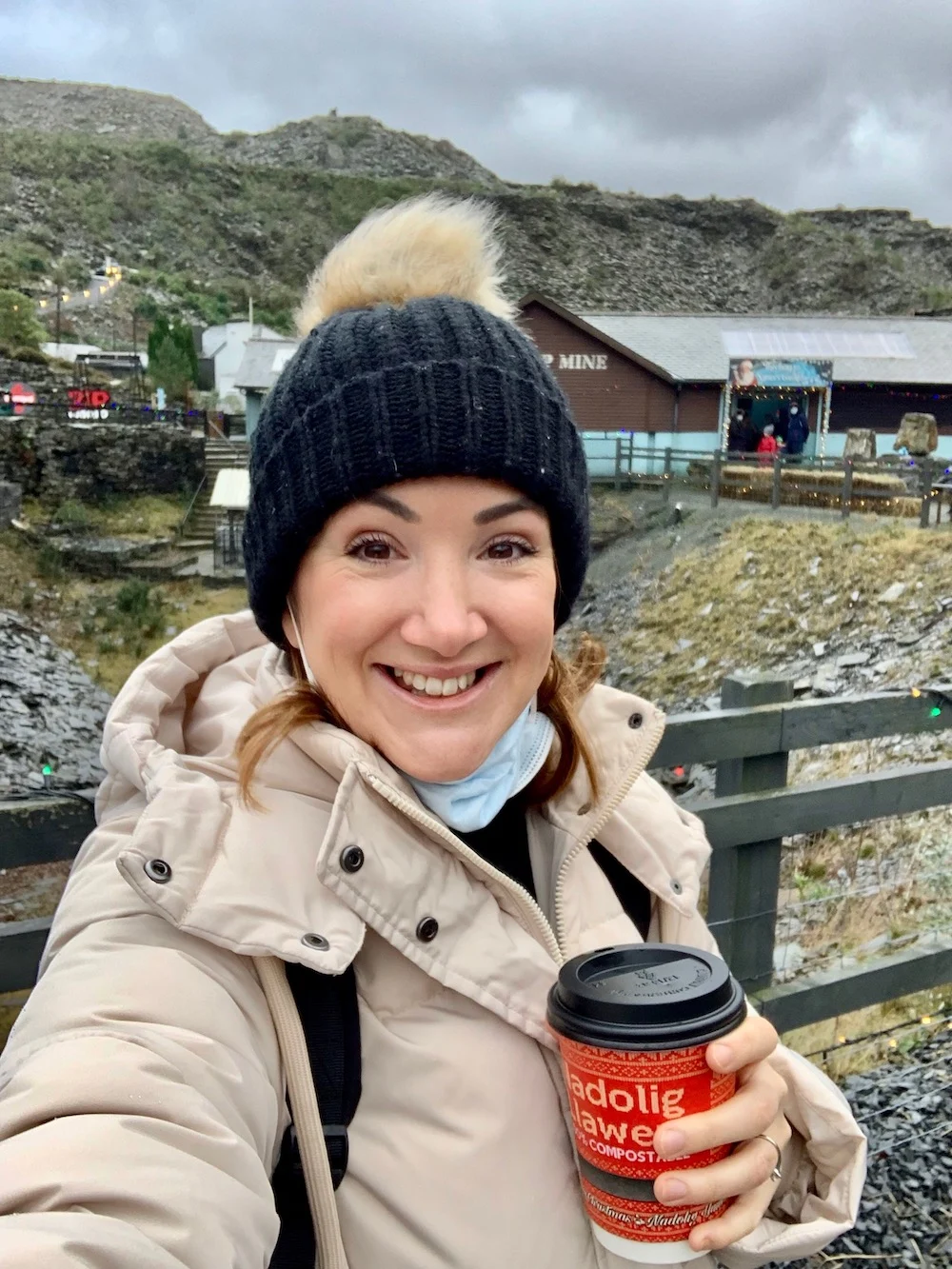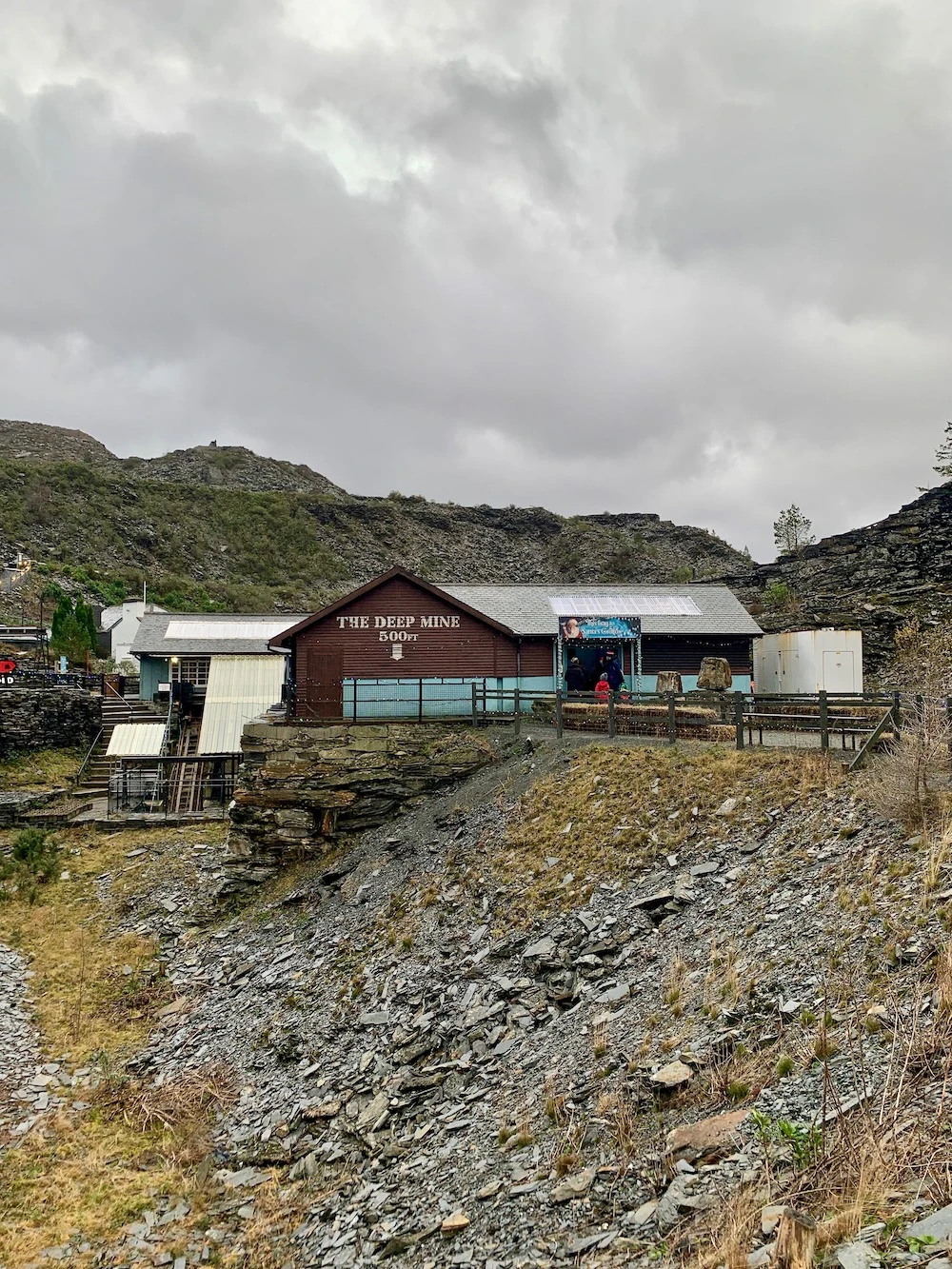 Where is Zipmas?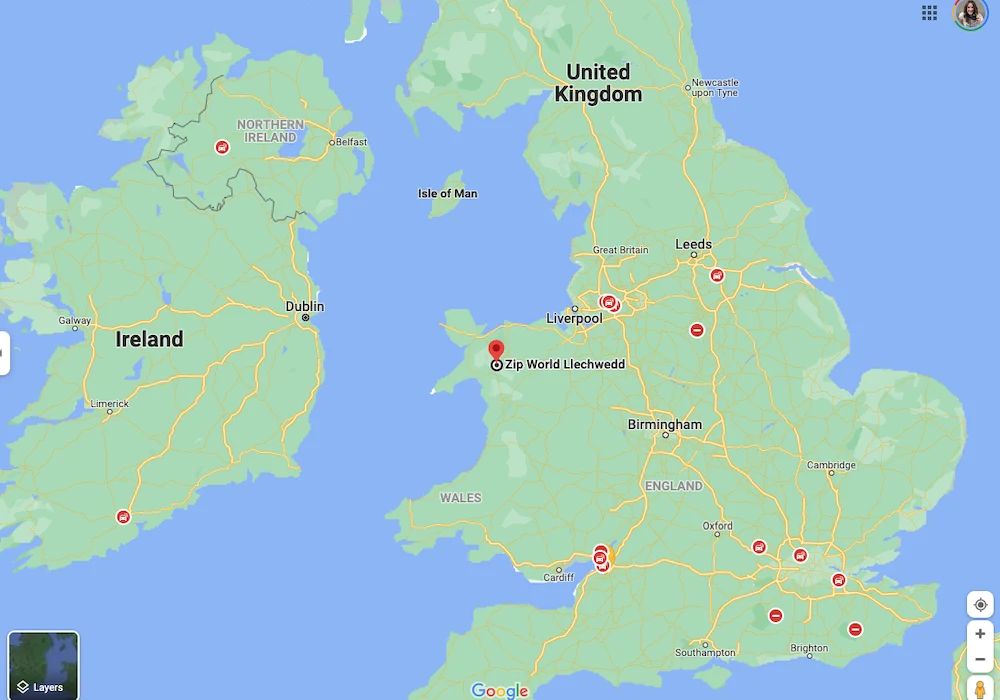 Zipmas is located at their Llechwedd Slate Caverns location in Blaenau Ffestiniog. For many people reading this it will probably be a bit of a drive but it's the most beautiful drive through Snowdonia. Even in the depths of winter the scenery is stunning so Sam and I really enjoyed this part of the trip!
We played Christmas songs all the way there and I'd packed a breakfast feast for the journey. On the way home the kids all fell asleep after the excitement, so the car journey was fine.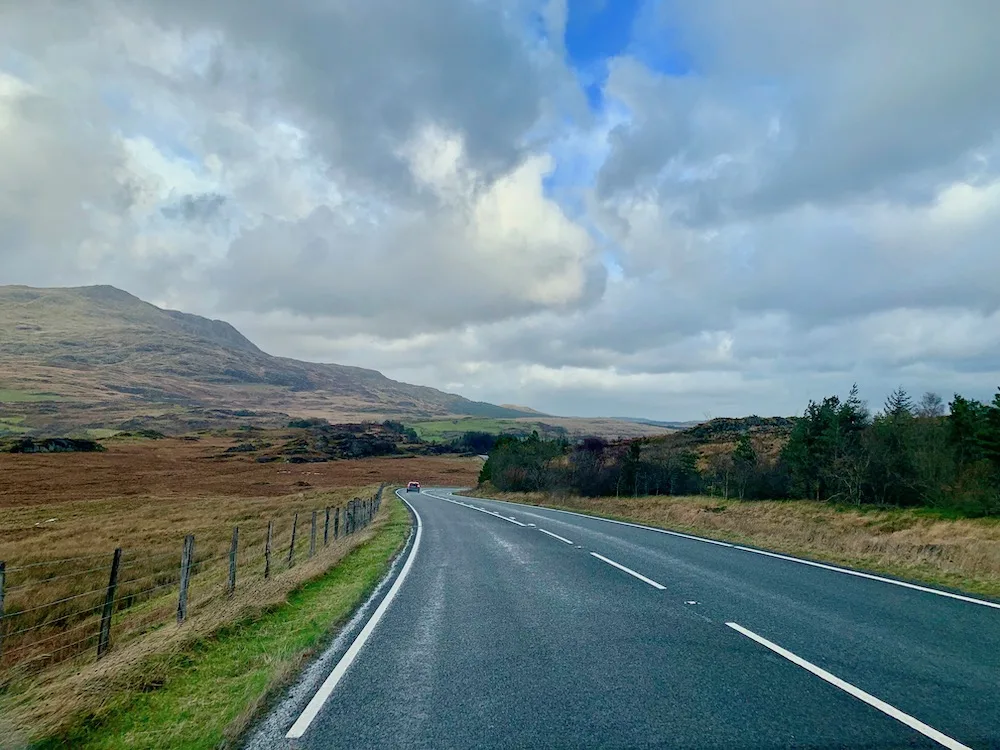 Zipmas with babies and toddlers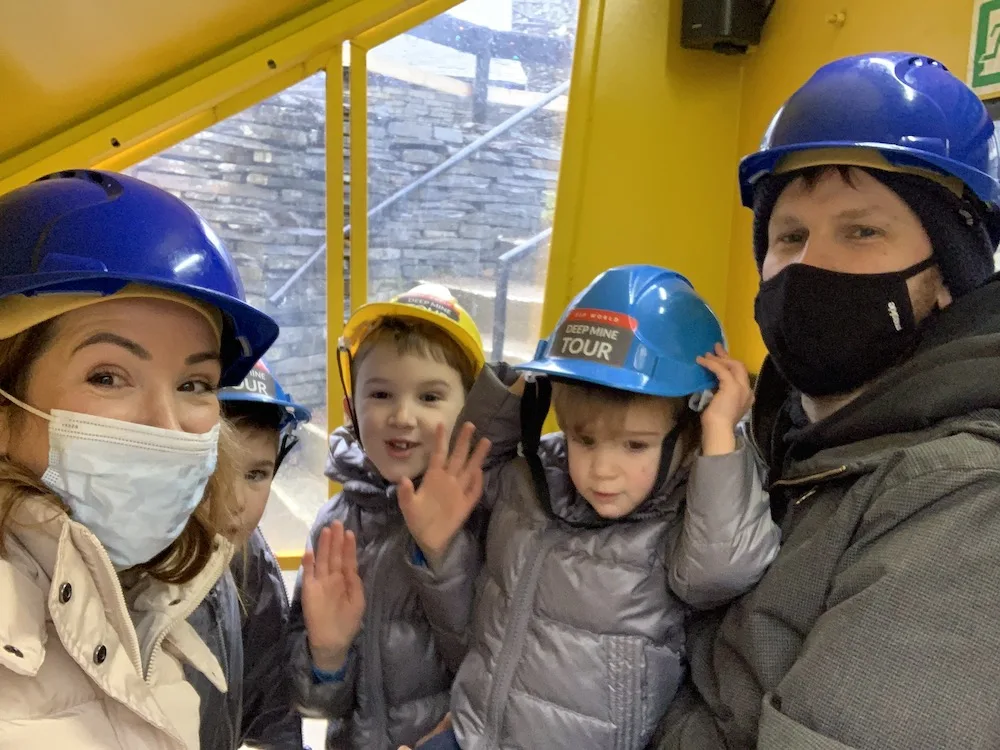 Babies and toddlers are welcome at Zipmas. Babies should be carried in a carrier on your front and cannot be in carriers where they would be higher than your head (like in the sturdy hiking backpack carriers). This is because you need to sit on the train where it's very small and also walk through low tunnels so you wouldn't want to hit your baby's head!
We visited with our little girl Alba who has just turned two and she was a little bit nervous about the whole thing! She is a bit nervous anyway and I wouldn't say she's a brave toddler. She did enjoy it but clung to Sam for the whole experience.
If you have older children and a toddler then I would definitely take your toddler along, but I wouldn't book this experience especially for a toddler.
How much is Zipmas?
Tickets for Zipmas cost £18. It's the same price for adults and children but children do get a toy.
This ticket price includes:
Warm mince pies
Hot chocolate or mulled wine
A return ride on Europe's steepest cable railway
Exploring the decorated chambers
Visiting Santa
Your slate bauble to decorate
Presents for the kids
In comparison to other Christmas experiences I think this price is really reasonable, especially considering it includes festive snacks and presents for children.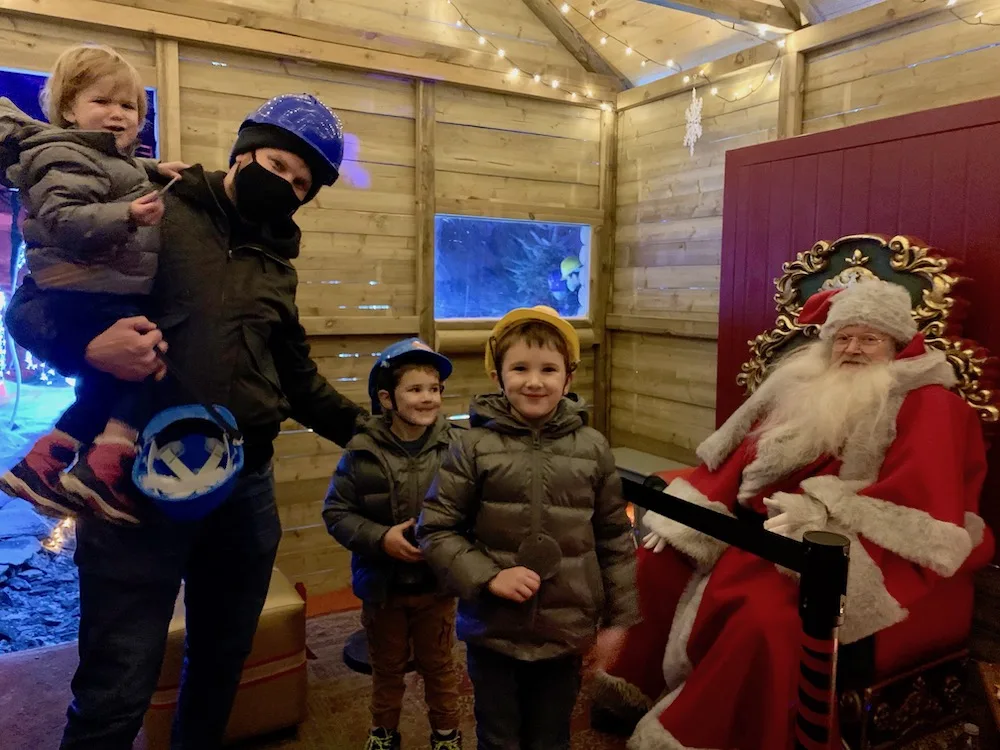 Would I recommend Zipmas?
Yes 100%! Our family loved it.
I think that if the location and the journey through Snowdonia will add to the magic of the experience for you and your family then Zipmas is one of the most incredible Christmas experiences you can do.
I love driving through Snowdonia so I just really enjoyed the drive there!
It was different to anything else we'd done and the excitement of the train and being underground was incredible. Seeing Santa was amazing but this would actually be a great activity even without the Santa part!
I appreciate that for some families the journey there could be a bit of a chore. The entire experience lasted about two hours, which included a coffee and a snack in the cafe, so for some people it could be a long drive for a two hour experience.
Another thing I'd like to add is that it wasn't too busy and we really appreciated this. We didn't have to queue for long for anything and it didn't feel overcrowded. You're given time slots and the train down to the mine naturally restricts the number of people in the grotto so it felt very quiet. We've done other Christmas activities that have been so busy it's almost unenjoyable!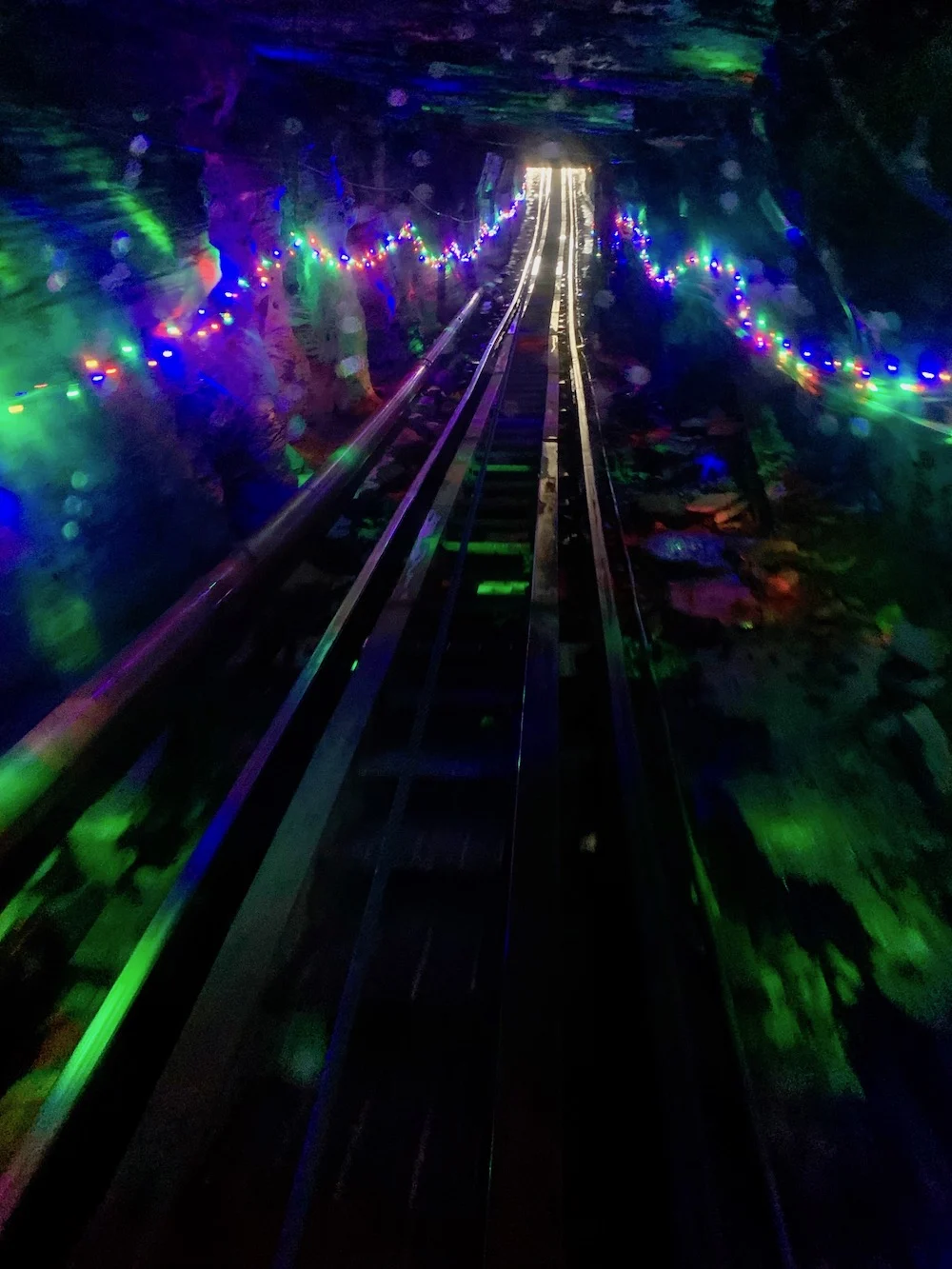 Thank you to Zipworld for providing us with press tickets for Zipmas. We were under no obligation to post a review and all thoughts are our own.
You can check out more of my blog posts from Wales here to see more of our family adventures.