Sea days on a cruise ship: What do you do during a day at sea on a cruise?
After returning from my recent cruise with Princess Cruises, the question I've been asked the most is around what you do during sea days!?
Many cruises will include a few days at sea as you travel from one destination to the next. Sometimes you will travel overnight and arrive at a new destination by the morning but longer journeys will happen during the day too. This gives you a full day to relax on the ship and do whatever you want.
For some people that will mean lying by the pool with a good book while you soak up the sun. But if you're the kind of person who doesn't like to sit still then don't worry, there's plenty to keep you busy!
During my recent cruise we had a day at sea when we travelled from France to Spain and again when we sailed from Spain back to the UK.
As a travel blogger I probably shouldn't admit this but sea days are actually my favourite days on a cruise!
Cruise holidays can be quite busy, but a day at sea is the perfect opportunity to relax, recharge and enjoy all the incredible facilities on the ship. If I didn't have a cruise with at least two days at sea, I'd be really disappointed!
Here are some of my favourite things to do on a cruise ship during your days at sea…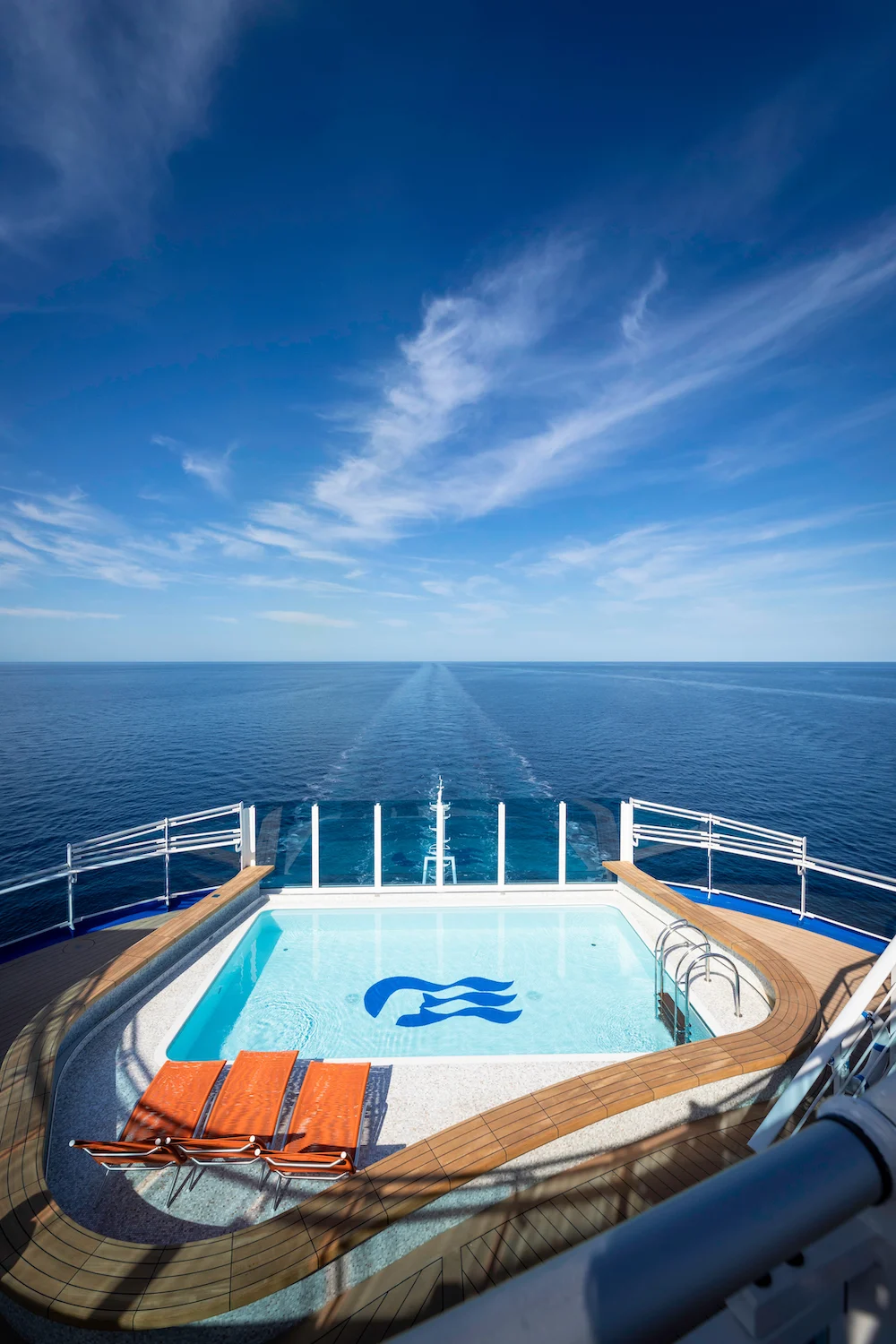 10 things to do on a cruise ship during sea days
#1. Have a balcony breakfast or breakfast in bed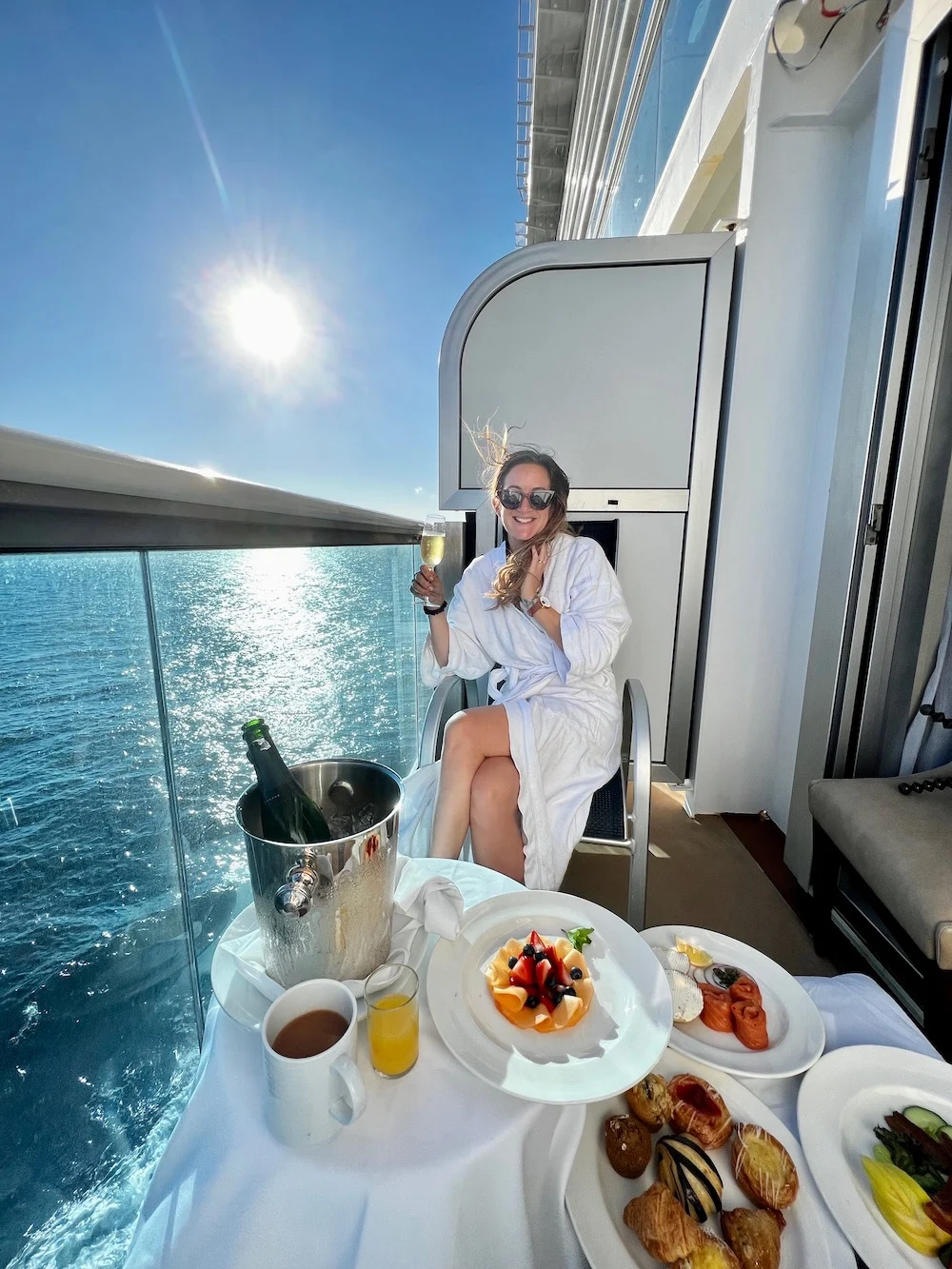 Breakfast in bed or, even better, breakfast on a sunny cruise ship balcony looking out across the sea, is the most luxurious way to start your day!
Days at sea can be as active or as lazy as you like so enjoy a leisurely breakfast, have a glass of prosecco and indulge in all your favourite breakfast goodies.
I loved sitting out on the balcony in my dressing gown, feeling the sea breeze while drinking coffee and eating smoked salmon and cream cheese on bagels. I then moved on to prosecco and sweet treats from the bakery and it was just the most gorgeous start to the day.
The Ultimate Breakfast at Sea costs $45 per couple.
#2. Use the gym and fitness classes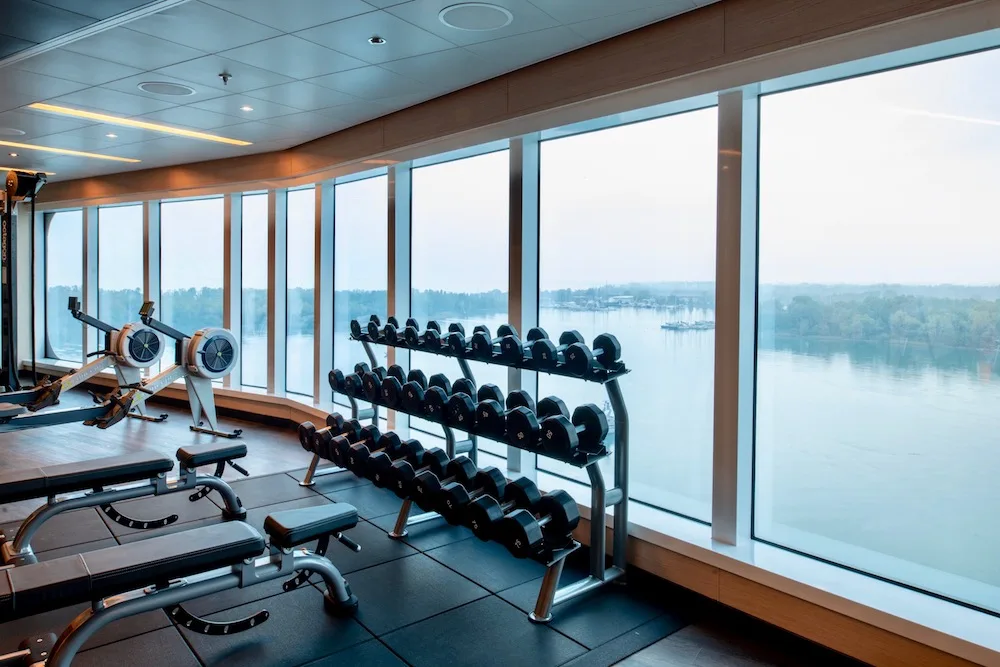 Using the gym and fitness facilities on a cruise ship is just something else! Working up a sweat and feeling those endorphins rush through your body as you look out to sea is incredible.
I was on the treadmill one morning when I spotted dolphins jumping through the waves in the distance! I'd love to say it motivated me to keep running but I jumped straight off the treadmill to watch them with my face pressed up against the window!
There are also lots of fitness classes to choose from with things like yoga, zumba and tai chi and classes that will introduce you to new fitness hobbies. It's a great chance to try something new with likeminded people who haven't tried it before too.
#3. Visit the spa and Enclave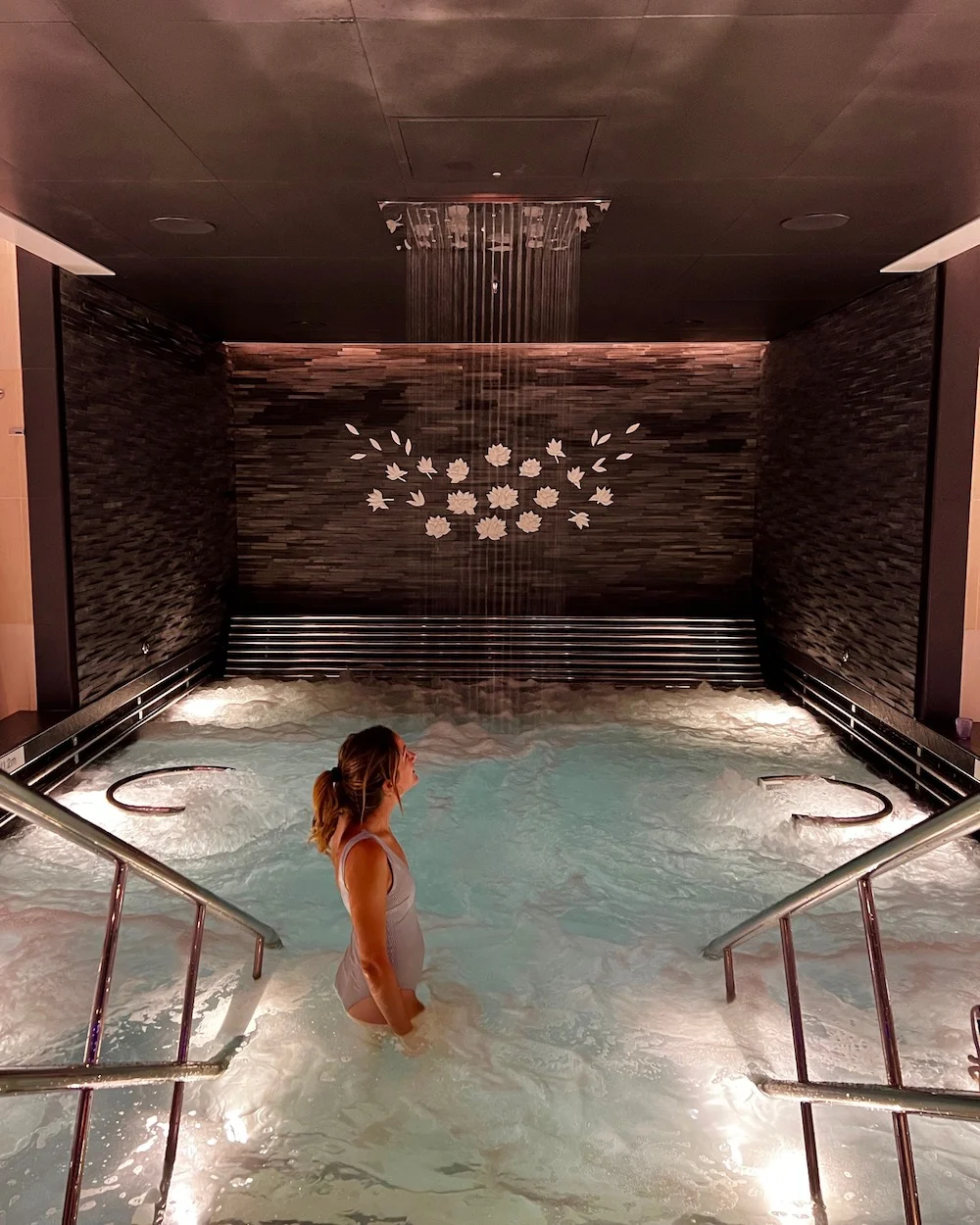 You can't go on a cruise without at least one spa treatment! This is THE BEST way to spend your day at sea. Just remember to book your treatment early because sea days will always be the busiest days at the spa.
I had a hot stone massage during my recent cruise and it was just delightful.
There's also an exclusive area of the spa called The Enclave which you must try. It's an enormous thermal suite with a hydrotherapy pool, hot stone beds and a sauna and steam room. It's dreamy in there.
The Enclave costs $49 for a day pass and spa treatments vary.
#4. Relax in the Sanctuary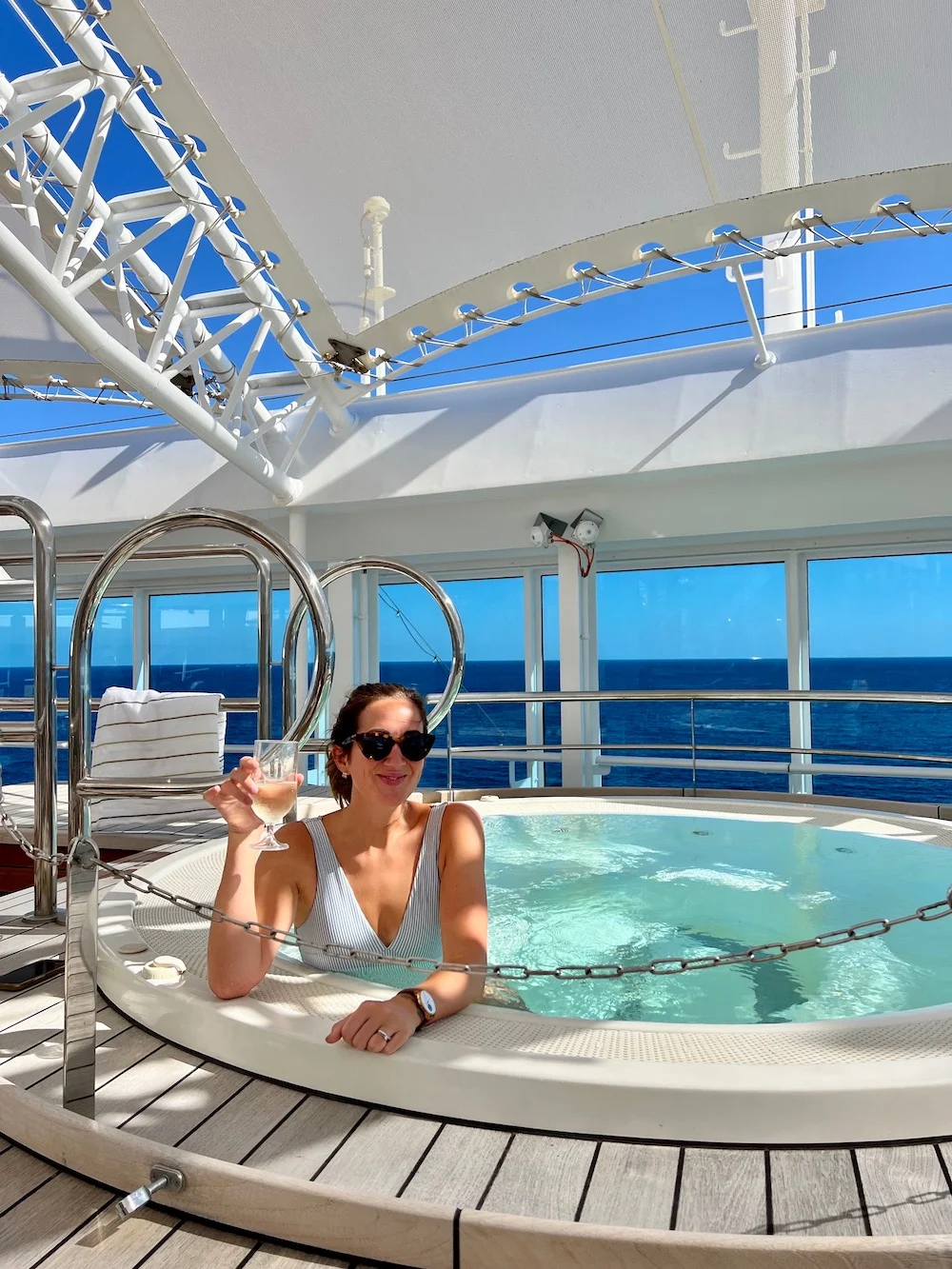 The Sky Princess has a special area called The Sanctuary. It's a relaxing adult-only suntrap at the front of the ship with luxurious loungers, private cabanas and hot tubs.
You have to book to go in here and numbers are limited so it's a tranquil and gorgeous space. Snacks and afternoon tea are served and you feel like you're on your own private ship as you sail across the sea.
It is $20 for half a day in The Sanctuary and $40 for a full day and you can reserve your own private cabana for $140 for half-day or $220 for full-day.
#5. Visit a new restaurant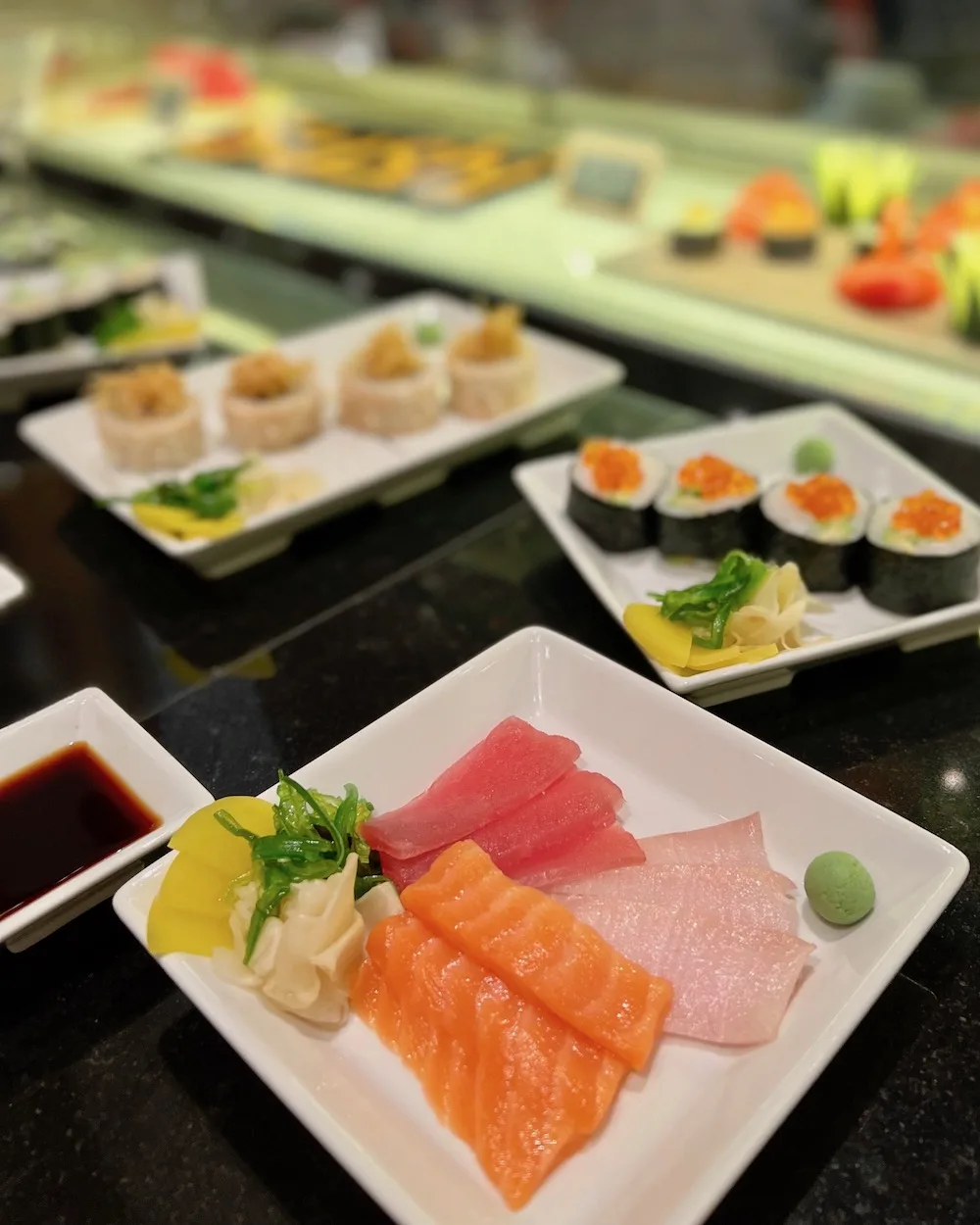 Cruise ships have so many bars, restaurants, cafes, buffets and snack bars that there's a high chance you won't have visited them all yet. Use your day at sea for a foodie tour around the ship to try some of the places you haven't eaten at yet!
Yes, it's absolutely fine to have double lunch, you're on holiday!
#6. Play mini golf or basketball
Make the most of the onboard sports facilities and brush up on your putting skills. The Sky Princess has mini golf and a basketball court on board!
#7. Attend a class and learn a new skill
The activities and classes will vary depending on your cruise but there are so many available. It's best to keep an eye on the app to see what's going on and book your place.
Classes can include things like cooking demonstrations, dance classes, wellness talks, star gazing, wine tastings, music lessons and more.
#8. Watch a film on the big screen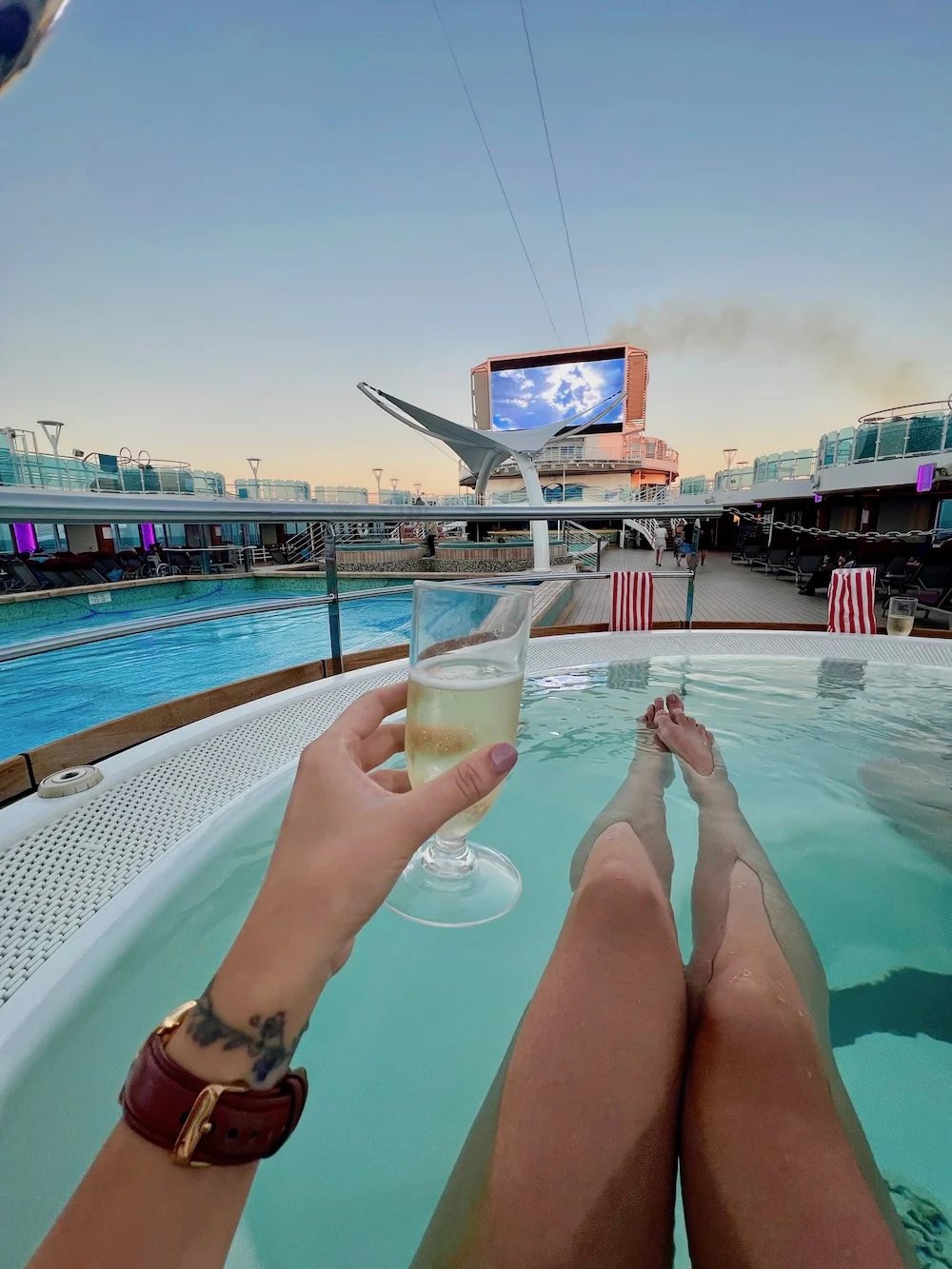 One of my favourite things on the Sky Princess was the outdoor movie screens. It was so cosy to lie under the stars on a sun lounger (sometimes with a warm blanket!) and watch a film on the big screen. You can nip to the bar and grab a drink and then lie back and enjoy the movie alongside the sound of crashing waves and twinkling skies above.
On the Sky Princess you can even watch an evening film on the big screen from one of the hot tubs!
#9. Visit the casino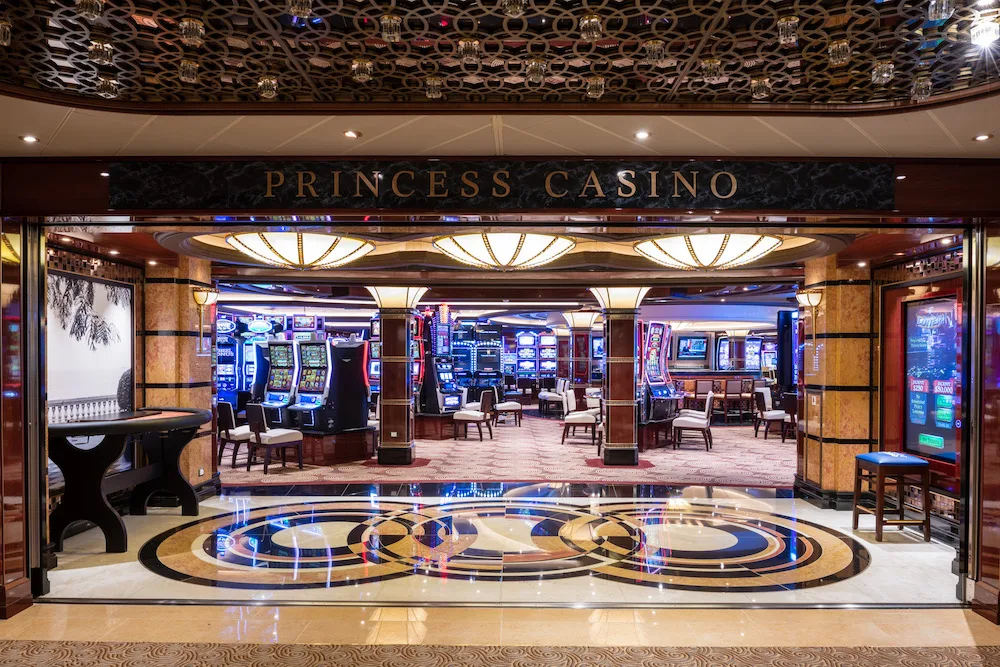 I always surprise myself with how much I love a casino! Whether you choose the slot machines, a lighthearted game of bingo or a more serious round of cards, it's always great fun.
#10. Catch a show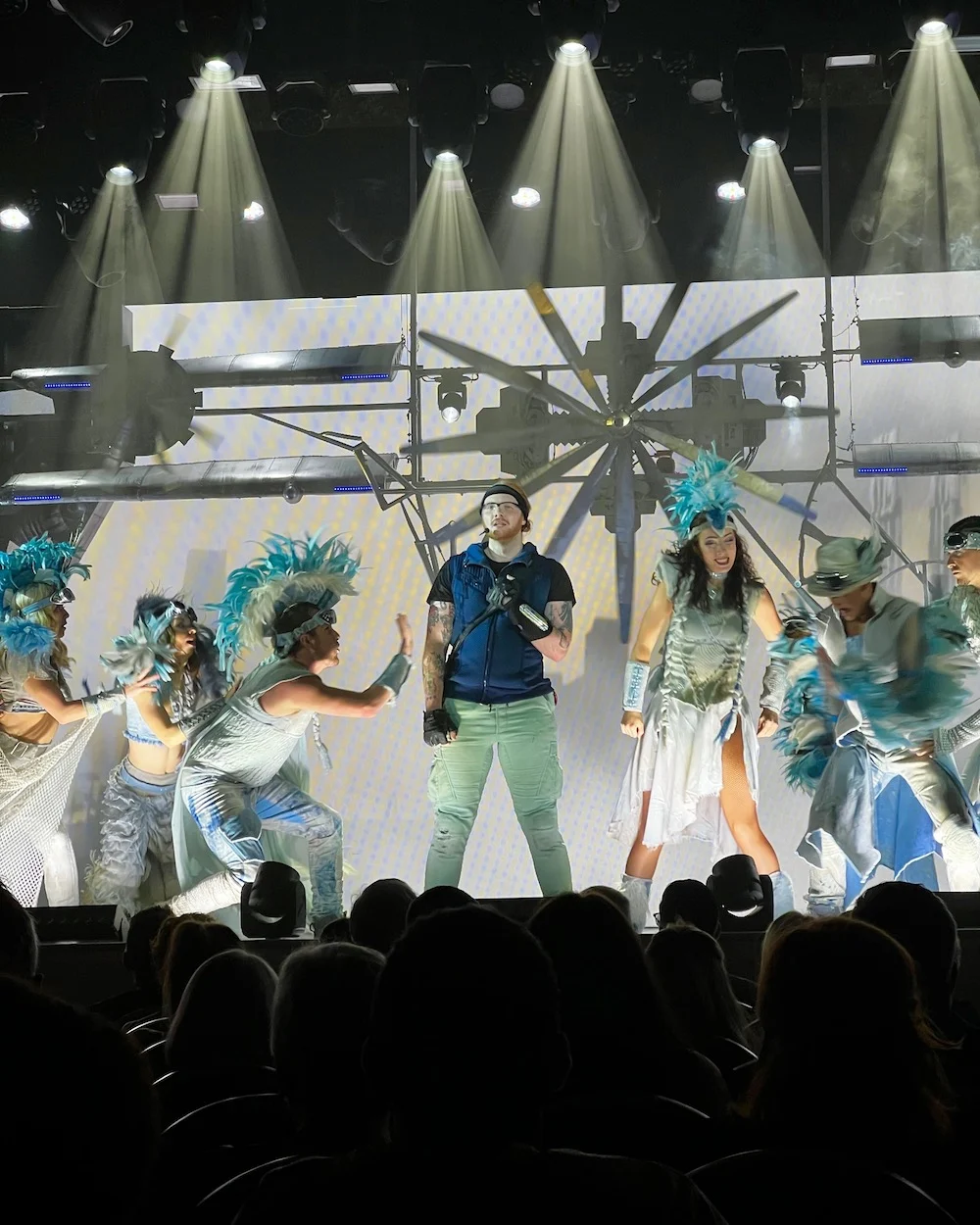 Finish your sea day with a show in the theatre where incredible performances are brought to the sea. The quality of these shows are amazing and they really are like something you'd see in the West End.
These are just some of the things you can do during a sea day so, even if you're the active busy type, you definitely won't get bored! If you're anything like me, you're going to wish you had a few extra days at sea because you still won't get around all the things there are to do.
If you have any more questions about sea days on a cruise ship, just pop a comment in the box below and I'll get straight back to you!
Useful links
This is the exact cruise I did, just departing in 2023
Here are all the Princess Cruises on the Sky Princess departing from the UK next year
Here's the Sky Princess homepage to find everything you need to know.
You can find all of my cruise blog posts here.