I've been to Barcelona a few times, and with each visit I discover something new to love about this vibrant city. Barcelona is a great weekend break destination, with loads to keep you busy if you want to stay in town, as well as plenty of tours in Barcelona and beyond that will help you scratch the surface, and maybe even learn something new.
I'm a big fan of taking tours while I travel, especially tours in Barcelona if it's a short weekend break. A tour helps you see and do so much more than you could alone and it means you don't need to research and plan a busy itinerary because a tour will help you see everything. If it's your first time in Barcelona then I recommend taking a walking tour. Check out the free Barcelona walking tours or try a cycling tour which you do need to pay for but I think it's worth it to see more without getting too tired!
So if you're looking for the best tours in Barcelona, I've got you covered! These aren't your average tours, and almost all of them offer something that you probably wouldn't be able to do without the help of a local guide. I'm all about having a local or unique experience that you can't wait to tell everyone you know about when you get home!
Read more: A local's guide to the Gothic Quarter Barcelona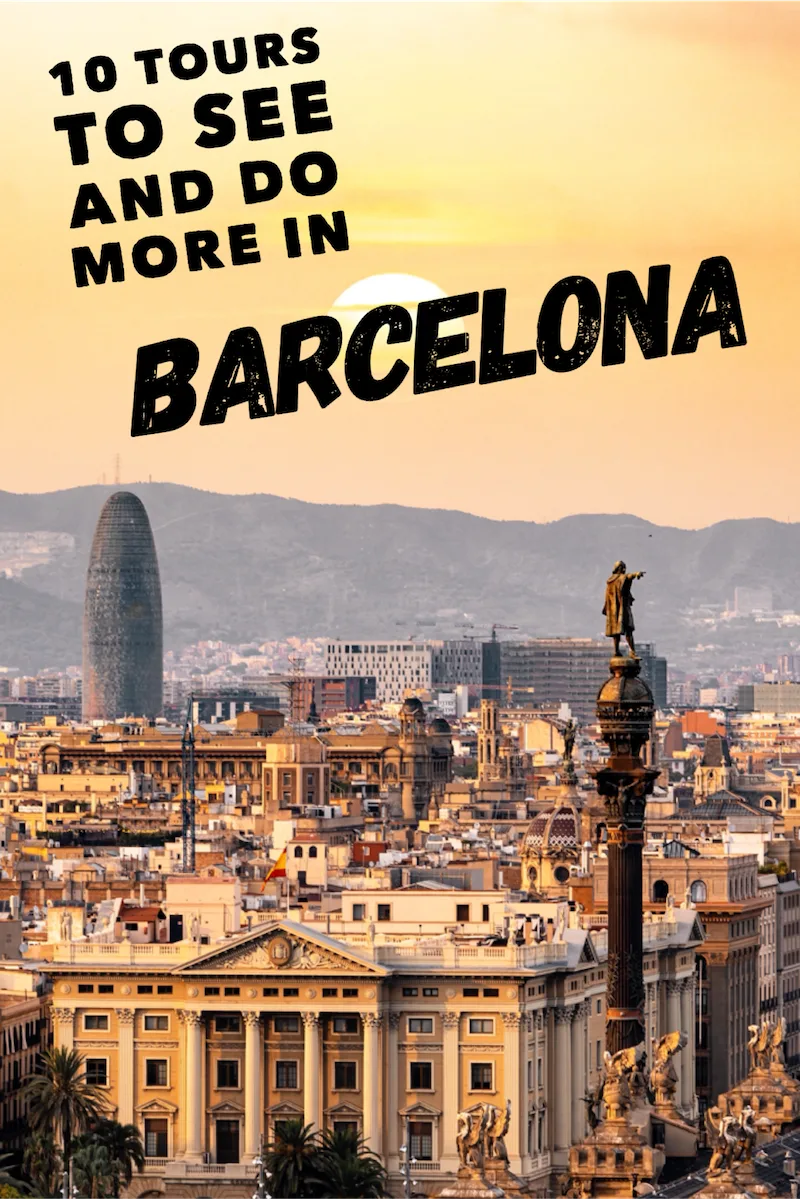 Top 10 tours in Barcelona and Beyond
Duration: 6 hours
Cost: from £59.42 per person
Barcelona may be a city break destination, but that doesn't mean you can't enjoy the stunning coastline of Costa Brava, too. This adventure tour will take you out onto the water to kayak on the stunning, clear water, surrounded by pristine beaches, volcanic cliffs and enchanting caves. Then snorkel amongst the marine life and colourful coral for an afternoon you'll never forget.
The tour includes water, a picnic lunch, and a round of sangria or beer when you get back to Barcelona. This is a great tour from Barcelona for those who love the great outdoors and want more than just a city break.
Duration: 1 day
Cost: from £49.23 per person
Located just outside of Barcelona, Montserrat is considered an area of outstanding natural beauty and is a destination of religious significance. Set high in the mountains, there are Abbeys to explore, museums to marvel at, and a Holy Shrine dedicated to the Virgin of Montserrat, who some believe has performed miracles over the years.
"Tot" Monserrat translates to "All Monserrat," and this ticket covers just that: your transport on the Barcelona metro, return train ticket to Monistrol de Montserrat and back from Playa Espanya, the rack railway or the cable car of Montserrat, and unlimited use of the Santa Cova funicular. You also get a tour of the Benedictine monastery, access to the Museo de Montserrat (where you can see works by Dali, El Greco, Miró, Picasso, and Tàpies), and a Catalan lunch at the restaurant on Montserrat.
This tour from Barcelona may not offer a unique angle, but it certainly is hassle-free, and good value for money.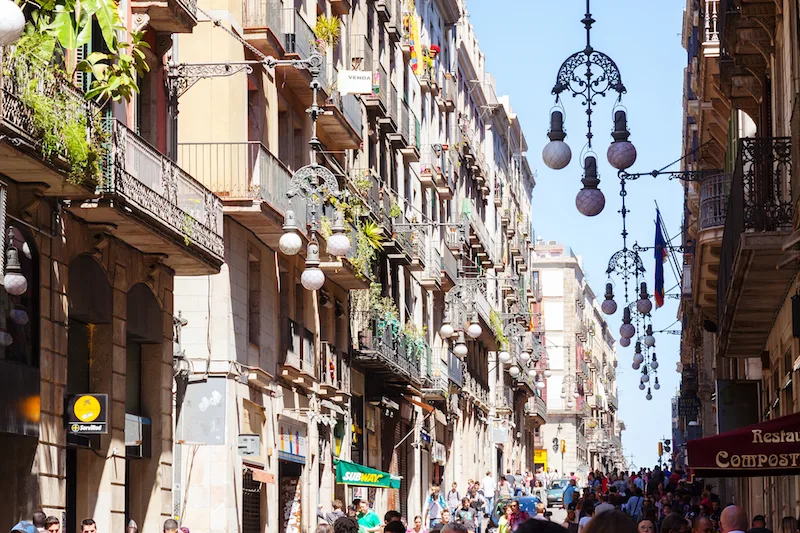 Duration: 4 hours
Cost: from £90.96 per person
This is one of the most unique tours in Barcelona, as you get to see the city from three perspectives: by land, sea and air…and all in half a day!
You'll begin with a walk through the old town, where you'll explore the Gothic Quarter, the Jewish Quarter, La Rambla, La Boqueria market, and much more on your way down to Port Vell. From there, you'll board either a Turkish Goleta or an Eco-boat, on which you'll explore the coastline, enjoying views across the city and beyond.
Once you're back on dry land, you'll be transferred to the heliport where you'll be whisked into the sky for a bird's eye view of Barcelona, the Olympic port and village, the Besòs River mouth, and much more.
Duration: 3 hours
Cost: from £32 per person
Nothing screams Barcelona more than delicious food and drink, and with this Barcelona tour you'll learn how to make an authentic paella, using all-local ingredients.
The tour is led by a professional chef, who will show you around Barcelona's oldest (and arguably the best) food market that dates back to the 13th century, Mercat de Sant Josep de la Boqueria. Here you'll collect the fresh ingredients you need to make your seafood paella.
Once you have everything you need, you'll walk through the old town to reach a private kitchen and dining room. The chef will demonstrate how to prepare and cook a traditional paella, and to make sure you don't go hungry while you wait for it to be ready, you'll make (and then eat, of course!) a selection of hot and cold tapas, while mixing and sipping delicious sangría.
At the end of it all, sit down to enjoy the authentic paella, and come away knowing exactly how to make it at home!
Duration: 2 hours
Cost: from £32 per person
Experience the passion, the colour and the romance of a flamenco show right in the heart of Barcelona with this short tour. It's perfect if you want a taste of traditional flamenco dancing, but you also want to go do your own thing at night.
Meet your tour guide in Barcelona's Gothic Quarter and walk together to the theatre for a fiery 30-minute flamenco show, and afterwards enjoy a spread of local tapas and jugs of sangria. It's the perfect way to start a night out in Barcelona! This is also a great option if you're travelling solo and want a night out. You'll often find the tour group will stick together after the tour ends so you'll have a ready made group for a night out.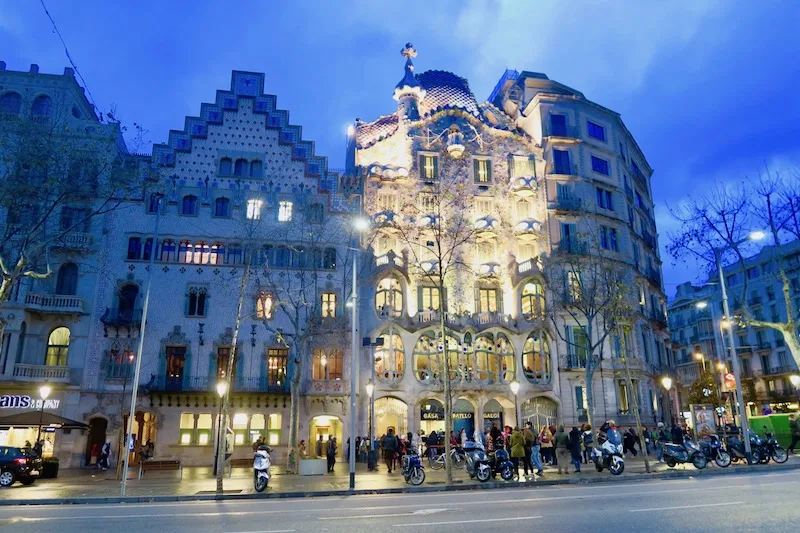 Duration: 2 hours
Cost: from £14.63 per person
There are plenty of walking tours in Barcelona, but if you like dark tourism, this is the one for you. This city might be a popular and fun destination to visit now, but it has a sordid past, and that's what you'll experience on this dark history walking tour.
Wind your way through the streets of medieval neighbourhoods El Born and La Ribera, and learn about dungeons and public executions, tortures and victims of the Spanish Inquisition…all in picturesque surroundings, of course.
Duration: 6 hours
Cost: from £67.65 per person
Spend a day on this tour from Barcelona to the Penedès wine region, which enjoys the perfect climate for winemaking, thanks to the sun, the Mediterranean Sea, and the mountains.
On this tour, you'll visit two wineries: the first has been cultivating vines for over 2,000 years, and features an underground cellar. Here you'll learn about the winemaking process from an expert winemaker, and afterwards you'll have the chance to taste four different wines in the tasting room.
The second winery specialises in cava, a sparkling wine that's popular all around the world. Taste four kinds of cava at this winery, accompanied by matching tapas that enhance the wine's flavours.
Duration: 12 hours
Cost: from £117.93 per person
There aren't many places in the world where you have the chance to visit three countries in one day, but Barcelona is one of them!
You'll set off early on this tour from Barcelona, stopping in the medieval Catalan village of Baga before crossing the border into France. You'll be given recommendations, and free time to explore and eat lunch in the ancient spa town of Ax-Les-Thermes. From there, you'll drive over the Pyrenees to the small country of Andorra.
Stop to pick up a (tax-free) souvenir before beginning your journey back to Barcelona, returning in time for dinner!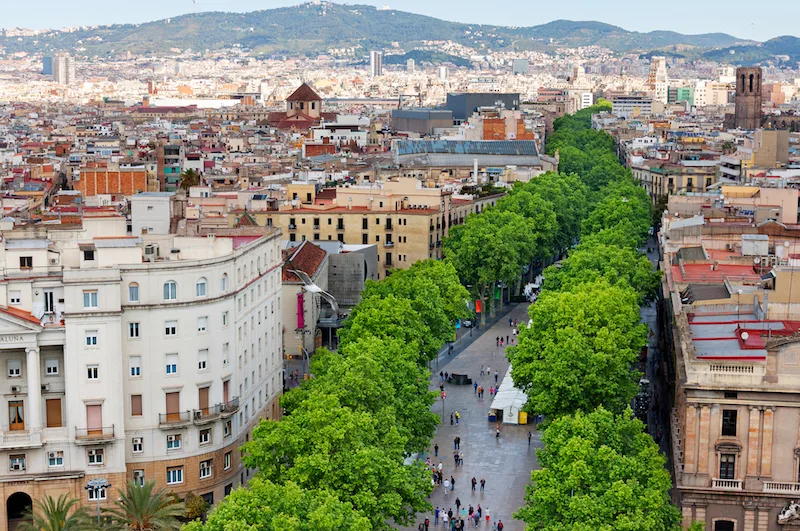 Duration: 2-6 hours
Cost: from £32 per person
Not your average Barcelona bike tour, this one's responsible and sustainable, thanks to handmade, fair trade bamboo bicycles.
Choose your tour length, and enjoy a private tour of the city, tailored to your own tastes. You will see the old port, Barceloneta Beach, the Olympic Village, the Parliament of Catalonia, Parc de la Ciutadella, Arc de Triomf, and the Gothic Quarter. Longer tours will also stop past the Sagrada Familia, the Gràcia district, Gaudi's La Pedrera and Casa Battló, and Plaça Espanya.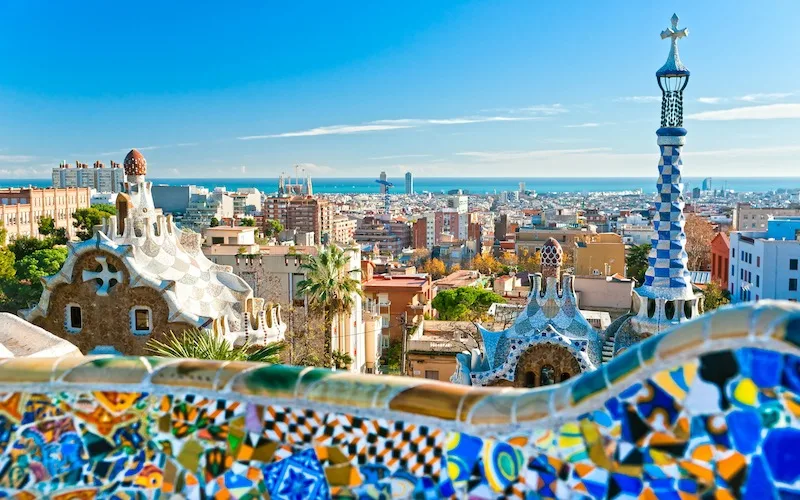 Duration: 4 hours
Cost: from £86.84 per person
Once again, this isn't one of the tours in Barcelona that offers something you couldn't do yourself, but it will save you time, which sometimes on a city break is essential, especially if you just have a weekend in Barcelona.
Rather than queuing for the incredibly popular Gaudí attractions, the Sagrada Familia and Park Güell, this tour offers skip-the-line tickets to both, as well as a guide and transport between the two.
After being given an introduction to Gaudí, you'll explore the four façades of the Sagrada Familia, and step inside the unfinished basilica to explore its dive aisles. From there, you'll be transported in a luxury car to Park Güell where you'll learn of its history and discover classic Gaudi designs such as the serpentine bench and colonnades.
And a final one I couldn't leave off the list is the Barcelona Instagram tour. This is a new tour but it's great for anyone who likes their souvenirs in the format of a photo! You'll be guided around Barcelona's most Instagramable spots with a professional photographer who will snap your photo ready for your grid. I've done photo tours like this before and it's such a great way to see a city and also get some lovely souvenirs that you can print out and treasure forever.
There are so many tours to take in Barcelona and I recommend checking out Get Your Guide for some more. I always book my tours through Get Your Guide because I know they're reliable, they have loads of choice and the price is always really competitive. I also like to book my tours before I arrive in a destination. It makes me feel organised but also helps with budgeting as I've usually paid for all my main expenses before I arrive.
Another great idea is to take a train from Barcelona to Salou and combine your city break with a beach holiday. Check out my guide to Salou here.