If you're looking for Corinthia Hotel Budapest reviews then here is my honest hotel review from my stay there. If you'd like to read more about my trip to Budapest then you can see my Budapest travel blogs here. Budapest is one of my favourites places for an affordable city break so I hope you have a great time! Feel free to contact me on Instagram for any other tips or recommendations!
Before I'd even booked my flight to Hungary I knew I wanted to stay at the Corinthia Hotel in Budapest. I'd seen photos of the grand façade of the hotel lit up at nighttime and looking incredibly luxurious. I dug a little deeper and saw the enormous, sweeping staircase that welcomes you into the heart of the hotel, the spa with the beautiful stained-glass windows and the huge columns and the elegant décor throughout the hotel.
Yes, if I was ever going to Budapest, this was where I'd stay!
And when I finally made it to Hungary's capital I made sure to book two nights at the Corinthia Hotel.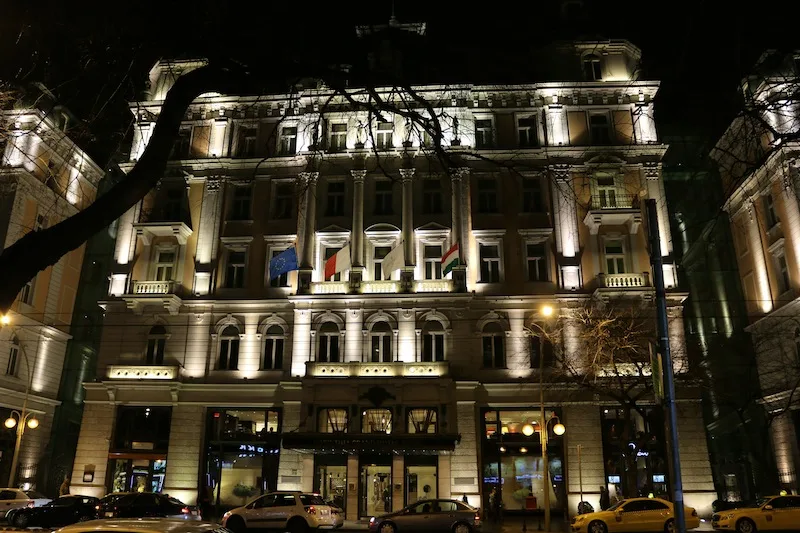 First Impressions
The Corinthia Hotel in Budapest is all about the first impression. The building dominates the street, despite the fact that it's a street filled with beautiful buildings. They may be beautiful but the Corinthia stands out as the grandest and the most inviting.
Doormen with shiny shoes and top hats open the double doors in a grand and welcoming gesture as you're drawn into the hotel. The wide staircase takes your eyes up to the enormous reception area where a huge table is covered with vases of lilies, filling the air with that gorgeous fresh smell that it impossible to replicate unless you genuinely have 100 lilies.
Check-in was quick, efficient and friendly and we swapped from a king size bed to a twin room with no fuss at all. A porter offered to bring our bags to the room but we politely declined due to having no small notes and not wanting that awkward 'how do we tip him? Can we ask for change' kind of moments.
We passed the lounges, a restaurant, a bar and another bar on our way to the lifts while constantly muttering about how huge the place was.
We made our way to our room without seeing another person – but for the size of the hotel we knew there must have been hundreds of guests. The enormously wide corridors were big enough to hold yoga classes (yes, that was Lauren's first impression – 'Wow, this corridor is huge, you could have a yoga class in this corridor!') I think it was the mirrors, the open space and the relaxed and peaceful atmosphere that was reminiscent of a yoga studio!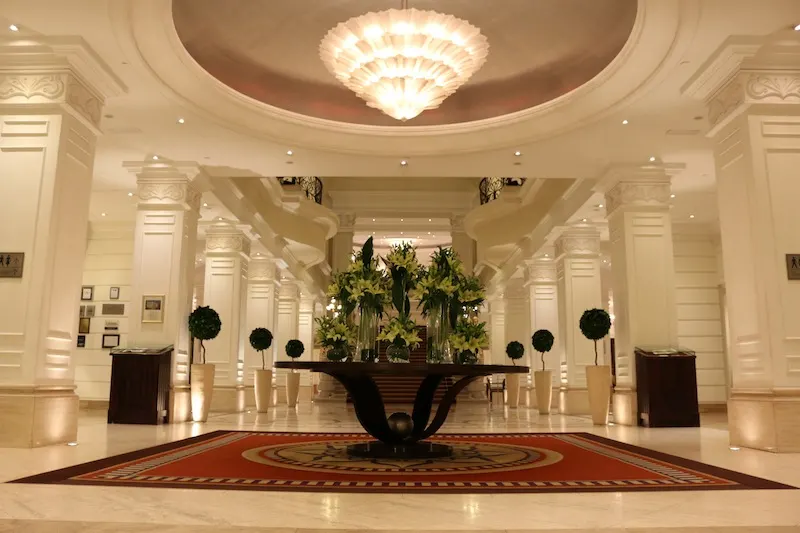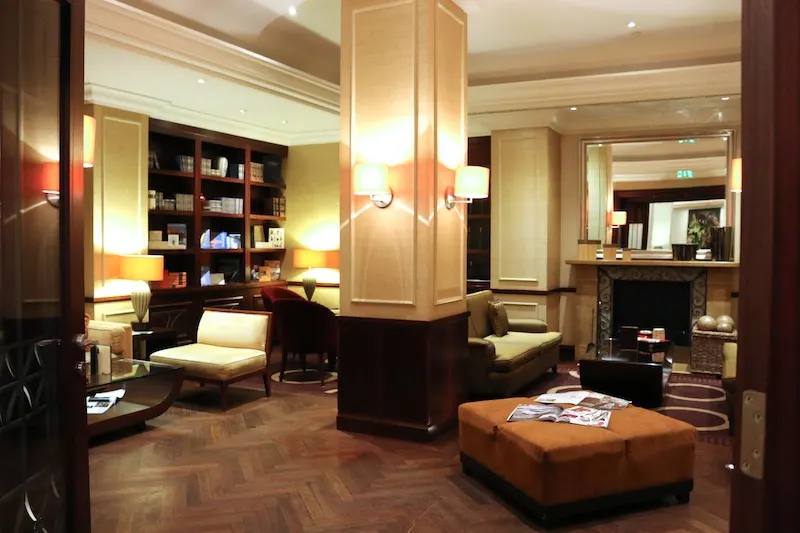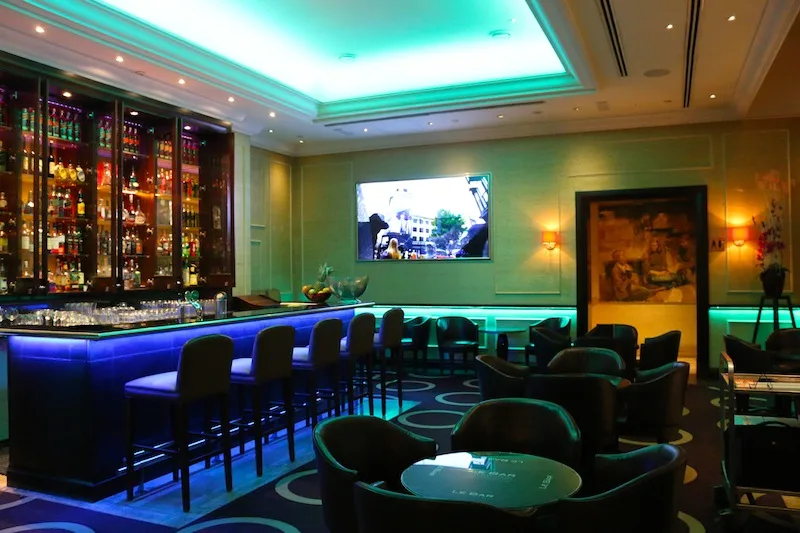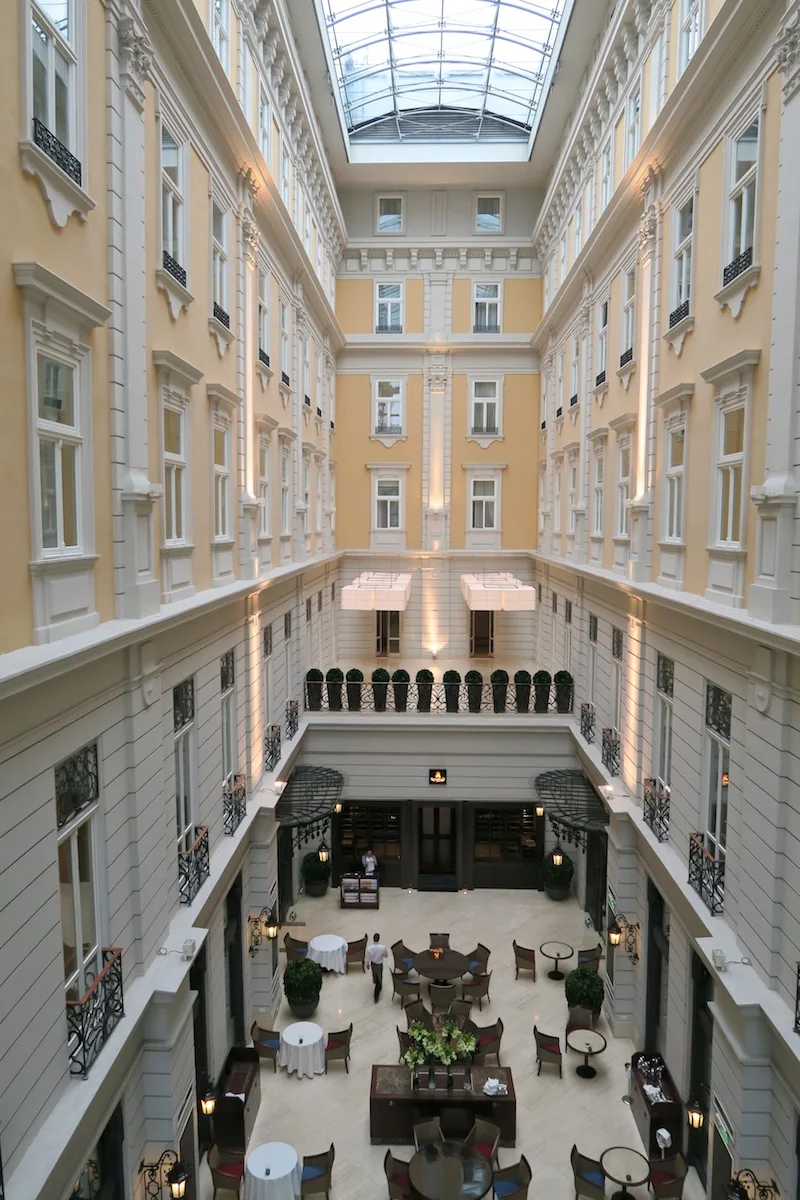 Our room
After being blown away by the sheer size and splendour of the hotel I was a little disappointed when we reached our room. It was fine, just very average.
It ticked all the necessary boxes:
Comfy beds
Nice sheets
Soft, fluffy towels
A good sized bathroom with a great shower and nice toiletries
Slippers and bathrobes
Plenty of storage space
Extra pillows and blankets
Tea, coffee and hot chocolate making facilities
An overpriced but well-stocked mini bar
Enough plugs and a hairdryer next to a mirror
Free wifi
TV with plenty of channels
So we should have been happier but the room really didn't have any wow factor.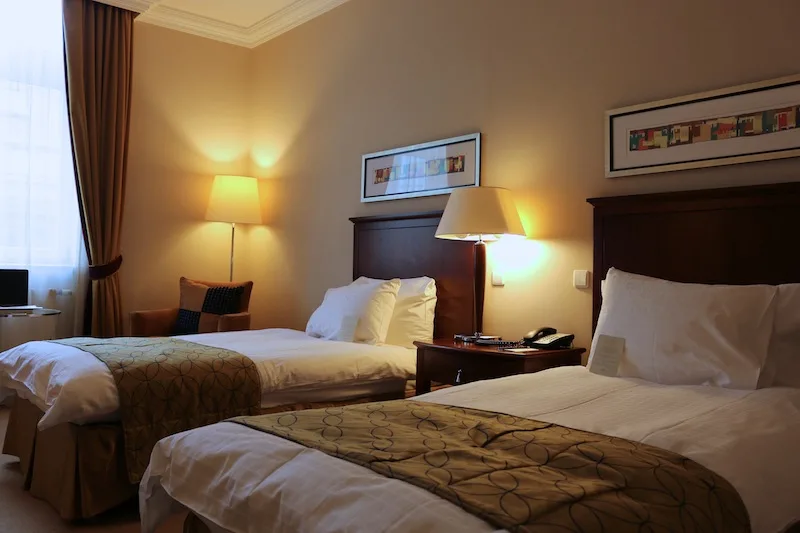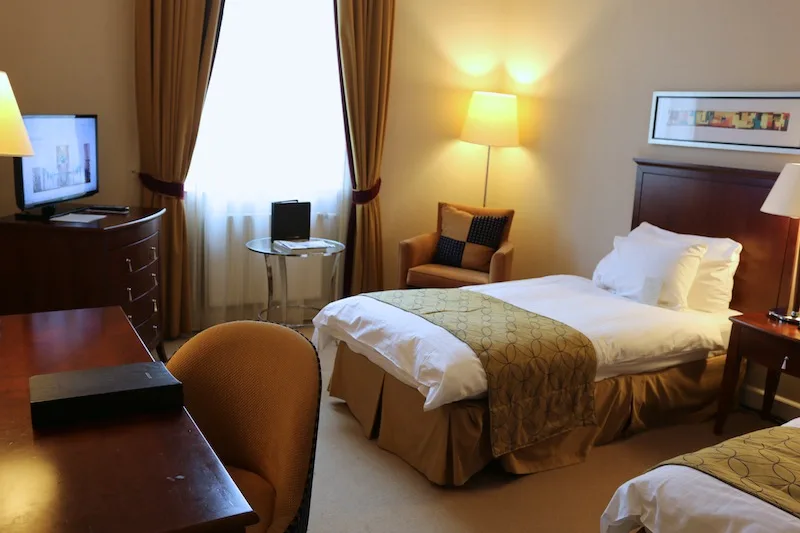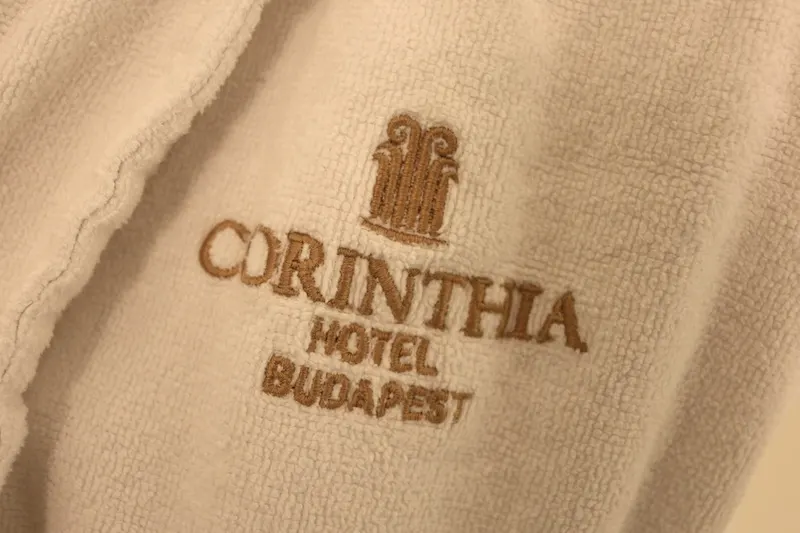 The spa at the Corinthia Hotel Budapest
The room may have lacked in wow factor but the spa certainly made up for it. The Royal Spa names itself as the best spa in Budapest. The 15 metre swimming pool at the center of the spa is the main attraction and you can't help but feel smug to be staying here as you swim beneath the stained glass windows.
The arches to the side of the pool lead through to areas to relax where comfortable loungers and stacks of papers and magazines are waiting. Jacuzzis are tucked away beneath those arches and if you follow the narrow corridors you'll find treatment rooms, experience showers, saunas and steam rooms.
We visited at 11am on a Saturday morning and the spa was surprisingly quiet. We found loungers with no problem and were usually the only people in the pool. Thanks to the pillars and arches, you can't actually seem many people in the spa which I think makes it feel quieter. It was warm and relaxing and peaceful and if we hadn't had to check out I would have stayed in their all day.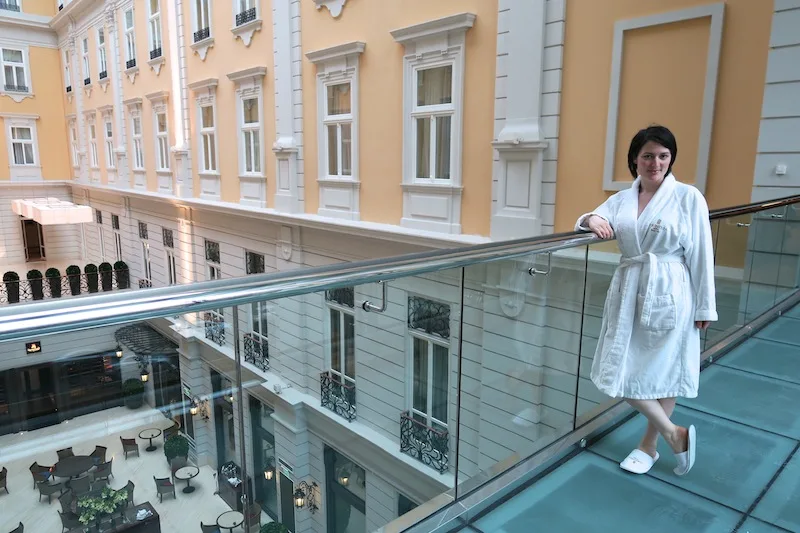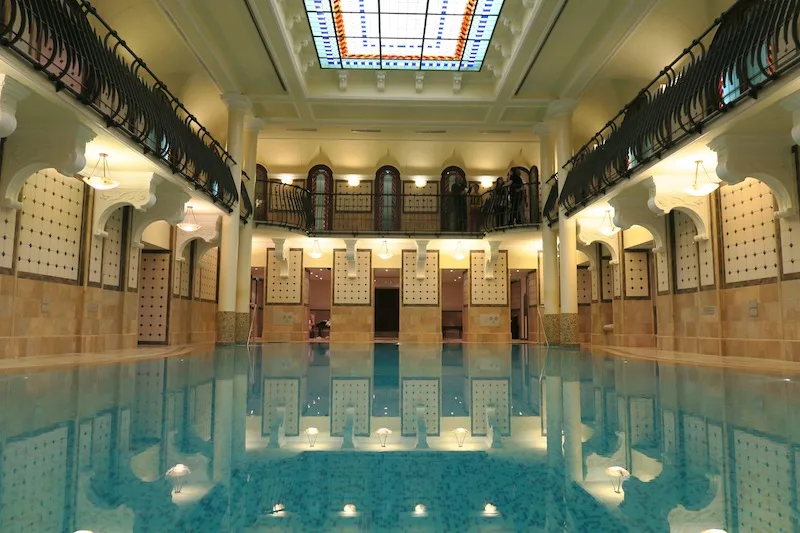 Eating and Drinking
We didn't eat much at the Corinthia Hotel as it's pretty expensive in comparison to other places in Budapest. We didn't have breakfast included in our rate and thought the €30 price tag for the buffet breakfast was pretty steep for an affordable city like Budapest. We did have a delicious (and cheap) Bircher muesli from room service and I can't fault that.
The is a café attached to the side of the hotel called Szamos Marcipan Royal Café. We'd read fantastic reviews so excitedly headed there for breakfast to find that it was a pretty standard café and the cheese omelettes didn't really taste of anything at all. The coffee and fresh bread basket was pretty tasty but unless you wake up starving hungry and want a cheap breakfast then I'd give it a miss.
We had a drink in the lounge bar and the service was impeccable. They didn't have any soft drinks on the menu that I fancied so they made me a large pot of fruity tea and served it with ice and different syrups and biscuits. The overall presentation was so gorgeous that it made it taste even more delicious.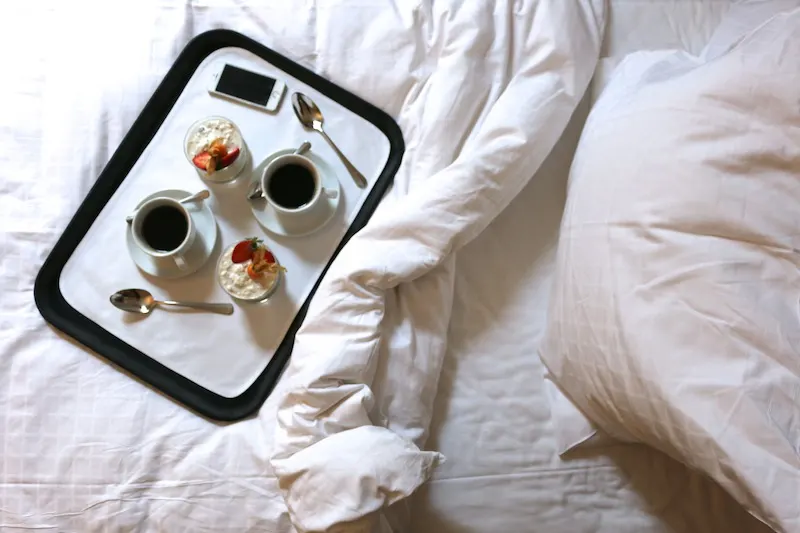 Overall Impression
The Corinthia Hotel in Budapest has three main selling points:
The central location
The wow factor from the beautiful exterior and grand lobby
The spa
These three points were good enough that they outshone the fact that the room was pretty disappointing.
If you're visiting Budapest and you're planning to have a busy trip here then the Corinthia is a great place to stay as you won't be spending much time in your room anyway. I'm guessing this applies to most people – especially in a city like Budapest.
The spa is a fantastic place to relax and hotel guests have unlimited access so rather than chilling out in your room you could just go to the spa.
---
I booked the Corinthia Hotel in Budapest through EarnAway, a hotel comparison website that also allows you to earn cashback through your booking and the customer receives the commission. You can check out more reviews on TripAdvisor.
---
Read more about Budapest
10 cheap places to stay in Budapest
The Travel Blogger's Guide to Budapest
16 free things to do in Budapest
50 photogenic reasons to visit Budapest
10 awesome things to do in Budapest