How to pack light for winter travel
I've shared so many tips to help you pack light for various holidays but one question I'm frequently asked is, 'How do you pack light for winter travel?'
I'll admit that it's not as easy to pack light for a cold trip where you'll need lots of layers to stay warm. It's easy when you're wearing a bikini and a sundress everyday, but so much harder when you want chunky boots, cosy jumpers and thick layers!
But is it possible? Can you pack light for winter travel?
Of course you can! And I'm here to show you how it's done.
To summarise
You need the warmest thermal base layer possible
And a super warm coat
Then you can pack thin and light fabrics for your outfits on top
Simples
Packing for winter travel with just carry on luggage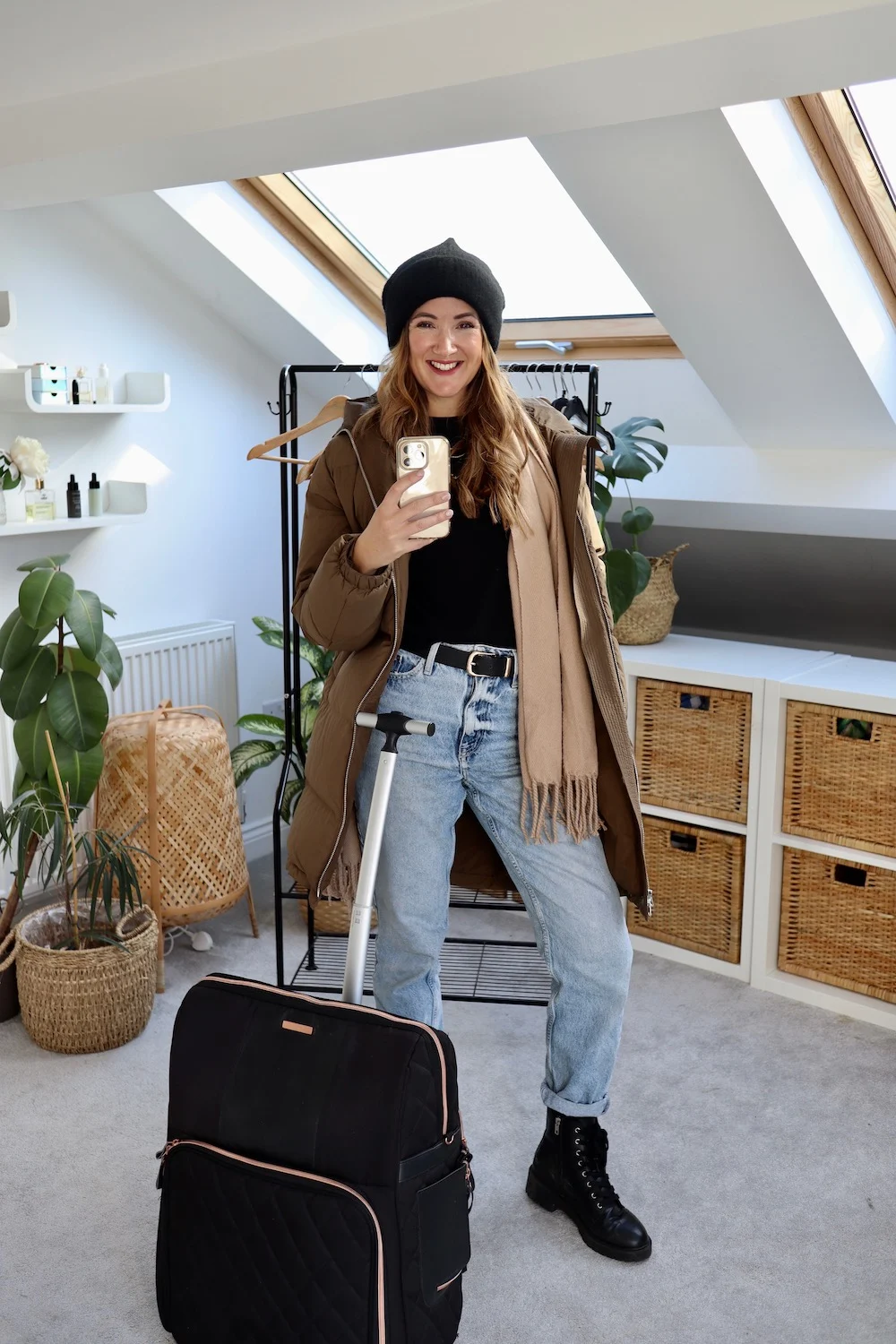 I usually travel with just the 'free' under-the-seat luggage you get with budget airlines like Ryanair and easyJet. This is a small, personal bag (I use The Travel Hack Backpack) and most people think you can't fit a lot in a bag like that but you really can!
If I have more stuff then I'll take The Travel Hack Pro Cabin Case which can be taken on board as carry on luggage. For this example, I have pack 12 warm, cosy and stylish outfits inside this suitcase (with space for all your extras!)
Last winter I took four trips to cold holiday destinations using just The Travel Hack Backpack and I managed to fit everything in there perfectly.
Here's how I pack light for winter travel…
Packing for winter top tips
Start with a warm base layer/ thermals / long underwear
Base layers are key to being able to pack light for winter travels! Whatever you call them, whether it's thermals or base layers or long underwear.
Thermal base layers don't take up much space in your luggage but keep you so warm, so they're vital for a cold weather trip!
Skin-toned fleece tights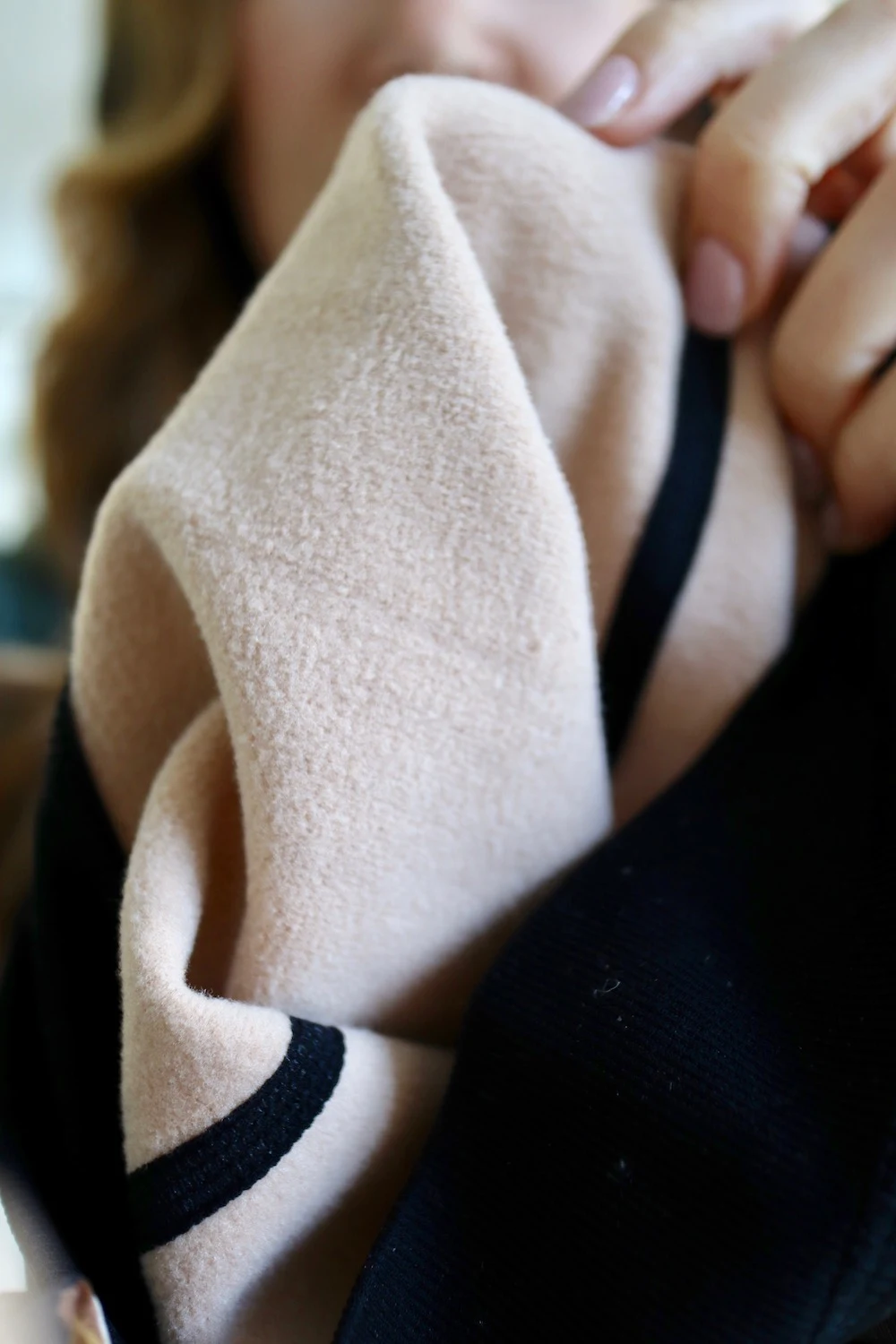 I like to wear skin-toned fleece tights. You may have seen these as they go viral all over social media each winter! They look like opaque tights but they're actually thick and fleecy. They're great for wearing under dresses and skirts – which are smaller and lighter to pack compared to bulky jeans and other warm trousers. These are nice if you still want to have some cute or stylish outfits and not look too 'outdoorsy' for your whole winter trip.
Thermal top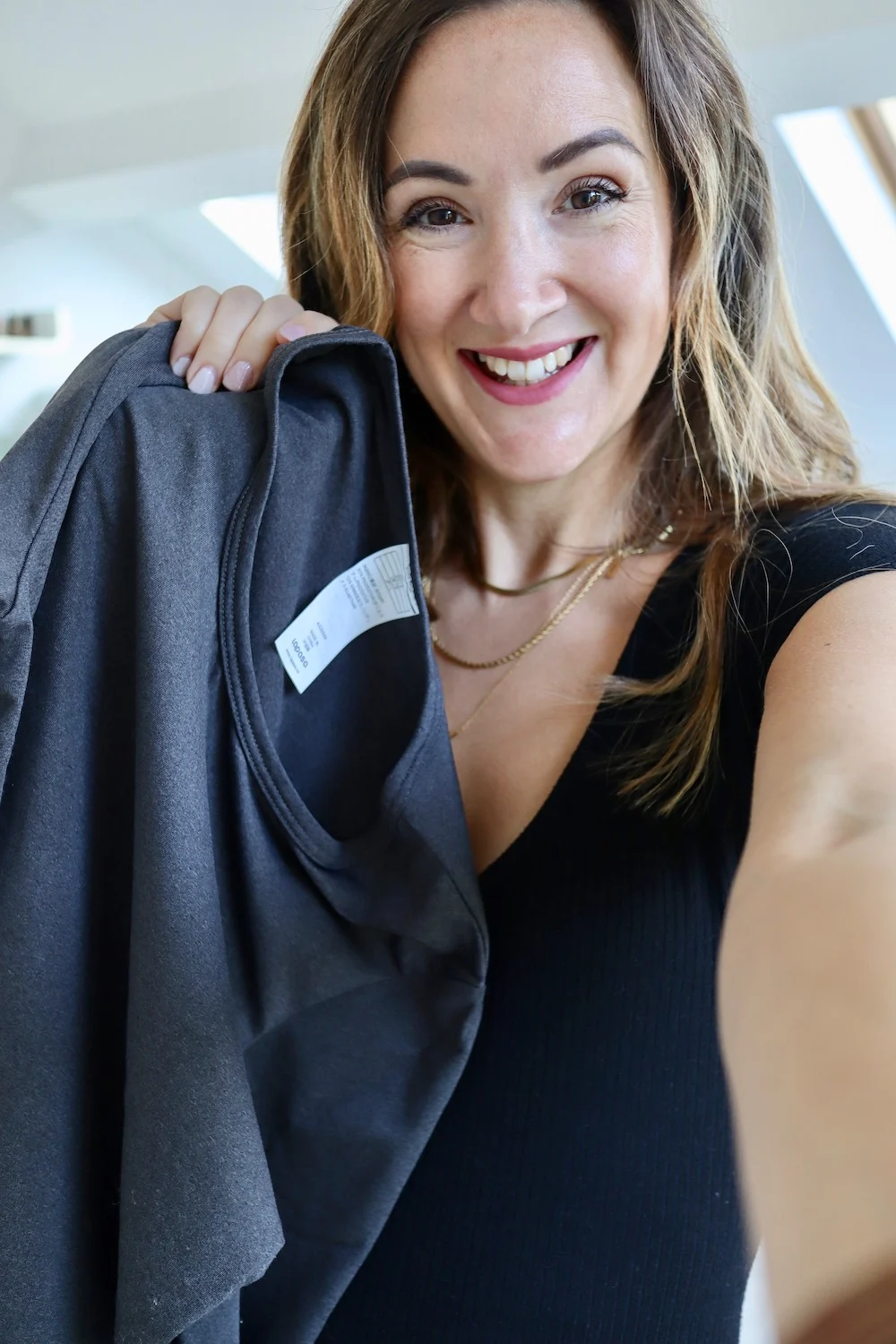 You can then wear a thermal top as your top base layer. The kind of thermal top you choose will be personal preference and depend on your outfits. Where possible I'll go for a scoop neck, long sleeve thermal top. The scoop neck means you won't see it beneath my 'real top' and the long sleeves are warmer, but they're not always possible if you're wearing something with shorter sleeves.
I have one scoop neck thermal top and some thermal vests with short sleeves.
If it's really cold I'll wear both thermal tops together. In most of these photos I have two thermal tops on! For the outfits with short sleeves I have just one thermal top.
No matter what you put on top of these toasty base layers, you're going to be so warm!
You can then wear whatever you'd wear in the spring or autumn, such as skirts, dresses and light trousers – all outfits that won't take up too much space in your luggage.
The thermals I recommend…
Marks & Spencer's Heatgen Plus Thermal range is my absolute favourite. Their thermals are so warm and cosy but also really thin and don't feel bulky beneath your other clothes. They're also a really good price for the quality and I find them to be just as good as the more expensive outdoor brands.
This fleece lined thermal top from M&S is dreamy.
As are the fleece lined thermal leggings!
Choose a great winter coat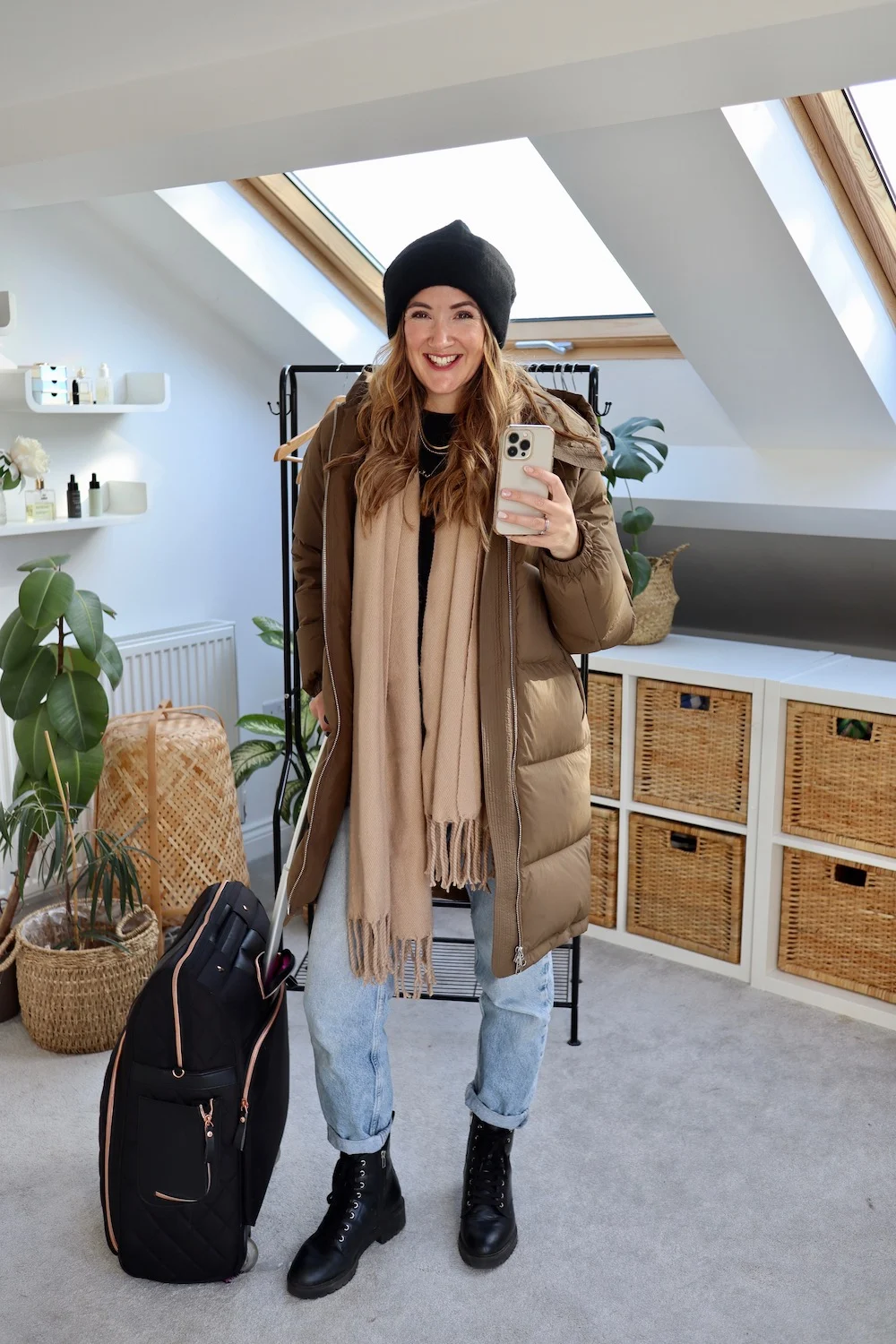 The next step is to make sure you've got a really warm and preferably waterproof coat. I have the Arket Mid-Length Down Coat (which is a bit spenny but I know I'll be wearing this for years and years!)
Personally, I'd rather travel with one warm coat than take lots and lots of layers.
Now is NOT the time for lots of layers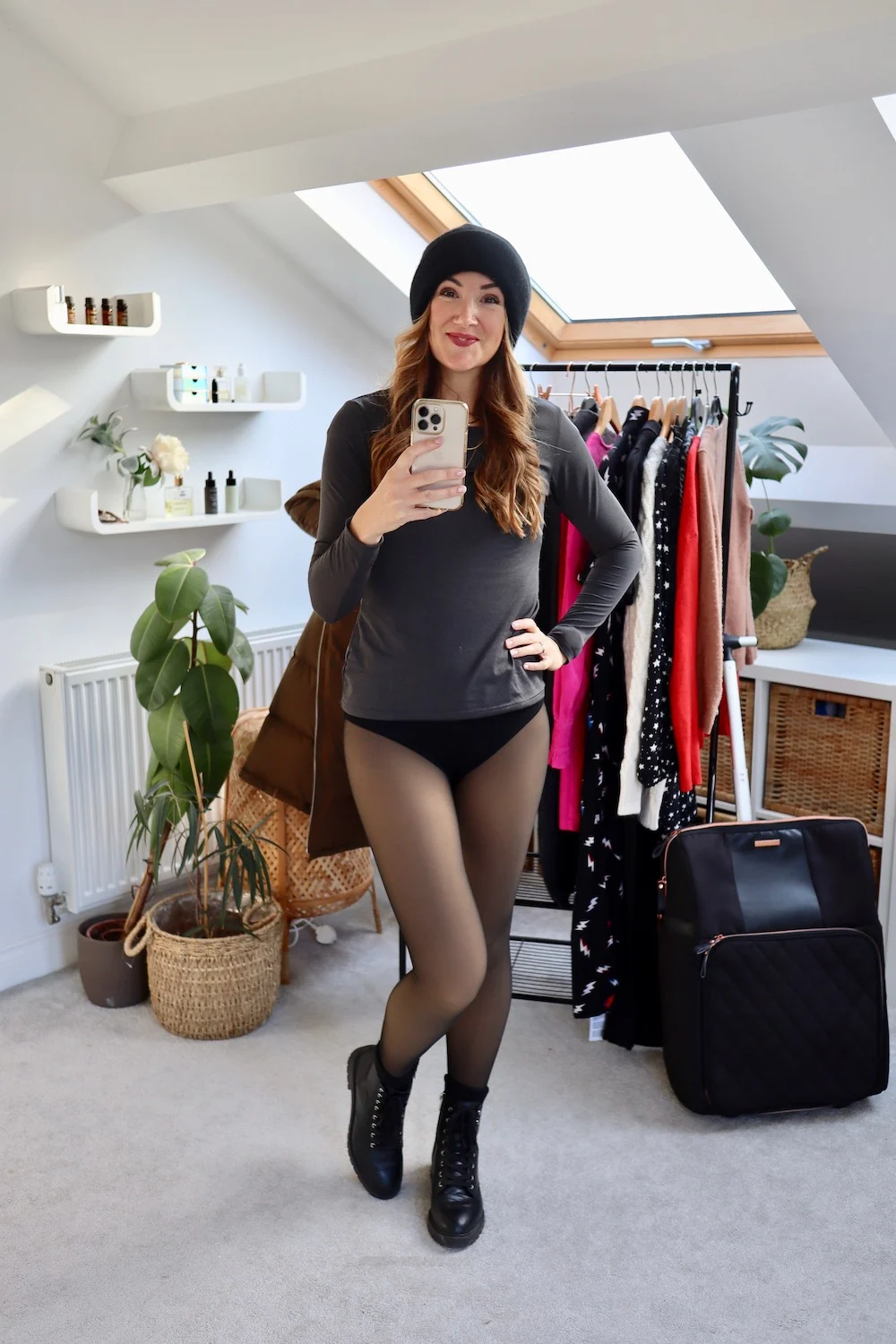 If you're trying to pack light for your winter trip then you do not need lots and lots of layers!
Other online guides about packing for winter trips suggest taking lots of jumpers so you can layer up. Yes, in theory this is a great idea but I really don't like to do this (especially when I'm trying to pack light) because:
You have to pack so many more clothes which take up so much space in your luggage
When you go from the cold outside to the warm inside, you're suddenly sweating and have to remove four layers of jumpers!
It's much easier to have just one really warm coat and your warm base layer.
Warm coat suggestions…
I have a new coat for the winter and I'm in love with it.
It's the Arket Mid-Length Down Coat and it's so cosy and warm and goes with pretty much everything I wear. I also really like that it has a zipped interior pocket which is great for city breaks as you can keep your passport and money safe.
I have a great post about the best women's heated jackets for lots of heated jacket options.
Other brands that regularly have gorgeous but warm and practical winter coats are:
Don't skimp on this coat. Make sure it's a good one that's both super warm and waterproof.
Keep your feet warm with quality boots and merino wool socks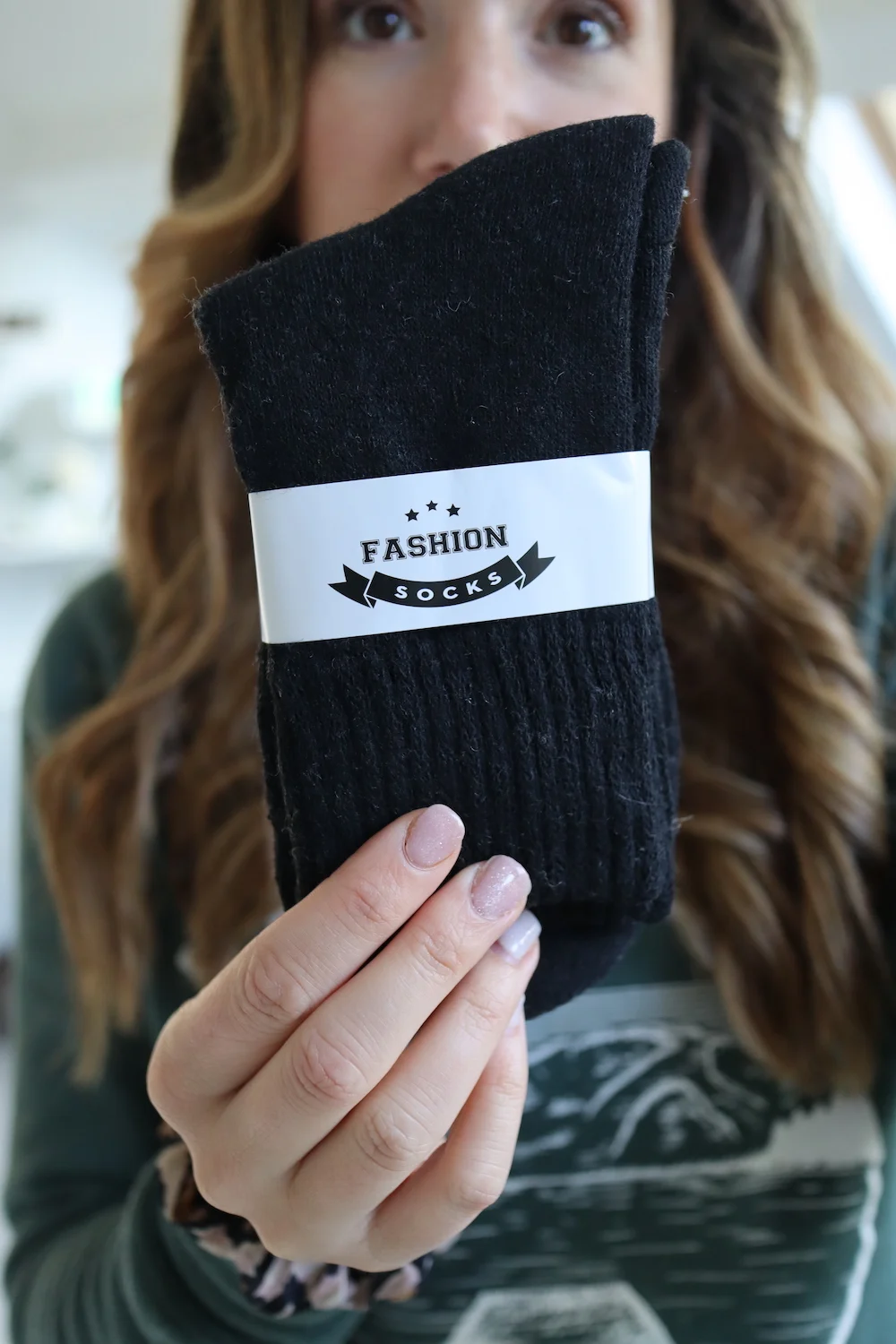 Nothing ruins a winter day out faster than cold, wet feet.
If you're exploring a new destination and your feet are cold and wet then you're going to have a horrible time.
Invest in a good pair of warm, waterproof boots and you'll be thanking yourself for years to come.
I have the Okab boots from Emu which they only sell with a heel now but they're brilliant.
Emu have some great waterproof winter boots or go with the current 90's trend and get yourself some Dr Martens. I've got my eyes on the ones lined with fluffy sheepskin. They look so cosy!
I'd also pair your boots with merino wool socks. They are the best! If you haven't tried merino wool socks yet you have to get yourself a pair and thank me later. I know they seem quite expensive but I've had the same two pairs for about 10 years!
I also have some cheaper thermal socks from Amazon which I bought a few weeks ago and they're a bargain at £12 for a pack of 5 and they're so soft and cosy!
Add a cute hat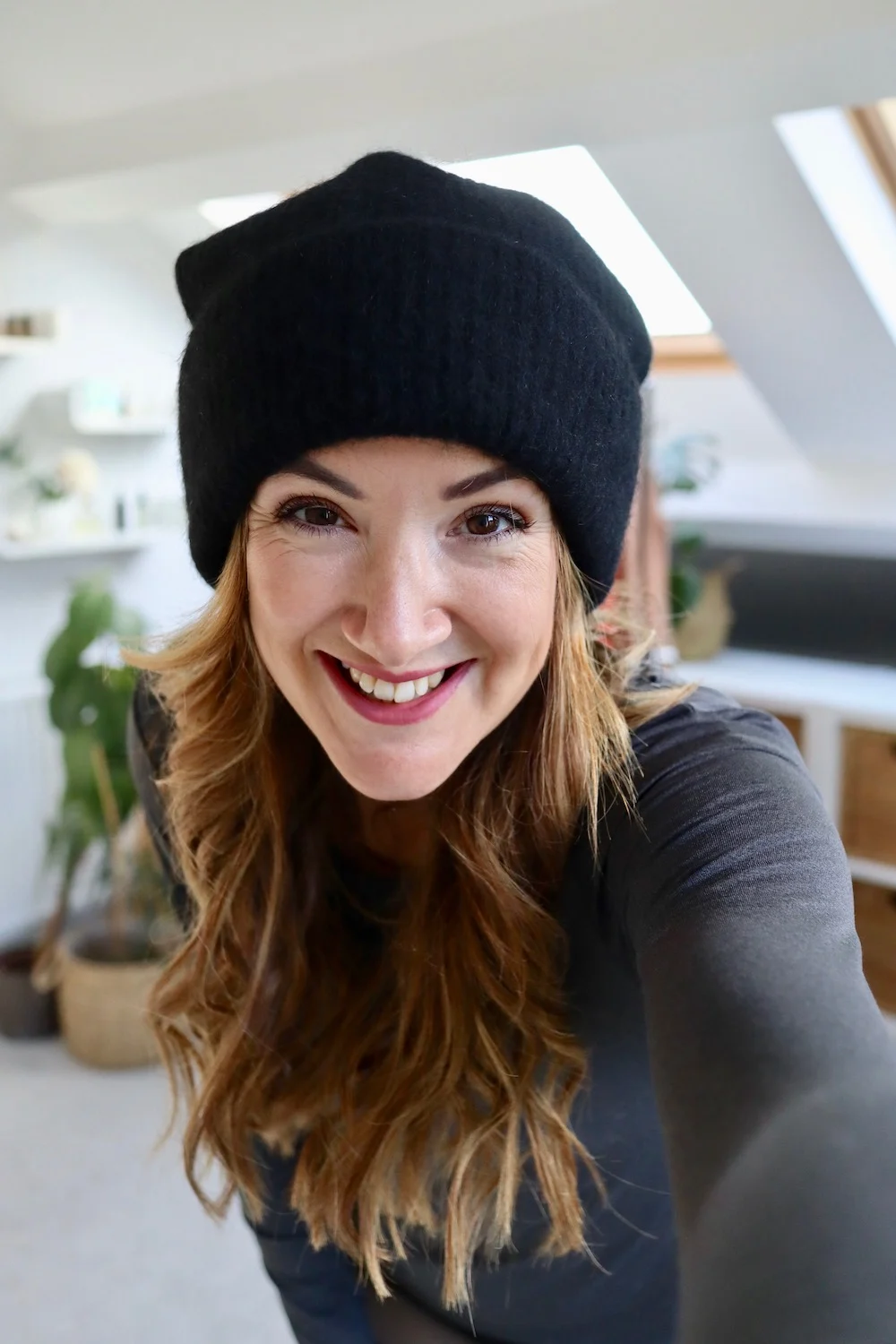 If you can find a cute but warm hat that's going to match every outfit in your tiny case then you're on to a winner.
The warmest hat I have is an alpaca wool beanie from Arket or opt for a fleece-lined beanie for extra warmth.
And a scarf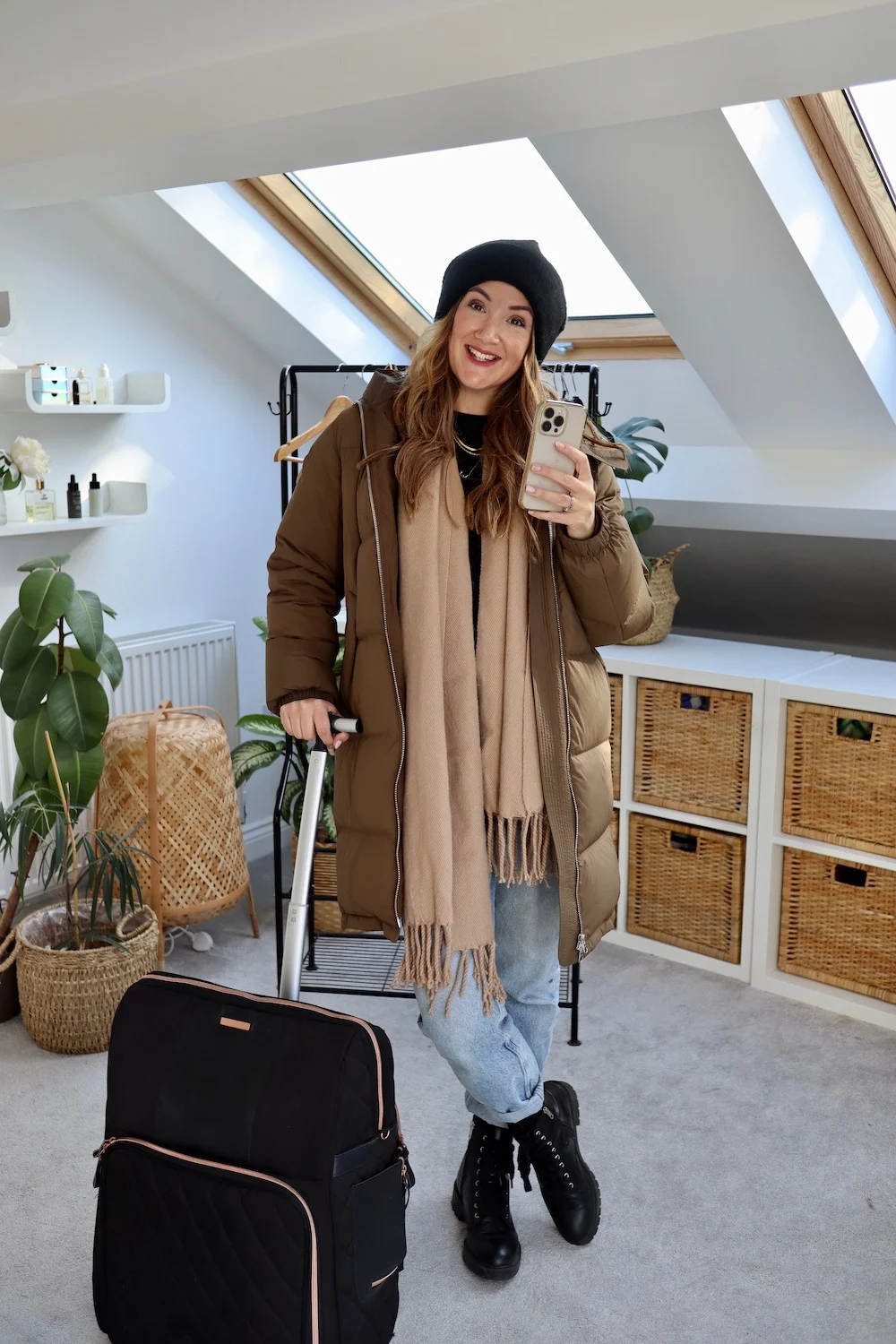 A scarf is a nice one because you can opt for a stylish scarf to dress up an outfit, but it can also be wrapped around your neck and face to keep you extra warm.
If you're going entirely practical then something like a fleece-lined snood is warmest.
But if you want style and warmth then something like an oversized cashmere scarf will be perfect.
Really warm gloves
I usually find the warmest gloves are leather ones that fit really well.
As someone with small hands I actually find it very difficult to find gloves that fit so I ordered a lot from Amazon so I could easily send the ones back that didn't fit.
What outfits should you pack for winter travel?
If you've got your warm base layer sorted and your warm outerwear then you can get away with almost any outfits. This is a real bonus if you're trying to pack light for your winter trip because you can simply add some light clothing that won't take up much space in your case.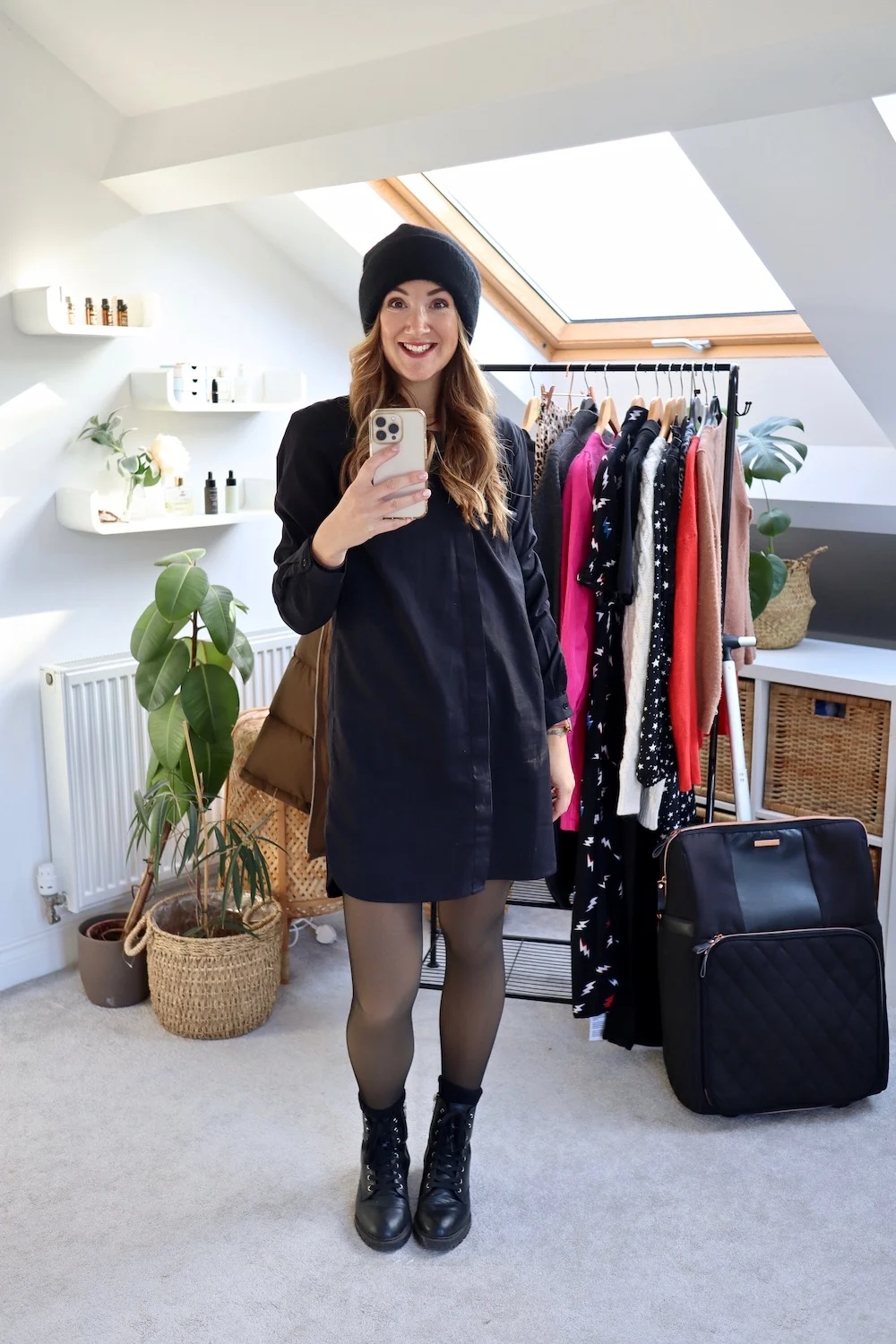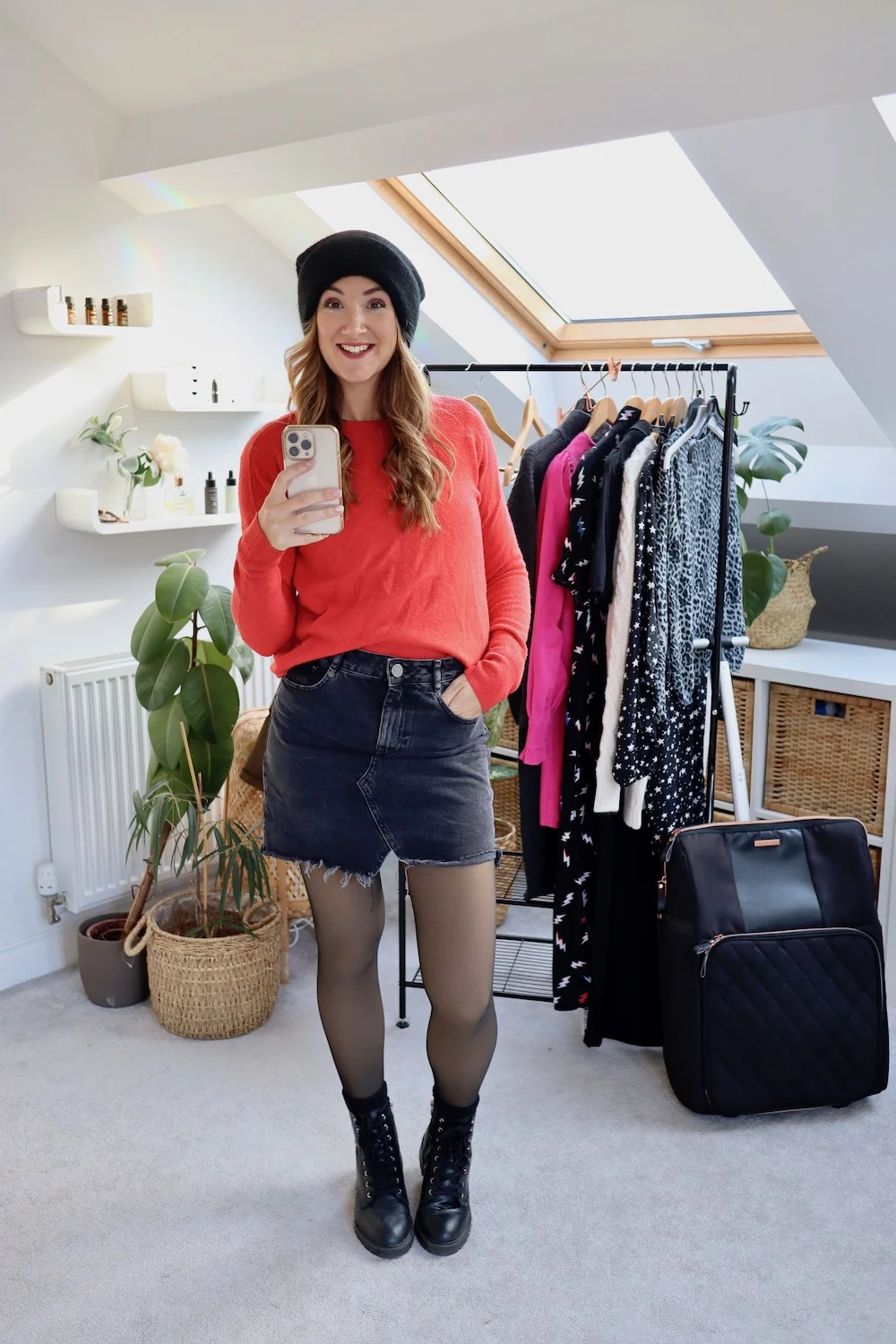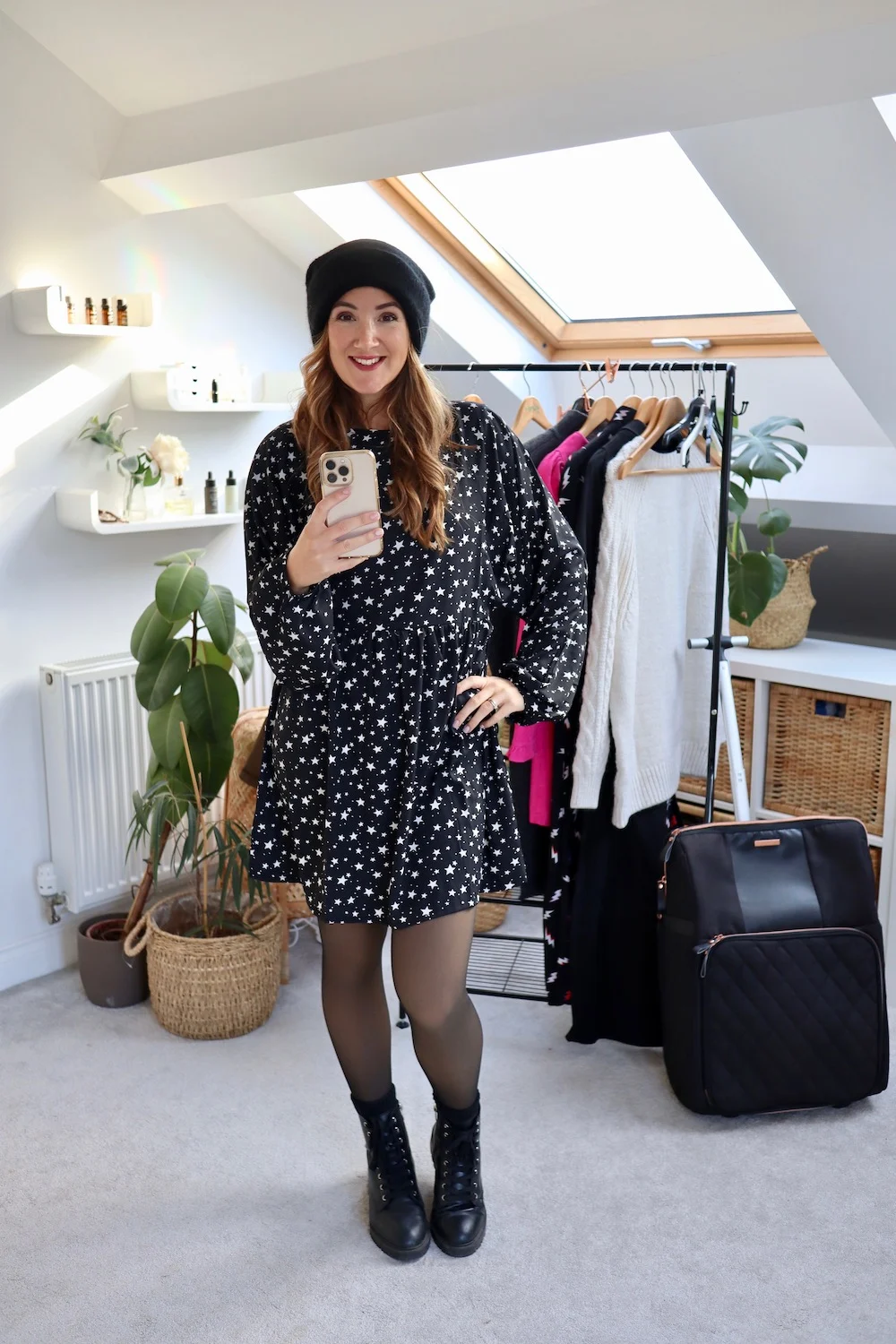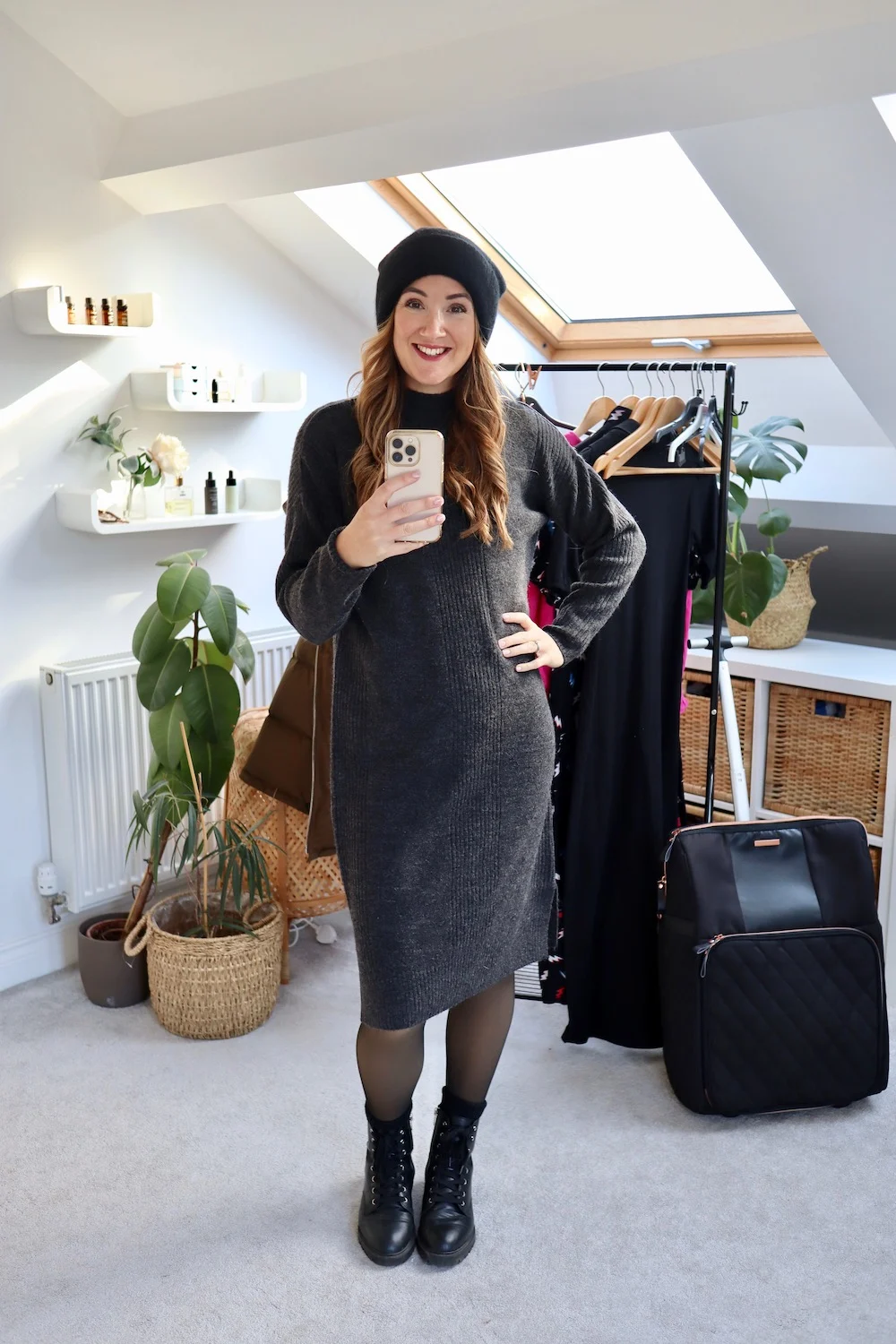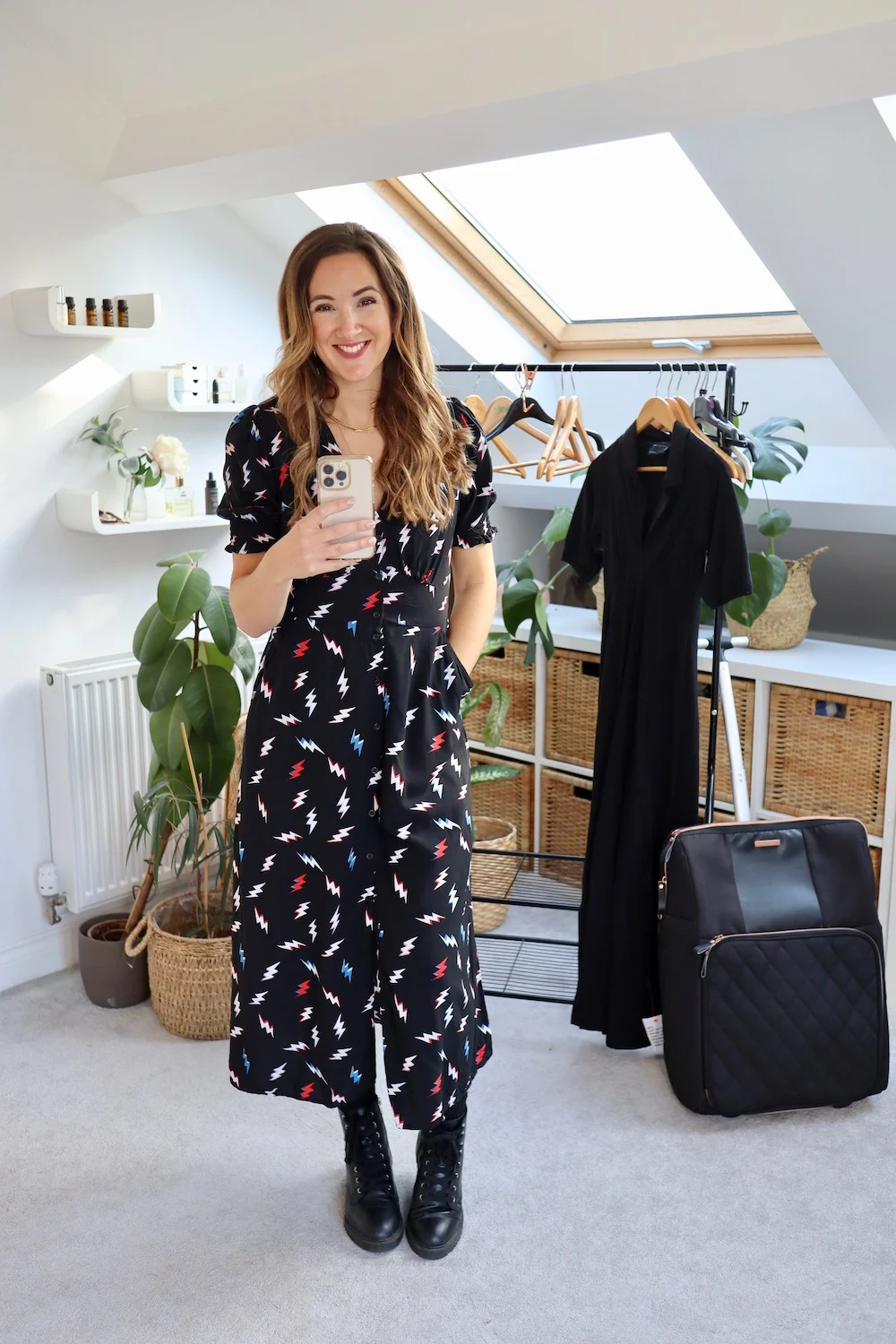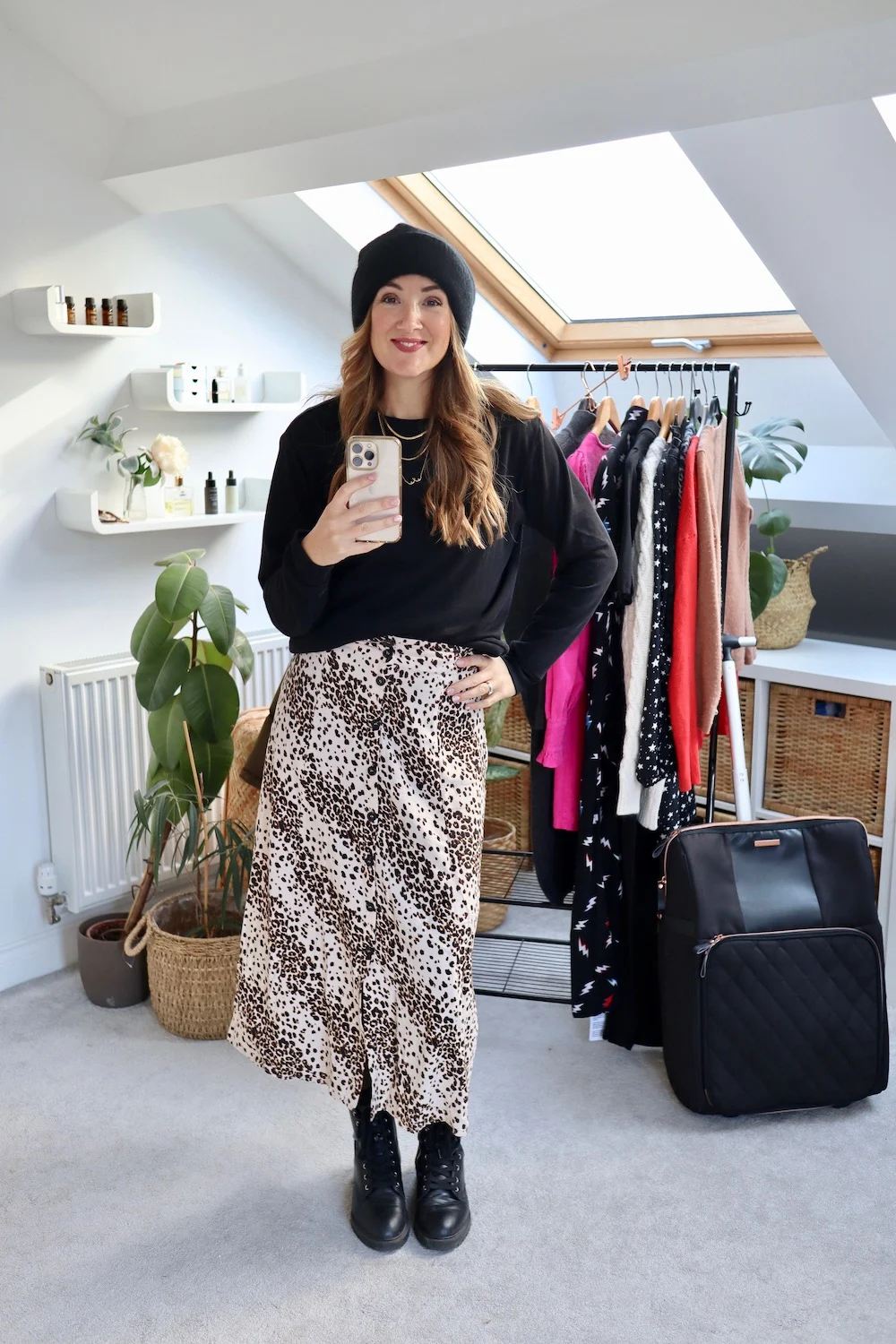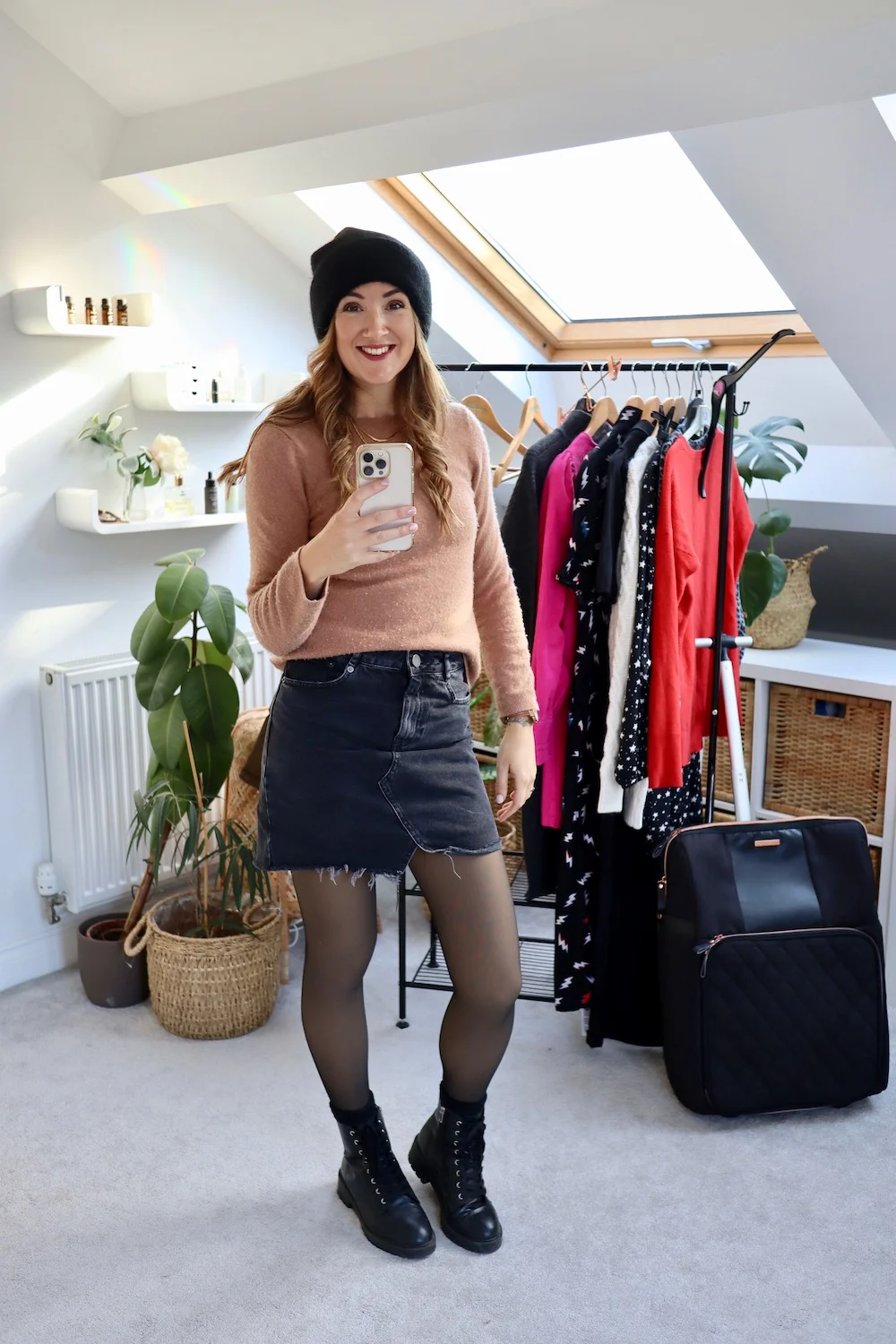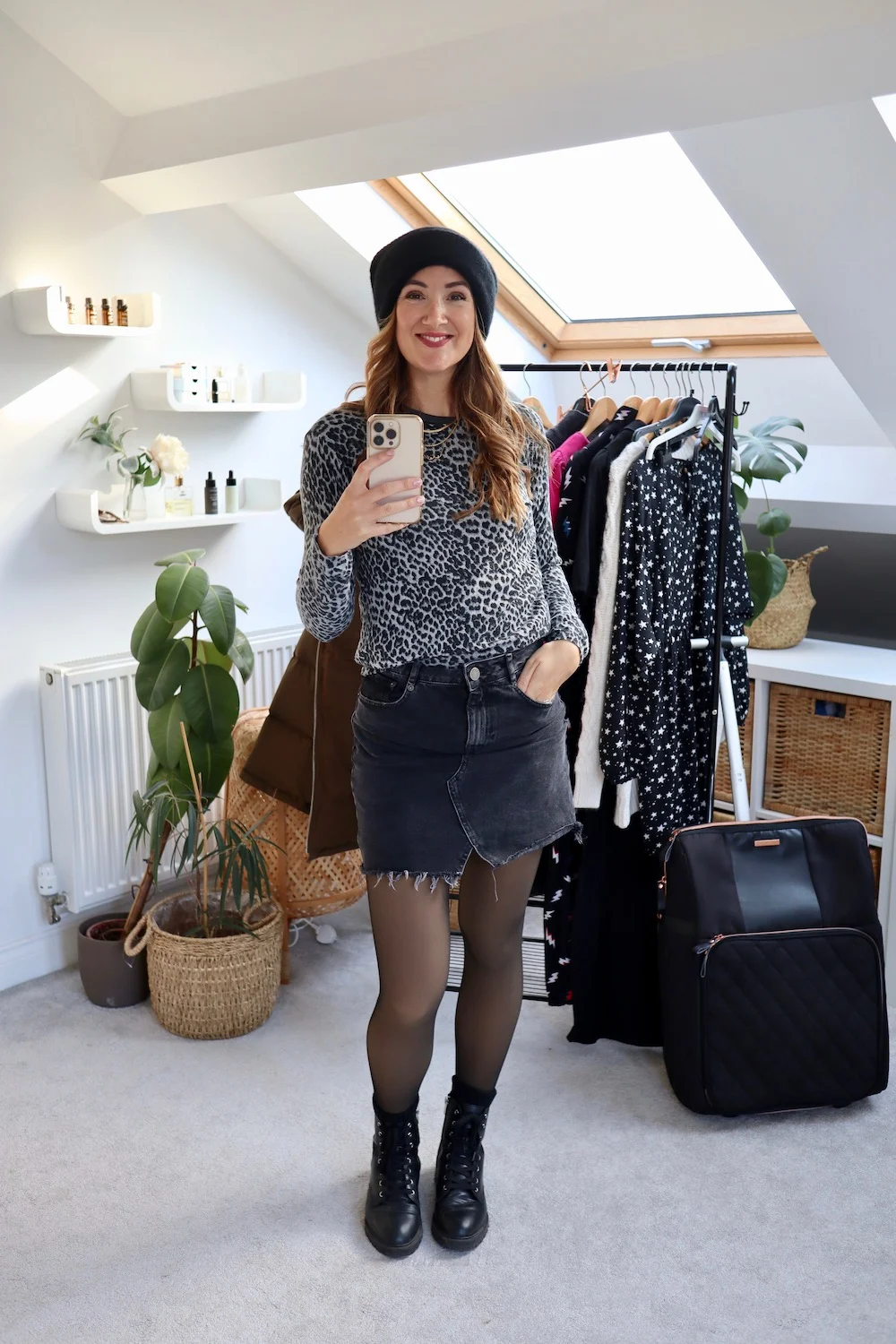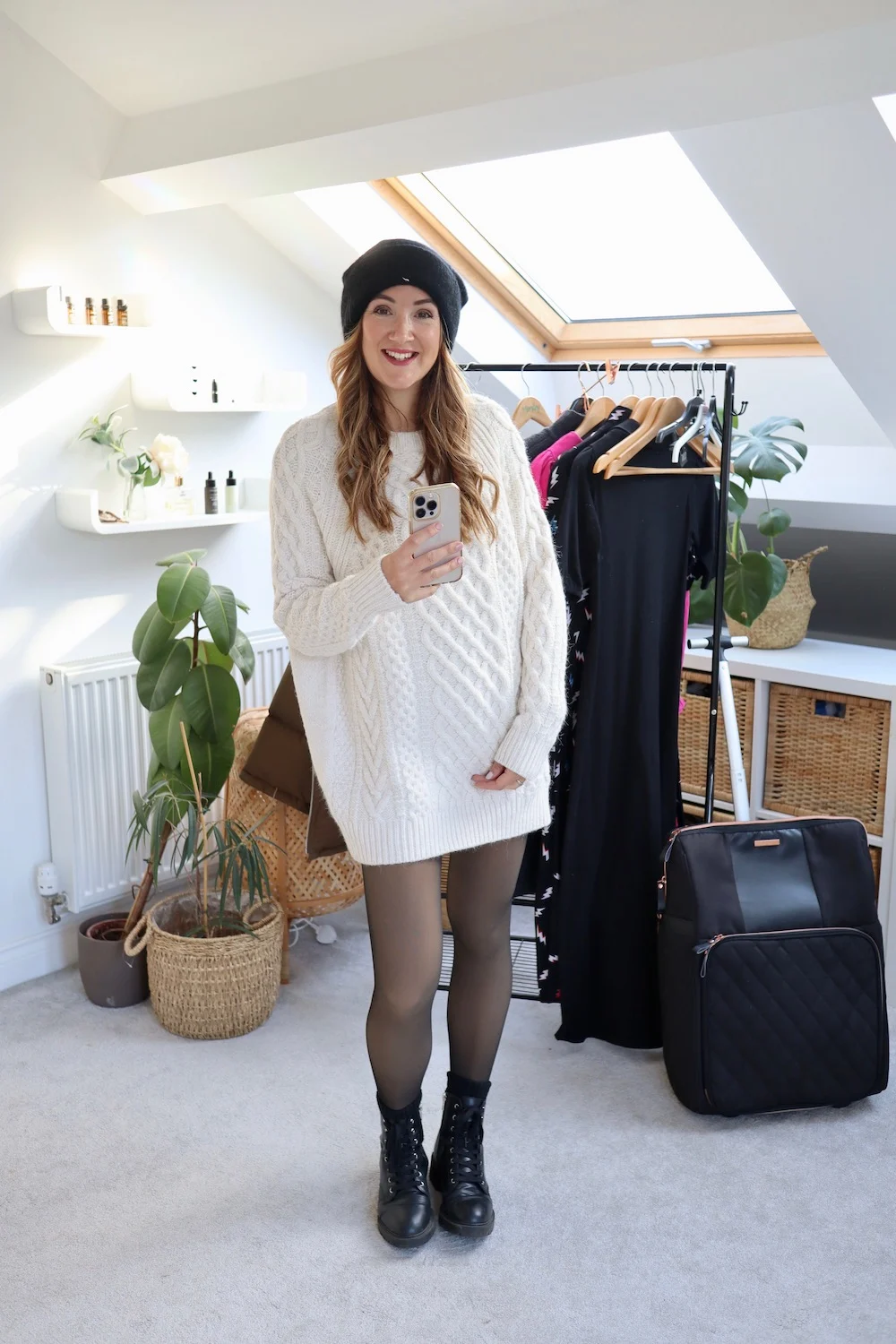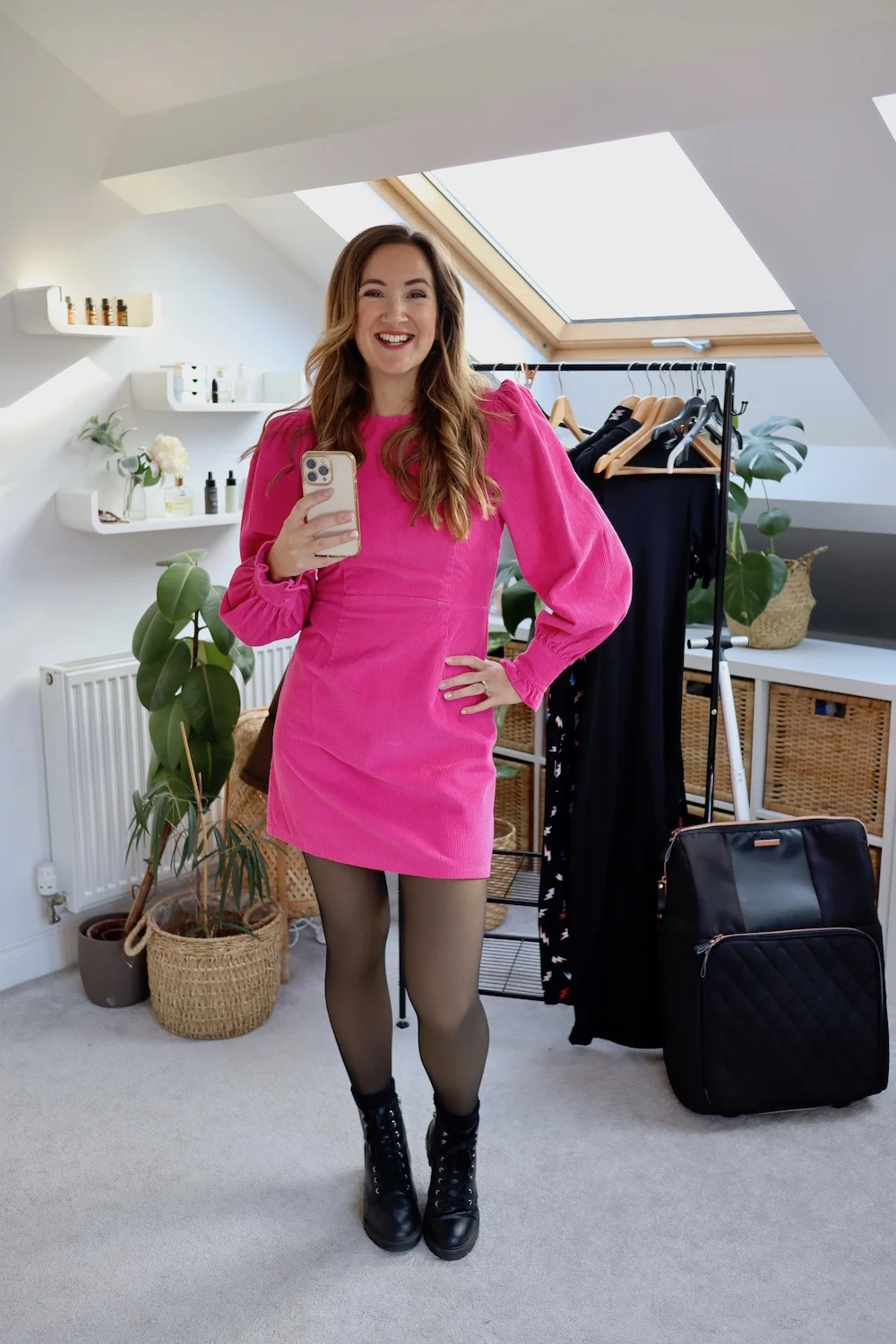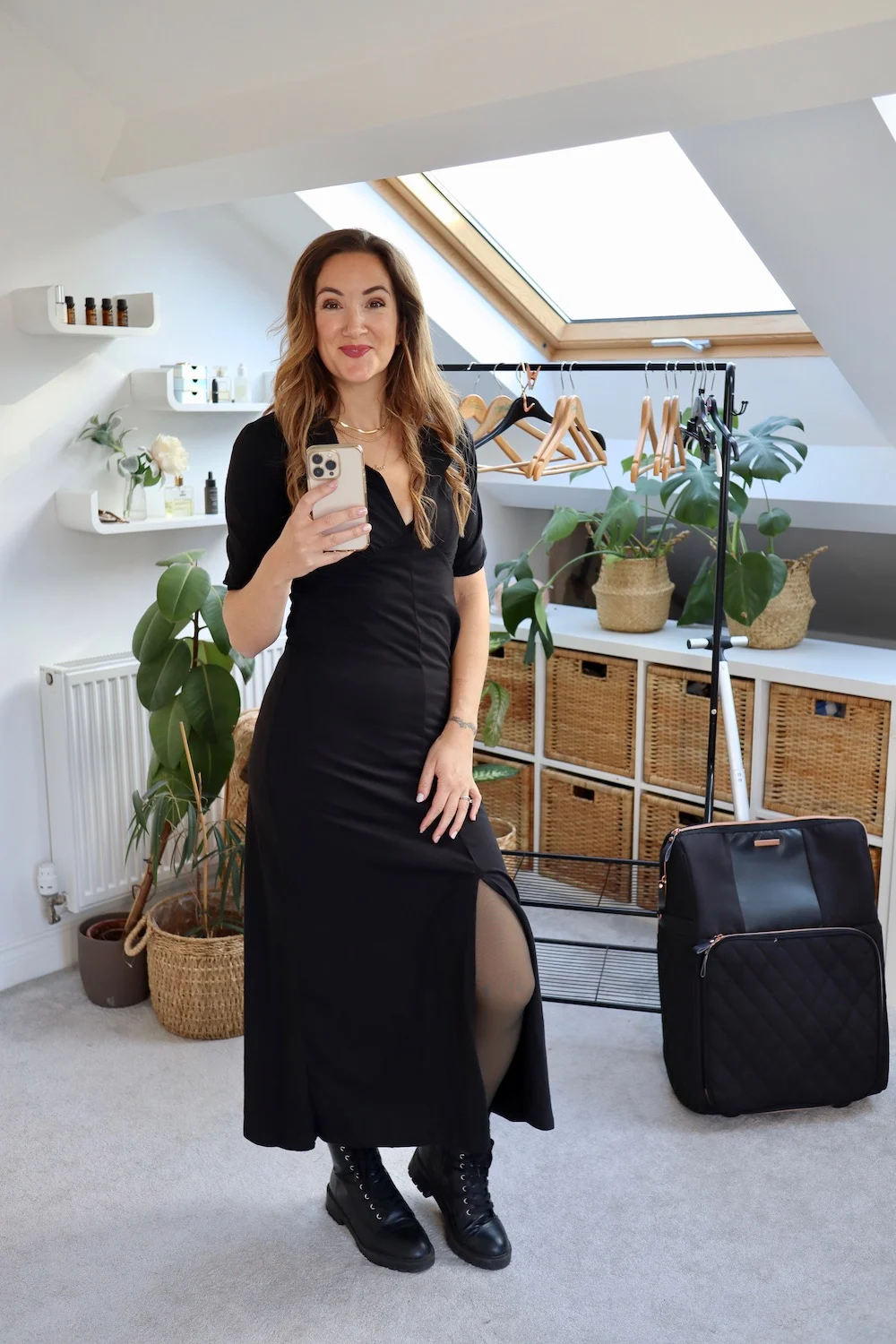 Packing list for cold weather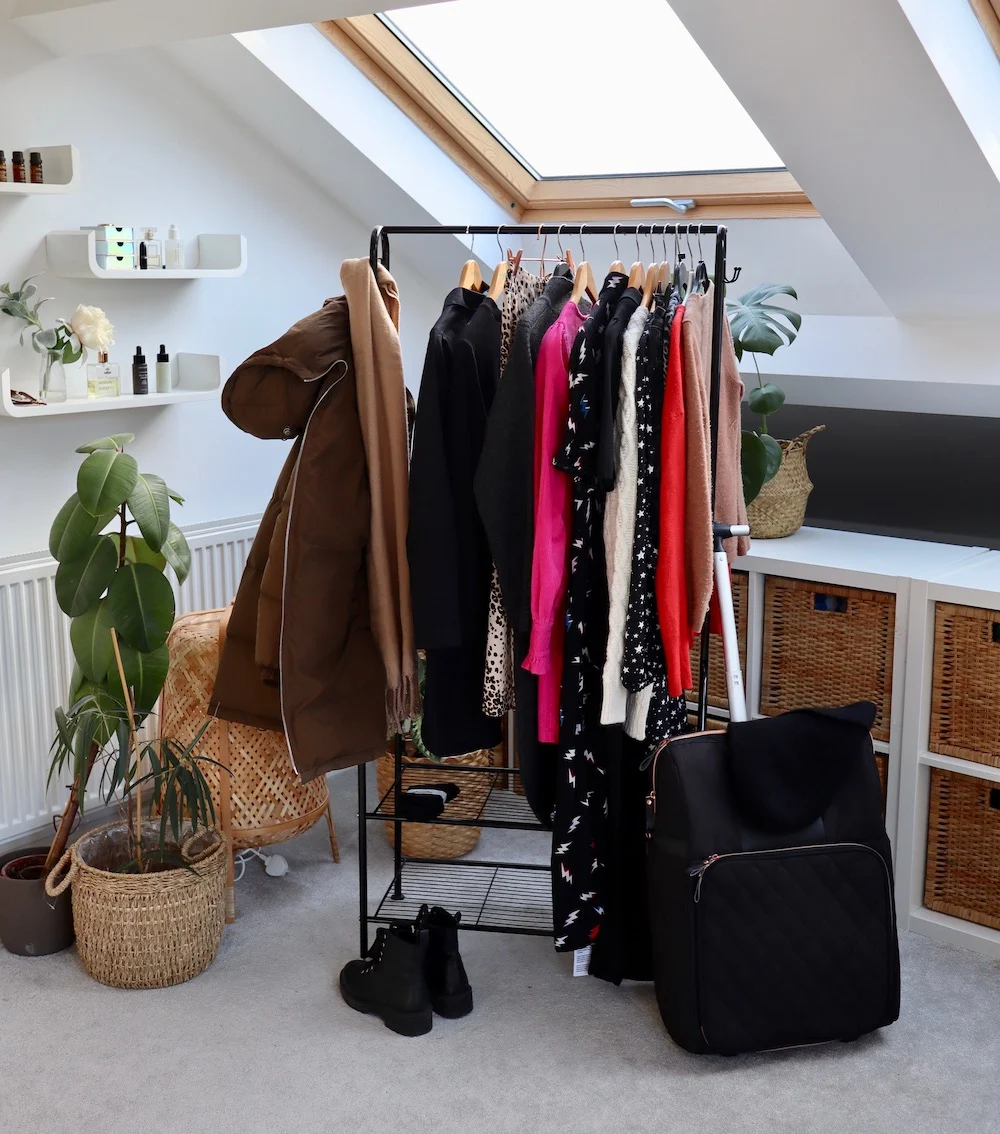 Here's your simple packing list for cold weather travels:
Fleece-lined tights
Thermal top (with long sleeves if it won't clash with too many outfits)
Warmest coat possible
Warm, waterproof boots
Cosy hat
Scarf
Gloves
Simple outfits you can layer over your tights and thermal top
What else should I pack for cold weather?
Other than your clothes, is there anything else you should pack for cold weather?
If it's got to be cold but sunny (particularly if you'll be in the mountains such as on a ski trip) then you'll also need sun protection for your eyes and skin.
Sunglasses
Sunscreen
Lip balm
If it's going to be wet then you may also consider packing an umbrella.
Should you use packing cubes to help pack for cold weather trips?
If you're struggling for space in your luggage or you just want your bags to stay neat and organised then I highly recommend using packing cubes.
I love packing cubes!
They'll help you stay neat and organised while you're packing and when you've reached your destination. And if you get yourself some clever compression cubes then you'll save space in your luggage too.
You can even use vacuum bags to help compress your luggage further still. These can leave your clothes a little creased but they'll save a tonne of space in your luggage.
Read more:
Using vacuum sealed bags for travelling
Can I really pack all my winter clothes in a carry on!?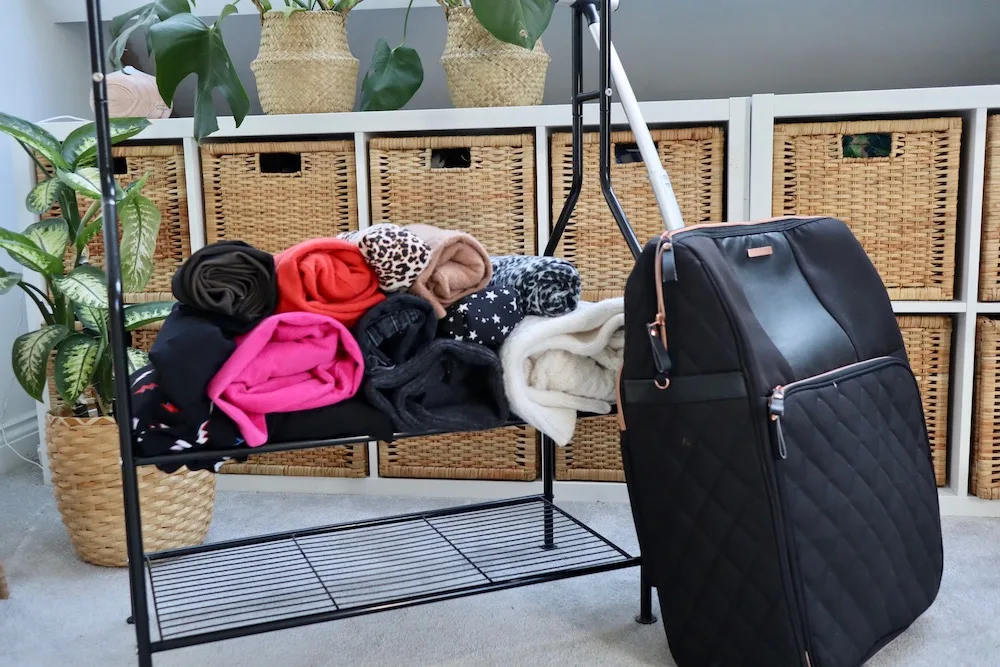 If you're thinking, 'No, my winter clothes are way too big and bulky for a carry on!' then you need to read my guides to packing with a carry on only.
How to travel with just small, carry-on luggage
Some other factors you really need to keep in mind is what I said above about having a warm base layer and wearing lighter clothes on top. If you've got thick, fleece tights and a merino wool thermal top with warm boots and a good coat then you can easily get away with wearing a light, thin-fabric dress. All of these outfits will take up barely any space in your carry on.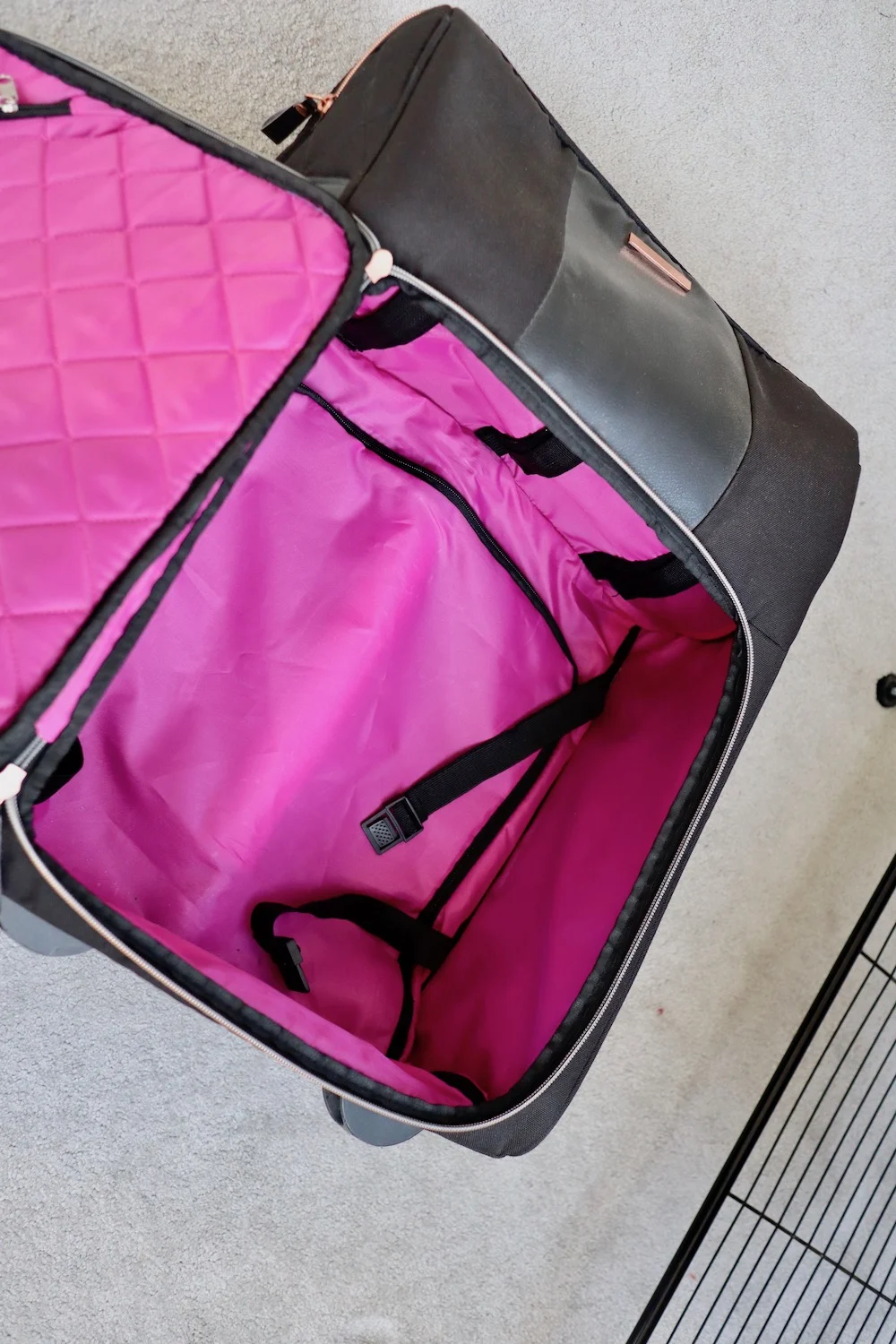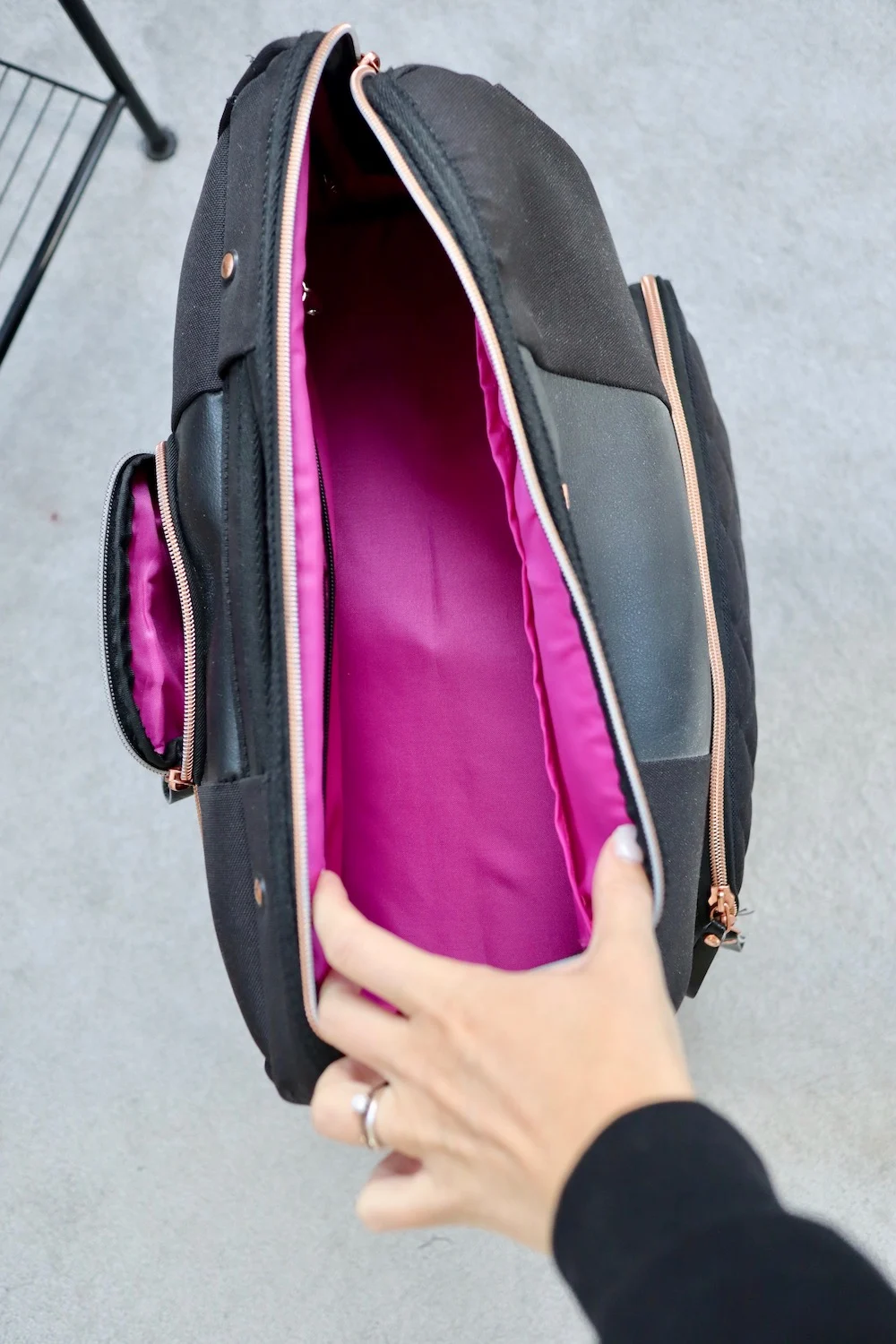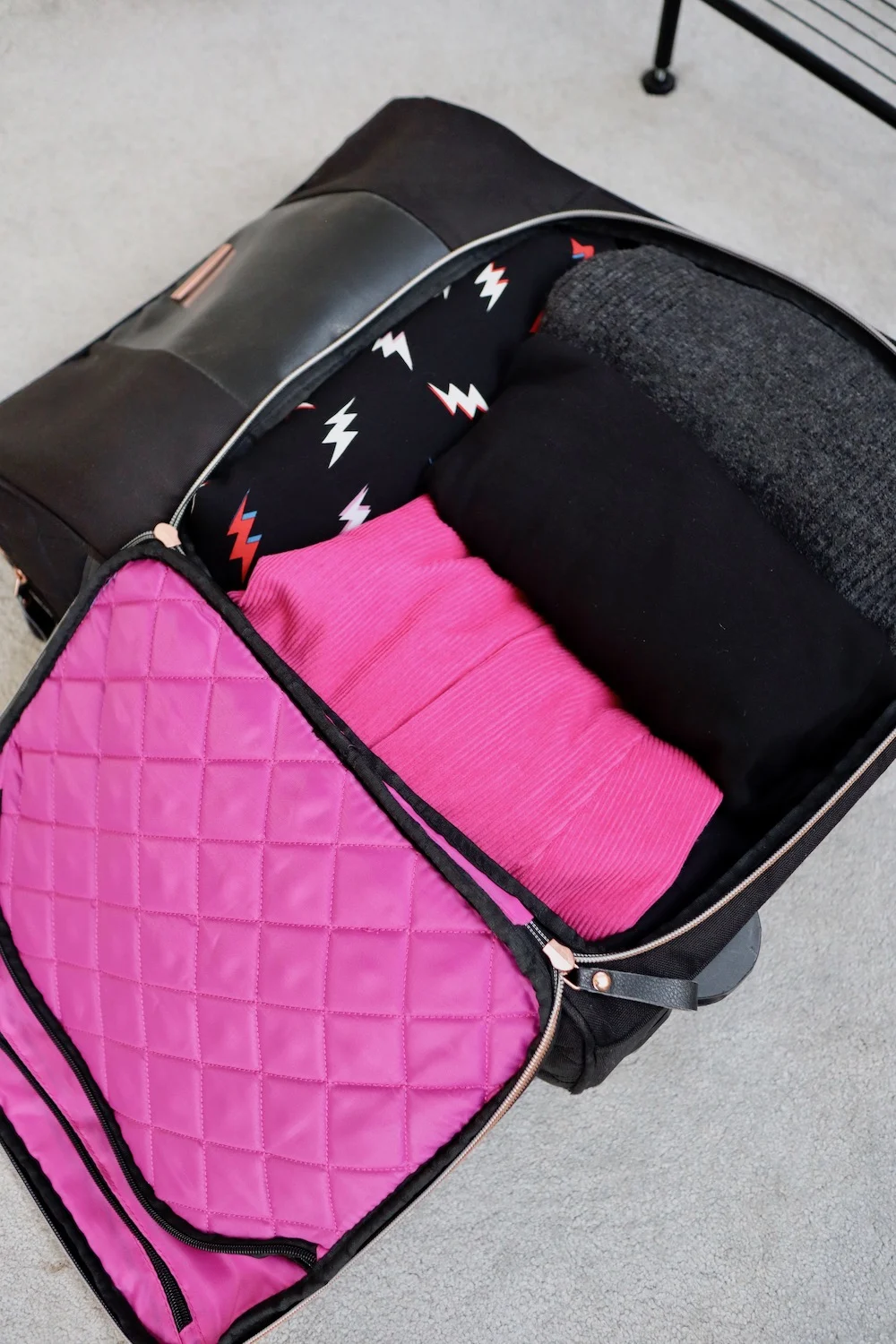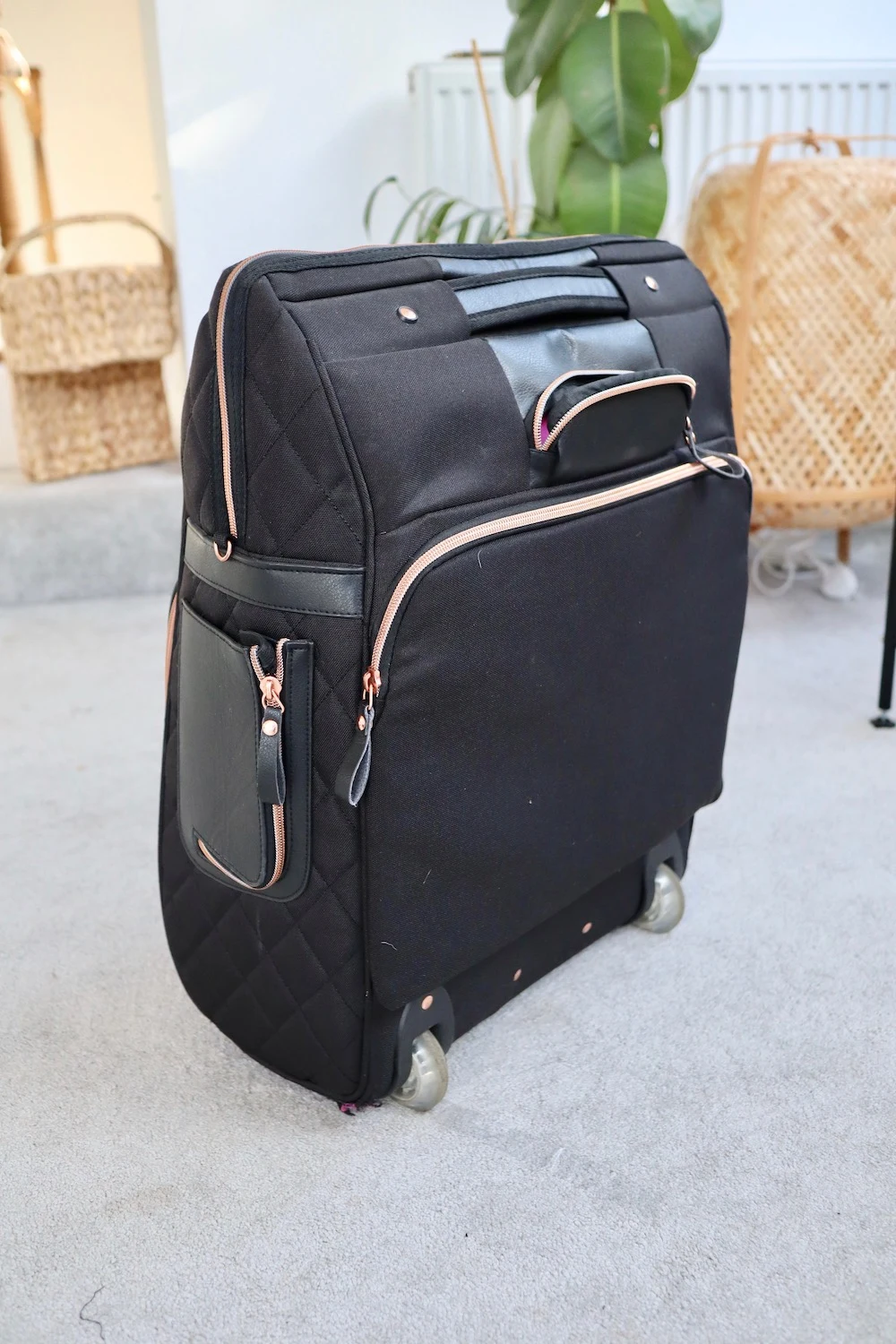 I've got all 12 of these warm, cosy outfits into The Travel Hack Cabin Case and there's still space in the top compartment for toiletries, underwear and all your extra bits and bobs. And there's the laptop pocket for your laptop, tablet and documents.