A Weekend Itinerary for Lisbon, Portugal
Suzanne has already shared so many amazing blog posts about Lisbon and today she's got a perfect weekend itinerary for Lisbon. If you're a first-time visitor to Lisbon and you're in the city for just 2 or 3 days then this is the itinerary for you!
Colourful, laid-back and incredibly cool, Lisbon ranks as one Europe's top cities to visit for 2018 and Lisbon is the perfect city for a weekend break. Recently on The Travel Hack we've covered Lisbon's sightseeing, the best Instagramable spots in the city, what to eat where and some easy-to-do day trips. For the last post in the series we've put all this together into a perfect 3-day Lisbon itinerary for a long weekend in the city.
Here it is, a weekend itinerary for Lisbon…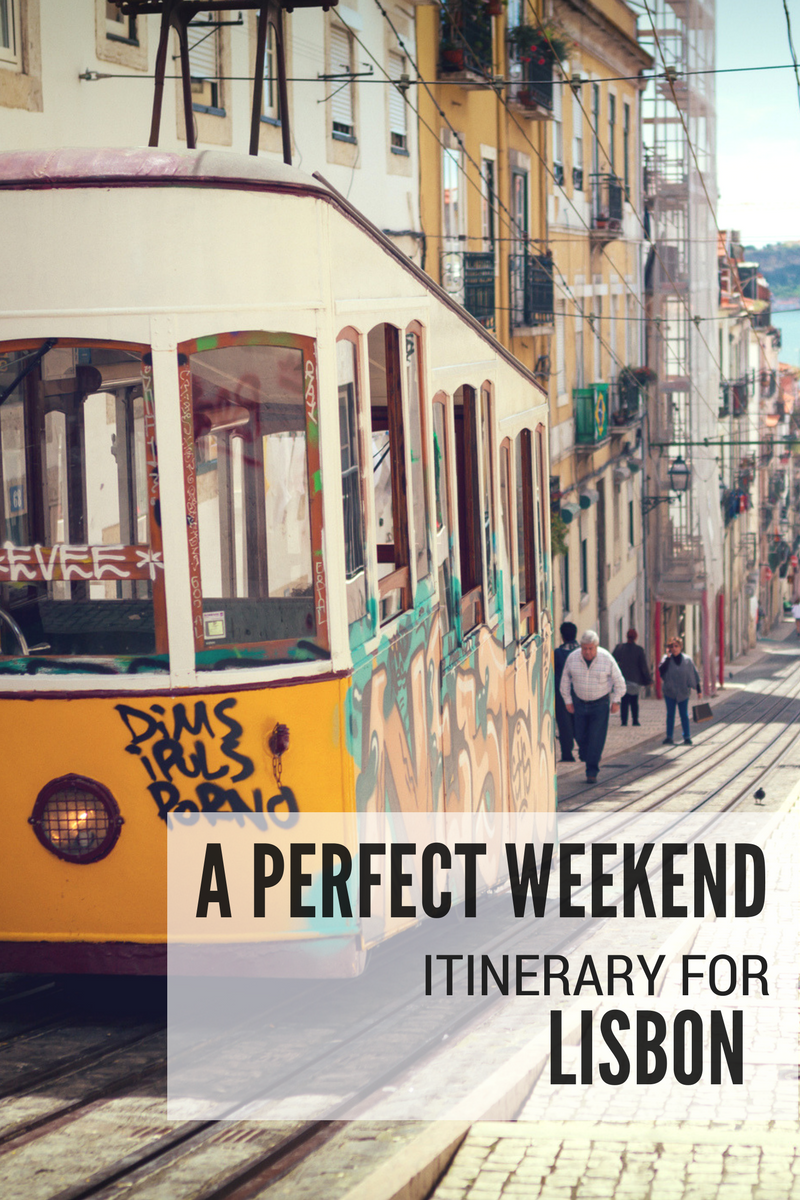 Day 1 in Lisbon – Trams, Castles and Alfama
If you're on an early flight to Lisbon from the UK you'll arrive around lunchtime. Drop your bags at your Chiado or Baixa hotel, grab your camera and head to a cafe for a Pasteis de Nata and a coffee.
Next, take tram 28 for a 45-minute tour of the city to see some of Lisbon's top sights. Get off at Portas do Sol which is the nearest to São Jorge Castle before the tram gets to the end of the line.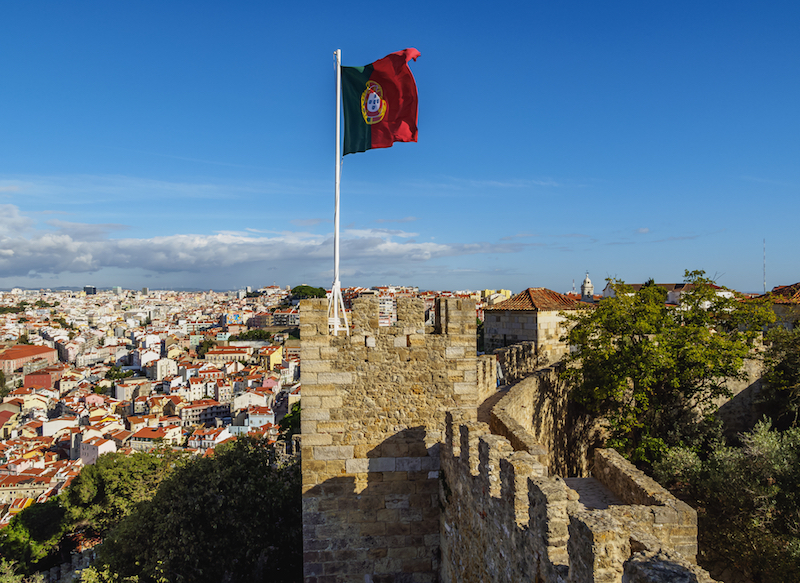 After exploring the castle ruins burn off those Pasteis de Nata calories by walking up to one of the best miradouros (viewpoints) in the city. Miradouro de Nossa Senhora do Monte is one of Lisbon's highest viewpoints and it'll give you an incredible view of the city looking out to the River Tagus, the 25 de Abril Bridge and the castle. This will give you an idea of the city's layout. Walk back down through Alfama neighbourhood, Lisbon's oldest district, and get lost in the maze of narrow, cobblestone alleyways. Look out for cool street art, Azulejo tiles and cute little bars and cafes.
Dinner: Eat in Alfama at one of the restaurants with a live Fado show before heading to Bairro Alto for the nightlife.
---
Day 2 in Lisbon – Belem and Baixa
Head out to beautiful Belem. There's loads to see in Belem and you'll spend most of the day here. Start at the Jerónimos Monastery. If you want to avoid the queues book your tickets in advance online. When you're done in the monastery come out and turn left and keep walking until you come to Pastéis de Belém bakery. Buy some Pasteis de Nata for later. There are plenty of cafes and small restaurants near the bakery. Choose one for lunch.
Next stop is the ultra-modern Museum of Art, Architecture and Technology (MAAT) which is across the road from the bakery. There's plenty of time to go inside if you like that kind of thing or you could just enjoy the building itself and climb the outside staircase onto the curved roof for views of the river.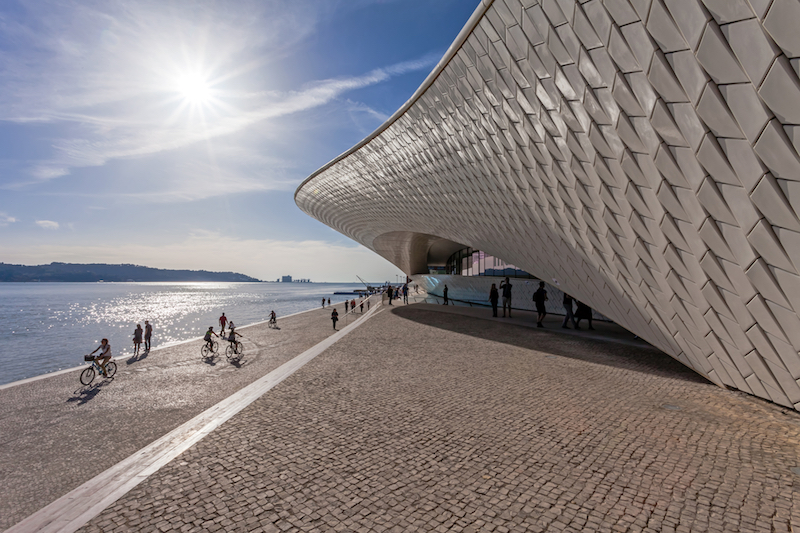 When you're done marvelling at MAAT walk along the riverbank back towards the monastery and the Monument of Discoveries. The monument celebrates the Portuguese Age of Discovery in the 15th and 16th centuries and explorers like Henry the Navigator. Inside is a small museum and a viewing platform with fabulous views of the Ponte 25 de Abril, the suspension bridge which looks just like San Francisco's Golden Gate Bridge. There's a €5 entrance fee for the platform.
Another 15-minute walk will see you arrive at the Tower of Belem. The tower once stood in the centre of the Tagus estuary to guard the city from attack but the waters shifted and now it sits on the banks of the river. The pretty little tower has beautiful carvings and is now the symbol of Lisbon.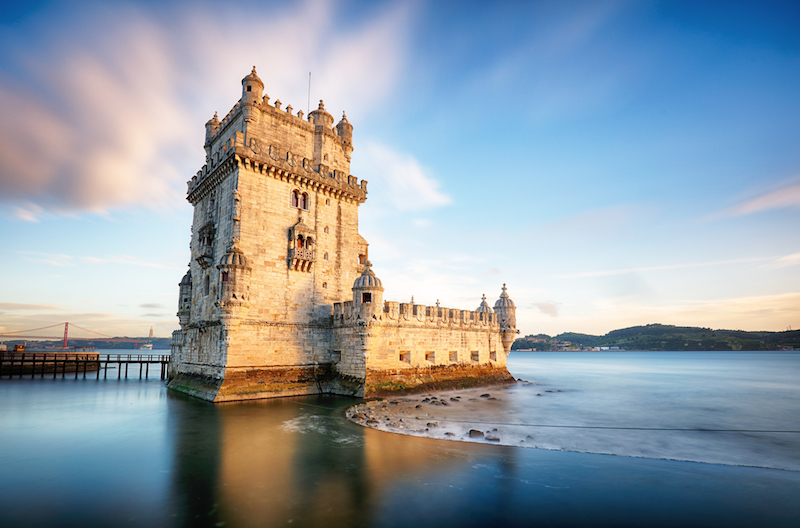 Time to eat those custard tarts before returning to Lisbon's Baixa district and Rossio Square on tram 15E.
Baixa is made up of wide avenues, plazas and grand buildings which were built as part of the district's reconstruction after the 1755 earthquake. Start at beautiful Rossio Square (Praça Dom Pedro IV) where you'll find some eye-boggling wavy lined mosaics. Try a glass of Ginjia, the cherry liqueur from the traditional Ginjinha bar and check out ornate Rossio Station before heading towards the river down Rua Aurea. You won't miss the towering neo-gothic Santa Justa Elevator on your right which you should ride to the top of the steepest hill in Lisbon – your travel card is valid for this. Leaving the elevator you'll find the ruins of Carmo Convent which was destroyed in the earthquake, there's a pretty little square there which is a good stopping place for a drink.
Walk down the hill and back onto Rua Aurea and keep going until you reach Praça do Comércio, the historic commercial centre and Lisbon's grandest plaza. You should get some sunset views from the top of the Augusta Arch – €2.50.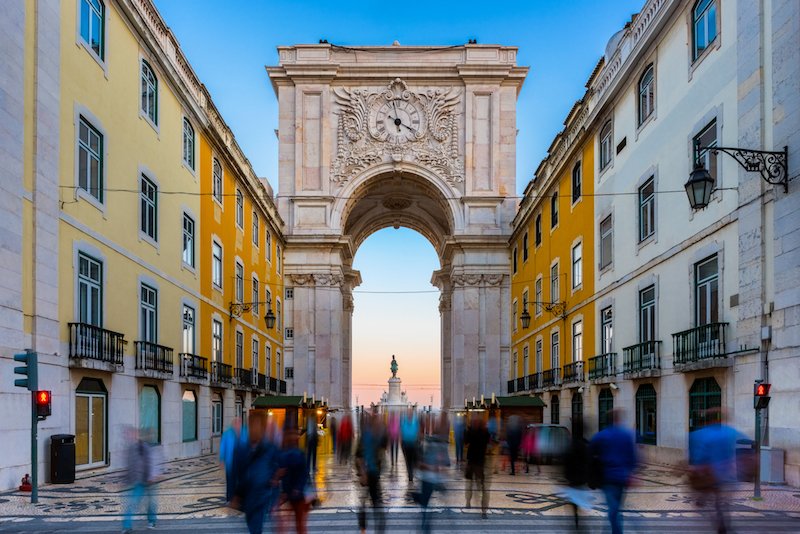 Restaurant Populi on the square is a good spot for dinner or, for something more casual, walk fifteen minutes along the riverside to Time Out Market, Av. 24 de Julho 49, 1200-479 Lisbon.
---
Day 3 in Lisbon – Explore outside the city
Head out of the city on a day trip. Check out our suggestions here for four easy day trips from Lisbon which are all do-able by public transport. Pena Palace would be my first choice.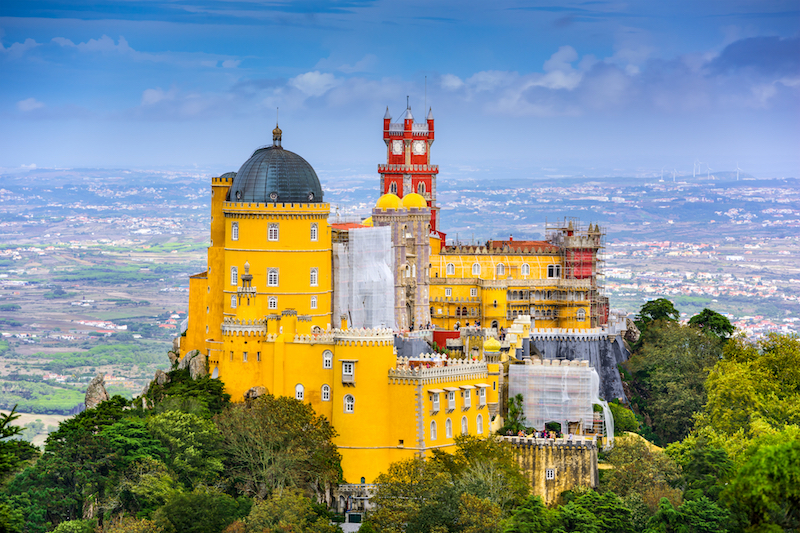 Best area to stay in Lisbon
Chiado, Baixa, Principe Real, Bairro Alto, Avenida and Alfama are the main neighbourhoods and all within walking distance of the main sights, restaurants and shopping. I'd pick Chiado. It's near to some of the main sights and shopping but not too noisy. The restaurants and bars in Bairro Alto, Cais do Sodré and Principe Real are all a short walk from Chiado and it's close to the blue and green metro lines, tram #28 and buses. Nearby Baixa is a good call too.
How to get to Lisbon from the airport
The airport is about 7 kilometres (4.35 miles) away from Lisbon city centre.
Aerobus, operated by Carris, has two routes to the city centre which you can check here.  Buses leave from just in front of the arrivals hall daily between 7:30am and 11pm.
A 24-hour Aerobus pass costs €6. You can also get to the city centre by direct train from the airport (one change) in under half an hour. Uber also operates in Lisbon.
Getting around Lisbon
The best and cheapest way to get around Lisbon is by tram or metro. Buy a Colinas Travel Card (the card costs 50 cents) and top it up for around €6 a day in metro stations or newspaper stands. It costs more to buy/top up on the tram. Like all cities beware of pick-pockets but in Lisbon be extra aware on the trams. You can also use the travel card to get entry to the Santa Justa Elevator.
You can also get a Lisbon Tourist Card (currently £17.17 for 24 hours) which includes unlimited city transport and access to 23 museums and historic buildings. Check out the attractions you get access to as it's not always great value to get a tourist card unless you're going to a lot of attractions!
How to get to Belem
To get to Belem take the Tram 15 or 15E from Praça do Comércio (main square). It should be going in the direction of Algés and runs every 10-15 minutes. Bus 728 will also take you to Belem or the train leaves from the station of Cais do Sodré which is about a 10-minute walk along the water-front from Praça do Comércio. The train takes around 10 minutes. Use your travel card.
So, now you have everything you need to know for a fabulous weekend trip to Lisbon. Better get those flights booked…
Is there anything else you think should be on the itinerary for a weekend in Lisbon?
---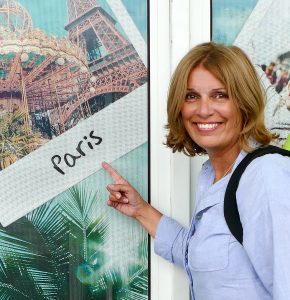 This article was written by the brilliant blogger Suzanne Jones, aka The Travelbunny. Suzanne is a serial traveller constantly on the search for adventure, wildlife and the next culinary encounter. When she's not travelling and blogging at 
The Travelbunny
Suzanne loves trying to recreate favourite dishes from her travels, long coastal walks and photography. Suzanne lives on the south coast near Brighton and can't bear to be too far away from the sea.
---
Read More
A beginner's guide to Lisbon: 10 things to do in Lisbon during your first trip
The 10 most Instagramable spots in Lisbon
The 4 best day trips to take from Lisbon