There are so many amazing blogger's guides to Lisbon so I thought it was time to pull my favourites together into an 'ultimate travel blogger's guide to Lisbon'. As you all know, I think travel blogs are the best sources of information for travel guides because they're honest and relatable and have so many little travel tips you can't find anywhere else. I love reading about travel blogger's trips, especially their journals and itineraries because you can really imagine yourself being there. Seeing their photos or videos brings a destination to life in a way magazine and newspaper articles can't.
The only problem with travel blogs is that they're sometimes hard to find. The internet is filled with Lisbon travel guides and they often get buried beneath outdated articles or travel agents trying to sell you a holiday!
So here it is, The Travel Blogger's Guide to Lisbon with everything you need to plan your trip to Lisbon!
Why visit Lisbon?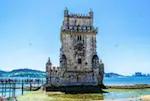 How to spend a perfect weekend in Lisbon – Hand Luggage Only
If you're still unsure if Lisbon is the place for you then take a look at this beautiful post from Lloyd and Yaya. They list 10 awesome things to do in Lisbon and prove that, while Lisbon may be a small city, it's well worth visiting!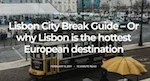 Why Lisbon is the hottest city break – As the Sparrow Flies
Sam explains why Lisbon is such a cool city and in her travel guide to Lisbon she has some great tips for getting around, where to stay, what to see and some info on the different neighbourhoods in the city.
What to do in Lisbon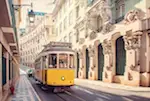 A beginner's guide to Lisbon: 10 things to do during your first trip to Lisbon – The Travel Hack
This is one of our own and was Suzanne's first guide to Lisbon with 10 essential experiences you need to do during your first visit. If you didn't ride a vintage tram or have a Pastéis de Belém during your trip then what were you doing!?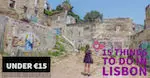 15 things to do in Lisbon under 15 euro – Two Scots Abroad
If you're looking for a budget guide to Lisbon then this is the one for you! Gemma and Craig have some great suggestions for cheap things to do in Lisbon with some tour suggestions and iconic Lisbon activities that you can't miss.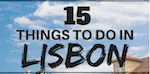 15 best things to do in Lisbon – Finding Beyond
I really like this Lisbon guide from Finding Beyond because it has a few suggestions that aren't mentioned elsewhere and some great ideas for the best viewpoints in Lisbon so my fellow photo lovers will enjoy this one!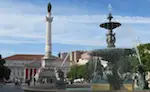 What to see and do in Lisbon – Magnificent Escape
This post is somewhere between a Lisbon travel journal, a travel guide and an itinerary. I like the way Marlies has documented her trip in chronological order so you can follow exactly what she did and see everything in the right order!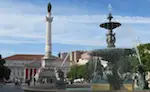 The World's Oldest Bookstore in Lisbon – The Everywhereist
Book lovers won't want to miss a visit to Livraria Bertrand, the oldest bookstore in the world. Established in 1732, and with a Guinness World Record's sign in the window to prove it, this beautiful store is well worth a visit during your trip to Lisbon.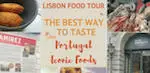 Lisbon food tour – Authentic Foodquest
I absolutely love food tours as they're such an unusual but delicious way to find out more about a place. I often get a bit bored during historical walking tours. I know it sounds a bit childish but stopping every 20 minutes for something delicious to eat definitely keeps me focused! Claire and Rosemary have documented this Lisbon food tour perfectly and I'd definitely be adding it to my Lisbon bucket list!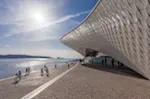 Lisbon's 10 most Instagramable spots – The Travel Hack
Instagram fans can rejoice because Lisbon is one of Europe's most gorgeously Instagramable cities. The vintage trams, the beautiful ties, the city skyline and the colourful streets are a photographer's dream so get your camera ready for an Instagram tour of the city.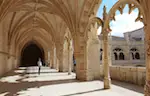 The colours of Lisbon – Twins That Travel
Laura and Claire have some great suggestions for things to do in Lisbon but you really can't miss their tips in the opening to this blog post. There are seven very steep hills in Lisbon so prepare yourself for a lot of walking or save yourself the hassle and opt for taxis instead!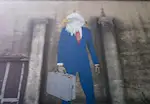 A street art guide to Lisbon – Peeking Duck
Ever since I took a street art tour in Berlin I've been fascinated by every city's street art. There's so much more to it than initially meets the eye and there are so many hidden messages and meaning beneath the bright colours. This post by Peeking Duck showcases some of Lisbon's best street art and tells you where you can find it.
Where to eat and drink in Lisbon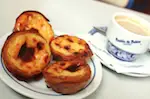 A foodie guide to Lisbon – What and where to eat and drink in Lisbon – The Travel Hack
Suzanne suggests the best dishes to try during your trip to Lisbon and some of her favourite restaurants to try them at. You can't leave the city without eating Pastéis de Nata, sardines and as many sweet pastries as you possibly can!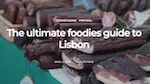 A foodies guide to Lisbon – As the Sparrow Flies
This is another great Lisbon guide from Sam but this time focusing on where and what to eat in Lisbon. She starts with the traditional dishes she recommends you try and goes on to showcase some restaurants.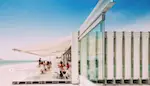 11 amazing restaurants with the best views in Lisbon, Portugal – Hand Luggage Only
If you're looking for more than just a great meal in Lisbon and want a great view too then check out this post from Hand Luggage Only. There are some beautiful restaurant suggestions and you might find yourself wanting to stay in Lisbon for longer to have the chance to eat at them all!
Where to find the best food in Lisbon – The Blonde Abroad
There are so many great Lisbon restaurant suggestions in this post and all the food looks absolutely delicious. This is a guest post by We Travel We Eat so they're definitely the foodie experts and clearly have a lot of experience of eating in Lisbon!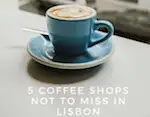 5 coffee shops not to miss in Lisbon – Bon Traveler
This isn't just about getting your caffeine fix while you're in Lisbon, it's about enjoying some of the cutest, quaintest and unique coffee shops in the city. Jessica has some gorgeous coffee shop suggestions and these beautiful photos will have you craving a cuppa!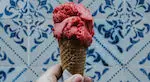 The ultimate Lisbon restaurant guide – Bon Traveler
Jessica has visited Lisbon 3 times so she's well qualified to share her favourite places to eat in Lisbon and this perfectly curated list of suggestions is all you need. This is a simple list and Jessica lets her beautiful photos do the talking.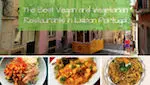 The best vegan restaurants in Lisbon – The Nomadic Vegan
Wendy lived in Lisbon for over a year before creating this vegan restaurant guide to Lisbon so she's more than qualified to share her favourites. Even as a non-vegan, these cafes and restaurants look delicious!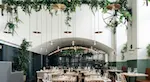 10 best Lisbon restaurants for design lovers – The Spaces
If a stunning restaurant is just as important as the food you're eating then check out this Lisbon restaurant guide with the most stylish restaurants in the city. They are beautiful and just so cool so I can guarantee you'll come home with a few home décor ideas too!
Shopping in Lisbon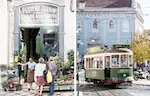 10 shopping hotspots and places to see in Lisbon – Urban Pixxels
This isn't your normal city shopping guide, this is a beautifully curated list of places you'll want to visit, whether you love to shop or not! From palaces to traditional stores, boutiques and a few gorgeous attractions you won't want to miss, Jacintha has some great suggestions and gorgeous Lisbon photos to accompany her post.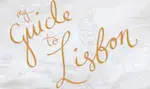 A shopping and foodie guide to Lisbon – Wish Wish Wish
As always, Carrie has some gorgeous shopping and foodie suggestions and this post alone makes me want to go to Lisbon. This was one of the very first Lisbon travel guides I came across that really got me interested in visiting the city and Carrie's subsequent guides are just as lovely so well worth checking out!
Travel journals, Lisbon itineraries and Lisbon travel guides by bloggers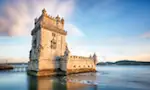 A weekend itinerary for Lisbon – The Travel Hack
Even if you've only got 2-3 days in Lisbon, that's plenty of time to see the best of the city so Suzanne has put together a perfect weekend guide to Lisbon. Everything is perfectly ordered so you can go from one thing to the next and enjoy a stress-free holiday because all the planning is done for you!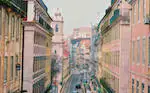 The ultimate insider's guide to Lisbon – Stef's Journey
Stef lived and worked in Lisbon and this incredibly detailed Lisbon guide gives you everything you need to know and then some. If you only read one post before you go to Lisbon, make it this one! This guide is really easy to read and follow and I'm sure it will help you plan your trip to Libson.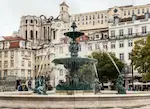 Weekend Guide to Lisbon – A Lady in London
This travel journal from Julie documents her girl's weekend in Lisbon so follow in her footsteps to see what she got up to. She has some great suggestions for places to eat and some lovely spots for great views over the city.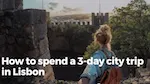 How to spend a 3-day city trip in Lisbon – Salt in our hair
Couple goals right here! This is a simple and easy to follow 3 day guide to Lisbon. There's nothing ground breaking but take a look if you like pretty pictures!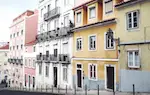 The Lisbon Guide – Never Not Going
There are lots of foodie and shopping suggestions in this Lisbon guide and the Airbnb they stayed at looks lovely and really cheap too so that's a great suggestion for apartment fans.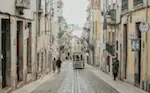 The ultimate Lisbon travel guide – Icing and Glitter
There's another lovely looking hotel suggestion in this post as well as lots of cute restaurants and brunch spots. More lovely photos and photographic evidence you should visit Lisbon ASAP!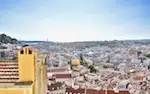 48 hours in Lisbon – Gastro Gays
If you've got just 48 hours in Lisbon then check out this guide from the Gastro Gays for a compact guide to Lisbon. They explain that Lisbon is a small, walkable city which makes it perfect for a short break. They've got some great foodie suggestions and they have a very handy Google Map with all their favourites plotted onto it.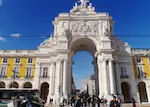 A city guide to Lisbon – The Travelista
Jess' guide also has a lovely little video at the end which brings the city to life in a way photos never can. Jess thinks Lisbon is such an underrated city and is the perfect destination if you're looking for a charming city break adventure.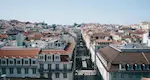 The local guide to Artistic Lisbon – Bon Traveler
Another gorgeous post from Bon Traveler! This is really simply written for anyone looking for quick and easy suggestions in a simple list-style. Lisbon is bursting with creativity and the city attracted creative travellers from all over the world thanks to its arty vibe. In this Lisbon guide there are suggestions for shopping, places to eat and drink and essential experiences for an artistic trip!
Day trips from Lisbon
There's a lot to see and do in Lisbon but if you're lucky enough to have an extra day then take a trip outside of the city to see these lovely destinations. These 4 places are all easily accessible by public transport and they'll give you the chance to see a different side to Portugal outside of the city.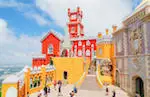 15 things you need to know about visiting Sintra, Portugal – Hand Luggage Only
Sintra is a must-see for anyone visiting Lisbon with an extra day or two to spare. It's only 30 minutes from the city and this stunning resort town looks like something like a fairy tale with colourful palaces, castles and UNESCO World Heritage Sites.
Family travels in Lisbon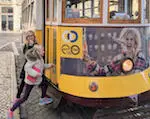 Winter escape to Lisbon – Mom in Zurich
I love reading about families who take city breaks and this makes me so excited for when my two little ones are a bit older! A few people have told me Lisbon isn't very family friendly but this Lisbon travel guide suggests otherwise. Maybe going out of season is the best idea? This family travelled in February and it looks like they had a great time!
Where to stay in Lisbon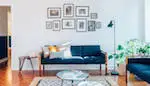 Casa C'alma in Lisbon – Au pays des merveilles Blog
This gorgeous guesthouse in Lisbon has a Scandinavian/Portuguese vibe and looks beautiful. White walls, hardwood floors, lots of luscious plants, an eclectic mix of furniture and a minimalist feel with the odd splash of Portuguese colour make it a perfect home-from-home.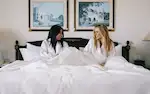 Girls Getaway to Four Seasons Hotel Ritz Carlton – Bon Traveler
Well this looks rather lovely and that swimming pool alone looks like good enough reason to visit to me! I also like the idea of a side-car tour!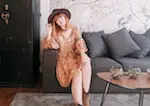 A home from home in Lisbon with Altovita – Fox and feather Blog
This apartment is a 'home with soul' and looks like a beautiful alternative to a hotel. I love staying in apartments when I travel – especially with the kids. You have so much more freedom and flexibility as well as more space and they're usually much cheaper too!
Do you have any more tips to add to the guide to Lisbon?