Is a standing desk really worth it? Here's my review of the FlexiSpot E7 Standing Desk and my experience using it.
I've been intrigued by the concept of standing desks for years.
When I'm not travelling I spend a lot of time sat at my desk, probably a bit too much time sat at my desk to be honest!
I do occasionally work from my kitchen counter and I've always enjoyed working at my computer while standing up. It's hard to explain but it just feels different.
I feel more engaged, more focussed and energised when I'm standing up to work.
Unfortunately, my kitchen counter isn't quite high enough so it's a bit awkward and it's a faff to move my computer from my desk to the kitchen (never mind all the temptations and distractions when I'm working next to the biscuit cupboard!) so a sit/stand desk had been on my radar for a while!
When FlexiSpot got in touch to see if I'd like to review their adjustable FlexiSpot E7 Standing Desk I jumped at the chance to upgrade my office.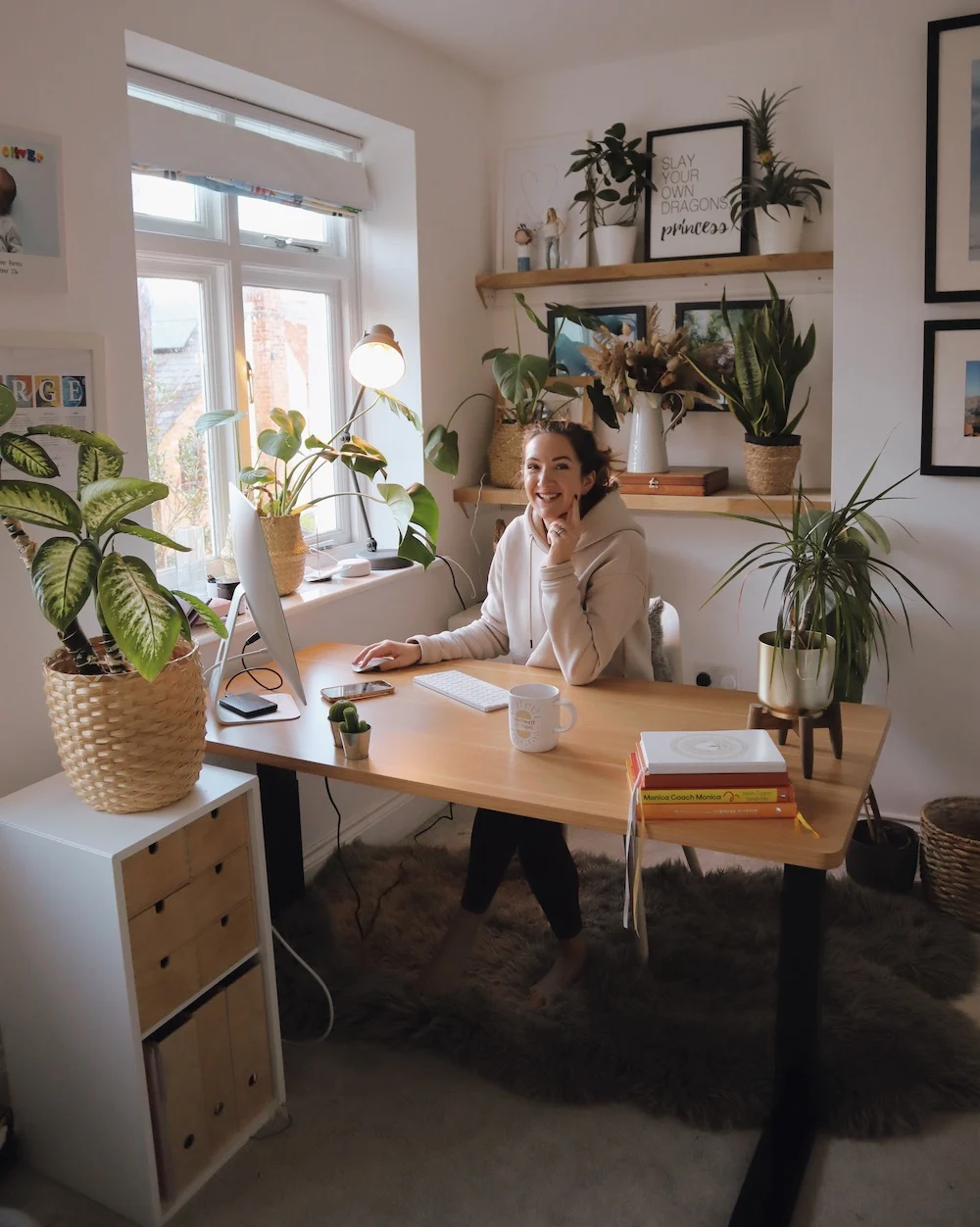 Assembling the FlexiSpot E7
The standing desk arrived in three parcels, two of which were large and heavy.
My husband, Sam, very kindly put my desk together for me. Sam is very handy and puts together flat pack furniture in the blink of an eye, but he did assure me that this desk was really easy to assemble. He just said it was very heavy so that adds an extra challenge when assembling it. But other than that, it was really straightforward.
When the desk was first assembled I was a little disappointed that it was smaller than my previous desk. But I quickly got used to it and realised the extra space on my old desk was just an easy excuse to collect unnecessary clutter, so now I actually prefer having a smaller, tidier desk.
I've gone for the FlexiSpot E7 with black legs and a bamboo top. I love the look of it and it fits the aesthetic of my office nicely.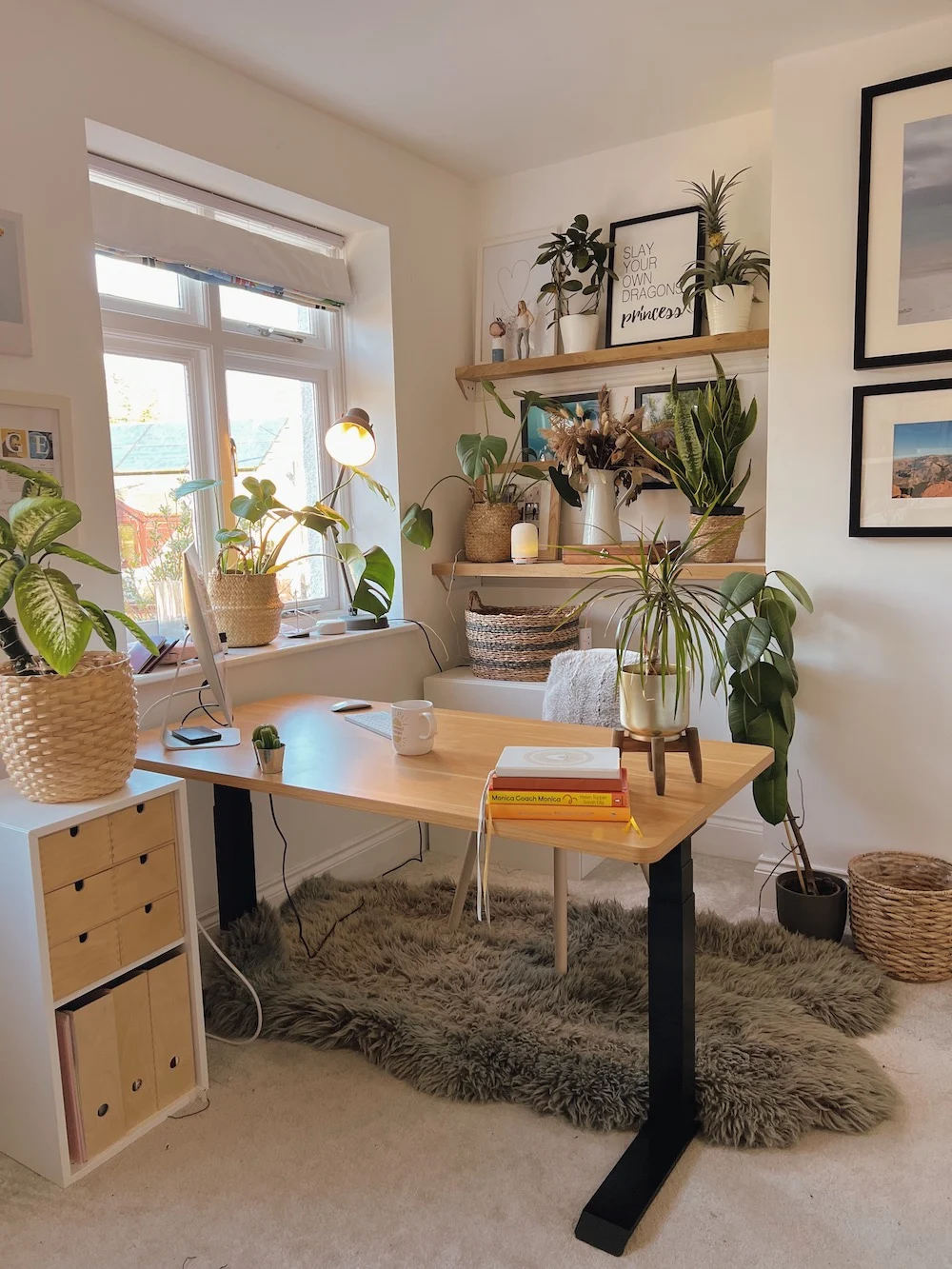 The main benefits of a standing desk for me
A boost of energy and consciously separating tasks into 'sitting tasks' and 'standing tasks'
For me, the main benefit of a standing desk is that it encourages me to consciously focus on one task at a time.
I tend to do one task while sitting and the next while standing, so the desk keeps me focussed and I avoid flitting from one task to another. I don't change tasks until I change position and this physical movement really helps separate my work.
This makes me feel more productive and just generally conscious of what I'm doing.
I used to do this when I was working from home years ago. I'd do one task at my desk and then I'd move to the sofa, then the kitchen table, then the kitchen countertop and then I'd work on the floor for a bit and maybe even on my bed for a bit. For me, it's not just about the sitting/standing, it's about the change of position for different tasks. But of course, moving around your house with all your work gear isn't practical and it's not something I can do now I have kids because I really just need to work in one quiet space.
When I go from sitting to standing it gives me a big boost of energy. It's like drinking a strong coffee and splashing cold water on my face!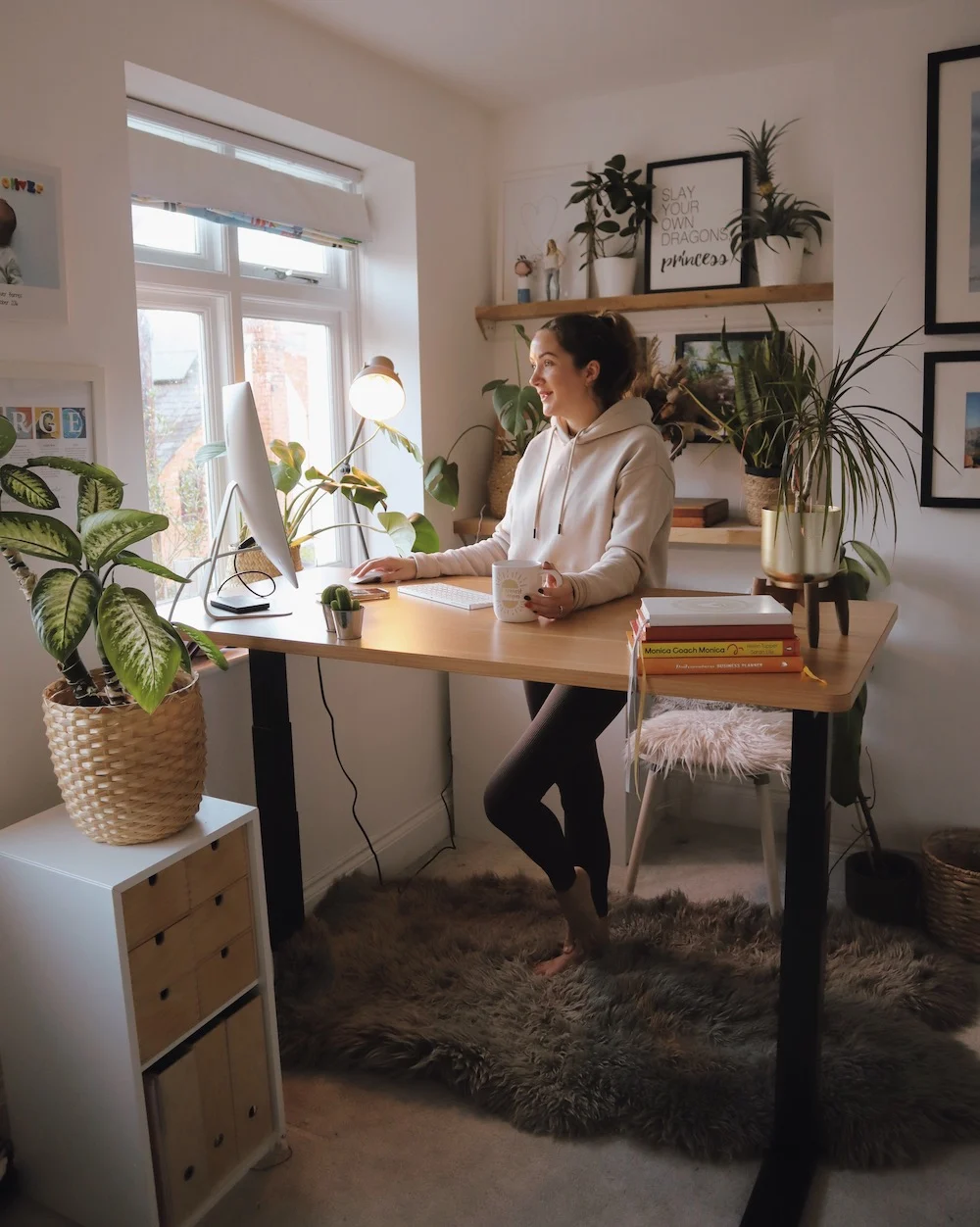 FlexiSpot E7 standing desk review
The FlexiSpot E7 standing desk is smooth and simple to use.
It can be adjusted from 58cm-123cm.
The up and down motion is not only smooth but also very quiet and just makes a gentle whirring sound.
It has a 125 kg weight capacity so you never need to worry about putting too much on it. There are no wobbles if you stand or sit on it (there's a promo video of someone hiring it and then standing on it to clean their windows!)
It has a child lock on it!!! It took me a week or two to figure this out and my youngest daughter was driving me crazy. She thinks it's the best thing ever to move it up and down.
It has 4 memory presets for different heights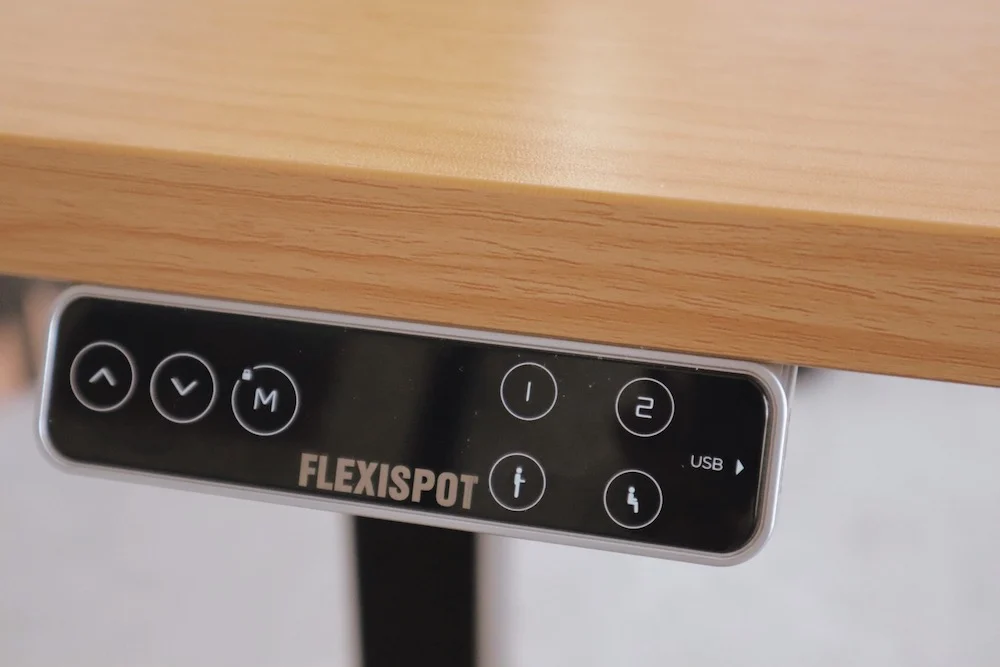 Pros of the standing desk
It moves up and down really smoothly so you never need to worry about anything on your desk spilling or falling over
The range of motion is huge – it goes much higher and much lower than I would ever want it
You can choose from a huge range of colours and styles to suit your office interior
It's a really nice size
The up and down button is easy to use
There's also a USB port within the button for an extra charging option
There are 2 memory functions so you can save your ideal standing or sitting height
Cons of the standing desk
There are really only two cons of the standing desk
It has no storage as standard and any additional draws need to be purchased separately
Sometimes mine gets stuck and won't go back up. I need to 'reset' it by putting it all the way down before it will go back up again.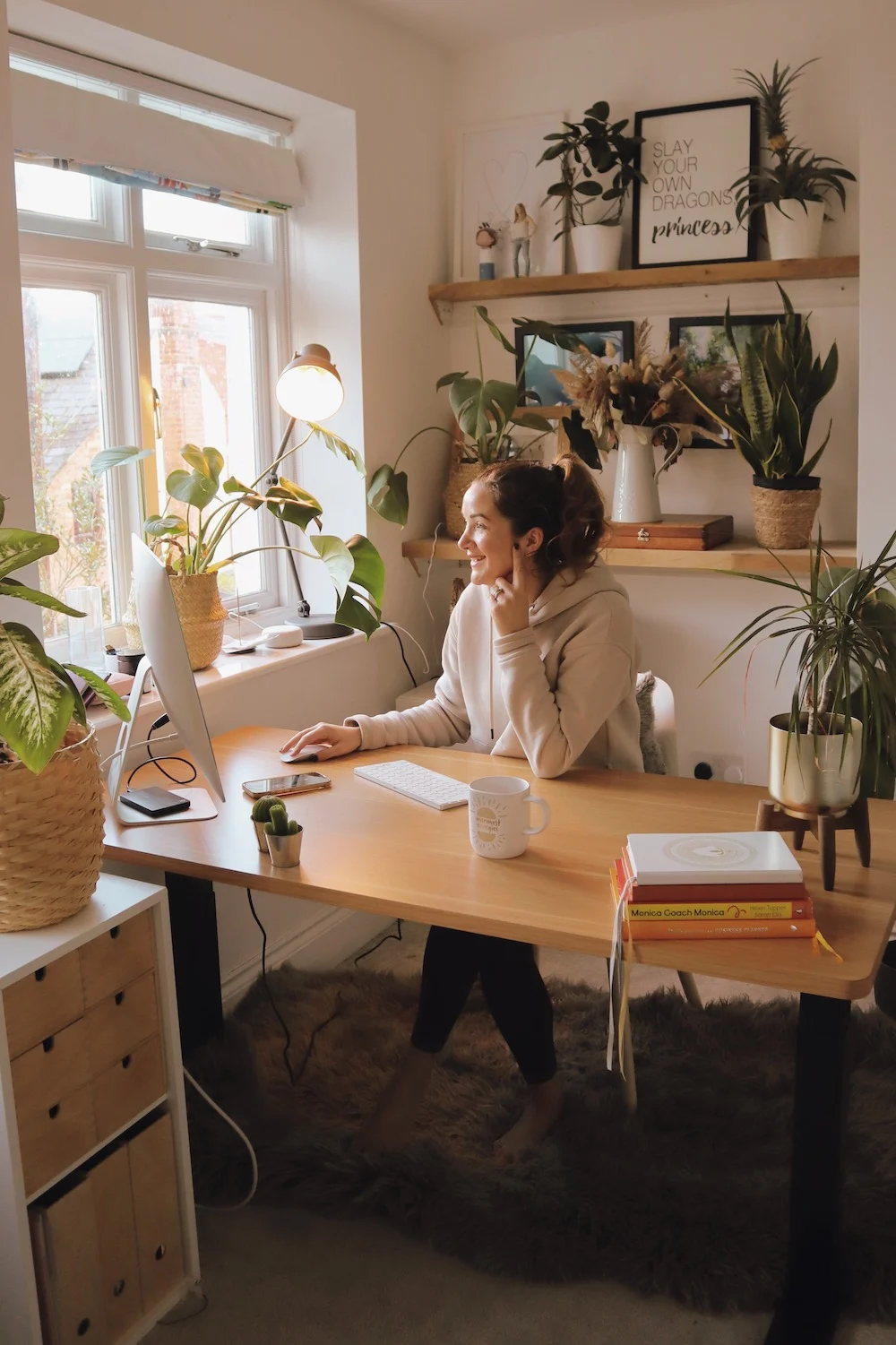 My experience using a standing desk – Helping my workflow
I really, really enjoy using a standing desk. I probably use it while standing for 40% of the time and sitting for 60% of the time, so I do still sit a bit more than I stand.
I've started to get into the habit of doing certain jobs while standing and others while I'm sitting. I always reply to emails while I'm standing and I like to edit photos and videos while standing too. But I like to do writing work while I'm sitting.
While this doesn't sound like a big deal, it really splits up the tasks I'm doing and separates one thing from another.
This forces me to stay on task with one job and I find I don't flit between tasks and try to multitask so much.
One thing that really prevents me from being as productive as possible is multitasking! I know it doesn't help but I still try and do ALL THE THINGS at the same time. Why do I do this? I don't know.
I find that separating my tasks into sitting and standing keeps me on track and helps me settle into a steady flow with my work.
I'll sit down to write an article and even if I'm tempted to start checking my emails or scrolling through social media, I quickly stop myself because that's a standing up task! It's starting to feel weird to check my emails while I'm sitting down so I don't do it.
For me, this is 100% the biggest benefit of a standing desk.
These are also all the physical benefits of a standing desk.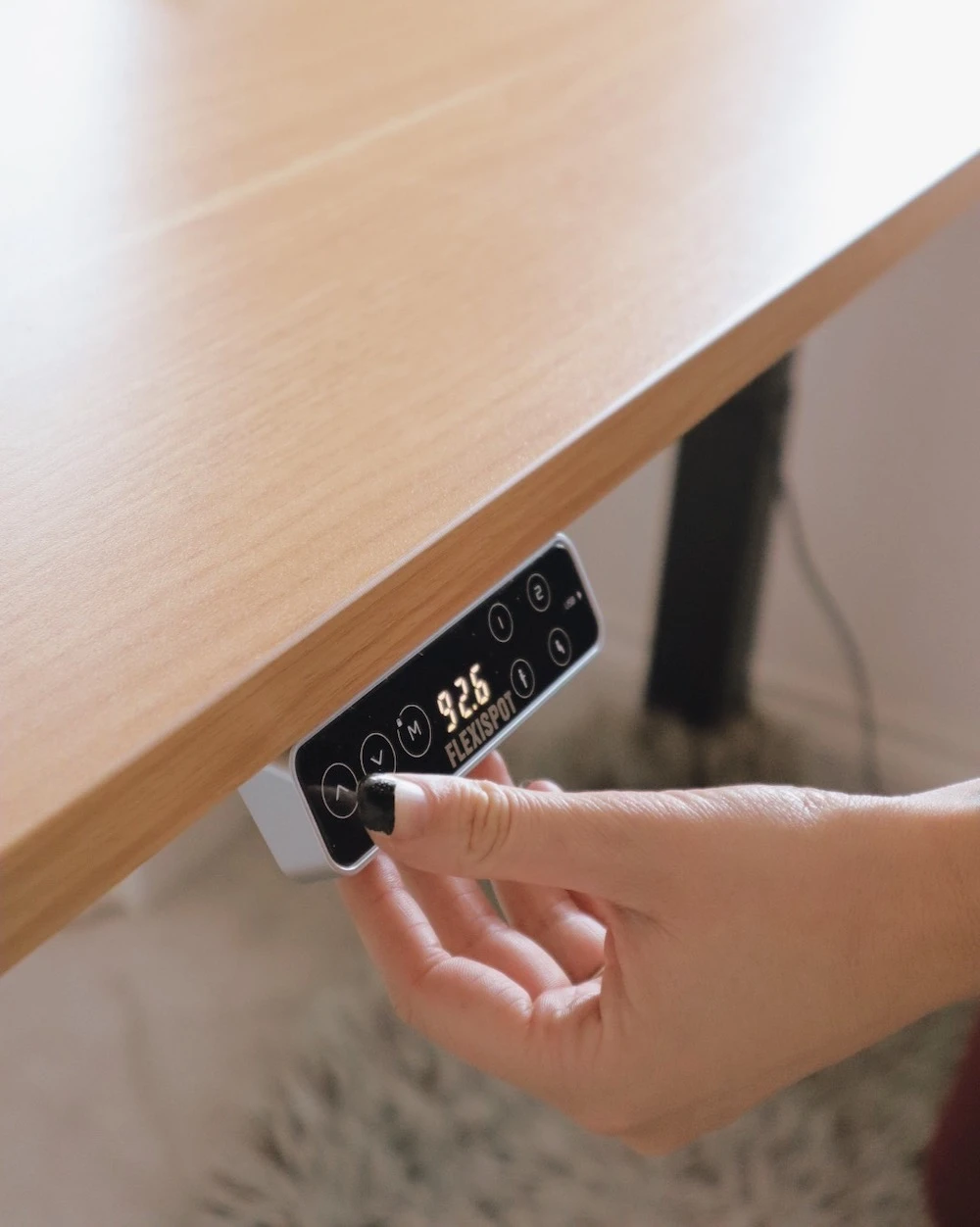 Physical benefits of a standing desk
I'm not going to reel off a bunch of facts I've found on the internet, I'd rather I've seen lots of 'internet facts' saying that standing desks are better for your health and can help reduce the risk of weight gain and heart disease. Now I'm sure there is a lot of truth in this but we all know we won't suddenly drop a stone or two by standing up for a few hours.
For me, the main physical benefits are the fact that it forces me to stand up straight and adjust my hunched position. This instantly encourages me to relax and let go of any tension. I also automatically start taking deeper breaths which helps with relaxation and mental clarity.
I'm a physically active person anyway; I workout most mornings, I walk whenever possible and I'm just generally always on the go (I've got 3 actives kids to thank for that!) so I don't know if I'm the kind of person who would see any other physical benefits.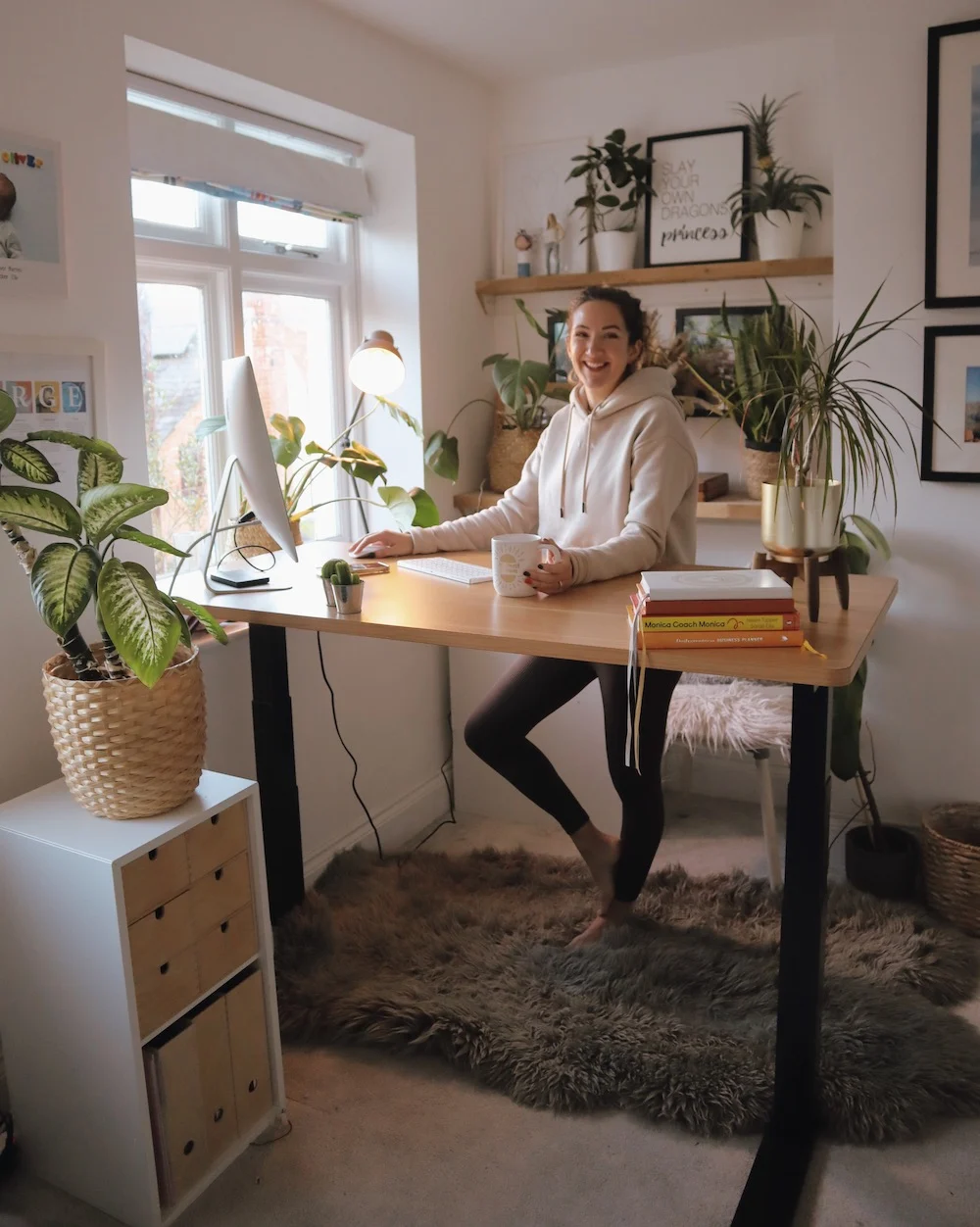 Pomodoros and a standing desk
One thing I really love doing at my standing desk is pomodoros. If you aren't familiar with pomodoros, it's a productivity technique where you work intensely for 25 minutes and then take a break. You're meant to take a 5 minute break and then every four pomodoros you extend that break by 10 minutes. You use a timer which keeps you on track and adds a gamified experience to your productivity. (I actually take a 10 minute break each time, 5 minutes isn't enough!)
This is a great technique to stop me getting distracted and it works so well with a sit/stand desk as you can lower and raise your desk with each pomodoro.
I find that not only setting an alarm but also changing position keeps me really focussed and gives me a new boost of energy for each 25-minute block of work.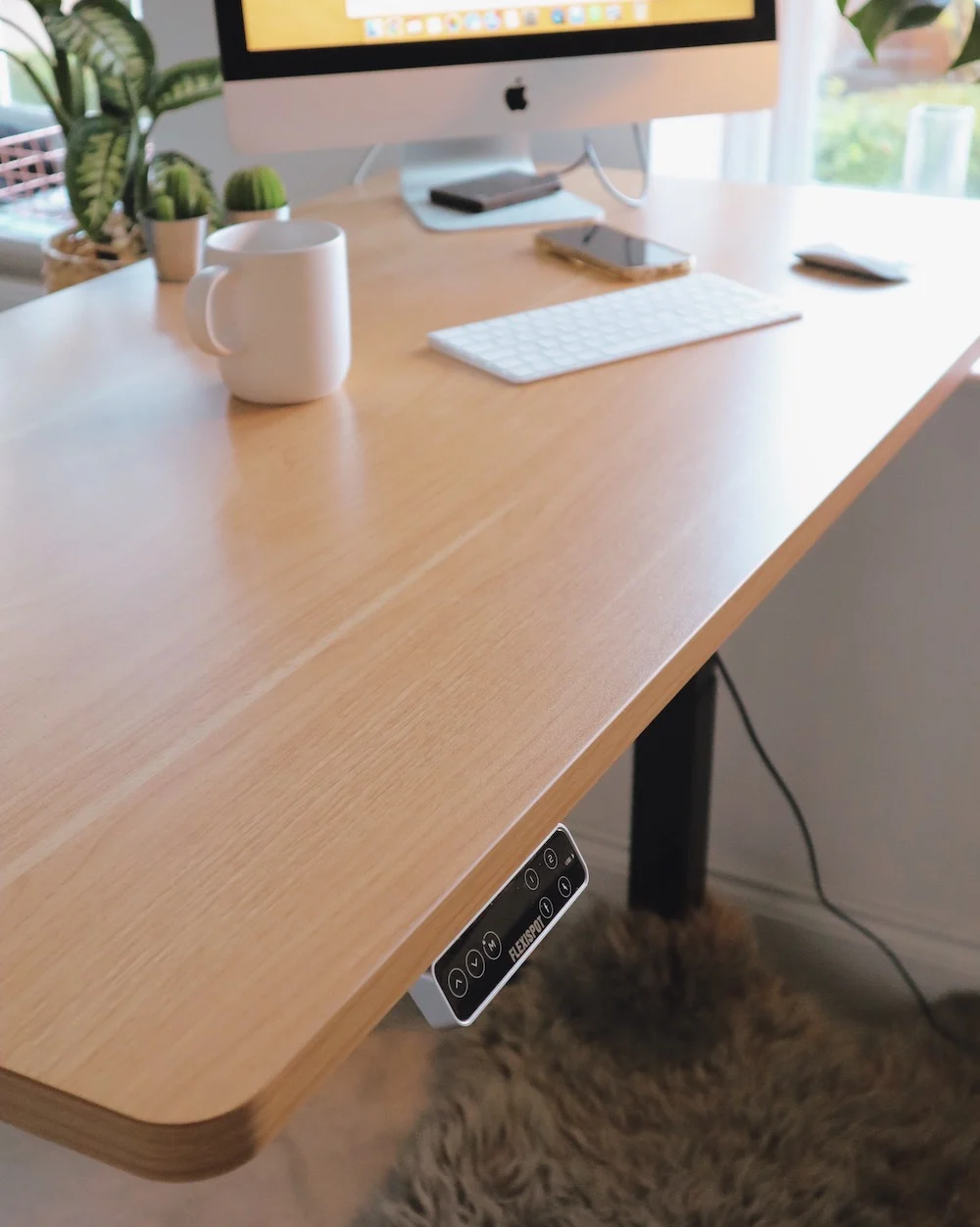 Can you have a treadmill with your standing desk?
I've seen people using their standing desks with a deadmill placed beneath it and, I'll be honest, I have checked out treadmills for standing desks online! But after using my desk in the standing position, I think it would be almost impossible to focus on my computer and walk on a treadmill at the same time. I could probably watch a video, but you could do that using an iPad on a regular treadmill.
It's definitely possible but I wouldn't buy a standing desk solely for the purpose of placing a treadmill beneath it.
I'm sure the benefits of just going outside for a walk would be much better for your physical and mental health and probably boost your overall productivity too.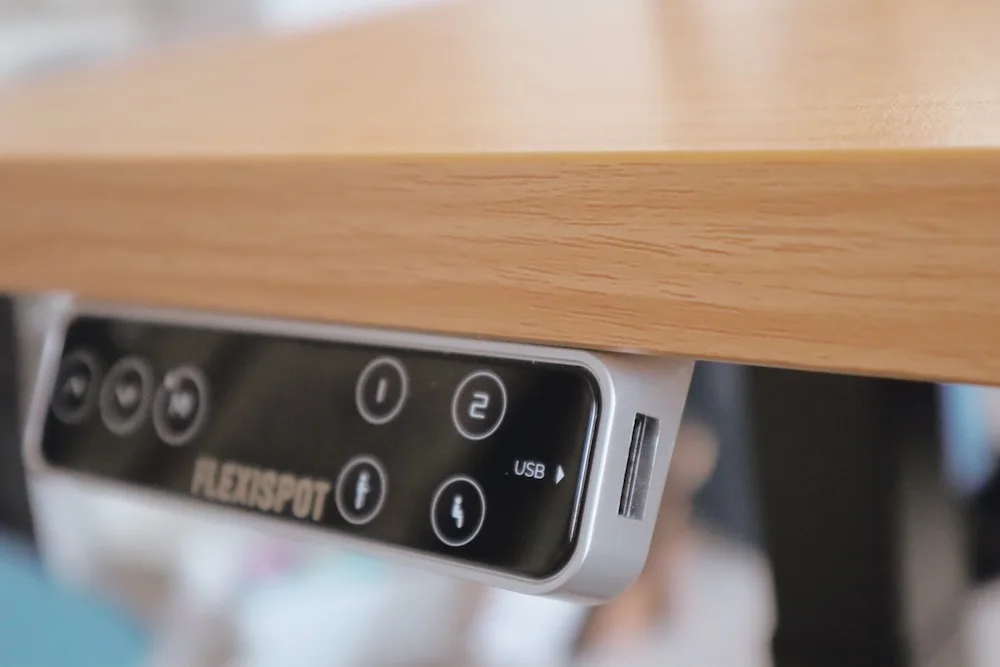 Could you use an exercise bike with a standing desk?
Now I think this would be a bit more realistic and you could slowly pedal on an exercise bike if it was placed beneath a standing desk.
But, again, I wouldn't buy one purely for this purpose.
I have a Peloton bike just opposite my desk and I like it being here because it reminds me to stop working and jump on the bike for a 15 minute break.
Overall thoughts
If you're looking for a new desk then I would 100% buy a sit/stand desk. I personally wouldn't even consider buying a regular sitting desk anymore. I can't imagine sitting still at my desk for 8 hours a day now!
I highly recommend the FlexiSpot E7 and it's a good all rounder that would suit most people for most situations, whether you're using it purely for work or for crafting, making and maybe even placing a keyboard on it. FlexiSpot has other designs so I'd check out their website.
If you've already got a perfectly adequate desk, is it worth upgrading….? I don't know. These desks aren't cheap. The E7 starts at £419.99 so it's an expensive upgrade but I feel like it's one that will pay off.
FlexiSpot also have a Black Friday sale with up to 31% off during November 25th-28th 2022 so it's definitely worth checking out their official site for that!
You can find out more about the FlexiSpot desk here.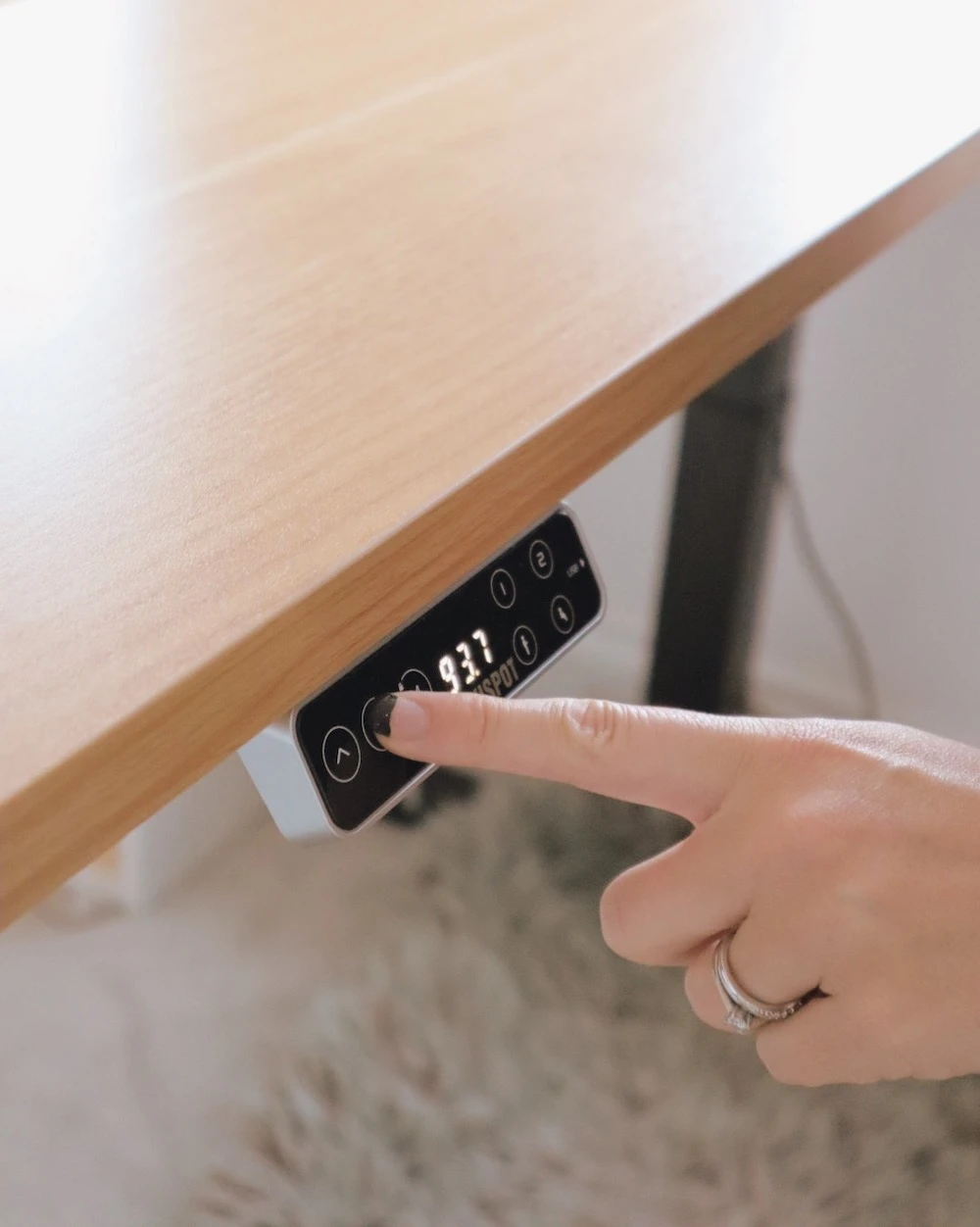 If you enjoyed this post, you might enjoy these too…
Atomic Habits Summary – This book is an absolute game-changer!
Tips to leave your job and become a full time freelancer
20 truths about being a full time blogger