If you're looking for carry on luggage for kids I've got 10 great suggestions to help make your flight as smooth and simple as possible.
Before choosing your kid's carry on luggage, make sure you check the size allowance for the airline you're flying with. It varies significantly from airline to airline and you don't want to arrive at the airport, realise your carry on luggage is too big and have to pay for it to go in the hold of the plane!
Other things to think about:
Will your child want a backpack, wheeled case or a hybrid of the two?
Will your child carry their own bag or are you going to be carrying it along with your own stuff?
Does your child also have checked luggage? (Is their carry on luggage for their fun plane things or will they have clothes in there too?)
Is it important for them to easily access things in their bag during the flight? (avoid a hard shell suitcase with no exterior pockets if it is)
Are you a fun parent and will you let them scoot about the airport on a scooter suitcase? (Just for the record – I am not! My three kids would cause chaos!)
Will you also have a pushchair and therefore need your hands free or something you can easily wheel beside the pushchair?
10 best carry on luggage options for kids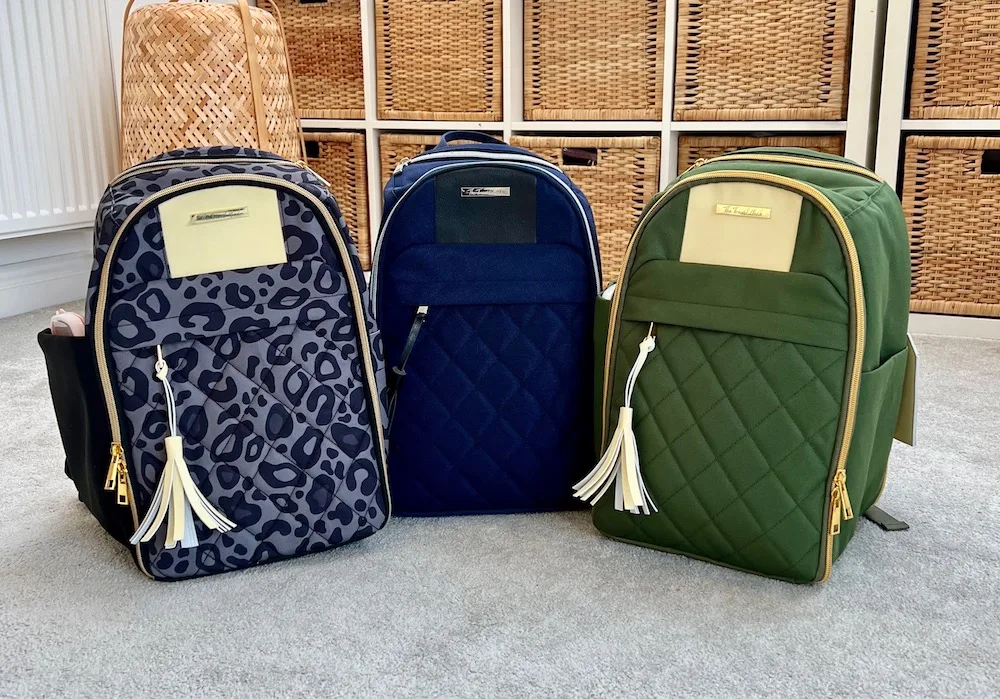 1. What my kids use
My kids use The Travel Hack Backpack. It's an affordable option, comes in different colours and can be used as a day bag when we arrive on holiday. It's easy to carry, has plenty of pockets for organisation and a padded laptop pocket at the back that's great for quick access to gadgets. It also fits neatly under the plane seat, meaning you won't need to put it into the overhead lockers and be constantly jumping up and down to get things out.
2. Best for young children
This carry on luggage for kids by Cabin Max is just too cute. It comes in blue or pink and has a harness to attach a teddy bear or doll.
It's a hybrid bag so can be used as a backpack or a rolling suitcase and has a convenient detachable bags for anything your child will want frequent access to during the flight.
3. Best for parent and baby
If you're travelling with a baby I love this set which includes a cabin sized hard shell suitcase, a large tote bag that slips onto the suitcase and a small toiletry bag too. I'd keep all of your baby essentials in the tote bag under the seat in front of you and put all of your extras into the suitcase in the overhead locker.
Just be aware that the suitcase is too big for some budget airlines as cabin luggage.
4. Best scooter suitcase
What child doesn't want to be zooming through the airport on a scooter attached to their suitcase!? These are so much fun, keep kids entertained during those long airport waits and can be really handy when you've got a long walk through the airport.
They're probably not suitable for all children (I mean my children who would go WILD on these) but if you've got a calm, sensible kid then I think they're a fun option.
5. Best practical all-rounder for kids carry on luggage
It is fun to have funky colours, wheels and lights but if you're looking for a practical carry on bag for kids then this hybrid backpack trolley is a great option. It has easy-access pockets and seamless transition from backpack to suitcase.
6. Best for teenagers
Sleek and practical, the Anode hard shell suitcase comes in lots of colours and different sized depending on who you're flying with.
7. Best for Ryanair
Ryanair are infamous for their tiny cabin bags so make sure you're within the size limits if you aren't paying extra for carry on luggage. This little trolley bag is both adorable and practical, making it a great option for Ryanair. I love that you can pull it along as this is often a better option for children.
8. Best for easyJet
easyJet give you a little more space in your carry on luggage so I'd suggest this simple hybrid option with easy access pockets.
9. Best wheeled backpack for kids
This is a fun, hybrid option for a child's carry on luggage as it has a glow in the dark character that lights up. The backpack can be detached from the handle and wheels, making it a good option for when you arrive in your destination.
10. The one your kids actually want
And finally, the one all the kids actually want. It's a high quality scooter suitcase suitable for both children and adults. It can hold any rider up to 150kg and the suitcase has a 50 litre capacity.
To Trunki or not to Trunki?
Before we go any further, let's address the elephant in the room….Trunki's.
Personally, and somewhat controversially, I hate Trunki's. I think they're expensive, bulky, difficult to carry, they don't actually hold a lot, awkward to pull a kid along on them, potentially dangerous when kids fall of them (because they will fall off), difficult to open on a plane and as soon as the novelty wears off your child won't be bothered about it and you'll wish you just brought a backpack.
So yea, it's a no from me when it comes to Trunki's!
But don't worry because there are loads of other great options when it comes to carry on luggage for kids.
Do I need a ride on suitcase?
In a word – no.
If you think your child is going to get tired and will want to sit down then just take a pushchair.
It's actually a great idea to take a pushchair to the airport because you're more likely to get whisked into the family lanes and skip the queues.
If your child doesn't sit in the pushchair then you can still use it as a trolley for all your luggage and other crap you'll undoubtedly accumulate at the airport.
'But my child is actually way too old to go in a pushchair and it's embarrassing!'
Stop worrying about what other people think and just do whatever makes your life as easy as possible.
I have a Babyzen Yoyo which is a great travel pushchair and I will travel with this for as long as possible! It folds up small so you can take it on the plane with you but it's also strong and sturdy enough to hold a child who probably is a bit too big to be in a pushchair!
Read more: What's the best travel stroller?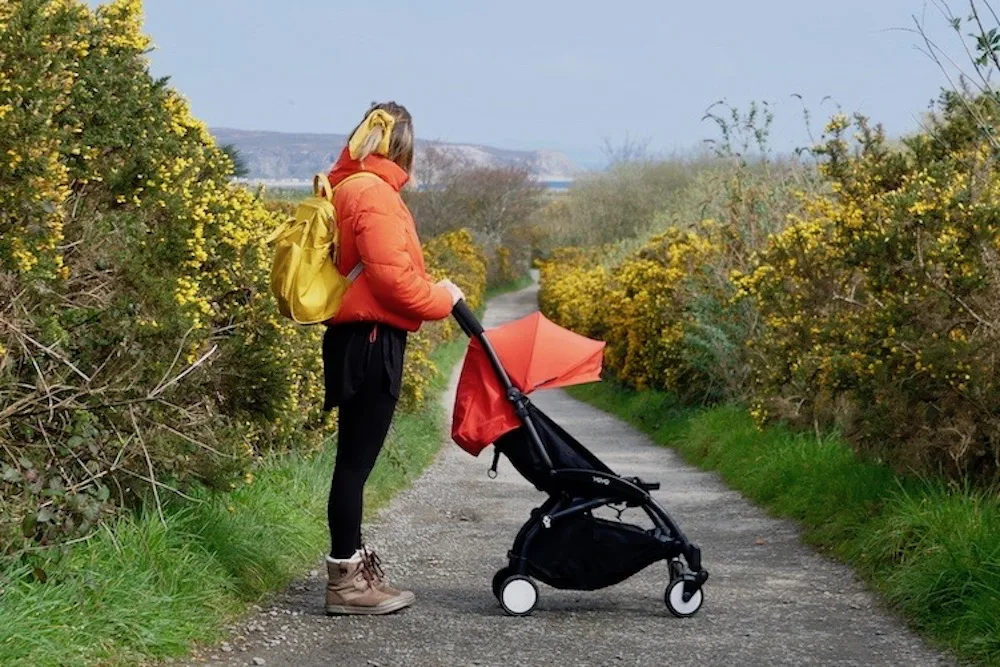 What do you put in your kid's carry on luggage?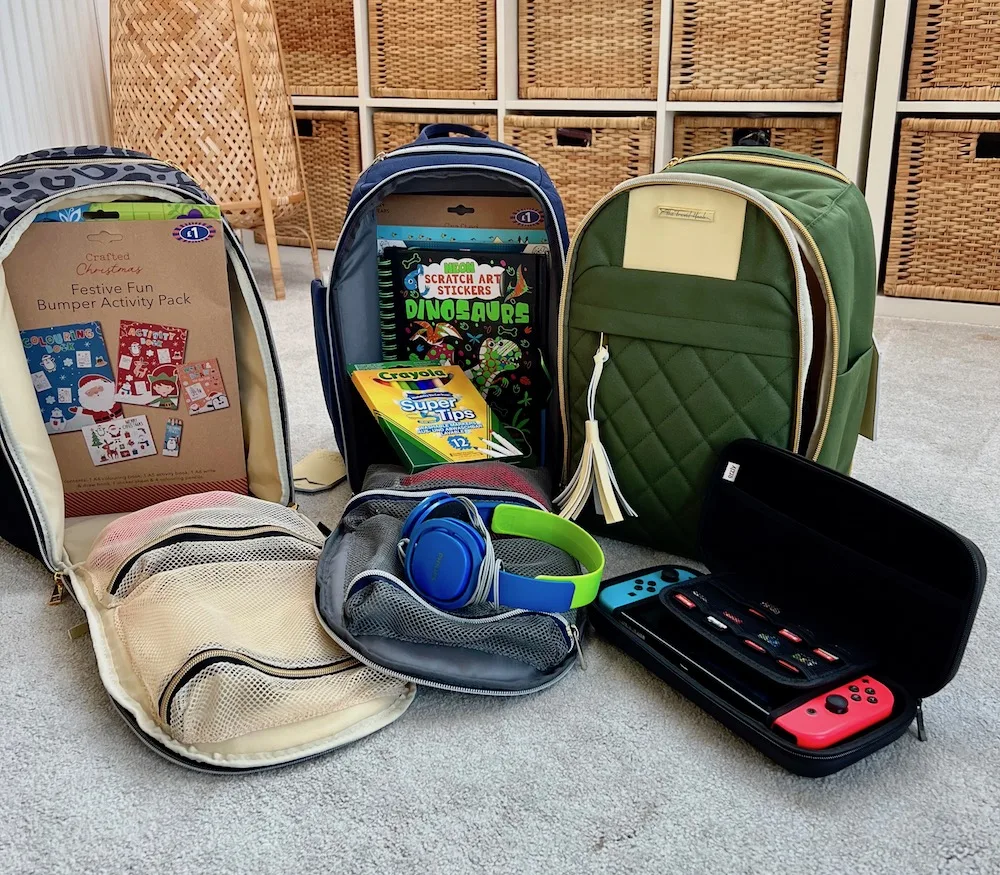 I've got a whole blog post about what's in my kid's carry on luggage. You can read it here: Here's what I pack in my kid's hand luggage for a mid length flight