If you're travelling from a UK airport this summer you might be feeling a bit nervous about the current chaotic situation. The news is full of images of ridiculously long queues and stories of travellers missing their flights due to mega delays. Some people are waiting hours for their luggage and flights are being cancelled left, right and centre.
But I'm here to offer a bit of reassurance and remind you that news is always full of the bad stuff! I've flown a few times this summer and it's been fine! Yes, there have been queues but there are always queues!
So don't let the thought of flying this summer stress you out as things will probably be fine.
I do have some tips to survive UK airport chaos this summer and get your holiday off to a flying start!
1. Try to book early morning flights
Whenever possible, book flights for as early in the day as possible. I know, getting up at 4am for the first flight of the day is tough, but it's less likely there will be any delays or disruptions.
Try and avoid the last flight of the day too as these are most likely to be cancelled.
2. Travel with just hand luggage
I know it isn't always possible but in many circumstances you would be able to travel with just a small carry on case.
I made a reel this week about how to get two weeks worth of clothing into a small under-the-seat bag!
When you've only got carry-on luggage you don't need to worry about checking suitcases in (which can take hours), bags getting lost or waiting for your luggage on the other side.
I have to say though that I've travelled with Jet2 for my last two holidays and checking in luggage was a breeze and it was really fast.
I've got loads of tips about travelling with hand luggage here:
Using vacuum sealed bags for travelling to save space in your luggage
The best small carry on luggage and tips for packing
How to pack for a week away with just hand luggage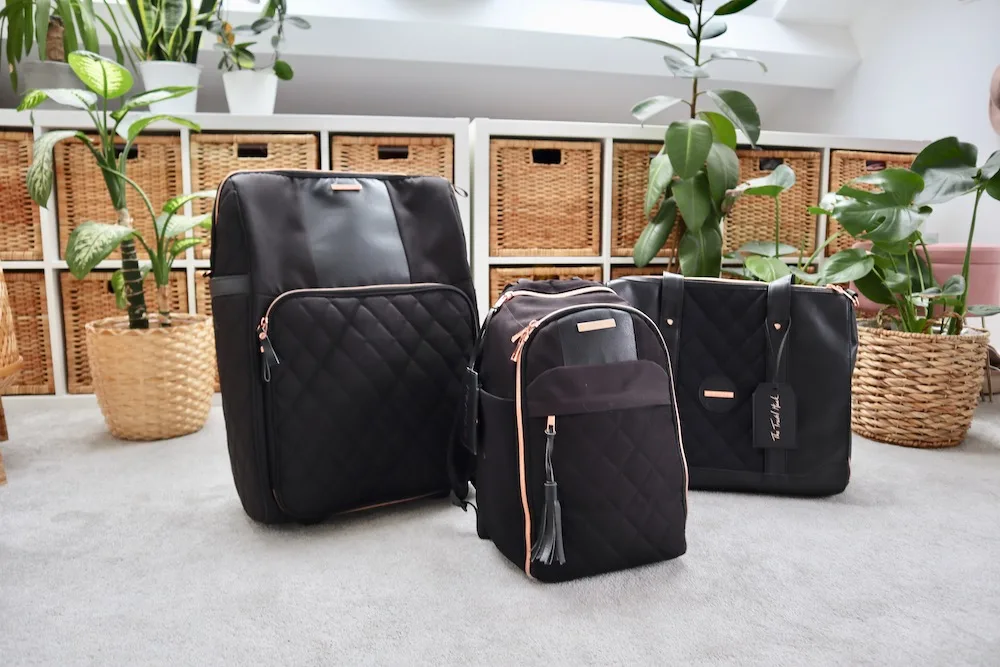 3. Don't arrive too early
One of the reasons there are crazy long queues at the airport is because people are arriving WAY too early for their flights. I know we all want to be organised and ensure we don't miss our flights but having too many people in each terminal is causing a lot of problems.
4. Listen out for updates to skip the queue
If you're in the security queue, make sure you listen out for updates ushering people to the front of the queue if they're on certain flights.
If your flight departs soon, they will often do announcements welcoming anyone on the flight to skip to the front of the queue.
Don't panic about this! It seems to be fairly normal at the moment.
I wouldn't rely on this happening and arrive late expecting to get ushered through, but it's likely it will happen if your flight is departing soon.
5. Let staff know if your flight is leaving soon
If you don't hear any announcements and you're getting worried your flight is leaving soon and you're stuck in the security queue, make sure you let someone know. They'll either bring you to the front or they'll reassure you that you have plenty of time.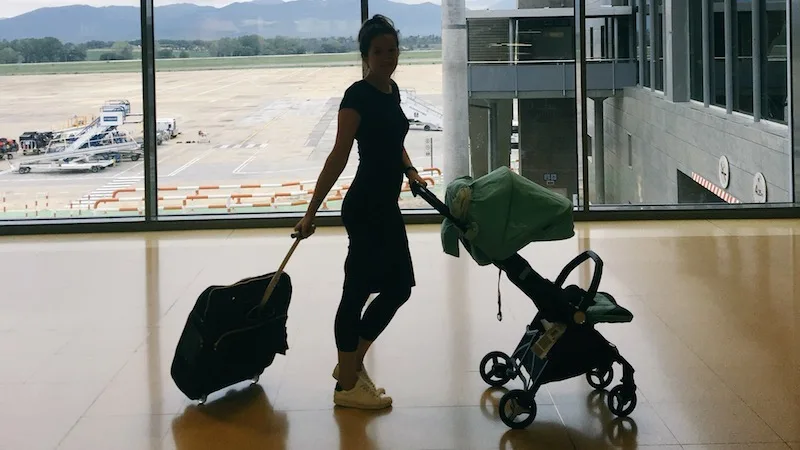 6. Don't get held up at security by having prohibited items in your hand luggage
Here is a list of items you cannot take in your hand luggage (go to 'Banned items'). Do not put these in your hand luggage or you will almost certainly be delayed.
The things that often catch people out are cigarette lighters, liquids over 100ml, liquids that aren't in a little plastic bag (that stray lip balm in the bottom of your bag!) and safety razor blades.
Remember that a liquid is basically 'anything you can spread'. It's not just drinks and shampoo!
You actually can take razors in your hand luggage, they just can't be safety razors.
There are other things you can take in your hand luggage but you're going to need to remove them from your bag as you go through the scanners. If you don't remove them from your hand luggage then you'll have to have your bag checked and this can add even further delays.
Thing you'll need to remove when going through security include:
ALL liquids, balms, lotions, gels, jams etc (liquids need to be in one small plastic bag)
Many electronics such as laptops, cameras and hair styling devices
Baby food and baby milk
Medicines
Some food
If in doubt about whether or not to take it out of your bag – just take it out! It's quicker and easier to remove it! There are also staff there to help you if you need it.
It's also worth keeping your bag fairly tidy. I once had my bag searched because it was chaotically stuffed!
I tend to put everything I'll need to remove from my hand luggage into a canvas shopping bag so I can just whip that bag out of my cabin case. This means you won't be digging around in your bag looking for things that need to be removed.
7. Don't rely on getting food and drinks at the airport
I highly recommend taking your own packed lunch or some snacks to the airport because the queues for food have been crazy recently. I queued for over an hour just to get a coffee at Manchester Airport a few weeks ago.
There are also shortages with food on planes so do not rely on being able to get food or drinks at the airport or on the plane.
If you've got an early morning flight and leave without breakfast, then get delayed on the plane for an hour or two, and then have a long flight then you could end up going all day without eating!
This is especially important if you're travelling with kids because – if they're anything like mine – they really can't go long without being fed!
Just remember that you can't take things like yoghurts, jelly, soup etc through security so keep it simple with a sandwich and some fruit and pre-packaged snacks.
You can't take drinks over 100ml through airport security but most airports have drinking fountains where you can refill a water bottle so don't forget your bottle!
You may also want to take a mini bottle of cordial. Last time I was at Manchester Airport, the fountain water was a bit warm and tasted weird so I really wished I'd packed some cordial!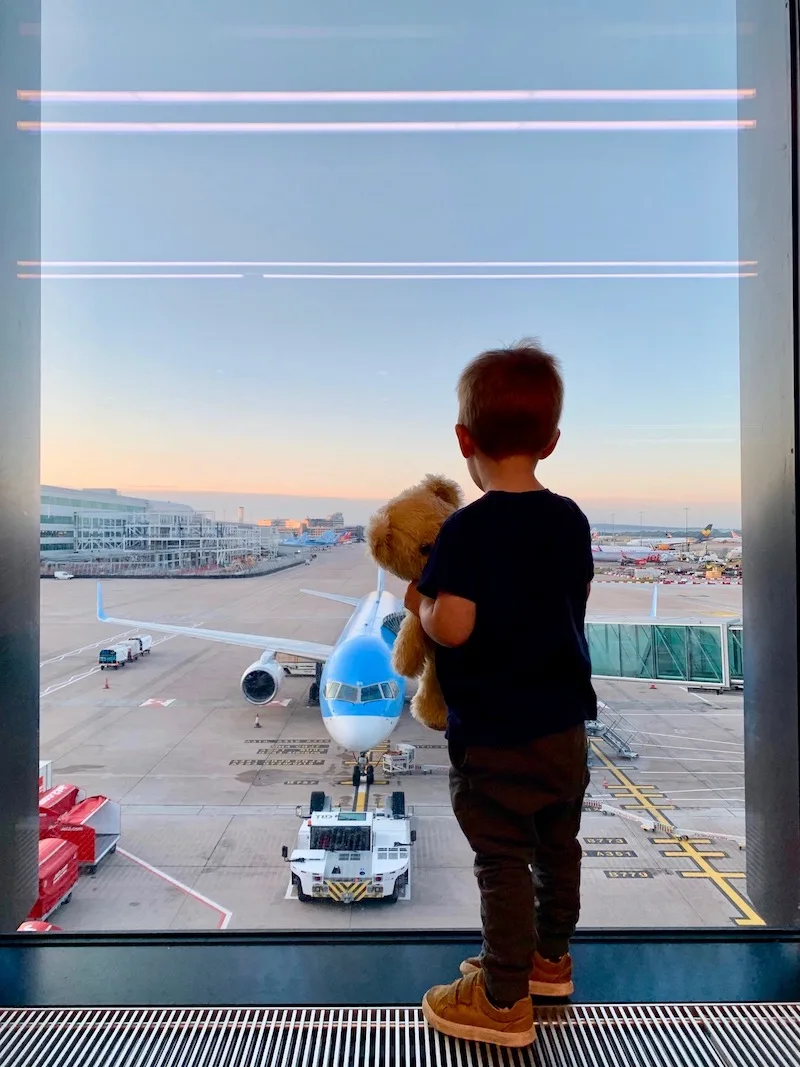 8. Download an airport map in case you're running late
There are a few apps you can download for airport maps and navigation. Personally, I've found just Google searching the airport and terminal brings the best results as many of the apps are inaccurate.
You'll be able to quickly see where your gate is, the nearest toilets and any shops you want to visit before boarding. It may seem a bit overkill but it can save you a lot of time if you're in a rush!
9. Keep the live departure information on your phone
Most airports will have live departure information you can access from your phone.
This information will also be available on the screens around the airport but this can be handy if you're nowhere near a screen and need to make a mad dash for your departure gate!
10. Have a good insurance policy
Travel insurance can feel like a bit of a minefield as those lengthy policies can be long and confusing.
This year I've taken out an annual family travel insurance policy with Cedar Tree.
The reason I chose Cedar Tree was thanks to their easy-to-understand Covid cover policy. All of their policies cover Covid as standard. You are entitled to up to £15,000,000 in expenses if you fall ill with Covid while on holiday.
"We include cover for cancellation due to you falling ill with Coronavirus* and being unable to travel or being required to self isolate, subject to medical certification or an official test result. We additionally include cover for curtailment due to the death of a close relative due to Coronavirus."
I'm also entitled to up to £5,000 if my holiday is cancelled or I have to abandon any part of my holiday due to delays or cancellations.
This is especially important to have if you book your holiday independently and not as part of a package holiday. If you don't have a good insurance policy or don't book a package holiday then you wouldn't be able to get your money back on your accommodation if your flight was cancelled or delayed by so long it wasn't worth taking the holiday.
Read more: Cedar Tree: The travel insurance that covers you against Covid and cancellations.