Are you going away for a week and planning to just take hand luggage? It's going to be a squeeze but it's more than possible if you follow a few simple tips! Packing light for a weekend away is relatively easy. If you're away for 3 days you'll only need to pack 2 outfits and some toiletries and you're good to go. But what about when you're going away for a whole 7 days!? How to you squeeze everything into your hand luggage for a week long trip?
Since writing this post, cabin luggage has got even smaller so here's an updated post about Small Carry on Luggage and how to pack everything you need!
Here are my 10 top tips for packing for a week away with just cabin baggage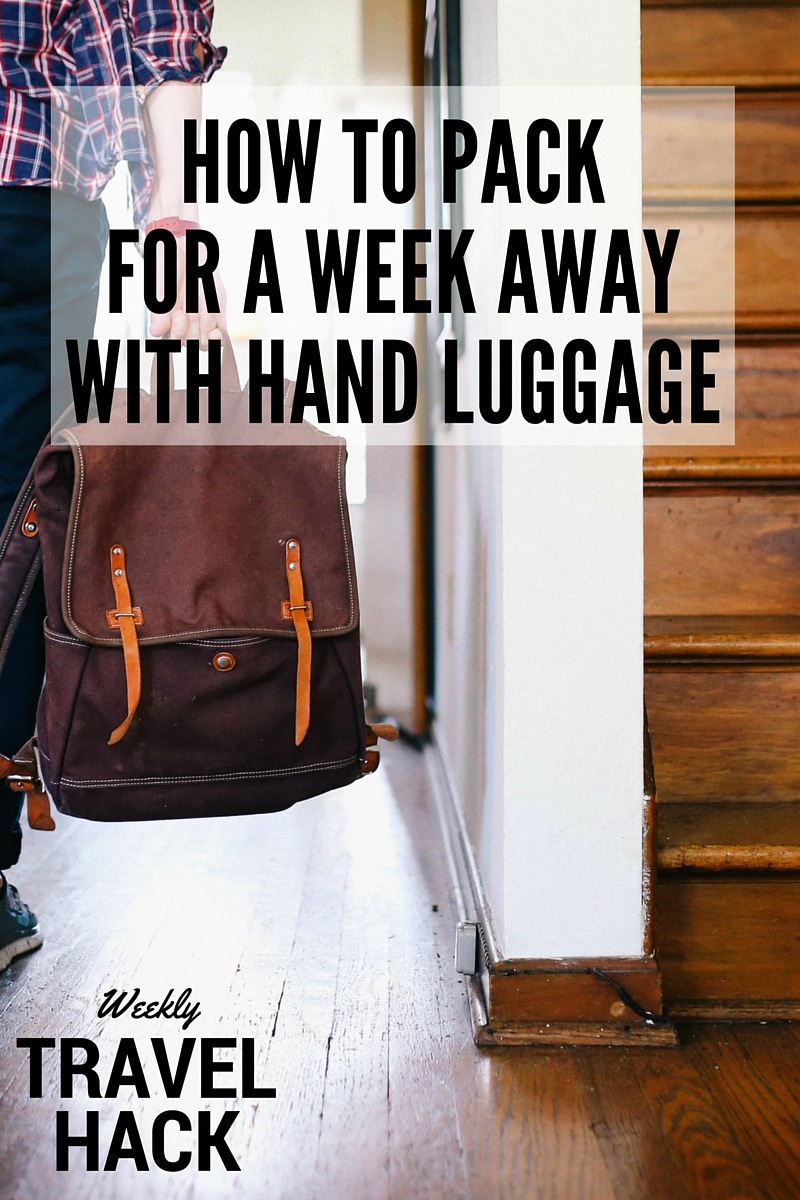 #1. Have a 'travel uniform'
When I was in school I hated having a uniform and couldn't wait to be a grown-up and wear my own clothes each day. Now I'm a grown-up and I want a uniform again! Life was so easy with a uniform.
My travel uniform is currently skinny jeans and a t-shirt with loads of jewellery and a cute jacket. A few years ago all I wore were floral dresses. I met a guy who only wears Levi jeans and black t-shirts.
It might sound boring but it doesn't need to be. Having a travel uniform makes it easier to pack and plan your outfits and it's easier to pack light. Plus, we all have one outfit we like the best so why not just replicate that outfit 7 seven times with a few slight alterations?
Find what you look and feel best in and do more of the same!
#2. Plan a rough itinerary before you go
You may be wondering why being super organised and planning your trip before you leave would affect your packing but it really does.
If you know what you'll be doing each day you'll know what you need to pack and what you can leave at home. You'll know how many outfits you'll need for nights out, how many days you'll spend on the beach, how much walking you'll be doing and if you'll need any special gear like walking boots or a fancy dress.
#3. Be a little bit gross
Let your standards slip while you're travelling and wear whatever you can multiple times. I'm the first to admit I'll wear the same jeans all week while I'm away and just pack different tops to go with those jeans. It makes packing light so much easier!
You don't really need a fresh outfit everyday you're away so double up wherever you can.
(Note: I'm not talking about wearing the same undies all week!)
#4. Use packing cubes
Packing cubes are a lifesaver when you're using hand luggage only. You can squish so much more into each cube and keeps everything organised. It also makes it easier when you come to airport security as your suitcase isn't a jumbled mess – and you're not going to have that embarrassing moment of any knickers falling out onto the security belt as you dig around for your liquids.
Read more: Are packing cubes worth it?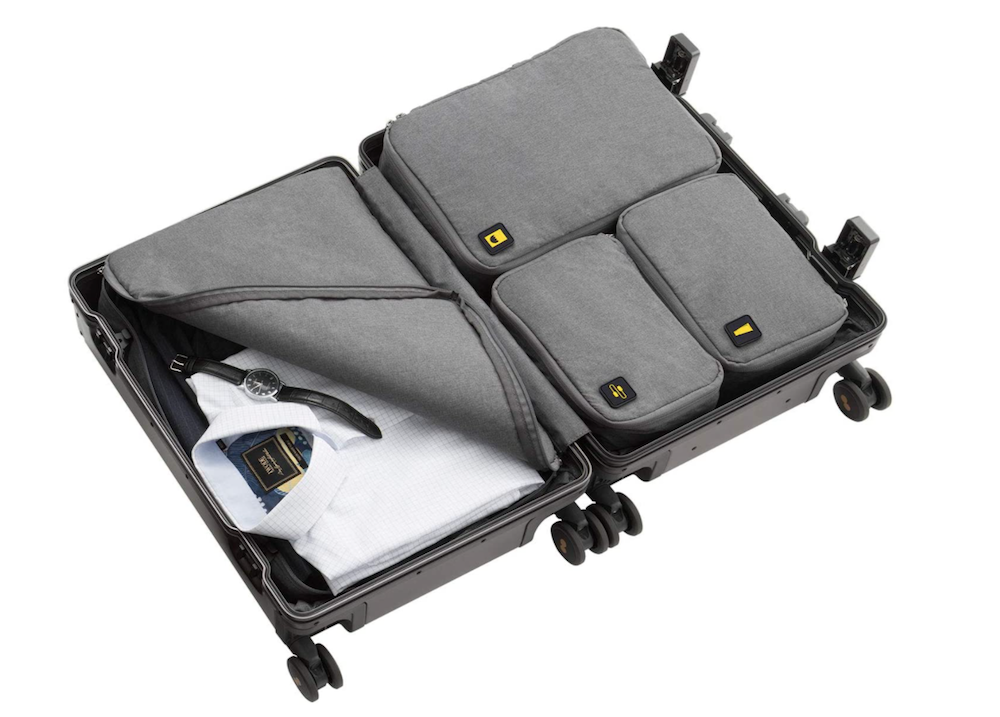 #5. Use the hotel toiletries
We all have our favourite shampoos and conditioners but, sticking with the theme of letting your standards slip, just use the ones provided by the hotel. You'll save vital space and many airports only allow one clear bag for your 100ml toiletries so you'll save yourself all the hassle at the airport.
#6. Have one warm coat for cold climates
I often hear people say you need to pack lots of layers when you're travelling somewhere cold or somewhere with unpredictable weather but I'm going to say the opposite. The problem with layers is you end up with loads and loads of clothes that take up valuable space in your case. Surely it's easier to just wear one or two layers and then wear a nice, warm coat on top? Then you can ditch all the jumpers and cardigans and vests but still stay cozy with your warm coat. You'll wear or carry the warm coat on the plane so your case won't be chocker with jumpers.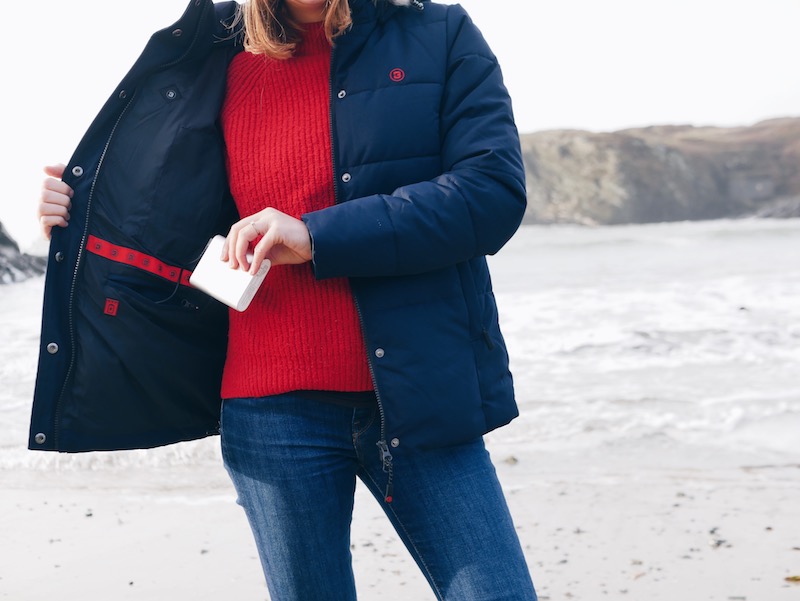 If you're going somewhere really cold, consider a heated jacket for extra warmth and so you don't need to pack a million layers to wear underneath!
Read more: The best heated jackets for women.
#7. Use the biggest bag you can
Cabin Max Travel Hack Compression Packing Cubes - Holiday Essentials for Any Cabin Luggage (Packing Cubes)…
Cabin Max Travel Hack Travel Bags for Women | Ryanair Cabin Bags 40x20x25 | Laptop Backpack
Cabin Max Travel Hack Tote Bag for Women Underseat Size 45x36x20cm Suitable for Easyjet (Underseat Tote Bag)…
Cabin Max Travel Hack Cabin Luggage Suitcase for Women - 55x40x20cm BA , Jet2, Virgin, Iberia, Ryanair, Air France and Easyjet Premium Size
Fits perfectly inside The Travel Hack Backpack
Small enough even for Ryanair's 'Free' underseat bag
Perfect size for easyJet underseat luggage
55 x 40 x 20 cm Cabin Bag with handy top compartment
This might sound like an obvious one but it's actually quite difficult to find a bag that maximises the limited space you have. Check with the airline you're flying with to make sure you've got the right sized luggage and you've got the biggest bag you're allowed.
You could also check out a site called Cabin Max who make luggage specifically designed to be as big as possible but within the restrictions of even budget airlines. You can find bags compatible for certain airlines and they're all fairly cheap too.
I've even designed my own suitcase with Cabin Max. It's The Travel Hack Pro Cabin Case and it's huge but still the right size to be allowed on as cabin luggage. It has a top compartment to store the bits and bobs you need during the flight or to remove at security and, if I say so myself, it's a beaut!
If you're travelling with just 'under the seat luggage' then check out my Travel Hack Backpack or The Travel Hack Tote.
Read more: Can you take a suitcase backpacking?
#8. Limit your footwear
Shoes are the things to take up the most space in your case so stick to one or two pairs of shoes. Wear your bulky ones on the plane and slip the smaller pair in your case.
Read more: The ultimate list of the best shoes for travel
#9. Pack clothing with thin fabrics
This is particularly easy if you'll be travelling somewhere that will be warm, and it's even easier for women.
I like to pack simple dresses when I'm trying to pack light as they barely take up any space in my bag.
These simple but stylish slip dresses (originally from Topshop but years ago) are ideal and I've been travelling with them for years.