If you follow me on Instagram you will have seen that I was on Wales this Week last night! It's an ITV show featuring a different topic each week that is relevant to Wales.
You can see the show here if you're interested in watching it!
This week is was all about holidays and looking at who is going abroad and who is opting to stay local. We spoke about tips to save money and advice for anyone wanting to stay in Wales.
One of the questions that was handed to me was about finding hidden gems in Wales. I wasn't sure what apps or brands I was allowed to mention on TV so I was a bit vague and fluffy and didn't give any solid advice so I thought I'd put it into a blog post.
The man I was with, Adrian from the Wales Tourism Alliance, had mentioned the fact that some areas of Wales are over-busy while others are under-busy and we need to find ways to spread out the crowds and show visitors the hidden gems.
This comment was specifically aimed at Mount Snowdon, the highest peak in Wales, which is often so ridiculously crowded with hikers that you can barely see the mountain for the crowds of people! But not far from Snowdon, within the Snowdonia Mountain Range, there are so many other incredible hikes!
I understand that many people want to walk up Snowdon because it's famous, but lots of people simply don't know about the other options.
I'm sure it must happen everywhere, where one beach is crazy busy but there'll be a similar beach 2 miles away that's empty! Or one ice cream shop that's packed and another nearby that is just as good but tourists don't know about it!
There's definitely an element of local people wanting to keep the hidden gems to themselves. And who can blame them!? But I also think it's important to spread out the crowds and make sure certain areas aren't overcrowded!
So here are my tips to find hidden gems in Wales
Google it
Of course, you can't begin your search for hidden gems in Wales without a simple Google search.
I recommend being specific and begin by searching for a very specific area, such as 'Hidden gems in Cardiff' or 'Hidden gems on the Llyn Peninsula' otherwise you might get overwhelmed by options.
Add suggestions to your own Google Map
If you're finding hidden gems in Wales – whether it's via blogs or recommendations or you've just stumbled across them on the internet – then I highly recommend plotting them into a Google Map before you forget where they are!
You can make your own personalised Google Map just for Wales and add pins to locations you'd like to visit.
This means you won't forget about hidden gems you've heard about and you can quickly search for them in relation to where you are.
You can also add extra information to certain pins such as 'Tom said do this xxxx' or 'We'll need 4 x £1 coins to park'.
Read more: How to really use Google Maps when you travel
Look at Airbnb Experiences
There are so many independent businesses offering experiences to showcase the hidden gems in Wales…but it can be hard to find these businesses as their websites might be basic and they often rely on social media. So this is where Airbnb Experiences come in.
Take a look to find really unique experiences such as wild swimming classes, hiking with donkeys, yoga in wildflower meadows, bushcraft courses and so much more. I've done a few such as beekeeping and a historic cycling tour in Anglesey. They were brilliant and I highly recommend using the Airbnb platform to hunt out these independent businesses – even if you don't actually end up booking through Airbnb!
Follow the @VisitWales Instagram account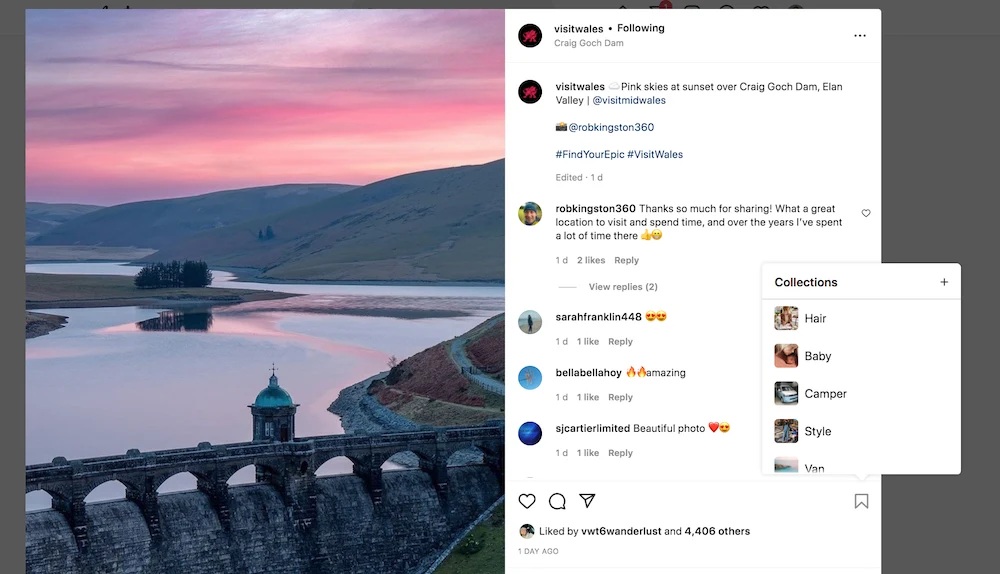 Not only is this account stunningly gorgeous and showcases so many hidden gems in Wales, but it also features lots of local photographers. You can then click-through to see the photographer's accounts and find even more gems.
I recommend clicking the 'save' button and adding it to a collection so you can keep all of your ideas in one place.
There are so many beautiful Instagram accounts featuring hidden gems in Wales but this is a really good one to start with. I'm not going to suggest a load because it just becomes overwhelming.
Use AllTrails App
The AllTrails app showcases walking trails. I really like it because you can open up the app and it will use GPS to show you a variety of walks nearby. You can filter them to be 'easy', 'hard' or 'family friendly' etc to find the best one for you.
Komoot is another good option and features cycling routes too but these apps are similar for hiking so you probably won't need both of them.
Wild Guide Wales
Wild Guide Wales is my favourite book to find hidden gems around Wales. It doesn't feature any obvious places and really does have so many suggestion that I'd never seen anywhere else. If you're going to buy any book about Wales, make it this one!
Ask the locals
OK, this is a simple and obvious tip but the easiest way to find hidden gems in Wales is to ask local people.
But I also know this isn't always easy, especially if you're staying in self-catering accommodation where you might not actually see many people to ask!?
Would it be weird to walk into the local newsagents and ask for suggestions? Maybe!?
It's a good idea to ask for suggestions when you're booking your accommodation as you'll likely be emailing directly with someone who lives locally. You can also use blogs and local Instagrammers too. I'm local to North Wales and have so many posts about the area such as 30 things to do in Llangollen.
Check Google Maps and be adventurous
This is something Sam does all the time. He'll just look on Google Maps and spot there's a beach nearby. He'll find the name of the beach and Google it to see more photos and check details such as parking etc.
Sometimes it goes well and we find incredible hidden gems. Sometimes it doesn't go so well but you've just got to be adventurous!