Of all the city breaks I've taken at Christmas time, New York City was my ultimate favourite. You just can't beat the magic and OTT celebrations of New York City!
And if you're anything like me, you will have grown up watching festive films based in New York like Home Alone 2, When Harry Met Sally, Scrooged, Elf, You've got Mail and Miracle on 34th Street which were all firm favourites in my family and they always made New York look like an incredible, festive winter wonderland. And let's be honest, Christmas isn't Christmas until you've watch Elf at least once!
I visited New York City for the first time in December 2013 and each Christmas I've been desperate to go back with Sam. We're waiting for the boys to be a little older (cold city breaks with long flights and little kids don't mix well!) and we're going to go nuts with a ridiculously over the top Christmas break to New York.
If you're planning a festive break to New York, here are some things you can't miss…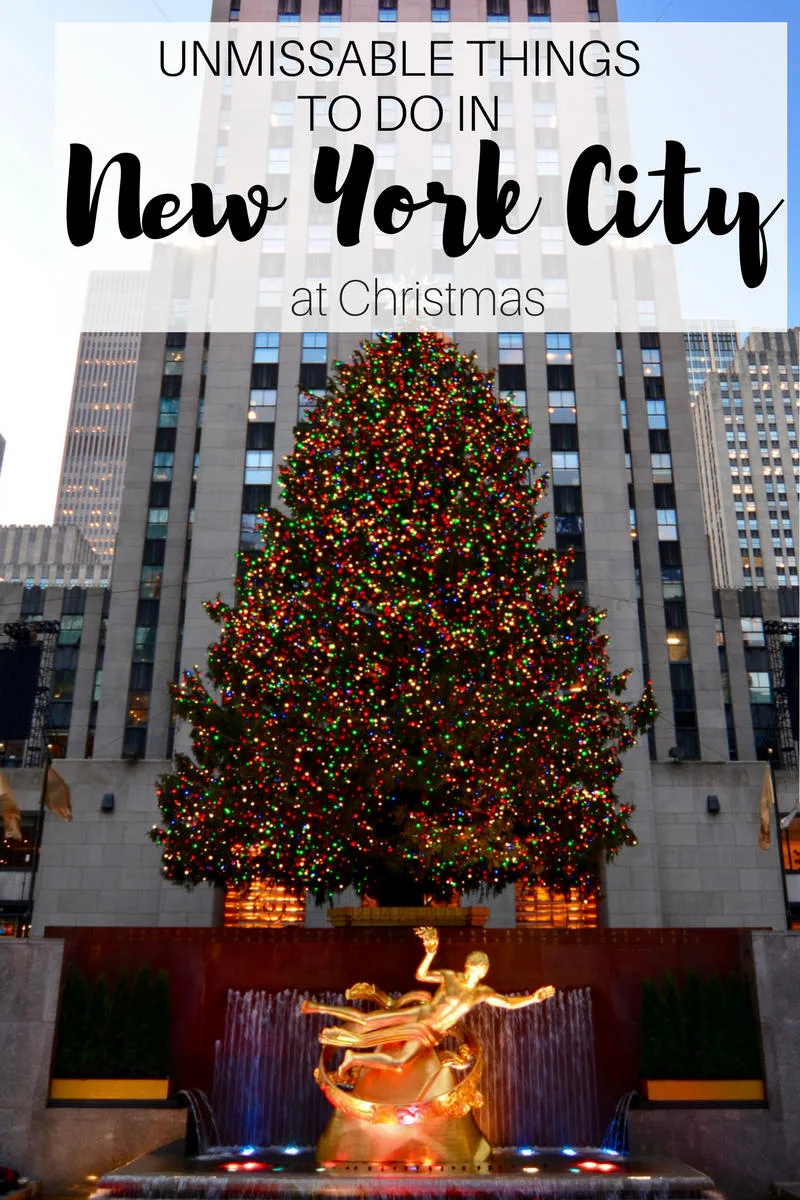 Visit the film locations from festive movies
Like I said above, part of the attraction to visiting New York at Christmas is due to all the memories I have from my favourite childhood Christmas films. You have to visit the film locations from some of the best films – like the Plaza Hotel where Kevin stays in Home Alone 2, or the Rockerfeller Centre Christmas tree that was in both Home Alone 2 and Elf. Ahh, so many exciting Christmas memories!
Take a look at this post from Big Bus Tours for 8 must-see New York movie locations.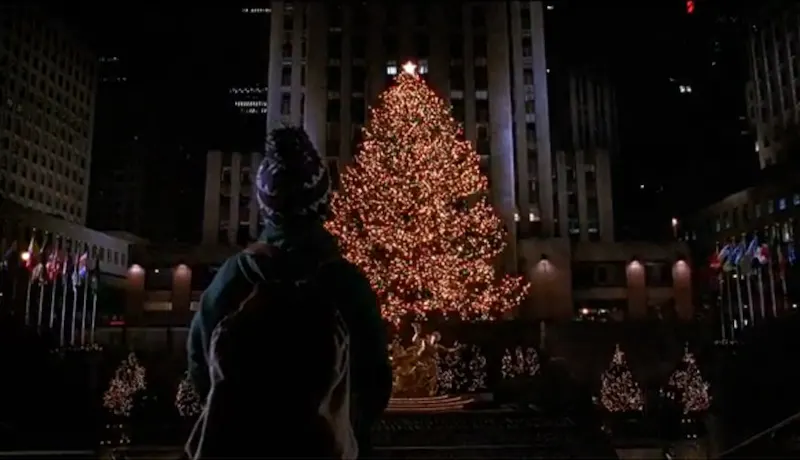 Take a trip to the Rockerfeller Centre
The Rockerfeller Centre is one of the most recognisable places in NYC and it's a complex of commercial buildings in the centre of Manhattan. Here you will see the gorgeous Christmas lights, the enormous tree, the sparkling skating rink and lots of shops and restaurants.
I also 100% recommend going up to the observation tower at the top known as 'Top of the Rock'. It gives you the best view across Manhattan, Central Park and all the incredible skyscrapers.
I'd even say Top of the Rock is better than going up the Empire State Building because it's nice to see the Empire State in the view that you get from the Rockerfeller Centre.
Radio City's Christmas Spectacular
While you're at the Rockerfeller Centre, make sure you check out the Radio City Christmas Spectacular. This epic show at the Radio City Music Hall takes place over the Christmas period. The most famous performance during the show comes from the Rockettes, a gorgeous dance group known for their high-kicks and festive spirit.

Skate on the Wollman Rink at Central Park
You can't visit New York City at Christmas time without going on at least one skating rink! I recommend the Wollman Rink in Central Park as you'll have fabulous views of the city and it isn't quite as busy as the one at the Rockerfeller Centre.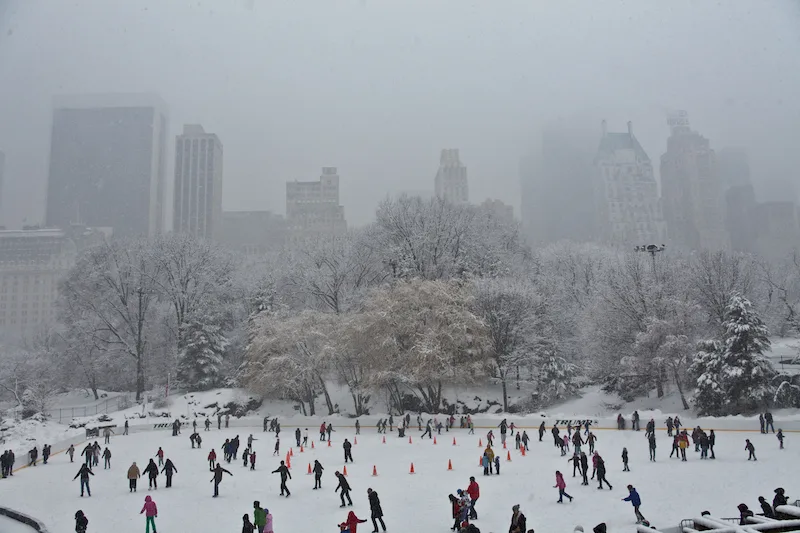 Stroll around Central Park
If you visit in December then you might be lucky and may get a sprinkling of snow! It was really snowy during my visit but I still made time for a good walk through Central Park. If you do get some snow, make sure you grab a sled and follow the crowds for some sledging fun!
Visit Dyker Heights
Warning: If you visit Dyker Heights, your neighbour's flashing Santa and icicle light display will suddenly seem tragically tiny on comparison to these epic displays.
Dyker Heights is a residential area in Brooklyn made famous by the local home owners over the top light displays. Over 100,000 people visit Dyker Heights each year to see these incredible homes and their beautiful Christmas displays. You can take a tour to make transport easier!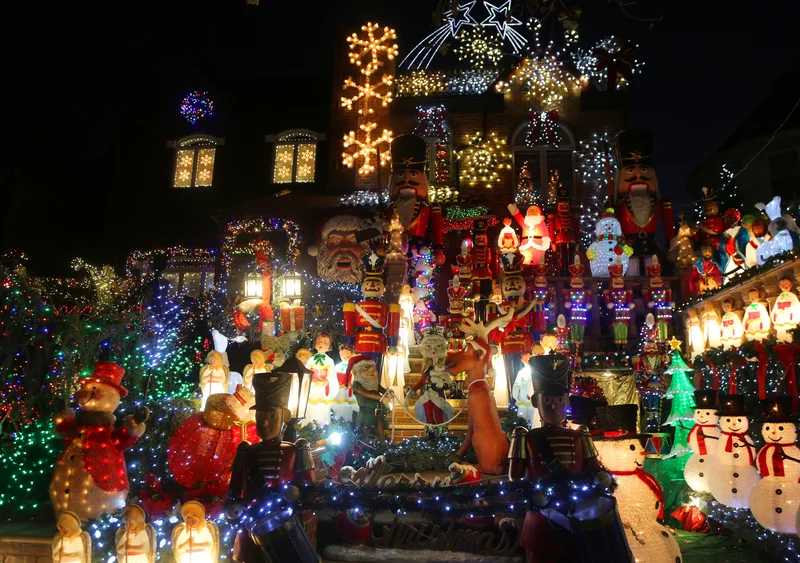 Shopping on 5th Avenue
No trip to New York City would be complete without a shopping spree, or at least a window shopping spree, and what better place to do it than 5th Avenue? Admittedly, 5th Avenue is filled with tourists, it's packed, it's super commercial and can be completely gridlocked but it's still amazing. The Christmas window displays, the enormous department stores and the festive cheer are all wonderfully festive!
Visit Bryant Park Winter Village
With 176 shopping stalls and food vendors and a 17,000 square foot ice rink, it's no wonder Bryant Park is such a popular place to get in the festive spirit in New York City! The little stalls will have every type of gift you can imagine so this is the place to get your Christmas shopping done in style!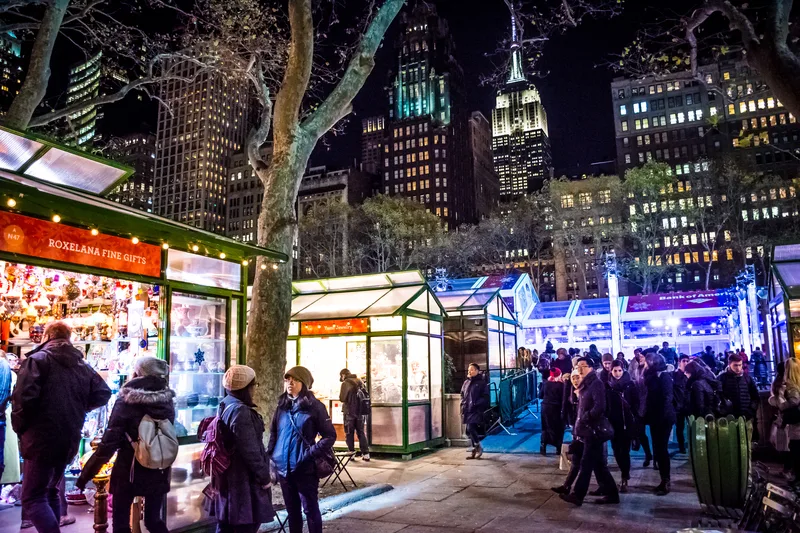 Union Square Holiday Market
For the chance to pick up some unique Christmas gifts, head to Union Square where the festive Christmas markets have a cute and German market kind of vibe. This is the best place to pick up steaming cups of sweet hot chocolate or mulled wine and tasty snacks to keep you fuelled up.
Do you have anything else to add to the list for a festive break in New York City?
You might also like…
A mini guide to New York City: A first timer's 4-day itinerary
My top 10 things to see and do in New York City