Is 10kg of luggage enough for a week away? What about for two weeks away!? I'm here today to show you how…
Two weeks away with just hand luggage sounds like a challenge but it's more than possible if you follow these easy travel hacks!
I always try to travel with just hand luggage as it saves a lot of time and money. I often book budget flights so it pains me to spend as much on luggage as I have on the actual ticket!
I've also learned that I very rarely need as much as I think I'll need and used to come home with piles of clothes I hadn't even worn! I never wear those sky-high heels or that dress I bought on sale but have never found the opportunity to wear it (but I still used to pack it 'just in case'!)
Travelling with just hand luggage is all about removing the 'just in case' items, minimising, planning and learning how to pack efficiently. So keep reading if you're taking a two week holiday with just hand luggage!
Choose your luggage wisely
First of all, you'll need the perfect luggage that's the exact dimensions for cabin baggage for the airline you're flying with. Most airlines allow roughly the same size (55cm x 45cm x 25cm) for their hand luggage carry-on case so you won't need to buy different luggage for every flight you take!
Surprisingly, most small suitcases aren't the best fit for hand luggage as they're often a bit too wide and not tall enough. Cabin baggage should really be tall and slim to maximise the dimensions you're allowed and most people are surprised to find that the 55cm x 45cm x 25cm size is actually really big and more than enough space for a 2 week holiday with just hand luggage!
Read more: Small carry-on luggage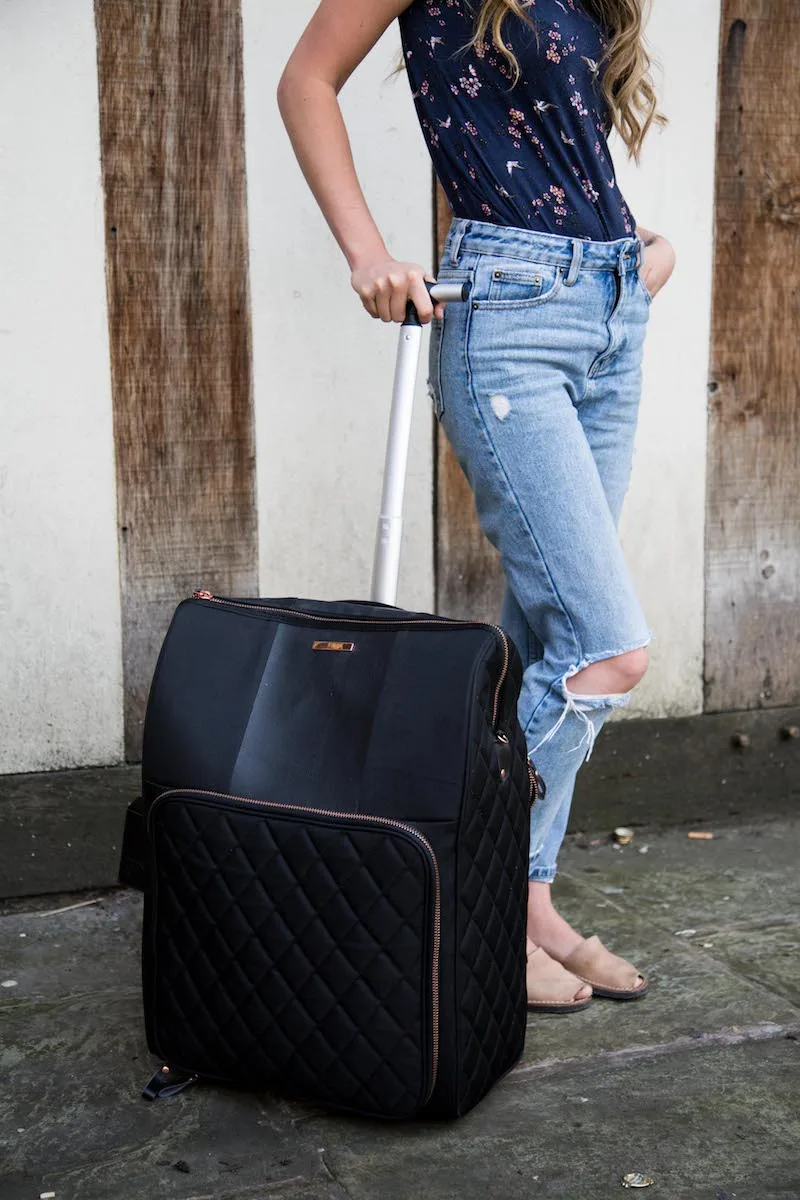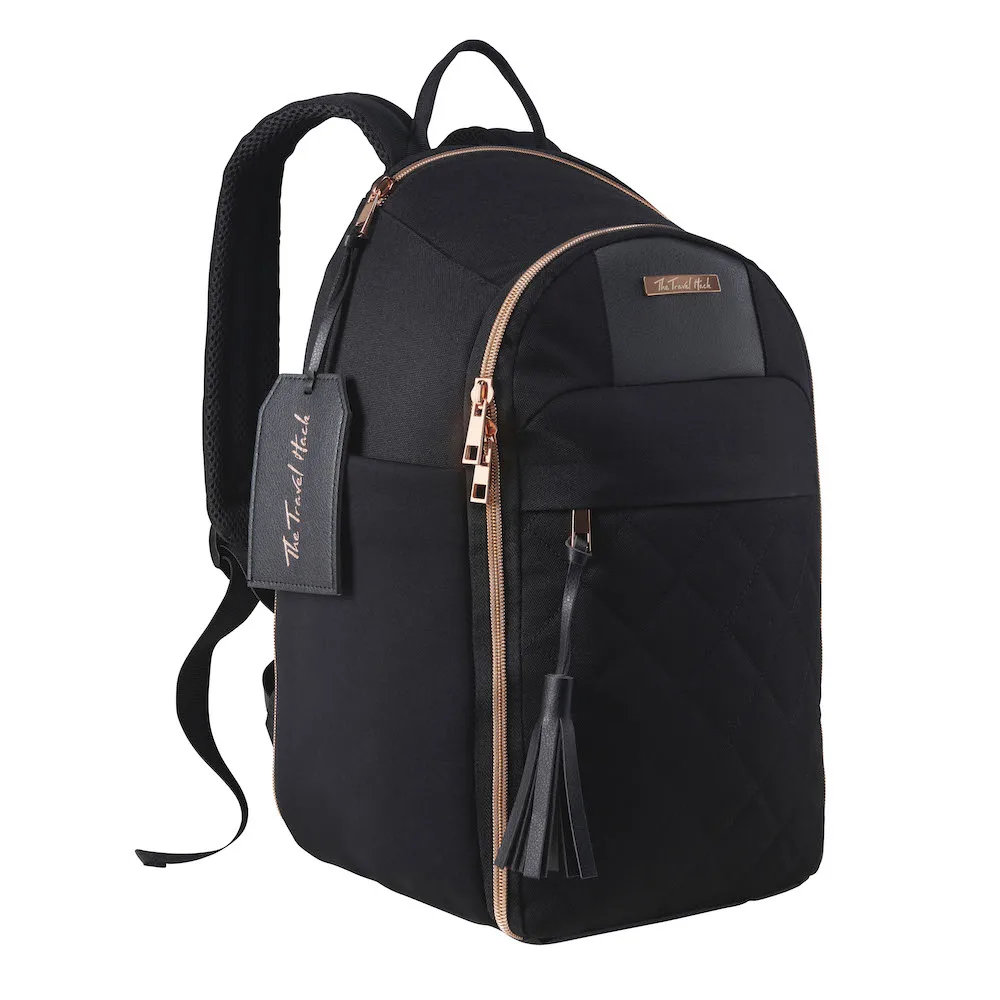 Of course, I'm going to suggest The Travel Hack Pro Cabin Case or The Travel Hack Backpack!
Read more: The 10 best carry-on luggage options
---
Should you worry about your 10kg hand luggage weight?
Some airlines don't have weight restrictions when it comes to hand luggage and simply ask that you should be able to lift it into the overhead locker yourself. Other airlines do have weight restrictions (usually 10kg) but, realistically, they often don't weigh your case unless they can clearly tell it's extremely heavy.
My advice is to try and loosely stick to the weight restrictions but be aware of your heavy items in case you need to remove them. If your toiletries are heavy, it's often cheaper just to ditch your shampoo and conditioner and pick a new bottle up when you arrive.
For me, it's usually my laptop and camera adding the weight and most airlines will allow you to carry a laptop onboard, so I'll just remove it and carry it under my arm, which most air stewards don't even notice!
---
How to pack toiletries for hand luggage
When travelling with just hand luggage you'll be restricted to liquids in 100ml bottles. It doesn't sound like a lot but I've found 100ml of shampoo, conditioner, face wash, shower gel etc is more than enough for two weeks.
Now the main problem is that many airports will only allow one small, clear plastic bag for your toiletries when you're going through security. It's a similar size to a sandwich bag so you really can't get many 100ml bottles in there! Once you've added your toothpaste, moisturisers, sunscreen, makeup, hair products etc it's likely you won't be able to close the bag. There are a couple of solutions here: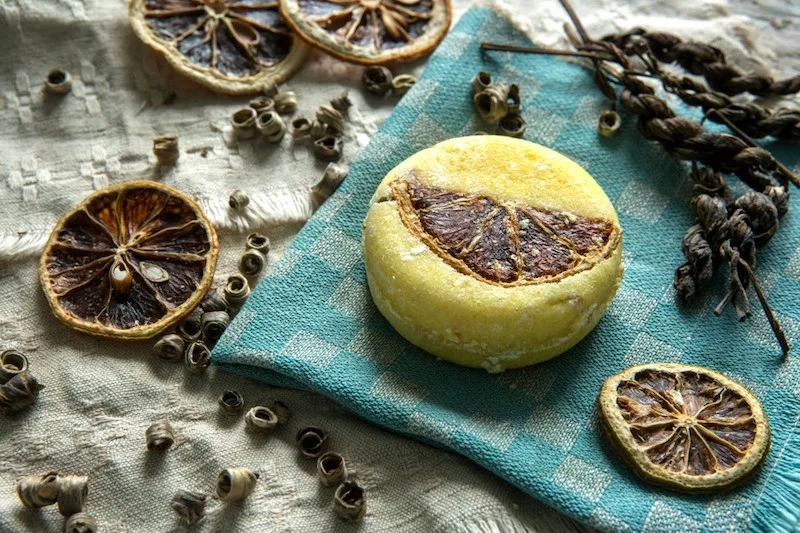 Buddy up with people you're travelling with and share your products between you

Use solid toiletries wherever possible (solid shampoos, conditioners, moisturisers, deodorants etc can be really good and you won't need to put them in the plastic bag)

Ditch whatever you can (I can probably survive for a week without eye cream!)

Which hotel toiletries can you use? (I'm always happy using hotel shower gel and body cream but prefer to use my own shampoo)

Can you buy it on the other side? (It's frustrating but there's always a Boots on the other side of security in the UK)
Read more: How to travel with hand luggage liquids
Here are 3 products I have that make it so much easier to travel with hand luggage liquids…
Yalbdopo 6Pcs 10ml / 10g Empty Frosted Clear Glass Cosmetic Sample Containers with Wood Grain...
GOOD MATERIAL --- Our empty frosted glass sample containers are made of high-grade glass and PP material. Leak-proof design, environmental protection, odorless, reusable and and recycle.
LEAKPROOF DESIGN --- Each glass sample containers have a wood grain plastic lid and inner liner to create a tight seal that will not leak or spill out. Easy to carry and convenient to travel with...
WIDE APPLICATIONS --- Refillable jars to store creams, balms, lip gloss, eye cream, salves, tinctures, makeup, essential oil aromatherapy blends, sunscreen cosmetic product, facial cream, mud mask,...
Sale
Gemice Silicone Travel Bottle, 4 Pack Portable Travel Containers Set LeakProof Refillable Squeezable...
Leak Proof Travel Bottles: 3-layer leak-proof design prevents liquid leakage or spillage, offers protection to your luggage and cloths. Opal shape allows no liquids stuck in the bottle corner and...
Food Grade BPA Free Silicone Designed with safety first and convenience a close second. Our silicone travel bottles are made of FDA approved and 100% BPA free food grade silicone, making it safe for...
Wide opening for filling and cleaning: Unlike most travel bottles, this one is wide opening makes it easy to fill with thicker fluids, and it easily fits a brush to clean the inside of the tube
---
Do you really need those shoes?
Shoes are the biggest problem when you're travelling with just 10kg hand luggage because they're so bulky! Ask yourself if you realistically need those shoes?
I often won't pack any shoes and find I'm happy to wear the same pair all week. It can mean my shoes are a little casual for nights out but I often travel with my kids so it's not like I'm going clubbing anyway! I'm currently loving chunky white trainers such as white Veja trainers and find they go with pretty much anything I'm wearing.
In the winter I'll wear Dr Marten's boots which, again, pretty much go with everything.
If you can't do without high heels or chunky boots then wear these on the plane to save space in your case.
Read more: The best shoes for travel
---
How to keep your clothing to a minimum
The trick to not packing too many clothes is planning a rough itinerary for your trip and thinking about your outfits for each day. If you don't know what you'll be doing during your holiday it can be tempting to pack everything for every 'just in case moment' that could arise.
But if you know what you're doing, you'll know exactly what you want to wear and can pack accordingly.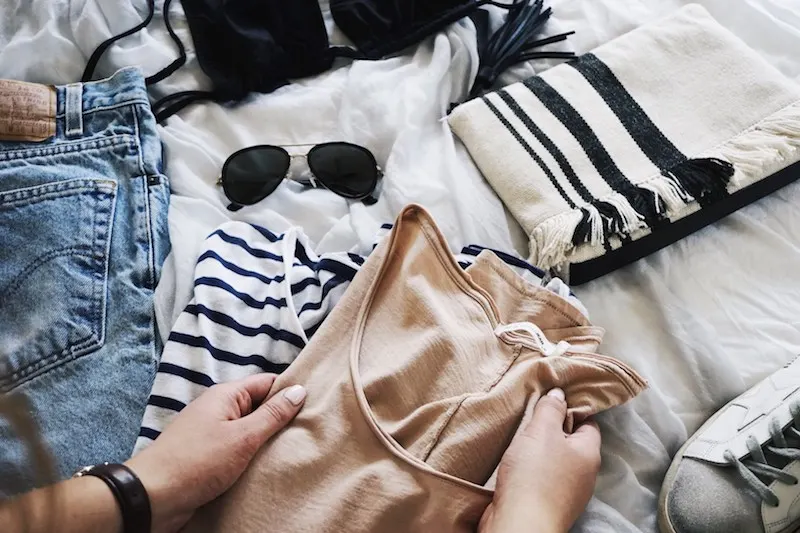 ---
Think like a minimalist
Packing a minimal, capsule wardrobe is key so this means putting together outfits where every item can be mixed and matched together to form other outfits. If you've got a skirt that only goes with one top then leave it at home and choose a skirt that could be teamed with four tops in your case.
Capsule wardrobes don't need to be boring, dull or all black, white and grey. It does help if you choose a neutral palette and use small accessories to add colour.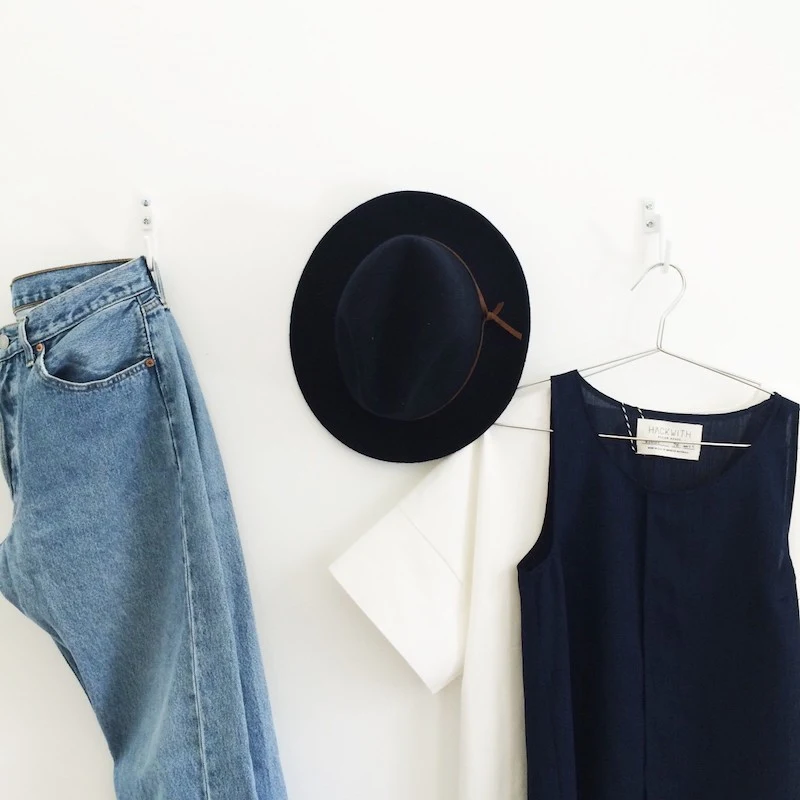 ---
Pack 2-3 pairs of shorts or trousers
Would anyone notice if you wore the same jeans for 50% of your holiday? Probably not. More importantly, would anyone care? Definitely not!
You're on holiday, it doesn't matter if you end up wearing the same jeans nearly every day and it'll give you a lot of space in your case for tops!
---
Reversible clothes are your friends!
While doing your holiday shopping be sure to look out for reversible clothing. I have a reversible winter coat which is amazing and reversible swimwear is easy to find.
---
Use packing cubes
What a game changer!
If you haven't tried packing cubes yet I highly recommend them! They're such an easy way to compress your clothes without creasing them too badly and to organise your suitcase neatly. I'm always surprised by how much space I can save by using packing cubes.
Do packing cubes really save space?
---
Use the washing machine
If you're staying in an apartment or an Airbnb there will probably be a washing machine available so make the most of it! You don't need to pack every item of clothing you own, just pack a few things and wash them while you're out there.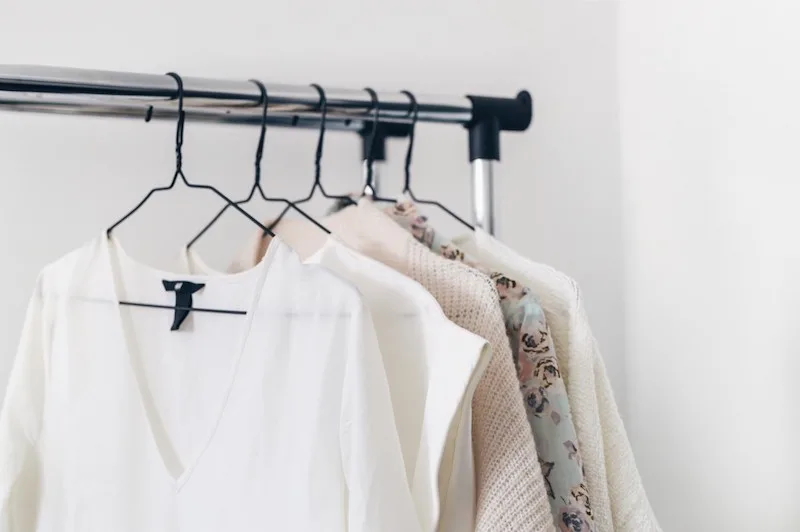 Hand luggage with children
If you're travelling with kids and think it's impossible to go away for a week with just hand luggage then think again! Sam and I have done it a few times!
Our kids are too young to carry their own luggage so we'll take a backpack and a suitcase each so we can carry all four bags between us. But you very rarely need to carry them anyway because the airline staff will usually let you check them in free of charge.
We usually have pushchairs and car seats too which you need to check-in, so while you're there just ask the staff if it's OK to pop your hand luggage through at the same time. They're rarely say no if you've got young children with you. Just remember to have all your in-flight stuff easily accessible so you can whip it out while you're at the check-in desk.
I wouldn't normally advise checking your luggage in voluntarily because you then need to wait for it to come through on the luggage belt, but when you need to wait for a pushchair and car seat anyway, you might as well wait for your suitcases too.
When it comes to nappies and wipes, remember you can buy them when you arrive. If the country you're visiting has babies, they're going to have nappies and you'll find Pampers in most countries (although sometimes they have a different name).
---
Layer up for the plane!
If you're still finding you're short on space then don't be afraid to layer up for the plane. OK, you're going to have a hot and sweaty 15 minutes as you queue up to board but you can remove all your layers as soon as you sit down. I've been on skiing holidays with just hand luggage and had to wear so many bulky layers to get on the plane because I couldn't squeeze everything in my case!
Here's my packing list for a 2 week holiday with just hand luggage
Essentials
Passport

Purse

Small handbag

Phone

Phone charger

Sunglasses

Headphones

Kindle + charging cable

Water bottle

Canvas tote bag – I always take a little bag for the things I want on the plane such as my Kindle, water, phone and headphones.
Toiletries
Shampoo

Conditioner

Face wash

Makeup remover and cotton pads

Face moisturiser with SPF (I buy a bottle of sunscreen when I arrive)

Small makeup bag

Toothpaste and toothbrush

Hairbrush

Hair straighteners
Clothes
Underwear x 7 (will wash while away)

Bras x 3

Socks x 5

Jeans x 1

Shorts x 1

Dresses x 3

Jumper x 1

Tops x 10

Playsuit x 1

Reversible swimwear x 1
Will wear on the plane
Bulky jeans

Top

Bulky jumper

Bulkiest shoes

Coat
Things I buy at the airport
Sunscreen

A small can of dry shampoo
FAQs about packing light
Is 10kg luggage enough for a week?
Yes, absolutely! It isn't a lot but you can do it if you ditch all of your heavy items. Use the hotel toiletries and take your essentials in tiny pots. Just take one pair of shoes and wear them on the plane. Wear your big coat on the plane and put any heavy items in your pockets!
Read more of my packing posts: