I've stayed in more than my fair share of airport hotels. They're usually pretty depressing with views out to brick walls, overpriced mini bars and the same bland décor across the world. The staff are usually rude, the breakfasts are inedible and I usually have a terrible nights sleep before catching an early morning flight.
Sorry, I've painted a pretty sad picture of airport hotels there haven't I?
So when I stayed at Hulhule Island Hotel, I wasn't just pleasantly surprised, I was absolutely overjoyed!
Hulhule Island Hotel is just a couple of minutes from Male Airport, making it a perfect hotel for business travellers and airport stopovers. But it isn't just an airport hotel, it really is part of your holiday.
Why get an airport hotel in the Maldives?
You might be thinking it's strange to get an airport hotel in the Maldives but there are a lot of travellers who may need one. Most people will fly into Male Airport and then catch a boat or a seaplane to a smaller island. The boats and seaplanes fly at specific times and you often can't get a particular transfer based on your flight time. This means that if you have an early morning flight home you may need to leave your resort early and stay in Male the night before. Similarly if you have a late arrival flight, you may need to wait until the following morning to get to your hotel.
About Hulhule Island Hotel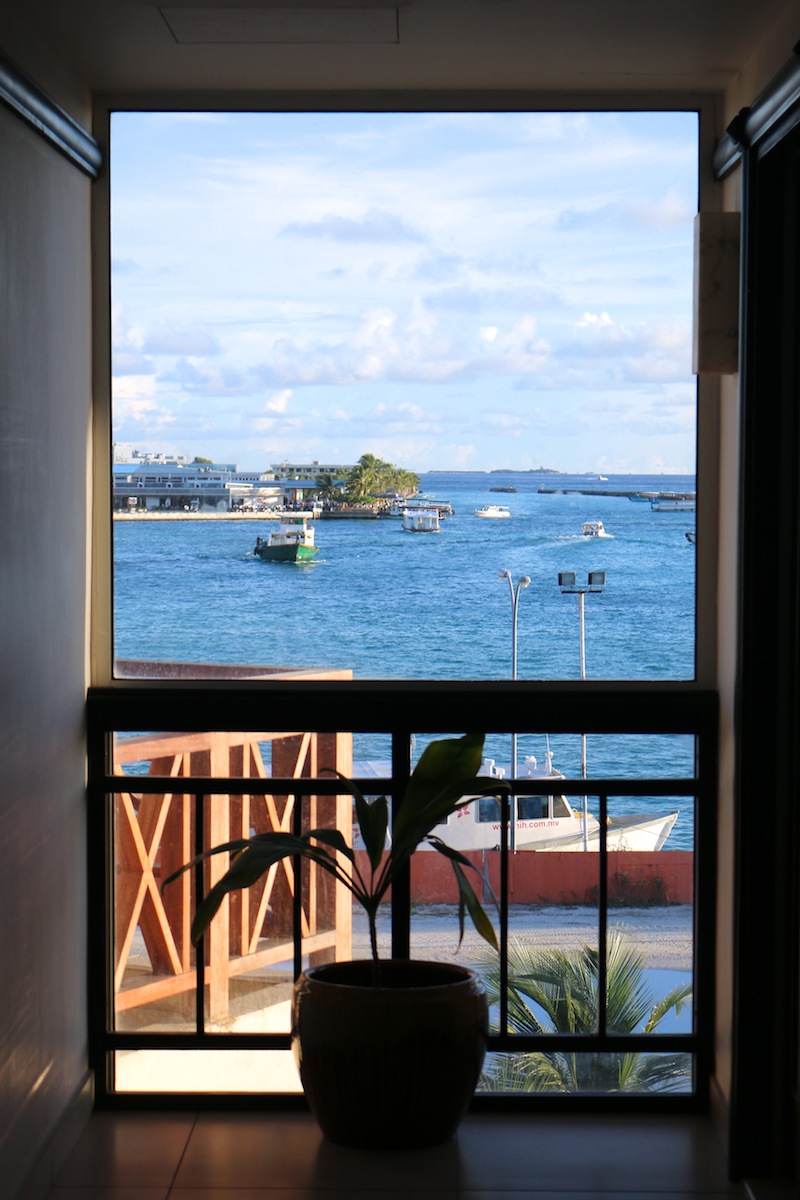 Hulhule Island Hotel is a modern hotel within easy reach of Male International Airport. It's actually the only hotel on the island where the airport is – so it's a good job it's so nice! The hotel has a complimentary shuttle bus going to and from the airport. They run around the clock and it takes just a couple of minutes. It may be close to the airport but the hotel and gardens have a tranquil and peaceful atmosphere.
The hotel has a private, sandy white beach where you can take a swim or relax on the sun loungers. There's a swimming pool, a choice of restaurants and bars, a spa, a gym, tennis courts, golf putting and a pool table. There's also free wifi in the lobby.
There are 136 guest rooms and each room comes with a sea view where you have panoramic views across the Indian Ocean.
Hulhule Island Hotel is very child friendly. The Sunset Deck and the Pool Bar are great places to eat with kids. But if you're travelling without kids then you can also escape them in the more formal restaurants and Champs Bar.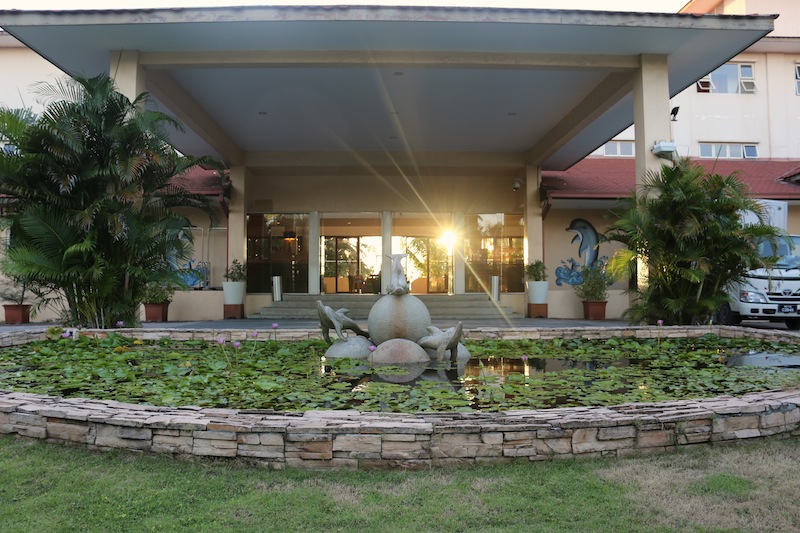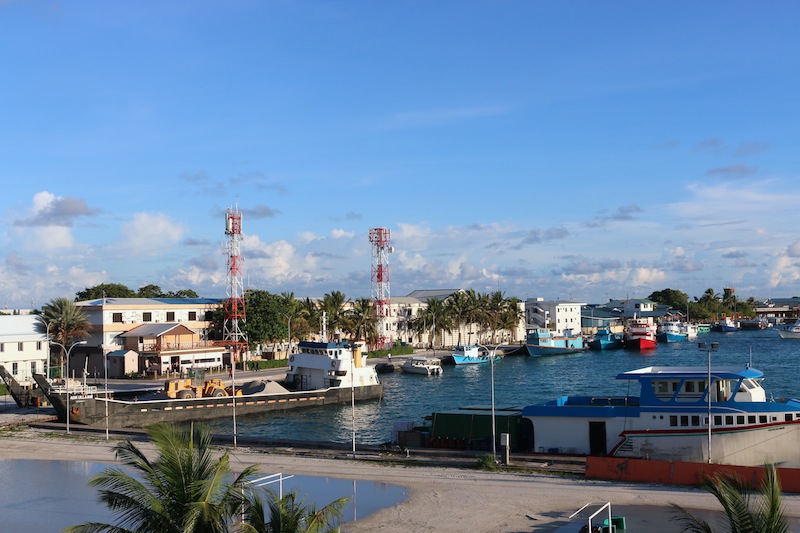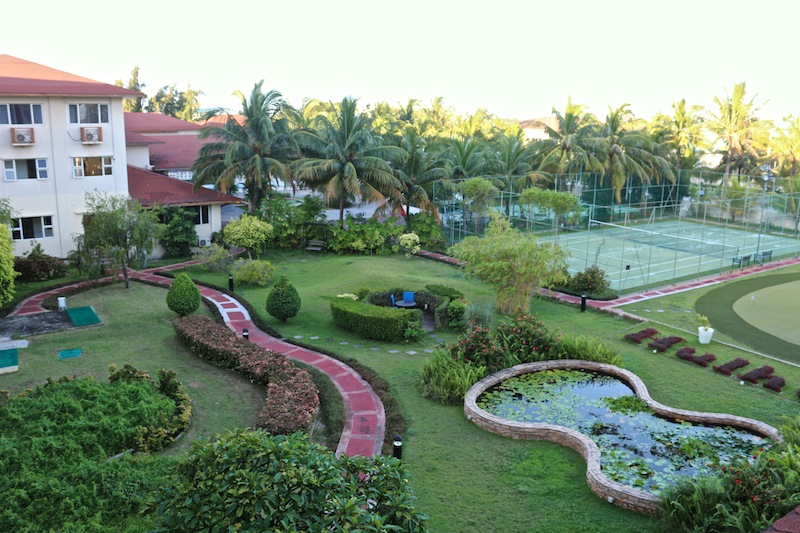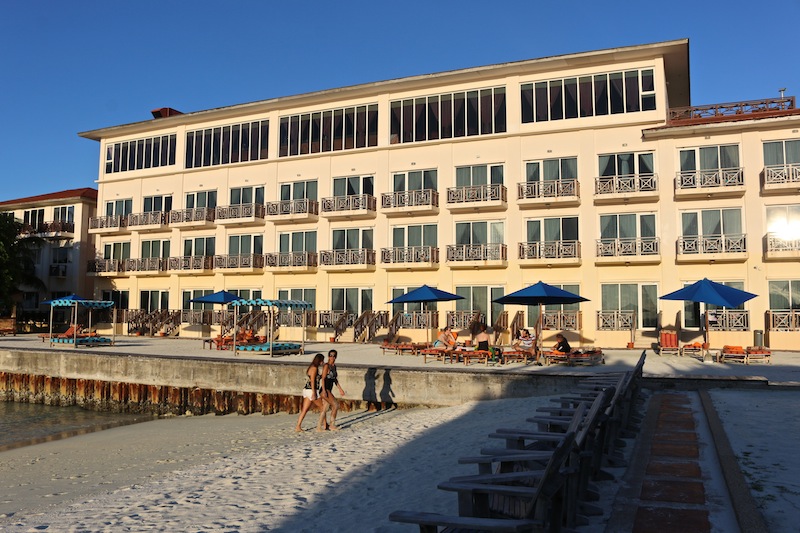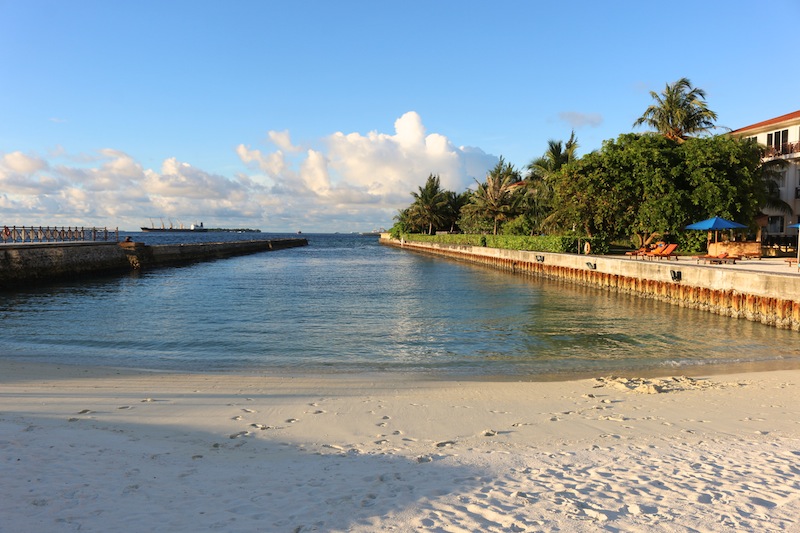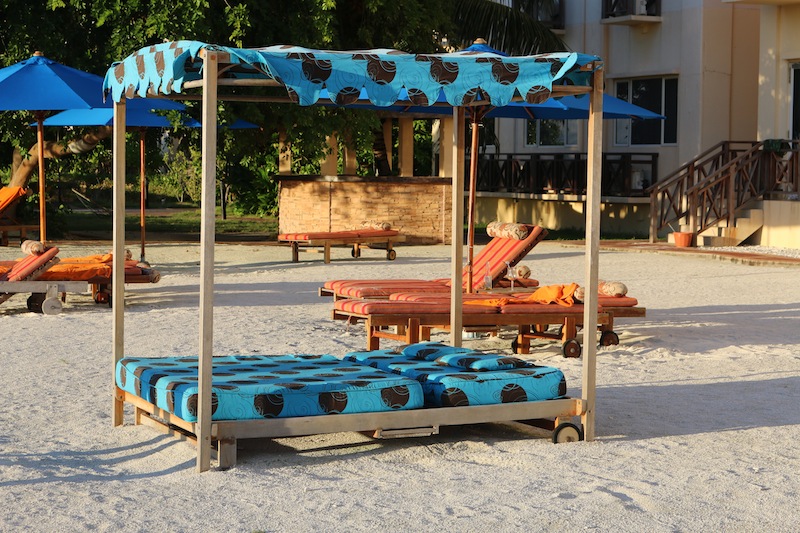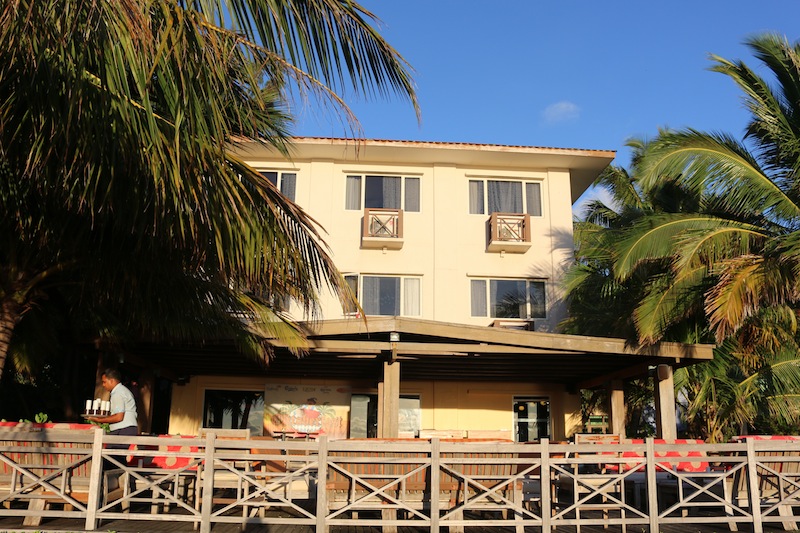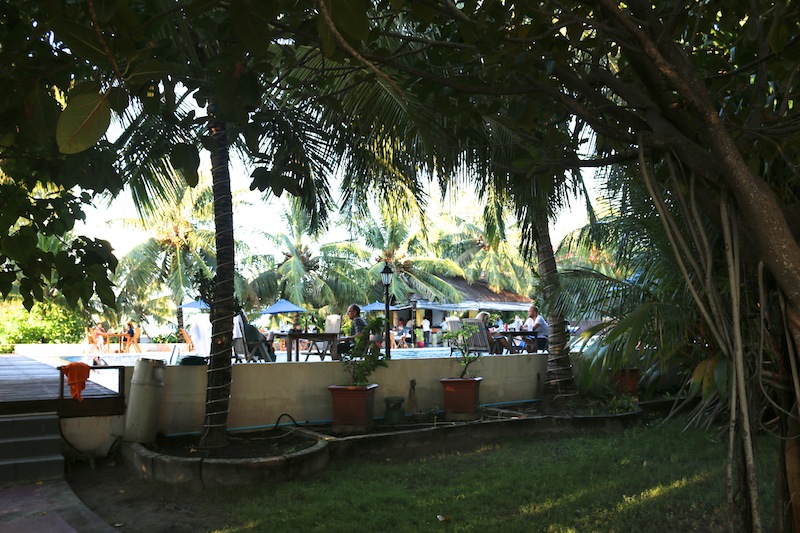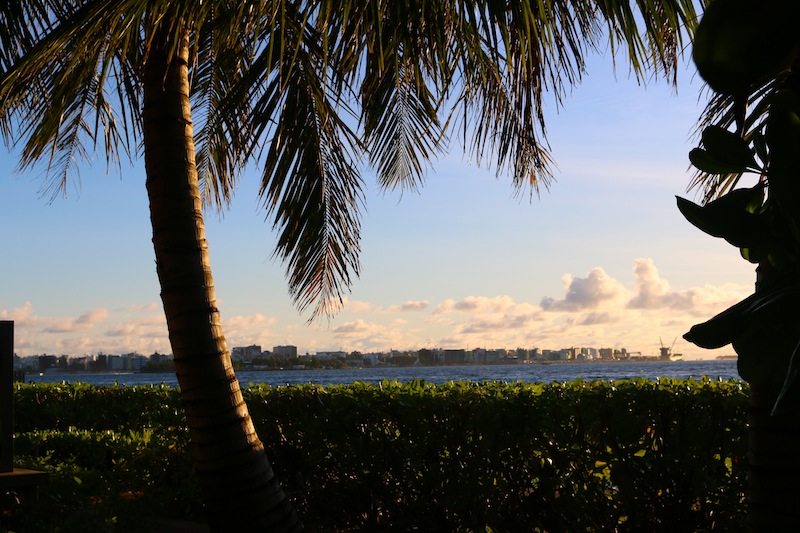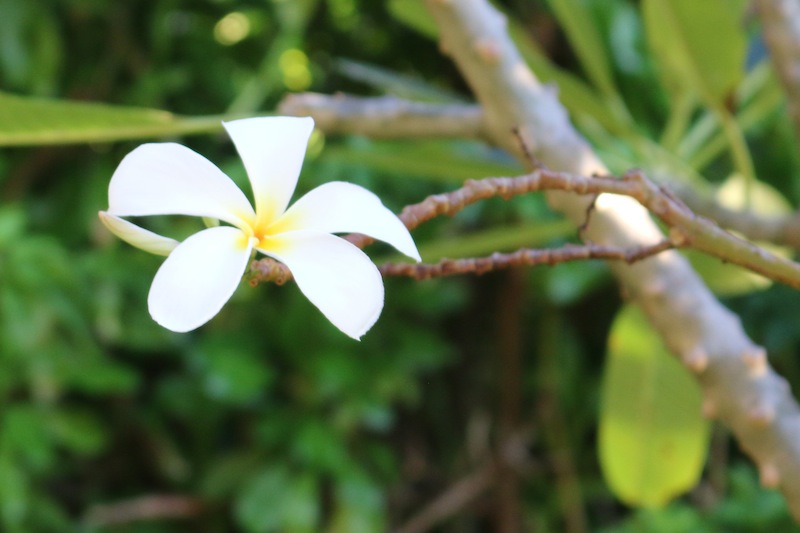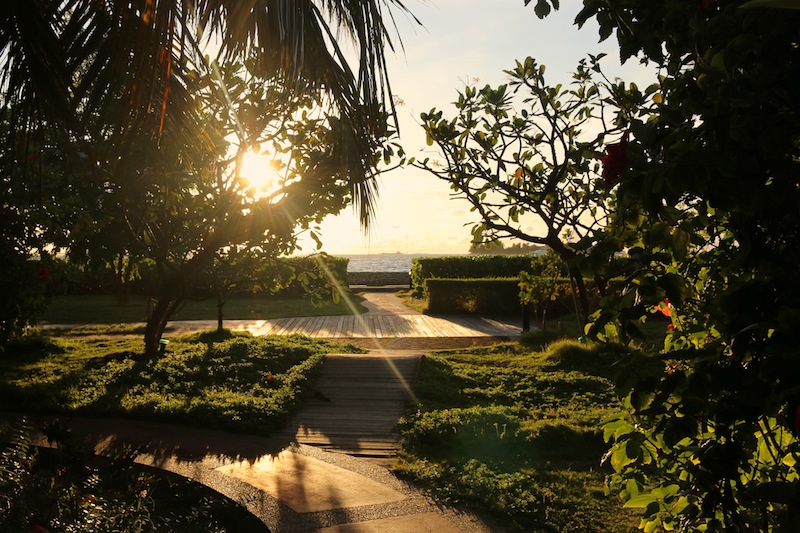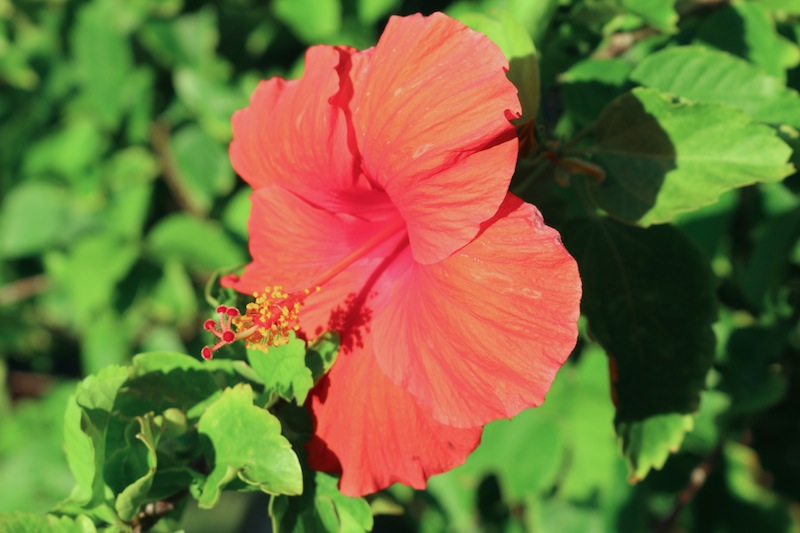 Our experience at Hulhule Island Hotel
In our case, when we departed the Maldives we had to be out of our room at Coco Palm Dhuni Kolhu at 11am. Our seaplane to the mainland was at 3pm and then our flight home left at 11.30pm. We then had more than 12 hours travelling to get home! It was a long old day!
If it was just Sam and I, we probably would have gritted our teeth and ploughed through. But we were travelling with our 7 month old son, George, and there's no way he would have made it all the way through without a serious meltdown.
Our seaplane transfer from Coco Palm Dhuni Kolhu took us all the way to the airport where we were met by a representative from Hulhule Island Hotel. We hopped on a mini bus and in less that 5 minutes we were at the hotel with a fruity cocktail and the joy of air-conditioning. (We'd spent all day without air conditioning so it suddenly seemed like a real treat!)
The transfer really was super quick. We actually forgot George's pushchair and left it at the airport so, while I was checking in, Sam hopped back on the transfer bus to pick it up. He was back at the hotel again before I'd even finished checking in!
After our cocktail we were shown up to the hotel room where a fruit bowl, chocolates and plenty of tea and coffee were waiting for us. (Our fellow Brits will understand the need for a hotel room stashed with tea!)
We were already hot, sweaty and tired at this point as we'd had 4 hours in the Maldivian midday heat without a cool hotel room to relax in. George was tired and irritable and fed up of being held and fussed over. We took a stroll through the beautiful gardens, enjoyed an icy beer on the beach and then we all just needed a nap. So that's exactly what we did!
After baths and showers we were wrapped up in fluffy white towels and we had a big family nap for a couple of hours. We woke up and watched a film together, ate dinner and then packed up our belongings just in time for the porter to collect them and take them to the transfer.
The three of us felt refreshed and relaxed – which is exactly what you need for a long-haul flight with a baby. George was clean, fed and watered and in his PJ's ready for sleep. We felt much happier and I genuinely don't know how we would have coped if we'd had to spend all that time waiting in the airport. It broke up a tough journey and I can't recommend it enough!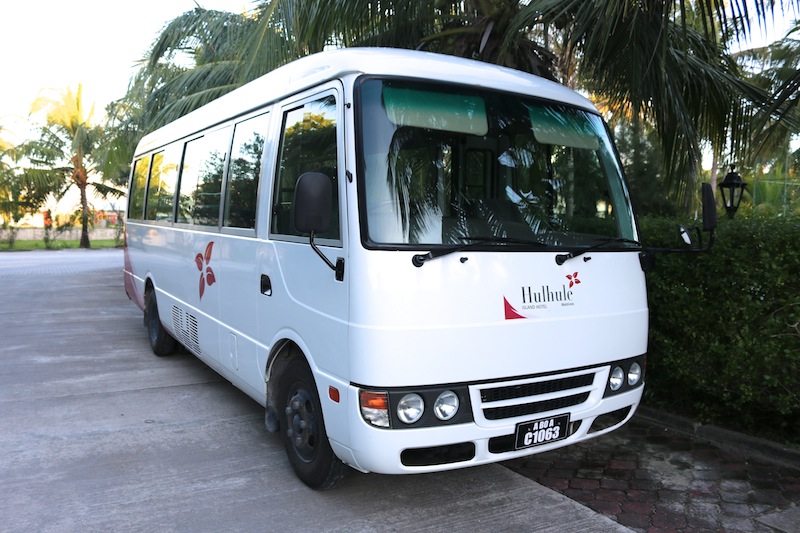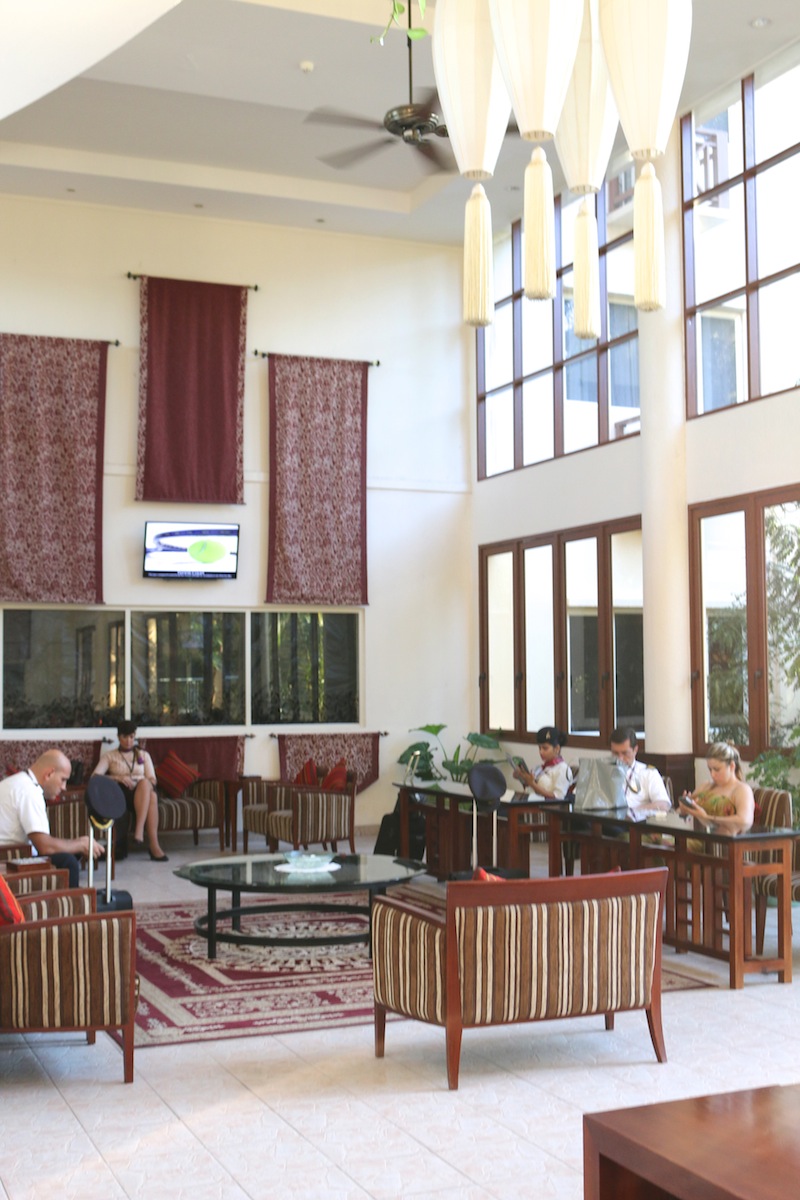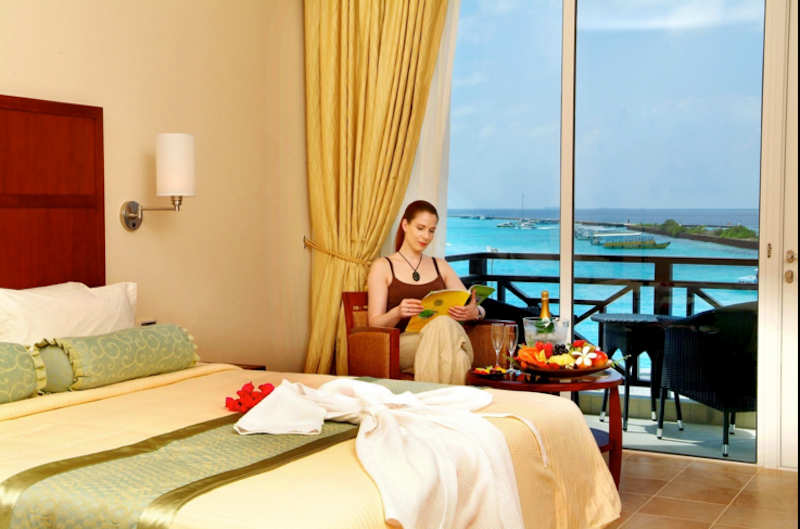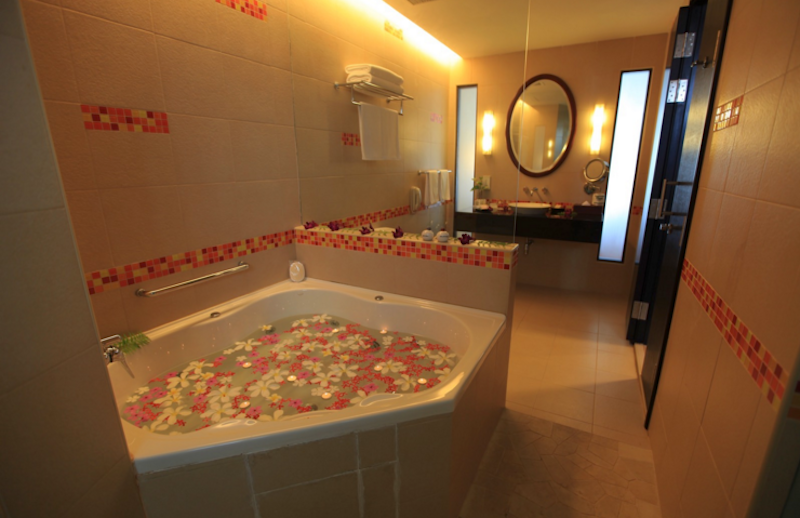 These two photos of the room are not my pictures but this is exactly what our room looked like – minus the flowers in the bath.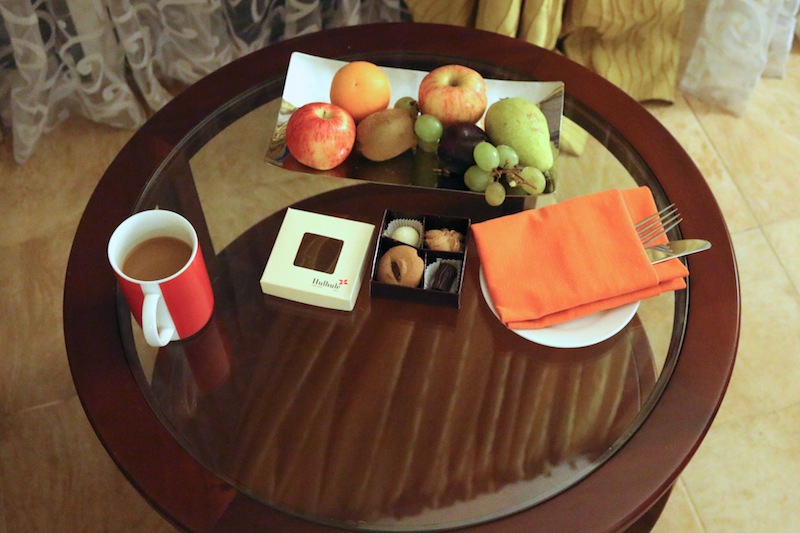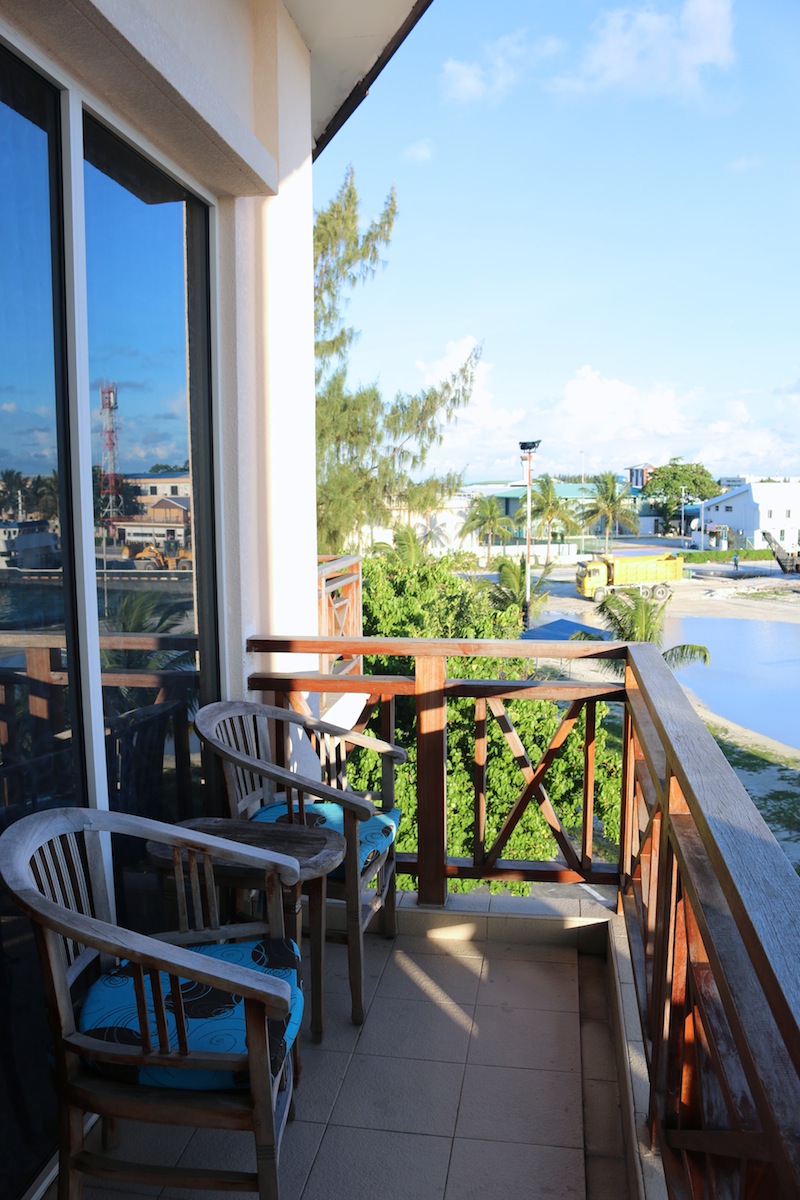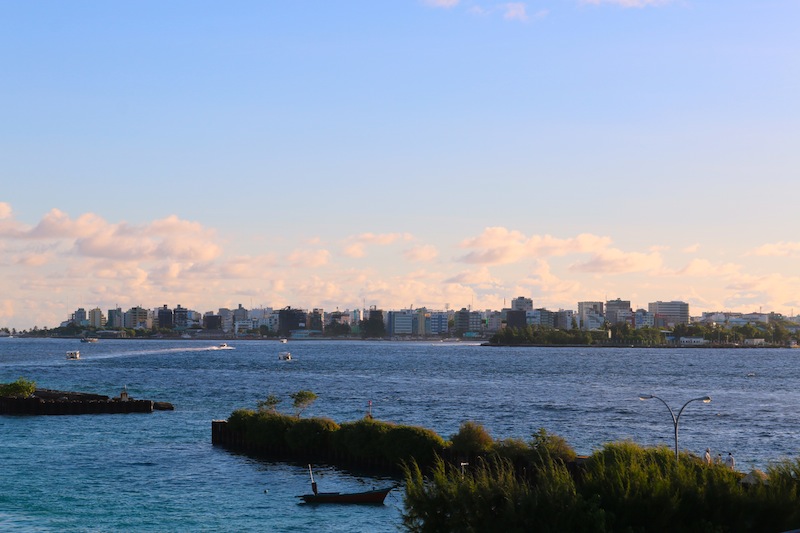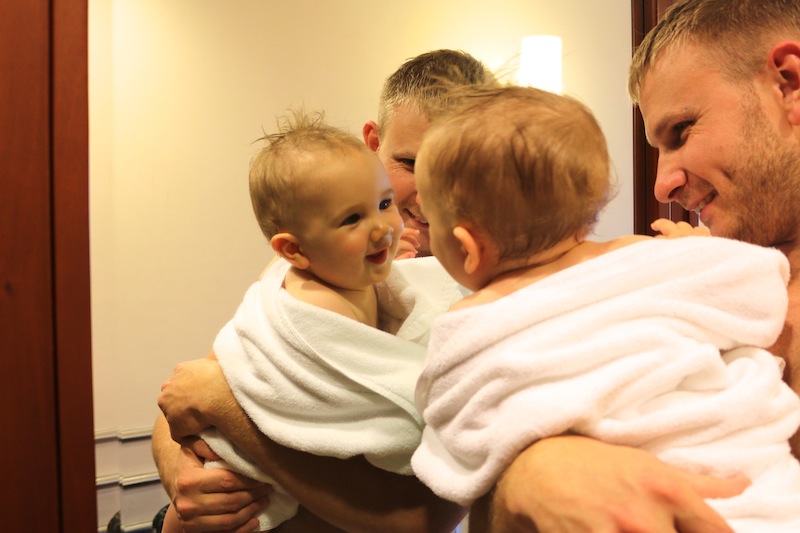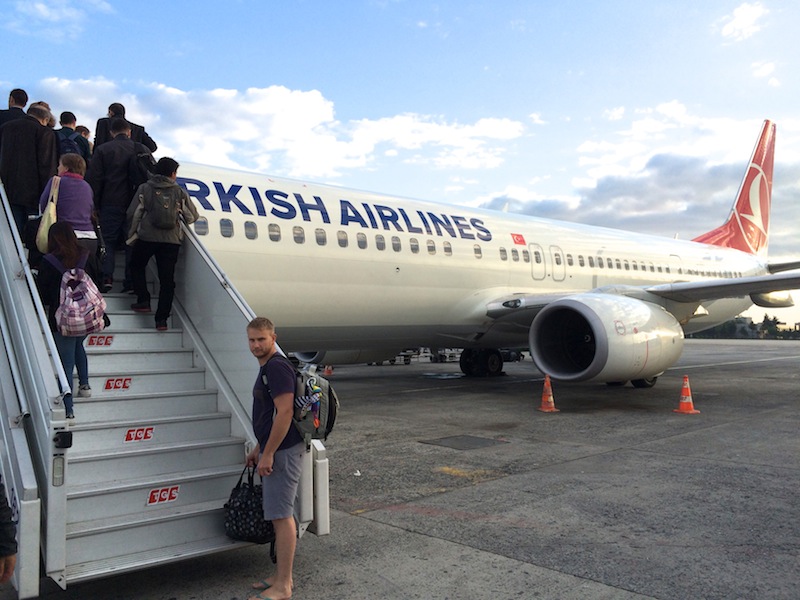 If you have a long wait between your island transfer and your flight home, it doesn't mean your journey home has to be a chore. Make the wait part of your holiday and enjoy it properly! If we weren't travelling with George I wouldn't have booked an airport hotel to rest in before the flight home but I'm so glad we did. I would 100% do this again, even if I wasn't travelling with a baby. It made our long journey so much more enjoyable!
---
I'd like to say a massive thank you to Hulhule Island Hotel for providing us with our stay.
The holiday low-down
I flew to Male with Turkish Airlines. I departed from Birmingham with a 3-hour layover in Istanbul – a good choice if you're travelling with little ones!
I stayed at Coco Palm Dhuni Kolhu for 6 nights in a Deluxe Villa on a full board basis.
Massive thanks to Visit Maldives for helping to organise my trip.
You can read more from my trip:
Arriving in paradise at Coco Palm Dhuni Kolhu
Healthy holiday habits I'm bringing home from the Maldives
Teeny, tiny turtles hatching in the Maldives
How to spend your birthday in paradise in the Maldives
What to pack for a holiday in the Maldives
What to pack for a baby in the Maldives
What it's really like to travel to the Maldives with a baby