Stepping out of the airport at Male was like stepping into a holiday brochure – you know the kind of brochure where you're sure every photo must be highly edited because there's no way the ocean could be that blue. Someone's upped the saturation here, right?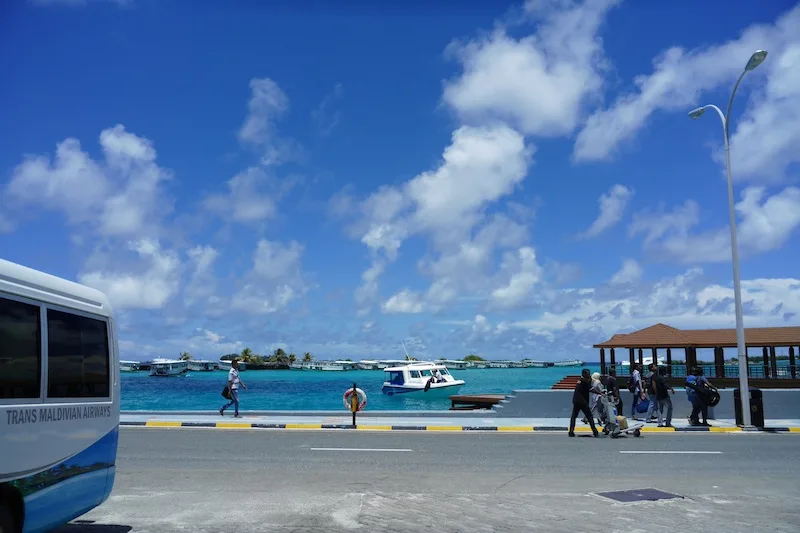 That turquoise ocean was directly in front of us and lined with little boats waiting to whisk people off to their paradise islands. This was my first sight in the Maldives and I can confirm, the water really is THAT blue!
And this was at the airport! Airports are meant to be ugly and grey and unwelcoming.
A cool, air-conditioned car was waiting to take the three of us (me, Sam and George, our 6 month old baby) to the Coco Palm lounge where we'd wait to catch our seaplane. We had to wait an hour and a half, but the time flew by as we admired the view from the balcony. We ate tuna club sandwiches, sipped on juices and finally breathed a sigh of relief that we'd made it through a long-haul flight with a six-month old baby!
Our seaplane had 11 guests on it with 7 of us getting off at Coco Palm Dhuni Kolhu. And wow, what a journey it was. The little plane chugged into the sky and then we breezed over the incredible Maldivian islands. There are 1,190 islands that make up the Maldives, 200 of which are inhabited. Some were so tiny they were little more than a mound of glistening white sand. Some were around the size of a football pitch and obviously private homes for the lucky rich and famous. We ooohed and ahhhed and clicked our cameras at the incredible view below us.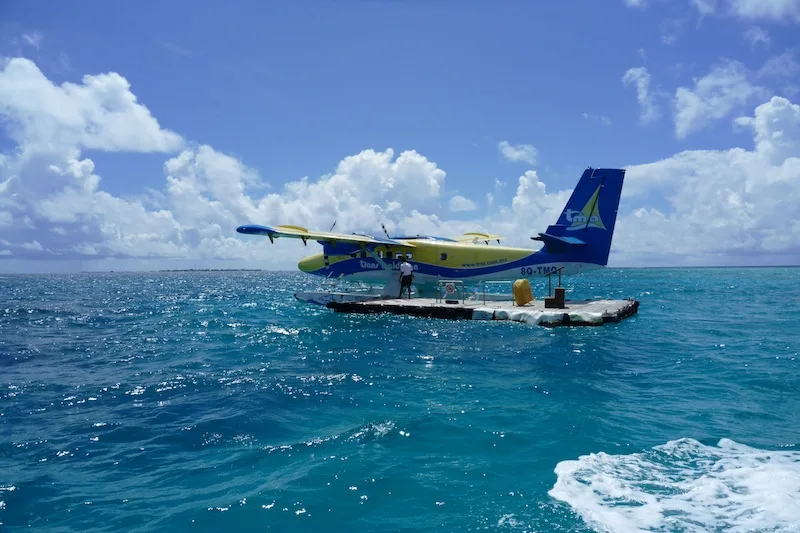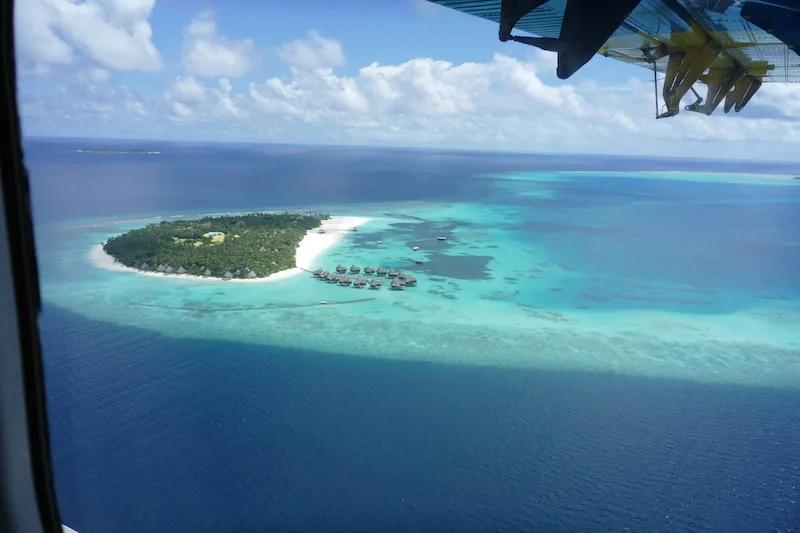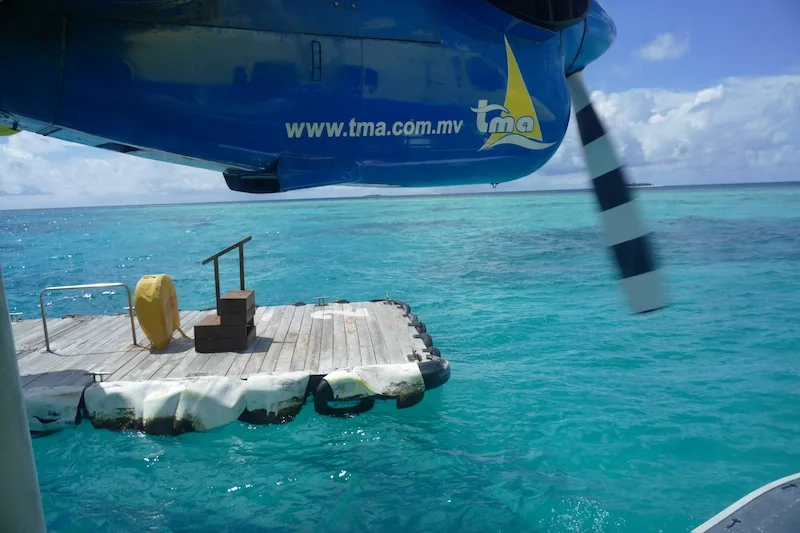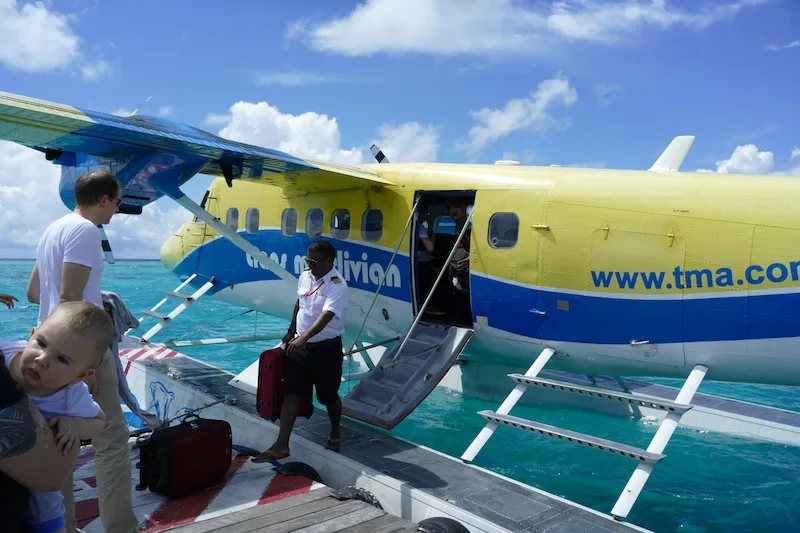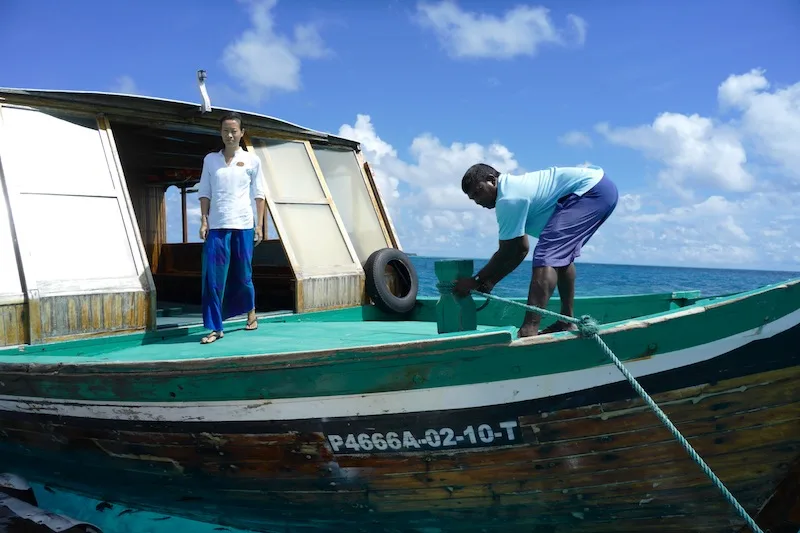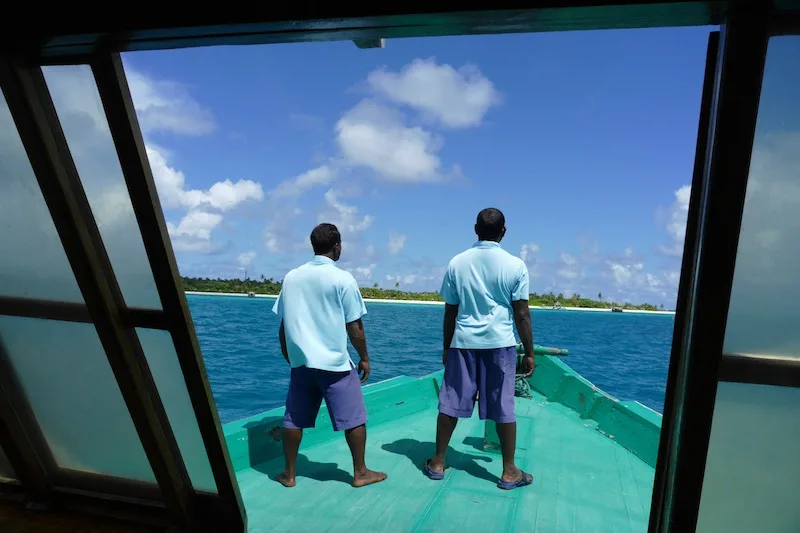 After 30 minutes we arrived at Coco Palm Dhuni Kolhu and the pilot swooped around the island so we saw it from every angle. And what a way to arrive! As we lowered down to a pontoon the view got better and better as the floating villas and beach huts came into view.
I wobbled from the plane to the pontoon and then onto a large boat that took us to shore. It was on this boat that I realised this was going to be a perfect holiday with a baby. I'd been so worried George wouldn't like it, but as I sat back and watched all the guys on the boat making a big fuss of him, I knew he couldn't be happier.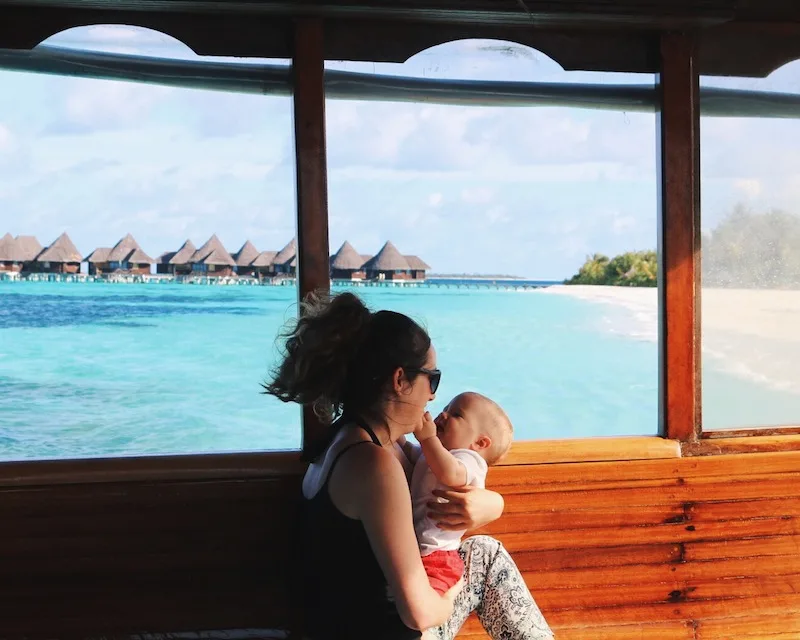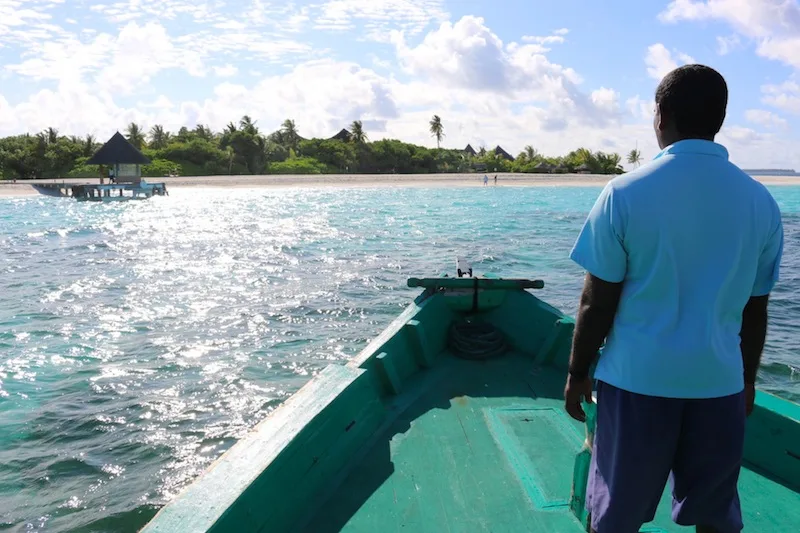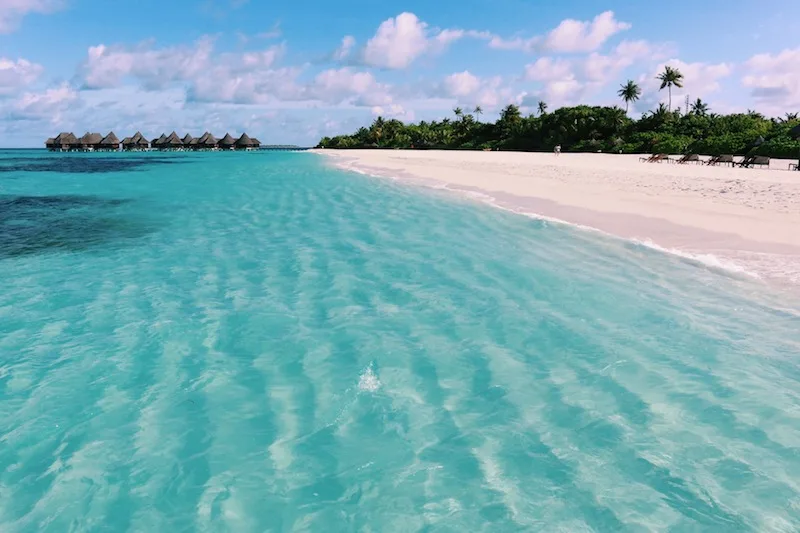 Maldivians aren't shy about asking to hold babies. It came as a bit of a shock at first because in the UK we don't ask to hold other people's babies unless it's a close friend or family. But here in the Maldives everyone was swooping him away for cuddle. He's a sociable baby so he loved all the attention and when George is happy, I'm happy. I'm even happier when it's a bar man who swoops him away just after he's poured me a glass of wine!
There were three couples arriving on the island and each couple was met personally by their own little team. A guy carried our bags while a lady named Coco carried George. Sam and I just seemed to spin in circles as we gapped at the island around us. They were telling us things, probably important things, but I don't remember a word of what was said. All I remember is the little voice in my head saying, 'Oh em gee, look at the water! Wow, look at the sand! And the beach bar! And the palm trees! Wow, wow, wow, wow.'
Yea, that's the very excitable voice in my head. Kind of annoying, isn't it?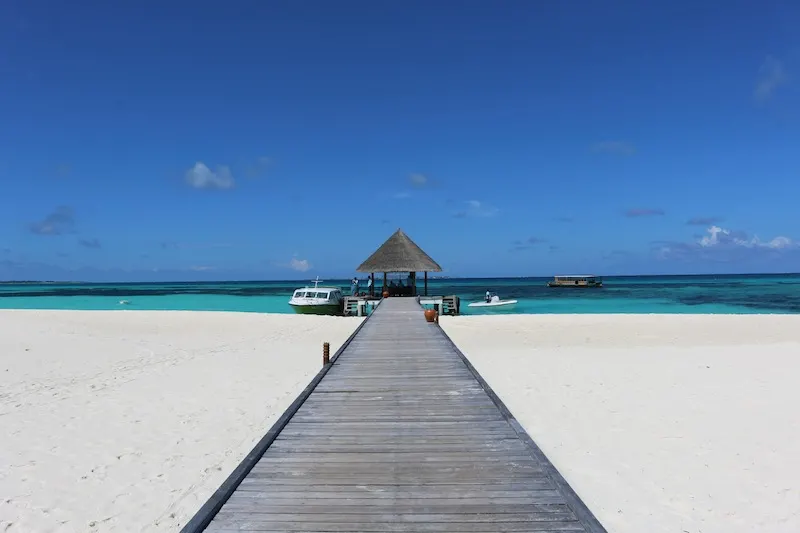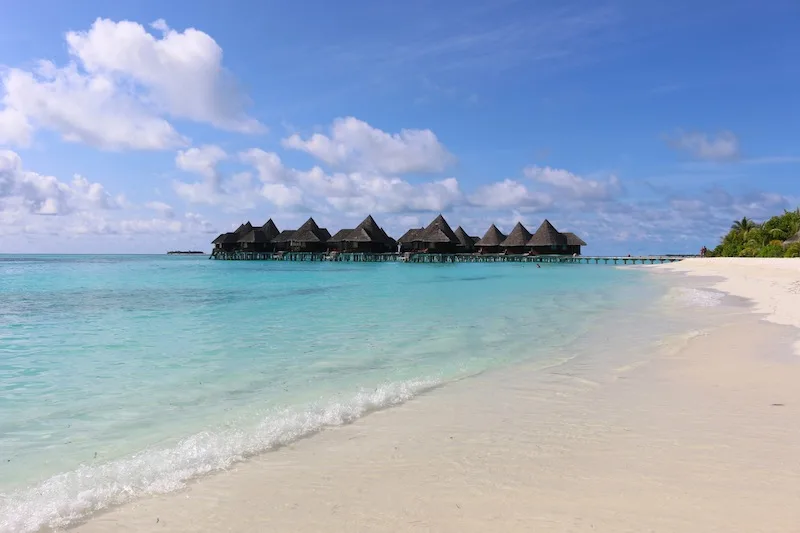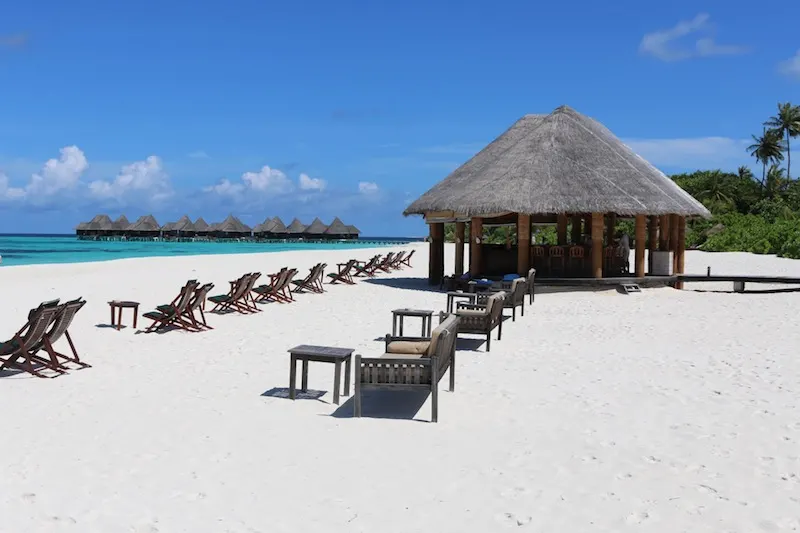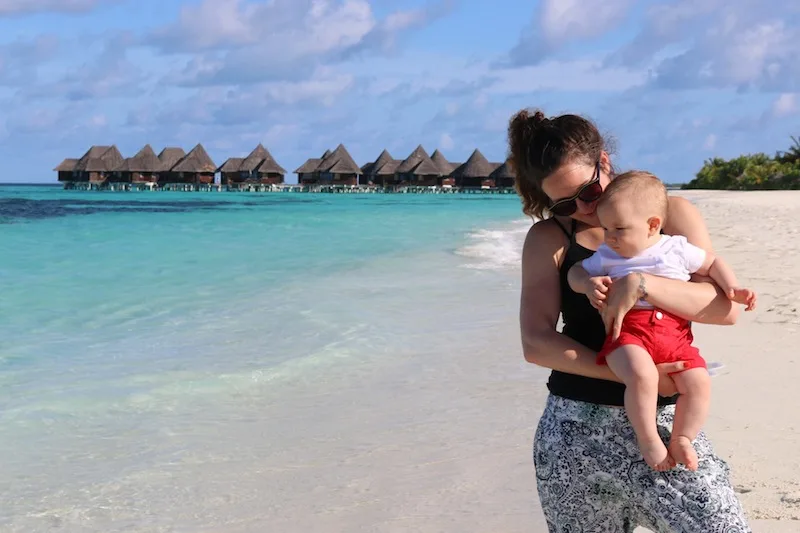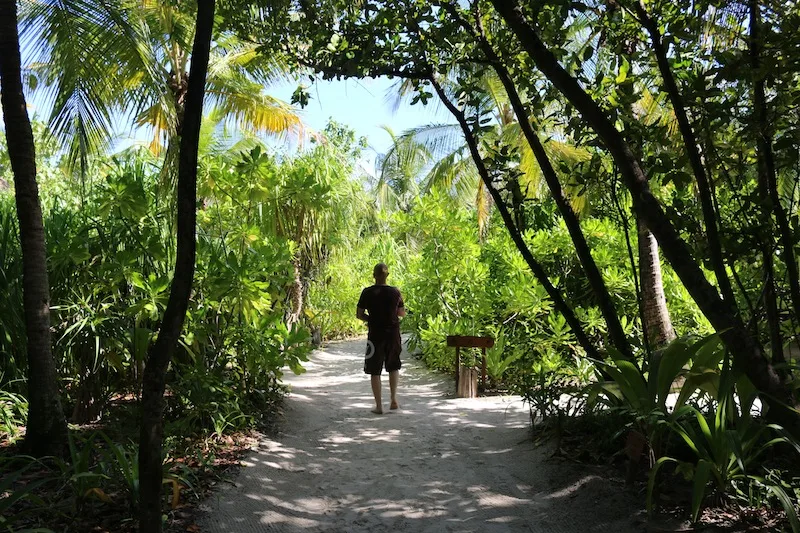 We sat down under a palm tree while someone brought chilled flannels and freshly squeezed orange juice. They even did a tiny juice for George and he gobbled it down – he didn't appreciate the icy flannels as much as we did though.
Coco held George and they led the way to our incredible villa. A sandy path runs through the centre of the island and leads off to different things like the spa, the dive centre, the gardens and the tennis and badminton courts. The path is surrounded by dense forest with trees growing above and over forming an exotic tree tunnel. Some of the smaller trees were obviously planted recently and had plaques below from the guests who planted them. Most of them were dedicated to honeymooners and anniversaries and special occasions that guests had celebrated at Coco Palm.
We followed the tree tunnel path until we came to villa number 78, our home for the week.
We were staying in a deluxe villa. It brought back memories of our days backpacking in Asia – only super luxurious and much more glamorous.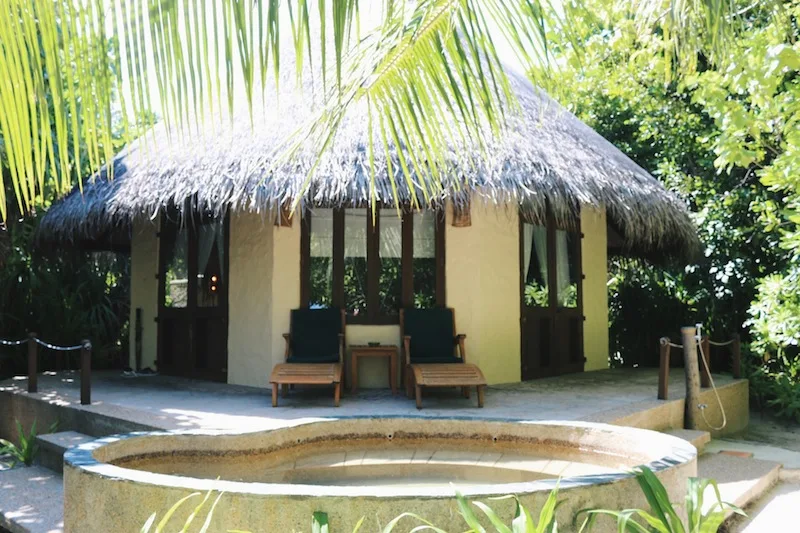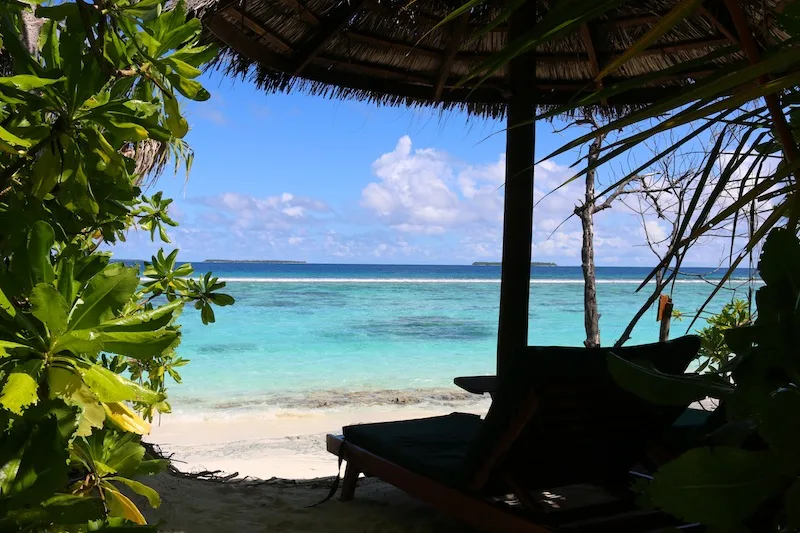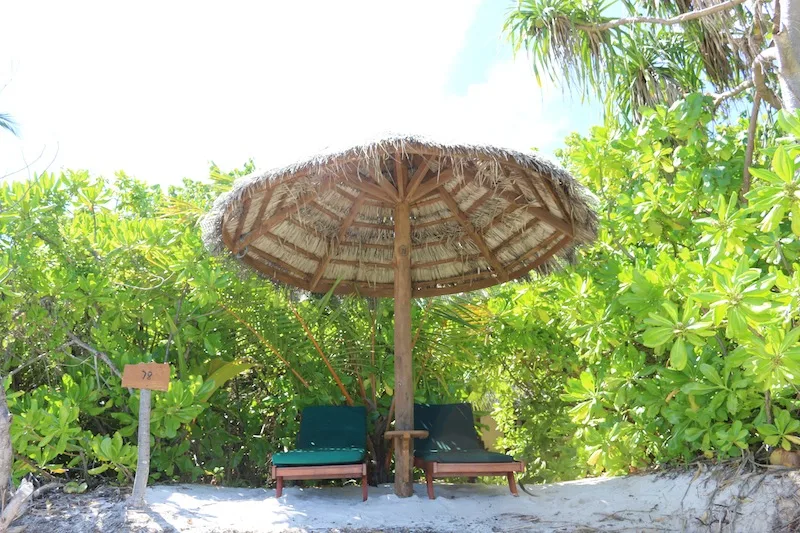 Our super-king bed was lined with silky soft sheets and enormous, sinking pillows. George's cot was equally as plush with special baby boy bedding. The huge thatched roof vaulted up into the sky, keeping the room cool despite it being so hot outside. Our outdoor bathroom had a huge bath and two showers.
Outside there was a small pool that was perfect for a quick dunk to cool off. The whole villa was surrounded by trees and shrubs so it felt really private. We could barely see the villas either side of us and it was easy to think we were the only people on the island.
A narrow, sandy footpath led from the pool to the beach where our sun loungers await. This part of the beach feels like our own private slice of paradise. Every guest with a beach front villa (which is nearly all of them) has their own area like this so you have your own little beach all to yourself.
The clear blue water was begging us to jump in so we made a quick dash to change into our swimsuits. It was George's first time in the ocean and he took to it like a little merman. The sea was as warm as bath water with the perfect sized waves to bob up and down on. A slight current swept around the island and you could easily let yourself float around the beach like a natural lazy river.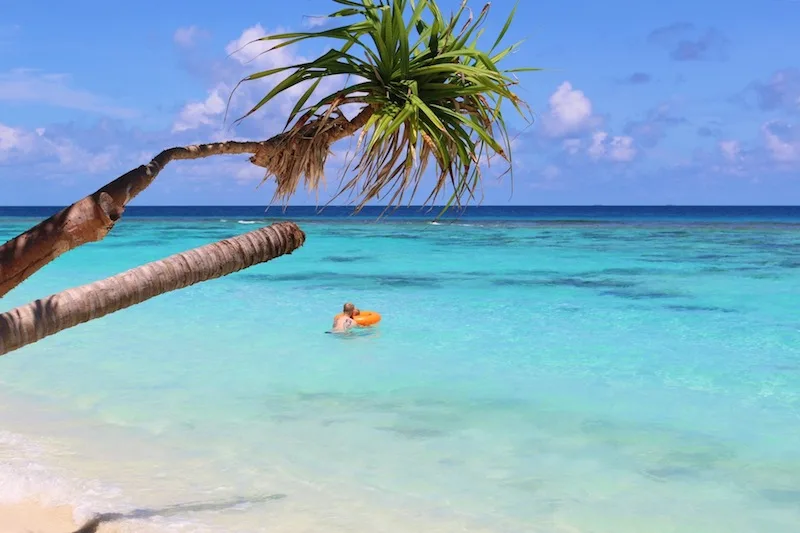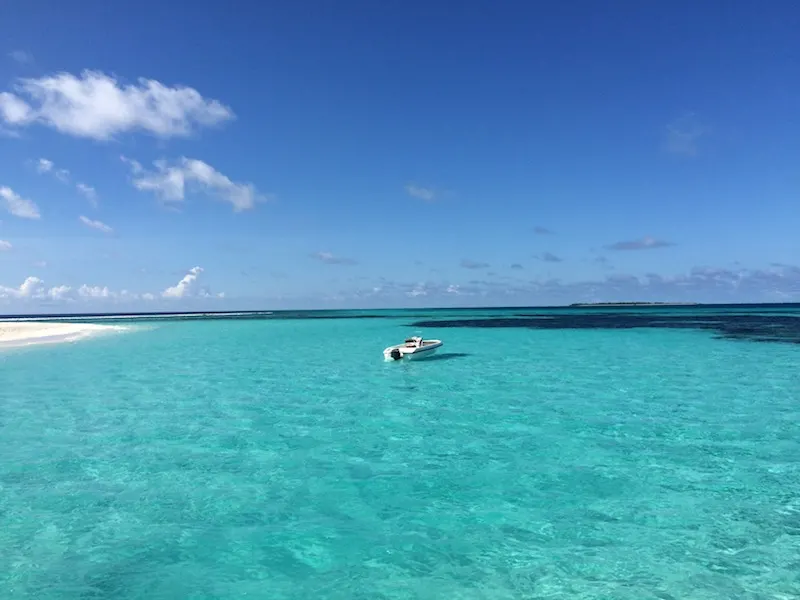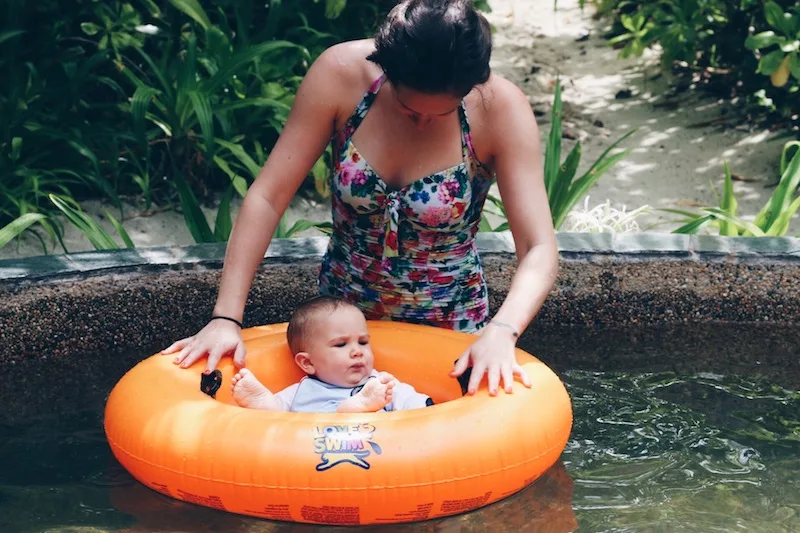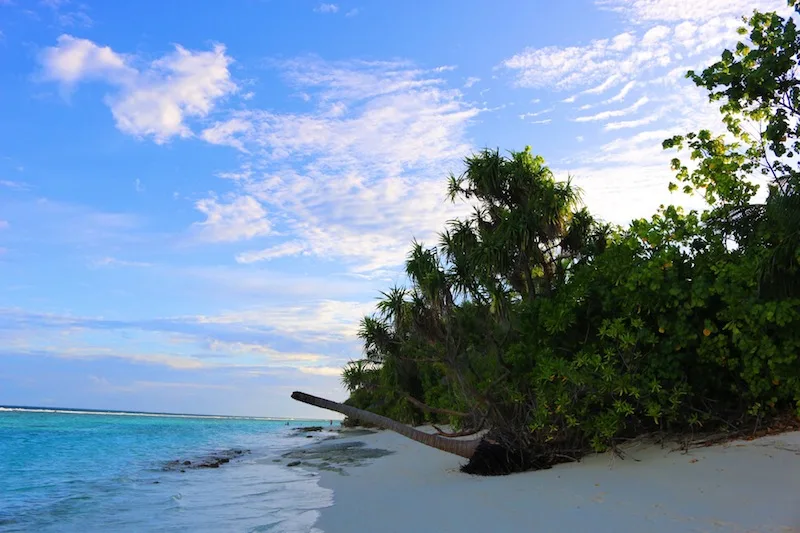 A bottle of sparkling wine waited in our room and we popped the cork and made a toast.
"To the best holiday we've ever had!"
(And anyone who follows this blog knows we've had a few!)
Little did I know that we'd have something even bigger to toast in a few hours….
---
The holiday low-down
I flew to Male with Turkish Airlines. I departed from Birmingham with a 3-hour layover in Istanbul. I will be writing more about the flight and particularly flying long-haul with a baby with Turkish Airlines.
I stayed at Coco Palm Dhuni Kolhu for 6 nights.
The seaplane transfer was arranged through Coco Palm and took 30 minutes.
I stayed in a Deluxe Villa on a full board basis.
Massive thanks to Visit Maldives for helping to organise my trip
Read more