Today I'm sharing a 10kg luggage example because it's so hard to visualise how big that 10kg suitcase can be and how much you can actually fit in there!
So you're going on holiday and you've opted to take nothing but 10kg luggage. And let me guess, now you're kind of panicking thinking, 'Agh, I can't fit everything in that small suitcase and it's definitely going to weigh more than 10kg! Actually, I'm not even sure how much 10kg really is!? How much can I fit in a 10kg suitcase!?'
I hear you!
I'm also one of those people who can't really visualise how much 10kg is or what that means in terms of how big your suitcase will be and how many outfits you'll be able to pack. I know how much I weigh so 10kg is….what…like a leg….? How many t-shirts weigh the same as my leg….?
I'm here today to give you a 10kg luggage example, show you how big the case is and how much you can fit in there.
I've also got some tips to help you stay under that 10kg weight allowance.
Here are some topics I'm going to cover today…
What bag should you use when you've got 10kg luggage?
How much can you fit in your 10kg suitcase?
A 10kg luggage example
My toiletries are too heavy!
Other heavy item swaps
Should you use packing cubes?
How to weigh your case and what happens if it's overweight?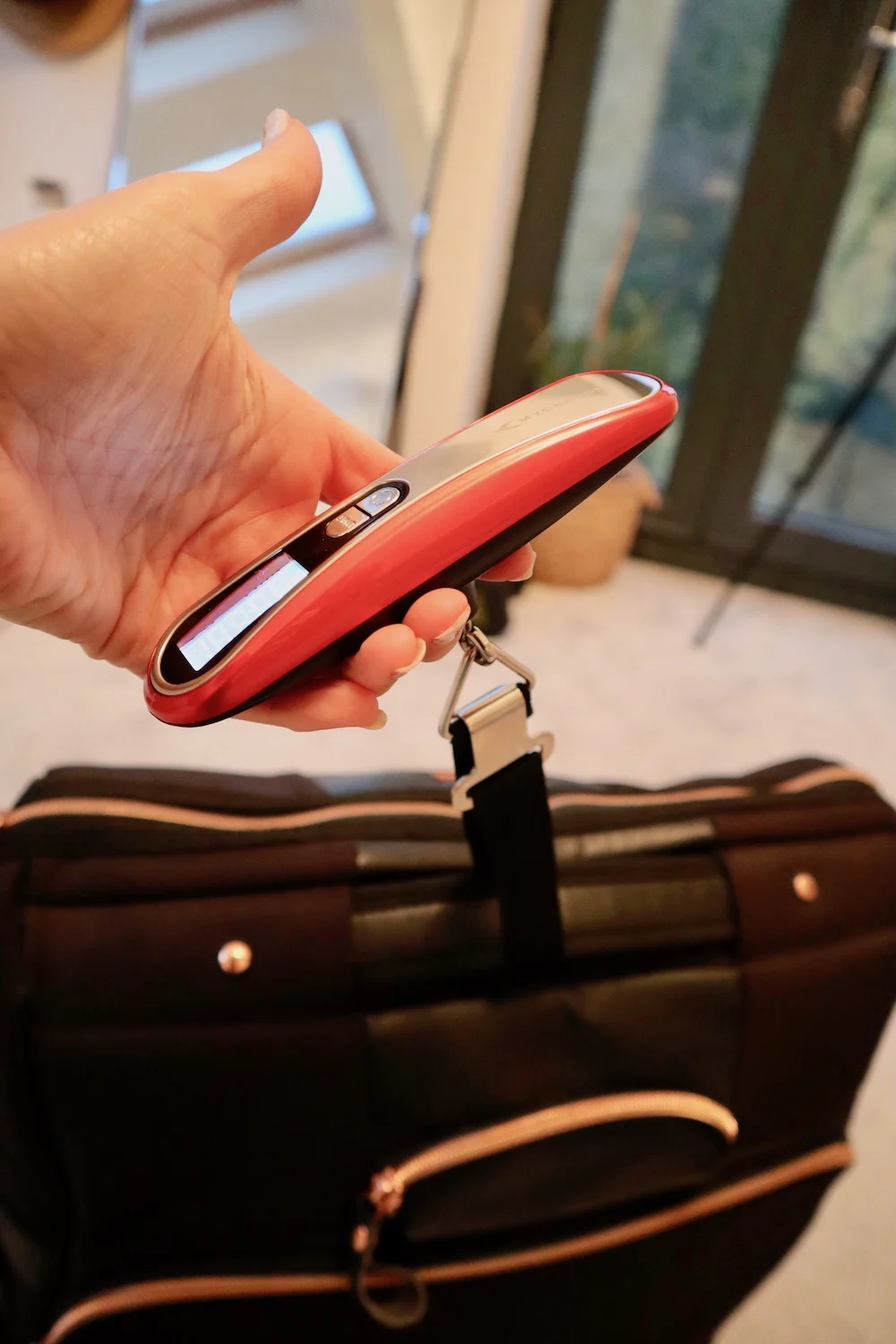 I like to use these portable travel scales to weigh my suitcase.
What bag should you use when you've got 10kg luggage?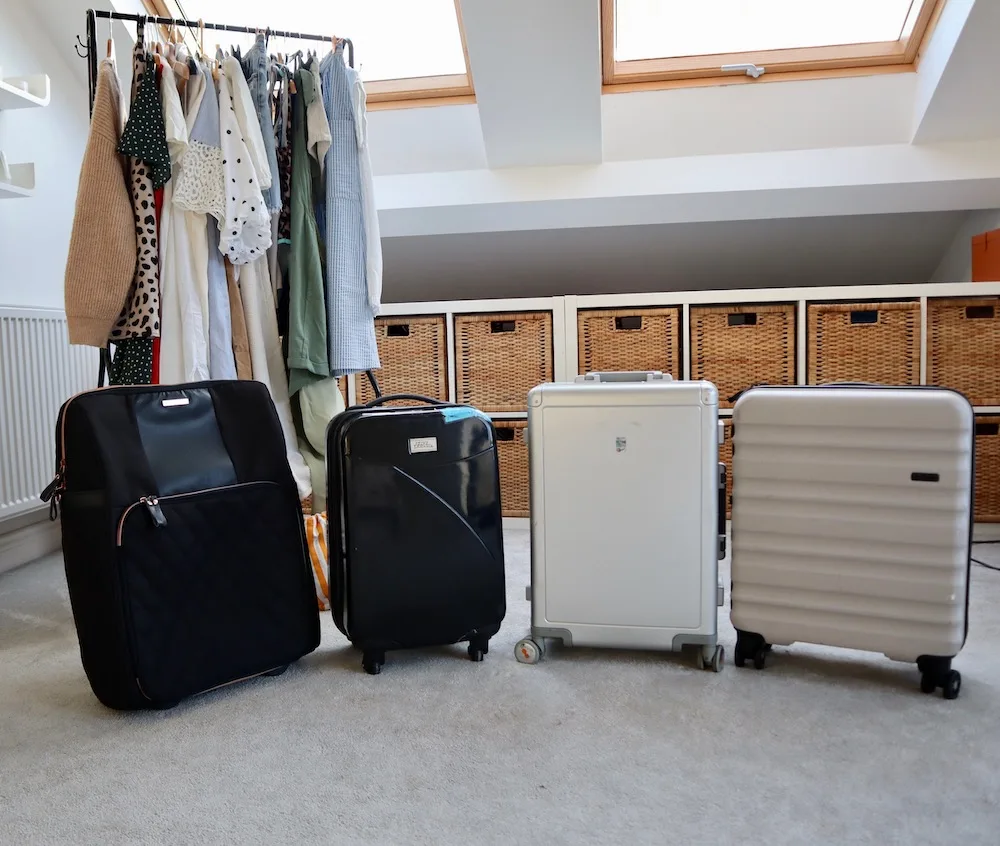 If you've opted for 10kg of luggage you're probably going to be packing it into a small suitcase or a large backpack.
For many airlines, the size of the suitcase is actually more important than the weight. The size is especially important if you plan to take your bag onboard with you because it needs to fit in the overhead lockers.
The dimensions of your bag are less important if you're checking it in. Make sure you check the dimensions of the bag you're allowed and measure your bag first!
When looking for a suitcase for your 10kg luggage, look for:
It's within the size limits for the airline you're flying with
It isn't too heavy
Backpack or wheels is personal preference
Below are a couple of great luggage options for a 10kg suitcase or backpack.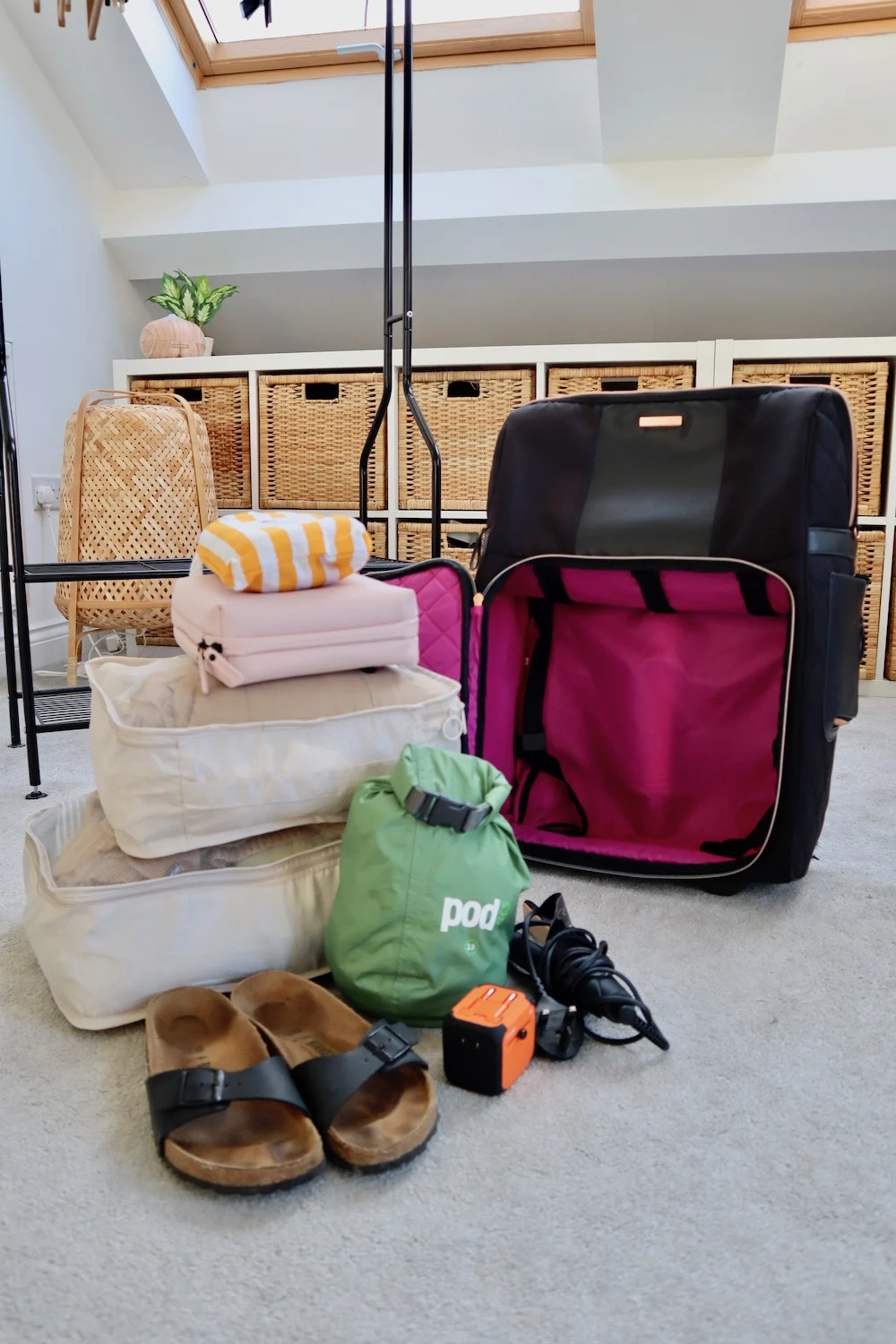 The Travel Hack Cabin Case
The Travel Hack Cabin Case is my all-time favourite for your 10kg luggage option. The suitcase alone weighs just 2.7kg but still has a massive 45 litre capacity. It also has handy pockets so you can access your belongings easily, whether you're on the plane, going through security or at the airport.
Sale
Cabin Max Travel Hack Cabin Luggage Suitcase for Women - 55x40x20cm BA, Jet2, Virgin, Iberia,...
A stylish cabin case, suitable for most major airlines hand luggage limits sized 55x40x20 cm. Including British Airways, Easyjet, Jet 2, Iberia and Virgin. The trolley case includes innovations like a...
Large main packing compartment with packing straps and a variety of zipped pockets. Fold down top compartment shelf to make a larger main packing compartment.
The Travel Hack suitcase also features a water bottle holder, smooth new rose gold zips and quick access pockets for travel documents. There's also space for a Macbook or small laptop via the padded...
Cabin Max Metz
The Cabin Max Metz backpack is within the dimensions for most airline carry-on luggage and weighs just 0.7kg!
If you're looking for ultra light but spacious luggage then this is the one.
Sale
Cabin Max Metz Travel Backpack Hand Luggage Carry On Cabin Bag 55 x 40 x 20 (Classic Black)
Carry On backpack 55x40x20cm soft shell design to fit 94% of worldwide hand luggage gauges including: EasyJet and Ryan Air, Germanwings, Norwegian, Virgin, BA, Lufthansa, Jet2, Lingus, Delta,...
Large 44-litre capacity cabin bag makes it possible to fly without checking in baggage to the hold. Lightweight yet durable design 0.7kg (1.5lbs).
Featuring 3 main lockable zipped compartments, including document pocket, organisational accessories and tech pocket, including 2 zipped compartments. High strength durable, showerproof, and...
Tripp Ultra Light 4 wheel cabin case
If you're looking for a lightweight suitcase then you can't go wrong with the Tripp Ultra Light 4 wheel cabin case. It weighs 2.1kg, so you're going to be left with 7.9kg for your belongings.
TRIPP Black Ultra Lite 4 Wheel Cabin Suitcase
4 Wheel Carry On Suitcase
Colour: BLACK
4 Wheels, Cabin Luggage, Front Pocket, Aer Lingus, American Airlines, British Airways, Easyjet Up Front, Jet2, Klm, Lufthansa, Norwegain, Ryanair Priority, Sas, Tui, Virgin Atlantic
Antler Clifton Suitcase
The Antler Clifton Suitcases are great quality and so reliable. The cabin case is a little heavier at 3.5kg but if you're looking for a really good quality case and you're not as worried about weight then it's a good option.
ANTLER Clifton Suitcase - Size Cabin, Black | 44L, Super Lightweight, Hard Shell Case for Travel &...
CLIFTON LUGGAGE: Our Clifton case is everything you could want from a hard-shell suitcase. Designed to last with its polycarbonate material, it's strong, eye catching, light on its feet & wheels...
ANTI-THEFT TSA LOCKS: Our bags are anti-theft with their TSA approved locks for added security & peace of mind whilst on your family holidays, business trips or weekend getaways.
SIZE & MEASUREMENTS: Our bag features flexible carry handles, 4 interior pockets, a zip closure & interior compartments. The cabin measures 20 x 40 x 55 (cm) with a packing capacity of 37 litres.
Cabin Max Lightweight Backpack Trolley
If you aren't sure if you want a backpack or a trolley then check out the Cabin Max Lightweight Backpack Trolley. It weighs just 1.7kg and has a 44 litre capacity.
Sale
Cabin Max Flight Approved Lightweight Carry on Trolley Backpack Bag
Cabin Max hybrid trolley bag is the perfect bag for any type of travel. The bag also converts into a backpack so great for any situation, just unzip the back section which covers the wheels and...
Large 44-litre capacity cabin bag makes it possible to fly without checking in baggage to the hold. Lightweight yet durable design 1.7kg
At a massive 44L with dimensions 55 x 40 x 20 cm including wheels and all and a lightweight 1.7KG
How much can you fit in a 10kg suitcase?
I think most people will be really surprised by how much they can fit in a 10kg suitcase!
Here's a 10kg luggage example and everything I managed to get into my 10kg suitcase. I used The Travel Hack Cabin Case which weighs 2.7kg when it's empty. This is a big cabin case so it would be very easy to overpack it and I did have to keep weighing it to make sure I wasn't over!
10kg suitcase example + 19 outfit ideas!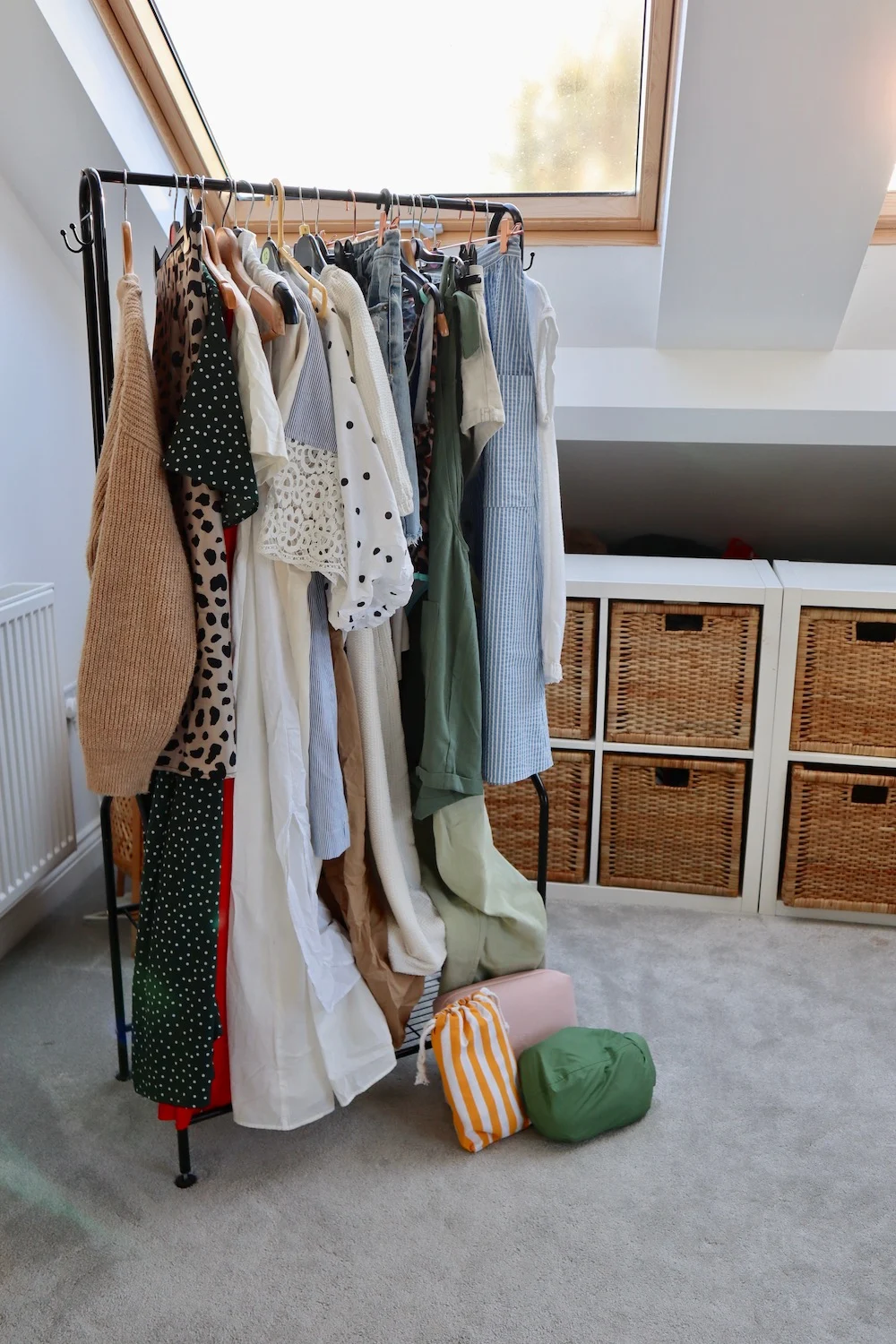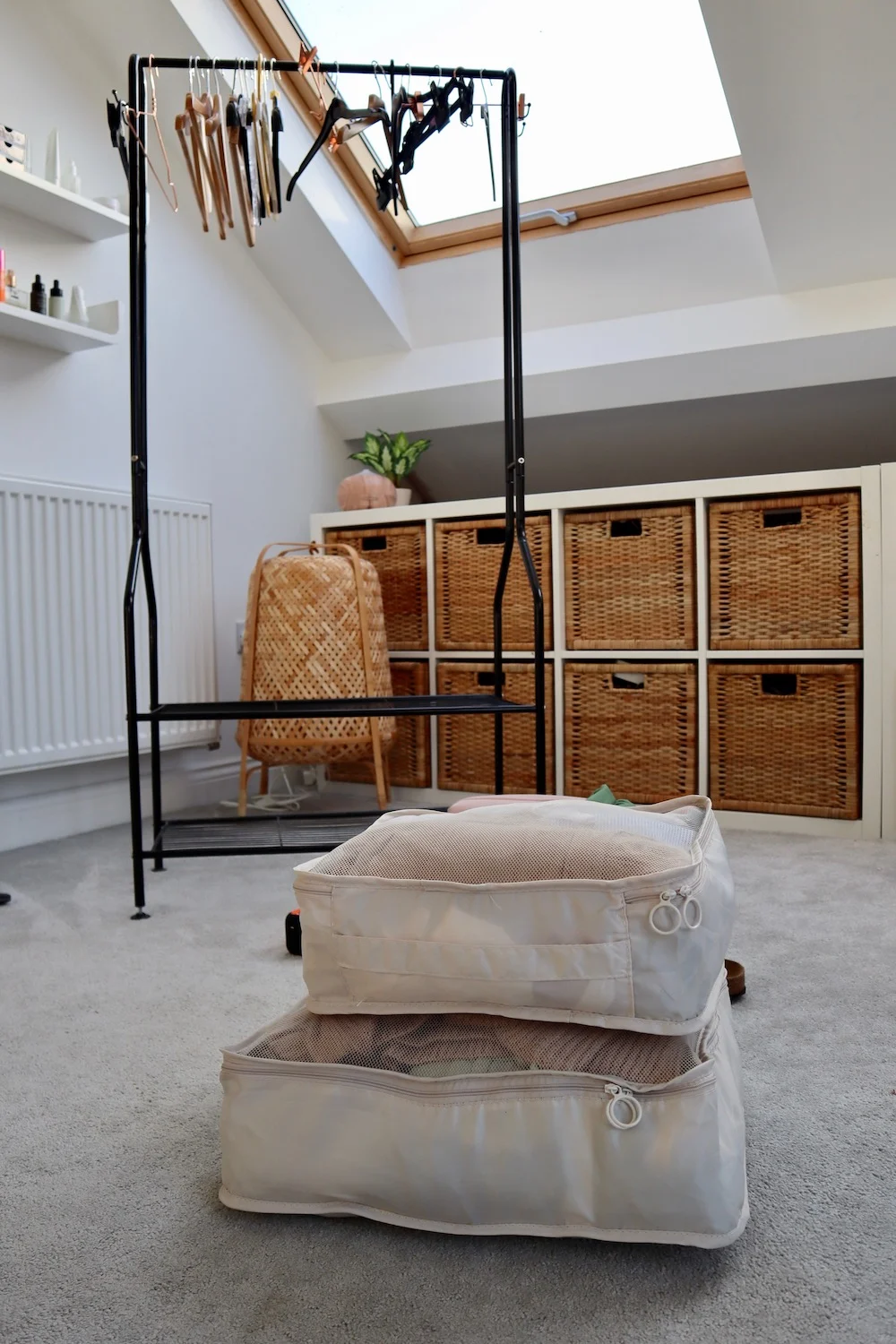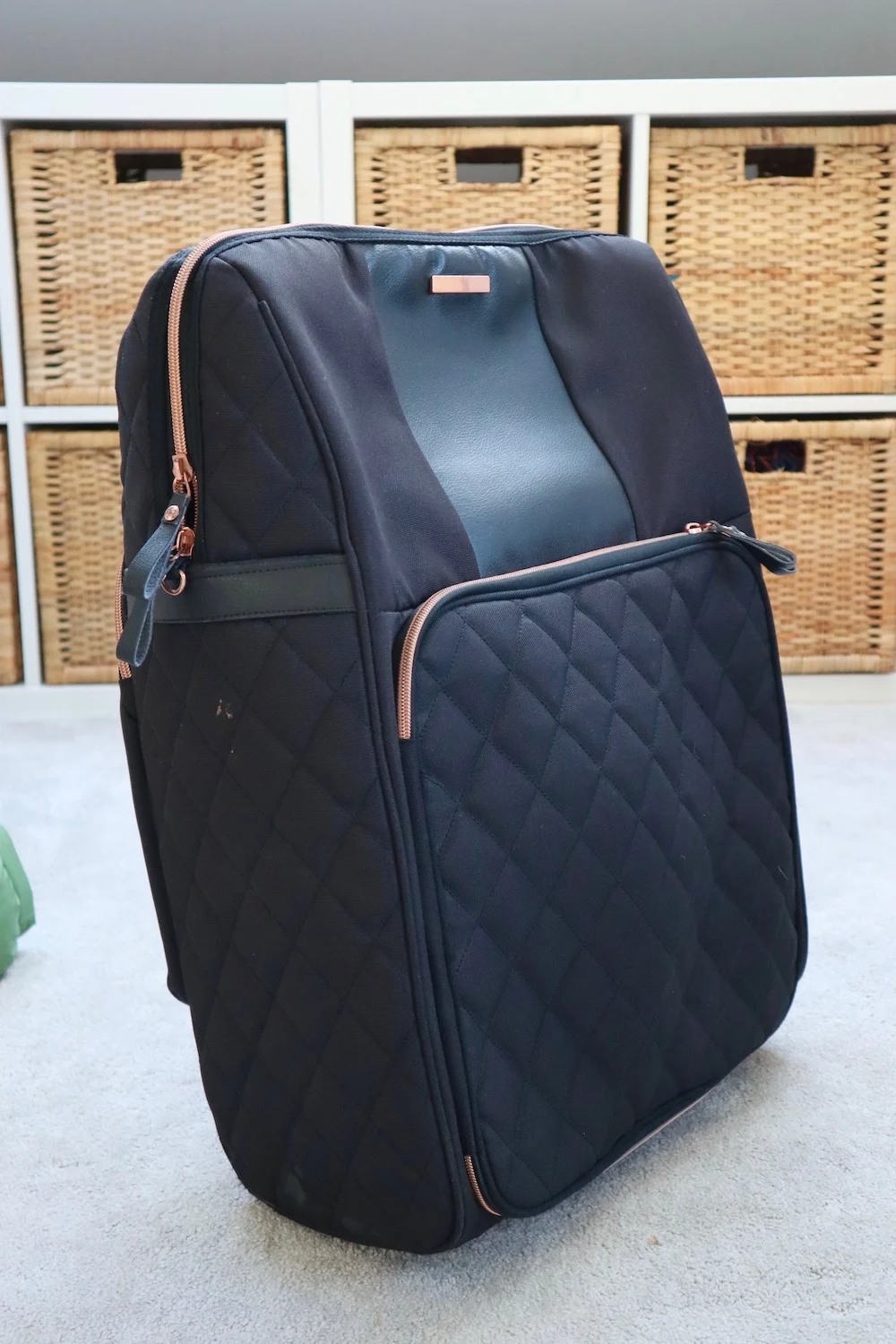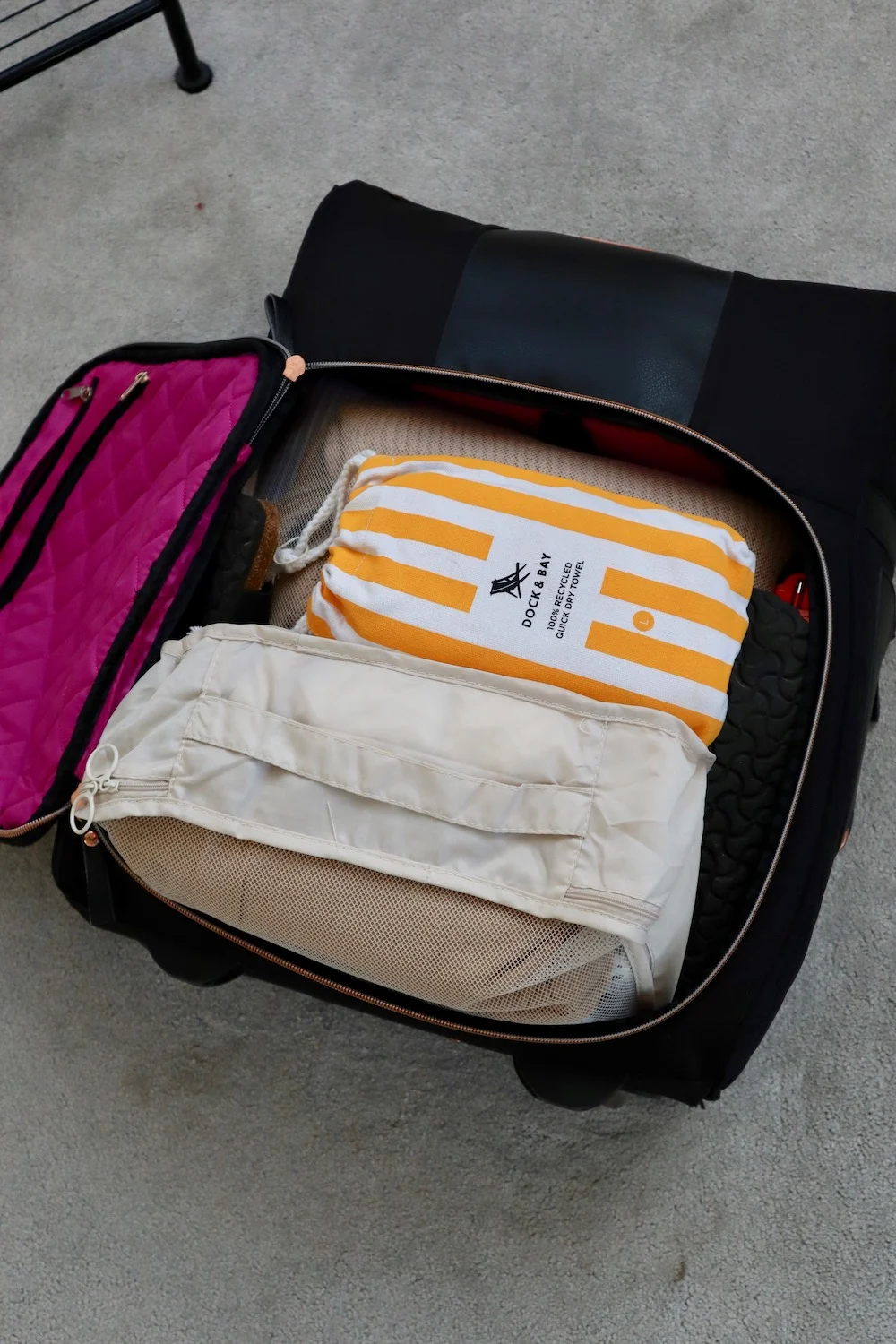 I packed:
10 x dresses
2 x playsuits
2 x shorts
1 x skirt
4 x tops
2 x swimsuits
1 x chunky cardigan
1 x sandals
1 x hair straighteners
1 x pouch with underwear and PJs
A large microfibre beach towel
1 x toiletries bag with toiletries and makeup
1 x plug adaptor
Here are the outfits I managed to squeeze into my suitcase and keep it under 10kg!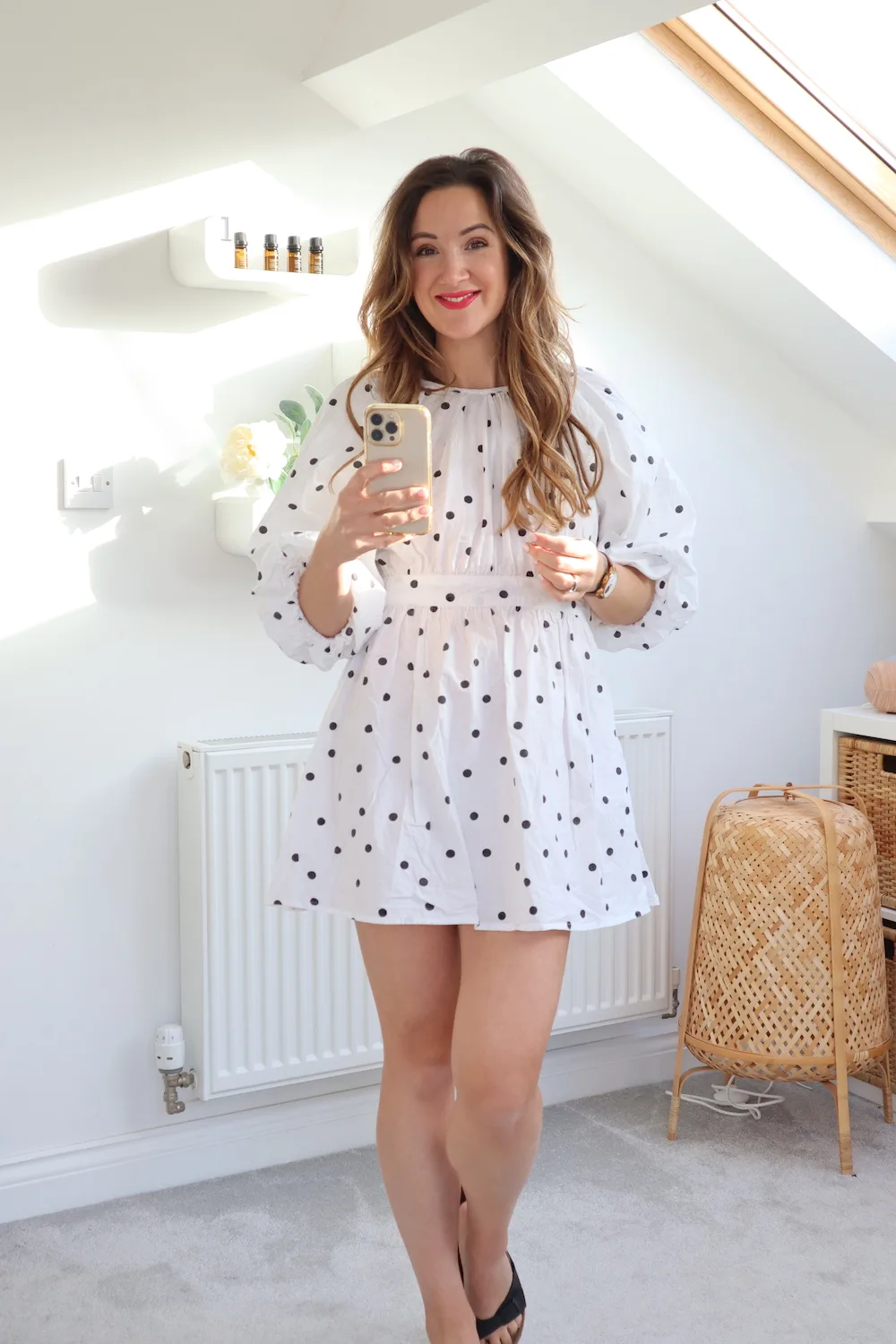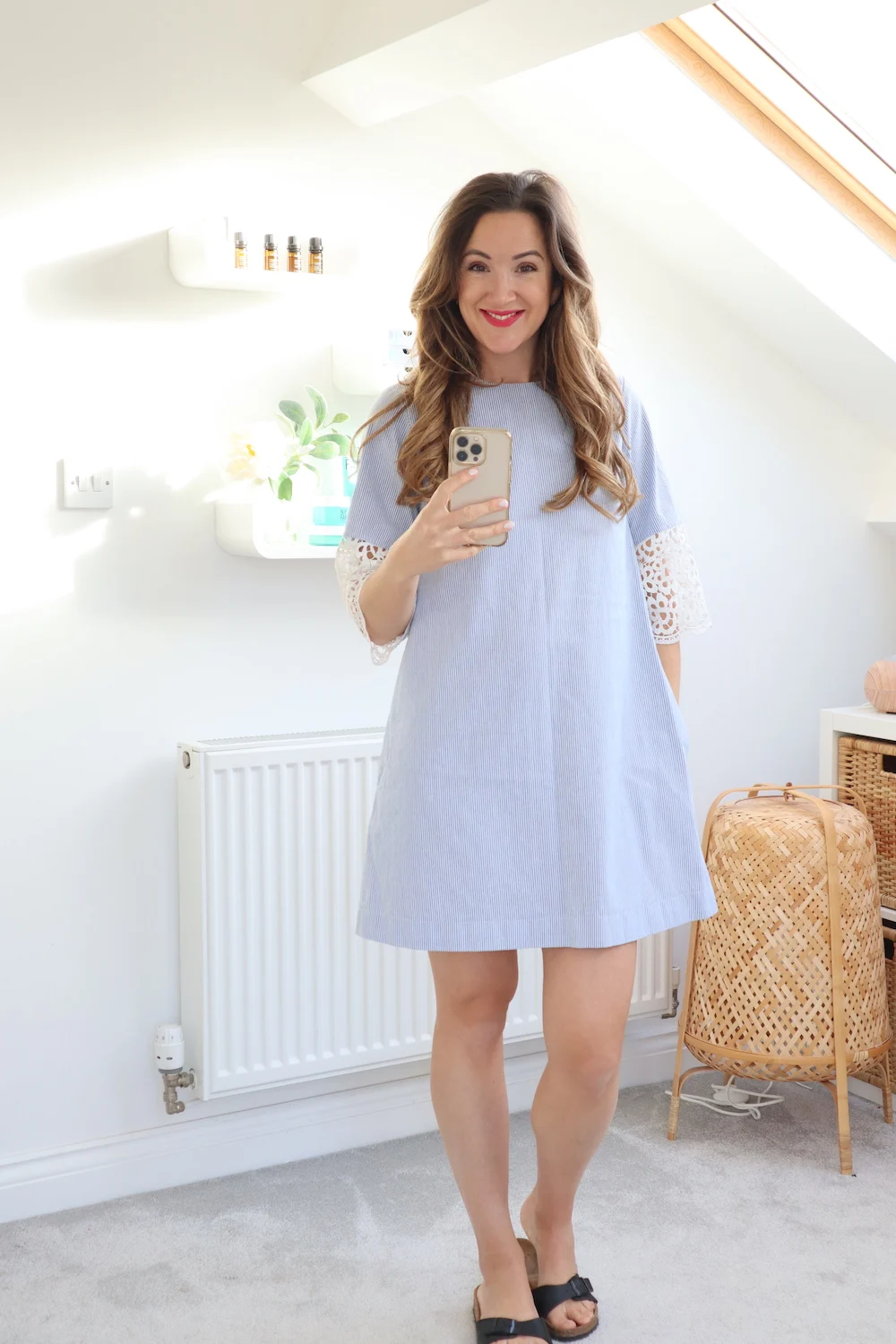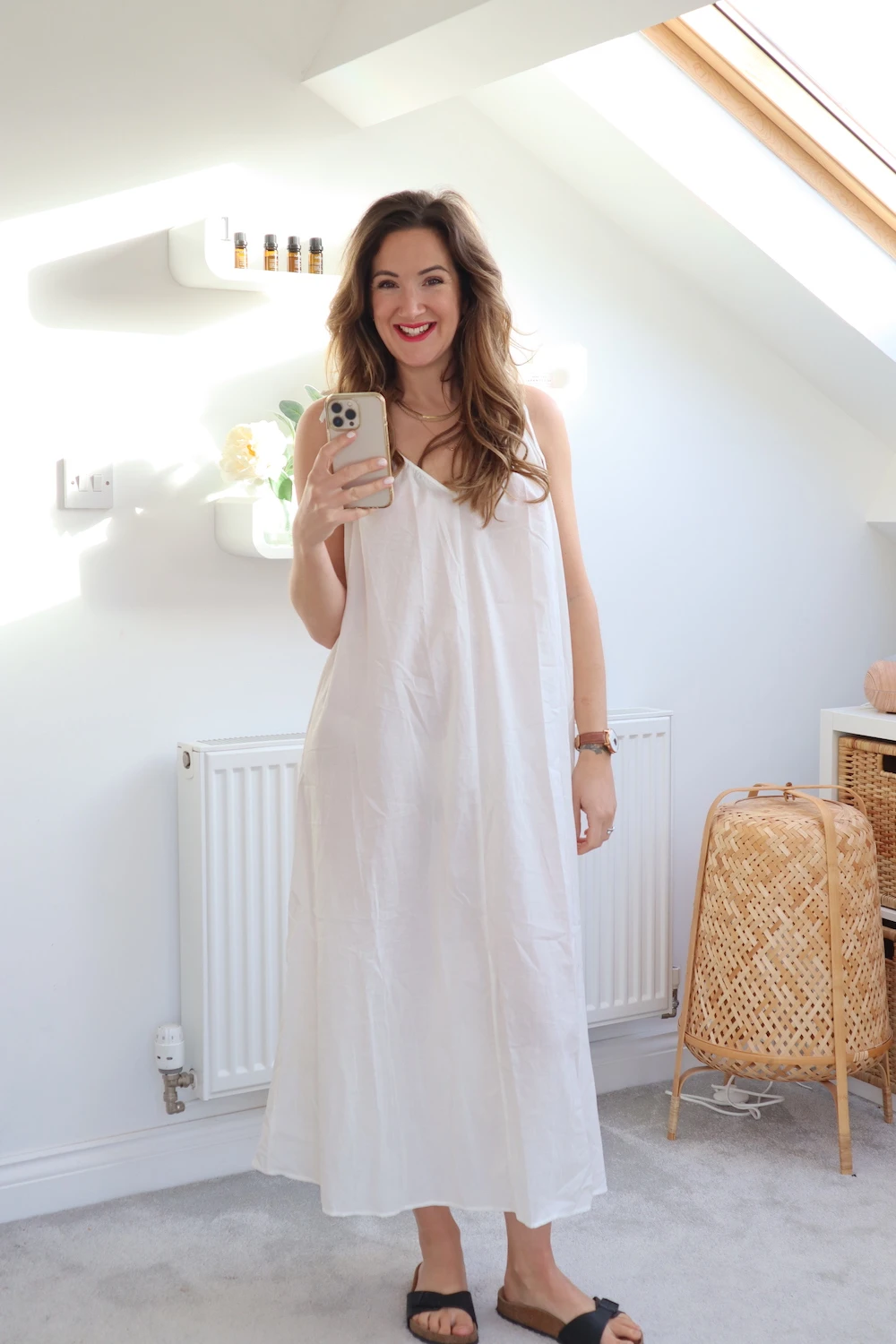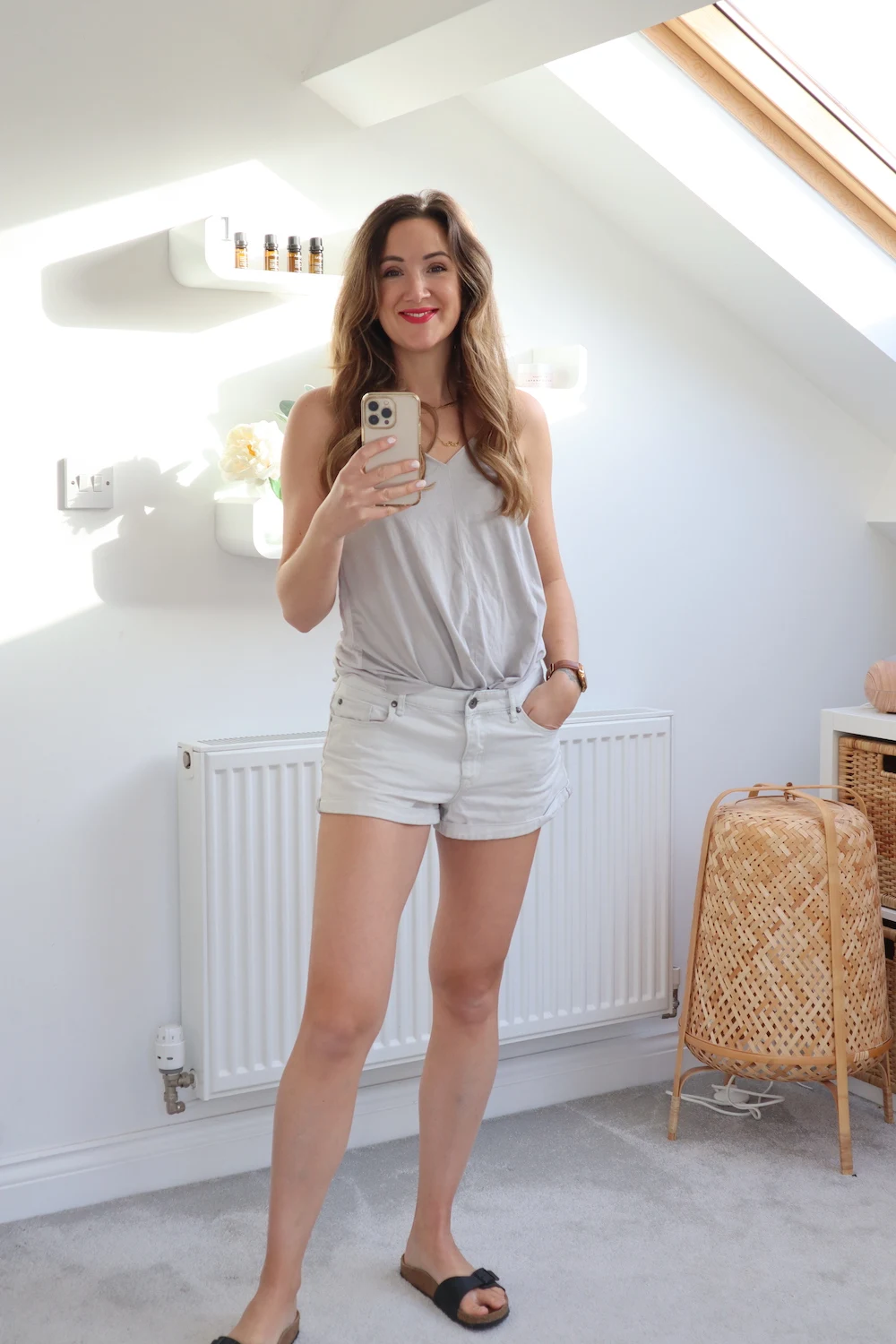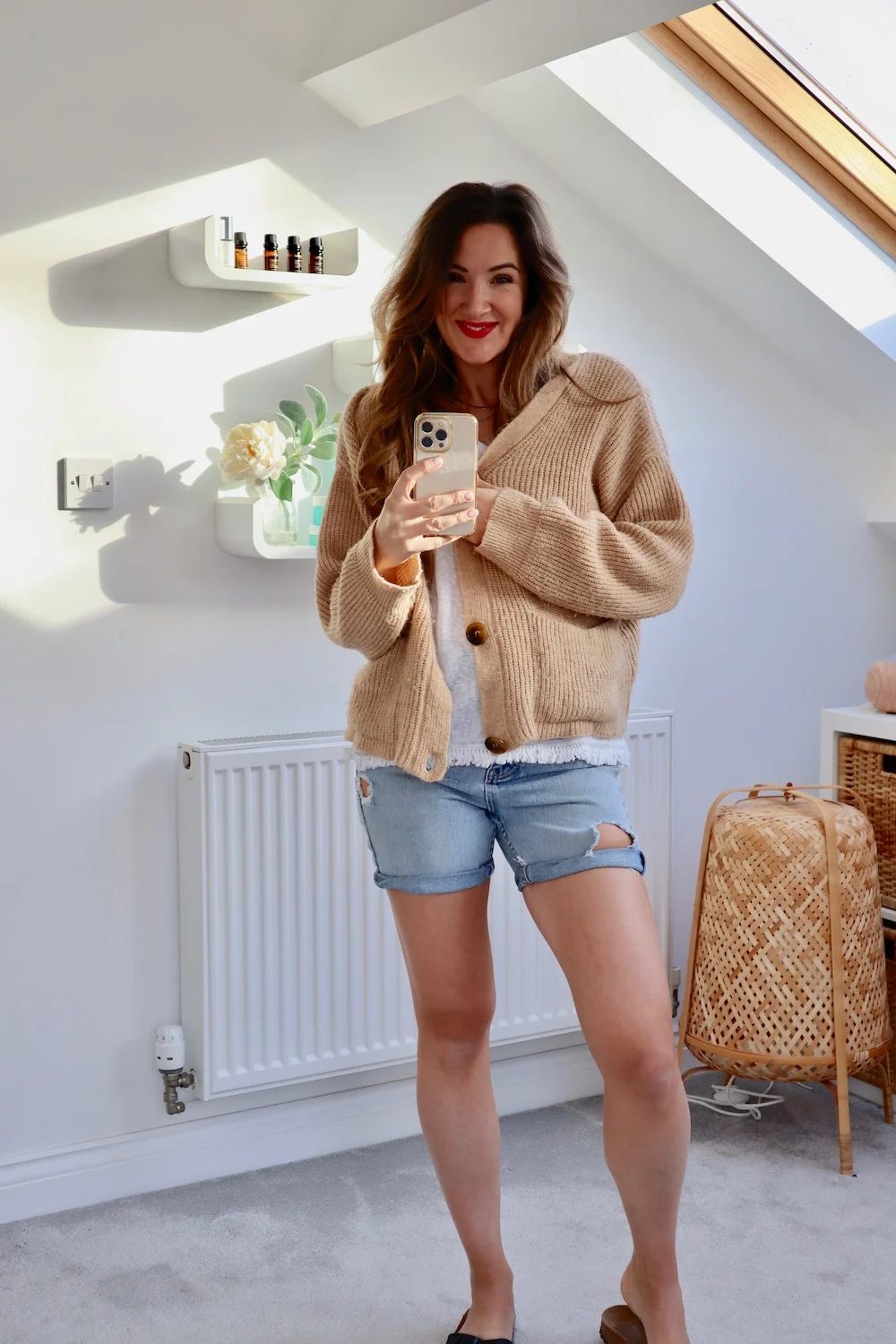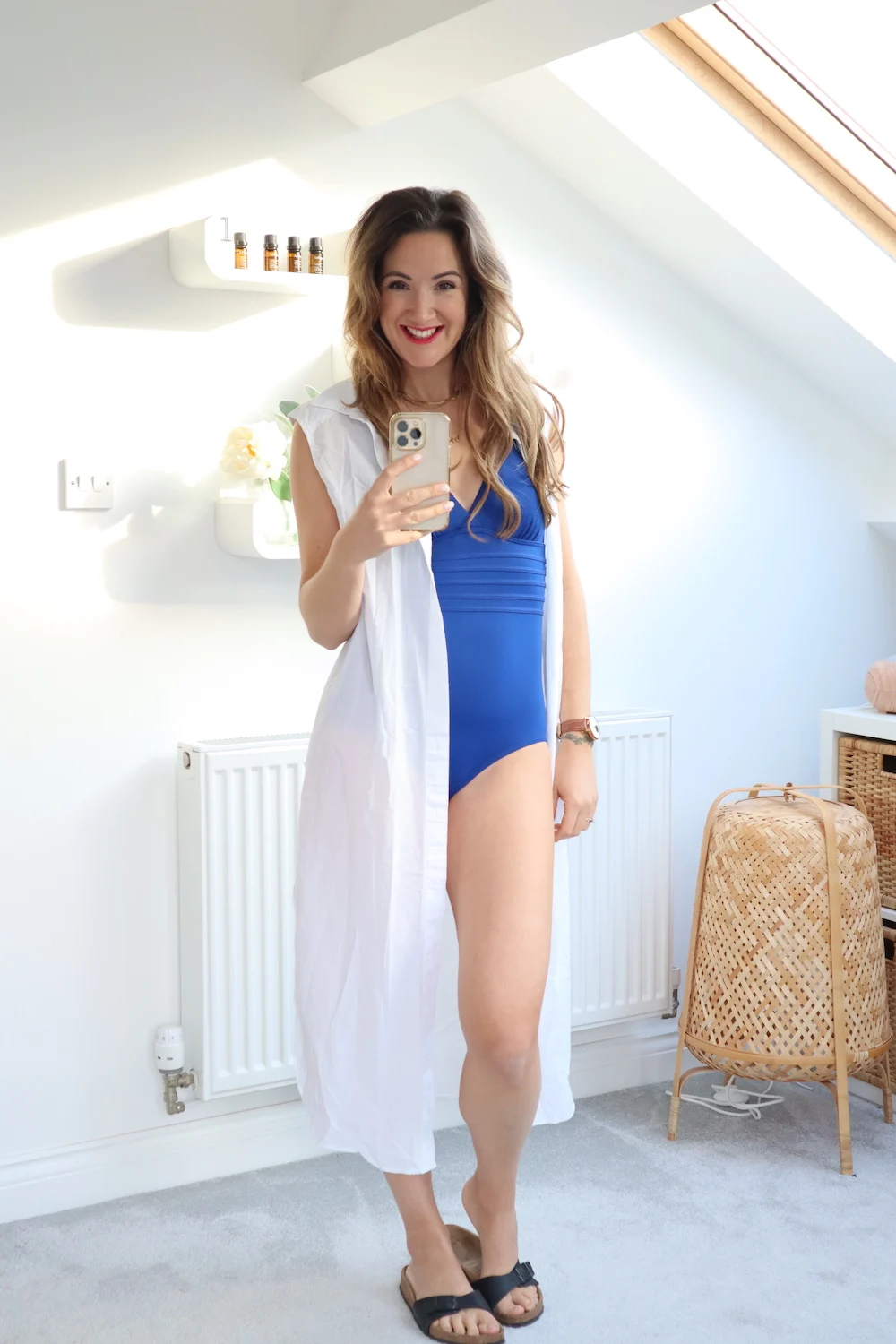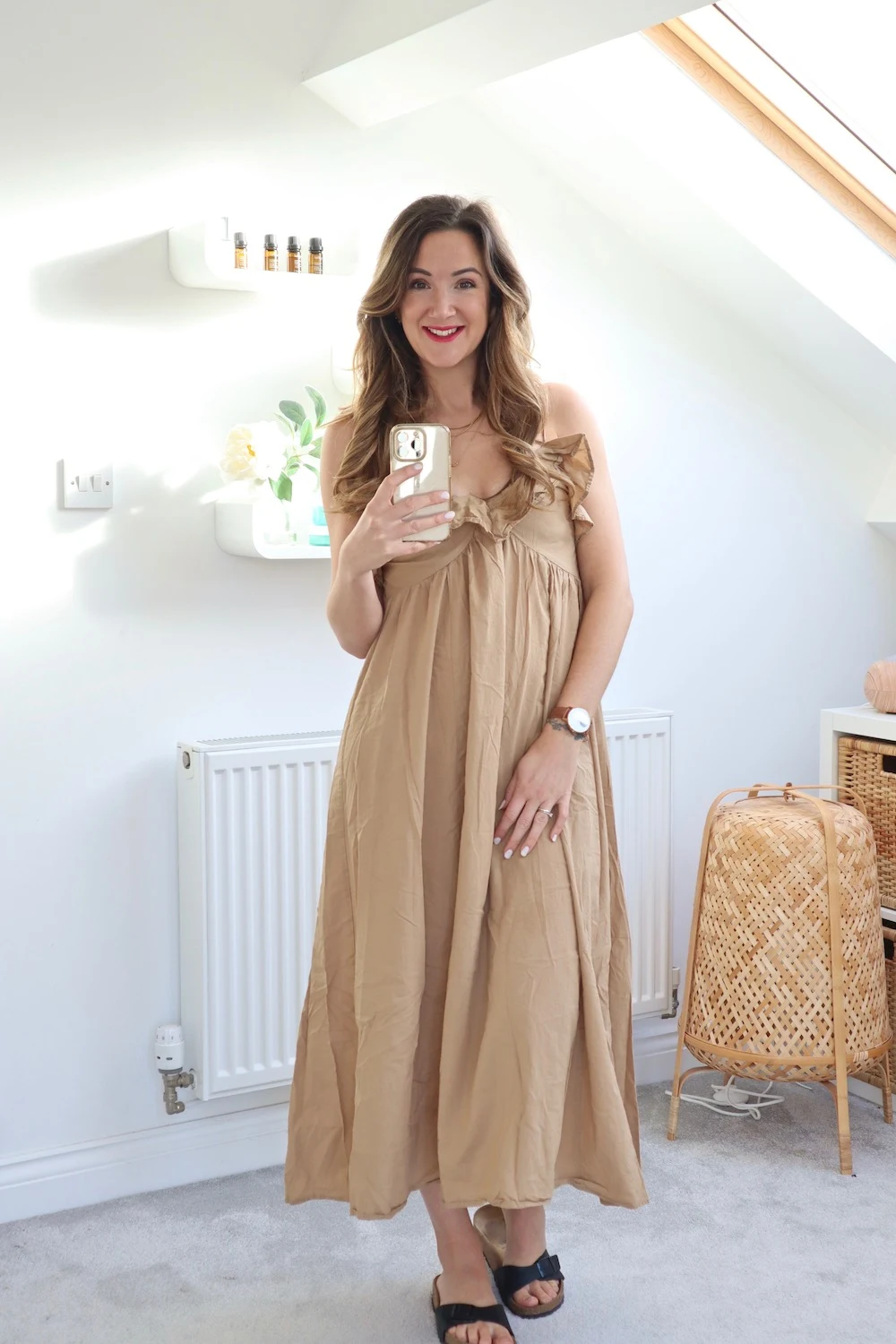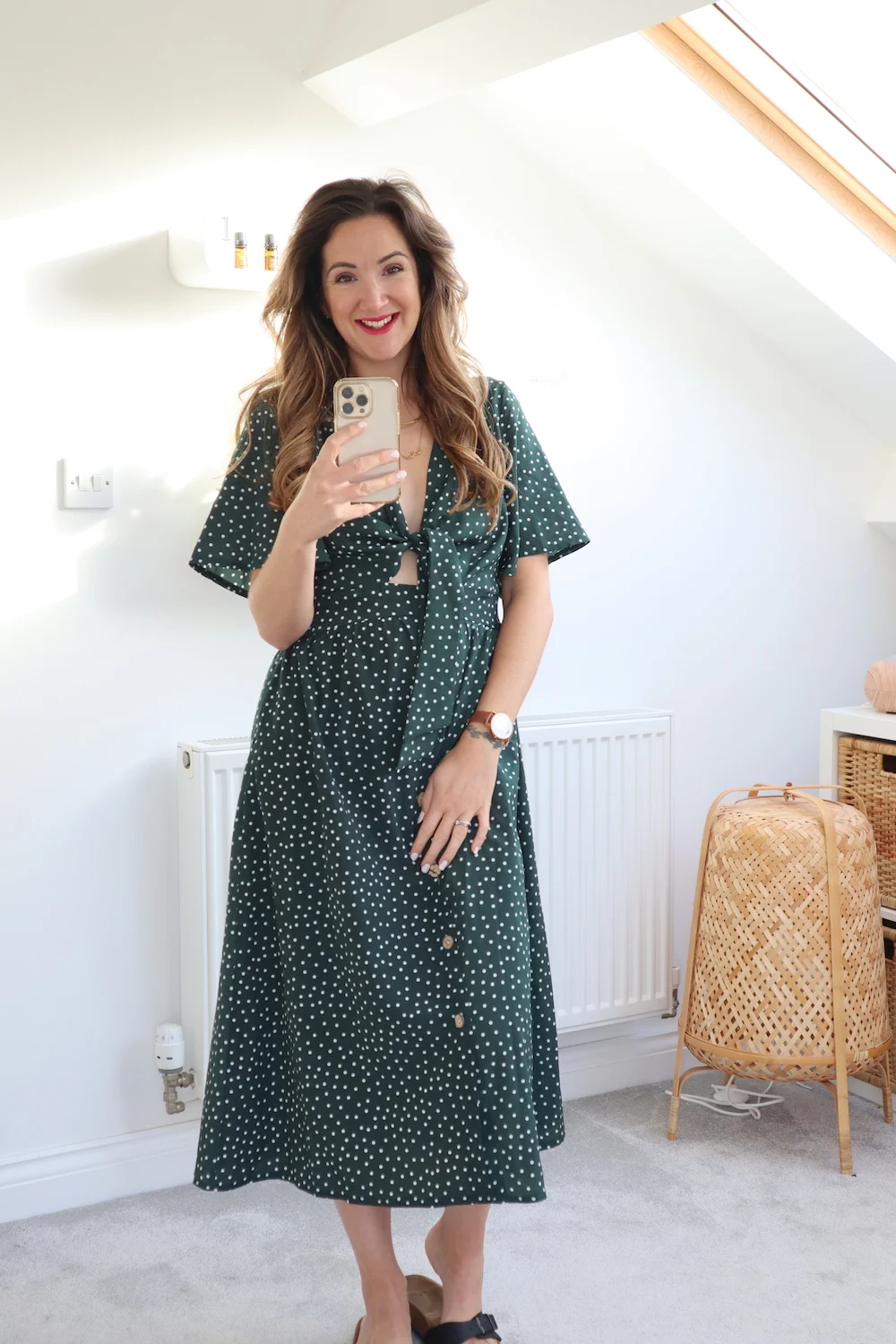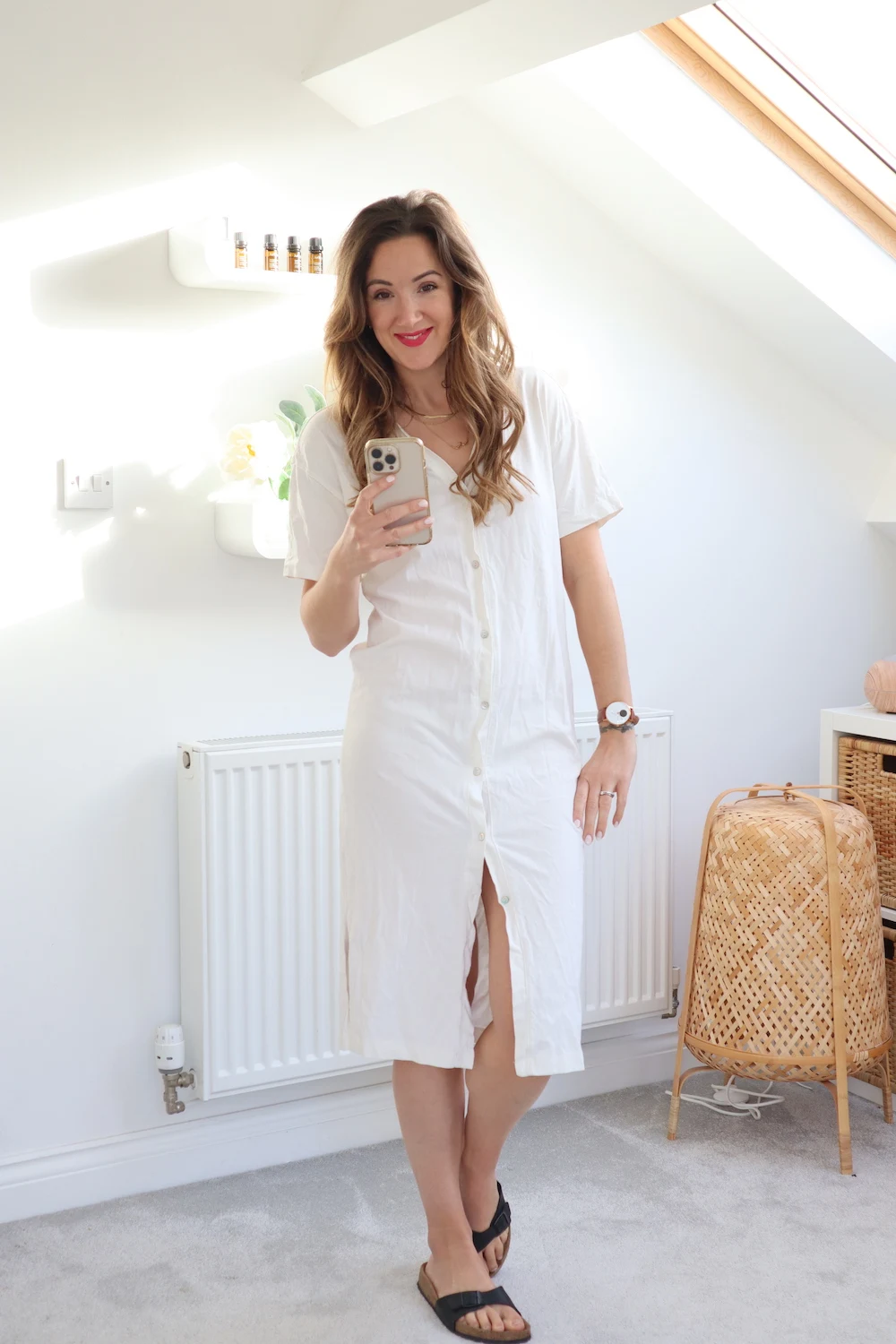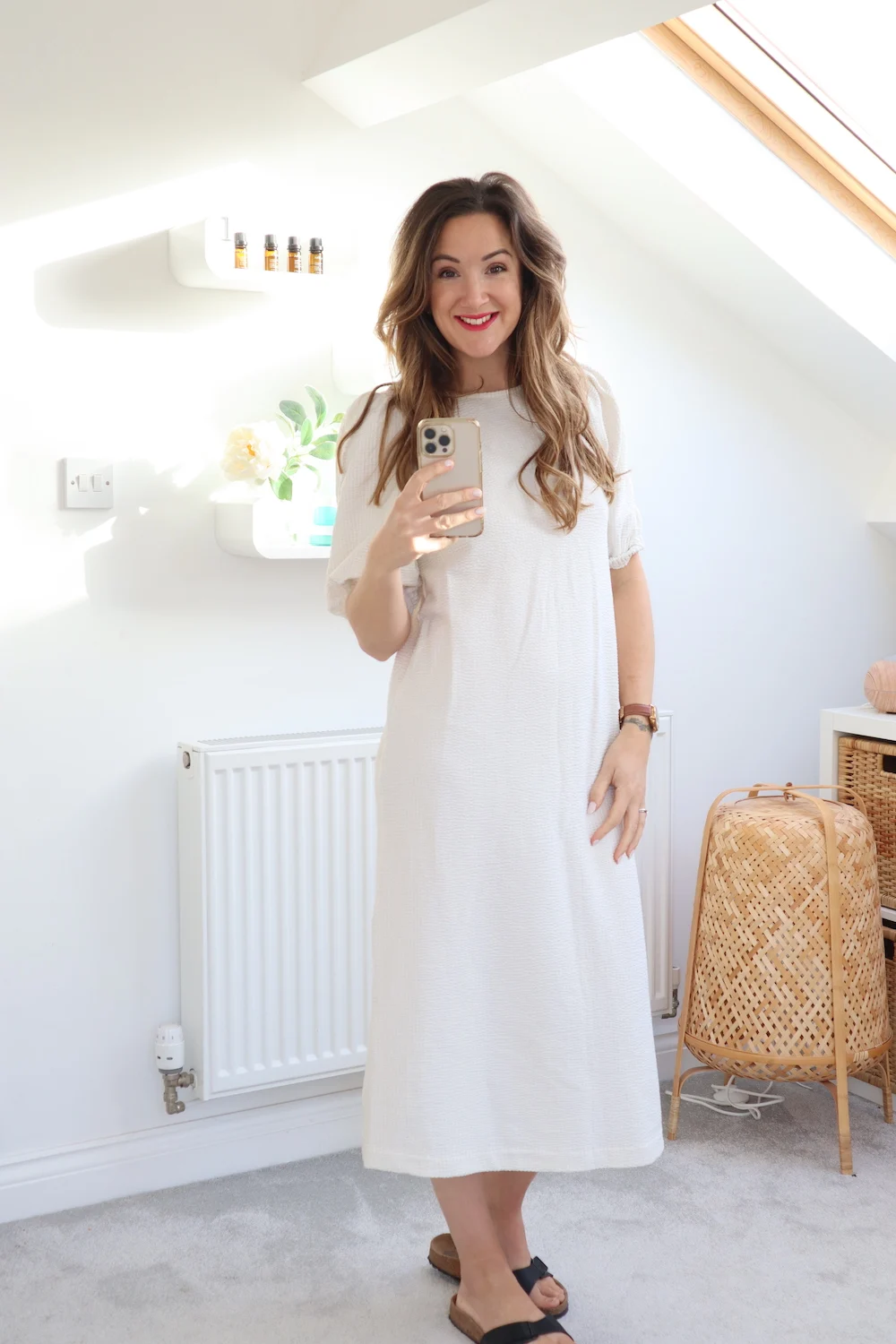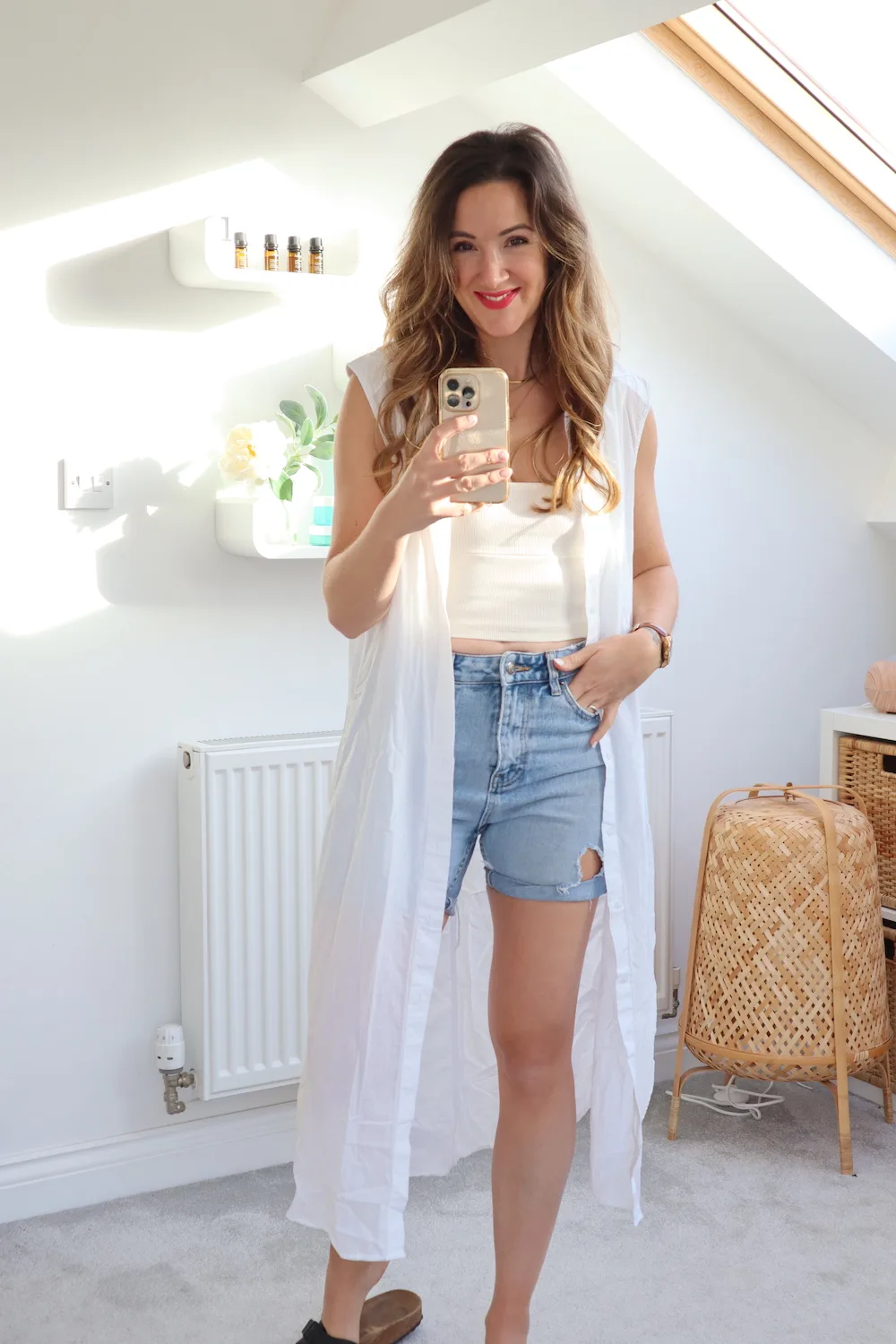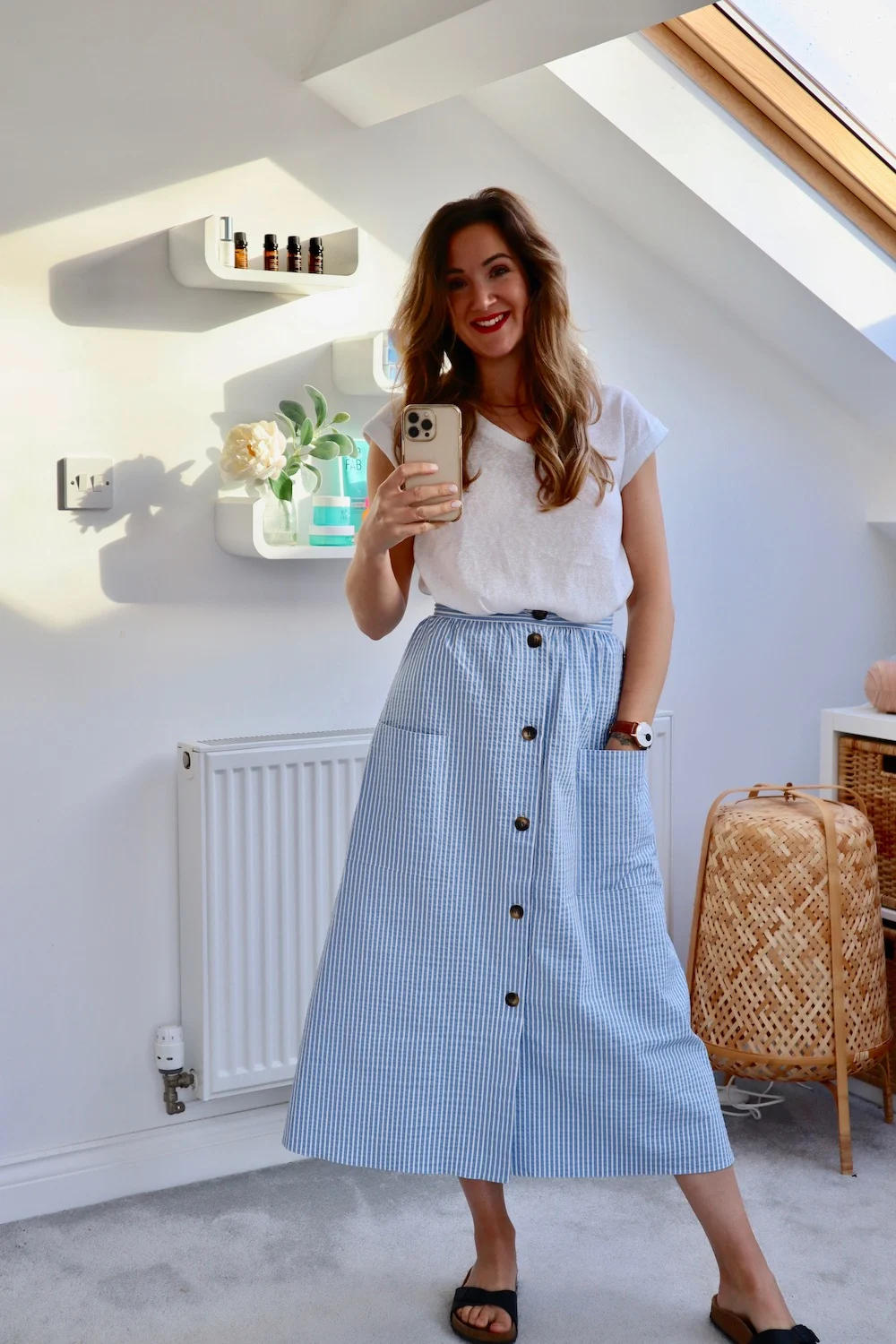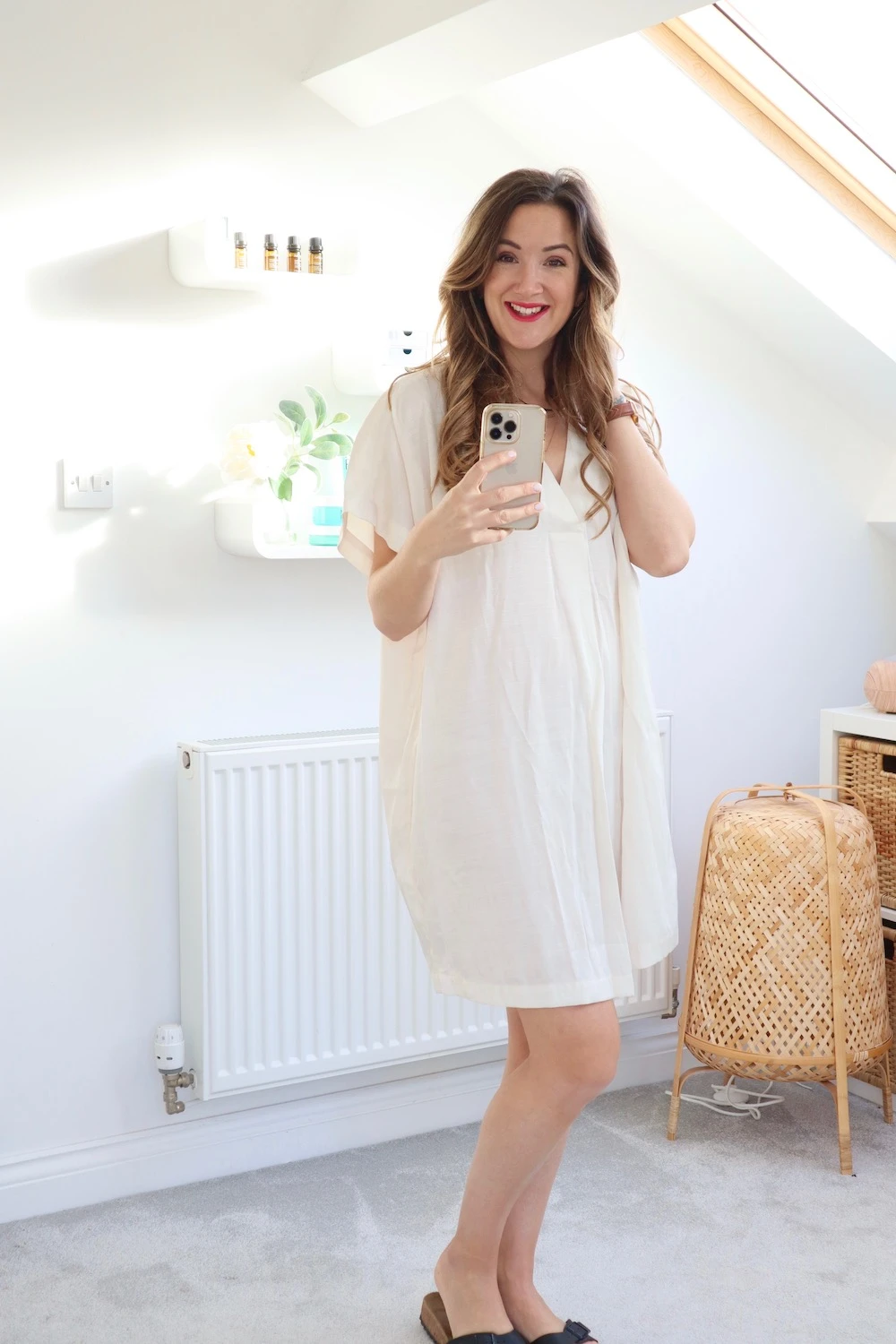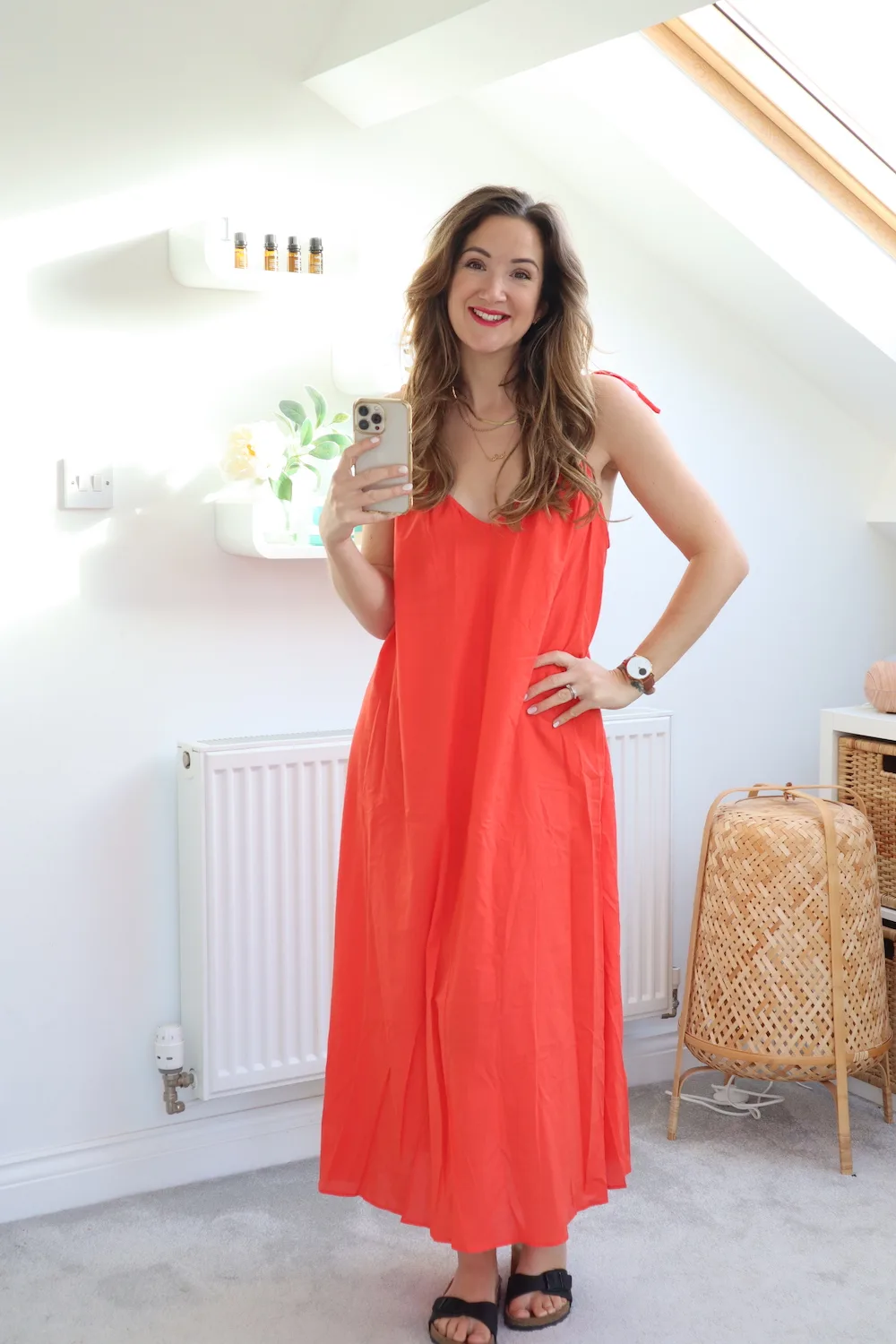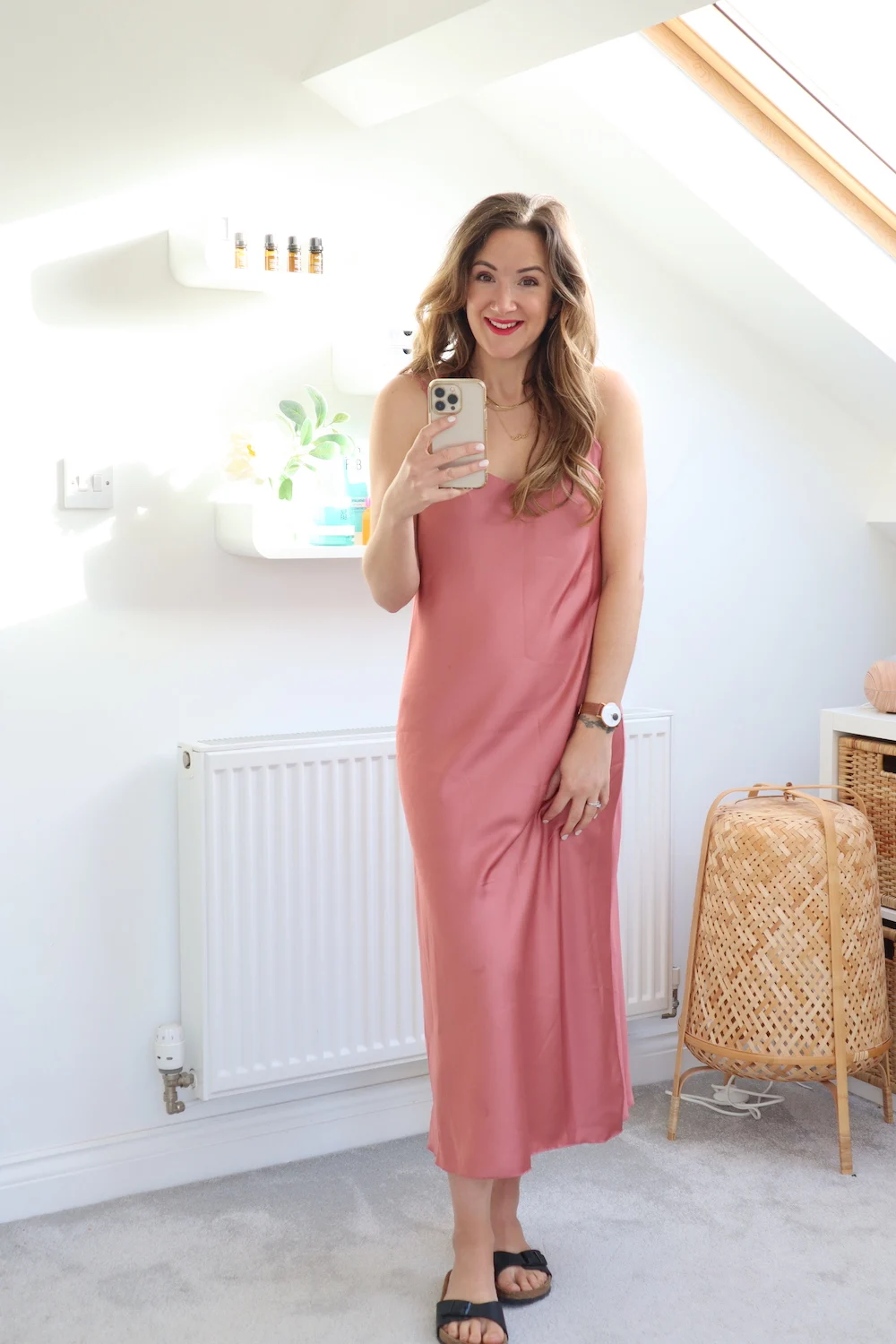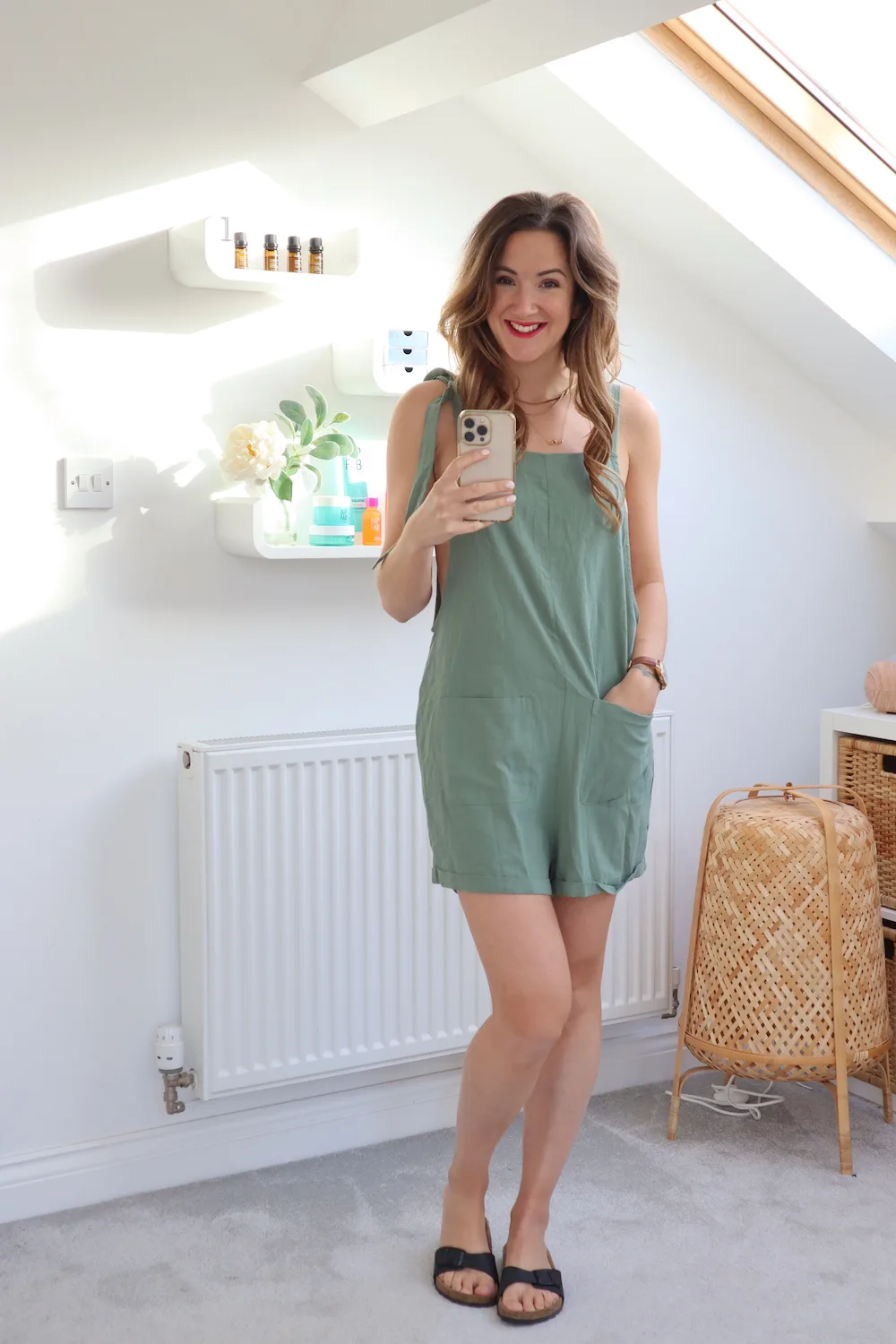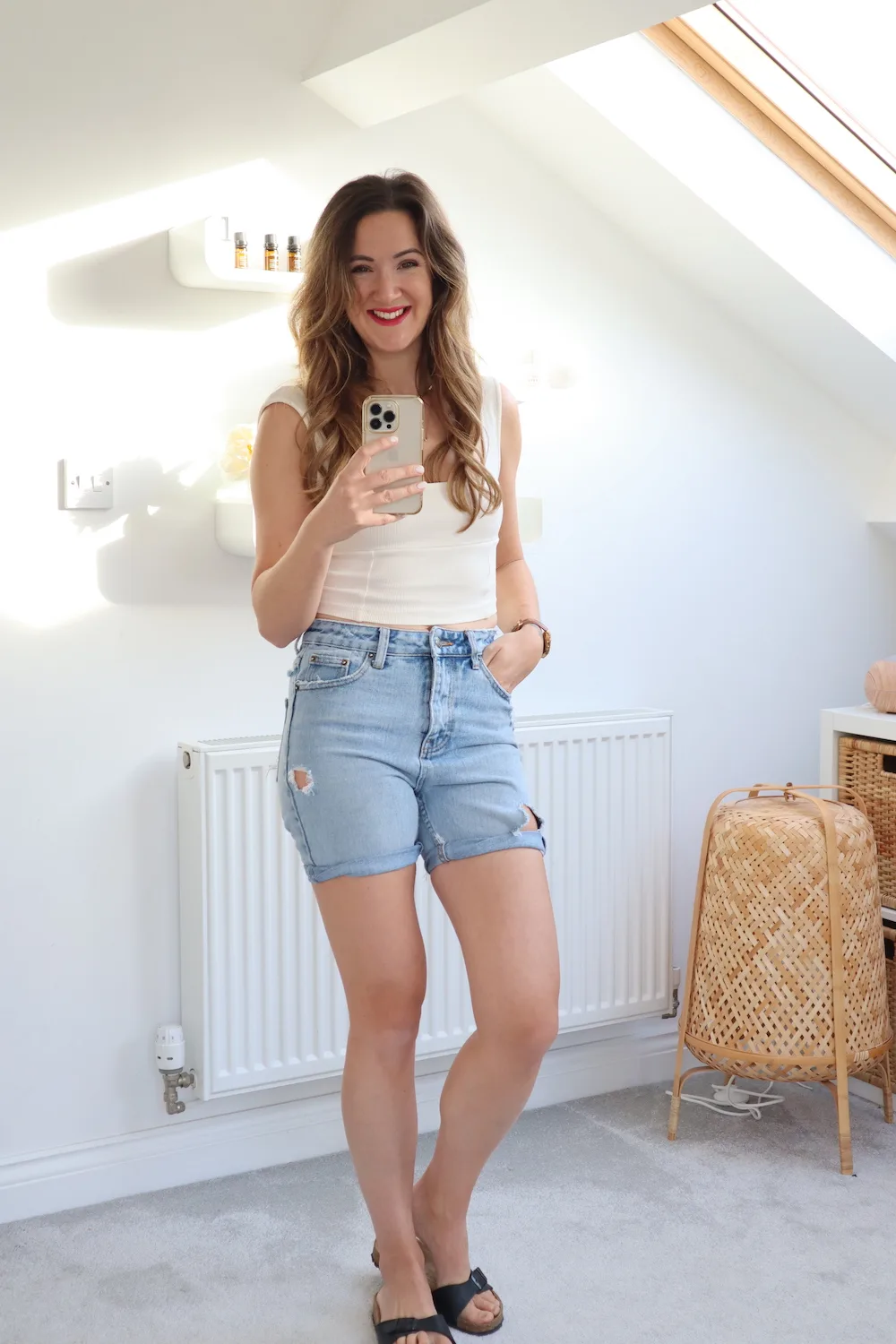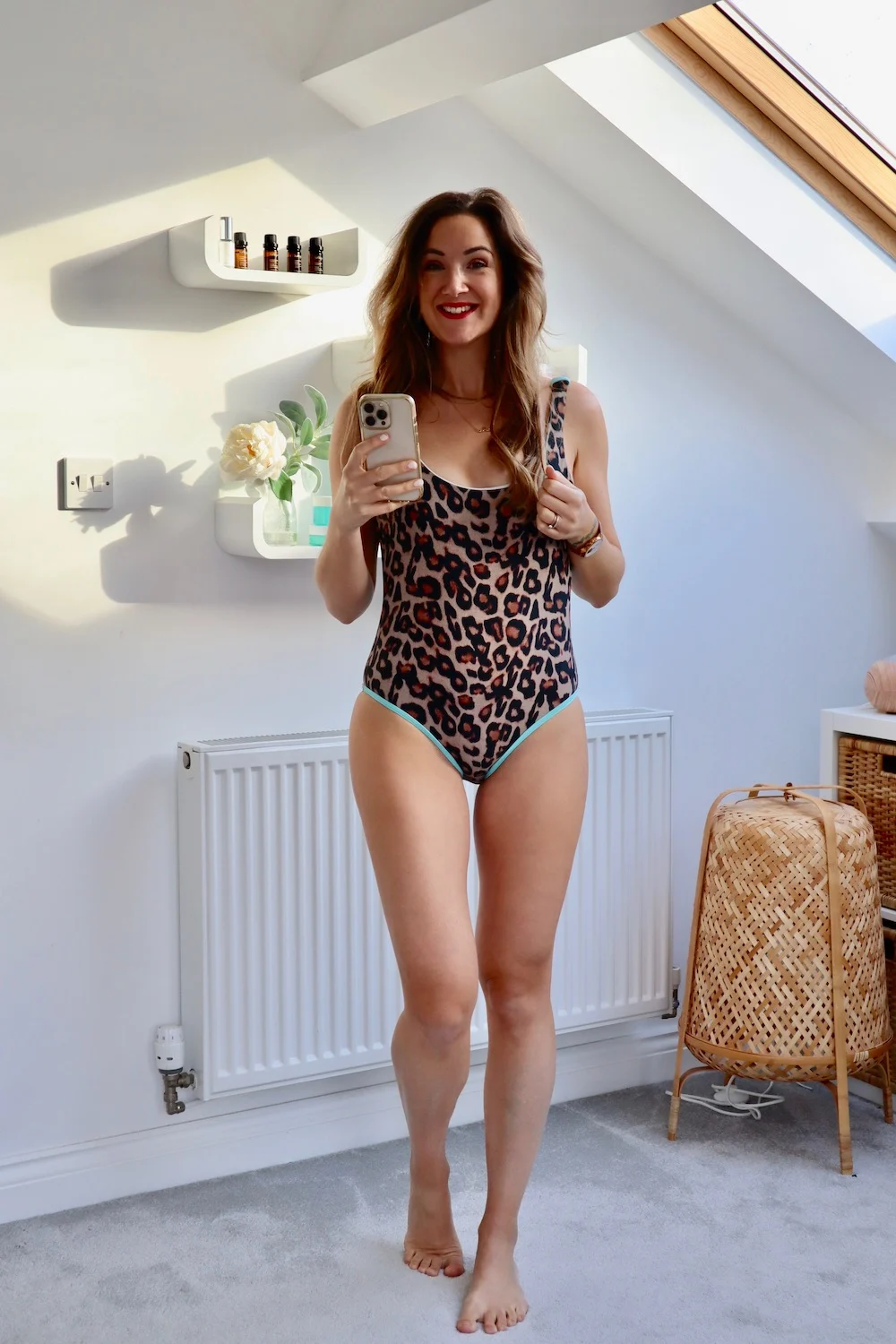 How do you weigh your 10kg suitcase?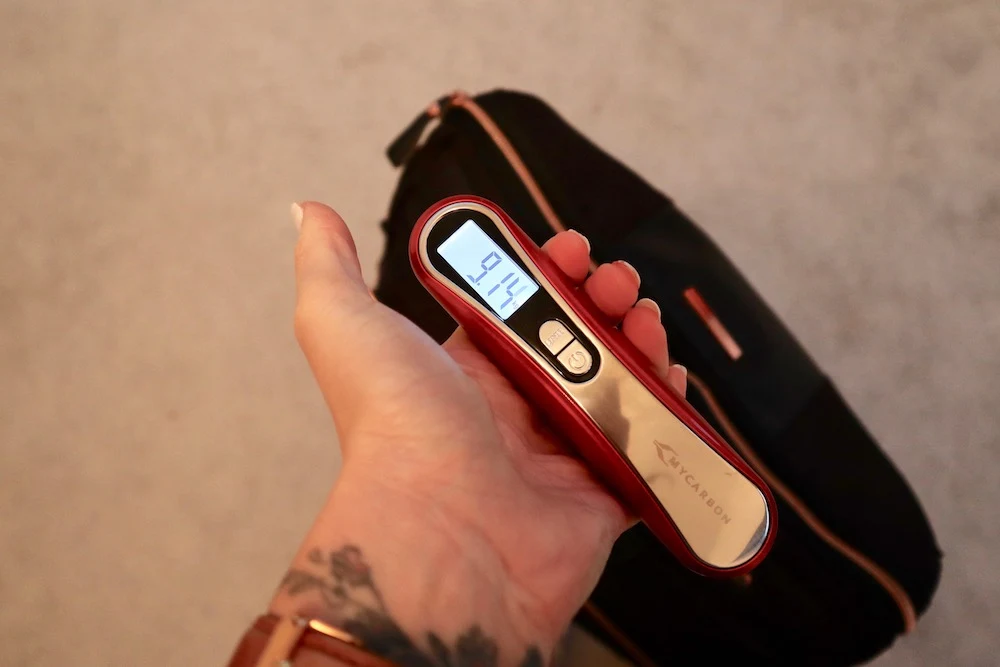 The easiest way to weigh your suitcase is with travel scales.
Luggage scales are small, portable and easy to use.
MYCARBON Luggage Scale Portable Suitcase Scales Digital Hand Scale Travel Scales with 110 lb/ 50KG...
【Separate Unit Key】 Switch units arbitrarily even you are weighing. Unlike the one key digital luggage scales, you have to reopen it to change units. ★MYCARBON luggage scales are easy to switch...
【Upgrade Battery Cover】It was locked by a screw(screwdriver included), avoid inaccurate measurements caused by the loose battery. ★Suitcase weighing scale capacity up to 110lb/ 50 kg, deviation...
【White Backlight】More clear display than other colors backlight, This luggage scale is easy to read in darkness or under the strong sunlight. ★Suitcase scales with TARE / LOCK WEIGHT, AUTO OFF...
Alternatively, you can use your regular bathroom scales. If you're struggling to fit your suitcase on your bathroom scales then weigh yourself and then pick up your suitcase and weigh yourself again. However much your weight increases by is how much your case weighs.
This works while you're at home but it's unlikely you'll have bathroom scales at your holiday accommodation so you won't be able to weigh your 10kg suitcase on the way home – which is fine if you won't be adding anything to your case but can be a problem if you buy anything while you're away.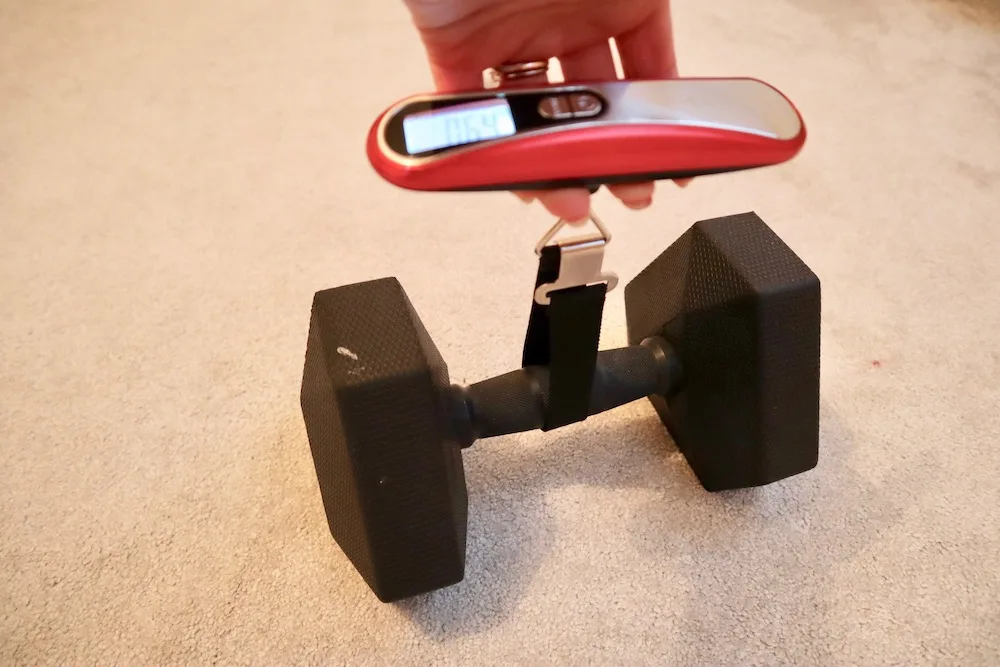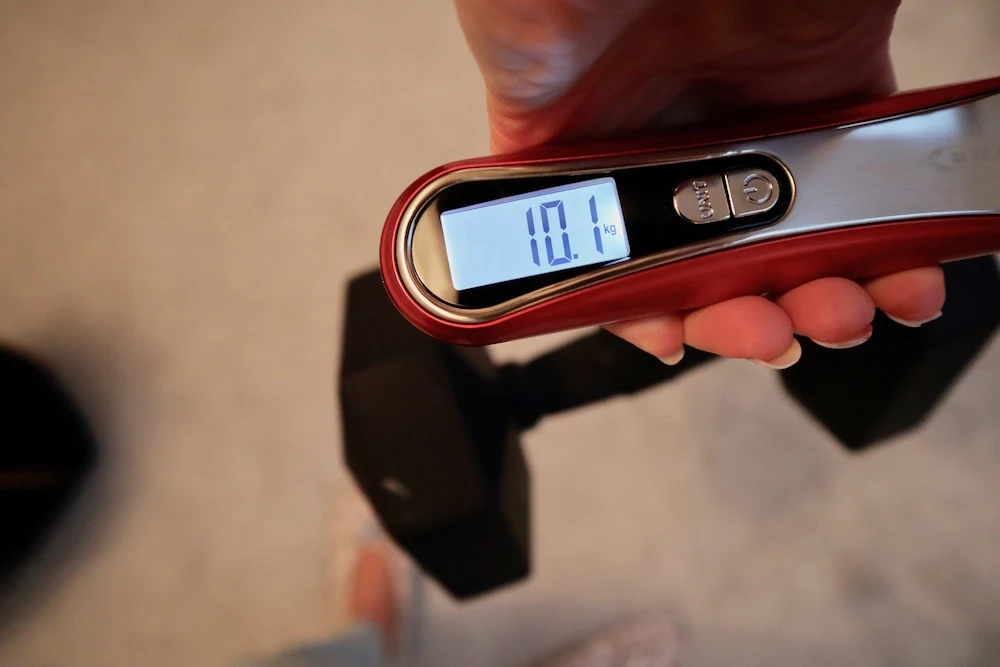 I tested my luggage scales using a 10kg dumbbell and they were pretty accurate!
How to not overpack your clothes
I think most of us are guilty for taking too many clothes on holiday with us! How many times have you been away and come home with a suitcase full of clothes you didn't even wear!?
The trick is to plan out a rough itinerary while you're away and plan specific outfits for each activity. Not only will you have a better holiday but it's much easier to pack light.
Here's an example of how I plan my outfits:
| | | |
| --- | --- | --- |
| Friday | Travel day | Comfy plane clothes |
| Saturday | Beach day + fancy dinner | Beachwear + nice dress and heels |
| Sunday | Hiking day | Activewear and trainers |
| Monday | Sightseeing in the city | City outfit and trainers |
| Tuesday | SUP tour + night out | Sporty swimsuit + night out outfit |
| Wednesday | Travel day | Comfy plane clothes |
Looking at this list makes it so much easier and I know I'll be wearing my comfy plane outfit with my trainers so all I need to pack is:
Underwear
PJs
Bikini
Beach dress
Beach sandals
Dress + heels
Activewear outfit
City Outfit
Sporty swimsuit + casual coverup
Toiletries
Accessories
Other tips to not overpack:
I'll usually wear the same comfy clothes for both the departure and return flights. I wear black in case it gets grubby!
I'll wear shoes that can be worn for walking, hiking and for a comfy/casual flight outfit. I'm currently loving the On Cloud Supernova trainers. I have them in white so they do get grubby but you can sponge them clean while travelling.
Whenever possible, wear thin lightweight fabrics. Cotton beach dresses are a dream because they weigh next to nothing!
If I'm packing heels I'll take something like a thin, lightweight stiletto over a chunky wedge.
I'll wear my bulkiest items on the plane, such as a warm coat or jumper, even if it means I'll be sweltering as I board the plane.
I don't pack jewellery, I just tend to wear all of my jewellery all of the time. I like Hey Harper Jewellery for items you don't need to take off.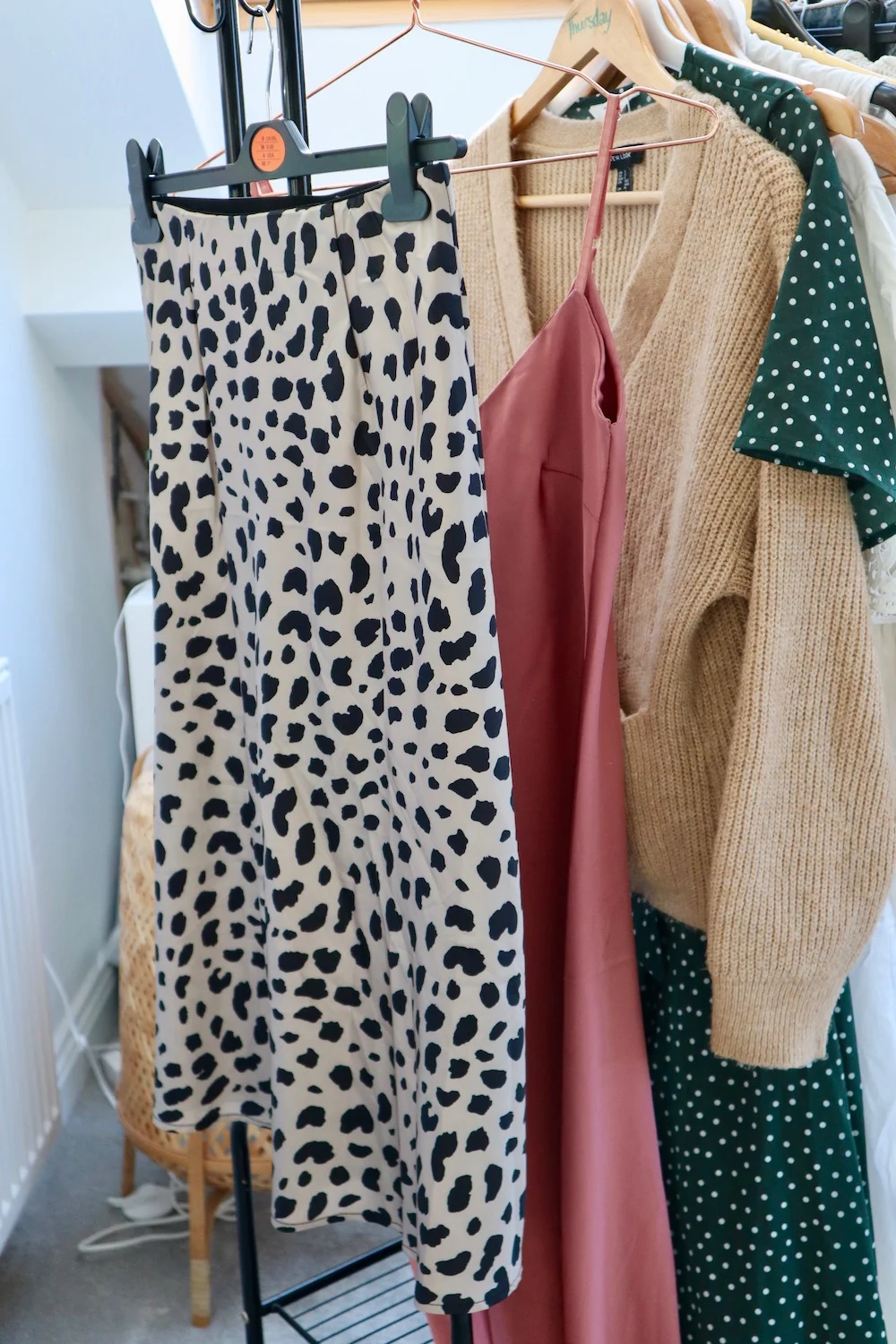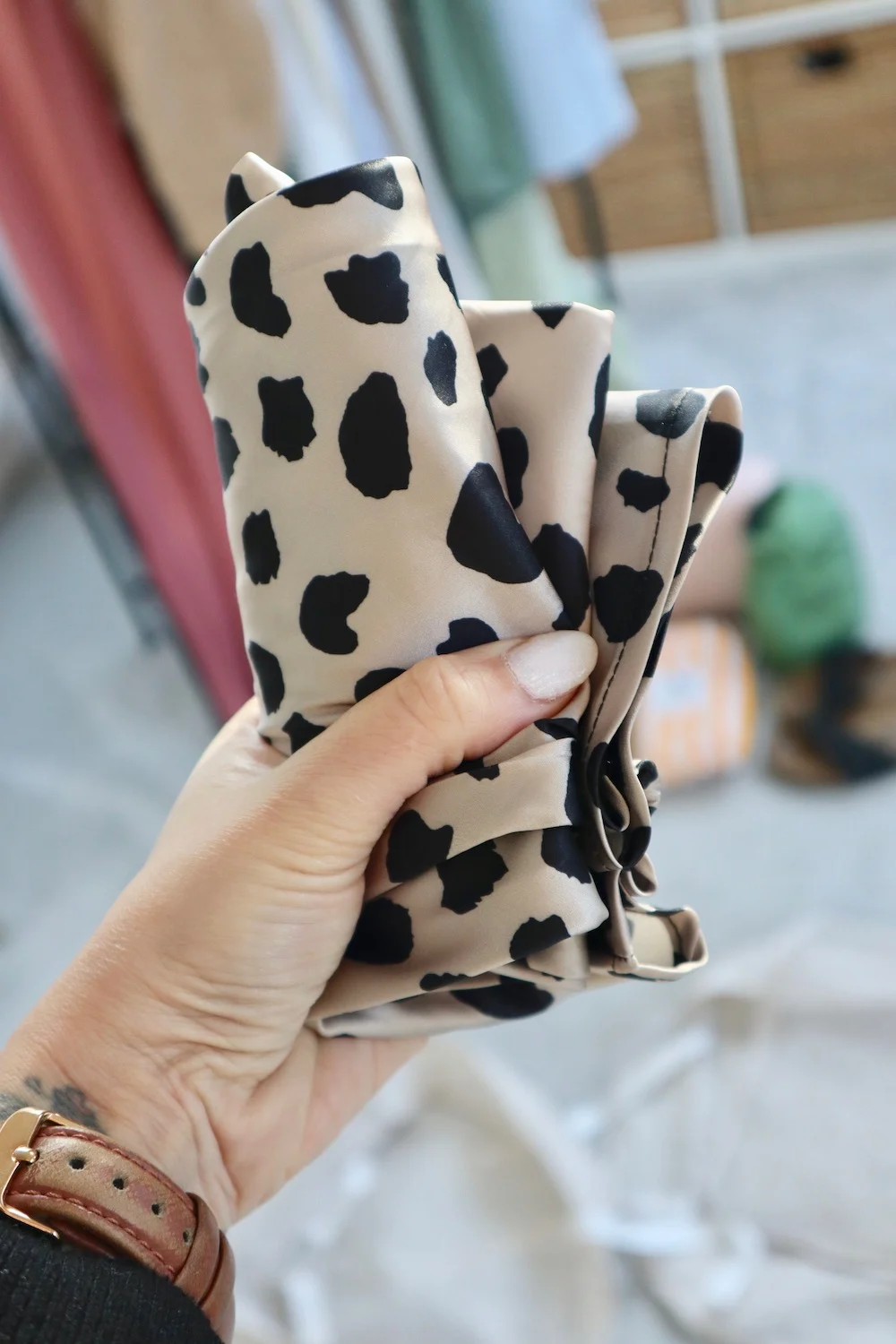 Items like satin skirts weigh next to nothing and fold up so small so they're great for travelling!
Women Leopard Print Skirt High Waist Hidden Elasticized Waistband Midi Skirts Leopard S
Material: The womens leopard print skirt is made of polyester and cotton, soft fabric with strong elasticity, it is soft to the touch, it offers a comfortable experience.
Design: sexy casual, leopard print high waist, elasticized waist, midi skirt, animal print skirt, it just shows the perfect curve of your figure.
Matching: The sexy casual leopard midi skirt is must-have in any woman's wardrobe. It's good to match with earring and short tops, heels.
Should you use packing cubes for your 10kg luggage?
Packing cubes will help you to organise your belongings neatly into your suitcase. Packing cubes don't save much space but they also won't really affect the weight of your suitcase (unless you use compression cubes).
So if you like your suitcase to be organised then yes, 100% use packing cubes. If you're finding you don't have quite enough space in your suitcase then try ditching the packing cubes because they're not always particularly efficient when it comes to space in a small case because they don't allow you to squeeze items into the nooks and crannies!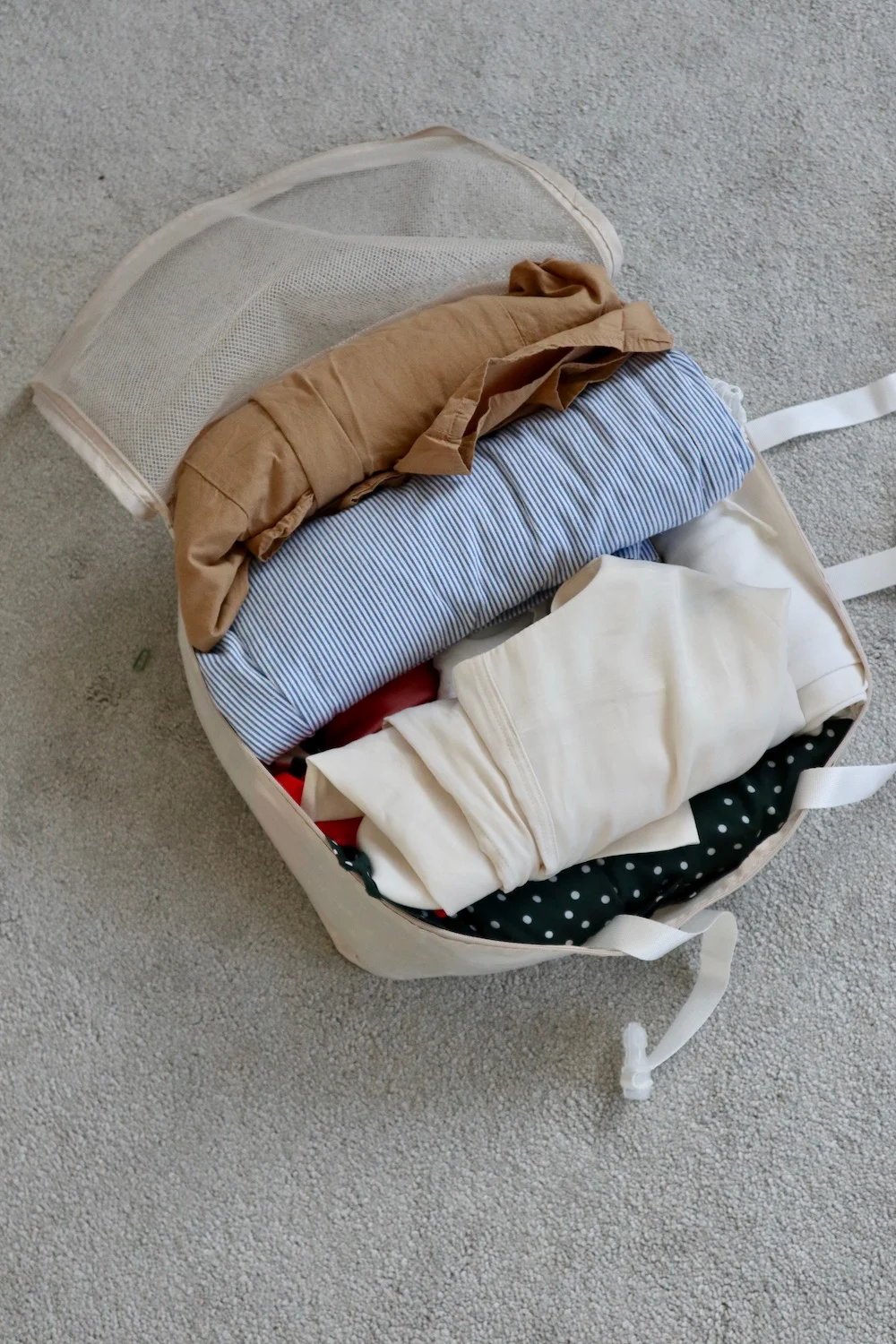 Should I use compression packing cubes or vacuum bags?
If you're packing very bulky items, such as chunky jumpers or ski gear, then compression packing cubes or vacuum bags can be really handy. They squish all the air out of your clothes to make more space – which is ideal if you've got a small suitcase.
The only problem with compression packing cubes and vacuum bags for travelling is that your suitcase is more likely to be overweight. If you squish all of your clothing down so it's half the size and you can pack twice as much, well, it's going to be double the weight!
So be very careful if you're using vacuum bags in particular because those bags will massively reduce the size but they can't magically reduce the weight (unfortunately!)
My toiletries are too heavy
Toiletries are often one of the heaviest things in your suitcase, so save weight by decanting them into miniature bottles. Even if you're checking your luggage, it's best to stick to liquids bottles no bigger than 100ml, just like you would if you were travelling with hand luggage liquids. You rarely need more than 100ml and if you would be using a lot of one product, it's easier to pick it up when you arrive.
Other tips to get your travel toiletries into your 10kg luggage:
Use silicone bottles for shampoo, conditioner, shower gel and other lotions.
I use tiny refillable pots for smaller things like liquid makeup and moisturiser.
Buy anything you can when you arrive (great if you're travelling in a group and you can all share shampoo or sunscreen)
Use the hotel toiletries
Swap to solid toiletries like solid shampoo and soap as they're often lighter
You can definitely go without some products for a few days
Get sample sizes and miniatures wherever possible (fancy makeup stalls hand out tiny tubs of foundation that can last 5-6 days!)
Other heavy item swaps
Laptop for a tablet
Not only are laptops heavy but they come with heavy chargers and bulkier cases. Swap it for a tablet and you can also use it for:
Your work
To digitally store all your documents
Edit your photos and videos
Watch films
Read books and magazines
As much as I love my MacBook Pro, it's just so heavy to travel with so I swap it for an iPad.
Swap beach towels for microfiber towels
I recently made the swap to Dock and Bay microfibre towels. Admittedly, they aren't as cosy and absorbent as a traditional beach towel but they look gorgeous and barely take up any space or weight!
Dock & Bay Beach Towel - Quick Dry, Sand Free - Compact, Lightweight - 100% Recycled - Includes Bag...
PERFECT FOR THE BEACH - With a towel that is great for drying off after a dip in the sea or to kick back and sunbathe with, choose from two striped designs both ideal for the beach - the two-toned...
SAND FREE BEACH TOWEL - The ultimate beach companion that leaves the sand at the beach for castles. The high-quality material means all you need to do is give it a shake and all sand will simply fall...
100% RECYCLED MATERIAL - Our towels are made from 100% recycled materials comprised of a mix of 83% polyester and 17% polyamide. Not only are they extremely soft with a pleasant feel, but they are...
Don't use bulky bags and organisers
Don't get me wrong, I love having all my things organised neatly into bags and organisers but some of these can add unnecessary weight. If you do use organisers in your luggage, make sure they're lightweight.
If you have heavy bags to protect delicate items, just wrap the item up in a jumper instead.
I have a protective case for my hair straighteners and my Airwrap but the case alone is heavy so it's better just to wrap my hair styling tools in my clothes.
What happens if your 10kg suitcase is overweight?
When your 10kg suitcase is overweight you'll have a three options:
Pay for extra weight (which is VERY expensive)
Remove things from your suitcase
Put all of your heavy items in your 'personal bag'
This has happened to me a few times and, yes, it's really embarrassing.
I usually opt to remove things from my suitcase so I'll take out any toiletries I can throw away and try to wear as many items of clothing as possible.
If you have two bags (a 10kg suitcase and a small personal item) then you can put all of your heavy items into your small personal item. Your small personal bag rarely has a weight limit when you're flying with UK airlines but it may do in other countries so check the rules with the airline you're flying with.
This is when it can be really important to maximise the size of your small 'personal bag'. Many people (especially women) will just take their regular handbag but you can actually have a much bigger bag.
I usually take The Travel Hack Backpack (perfect for Ryanair) or The Travel Hack Tote (bigger and suitable for easyJet). A good option for men is the smaller Cabin Max Metz.
Cabin Max Travel Hack Tote Bag for Women Underseat Size 45x36x20cm Suitable for Easyjet (Underseat...
The Travel Hack Tote Bag - An under seat travel bag designed for women. Perfect for avoiding extra hand luggage fees on airlines like EasyJet 45x36x20 cm. Wear as a shoulder bag, carry by the top...
30L internal capacity with laptop, iPad and Kindle storage. Pocket for travel straighteners. Netted internal pockets for travel accessories and chargers.
3 external pockets for phones, tickets and travel documents. ID card holder.
Cabin Max Metz 20L Ryanair Cabin Bag 40x20x25 Hand Luggage Backpack (Underseat Travel 40 x 20 x 25...
★ DIMENSIONS - The Metz stowaway is perfectly sized to comply with Ryanair's new "free" carry on luggage underseat cabin bag size 40x20x25 cm, with a 20 litre capacity and a weight of just 500 grams...
★ SPACIOUS - With a suitcase-style opening, and a flexible soft-sided exterior design allow the Metz stowaway exceptional packing freedom. The side compression straps enable you to pack more than...
★ ORGANISED - The front pocket of your Metz cabin bag holds an organisation section complete with holders for iPad's and tablets, travel documents, pens and tickets allowing you to know that...
Do they actually weigh your 10kg suitcase?
If you're taking your 10kg suitcase on the plane as carry-on luggage then it's very rare they'll weigh this case. So if it's hand luggage then you have less to worry about.
If your suitcase is being checked in and will be going into the hold of the plane then yes, they always weigh them. Always. So if you're checking your 10kg suitcase in then you definitely need to be within the weight allowance.