Today's blog is by Jaz from The Life of a Social Butterfly as she shares her Porto city break guide for a perfect weekend break in Portugal's second city.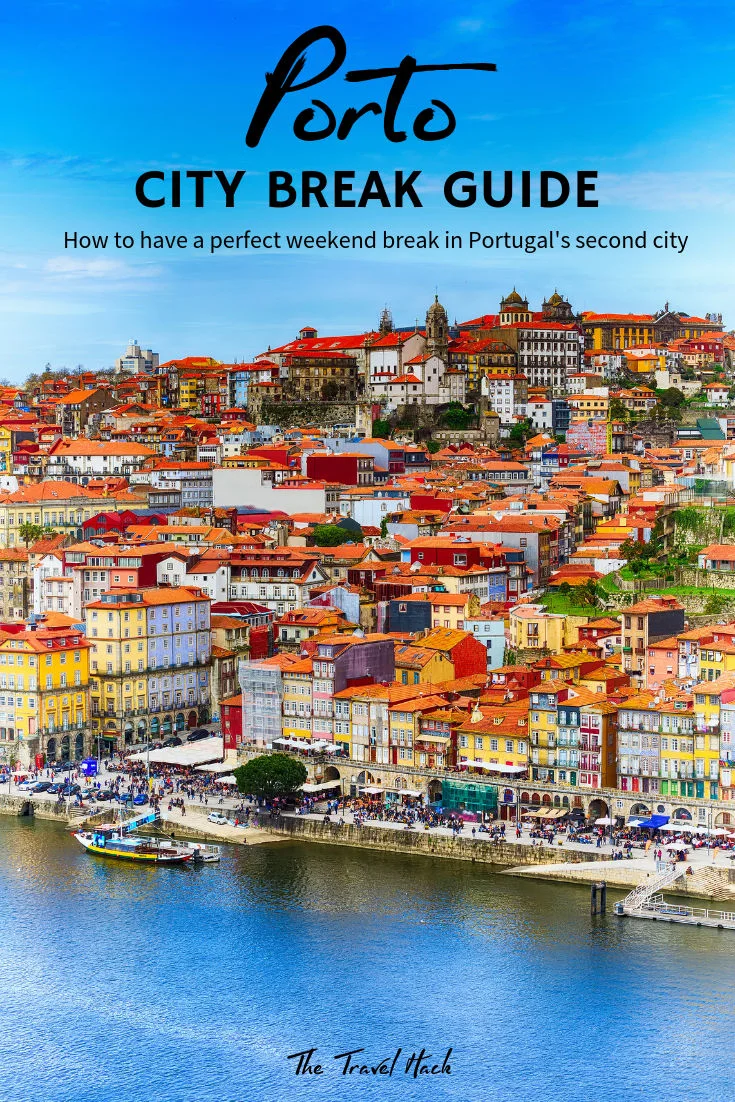 Quaint cobbled streets walled with azulejo tiles and traditional architecture, Porto exudes the very essence of authentic Portuguese city life. Porto is the perfect weekend away for those seeking a slow city break, soaking up the sunset views of the Douro River, whilst trying the many varieties of specialist port wine.
Here's my Porto City Break Guide
Despite being Portugal's second largest city and a popular tourist spot, Porto has not lost its authentic charm. There are no tourist street vendors selling souvenirs for a few euros, no-one ushering you into a bar for two-for-one cocktails; simple authenticity is what you will find here.
Porto is known for traditional port wines and speciality food dishes such as Francesinha (a sandwich filled with meat, topped with melted cheese and a tomato beer sauce), with its oldest district Ribeira (a UNESCO World Heritage site) centred around the Douro River.
It's a classic, sophisticated city and it offers tourists a different experience to rival city Lisbon. With beautiful buildings, art and a selection of traditional libraries and bookstores, you can't help but be swept up in Porto's old-world charm.
A weekend visit to Porto also presents the opportunity to browse the variety of street markets, where locals sell anything from antiques to beautiful necklaces with a traditionally tiled centrepiece.
With cheap flights from low-cost airlines and stylish apartments available at reasonable prices (I stayed at the A5 Luxury Suites), a trip to the city on the Douro will not break the bank. It will, however, make you wonder why you had not visited sooner!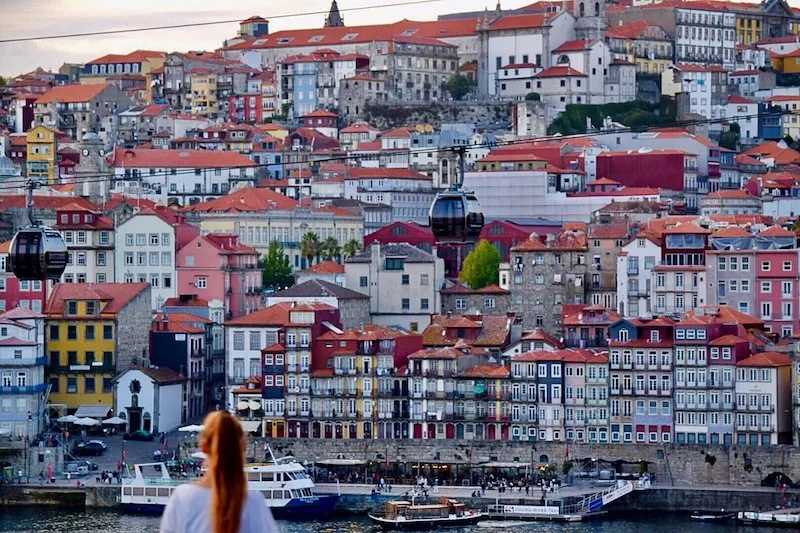 How to Get to Porto City Centre
The easiest way to get the centre of Porto from the airport is by metro. Taking the metro is also the cheapest way to travel and a single ticket costs in the region of 2.50 euros per person or is included if you buy a Porto Card. Take Line E (Purple Line) to Trindade Station (journey takes around 40 minutes) and a short walk from here will enable you to enjoy a 10-minute walk down to the Douro River or up to Dom Luís Bridge.
If you prefer to travel directly without the hustle and bustle of the metro, a taxi costs in the region of 20 euros. You can pre-book a shared airport transfer from £8.80 per person which can be a good option if you're travelling solo or arriving late at night.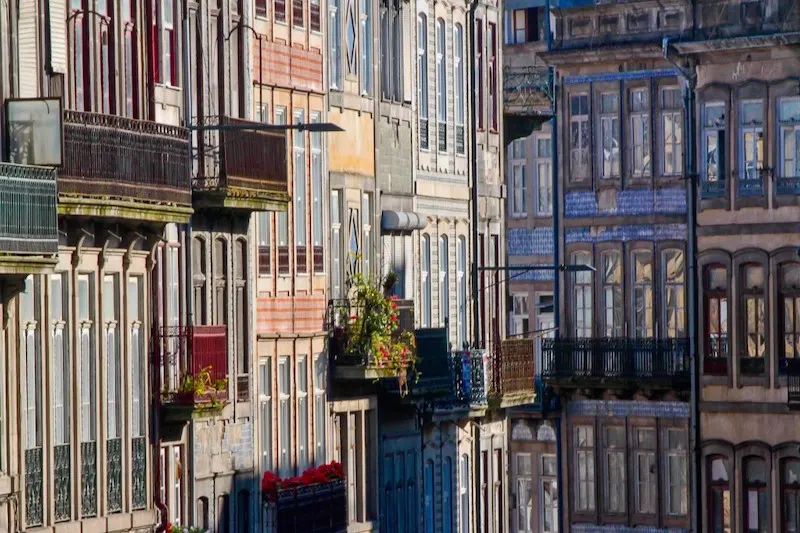 Things to see during your Porto City Break
Architecture you can't miss in Porto
A walk from the metro will not only enable you to find your bearings, but it also presents an opportunity to admire the traditional architecture in Porto.
Porto's charming architecture was created by architect José Marques da Silva in the early 20th century and was later reimagined by architects Arménio Losa and Cassiano Barbosa. In Porto you really are spoilt for choice as in almost every street you will find buildings adorned with traditional azulejo blue and white tiles.
Meaning 'polished stone', the azulejo tiles are symbolic in Porto and can be found on buildings such as Carmo Church. For as little as 5 euros you can look inside both Carmo and Carmelitas Churches, as well as see inside the Hidden House.
A staggering 20,000 azulejo tiles adorn the walls of São Bento Railway Station, depicting a historical series of battles and hierarchy.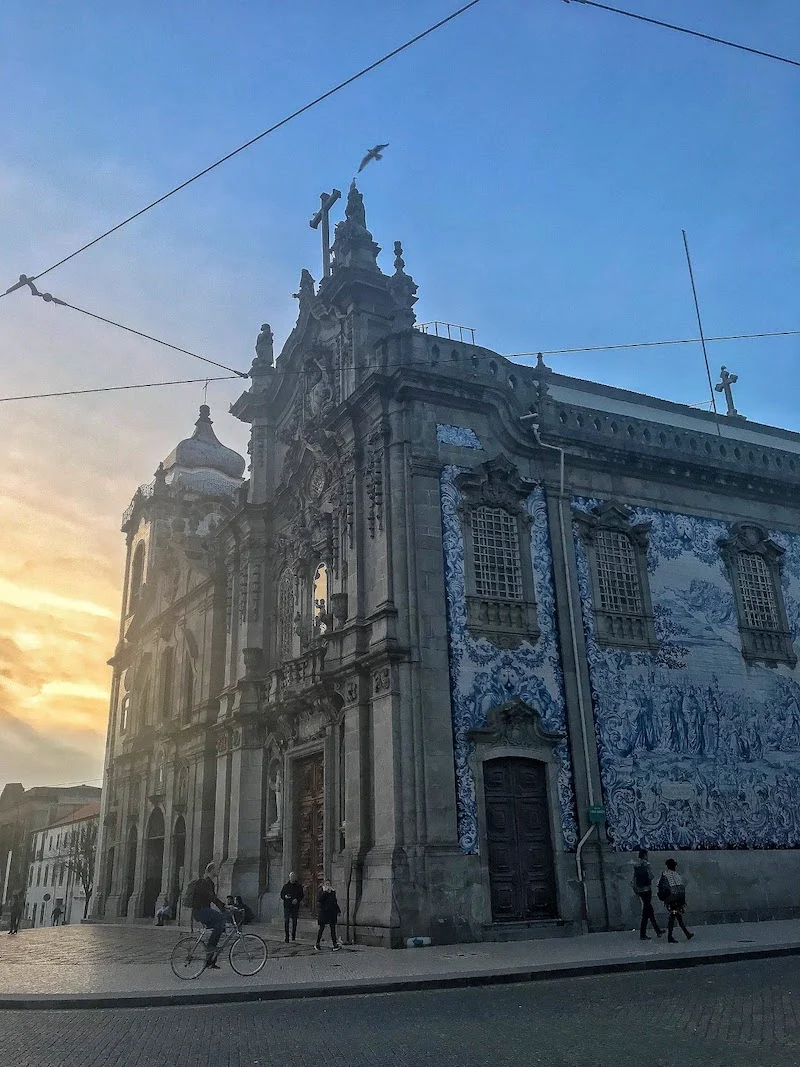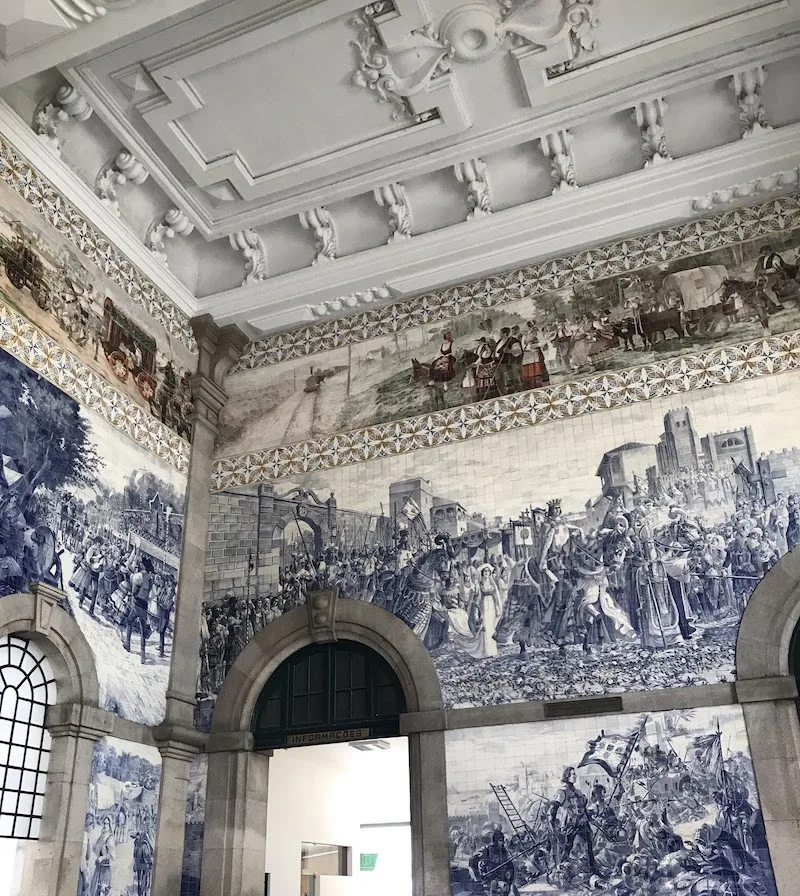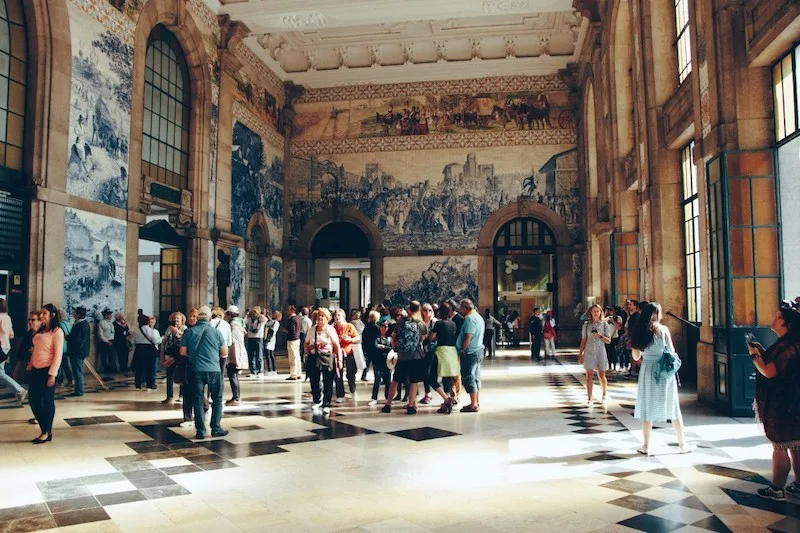 Tip from Monica: If you're short on time or want an easy way to see everything then I'd recommend taking a tour when you arrive. It's a simple way to make sure you see all the main sights and get your bearings in the city. This tour is less than £20 and includes a visit to a port cellar too!
Livraria Lello Bookstore in Porto
There is one bookshop/library that is a particular draw to visitors in Porto. Livraria Lello is said to have inspired J.K. Rowling (during her time living in Porto) in her creation of the Hogwarts staircase.
Seeing the beautiful staircase with your own eyes you can't help but marvel at the intricate details and how it captured J.K. Rowling's imagination for the popular Harry Potter franchise.
The building is relatively humble from the outside, but the hordes of tourists queuing outside is a handy hint of what awaits inside.
*Travel Hack Tip – Save yourself queuing twice in one day by buying your ticket for Livraria Lello the evening before you visit. Tickets can be purchased in a separate store on the same street for 5 euros.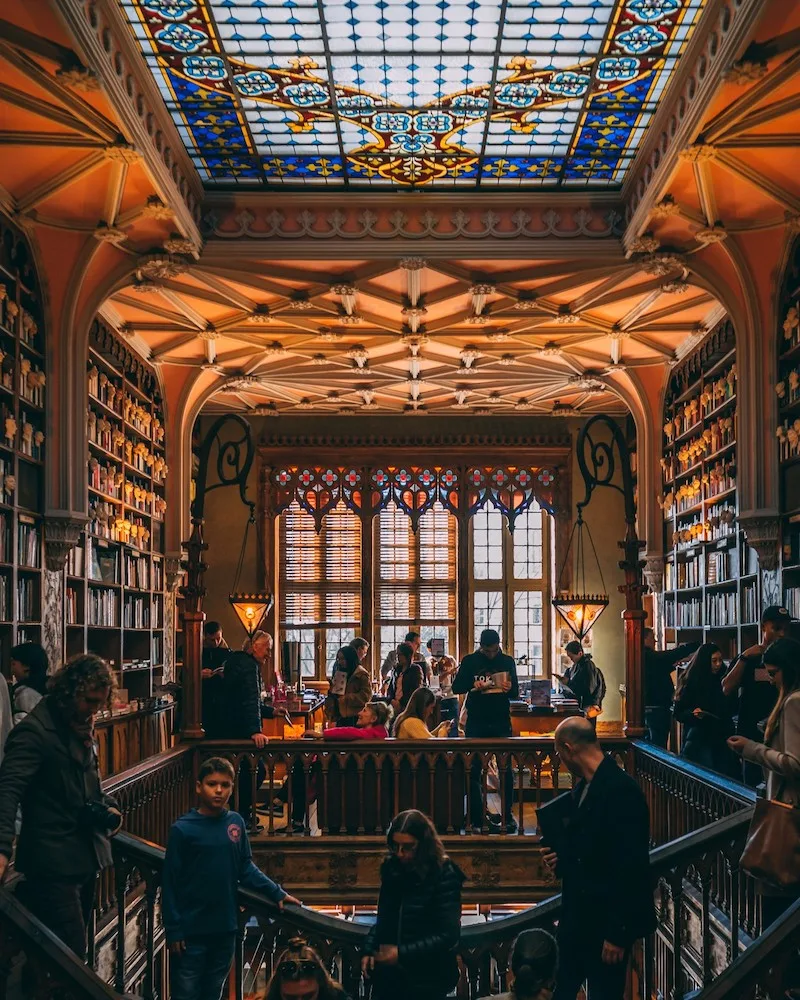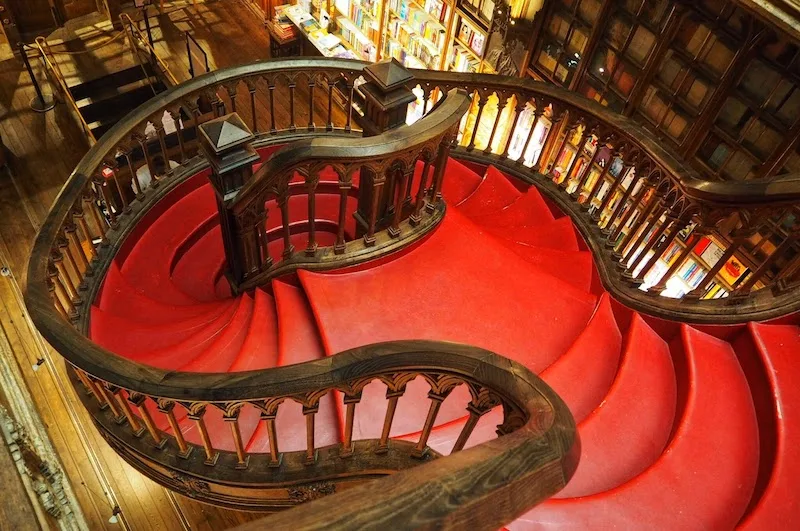 Port Wines in Porto
Tackling the tourists in hotspots such as Livraria Lello is thirsty work and, if you don't make it to Cafe Majestic, a 1920's cafe where J.K. Rowling is said to have whiled away the hours writing, then a glass of port calls! A must when visiting Porto is sampling the local port wines and, across the Dom Luís Bridge, you will find many port merchants offering tasting samples of the varieties available for a few euros. The ruby port is fabulously fruity!
Travel Hack Tip – For those looking to sample a small taste, the Telefonica de Gaia cable car ride currently includes a voucher for a free glass of port at Quinta de Santa Eufémia.
Alternatively, others such as family-run Quinta dos Corvos wine cellar offer an informative port wine tour (lasting around 30 minutes) to try up to 4 classes of port wine for a mere 7 euros each.
Both Quinta dos Corvos and Quinta de Santa Eufémia are located next to some great street art, so whether you enjoy port wine or not you are in for a treat!
Sophisticated Street Art
Another Porto point of interest has to be the street-art. On first appearance, it's hard to picture street art in such a classy city such as Porto, but even the street art in the city has an air of sophistication to it.
Each piece is perfectly drawn and, the murals appear to be carefully selected by appointed artists, rather than the usual graffiti tags you may have seen elsewhere. The most vibrant and cleverly crafted is without a doubt the rabbit installation by Portuguese artist Bordalo II.
Bordalo II is widely known for creating street art from trash and plastic waste he finds on the street. Many of his creations are of animals and come as a stark reminder of the impact plastic and non-biodegradable items can have on surrounding wildlife and habitat. As Bordalo himself says "one man's trash is another man's treasure."
Seeing this art installation is a real treasure indeed.
Sunset Views From The Yeatman Hotel Spa
After sampling some port wine and checking out the sophisticated street art, the perfect way to spend the remainder of the afternoon is by soaking up the sun at The Caudalie Vinothérapie Spa at The Yeatman Hotel.
Continuing the theme of wine, the spa even has barrel immersions; a bath filled with natural conditioning grape extract. Combined with the grape facials, the spa offers a sure fire way to ensure you get all the benefits of wine!
Not to mention, the pool area overlooks the historic Ribeira district and Dom Luís Bridge and, 50 euros per person gives you a day pass to access the panoramic indoor swimming pool, gymnasium and wellbeing area (Roman bath, hammam, shower experience, sauna and relaxation area.) If you are booking a treatment access to these areas are free.
Travel Hack Tip – Visit The Caudalie Vinothérapie Spa at The Yeatman Hotel to enjoy treatments before the sunset. Enjoying the spa has to be the most tranquil way to see the sunset and, you can soak up the scenery of the Dom Luís Bridge and historic Ribeira District poolside. A much less stressful way to enjoy the sunset than cramming on a boat tour with lots of other tourists!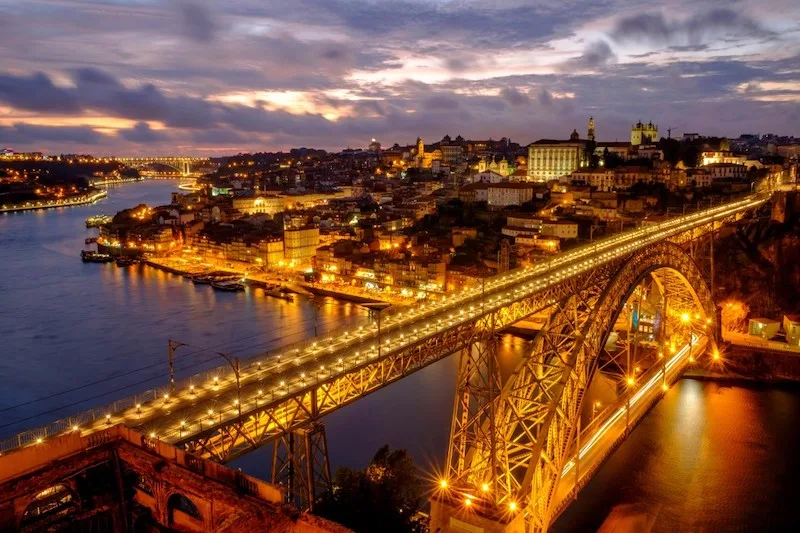 Porto's Ribeira District
Porto's Ribeira District is the oldest region of Porto and is a UNESCO World Heritage site. At night you can expect to see musicians playing instruments as you walk along the water and peruse the menus of the waterside restaurants.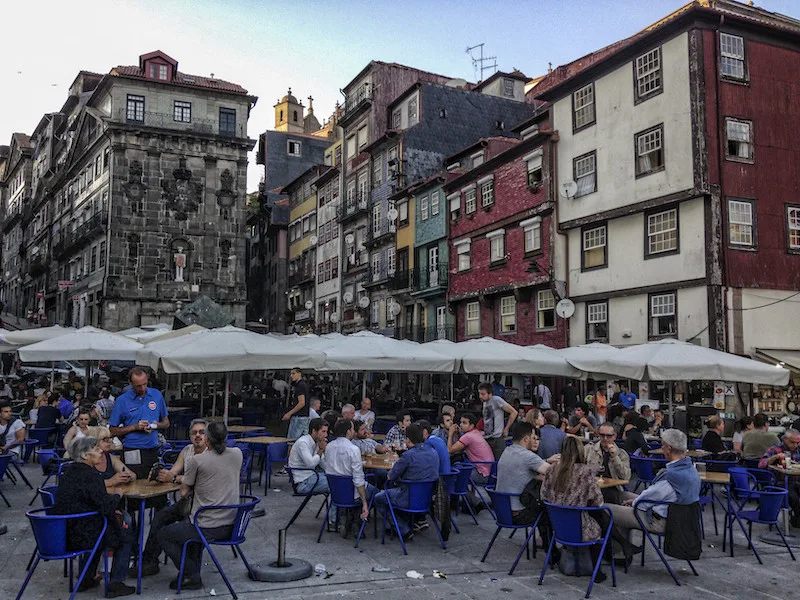 ---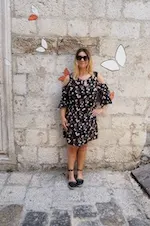 This Porto post was written by Jaz from The Life of a Social Butterfly, a UK Travel Blogger with a love for boutique accommodation, colourful travel destinations and affordable luxury experiences. The Life of a Social Butterfly captures the vibrancy, heritage and nature of destinations, inspiring readers about where to stay, where to eat and where to visit.
---
Elizabeth from The Travel Hack team took a press trip to Porto a few years ago. You can read about her perfect weekend in Porto here.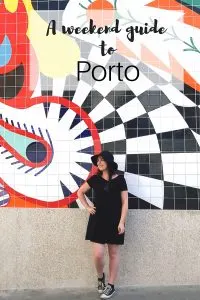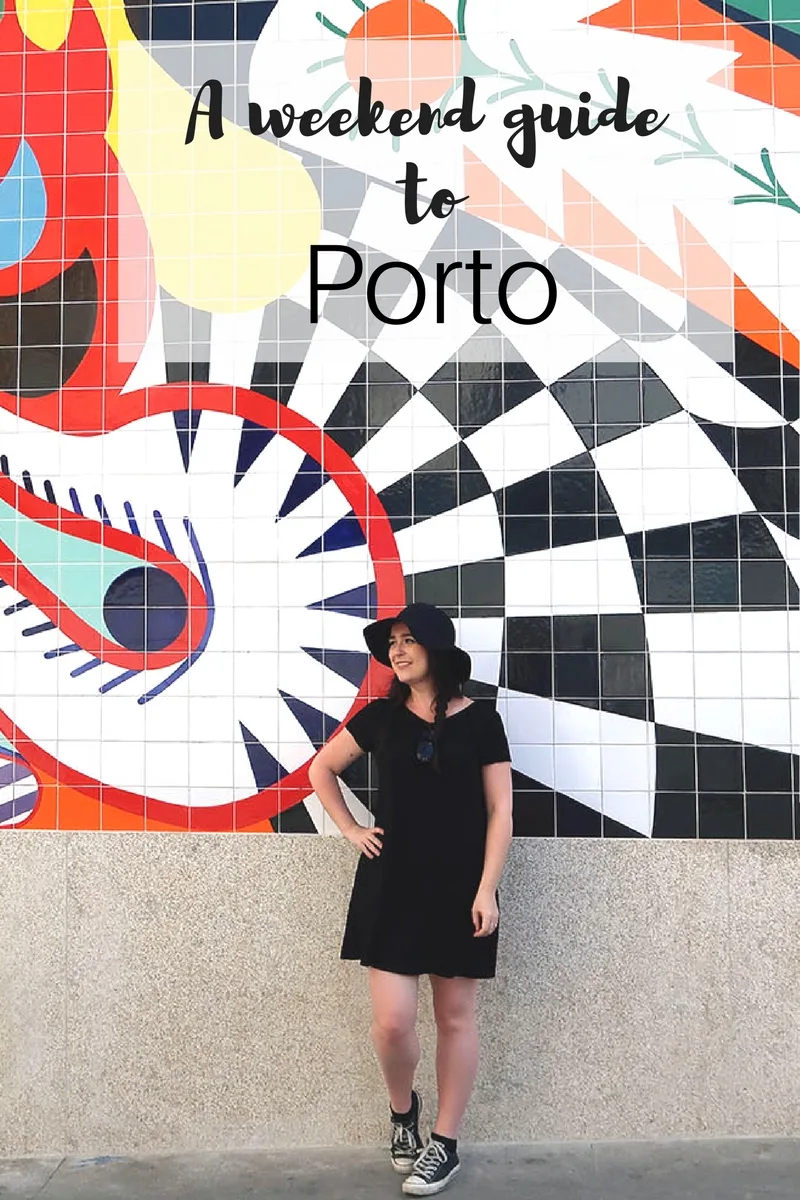 And if you plan to spend longer than a weekend in Portugal, we have more posts about this gorgeous country below!
10 places to visit on the Algarve
Four best day trips from Lisbon
What to eat and drink in Lisbon
A weekend itinerary for Lisbon
The Travel Blogger's Guide to Lisbon
---