If you're a travel lover then I've got no doubt you'll be feeling like you've had your wings clipped right now. I know some people are optimistically booking holidays abroad for this year and I'm sure many of those holidays will go ahead, but I'm also sure many of them won't!
I haven't booked any holidays abroad for 2021 for a few reasons. I don't want to book something and for it to be cancelled and then have the hassle of trying to claim my money back. I'm also a bit nervous about flying and being in enclosed spaces for a long period of time. I'm also not sure how ethical it is to be potentially spreading the virus for an unnecessary reason.
If you're anything like me and you're nervous about booking holidays abroad this year then I've got a great holiday option for you!
Glamping!!
I've highlighted some of my favourite UK glamping trips from the past few years at the end of the post but let's start with why I think a glamping break is the best type of holiday to book during the pandemic…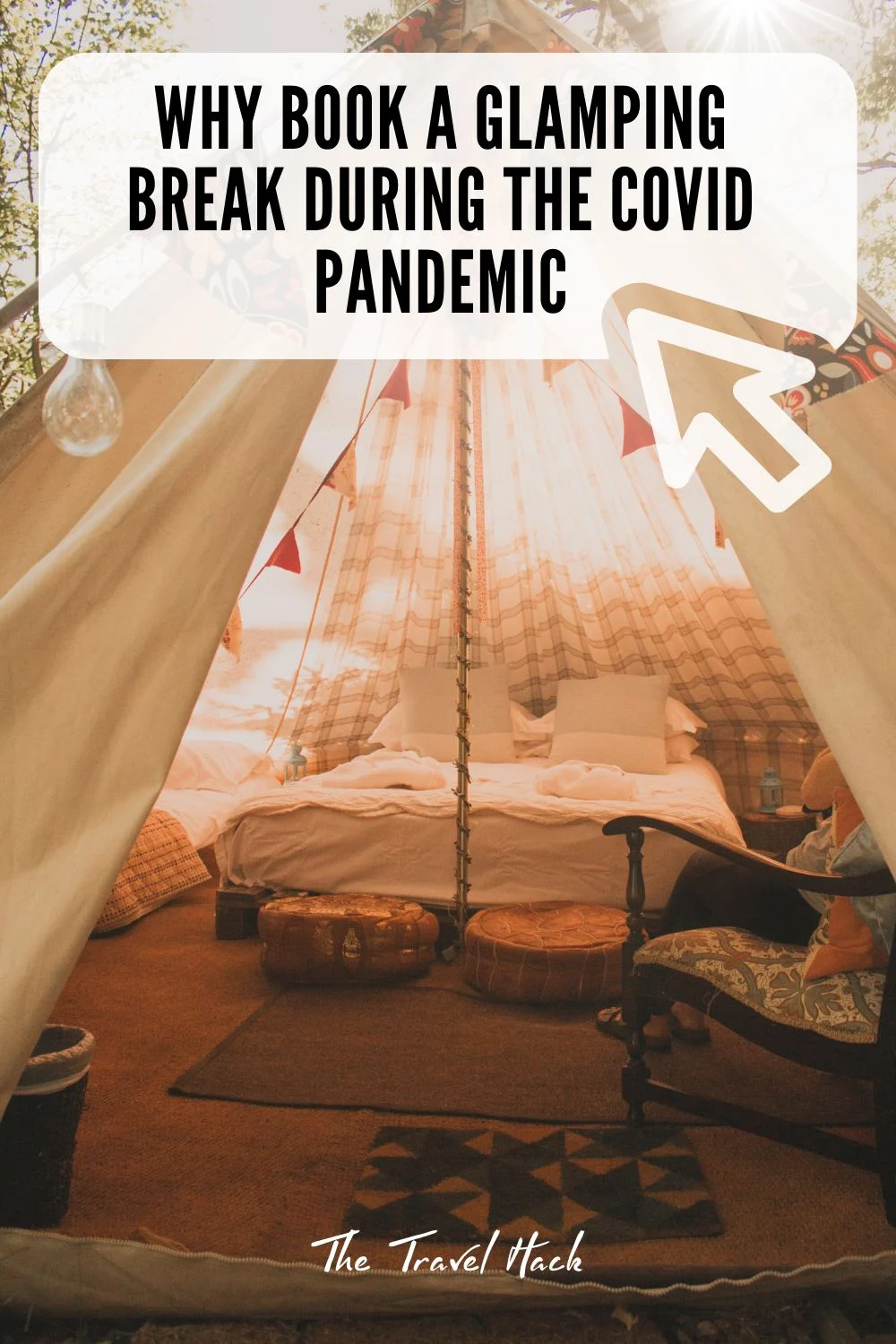 Reasons to book a glamping holiday for 2021
UPDATE: If you're planning to book a glamping trip over the next few months then you'll need to book a self-contained style to comply with Covid restrictions. So look for ones with private bathrooms and kitchens!
#1. Small deposits to book
Glamping is a relatively affordable holiday choice which means the deposits to book are small too – so if you decide to cancel you won't lose a fortune!
I've booked to stay in a glamping pod in Llangollen in April for a deposit of just £15!
#2. Book a local glamping trip to make it easier to rearrange dates if you need to
If you stay local then you'll be less likely to be impacted by regional lockdowns. I know it doesn't feel as exciting going on 'holiday' a few miles from home but you'll feel a million miles away once you get there!
If your glamping trip is cancelled due to lockdowns or other restrictions you'll probably have the option to rearrange and go a different date, so it's probably easier to stay local as you'll have more flexibility when the glamping site is nearby.
#3. Our bookings help support small, local businesses
Most glamping sites are run by individuals so the profits will go directly into their pockets.
I saw so much support to 'shop small' over Christmas and I really hope this will be extended to small, local hospitality businesses.
#4. It's very easy to socially distance
Glamping is one of the easiest holiday experiences to socially distance. You've got no hotel lobbies, queues at the hotel buffet or crowds around the pool! It's just you and your loved ones and the great outdoors. You'll probably have contactless checkin too so you really won't see another person!
#5. It's a new experience
For many people, glamping will be a new and fun experience. I can't recommend glamping enough for a unique and memorable holiday for the whole family.
#6. Glamping is a gorgeous chance to disconnect from the world
Most of us are spending more time online than ever before. If you're feeling the need for a digital detox then glamping could be the answer. Many glamping sites are in remote locations where mobile signal and WiFi isn't possible. You may also found yourself without electricity to charge your devices which can be a blessing for those who need an enforced digital detox!
#7. You won't miss out on the little luxuries
You can get some really luxurious glamping experiences! I went to one with a roll top copper bath, a four-poster bed and a private sauna!
Other glamping sites are more basic and are just a small step up from camping so you're able to choose which level of luxury you want!
Here are some of my favourite glamping experiences from the past few years…
Glamping in a geodome at Camp Katur in Yorkshire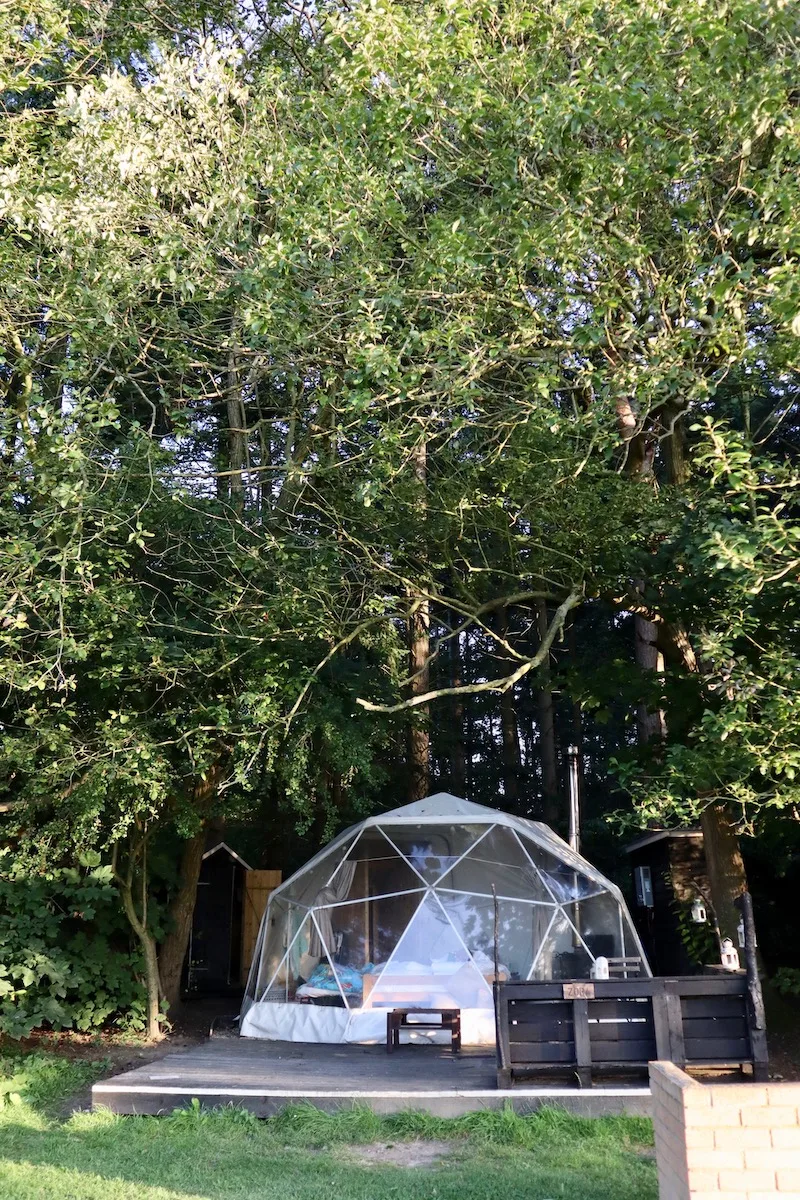 The best thing about staying in a geodome was waking up in the morning! From my cosy position in bed, with last night's embers still smouldering in the log burner, I could look out across the meadow to see the sunrise. Rabbits hopped across the dewy grass while birds filled the sky with their happy, morning chirps.
This glamping site at Camp Katur was one of the best equipped ones I've ever come across and there are loads of accommodation options. They even have a small dome hidden deep in the woods for a romantic and secluded forest experience!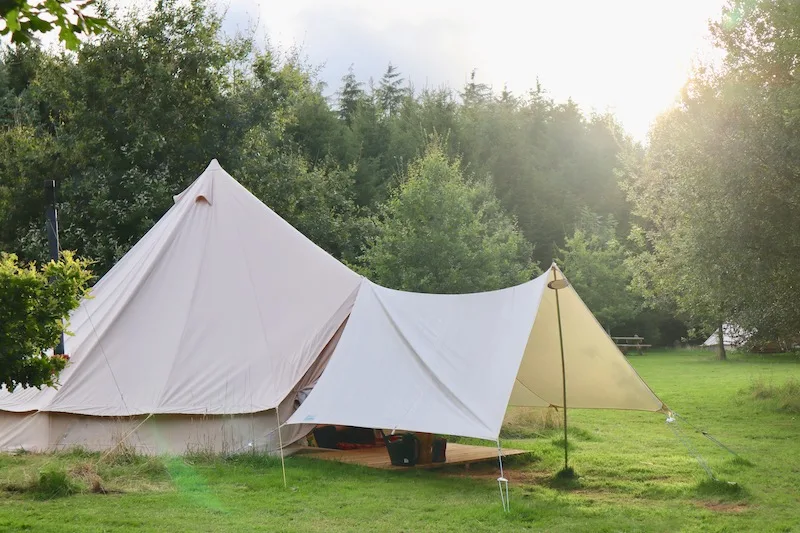 This was a lovely glamping experience thanks to the family-friendly vibe within the site. The bell tents are spaced out around a large clearing in the forest and the central area became a huge play area for the kids. It was great for Sam and I to relax at our tent while the boys made friends.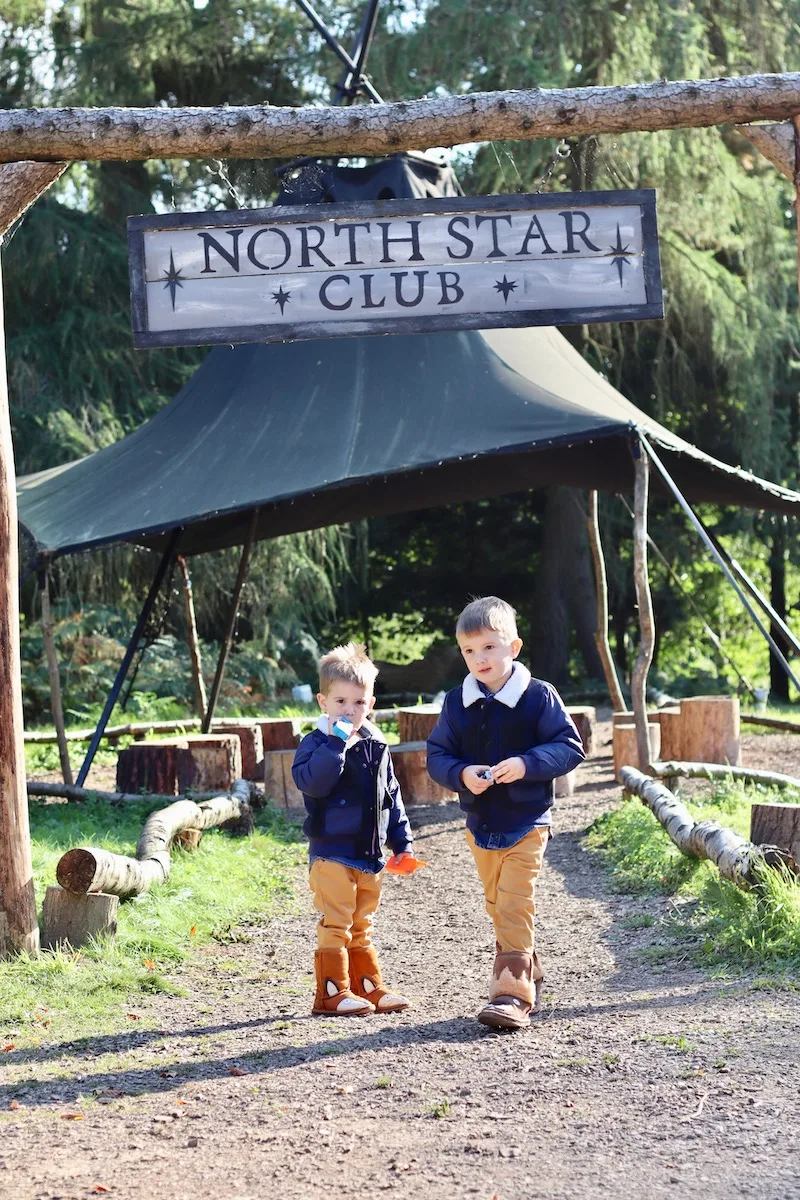 This is the most luxurious glamping experience I've ever had! This is the one with the huge copper bath, the luxurious four-poster bed and a private infrared sauna!
It's quite expensive for glamping, particularly when we found the kitchen to be seriously lacking in utensils, but this is the one for you if you'd like to be eased into glamping gently. It's also the only one where our kids had their own bedroom and a small living room too!
The Forge Bell tent glamping in Llangollen, Wales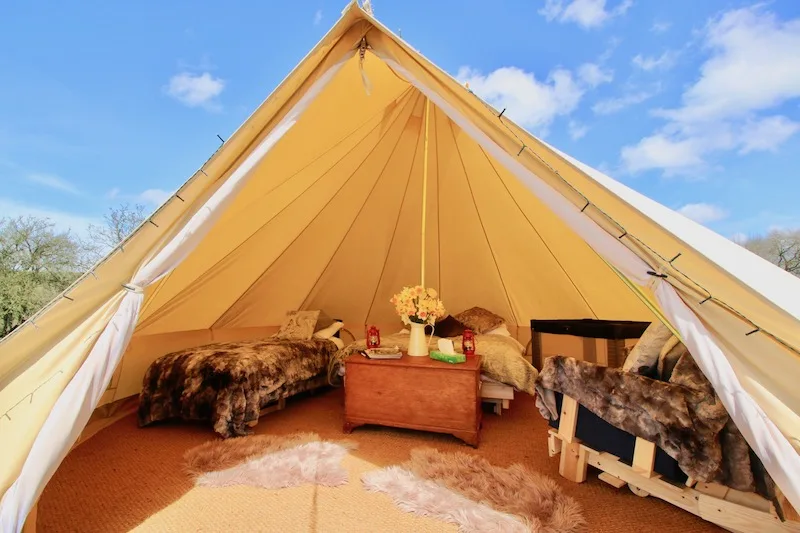 Another basic bell tent experience that we loved! Llangollen is also gorgeous and this site isn't too far away to explore this beautiful area of North Wales.
Wonderfully Wild safari tents in Anglesey, Wales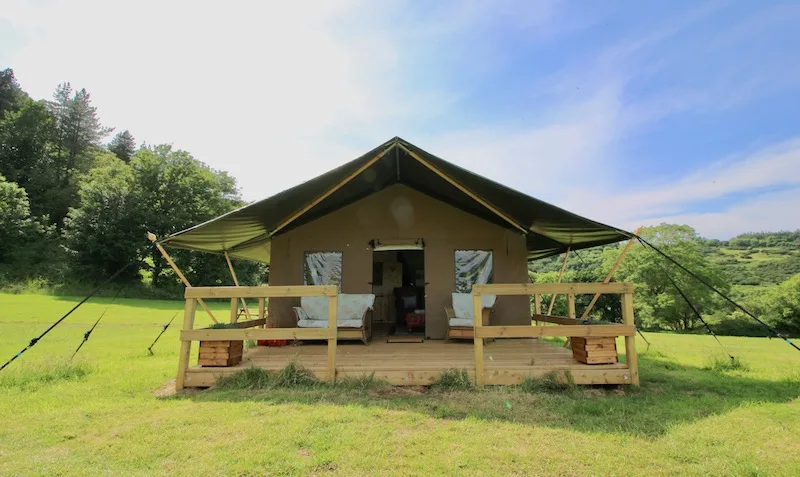 If you've got a big family then Wonderfully Wild's safari tents are a perfect option as they comfortably sleep 6 people. And Anglesey. Oh Anglesey – I love this place so much!
Feather Down Farms safari tents (nationwide)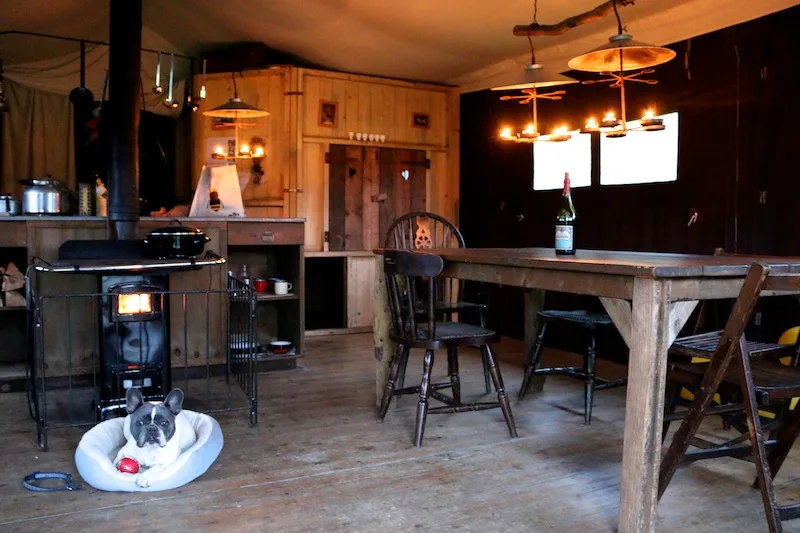 Feather Down Farms are nationwide and they're mostly an extra income stream for farmers who turn one field into a glamping site. The tents are wonderfully spacious and it was a real treat to have a tour of the farm and be so close to the animals. The one we visited had also converted a barn into a soft play area so it was perfect for young families!
Glamping in a Shepherd's Hut in Swansea Bay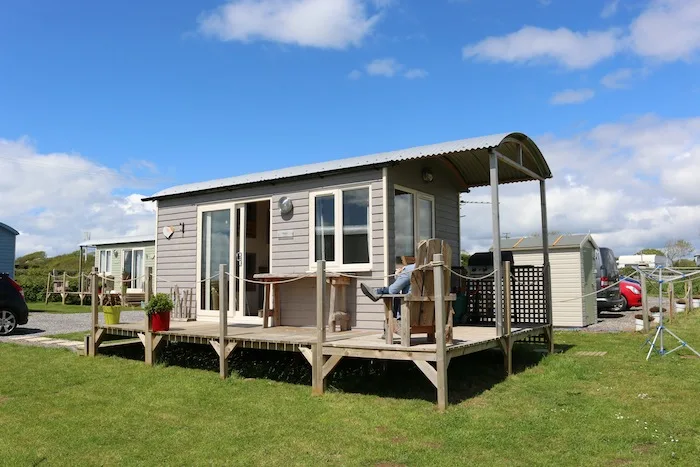 These small but sweet shepherd's huts are in such a gorgeous location close to the famous Rhossili Bay Beach in Swansea Bay.
Staying in a treehouse in Wales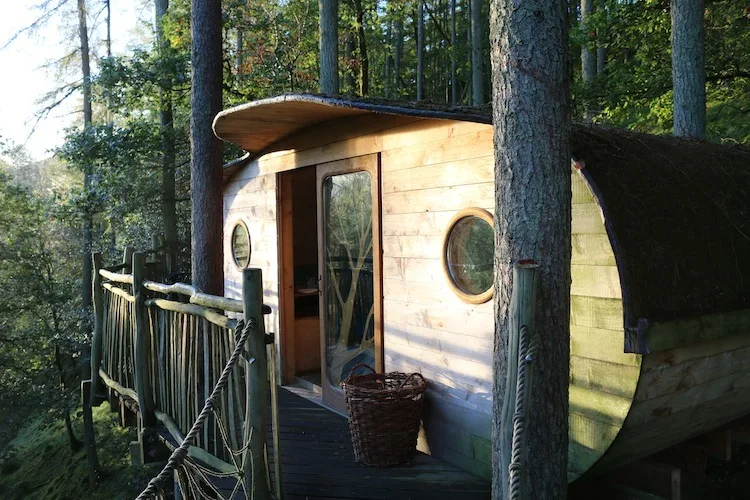 And finally, the most memorable glamping trip I've ever taken was to an incredible treehouse in Wales.This was a childhood dream come true and was the perfect place to escape.
If you're unsure how to find the best glamping holidays or how to book them, I've written a blog post about where to find them online! Where to find the best glamping UK holidays.