Whether you're just starting out with your blog or you want to turn your blog into your full time career, I have lots of blog posts crammed with my blogging tips and advice. Maybe you'd like to set up a blog as a creative online scrapbook or a platform to advertise your businesses, I cannot recommend blogging enough.
I've written loads of blog posts giving tips about blogging so I thought I'd bring them all together into one handy guide.
I also run an e-course called The Blogger Course which covers similar topics while going into much more detail with loads of information about how you can become a full time blogger.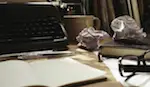 5 tips for starting a blog from scratch
If you'd like to start a blog but you're finding yourself feeling lost and overwhelmed with how much you need to do then check out this post. These are my 5 tips to stop procrastination and just get on with it!
This walks you through the process of actually getting yourself set up. It sounds daunting but it's all really easy when you do it step-by-step. You need to decide which platform to use, what host to use, choose your theme and plugins and get your site looking sexy!
Still not sure why you'd begin a blog in the first place? Take a look at this post and it will show you why I think everyone should create their own blog.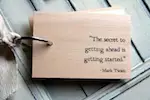 10 tips for new bloggers
10 things I wish I'd known when I started blogging.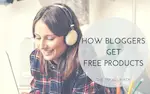 How bloggers get free products
This is a popular one as this is what most people want when they're blogging – freebies! So I'd recommend reading this before you get too deep into blogging because you'll soon realise that you have to work damn hard for those blogger freebies.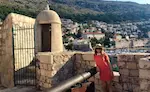 Freelancing update: How I'm doing after one year of full time travel blogging and freelancing
This was a really interesting post for me to re-read as I've now been full time blogging for years. It made me remember how hard I worked to get to this point and reminded me not to take it for granted.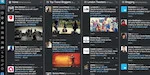 How to keep up with your favourite travel blogs
One of the most important things you can do as a blogger is to read other blogs! But keeping up with the hundreds of thousands of blogs out there is difficult and you can often feel swamped and overwhelmed by content. Here are my tips to find your favourites and keep up with them.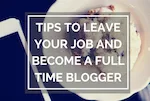 Tips to leave your job and become a full time freelancer
So you're loving blogging so much you're considering doing it full time? Maybe you'd like to use your blog as a portfolio to get more profitable freelance gigs? Read this post first!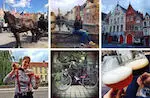 A week in the life of a travel blogger
This is what my life looked like pre-kids! Maybe I should do one with kids to show the difference! It's not all exotic travels but it is a lot of excitement and hard work.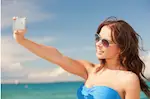 Vlogging tips from top travel vloggers
There's no denying the fact that travel videos are increasing in popularity and more brands want bloggers to also produce videos. If you're not producing videos yet, you really need to be! Take a look at these tips from some of the top vloggers out there.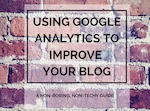 Using Google Analytics to improve your blog
Google Analytics is the ultimate tool to help track the traffic on your blog. It's all well and good watching your pageviews increase but how can you use these stats to help improve and grow your blog?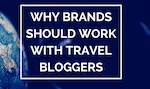 That time I spoke at Google and how brands can work with bloggers
This one is for the brands rather than the bloggers and comes from a Google event I spoke at. It was an interesting day and was good for me to see the other side of the coin and talk about the challenges brands face when working with bloggers.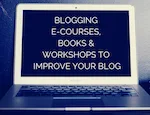 Blogging e-courses, books and workshops
Sometimes you really need some professional help to really improve your blog and these courses and books will be a step in the right direction.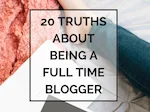 20 truths about being a full time blogger
Among all those blogger breakfasts and Instagram photoshoots there's a lot of hard work. Here's the truth behind being a full time blogger!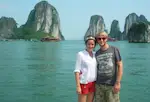 How and why I started travel blogging
One of the most popular questions I'm asked is, 'How did you start blogging?' It all began in an internet café somewhere in South East Asia and I had no idea it could possibly lead to this!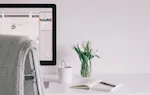 What my journalism course taught me about blogging
When I returned from travelling I went back into education and did a part time NCTJ Journalism course. I didn't love the course but it did teach me a few things about writing and helped when I was applying for jobs.
Don't forget to check out The Blogger Course for more in depth guides to blogging as well as advice and strategies to help you turn blogging into your full time career.
Pin this for later
[one_half]
[/one_half]