What to pack for a baby in the Maldives…or anywhere beachy and exotic and gorgeous!
I usually like to travel light – yes, even when I'm travelling with a baby! I'll buy baby food, nappies and wipes once I reach my destination and usually stay somewhere with a washing machine so I don't need to pack too many clothes.
But travelling to the Maldives with a baby was a whole new experience for me – I felt like I needed to pack EVERYTHING!
We went straight from the airport to the seaplane which took us directly to our island, Coco Palm Dhuni Kolhu. There was nowhere to stock up on all the baby essentials so we needed to take everything with us.
NOTE: We were told about a couple who visited Coco Palm with a tiny baby and their luggage was lost on the way out there. They had to get formula and nappies and baby clothes delivered to the island. It was possible so you don't need to panic if your luggage is lost.
Small resorts and hotels always offer a laundry service but it is expensive so it's best to pack lots of clothes.
Here's what to pack if you're visiting the Maldives with a baby
My #1 item
A baby carrier
Do not travel to the Maldives without a baby carrier. I usually make packing 'suggestions' but this isn't a suggestion, this is a must-pack!
Coco Palm Dhuni Kolhu is entirely sand so getting a pushchair around was difficult. The footpaths were a bit more compact and were fine after it rained but most areas of the island were unsuitable for a pushchair.
If you have a baby carrier you can stroll around the beach and walk wherever you like without getting stuck. A carrier is also great for any situations where you'll want your hands free – like on a boat or while you're taking photos.
I recommend the Pao Papoose by We Made Me. It lasts from around 4 months to 2 years, is fully adjustable and gets a big thumbs up from George.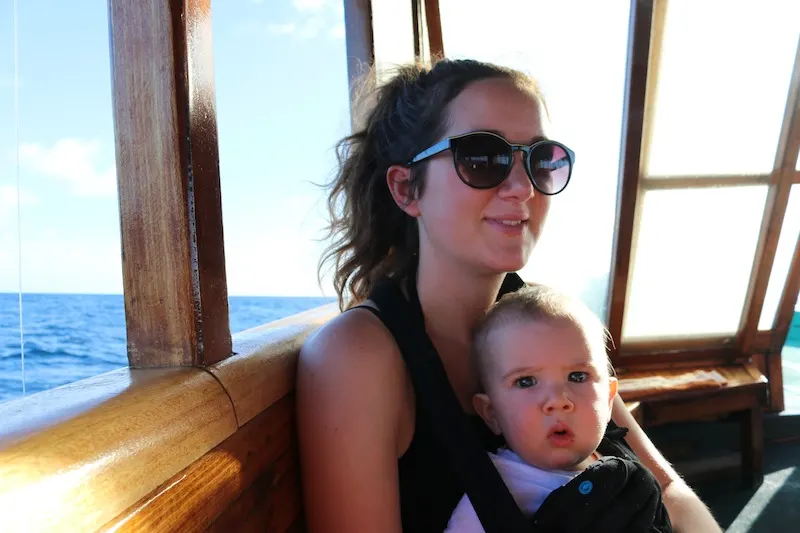 My #2 item
A baby monitor
Make sure you pack a monitor so you can sit outside without worrying while baby is napping or asleep at night. We have the Motorola MBP8 and had batteries in the parent device. This is one of the cheapest monitors on the market but it's brilliant and I'd recommend it for both home and travel.
Toiletries
Nappies – and lots of them
Wipes and nappy bags
Swim nappies
Creams and lotions like Bedpanthen or Sudocrem which is also good for insects bites
Baby friendly suncream in factor 50+
Clothes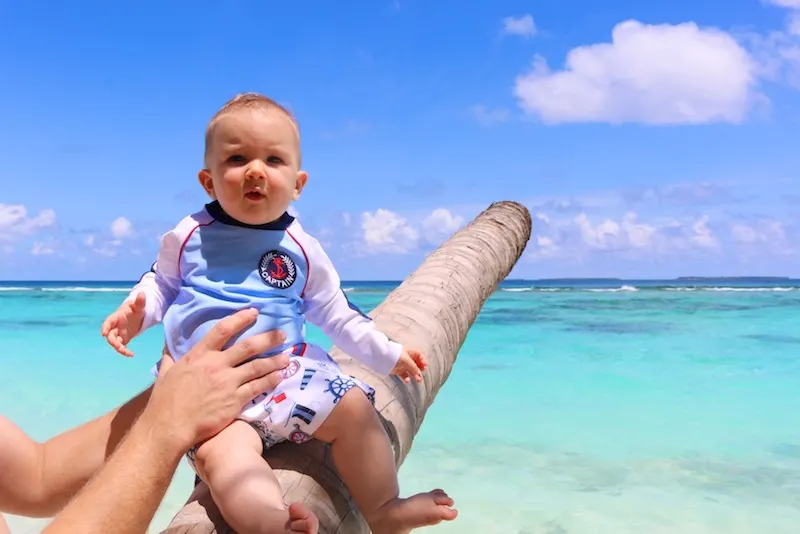 George modelling his Sunuva outfit perfectly
Sun hat – preferably with a chin strap so they can't pull it off
Swimwear – I love Sunuva for kids swimwear, it's so cute and everything is SPF 50.
Swim nappy – The Happy Nappy from Splashabout is a really good option as you don't need to wear swim nappies beneath it
A smart outfit or two – Again, Sunuva is great for nice kid's clothing. George has a little cotton shirt and smart shorts from Sunuva (find them here) and he looked so cute.
1 x vest or t-shirt for every day
3-4 pairs of shorts
1 x jacket – For the plane and airport
5 pairs of PJs – He mostly just slept in a vest but it depends if you like to have the aircon on at night
Extras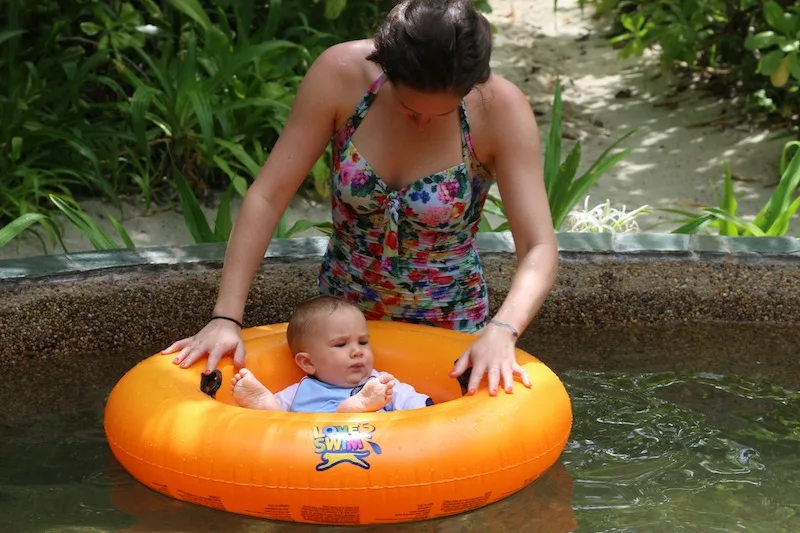 Pushchair – We took an umbrella stroller as it's easiest to travel with. They fold down to be small and are easy to get on and off the plane – even the tiny seaplane. Strollers do have tiny wheels so they can be difficult to push through the sand. We saw another family with the Bugaboo Chameleon and they breezed through the sand thanks to the chunky tires. I was slightly jealous but I don't think it was worth the extra effort of lugging a big pushchair out there.
Swim inflatable – Make sure you get one for the right age group. I bought a big one for George and it was too big and he couldn't see over the edge and flopped about in it.
A light blanket – Pack something to drape over the pushchair in case you're in the sun or baby falls asleep at dinner. I like the blankets from Panda and Sparrow. They're made from bamboo so they're UV resistant and super soft.
Disposable bibs – Great for the plane
Bibs with sleeves – Opt for plastic, wipe clean ones so you can wash them in your room
Feeding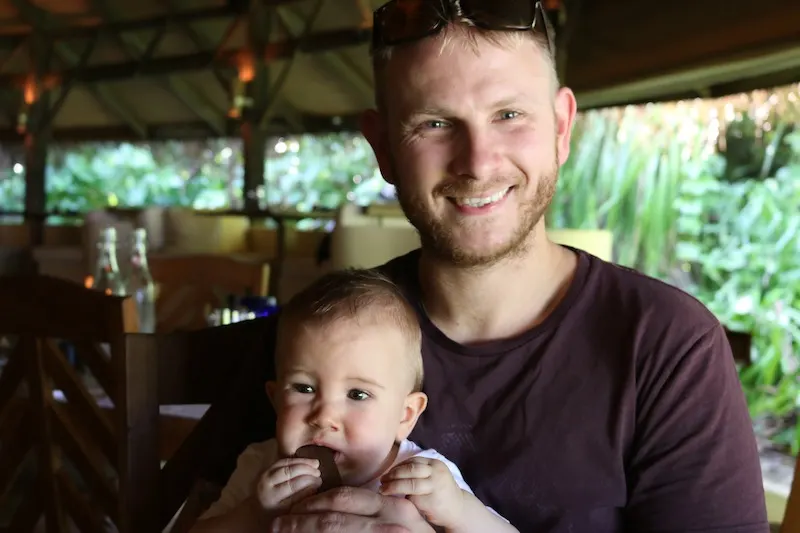 I took enough pouches of food to last George for the entire holiday. We were away for 8 days and he has 2 pouches per day so I think I took about 25 with me (just in case!)
I think we could have asked the chefs to mush him up some food but I preferred to have meals I knew he'd enjoy; I would have been panicking at the thought of him going hungry. I packed Weetabix which he has with formula for breakfast, Ella's Kitchen pouches for main meals and fruit pouches for deserts.
George had just turned 6 months when we went to the Maldives so he wasn't quite feeding himself. We gave him food from the buffet like bread rolls and fruit but this was mostly to keep him quiet.
We had one tin of formula and 4 bottles. I took microwavable sterilising bags from Medela with the intention of asking the kitchen staff to sterilise his bottles. I actually didn't end up doing this and I thoroughly cleaned the bottles in our room and rinsed them a few times with boiling water.
If you plan to do this, don't forget to pack washing up liquid and a bottle brush.
You could also use Milton Sterilising Tablets but you'll need some kind of bucket to keep the bottles submerged.
If you're breastfeeding it's much easier!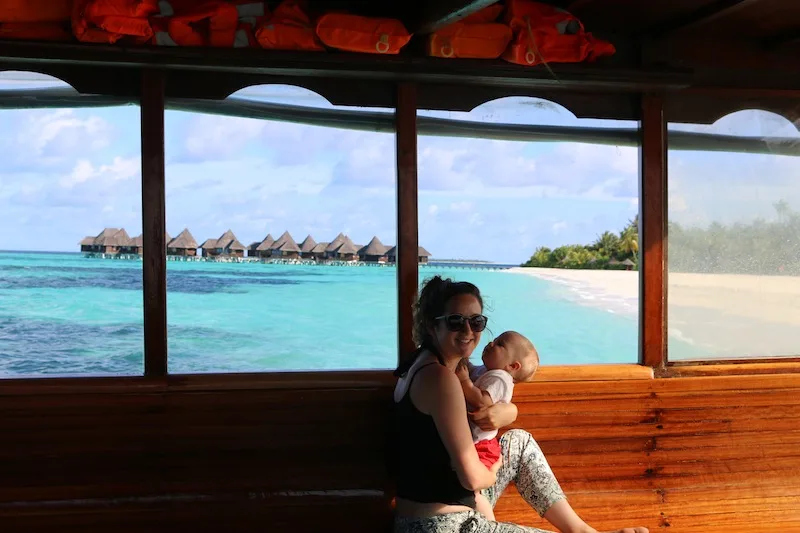 You might also like to read:
What to pack for a toddler on a plane
What's it's really like to travel to the Maldives with a baby
What to pack for a holiday to the Maldives (the adult addition)
How to spend your birthday in paradise in the Maldives
Teeny, tiny turtles hatching in the Maldives
Healthy holiday habits I'm bringing home from the Maldives
Arriving in paradise at Coco Palm Dhuni Kolhu
I said 'Yes' (Yes, this happened while we were there too!)
What to pack in your carry on for a long flight
---
The holiday low-down
I flew to Male with Turkish Airlines. I departed from Birmingham with a 3-hour layover in Istanbul – a good choice if you're travelling with little ones!
I stayed at Coco Palm Dhuni Kolhu for 6 nights in a Deluxe Villa on a full board basis.
Massive thanks to Visit Maldives for helping to organise my trip
Read more: