TrekAmerica is currently running an amazing competition to win a 3-week tour around the USA (with flights included!) They've giving away a spot on their Westerner 3 tour which looks absolutely incredible. Find out more about the prize and how to enter the competition here.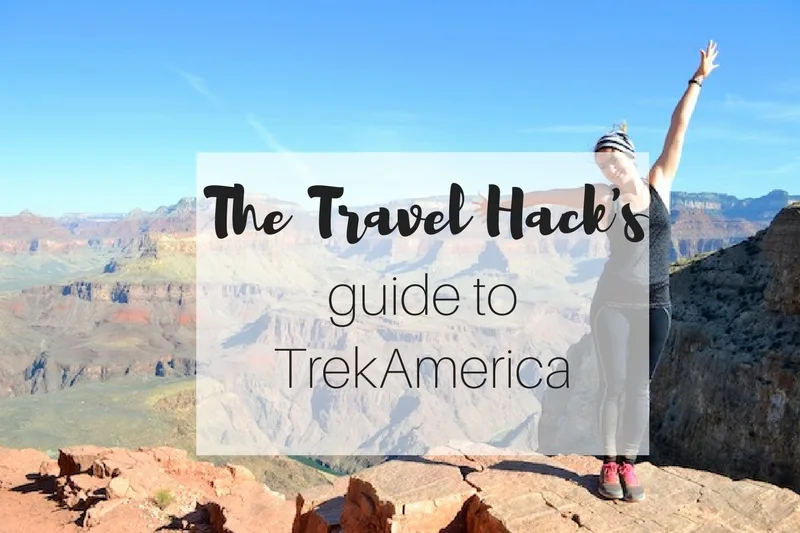 Since TrekAmerica launched this competition I've had so many readers email and ask me about my experience on the Westerner 2 tour. I joined TrekAmerica in 2014 and we travelled from LA to San Diego, Lake Havasu, the Grand Canyon, Vegas, Sierra Nevada, Yosemite (the highlight for me), San Francisco, along the Pacific Coast and Santa Barbara. To say it was an epic adventure would be an understatement. It was just incredible and travelling with TrekAmerica was so much fun and also so simple. They take the stress and the hassle out of travelling without feeling like you're on a boring, stuffy tour where you just follow a guide around without making a single decision!
I cannot recommend TrekAmerica enough so today I'm sharing a guide to TrekAmerica with everything you need to know before your trip. I'm answering some TrekAmerica FAQs and sharing some awesome of my favourite TrekAmerica blogs from around the blogosphere.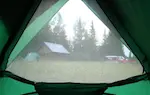 Meet the Trekspert: All my TrekAmerica questions answered
Before my own trip, I spoke to Kirsten, a TrekAmerica Trekspert. She's been on lots of trips with TrekAmerica before so I asked her loads of TrekAmerica questions. I asked everything from finding out her highlights, top tips, packing tips, wifi and food.
TrekAmerica FAQs
What age group is TrekAmerica for?
TrekAmerica is for people aged 18-38. On my tour we had an 18 year old and a 35 year old so we were proof that it really does appeal to a huge range of ages. The group got on really well and, while people did form smaller friendship groups, we spent most of our time together as one big group.
The majority of the people on my tour were about 21 and I'd say that's the average age. I was 25 and travelling with my boyfriend who was 28. At times I think he did feel a bit older than everyone else (even though he wasn't the oldest).
Who is TrekAmerica for?
TrekAmerica is for anyone who wants an adventure in the US.
It's best for solo travellers who don't want to travel alone and sociable people who like to be with a fun group. It's good for people travelling for the first time as you do have the security of a group leader.
The reason Sam and I chose TrekAmerica was because we only have 3 weeks in the US and we wanted to see as much as possible. Joining a tour made it easy to do a lot in a short space of time without spending every evening for months planning out a strict itinerary.
What style of travel is it?
You spend a lot of time camping so it's definitely on the budget end of the scale! But it's a lot of fun and it's generally very warm so camping is really enjoyable.
What's it like having a tour leader?
TrekAmerica's leaders aren't called 'guides' for a reason and that's because they're not like old fashioned tour guides who you follow around like sheep. Our leader was amazing and he felt like he was part of the group – but just that person in the group who knows exactly what they're doing, never gets lost, has loads of restaurant recommendations and is always there to help.
When we were in Yosemite he led the way with the walking trails but he usually just gave us lots of advice and then let us get on with what we wanted to do. He'd pick us up and drop us off in the van and but it was more like travelling with a friend who'd already been there.
What if I don't like the other people in the group?
You will! There are 13 people in the group so you're bound to make friends. Of course, some people become friendly than others and there might be someone who isn't the kind of person you'd normally be friends with at home but that's all part of the fun.
Anyone who joins a TrekAmerica tour is a similar kind of person. They're fun, adventurous and love the excitement of seeing somewhere new. It's this love for adventure that brings everyone together
How much money do you need for TrekAmerica?
Once you've booked your tour and your flights you really don't need a lot of money at all. Most evenings you're camping so you cook your meals together as a group. You shop at the supermarket so it really is only a few dollars a day. For our lunches we mostly had picnics and this food was all bought in bulk from the supermarket too. We did eat out and one night it rained so we made a group decision to stay at a cheap hotel rather than camp. They say you should budget a similar amount for spending money as you spent on the actual tour.
Your biggest expenses will be the optional tours you can take. Something like the helicopter tour over the Grand Canyon is a biggy but you can check which extras are available before you leave home so you'll know how much they will set you back.
You can spend as much or as little as you like on nights out and souvenirs too.
Does all that time in the van get boring?
This is one big road trip so you do spend a lot of time in the TrekAmerica van. It really doesn't get boring though because you have so many people to chat to and so much to talk about.
I actually found the travel days to be a relief because you're really busy on the non-travel days so it's nice to have a relaxing day. You can sit back and enjoy the scenery, have a nap, listen to music and get to know your travel buddies. You also have plenty of stops so you don't get too bored in the van.
Is TrekAmerica one big, boozy party?
There's around 13 people on each TrekAmerica tour so you're going to have a nice mix of people. On my tour there were some people who loved to party and would stay up drinking beer until the early hours each day. There were other people who didn't drink at all, but most were like me and alternated between late nights and early nights.
If you don't drink then don't worry, there isn't any pressure at all. If you do like to stay up until the early hours then I'm sure you'll find someone who will stay up with you!
On some nights we'd camp next to other TrekAmerica tours and these evenings were really fun as the groups came together. We had a big night out in Las Vegas but it was usually fairly tame.
Packing for TrekAmerica is tough because you're short on space but basically want to take everything you own. You're also going to need a few extra bits and bobs for camping and these things like sleeping bags and self-inflating mats are bulky! Here's my guide to packing for TrekAmerica.
The Highlights from my TrekAmerica tour
This was one of my favourite experiences during the whole tour. It was even better than the helicopter ride and I'd recommend it even if you're not much of a hiker. The Grand Canyon is stunning and the tough hike gave me a lot of time to think about the bigger picture in life.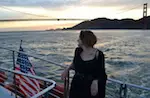 A sunset catamaran cruise in San Francisco
I loved San Francisco and, even though it was such a touristy thing to do, taking a sunset cruise under the Golden Gate Bridge was a real highlight from my time there.
One word – epic! Sam and I both loved Yosemite so much that we want to go back in a few years and spend a couple of weeks camping and hiking. A couple of days there was incredible but it wasn't long enough!
I fully expected to not enjoy Las Vegas. I thought it would be tacky and crowded and too glitzy for me. It was tacky and it was crowded but in the best way possible. I absolutely loved it! I wouldn't want to spend more than 2 nights there but it was so much fun for our short stop.
This was a lovely, tranquil stop between San Diego and the Grand Canyon where we did nothing but drink beer in the sunshine, swim in the lake, admire the views, eat ridiculous amounts of BBQ food, play games on the beach and then finally sleep under the stars. It was so warm we didn't even put our tents up!
This was a weird but beautiful stop and will be familiar to anyone who has seen Into the Wild. It's one man's tribute to God and the result of 28 years of colourful dedication.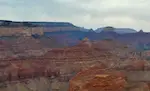 My Grand Canyon Helicopter Ride
If you're going to take a helicopter ride anywhere in the world then the Grand Canyon is one of the best places to do it!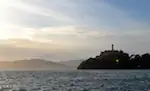 Visiting Alcatraz in San Francisco
We've all heard about Alcatraz prison but visiting it really brought the creepy place to life!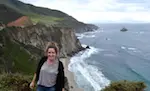 Road tripping along the Pacific Coast
If anyone is watching Big Little Lies at the minute you'll want to check this out! From pretty seaside towns, iconic beaches and those famous views, this was the highlight from the road trip.
San Diego has a little bit of everything and we managed to cram a lot of it into one day.
Before your trip
To get you into the mood for your all-American road trip, here are some books to read to prepare you!
Read more from other bloggers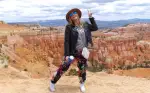 The truth about my TrekAmerica trip – Hannah Gale
This is an epic read from Hannah Gale but is definitely one you'll want to check out before your own trip! Hannah's written a journal style post and there are loads of great tips in there.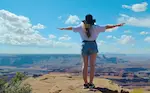 My TrekAmerica Experience – Dizzy Brunette
Another lovely journal style post that makes me want to do it all over again!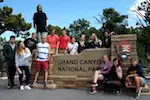 10 things you should know about TrekAmerica – Mini Adventures
Some great tips and info here – especially number 10 on the list!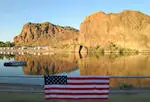 TrekAmerica Wild West, a day by day review – A Life of More
Hayley has shared exactly what she got up to during her Wild West tour. This is fairly similar to my tour but was a bit shorter and also included Death Valley.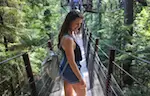 How to travel right for TrekAmerica – Carly Rowena
So many great tips here but you mostly need to check this out for the incredible, gorgeous, inspirational photos!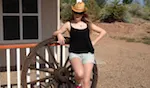 Top tips for trekking America with Trek America – She Gets Around
More great tips from Jen over on She Gets Around. I like it that these tips are different to all the others so don't skim over them!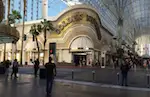 A complete guide to TrekAmerica – Ross Murray
Ross has SO MANY posts about TrekAmerica so I'm just linking to them all! This reading list will keep you busy for a while…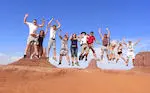 TrekAmerica Guide – In the Frow
Victoria has stacks of great posts from TrekAmerica. Start with her travel tips and move on to her vlogs!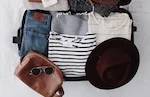 What to pack for TrekAmerica– And Other Places
A packing guide from Fee who did the 30 day Southern Sun trip which looks epic. This is a great list!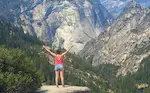 Travel Tips for TrekAmerica – Laura Alexander
More tips incase you feel like you haven't had quite enough yet!
[one_half]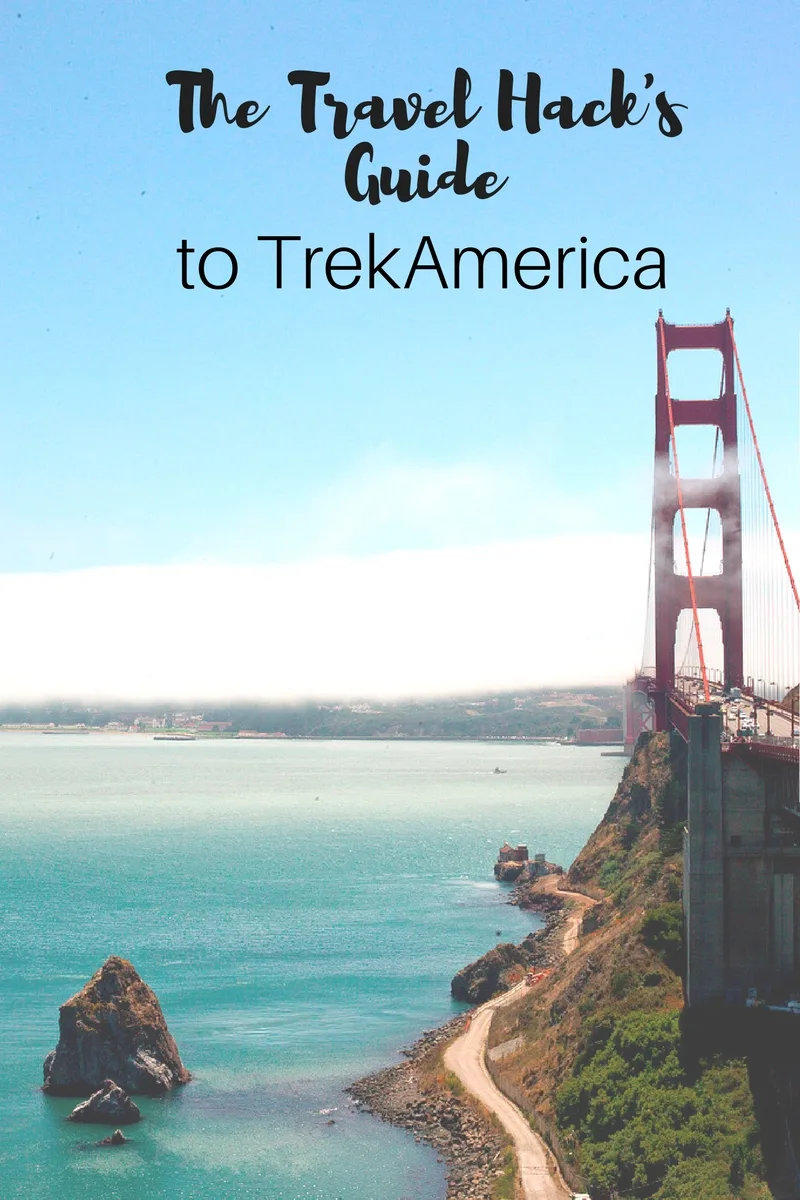 [/one_half]
Don't forget to check out the TrekAmerica competition!